GET EMAIL UPDATES FROM POWERTOFLY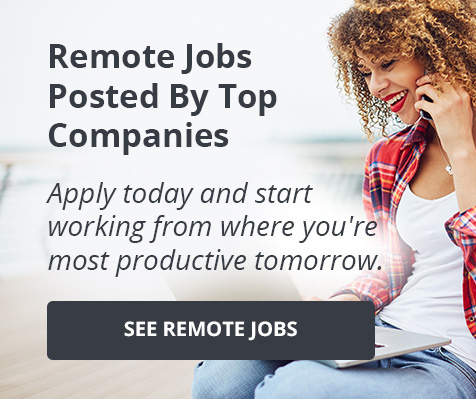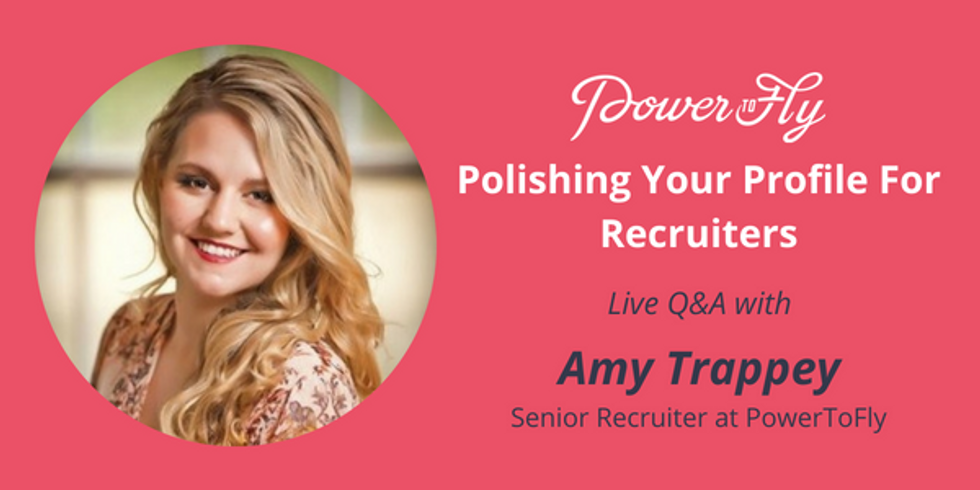 June 05, 2018
Career and Interview Tips
5 Tips To Get Your Online Profile Recruiter Ready
This Senior Recruiter Shares Her Tips For Getting Women Hired
Amy Trappey, a Senior Recruiter at PowerToFly, has helped place women at top companies like American Express, Microsoft, NBCUniversal, Time Inc, HomeAway and more. She's polished hundreds of online profiles, and know's just what companies are looking for when searching for their next candidate.
Amy sat down with a small group of PowerToFly VIP's and answered all of their questions regarding polishing their online profiles (and even offered to polish a few herself!). Do you want access to exclusive chats with women like Amy? Click here to become a PowerToFly VIP and join our community of women here to empower one another.

---
Q: What do people see first/read on LinkedIn? Are any sections more important than others?
Amy Trappey: The first thing that I usually look at on LinkedIn is the summary section, mostly because it's the most complex part of your profile to fill out! It's hard to concisely summarize your executive experience in one or two sentences, while also maintaining some personal flair - profiles that can do this adequately, stand out among the rest.
Q: How important are LinkedIn recommendations?
AT: Both recommendations and endorsements are both very important, but the recommendations on LinkedIn are used primarily for getting your foot in the door at a company as another tool to understand what skills you bring to the table. It never hurts to politely ask former colleagues and managers to write a LinkedIn recommendation for you, and to specifically ask them to include specific skills. However, it should be noted that proper LinkedIn etiquette would require you to write a corresponding recommendation for them in exchange.
Q: How can I present technical knowledge as well as business experience in my profile?
AT: Technical profiles are a little easier to write, as most people can get away with a separate "skills" section in their profile where they can list the languages and programs they are proficient in. For business experience, it's imperative that your profile displays both quantitative and numerical data in correlation to what you actually achieved in your position. For example, you generated $X of revenue by doing X,Y and Z.
Q: How do you address returnships, career changes, and career paths that don't make sense on paper?
AT: If you are returning from a large gap in your career, I think it would be really beneficial to look for companies that offer tried and true returnship programs. These programs are created specifically to set you up for success in this next step of your career. With that being said, so many people are transitioning careers using a more 'self-taught' method. In that case, it's key to include every certification, course, or self taught skill on your profile so it's clear to recruiters what your career goals are.
Q: What can I say-show to look ready for next level challenge when my career is far from linear?
AT: Firstly, it's relatively rare that someone's career is truly linear these days, and it absolutely should not be a deterrent if you're looking to take your career to the next level. Regardless of what level you are at, or industry you are in, every job requires problem solving. If you are able to provide examples of how you've arrived at different solutions, how you overcame challenges in the roles you've had and are able to reference specific problems you've solved, a recruiter will find your profile extremely valuble.
Ribbon
💎 "What are you passionate about?" In an interview, you may have to answer this and other personal questions. Watch the video to the end to succeed in your job interview at Ribbon.
📼If asked "what are you passionate about?" in an interview you need to show how your passion can make you a good candidate for a job position. Ryan Key, Talent Partner at Ribbon, shares some tips and tricks for you to stand out!
📼Answering what are you passionate about in an interview is not the only thing you need to know how to do to succeed. You should try to make sure that you express your experience in a way that shows your interest in Ribbon's mission. Also, prove that you did your research and demonstrate to the recruiter that you understand exactly how your role affects Ribbon's purposes. Don't forget to share some ideas on how you intend to fulfill the company's mission!
📼 You are asked what are you passionate about in an interview, but this doesn't mean that you can't ask as well. You should feel empowered to ask any question you want during your interview process. It may be helpful to save certain questions for certain people. If you're in an interview with your potential manager, you should take that time to ask about their assessment metrics for the role and their management style. If you're speaking with a potential peer, this would be a great time to ask about their experience during training and to learn a little more about the team and culture.
What Are You Passionate About? Show In Your Interview That You Are Aligned With Ribbon's Values
The mission at Ribbon is to make homeownership achievable for everyone, especially communities traditionally left out of the homeownership story. One way Ribbon addresses diversity, equity, and inclusion in the workplace is through its support of employee resource groups. Remember to show that your passion is aligned with these core values!
🧑💼 Are you interested in joining Ribbon? They have open positions! To learn more, click here.
Get to Know Ryan Key
If you are interested in a career at Ribbon, you can connect with Ryan Key on LinkedIn. Don't forget to mention this video!
More About Ribbon
Ribbon is a first-of-its-kind real estate technology company transforming the real estate transaction by delivering certainty, transparency, and joy to the home buying process. Consumers and realtors deserve a better experience, and they have designed an open platform that welcomes everyone in the ecosystem to participate.
READ MORE AND DISCUSS
Show less
Loading...