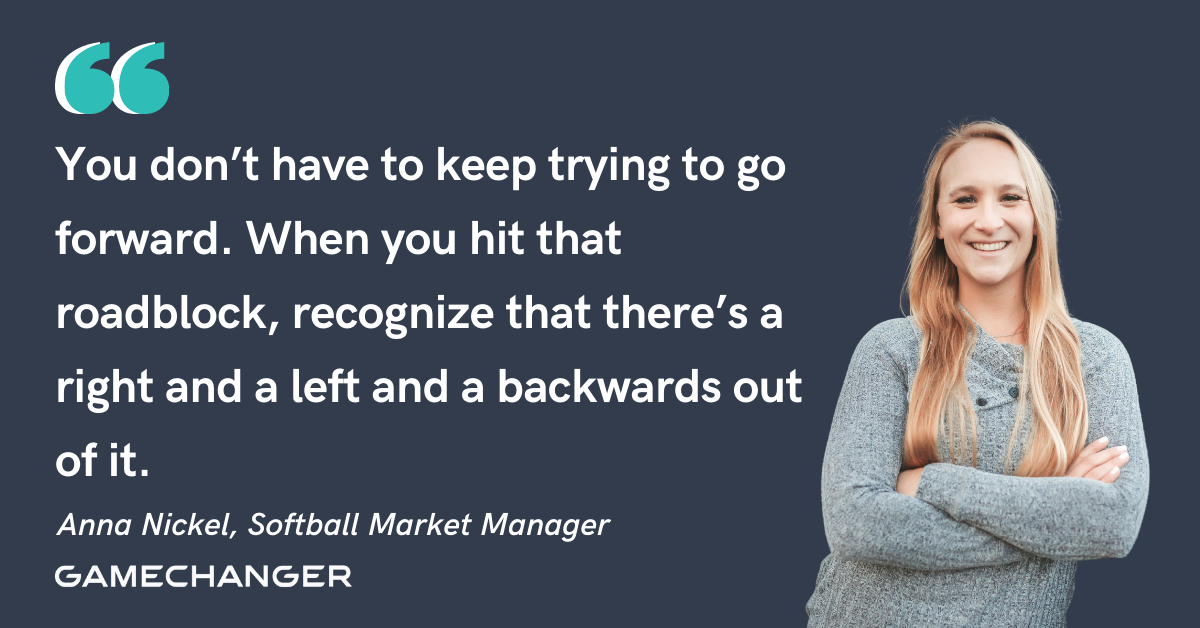 Gamechanger
Anna Nickel has a lot of respect for coaches.
She's had impactful coaches throughout her two-decade career as a softball player. And now, as a coach herself, she understands the vocation inherent in the discipline—and how that purpose and drive is found at every level, from paid and professional to volunteer and casual.
"I've been coached by so many people in my life. I am where I am because of the people that have done that for me," says the Softball Market Manager at youth sports platform GameChanger. "Now, to be one of those people who supports coaches, it's pretty phenomenal."
One of her favorite parts about coaching and being coached is how outcomes-focused it is, says Anna.
Anna's worked to embrace that in her own career, especially as she's worked hard to marry her passion for sports with a meaningful and satisfying career in tech. As a woman, she's a minority in both areas and knows what it's like to not see a path forward.
So now, she's also working to extend that help and coaching to other women who want to succeed in her field.
We sat down with Anna to hear more about how she got to GameChanger, and about what she hopes her field—softball and professional—looks like in the future.
From the League to the Office
Anna grew up in the Pacific Northwest, where she spent the majority of her time outside doing something athletic.
"It doesn't matter what I'm doing; I'm always competing," says the lifelong softball player, who played in college and professionally (before being injured), and has coached internationally and privately. She's now an assistant coach at a local college.
Her athletic passion first sparked her career goals. Anna grew up near the Nike headquarters in Oregon, and says she came to see it as a "mega marketing empire of coolness." She dreamt of being part of the team that brought new products to market, that set trends, and that won—and kept—consumers' attention via world-class storytelling.
Anna studied business in college and worked in her school's sports marketing department. But with her now-husband back on the west coast, she declined a role in collegiate athletics marketing and found a job as a sales and marketing coordinator at a sports company.
A few transitions later, she was working in community marketing at Dick's Sporting Goods, doing work she found inherently meaningful.
"At a high level, what are we marketing? Sports. Experiences that bring people together. What a great place to work. I just love working for a company that provides you with [things] you're going to go make memories with," says Anna, smiling widely.
But four years in, she was ready for a new challenge. Dick's had acquired GameChanger, a game livestreaming and scoring platform used by 500,000 youth sports teams across the country, when Anna first joined, and she'd been hoping for a chance to work at the tech company for years.
In late 2021, a position for a softball ambassador opened up, and Anna was approached.
"[The hiring manager] said, 'You'd be in charge of supporting the softball community for GameChanger. Getting the word out on new features, building relationships, doing some grassroots marketing.' And I was like, 'Yeah, sign me up!,'" remembers Anna.
Now, Anna's even happier in her role, serving as the link between a tech product she believes in and a community and a sport that she loves. "Having a lot of passion for something and getting to apply it has been really cool," she says. "I'm floored by how many people at GameChanger love their job, love our mission, who truly believe that what we do is making things easier for coaches and therefore helps support them."
4 Tips for a More Equal Playing Field
Anna considers herself lucky to have found a role in sports and tech that she loves, but she recognizes that not many other people like her find their place in her field.
"The amount of women in sports, it's not very big. And then take the intersection of women in sports and tech, and that's a whole other thing," she says. "To be part of a company that values and respects my opinion, and wants me to challenge myself, I feel so fulfilled as a coach and a lover of sport.
She wants other women to have that same opportunity.
"As we grow, I'm making sure I'm turning around and saying, 'Let's get this woman in sport into this world, and leverage her expertise,'" she says.
Anna has several pieces of advice for other women looking to break into fields where they may be few and far between, including:
"Take a lot of initiative. If you see a problem, go and tackle it. And if it's awful, you learn from it. If it's great, it benefits the team. So you're gonna learn a lot faster, not waiting for someone to give you the okay," she says.
Reach out for help and you'll get it. "You can't be afraid to say, 'I don't know what I'm doing' or 'I'm feeling stuck' or 'I feel a bit hopeless in this situation,'" she says. Going to books and podcasts for perspective and help is a great first step, but don't be afraid to ask people in your network for a hand.
"You don't have to keep trying to go forward. When you hit that roadblock, recognize that there's a right and a left and a backwards out of it. Don't be afraid to find a new path."
If you have to choose between a place you feel like you belong and a place that's aligned with your career passion, optimize for belonging. "When you feel you belong somewhere, you can show up and do things not out of fear, but out of faith. You have to feel safe to make mistakes," she says.
May she be the first of many, is the gist of Anna's approach to leading by example.
"For me, success on the career side looks like helping as many women as I can get introduced to this world and recognize that it's somewhere they belong," she says.
"Knowing that their expertise and their love of the game is not wasted. It's not like they have to hang up their cleats and be done forever. They can hang up their cleats, pick up an iPad, and say, 'Hey, let's go to work, and build better softball and baseball products.'"
Want to join Anna at GameChanger? Check out their open roles!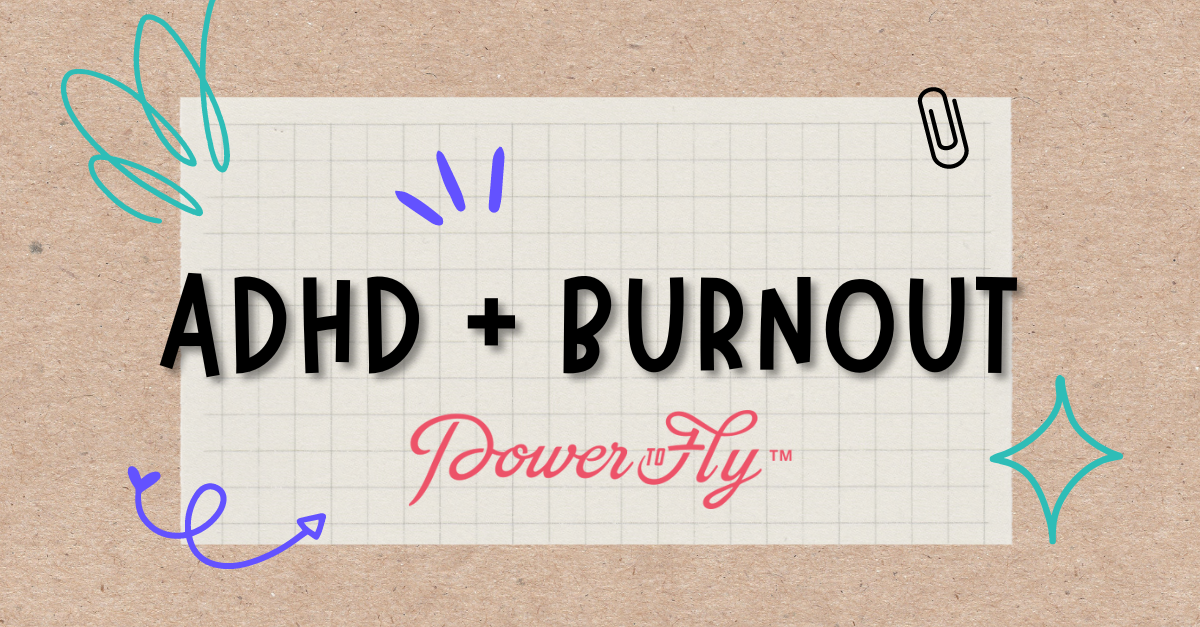 Diversity, Equity, and Inclusion
Have you ever been so exhausted that you quit your job?
You may have been experiencing burnout.
Burnout is characterized by overwhelming exhaustion, detachment from your work, and a sense of ineffectiveness.
And while anyone can experience burnout, if you have ADHD, you may be more susceptible to it.
Before you get to the point where quitting feels like your only option, there are steps you can take to set healthy boundaries and start feeling more like yourself again. Read on to learn how you can recognize burnout in yourself, and what to do if you're experiencing it!
How Does ADHD Burnout Feel?
There are some clear signs that you're burning out, but ADHD can make the descent to burnout harder to detect. These warning signs include:
Lack of motivation - not wanting to do the things you need to do or the things you love.
Exhaustion - feeling overly tired both mentally and physically.
Irritability and mental fatigue - feeling short-tempered, mean, or like you snap easily.
Physical discomfort - body aches, low energy levels, and general pain.
Negative outlook - the tendency to find something wrong with nearly everything.
Emotional dysregulation - feeling weepy, sad, or unable to smile or connect with others.
Generally, burnout starts with taking on too much. Exhaustion creeps in, and you feel like every day is working against you because you are constantly overwhelmed. You may start to feel like the entire world is spinning out of control, or like no matter what you do you can't keep up (or catch up).

If this resonates with you, you might be on the road to ADHD burnout.
Why People with ADHD Can Be More Susceptible to Burnout
So why does ADHD make some folks more susceptible to burnout? There are a few common ADHD traits that often result in behaviors correlated with burnout (taking on too much, working too long, etc.):
Hyperfocus - ADHD is not exclusively about attention deficits. In fact, hyperfocus is the opposite – a deep, intense concentration to the point of being oblivious to your surroundings. Per WebMD, hyperfocus is a state of highly-focused attention that lasts for an extended period of time. You concentrate on something so hard that you lose track of everything else going on around you. When hyperfocus sets in at work, it can be hard to unplug or be aware of the people and environment around you.
Time Tracking - Losing track of time is one thing, but if you find yourself losing track of hours without realizing it, that could be related to burnout. People with ADHD perceive time not as a sequence of events the way others usually do, but as a diffuse collection of events viscerally connected to the people, activities, and emotions that fill them.
Difficulty Prioritizing - Do you take on too much and then struggle to prioritize it? When someone asks for help, does everything often go to the wayside so you can jump in? Or maybe the daunting anticipation of the tasks ahead prevents you from starting. Per ADDitude, ADHD impacts your temporal processing abilities, which can affect executive functioning.
Combating ADHD Burnout
If you think you may be suffering from ADHD burnout, there are a few ways to take back control. Here are three tips for combating ADHD burnout:
Reserve Your Yeses - Pump the brakes when you recognize the early signs of ADHD burnout. Start reserving your yeses right away. Say no, and practice not apologizing. It is okay to say, "I have a lot on my plate right now and cannot take that on. Thanks for thinking of me." Saying no is nothing to apologize for, and it should be celebrated! You are working to protect your energy above all else.
Practice Over-Estimating - If you think you could knock something out in a day, give yourself a week. Overestimate on time and allow yourself the grace to have a little more time than usual to complete projects. Slowing down when starting a new job or role will help you produce high-quality work and prevent ADHD burnout.
Drop the Mask - Be honest with your employer and friends. Let them know that although you seem to keep up internally, you struggle. Identifying ADHD burnout from the outside can be extremely difficult. Your honesty and transparency will position you to determine if your environment is supportive and inclusive.
How to Support Colleagues Dealing with ADHD Burnout
The experiences above may not resonate with you personally, but perhaps you've noticed other people you work with describe or experience them.
If you're a manager, there are several ways you can support colleagues with ADHD (as well as neurodivergent employees more generally) to help prevent burnout. Ask for clarity on when they have felt the most supported at work. Discovery questions like, "how did you feel at that time?" or "how was the pace of that project?" can help you to understand their actual capacity.
Download this free guide
if you're looking for more ways to support your neurodivergent coworkers. Work with your DEIB and HR team to develop new neurodivergent inclusivity standards to help you stay ahead of the ADHD burnout cycle.
READ MORE AND DISCUSS
Show less
Loading...