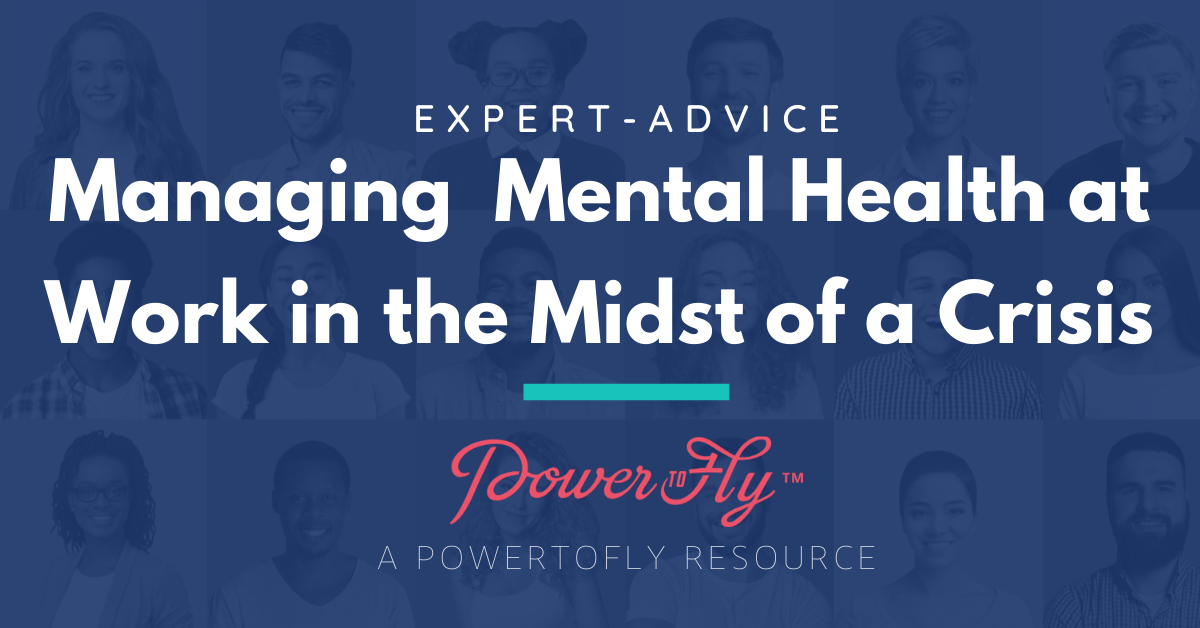 April 06, 2020
For Employers
Experts Share 6 Tips for Supporting Employees In the Midst of COVID-19
A PowerToFly Resource
Free Team Check-In Guide
Download Now
COVID-19 has changed our world as we know it, and with that, the way we work. The fact is, these are unusual times. And to ask our teams to continue conducting business as usual would be unrealistic.
---
Employees in essential industries are facing extreme stress as they put their lives at risk to continue to serve others, and while employees in non-essential businesses may have the luxury of working from home, they're still dealing with juggling work, home, and family responsibilities during a global crisis. Others, still, are struggling with not knowing what their future job security looks like as we enter uncertain times.
To keep your team as engaged and productive as possible, you first and foremost need to support your team. And you need to know — and accept — that they won't always be at 100%. Your employees are your greatest resource, and prioritizing their well-being is the most important investment you as a leader can make.
We surveyed our community to better understand what they're struggling with and what's important to them, and we sat down with experts in the field of mental health and employee engagement to craft specific, actionable takeaways for you to start applying today to support your team through this crisis.
Our Community Findings:
Anxiety is high and impacts productivity, but you can mitigate that with transparency and flexibility.
We asked 80 members of the PowerToFly community about the changes they're seeing in their job responsibilities, company functioning, and mental health in the wake of COVID-19. Through them, we learned the following:
Employees are anxious about the future. 76% of our respondents told us that they were worried or anxious about what the coronavirus and efforts to fight it will mean for their job security or their company's future.
Employees' anxiety affects the amount of time they're able to spend on work. A whopping 73% of respondents said they spent more than an hour over the course of their work day thinking about COVID-19.
Anxiety stems from a variety of factors. COVID-19 has interrupted almost every facet of life, and employees are feeling that burden across a range of factors. 94% of respondents told us they felt more anxious overall, with 94% noting they were worried about the health of their loved ones, 75% saying they were concerned about their financial well-being, and 58% sharing that they were struggling to care for their family while also working from home.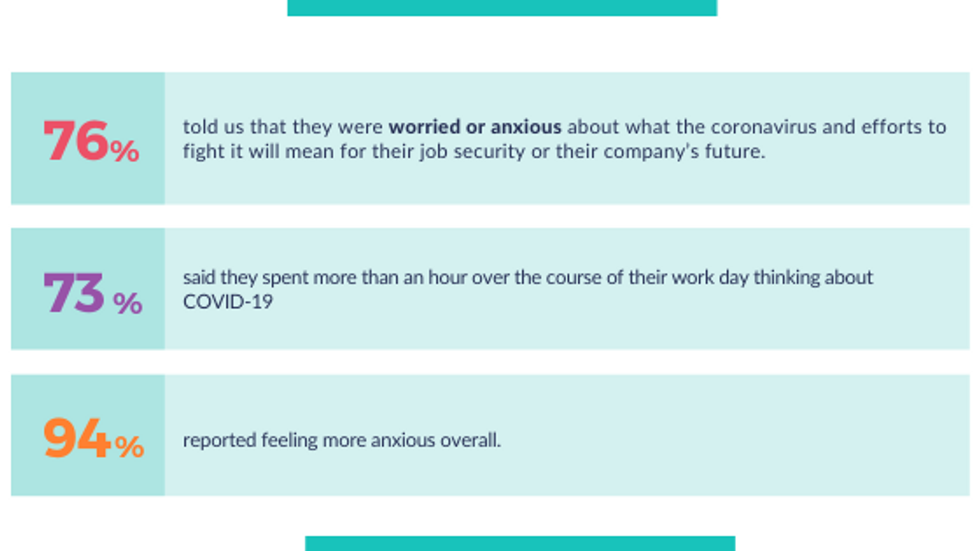 The good news is that employees seem to have a pretty intuitive sense of what they need to cope. The two things our community members said would be most reassuring from their employers — transparency (64% requested frequent, transparent updates) and flexibility (61% said they wanted their employer to be more flexible and understanding) — are very well-aligned with the advice that the experts we interviewed shared with us.

What You Can Do as an employer or manager:
Expert-backed changes to make and specific takeaways to implement.
To better understand how employers can support their employees during this challenging time, we spoke with three experts in the field of psychology:
Dr. David Wasley, Senior Lecturer in Health and Exercise Psychology at Cardiff Metropolitan University.
Dr. Lisa Aufegger, Honorary Research Fellow at Imperial College. She holds a PhD in Performance Science.
Joanna Lusk, a psychiatric nurse who will be graduating with her Master's in Nursing in May and working as a Psychiatric Nurse Practitioner.
It's clear that employees are under a great amount of stress. Dr. David Wasley told us that companies are running "a huge risk of creating additional burden to employees' mental health, especially those who are vital to achieving the company's core business." And unlike in other crises, communities are literally unable to come together to help and support each other. Nurse Lusk told us, "I have never seen anything like this before. After 9/11, there was a sense of unity. In comparison, with the COVID-19 pandemic, what I predominantly see is fear, panic, and isolation."
Fighting that fear without being able to gather together is tough, but not impossible. Our experts recommend the following approaches:
1

.

Be flexible.
"What works for one person may not be suitable for another. Flexibility will trump a single, perfect solution. Employers and employees who trust each other will adapt better than those focused only on productivity," says Dr. Wasley.
What you can do: Adopt a mindset of "output over hours." Make sure your team knows what needs to be done versus what's being de-prioritized and that you don't care when it gets done. Give everyone the flexibility to start and end their work day whenever is most convenient to them, and do individual check-ins to get a sense of who's struggling and how you can help that individual. Expecting everyone to run at 100% right now may actually make your team less productive in the long run.
2

.

Be honest.
"Many employees are worried about whether or not they will have a job in the morning, given we've seen statistics expecting up to a 30% unemployment rate. Companies need to be incredibly transparent with their employees," says nurse Joanne Lusk.
What you can do: "Include employees in the conversation regarding contingency plans for worst case scenarios. Be upfront about the company's financial situation. Do not sugar coat these tough conversations, but be honest and reassure your employees that the company will take any and all steps to protect not only their jobs, but individuals' wellbeing and safety," says Lusk.
3

.

Be a trusted source of information.
"Part of what I see as one of the main stressors related to COVID-19 is the constant influx of information. Specifically, overconsumption of news or social media — research shows overconsumption of negative news can worsen coping abilities, increase stress and fear responses," explains Lusk.
Employees are bombarded with news updates and emails from every listserv they've ever signed up for. Providing up-to-date, relevant information along with company updates can be a huge lift, says Lusk.
What You Can Do: "Send out a daily bulletin to staff updating them with the most accurate and reliable information directly from the CDC and WHO or state updates. Reduce the burden on your employees to constantly be intaking information and rather take on a piece of that role for them."
4

.

Be trusting.
"In times like these, it's important to increase employees' psychological capacities…[such as] perception on achieving goals (optimism), successfully applying coping strategies, experiencing positive feeling of confidence (efficacy), an increased ability to create multiple pathways to deal with situations (hope) and, if workplace adversity arises, the ability to bounce back and use an alternative path (resilience)," says Dr. Aufegger. "Studies have shown that high-performance work systems, strategies such as enhanced team-working, greater job autonomy, assured job security, and supportive management have been positively related to productivity and financial performance in large firms (250 or more employees), and to labour productivity in smaller firms (fewer than 100 employees)."
What you can do: Trust your employees to do their jobs. Greater job autonomy has been proven to lead to higher performance and productivity. Avoid the temptation to micro-manage and constantly check in, and instead tell your employees that you're there if they need you and that you trust them to do what needs to be done.
5

.

Be proactive.
Remind employees of what's covered for mental health in their healthcare plan, whether it's counseling, reimbursement for wellness classes, telehealth options, or more.
What you can do: Send lists of in-network therapist options and share other mental health resources. "Employers can provide information regarding online apps that could be helpful for stress relief such as Headspace, Nike Training Club, or Calm; many of these apps are offering free access right now," notes Lusk.
6

.

Be community-minded. 
Bring your team together often—or at least offer the opportunity for them to come together.
What you can do: "Set up online meetings in which employees can periodically check in on each other. Use this as a space to share emotions, be heard, and supported," says Lusk. Try Zoom break room chats, happy hours, or informal check-ins alongside formal meetings. Wondering how to run an effective check in? Download the agenda below.
A PowerToFly Resource
Free Team Check-In Guide
Download Now
From Your Site Articles
Related Articles Around the Web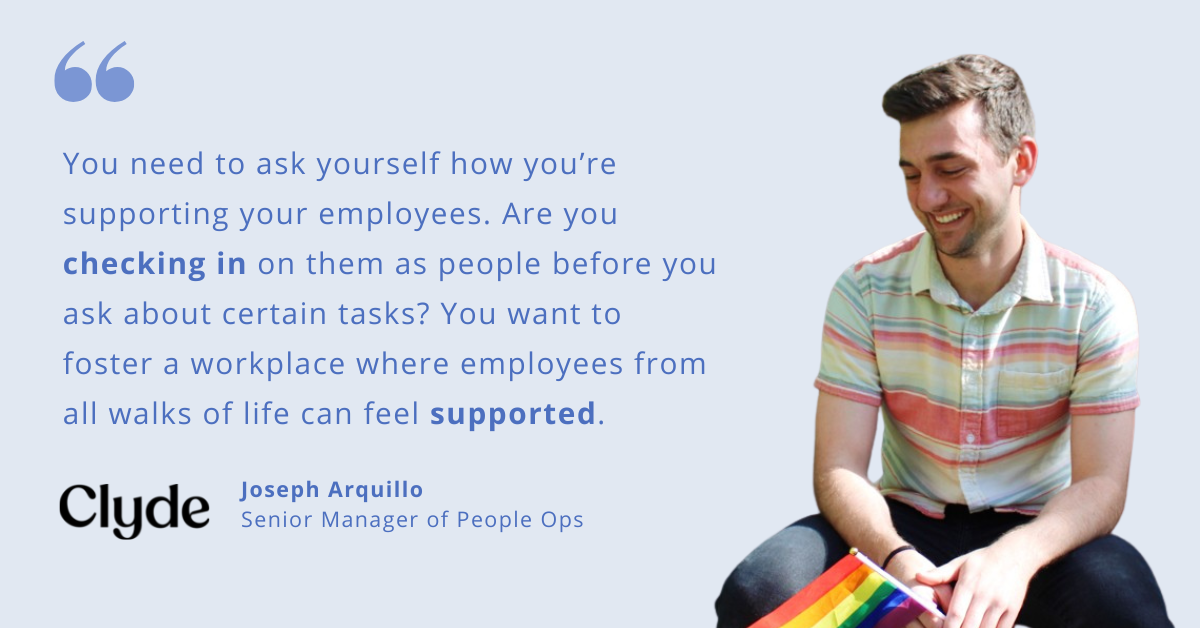 Clyde
Joseph Arquillo doesn't work in Human Resources — he works in People Operations. And the distinction matters.
"It was named 'human resources' because it saw humans as resources, utilized for certain tasks or behaviors. But that's not really what it's about," says Joseph, who is a Senior Manager of People Ops at Clyde.
"Calling it 'people ops' adds back what you lose with 'HR.' My philosophy is that I am there to support you. I am there to work with you, empower you, and enable you so you can be your best self."
For Joseph, a key element of helping employees become their best selves is making sure that the workplace, whether in-person or virtual, is an inclusive space for all. That doesn't happen by accident — it requires a dedicated DEIB strategy and leaders who are committed to asking hard questions of themselves and others.
We sat down with Joseph to hear more about his professional journey, and the practices of leaders who create environments where everyone feels included.
More Than Just a Number
As a college freshman, Joseph planned on sticking with liberal arts when it came to choosing a major. But then he took a class in Boston College's School of Education, and loved its holistic approach to applied psychology.
This inspired him to switch his major to psychology and human development, and select minors in political science, and management and leadership, where he enjoyed learning about organizational psychology.
After graduation, he explored the consulting space to put theory into practice, but found out during an internship at a multinational consulting firm that finance or accounting weren't the places he wanted to build his career.
"Since Big Four companies have 250,000 employees, you become just a number," he says of the experience. "It wasn't my cup of tea. Too corporatized."
That kicked off Joseph's interest in startups.
"It's always fun to get in the weeds! One thing that's very interesting to me is a challenge," he says. "When you're helping a company like Clyde grow and scale, joining when they're at a Series B and helping them get to the next level, you really get to focus on the interaction between people, process, and product," explains Joseph. "You need to hire the right people to work towards increasing efficiencies in all areas, but also make sure that we're enabling them to create a strong product."
6 Keys To Building Inclusive Spaces as a Leader
Across the different industries and companies that Joseph has worked in, he's identified the behaviors that create truly inclusive environments — as well as those that discourage them.
Here's what he's seen:
First, recognize your own privilege. "If you're a man, you have privilege, even if you're a gay male. If you are a white woman, you have racial privilege. It's really important that you're cognizant while you interact with somebody how they might interpret the interaction based on your identity."
Leaders should always speak last. This is important always, but especially in in-person spaces, where it might seem even more nerve-wracking to speak up in a crowd, says Joseph. "You want to make sure you're creating that space for employees who aren't as senior to feel comfortable voicing their thoughts."
And, leaders should use check-ins liberally. "You need to ask yourself how you're supporting your employees. Are you checking in on them as people before you ask about certain tasks? You want to foster a workplace where employees from all walks of life can feel supported," he says.
DEIB isn't just about adding new initiatives — sometimes it's about removing barriers. "You need to remove unnecessary bias," explains Joseph. "That can mean making sure you have appropriate policies and practices that don't hinder people depending on who they are or where they live."
Maximizing participation requires planning with a diversity lens. Joseph has helped the Clyde team gather together and bond as a group. Along the way, he's been careful to consider physical and psychological safety for everyone involved. "For instance, if you're doing an event, do you have someone who's not drinking? Have you set up the environment for people who might have a physical disability, or carefully planned the flow of activities for people who might be neurodivergent?"
Saying you want to be better isn't enough — articulate actions you will take. "Pride is a great example," explains Joseph. "Yes, June is a time to celebrate. But it's also a time to march. And beyond that, how do you show up and celebrate with the LGBTQIA+ community throughout the year?"
Embracing the Unknown
If you visit Joseph's LinkedIn profile, you'll see his personal motto: "Without challenge, change, and a bunch of unknowns, it's no fun."
That belief has led him to study what he's passionate about, to take on new and exciting roles at growing startups, and now, at Clyde, to help formalize what world-class people operations looks like at a fast-growing company.
"I view myself as a connector that really empowers people, challenges teams, and helps drive us towards what I consider to be an improved future," he says. "I feel like it's my responsibility to be the chief advocate for each of our employees, and remove any barriers in the way of their growth."
Want to learn more about what opportunities Clyde offers? Check out their open roles!
READ MORE AND DISCUSS
Show less
Loading...