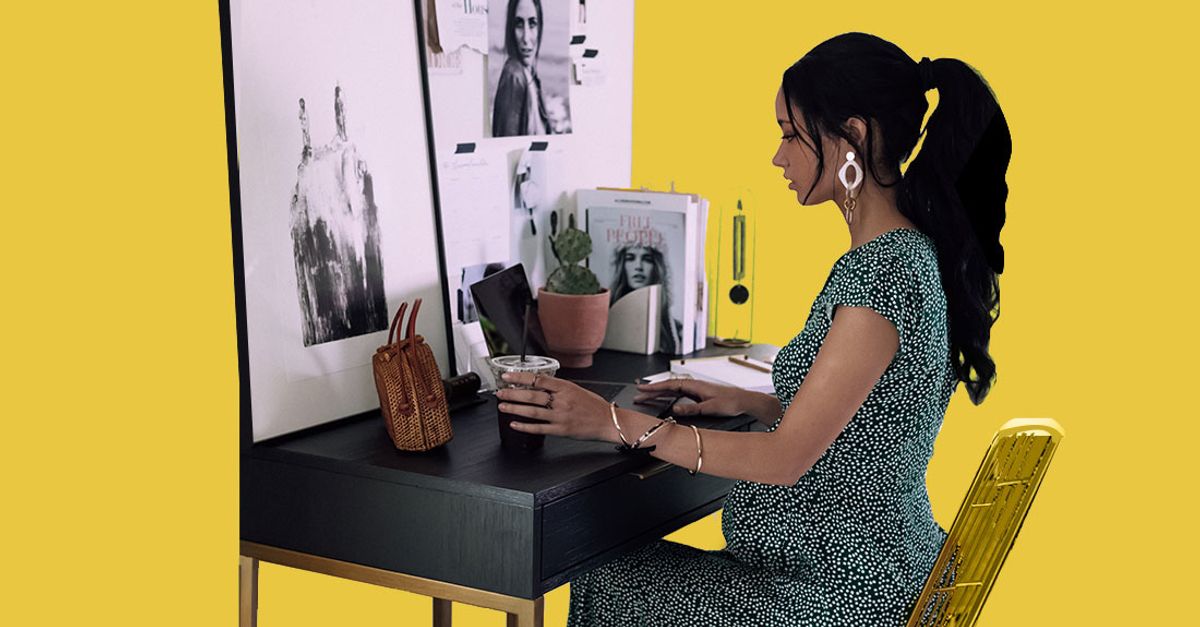 How to Dress for Success—and Comfort—Without Breaking the Bank
As a woman, figuring out what qualifies as professional attire is already tough enough. Can jeans be business casual? Do you need to wear heels on interviews? The list of questions goes on.

But what about what you should wear to work when you're pregnant? The challenge of what to wear only gets tougher.
---
If you're a soon-to-be mom that works in a business casual or business formal environment, you'll want to add maternity work clothes to your list of pre-baby purchases. But what can you do to ensure you 1) look professional, 2) feel comfortable, and 3) don't break the bank? We've got you covered with a list of 7 mom-approved tips below.
1. Online Shopping Is a Good Way to Go
You've got enough on your plate right now without going through the hassle of heading to the mall. Online shopping is a more efficient and often cheaper alternative. Plus, if you're buying clothes in advance, you won't be able to try them on anyway. Websites like Asos, Macy's, and H&M are great options for finding reasonably priced, professional maternity clothes.
Pro tip: If you buy clothes in advance, leave the tags on until you're ready to use the outfit in question. Try it on and if it doesn't fit like you'd hoped, you can always return it.
2. Don't Be Afraid of Color and Stripes
The idea that horizontal stripes make you look bigger is an old notion. Wearing stripes can be very effective in creating a flattened look that will make you feel good. Pregnancy can be an exciting but also overwhelming time, and feeling confident that you look your best can help you stay on your game while at the office.
You can also try a skirt or a blouse with one stripe to accentuate your curves. To distract the eye away from your belly bump, consider wearing an all-over design that contains a print pattern.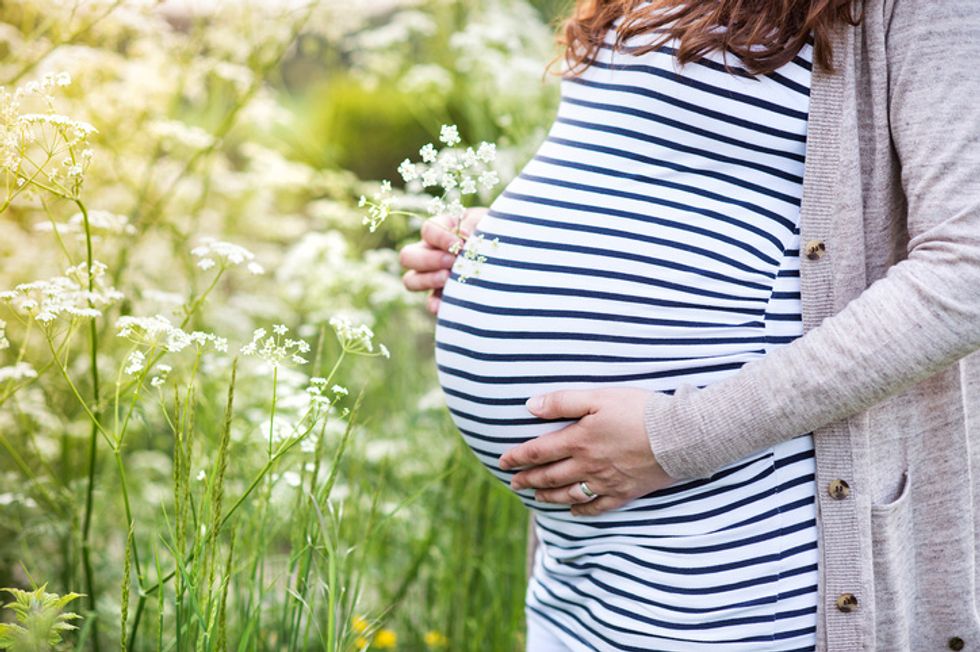 3. Menswear Can Make For Spectacular Second Layers
Nobody wants to spend excessive amounts of money on clothes they'll only wear once, and chances are that you can find stylish, baby-bump friendly business attire in your own home!
Many pregnant women may opt for wearing men's clothing to cover up their bump and maintain a dignified look while on the job. For example, cardigans and oversized blazers are always wonderful options for maternity business clothes.
Raid your husband/father/male friend's closet and see what you can find.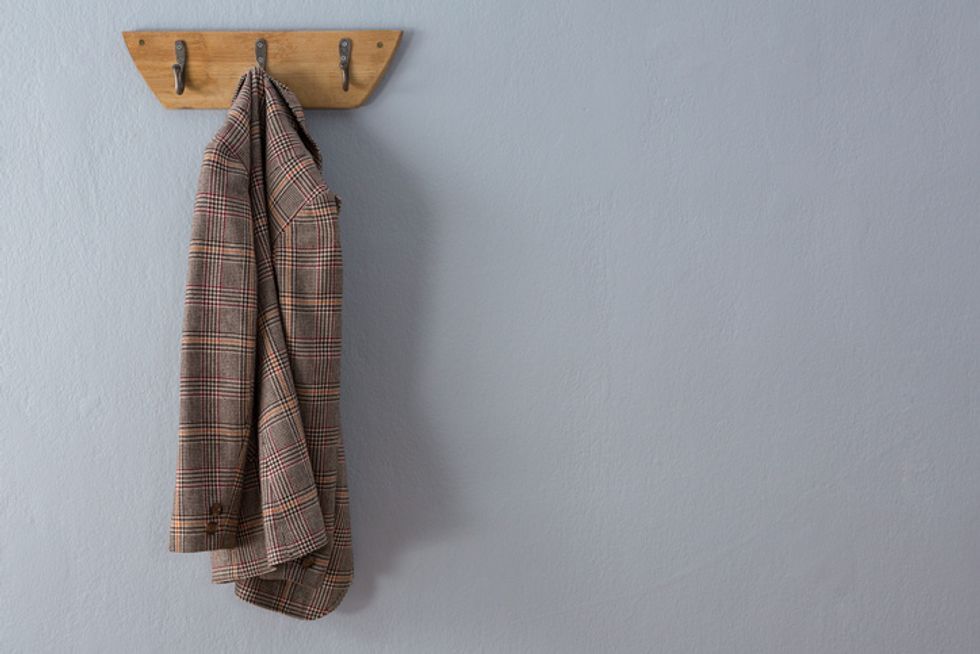 4. Wear Clothes That Stretch
Next, it is important to consider the clothes' fabric when weighing your options in finding the best maternity work clothes. Of course, you do not know how your belly and weight will develop as you go from one trimester to the next. So, a jersey fabric, stretch fabric, or flex fabric will permit more flexibility and optimal comfort.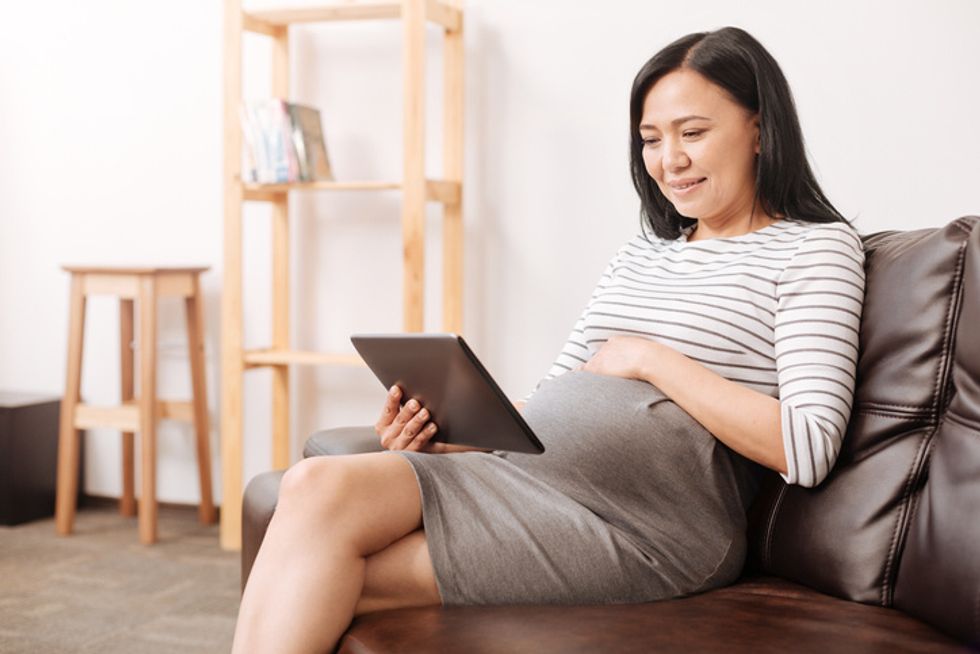 This skirt has a tailored appearance, but is made of stretch fabric
5. Always Remember, Comfort is Key
You are at work and must meet the demands work entails. Of course you want to look the part, but you also want to feel the part.
Don't feel guilty swapping pencil skirts for stretchy slacks and high heels for supportive flats.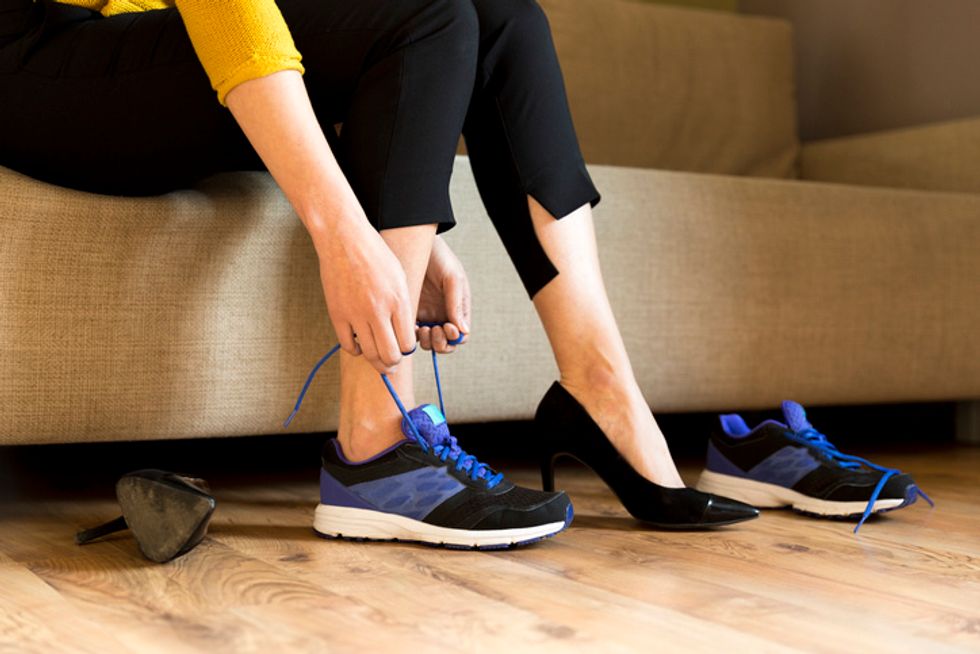 6. Renting/Borrowing Maternity Clothing Is a Wonderful Choice.
Let's face it, your pregnancy will last for nine months, and then you may need a few months to get back to your normal size.
And in the first 3-4 months, you'll likely be fine in your regular clothes. So it's totally understandable if you're hesitant to buy new items at all.
That's where renting and borrowing come in. Plus, they'll help you save space and money that you'd rather use for the baby anyway!
Rent the Runway recently started offering postpartum friendly and maternity clothing into subscription services. Over 450 brands and designers are included in these subscription services.
If renting doesn't align with your budget, don't feel shy asking friends to lend you clothes. Chances are, you'll get plenty of offers from women who were pregnant not that long ago and have a closet full of maternity work clothes they'll never touch again without even asking.
And don't limit yourself just to maternity clothes! As with menswear, the key is just finding professional clothes that will accommodate your bump. Ask your friends if they want to do a work clothes swap and see if any of them have clothes that fit you well!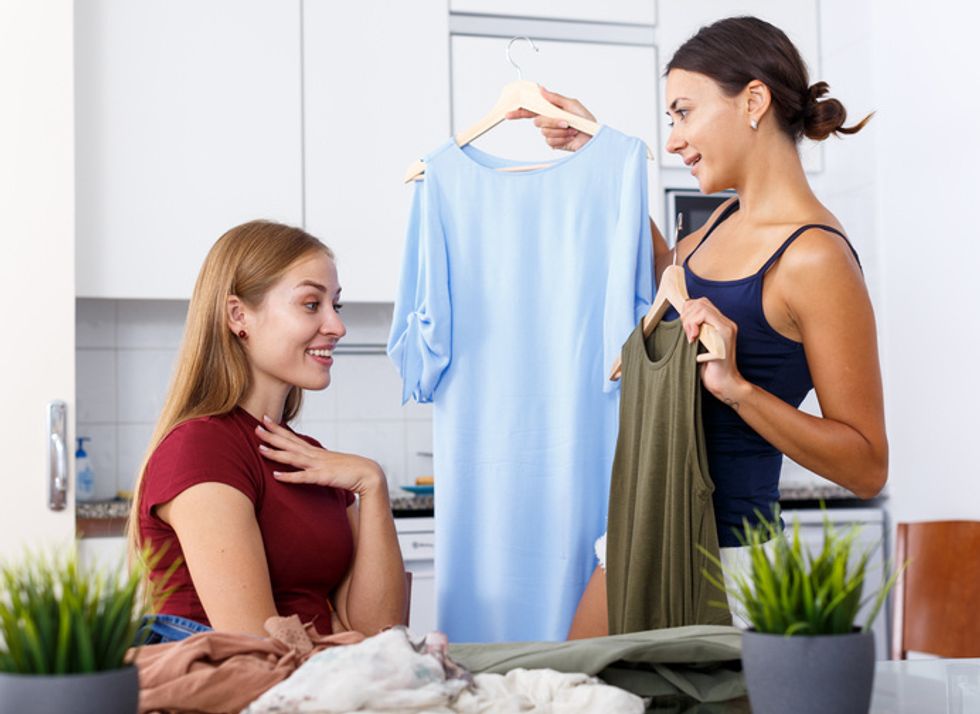 7. Find a Store That You Like, and Stick With It
Many stores that sell maternity clothes will often come out with new styles and releases. So if you find an outlet that you enjoy, it is a good idea to continue to shop there. The fit and material that the clothing is made out of will usually stay the same as new items are made available for purchase. Using the same store to purchase maternity work clothes will provide a consistent fit that you can enjoy throughout your pregnancy.
---
Don't let the stress of what to wear take away from this exciting time in your life. Remember, you'll be glowing no matter which maternity work clothes you choose!
Related Articles Around the Web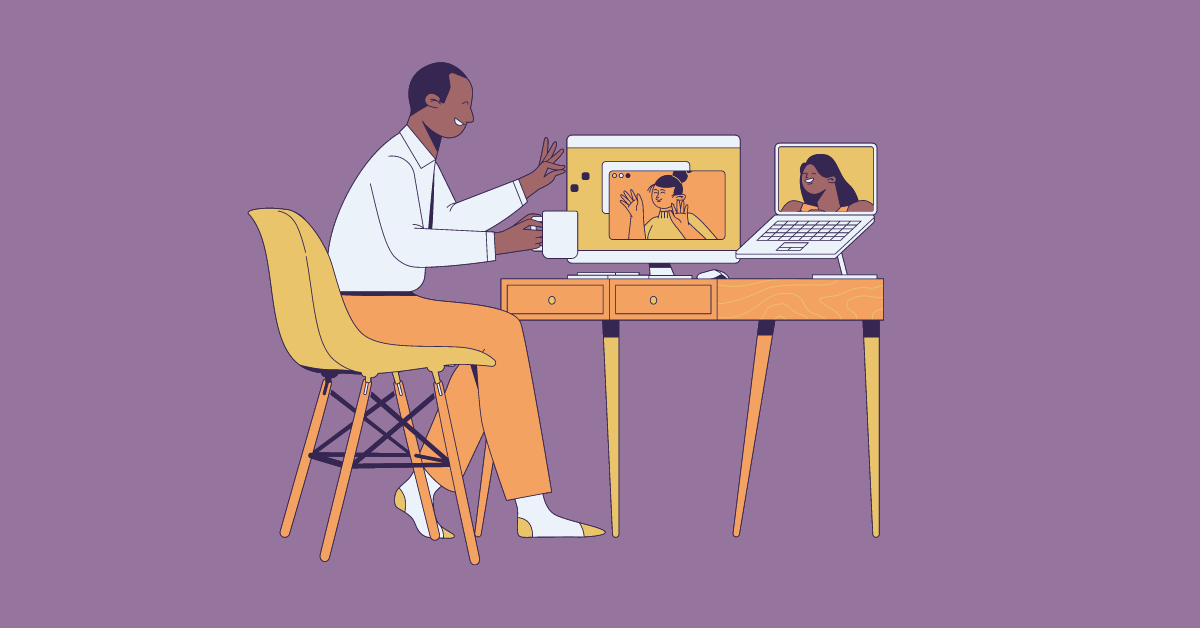 Upskilling and Development
As a result of the COVID-19 pandemic, millions of workers have turned to remote work. Before the pandemic in 2019, 22% of employers offered at least some remote work. Now in 2022, that percentage nearly doubled to 40%. The shift to remote work has become beneficial for me and many of my friends who are recent college grads starting their careers. It's allowed us to dictate our own time and save money from commuting, spend more time with loved ones at home, and have the flexibility to travel and build connections from anywhere. Remote working has also changed how people network for jobs. We have more options now.

Since remote networking is so new, it can be challenging to understand how to do it effectively. Read on to learn my top tips for networking for a remote job.
1. Connect with your high school or college.
The schools you went to want to see you succeed! Connect with old professors, classmates, or alumni on social platforms like PowerToFly or LinkedIn. You can find connections through sports teams, clubs, or topics of interest that will help you build stronger relationships. Don't be afraid to ask them for advice, mentorship, or even introductions.
2. Join a class!
Have you ever had a hobby that you never had the chance to pursue? Coding? Running? Painting? It's never too late to learn something new. Plus, spending time doing what you love will introduce you to other people who love the same thing. Not only will this help expand your social circle, it can also help your career! Once you feel comfortable, talk to your classmates about your work, and ask them about theirs. The perk of classes like these is that you will build relationships with people from all different career backgrounds which will help you determine your career path, especially if you are looking for a mid-career pivot.
3. Register for the Early Career Summit.
My friends and I are very excited to join PowerToFly's Early Career Summit this fall to meet the inspiring founders and CEOs of incredibly impactful companies. This is a great opportunity to get useful tips and learn about different perspectives, professions, and topics that you may be interested in.
4. Attend a virtual job fair and connect with leaders who inspire you.
Job fairs are great for meeting people who can be helpful because everyone attending is there to network! Job fairs at PowerToFly are a great place to meet hiring managers and recruiters from our sponsoring companies. If you come prepared with a resume it is an opportunity to make a great first impression with a company. After the virtual job fair, remember to connect with the people who stuck out to you and introduce yourself on PowerToFly or LinkedIn. Make sure to tell the recruiter who you are, and highlight what stood out to you about their talk.
5. Offer to help.
People really value your help (when it's needed). If you know someone in your network looking to hire a web designer and you know a great place to find one, don't be afraid to make the connection! If you see a job opening that would be great for someone in your network, let them know! Helping people in this way will help build your trust and credibility.
Remote networking has its differences from in-person networking, but it has never been easier to have access to social platforms that can help create connections. It will take some creativity and hard work, but once you have the appropriate mindset the options are endless.
READ MORE AND DISCUSS
Show less
Loading...