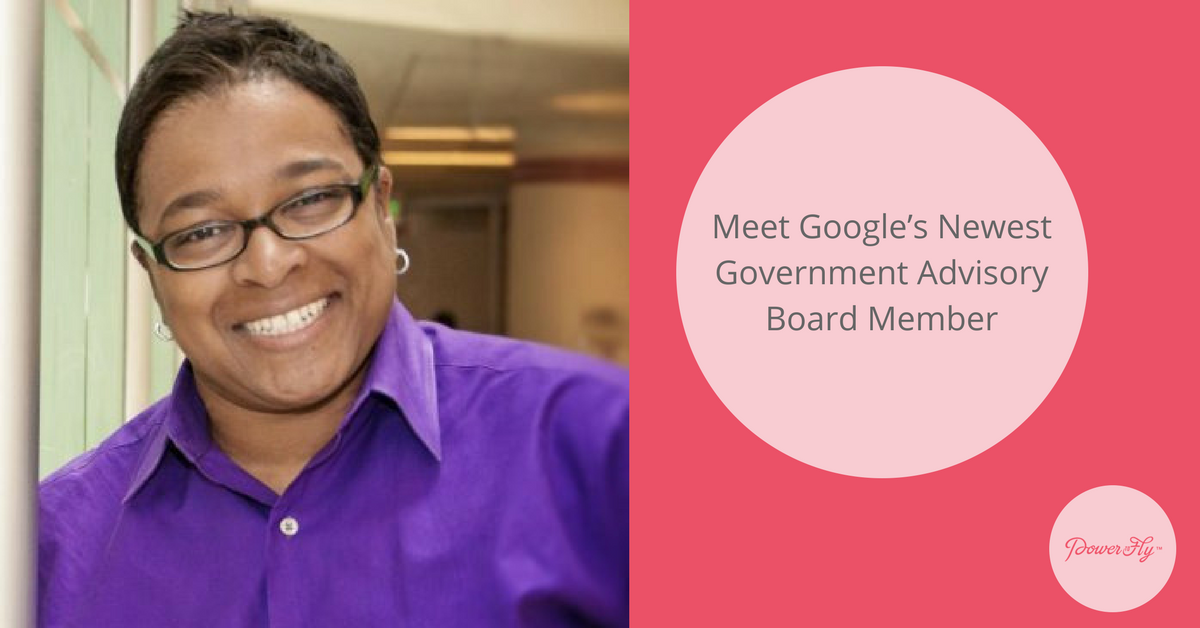 "I want to make a mark so I'm not the last female, African American in the room."
PowerToFly member Gina Tomlinson sat down with us to talk about her recent appointment to Google's US Government Innovation Advisory Board and her prior work building tech solutions in the public sector and corporate America. From discussing the discrimination she's had to rise above as a black woman in tech, to what it's like to always have to be more polished and prepared than the men in the room, Gina gave us an inspiring look into how women can't be afraid to fail and how we should all stop aspiring to be superwomen.

Tell us a little bit about your background and experience so far? What led you to work in the public sector?

In 2007, when I joined the San Francisco Municipal Transportation Agency (SFMTA) as a Deputy Director, it was a complete 180° from my past experience working at Fortune 500 companies like Clorox and HP, where I helped run their Data Center Operations. There were successes and there were mistakes, but I learned a lot along the way. What it ignited in me was the passion to serve - a passion I didn't even know I had. I discovered that I derived an immense amount of satisfaction from seeing people from all walks of life use the technology we implemented - at bus stops, parks, libraries, parking meters, etc. And with it, the realization of how much still needed to be done became a driving force.

Your favorite project so far?
I've had some fabulous opportunities with organizations like Sphere3D Corporation, City and County of San Francisco (CCSF) and San Francisco Municipal Transportation Agency (SFMTA) in CIO and CTO roles. But the most job satisfaction I've had is in my work in the nonprofit sector, enabling organizations aimed at helping homeless and domestic violence victims get back on their feet by teaching them computer skills and technology.

One takeaway from your work in the public sector?
I once commented on a LinkedIn post from the CIO of the City of Palo Alto. We were discussing the public sector's desperate need for more talent -- true technologists who can innovate, people with the passion and energy to make a difference and inject newness. While there's no denying the desire to change, the government can be antiquated and move slowly. In 2012, I represented the City of San Francisco as one of the White House Innovation "Champions of Change," and have been honored with other national/local awards, not so much for the solutions we created...innovative as they may be, but for being able to make it work within this bureaucratic, laborious environment.

How did your appointment to Google's US Government Innovation Advisory Board come about?
When the exec team at Google decided to form this board, they sought former Government IT executives and my name was put forward by former colleagues.The work we'll be doing will have nation-wide consequences and we'd be representing Google when we talk to people in the federal, state and local governments.
What are your plans/hopes for your time on the board?
The appointment is for a year, it'll be a lot of travelling, meetings - online and in-person, and brainstorming sessions. I'm excited to see what comes.

What brought you to STEM? And what kept you there when so many others have given up?
From when I was a kid, I loved science and math, and had a constant thirst to learn more. At age 11, I was in the newspaper of my small town in Ohio for building a computer. Despite all the praise and encouragement, I've felt the sting of discrimination. It can be maddening, disheartening, temporarily defeating - but I leverage it as an opportunity to show my skills and capabilities. My gender and race set me apart and I was going to make the most of it. My product and branding had to be impeccable, my delivery and services perfect. The knowledge that I had to be on my game more than my Caucasian and male counterparts made me sharpen my skill set. I like proving that it's no big deal to be the only female African American in the room. I want to make a mark so I'm not the LAST female, African American in the room.
Advice for other women in STEM?
Be confident in what you know, be ok in what you have yet to know - that you have more to learn. That confidence resonates. It's important for women to come across as confident, assured and comfortable with themselves in their space. I say that not just for STEM, a woman needs that in whatever field she chooses. I'd also say, don't be afraid to fail. We feel we have to be superwomen - we don't. I've butted my head against walls and made bad decisions. But I was able to eventually transform those into success. And lastly, no one does this alone. We all have to have some help and we have to help each other.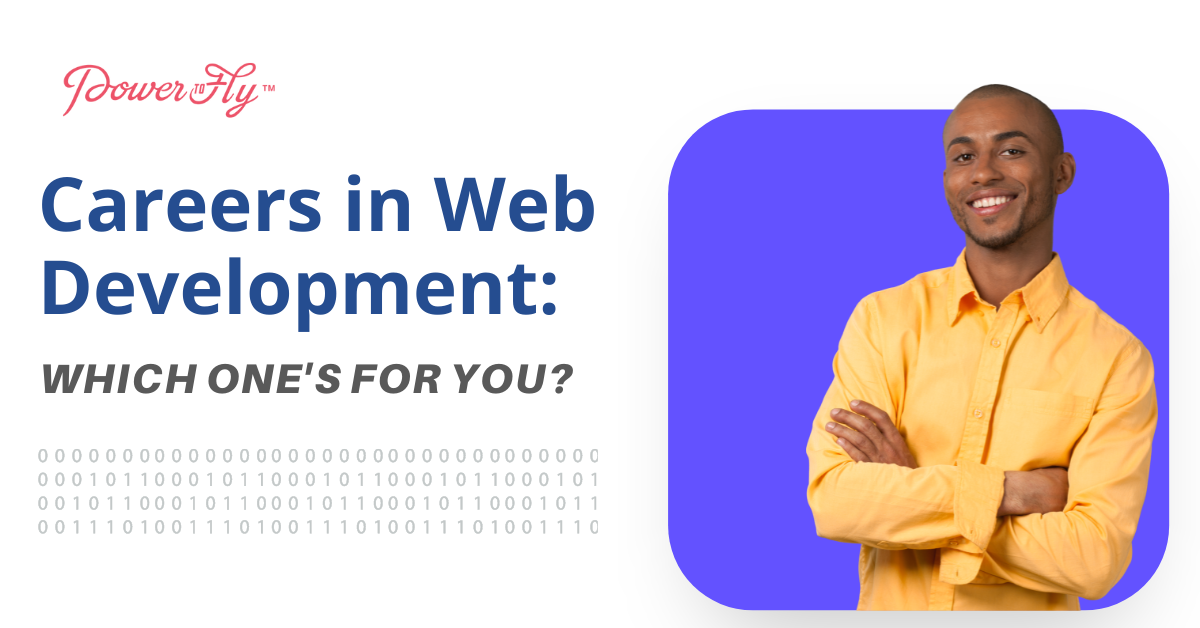 Upskilling and Development
We all have our favorite websites– the ones we frequent, bookmark, and recommend to others. You might even enjoy some website features so much that you've found yourself wondering why they aren't more popular. Or maybe you've experienced times where you were frustrated with a website and wished you could add features or even design your own!
If you've ever found yourself intrigued at the prospect of designing and developing your own websites, then a career as a web developer might be just for you!
As a web developer you would be responsible for coding, designing, optimizing, and maintaining websites. Today, there are over 1.7 billion websites in the world and, in turn, the demand for web developers is on the rise. In order to figure out what kind of web development work best suits you let's start with an introduction to the three main roles in web development that you can choose from.
The Three Types of Web Development Jobs
Front-End Web Development: The Creative Side
Think of front-end development as the décor of a house. The color scheme, furniture, manicured lawns, and overall aesthetic. In terms of a website, front-end development is laser-focused on the appearance of a website and its presentation on different devices. If you're considering a role in front-end development, it's important to learn programming languages such as HTML, CSS, and JavaScript. These three languages go hand-in-hand. HTML allows you to create user interface elements, CSS helps you with stylistic elements, and JavaScript allows you to incorporate online tools and connect your website to back-end functions.
In addition to programming skills, front-end developers need to be detail oriented, creative, willing to keep up with the latest trends in web development, cyber security conscious, and geared toward user-friendly designs. The median salary for a front-end developer can reach well into the $90,000 to $100,000 range.
Back-End Web Development: The Logical Counterpart
While a house can be beautifully decorated, it's incomplete without a solid foundation and efficient infrastructure. Similarly, a well-designed website depends on logical and functional code to power the features of that website. Back-end web development is code-heavy and focused on the specifics of how a website works. If you enjoy the analytical challenge of creating the behind-the-scenes code that powers a website, then back-end development is for you.
Since this role is more code-heavy, it's important that you learn numerous programming languages and understand algorithms and data structures. Some languages that are essential to back-end development are Ruby, Python, SQL, and JavaScript. Back-end developers also ensure that users can successfully retrieve and access data. This requires creating and using APIs (Application Programming Interfaces) which act as messengers that relay data related requests. Additionally, developing the code for the inner workings of a website also requires back-end developers to be conscious of the user interface features designed by front-end developers and to internally mitigate potential security risks. Due to the increased technical aspect of this position, back-end developers normally earn higher salaries than front-end developers. The average median salary for this role is around $118,000 per year.
Full-Stack Web Development: A Little Bit of Everything
A full-stack developer is essentially the Jack (or Jill)-of-all-trades in web development. Full-stack developers need to be knowledgeable about both front-end and back-end roles. This does not necessarily imply that you would need to be an expert in both roles, but you should fully understand the different applications and synergies they each imply. In order to work in this position, you will need to know the programming languages used by front-end and back-end developers. In addition to these languages, full-stack developers also specialize in databases, storage, HTTP, REST, and web architecture.
Full-stack developers are often required to act as liaisons between front-end and back-end developers. Full-stack developers need to be both problem solvers and great communicators. The end goal for a full-stack developer is to ensure that the user's experience is seamless, both on the front-end and on the back-end. In return, you can expect to earn a median salary of $100,000 – $115,000 a year for this role.
Taking the Next Step
Web development is both in-demand and lucrative! All three roles described above contribute to specific aspects of web development and the scope of each one can be customized to the industries and positions you feel best suit you. Regardless of which role you choose, all of them need a foundation in programming.
To gain the programming skills needed in each role, you can enroll in courses or learn independently. Coding bootcamps are a great way to boost your skillset quickly and efficiently.
Click here for some of our highly rated programming bootcamp options! Make sure to check out the discounts available to PowerToFly members.
READ MORE AND DISCUSS
Show less
Loading...