GET EMAIL UPDATES FROM POWERTOFLY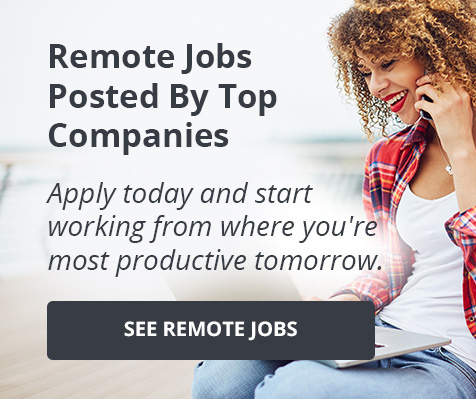 December 17, 2019
Mentor vs. Sponsor vs. Coach: What's the Difference?
You're ready to level up your career and know you need help to meet your goals. But where do you start?
---
You've likely been told about the importance of finding a mentor, but there are lots of different ways folks can help support you in your career, and it's important to know what you need before you ask for assistance. Mentors, sponsors, and coaches can all help you in your career journey, but each will approach your situation a bit differently.
Let's take a look at mentors vs. sponsors vs. coaches to understand the differences in what they do and how each of them can help you move your career forward.
Mentor
A mentor is a professional who is one or more rungs up on the career ladder from you. A good mentor will listen to your experience and be able to both give you advice and share how they made decisions when they were in your position.
A mentor doesn't always have to be senior to you or in your industry either. For example, I have a mentor who is several years younger than me and works in the fashion industry and I work in career services. Even though we are in different industries, she has more experience running a company and has more press experience than I have, so I can always go to her for business and PR advice.
How to find one: Your mentor does not have to work at your company or be in your field. They just need to be a person that is thriving in their career at a higher level than you and has the bandwidth to mentor you.
If there's someone at your company who you admire, they might be a good person to ask to mentor you; you can also check with HR to see if your company has any dedicated mentorship programs. If for whatever reason you'd like to have a mentor outside your company (and remember, you can have multiple mentors!), check inside of your network, like LinkedIn, your favorite Facebook group, or even your friends and extended family. Who is killing it and seems happy in their career? Find that person and send them a message about why you admire them and what you are looking for out of a mentor relationship and how much time you are looking for them to spend.
How you can give back to them: Always ask if there is something that they need. Maybe they have a project they could use some feedback on, or they need a LinkedIn referral from a mentee. Also, a good way to give back is to be conscious of their time so if you can find a way to save them some, that is always a win.
Sponsor
A sponsor is a professional that works for your company or has direct ties to your company, with some level of influence on decision-makers in your organization. If a mentor is a boxing trainer, cheering you on and giving you advice in your corner, a sponsor is like the boxing promoter who was able to get you in the ring in the first place.
Sponsors vouch for you to get onto projects and into roles that you may not have had access to on your own. They will suggest that you get added on calls, task forces, and more that would be beneficial for your career and will let you know when opportunities come up that you may be a good fit for.
How to find one: A sponsor should be someone with a leadership position in your company or someone who is a key stakeholder affiliated with the organization. It doesn't have to be your direct manager but can be a leader in another department, or even, once in my case, my boss's boss. This is someone that you should build a relationship with ahead of time, and offer to help them with some of their initiatives. Once they see you doing well, it makes it a lot easier for them to sponsor you.
This relationship takes longer to develop than a mentorship, so be patient in asking someone to sponsor you. This is a great person to occasionally ask out to lunch to get to know them a little better to help build on that connection.
How you can give back to them: Just like a sponsor will vouch for you, they will look for you to do the same for them. You represent this person in rooms that they are not in. If they are mentioned in a meeting that they aren't attending, you can keep them in the loop. Also, a sponsor is putting their reputation on the line when they recommend you for something, so a good way to give back is to really excel in the new initiative they included you on so that it reflects well on them.
Career Coach
A career coach is a paid professional who offers career advice to clients to help them through a career challenge. A career coach will focus on the problem that you are having, establish career goals, and work with you to help you accomplish those goals.
You can work with a career coach in a few different ways. You can work with them in a one-on-one setting in person or online. You can do group coaching where you and others dealing with a similar career challenge work together with a coach. Or you can take an e-course created by the coach on your particular challenge.
Career coaches tend to specialize in a certain area. For example, I work mostly work with clients who are going through a career transition or are preparing for a major interview, while others focus on completely different areas — like skills necessary to be an executive. You can find out more about a coach's niche and if they would be a good fit for you through their website, LinkedIn page, reviews, or through a phone consultation.
How you can find them: LinkedIn Profinder is a great way to find a career coach. You can do a post stating you are looking for a coach and the particular challenge that you have and 5 career coaches will contact you. You can also check your network and ask for recommendations for good coaches. There are so many coaches and some are better for some personalities more than others so be sure to do a phone consultation first to see if you are aligned with one another.
How you can give back to them: As a coach, I will say that reviews mean so much! If you had a good experience and have a few minutes to leave them a kind note, that really does make a difference.
[View sessions with PowerToFly's career coach]
So, summing it up — need some general advice on how to advance your career and someone to listen to your experiences? A mentor might be perfect. Trying to reach the next level at your company and need someone to vouch for you? Get a sponsor. Need targeted practice in a specific area (like interviewing or a role-specific skill)? Try a career coach.
Mentor vs. Sponsor vs. Coach: Key Differences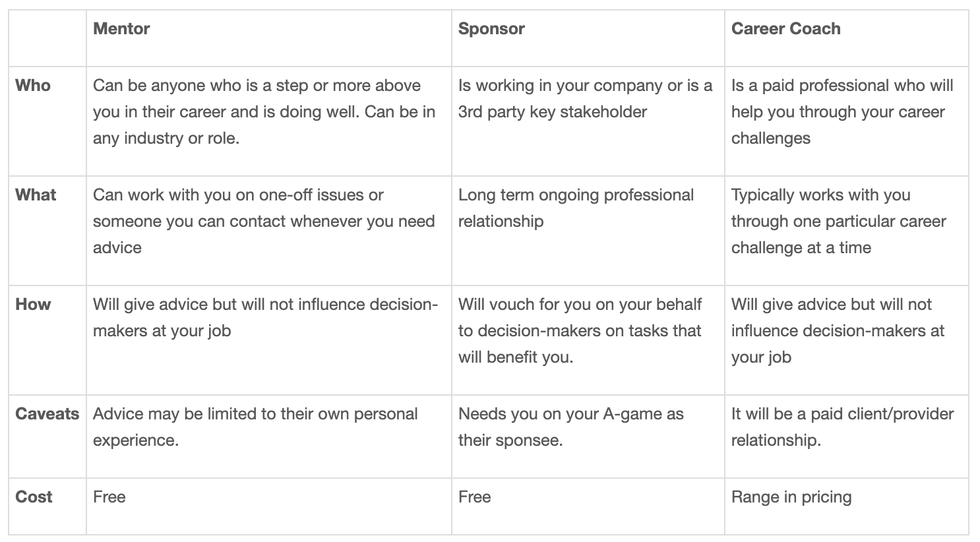 popular
According to a recent study, anti-Asian hate crimes have risen 150% since the pandemic started. But these acts of violence are not new — they are part of a much larger history of anti-Asian racism and violence in the U.S.
That makes celebrating Asian American and Pacific Islander Heritage Month (which was named a month-long celebration in May by Congress in 1992 "to coincide with two important milestones in Asian/Pacific American history: the arrival in the United States of the first Japanese immigrants on May 7, 1843 and contributions of Chinese workers to the building of the transcontinental railroad, completed May 10, 1869") this year all the more important.
As we reflect on recent events and how they fit into a much larger history of discrimination, we're also taking time to celebrate and acknowledge the many achievements of the AAPI community.
We asked several of our partner companies what they're doing to honor AAPI Heritage Month at work, and we were inspired by the range of responses, covering everything from campaigns to #StopAsianHate to educational events on AAPI history.
Here's what they're doing, in their own words:
READ MORE AND DISCUSS
Show less
Loading...