GET EMAIL UPDATES FROM POWERTOFLY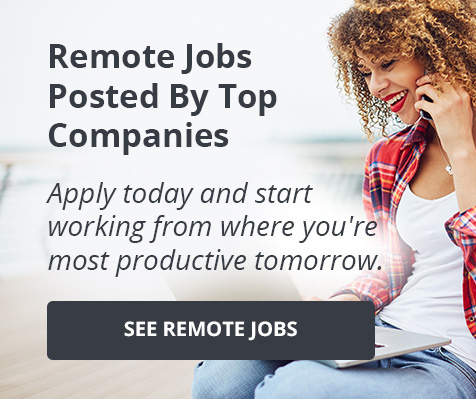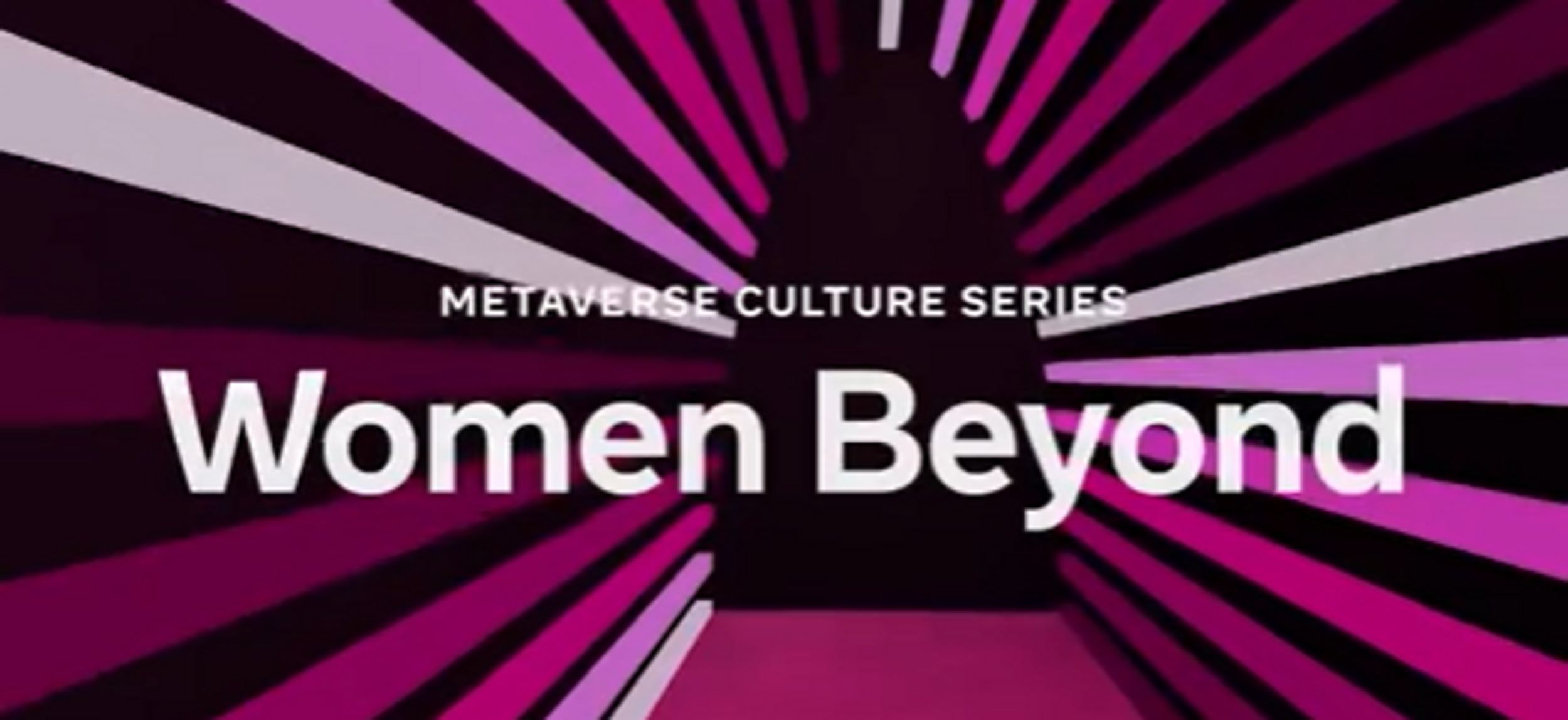 March 10, 2022
Meta
How Women Today Are Shaping the Future of the Metaverse
This post was originally published on the Meta blog. Go to Meta's company page on PowerToFly to see their open positions and learn more.
Yellow beanies, wire-rimmed glasses and platinum white hair are just some of the ways the women in our second Metaverse Culture Series experience represented themselves as avatars. Meta's Chief Diversity Officer Maxine Williams sat with five female VR creators in Horizon Workrooms to discuss how their work and creative vision are shaping the future of the metaverse today, including Ang'l Artiste, Candice Houtekier, Mary Matheson, Mary Spio and Michaela Ternasky-Holland. Using immersive technologies to create art, build community and conduct business, these innovators are paving a path for other women around the world to explore what's possible as we build toward the metaverse.
Tips for Getting Started as a Creator in VR
The panelists shared tips for how other women can start exploring immersive technology:
Find your passion: Think about what you want to change in the physical world and channel it into the digital reality.
Join VR communities for women online: Seek out advice and resources from other women through online communities like forums and Facebook groups.
Get inspired: Immerse yourself in other creators' work. Check out our list of inspiring women VR creators.
Come as you are: You don't have to be technical to create — just get started. You can start with Wi-Fi and a laptop.
Meet the Women
Ang'l Artiste, Artist and VR Creator
Ang'l Artiste is a mother, artist and Horizon Worlds creator in Brooklyn, NY. When she's not painting or designing tattoos, Ang'l is hosting exhibitions in her virtual Black art museum and sculpting in VR. She grew up playing Nintendo and Sims, so Horizon Worlds was a dream come true. Ang'l has felt uplifted by the Horizon Worlds community. As someone who's struggled with social anxiety her entire life, networking in immersive spaces has built up her courage to approach new people and grow as a successful businesswoman.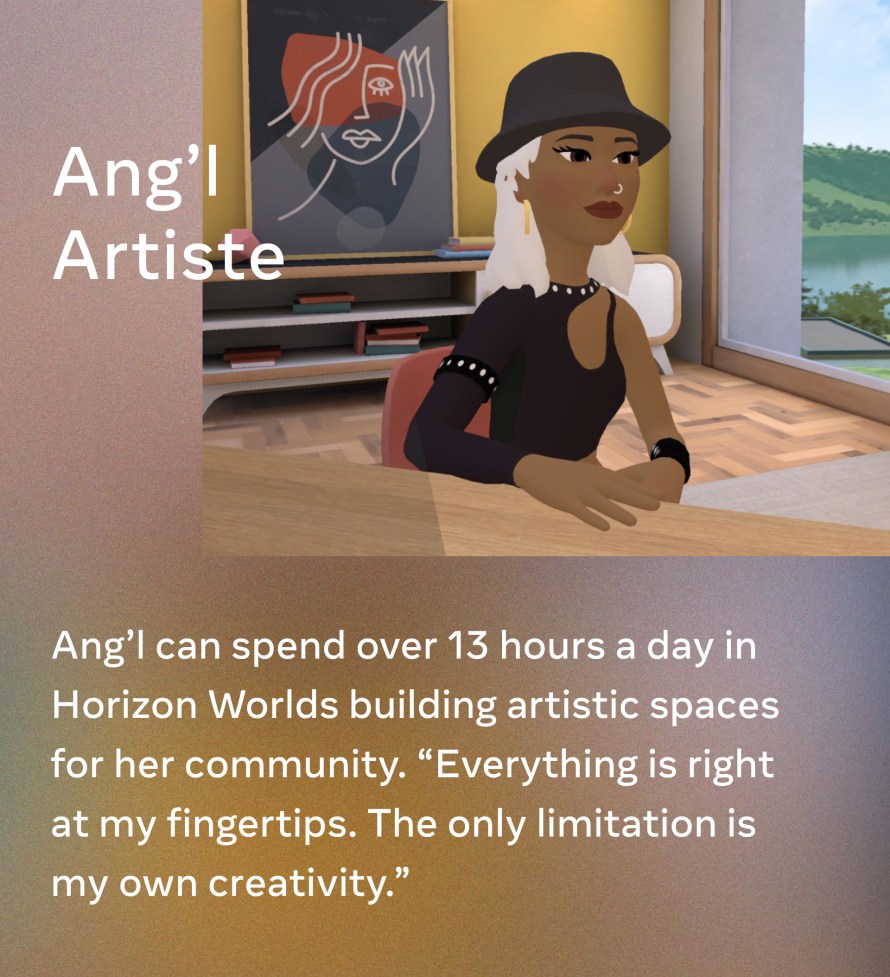 Candice Houtekier, Founder and Director, Art Collision
Born and raised in France, Candice Houtekier is the founder of Art Collision, a Toronto-based creative studio that helps organizations install art exhibitions and hosts events in VR. She has transformed the international art market by bringing artists and collectors into new realities. Because she imagines every industry to be in the metaverse in the future, she envisions a healthy ecosystem where all businesses can thrive. She hopes that the metaverse will become synchronized to financial systems so businesses and creators can sell virtual goods more easily.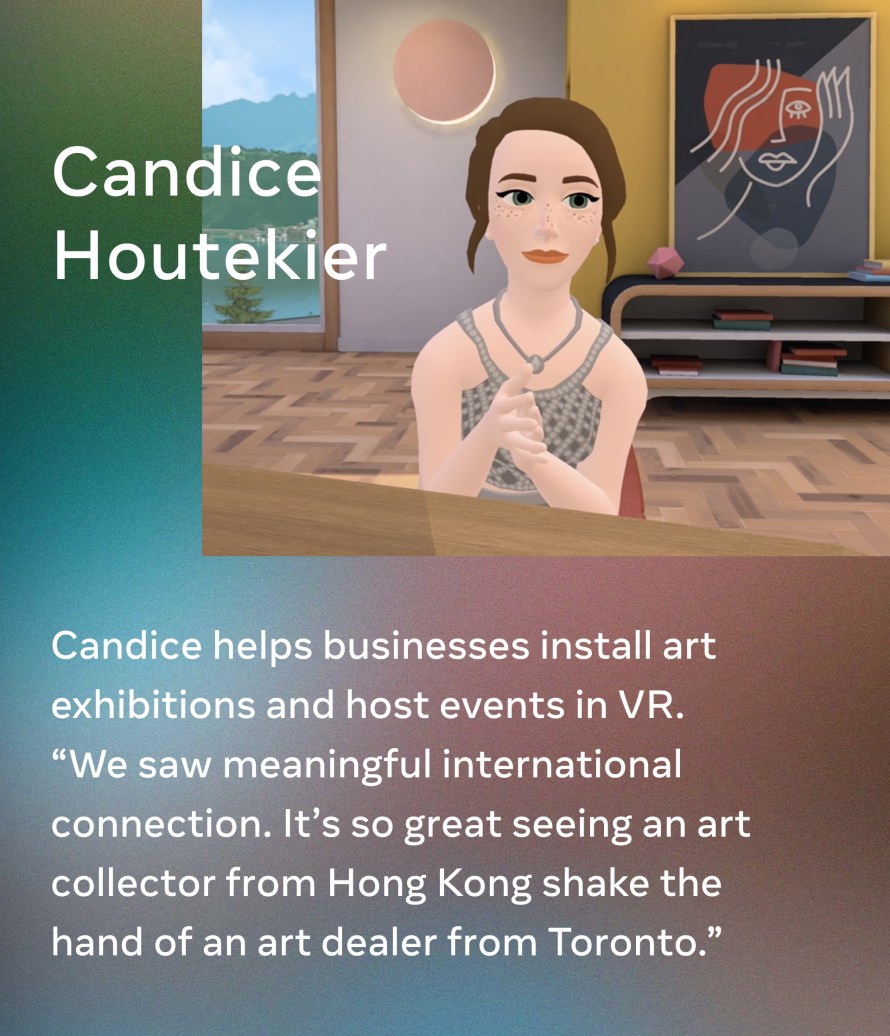 Mary Matheson, VR Creator and Film Director
Mary Matheson is a British director who incorporates 3D environments into her documentaries to bring the audience a step deeper into the story. She co-creates with the protagonists themselves to ensure they feel represented properly. May is the lead director of the 10-part 360° New Realities VR Series 10 Young Women 10 Countries, which explores the stories of young female activists. While Mary is still often the only female on a male-donimated set, she's determined to lift other women up in the metaverse and set more equitable ground rules. Mary will help raise the next generation of immersive creators as a professor at Arizona State University's new Center for Narrative and Emerging Media in Los Angeles.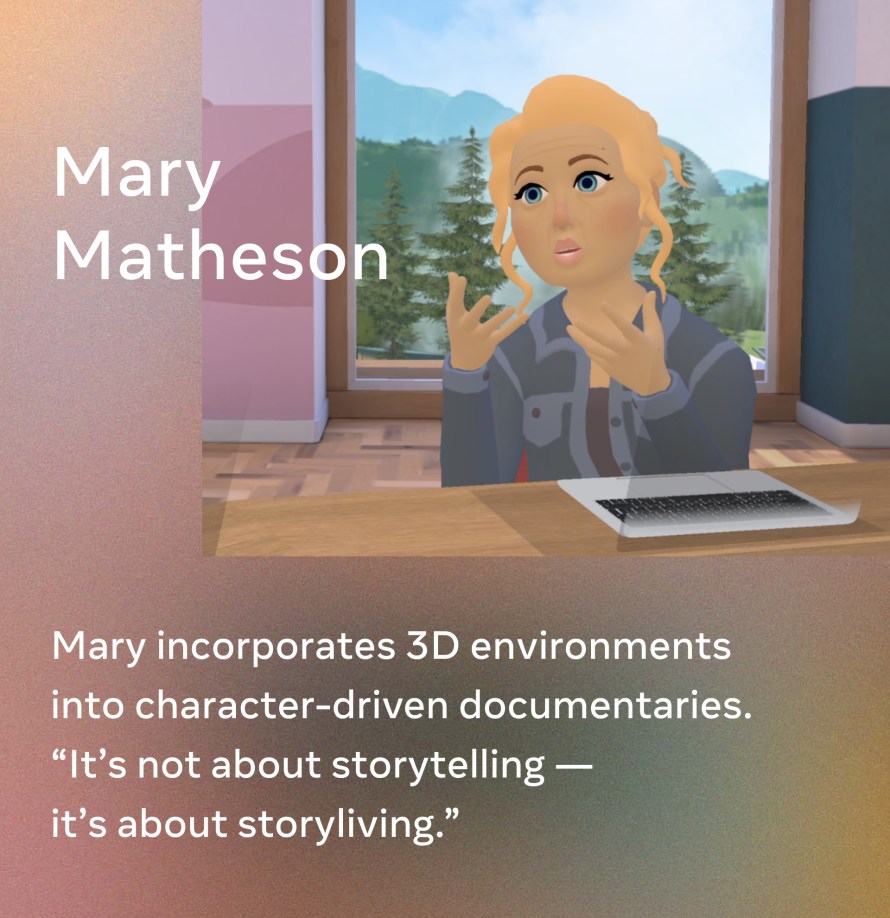 Mary Spio, Founder and CEO, CEEK
Space engineer and Founder of CEEK Mary Spio grew up in Ghana during a tumultuous time and escaped the chaos by watching space exploration on TV. Several years ago, when Mary first put on an Oculus headset as a space engineer, she was brought back to her childhood and wanted to give others the same sensory experience. Her dream was to see concerts and sports events through this new lens, so she founded CEEK, a metaverse platform for entertainment featuring Lady Gaga, Demi Lovato and more. During the COVID-19 pandemic, Mary was moved by how many frontline workers and cancer patients in hospitals used CEEK to watch concerts and practice mindfulness. With the rules of the metaverse being written right now, she finds this is the perfect time for women to join.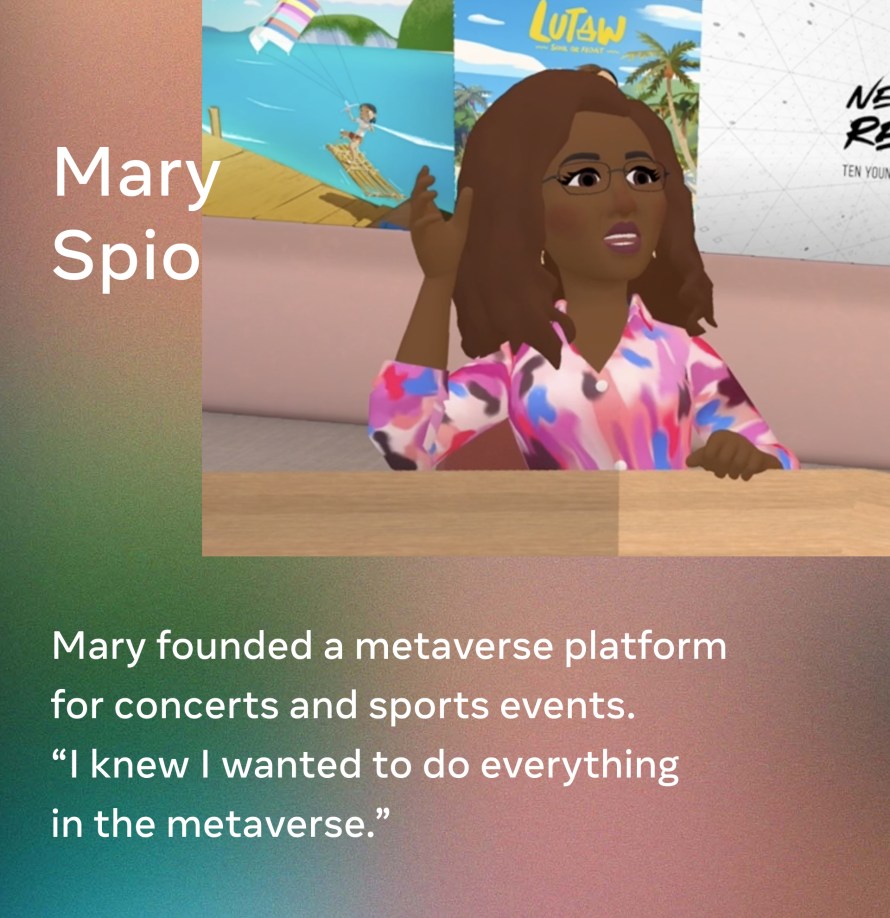 Michaela Ternasky-Holland, VR Creative Storyteller
Michaela Ternasky-Holland has always been an immersive storyteller, from dancing to working for amusement parks. When she discovered metaverse technologies as a journalist, she was excited to blend various mediums together and experiment with extended reality (XR) storytelling. Michaela uses immersive technology to collaborate with people from all backgrounds to tell socially impactful stories in an authentic way. Her most unexpected experience in VR was CARNE y ARENA, an installation of the world of immigrants crossing the border from Mexico into the US. Michaela felt the sand between her toes and the wind of the helicopter above her — with her senses heightened, she felt the freedom to truly connect with the refugees' stories.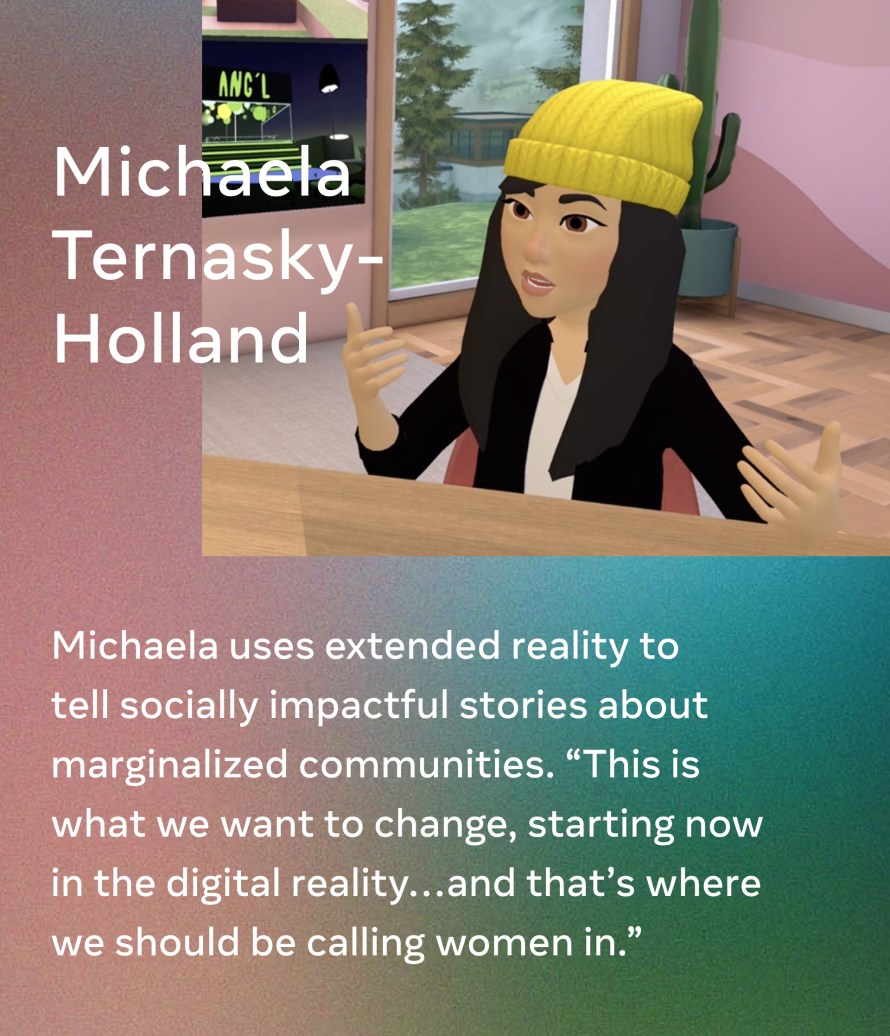 Watch the full conversation on Facebook and YouTube. Stay tuned for more Metaverse Culture Series experiences rolling out during cultural moments throughout the year. These will showcase how we're building towards a more equitable future of technology, and supporting the diverse creators pioneering in this space.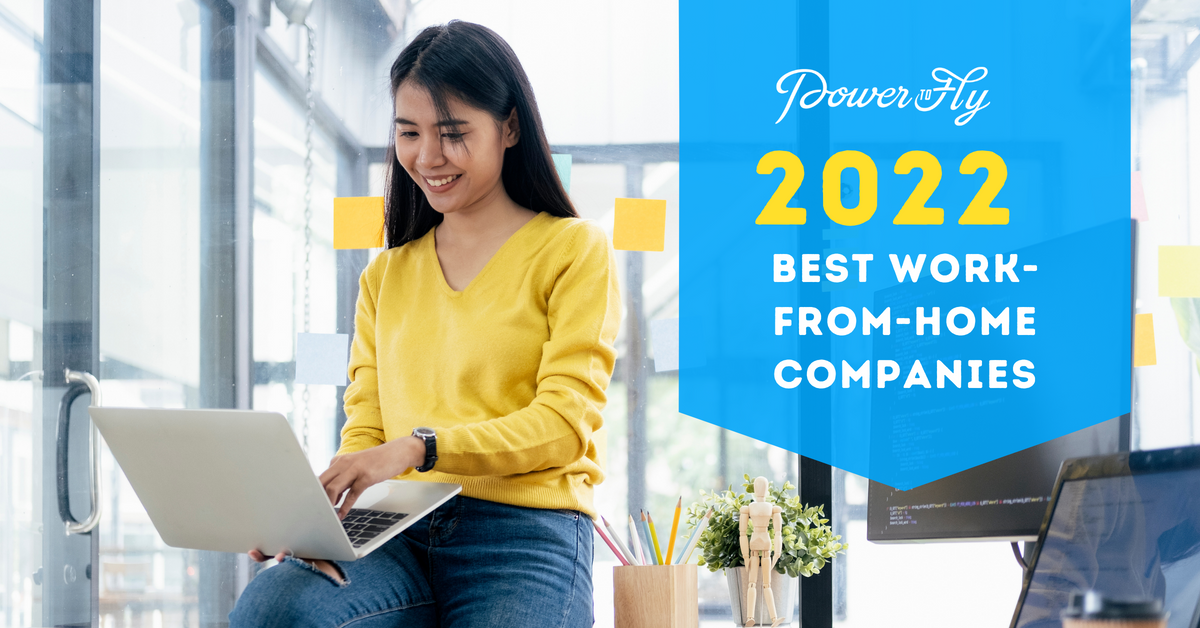 Featured Post
Every year, PowerToFly creates a list of the best work-from-home companies. Now that over half of the U.S. workforce is remote, compiling that list was a bit more challenging.
This year, we prioritized selecting companies that are remote-friendly—meaning they have both remote and in-person roles—but they have made long-term commitments to hiring and supporting employees who choose to work from home; and we think they have the perks, values, and organizational framework to allow all employees to flourish in their careers, regardless of location.
Keep reading to see our top 15 work-from-home companies for 2022, along with a description of what they do, why we like them, and who they're looking for.
PowerToFly's Best Work-From-Home Companies 2022:
Don't see what you're looking for? Check out a fill list of 5,000+ open remote roles here!
READ MORE AND DISCUSS
Show less
Nacelle
💎Want to learn more about the company's core values and how to align with them? Listen to Nacelle's team members share some valuable insights. Watch the video to the end to make sure you don't miss the interview tips that can help you land a job at Nacelle!
📼 Get ready to hear about Nacelle's culture and the company's core values, shared by their own team! Meet Madelyn Louipenn, Senior Manager of Talent Acquisition at Nacelle; Drew Clements, Front-end Engineer at Nacelle; Courtney True, Product Designer at Nacelle and Elizabeth Harris, Senior Manager of Professional Services Team at Nacelle. Together, they will share everything you need to know to stand out in the interview process.
📼 The first of the company's core values is continuous learning. The team at Nacelle is formed by curious individuals, who are often encouraging each other to step outside of their comfort zone and learn a new concept. Every Nacelle employee gets access to an online learning platform, whether it's learning a new programming language or expanding your knowledge in product marketing. There are endless opportunities for their employees to learn something new. As Courtney says, she's worn so many hats at Nacelle that she's gotten to see the company itself grow, which led her to a career path to also grow in as an individual.
📼To continue with the core values, the company's team members stress the importance of strong teamwork skills. This is what has allowed the team at Nacelle to move fast, to hit their aggressive goals, and to allow for an extremely collaborative workspace, even while in a remote environment. Another important skill to strengthen teamwork is the ability to give feedback: giving kudos to your fellow teammates, and creating the space to express gratitude to them is a priority at Nacelle.
Ownership and honesty, the company's final core values.
Nacelle often empowers its employees to take ownership over their work, step outside their comfort zone, try something new and build something that they're passionate about.
Everyone at Nacelle brings a high level of honesty and integrity into everything they do. They hold themselves accountable, keep their word, and most importantly, they show up to work as their authentic selves, knowing that they can be honest with one another. During his interview process, Drew said, "I know what I'm doing, I just don't interview well." He let the interviewers know ahead of time that he was going to be a nervous wreck, and they were very receptive!
Your interviews are a great time to ask more questions about the role and its expectations, and also to learn about your interviewers and their experience working at the company. That will allow you to understand how you fit into the larger Nacelle picture.
🧑💼 Are you interested in joining Nacelle? They have open positions! To learn more, click here.
Get to Know Madelyn, Drew, Courtney, and Elizabeth
With a degree in Psychology, one of Madelyn Louipenn's biggest passions is helping others develop an understanding of their mental processes and guiding them to overcome blockers. Drew Clements' passion is his job and he takes every project as an opportunity to learn and grow as creative. Courtney True has crafted websites and brands with visionaries in the social impact spaces such as energy & environment, health & wellness, social justice, scientific progress, arts & culture, education, and philanthropy. If you are interested in a career at Nacelle, you can connect with Madelyn, Drew, Courtney, and Elizabeth on LinkedIn. Don't forget to mention this video!
More About Nacelle
Nacelle was built for technology-forward merchants drawn to the benefits of a headless architecture but dissatisfied with the costs and complexity associated with adoption. Leaders at FTD.com, Boll & Branch, and Thinx use Nacelle to eliminate the typical maintenance costs and infrastructure complexities related to going headless while accelerating their time-to-market. Unlike traditional commerce solutions, their product is built on event-driven and elastic core technology optimized for flexibility, performance, and customization.
READ MORE AND DISCUSS
Show less
Loading...