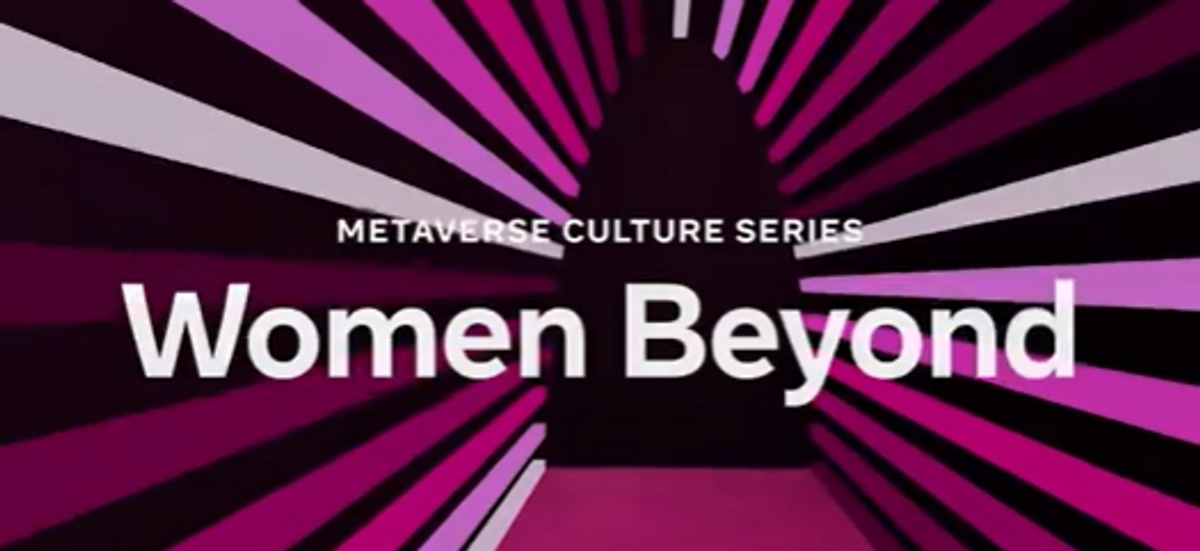 Meta
This post was originally published on the Meta blog. Go to Meta's company page on PowerToFly to see their open positions and learn more.
Yellow beanies, wire-rimmed glasses and platinum white hair are just some of the ways the women in our second Metaverse Culture Series experience represented themselves as avatars. Meta's Chief Diversity Officer Maxine Williams sat with five female VR creators in Horizon Workrooms to discuss how their work and creative vision are shaping the future of the metaverse today, including Ang'l Artiste, Candice Houtekier, Mary Matheson, Mary Spio and Michaela Ternasky-Holland. Using immersive technologies to create art, build community and conduct business, these innovators are paving a path for other women around the world to explore what's possible as we build toward the metaverse.
Tips for Getting Started as a Creator in VR
The panelists shared tips for how other women can start exploring immersive technology:
Find your passion: Think about what you want to change in the physical world and channel it into the digital reality.
Join VR communities for women online: Seek out advice and resources from other women through online communities like forums and Facebook groups.
Get inspired: Immerse yourself in other creators' work. Check out our list of inspiring women VR creators.
Come as you are: You don't have to be technical to create — just get started. You can start with Wi-Fi and a laptop.
Meet the Women
Ang'l Artiste, Artist and VR Creator
Ang'l Artiste is a mother, artist and Horizon Worlds creator in Brooklyn, NY. When she's not painting or designing tattoos, Ang'l is hosting exhibitions in her virtual Black art museum and sculpting in VR. She grew up playing Nintendo and Sims, so Horizon Worlds was a dream come true. Ang'l has felt uplifted by the Horizon Worlds community. As someone who's struggled with social anxiety her entire life, networking in immersive spaces has built up her courage to approach new people and grow as a successful businesswoman.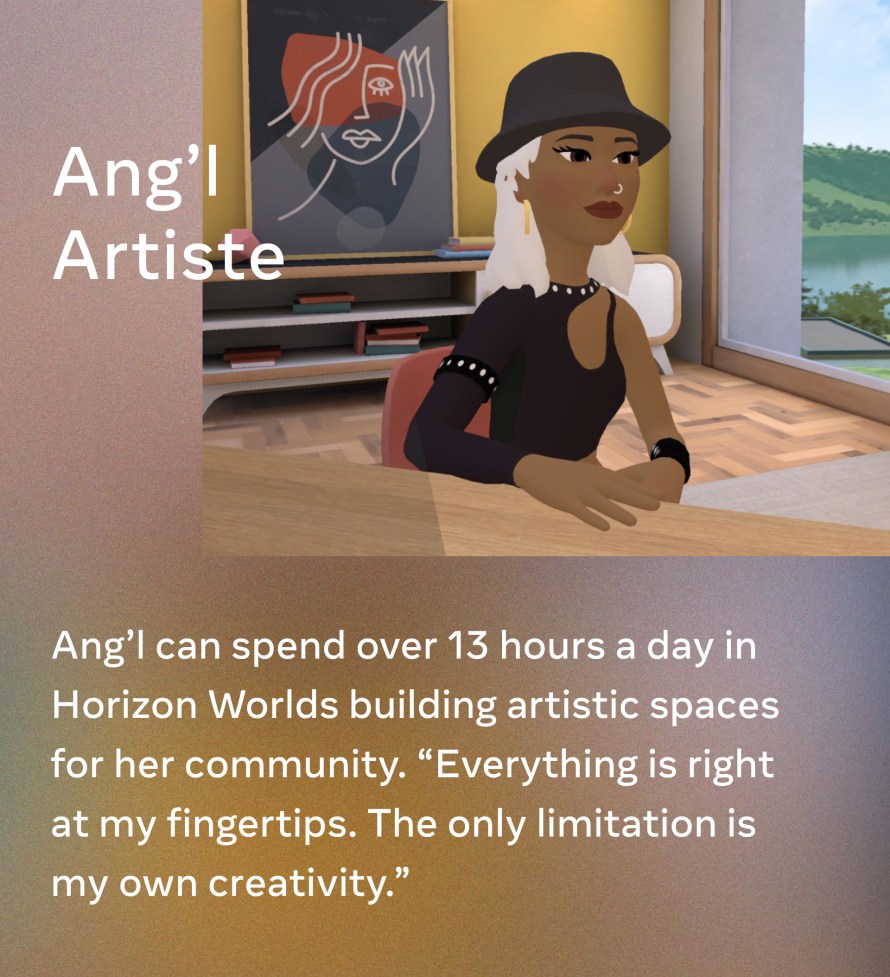 Candice Houtekier, Founder and Director, Art Collision
Born and raised in France, Candice Houtekier is the founder of Art Collision, a Toronto-based creative studio that helps organizations install art exhibitions and hosts events in VR. She has transformed the international art market by bringing artists and collectors into new realities. Because she imagines every industry to be in the metaverse in the future, she envisions a healthy ecosystem where all businesses can thrive. She hopes that the metaverse will become synchronized to financial systems so businesses and creators can sell virtual goods more easily.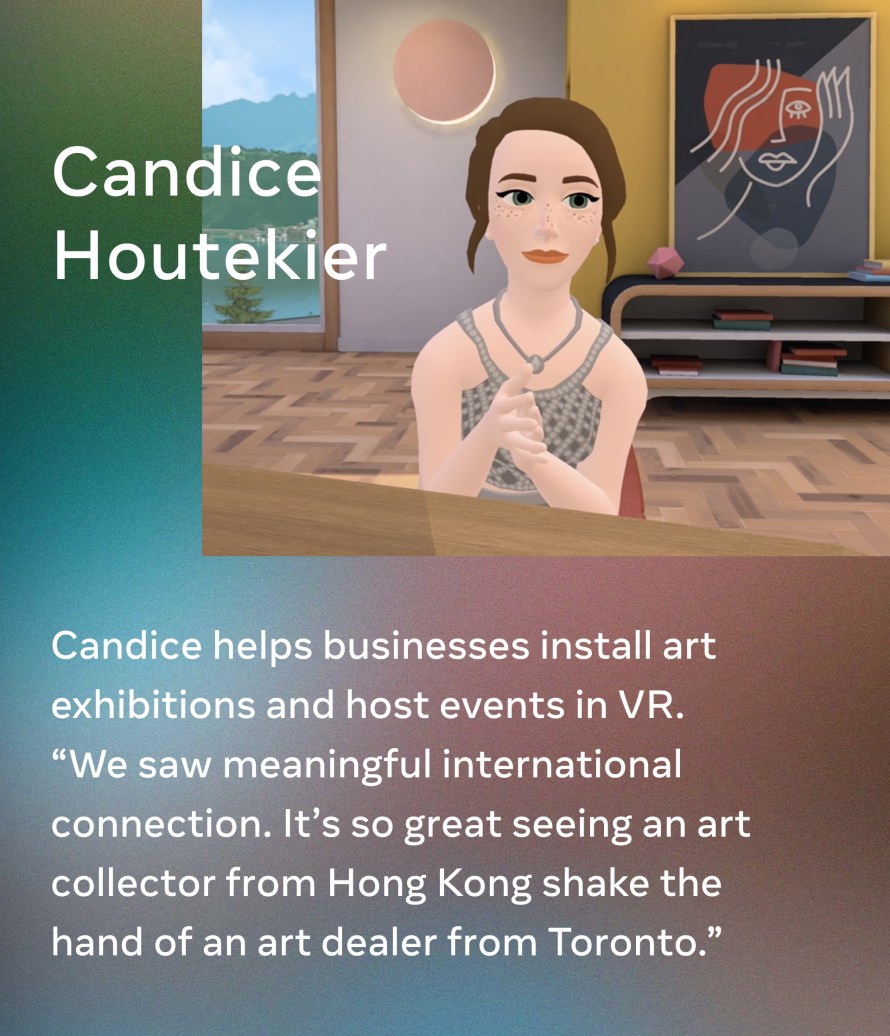 Mary Matheson, VR Creator and Film Director
Mary Matheson is a British director who incorporates 3D environments into her documentaries to bring the audience a step deeper into the story. She co-creates with the protagonists themselves to ensure they feel represented properly. May is the lead director of the 10-part 360° New Realities VR Series 10 Young Women 10 Countries, which explores the stories of young female activists. While Mary is still often the only female on a male-donimated set, she's determined to lift other women up in the metaverse and set more equitable ground rules. Mary will help raise the next generation of immersive creators as a professor at Arizona State University's new Center for Narrative and Emerging Media in Los Angeles.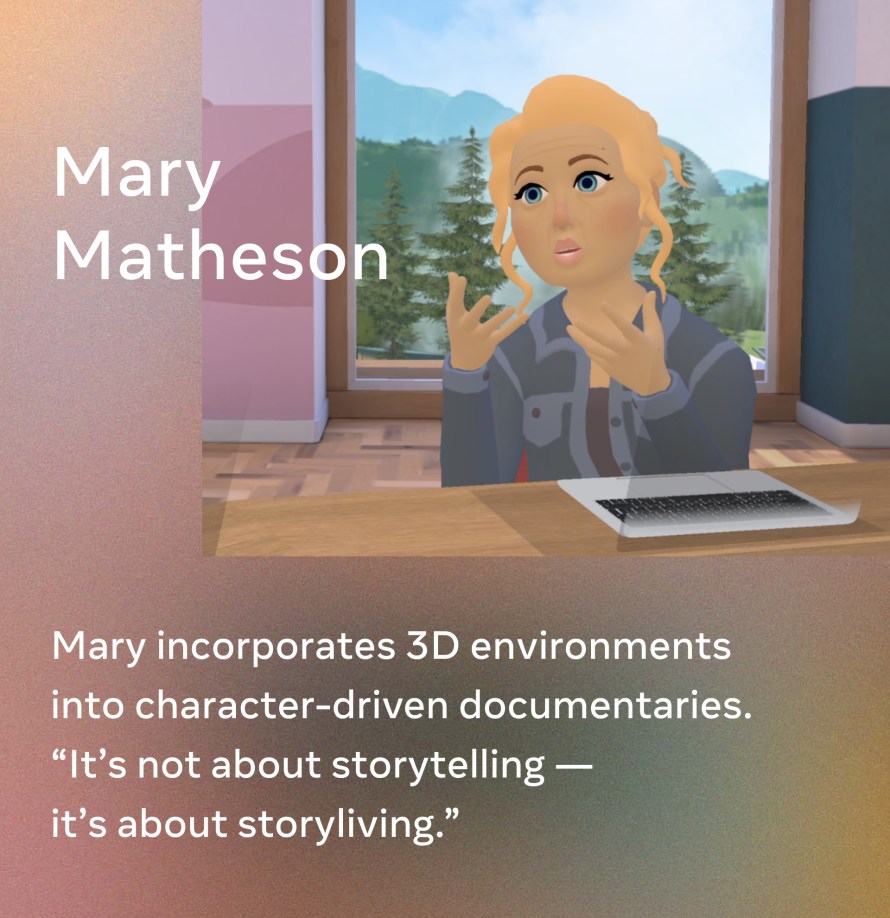 Mary Spio, Founder and CEO, CEEK
Space engineer and Founder of CEEK Mary Spio grew up in Ghana during a tumultuous time and escaped the chaos by watching space exploration on TV. Several years ago, when Mary first put on an Oculus headset as a space engineer, she was brought back to her childhood and wanted to give others the same sensory experience. Her dream was to see concerts and sports events through this new lens, so she founded CEEK, a metaverse platform for entertainment featuring Lady Gaga, Demi Lovato and more. During the COVID-19 pandemic, Mary was moved by how many frontline workers and cancer patients in hospitals used CEEK to watch concerts and practice mindfulness. With the rules of the metaverse being written right now, she finds this is the perfect time for women to join.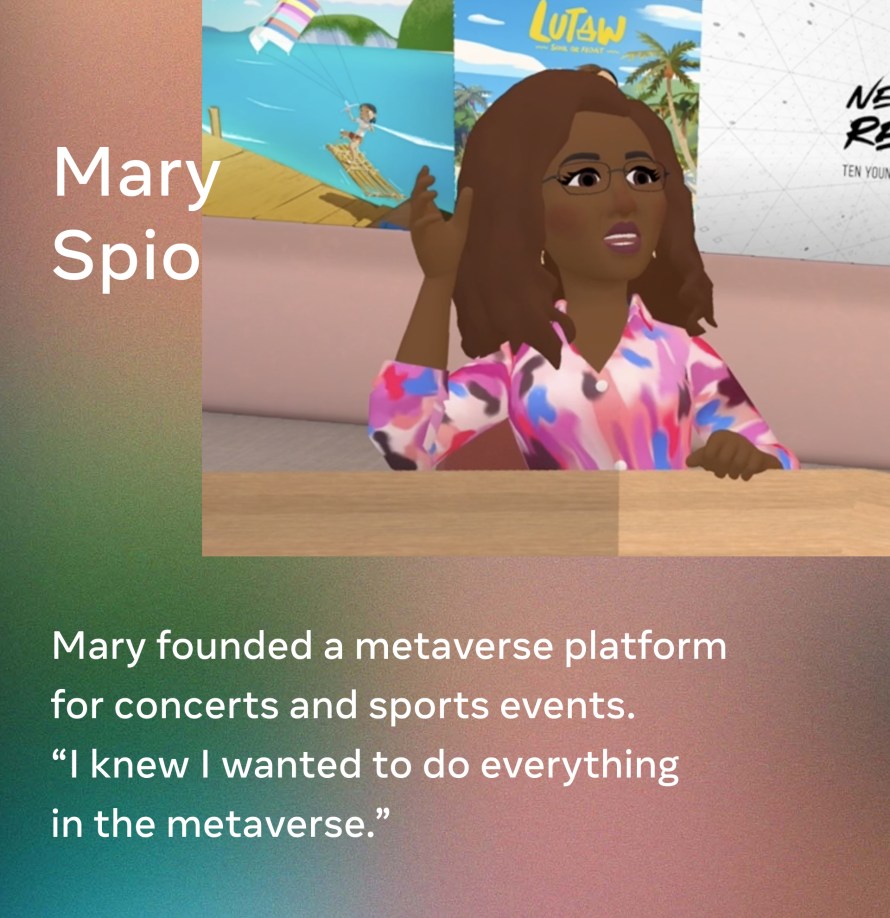 Michaela Ternasky-Holland, VR Creative Storyteller
Michaela Ternasky-Holland has always been an immersive storyteller, from dancing to working for amusement parks. When she discovered metaverse technologies as a journalist, she was excited to blend various mediums together and experiment with extended reality (XR) storytelling. Michaela uses immersive technology to collaborate with people from all backgrounds to tell socially impactful stories in an authentic way. Her most unexpected experience in VR was CARNE y ARENA, an installation of the world of immigrants crossing the border from Mexico into the US. Michaela felt the sand between her toes and the wind of the helicopter above her — with her senses heightened, she felt the freedom to truly connect with the refugees' stories.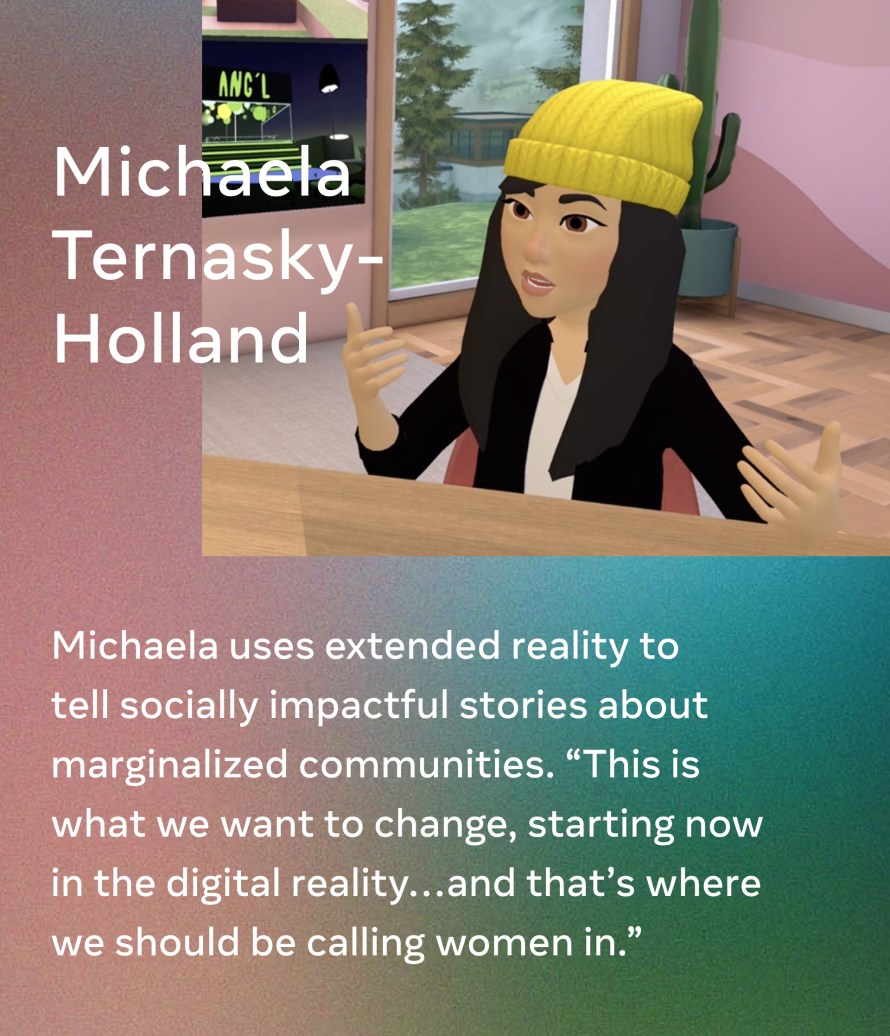 Watch the full conversation on Facebook and YouTube. Stay tuned for more Metaverse Culture Series experiences rolling out during cultural moments throughout the year. These will showcase how we're building towards a more equitable future of technology, and supporting the diverse creators pioneering in this space.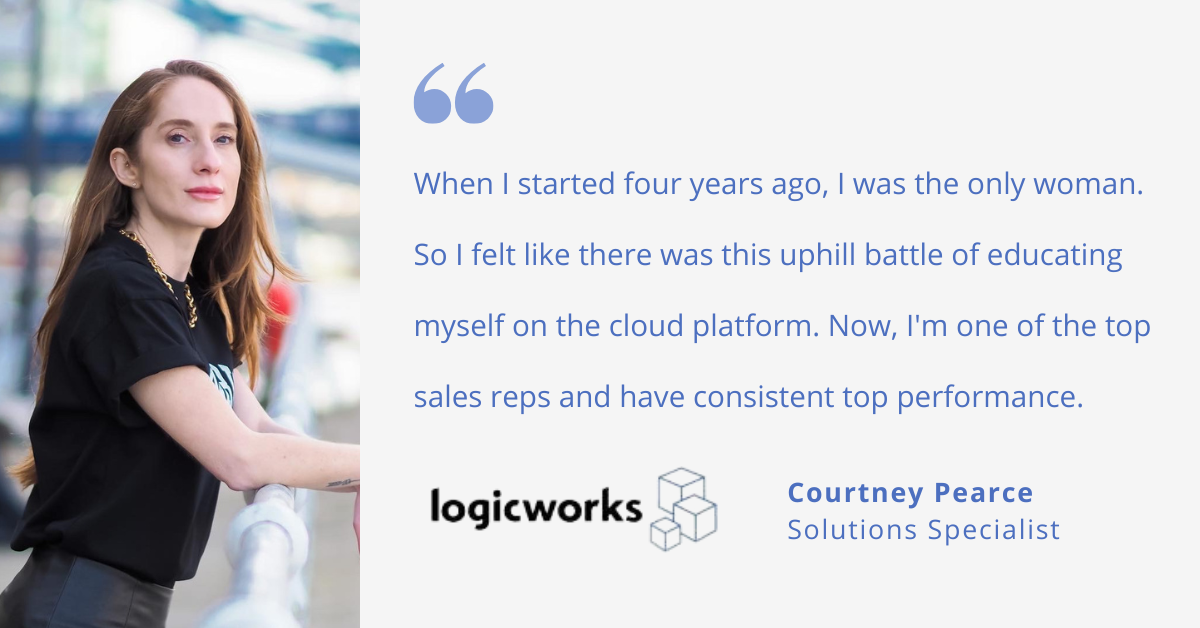 Logicworks
Courtney Pearce's background isn't one you'd expect to find in a tech sales position. But as a motivated self-starter, it makes all the sense in the world that she's been so successful in her role as Solutions Specialist at Logicworks.
If you ask her what she's most proud of about her time so far at Logicworks, she'll say her growth over the last four years.
"Even though I came from a technology company that was selling software, selling infrastructure and infrastructure managed services is very different. There was a learning curve. And when I started four years ago, I was the only woman. So I felt like there was this uphill battle of educating myself on the cloud platform. Now, I'm one of the top sales reps and have consistent top performance. So I'm most proud of my growth over the last four years."
Courtney has a lot of wisdom to impart to those interested in taking on the sales side of tech. We sat down with her to learn more about how she broke into the tech world by utilizing her retail experience.
An Unexpected Path Into Sales
Courtney started college as an Orthodontics major but eventually realized that science wasn't her calling.
"Although I'm a great student, science and math were difficult subjects for me," she admits. "I ended up taking a random textile and clothing elective and it was my favorite class."
She enjoyed the breadth of the program and decided to become a Textiles and Clothing major.
"You got the opportunity to learn the sociology behind why people wear clothes, the chemistry behind dying, how to make fabric, then creating a line from start to finish and marketing that to the class," she shares.
Although fascinated by the program, her career journey didn't lead her to the fashion industry but rather to an adjacent career in retail.
"I ended up accepting a leadership position for a big box department store," she says. "At 23 years old, I ran a 35 million dollar store. It was a great experience and I learned a lot."
After two years of working in retail for various name brands, she found her way into a tech company through a recruitment role.
Breaking Into the Tech World
While Courtney was working at a recruiting firm, she was approached by a security tech company with a position as a technical recruiter. She was interested in the role and applied, but didn't get an immediate response.
"I didn't hear back, but continued to follow up," she recounts. "One night, I got a phone call that said, 'You're not a good fit for the technical recruiter role, but we have this new group that we're building out called business development and they're working directly with sales. Based on your experience and the fact that you're willing to follow up, we think you'd be a great fit'."
At the time Courtney knew nothing about the tech space but that didn't stop her from interviewing for the position.
"I spent an entire week browsing the website, watching all their product marketing videos, and tried to wrap my head around what this security company did," she explains.
During the interview, she blew them away with her knowledge of the company.
"I gave my five-minute spiel and I think that impressed them," Courtney shares. "I had taken the time to research the company, and not having had a tech background, I tried to comprehend what they do."
Hired as a business development rep, she had the opportunity to build the team from the ground up.
Reaching New Heights at Logicworks
Courtney continued to rise in the ranks, but she eventually felt that she had hit a plateau. With a desire to try out something new, she looked to Logicworks who offered her the career advancement she was looking for.
"I had reached my potential with my previous employer. There wasn't anything new for me to learn. I wanted to figure out what was next in my career. There was an opening at Logicworks for a Solution Specialist to be based in Boston. That was enticing for me."
When Courtney moved to Logicworks she was able to explore job autonomy.
"It gave me the opportunity to move into a territory that I'd been working in for many years, but also run that territory like my own business," she explains. "There was nobody else working within that space, and I could create the process that I wanted to."
Now at Logicworks, she experiences the constant changes of a cloud system.
"I'm constantly learning," she shares. "We're constantly evolving our services, what products we're providing, and how our services are integrated as the cloud is maturing. It keeps me interested every single day."
Now as a sales lead, Courtney focuses on building relationships with current and potential clients.
Coincidentally, the relationship-building skills that Courtney uses on a daily basis come from her experience in retail.
"I think coming from retail, you have to be able to talk to anyone," she says. "You're getting a lot of different customer personalities, so it allows me to be comfortable talking to strangers, which I think is key in sales."
Along with sales experience, Courtney's internal drive has been key in propelling her forward.
"Being a self-starter and watching YouTube videos on what the cloud is, what AWS is, and taking that time on my own to learn and absorb as much as I can are, at the end of the day, the kinds of things that you can prepare you to enter the tech space," she explains.
Ultimately, it was the skills she learned in retail and her self-taught understanding of tech that have led to her success.
Advice for Entering the Tech World Through Sales
If you're looking to enter the tech world from a sales angle, Courtney offers this advice:
Find companies that resonate with your values. "Whether you like their product and think that product is solving a pain point in the marketplace, or you align with the company's values, work for a company whose mission you support," Courtney advises.
Be pleasantly persistent. "The biggest thing that helped me was when I reached out and nobody responded, and then I followed up and nobody responded, and then I followed up again and they called me. Being pleasantly persistent shows that you're interested and invested in the organization," she explains.
Do your research. "Take the time to figure out what the company does and what they are all about. Educate yourself above and beyond the basic training material to ensure that you have the right knowledge base to be successful in the role."
If you are looking to grow within the tech space, check out
these open positions at Logicworks
.
READ MORE AND DISCUSS
Show less
Loading...