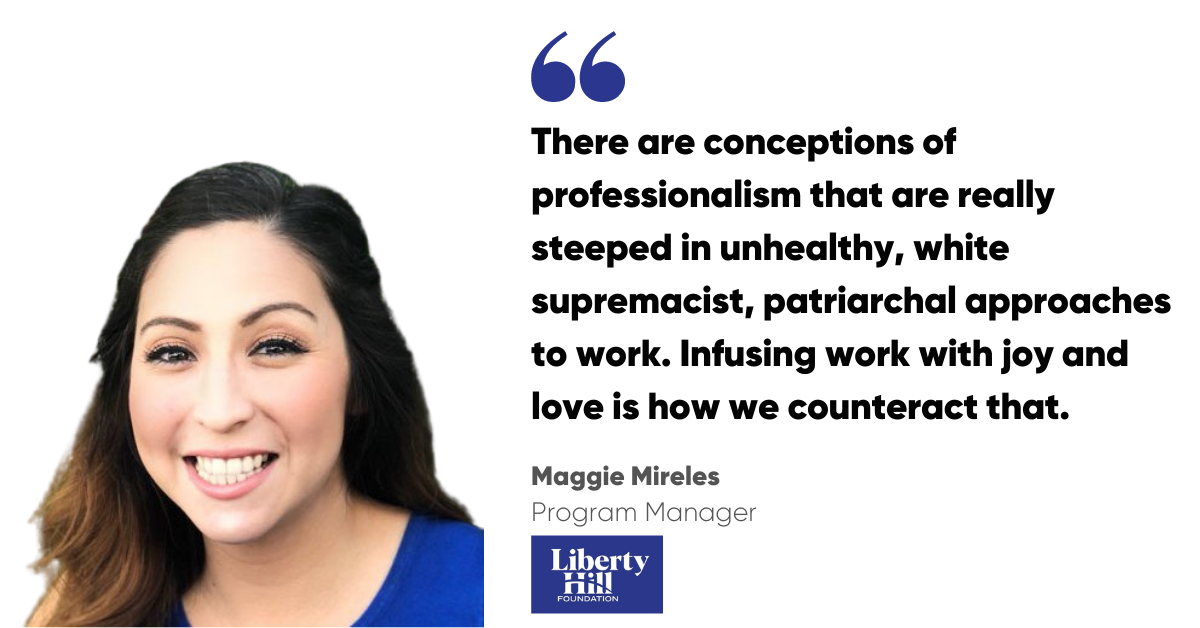 Liberty Hill Foundation
One of the best moments of Maggie Mireles' career thus far happened, against all odds, during a global pandemic.
The Program Manager at social-justice-focused public foundation Liberty Hill had been planning an op-ed training for youth activists that was meant to happen in person. It had to move online at the last minute, and Maggie was skeptical it would go well.
---
"Especially with programs and trainings, it can be like, 'Is this impactful at all? How is this contributing?'" she says. "But by the end of the sessions, these activists brought me to tears."
It was a full-circle moment for Maggie. While teaching activists how to develop op-eds and seize opportunities to share their messages with the world, she and her team were empowering them to see themselves as credible messengers based on their lived experiences. She was able to do that, showing up for her Latinx L.A. community, because of her experience studying communication and political science at Berkeley and her long track record of community action work (and thanks to their partnership with The Chronicle for Social Change, now The Imprint!).
We sat down with Maggie to hear more about her career journey, including how she found her way into the fulfilling world of social justice work and how her experience differs from common beliefs about the field.
Finding Organizing, On Micro and Macro Scales
"College was a really huge culture shock," says Maggie of her years at UC Berkeley. "It was the first time I left my neighborhood, which was predominantly Latinx and in a working class community."
Being exposed to a new set of people—people whose experiences differed so dramatically from her own—made Maggie interested in studying the systems that produced those outcomes. "It became really apparent to me, the disparity between the communities of my classmates and the communities that I came from and where my grandparents still live, and how much of an influence politics had in making the reality of the city I grew up in," she explains.
Alongside her coursework, Maggie got hands-on experience with political engagement by working with the resource center for Latinx students. "It helped me see that there were opportunities in public sector work, and that that work gave back to the community," she says. "It was the impetus of me recognizing that I wanted to do work rooted in social justice, connecting the classroom and my lived experience."
Her first job post-college was in a school district, where she saw firsthand the impact that education policies had on families and children. It was meaningful work, but incredibly challenging, too, and Maggie was interested in zooming out from the micro lens to focus on making change at a macro level.
She applied for and was offered an administrative role at National Council of La Raza, now known as UnidosUS, where her responsibilities grew and grew under the mentorship of several women she worked with.
"I was really fortunate to have great mentors that saw my talent and ability and invested in growing me," she says.
As she took on event planning and program management duties there, Maggie saw that the macro focus had its limits, too. "It's very, very challenging to make policy changes on a national level," she says. "It takes years of work and impact, and it can be really frustrating on the ground." She offers examples: working to push healthcare reform and the Affordable Care Act while her community members were struggling with day-to-day access to healthcare, or seeing immigration reform backslide during a Trump presidency.
Hitting the Sweet Spot of Local Impact
Maggie had heard of Liberty Hill, and knew that they were focused on social justice campaigns, research, and policy initiatives in L.A. County. It seemed like the perfect next step for her—she just wasn't sure they would feel the same way.
"I applied thinking that I didn't meet any of the qualifications, that they'd never call me," she says, smiling. But Liberty Hill was impressed with her experience and offered her a Program Manager role, which Maggie didn't hesitate to take.
"Under the Trump administration, we were making little to no ground doing anything at the federal level, and it felt like the time to be focused on more local work. And I wanted to work in a more intersectional space, to invest in the power of grassroots organizing in a new landscape," she says. Maggie, who identifies as Latinx—"Being a US-born Hispanic, for me, Latinx feels like it meets what I need," she explains of the term—was excited to keep supporting L.A.'s Latinx community, but to do so in partnership with other groups from different backgrounds.
Maggie knows that her work to help build power and organizational sustainability in L.A. social justice movements is meaningful, and that she's uniquely able to bring value to her team. "It's not just my academic or work training—it's because of my lived experience that I'm a valuable asset," she says. "And I want to live and work and exist in a world and in a community that is more equitable for everyone, that improves outcomes and quality for life for everyone here. That's why this work matters."
3 Myths about Social Justice Work—And What It's Really Like Instead
Working with nonprofits for her entire career, Maggie has run up against preconceived notions of what the field is like and what it looks like to build a fulfilling career within it. She's shared some of those with us:
You can't earn a living wage in philanthropic work. This is a common misconception, says Maggie. "There's no reason to think that you need to not earn a living wage to do organizing work or support grassroots movements," she says. "I want to use my privilege to continue to elevate this message: folks should be [and are,] paid for the labor and work that goes into this."
Working against oppressive systems is joyless. Yes, Maggie's work deals with serious topics like systemic racism and discrimination. "But just because it's hard doesn't mean that it has to be bad, or ugly, or absent of joy and fun," she says. "I'm so grateful to be in community with people that I don't only enjoy, but I have genuine love for."
Professionalism means only one thing. "There are conceptions of professionalism that are really steeped in unhealthy, white supremacist, patriarchal approaches to work. Infusing work with joy and love is how we counteract that," says Maggie.
If you're thinking you'd like to work for a nonprofit organization like Liberty Hill, Maggie encourages you to apply.
Think about what you're good at, she says, and then find a place that's in need of your skills. "From a finance department to comms to programs like leadership operations, there is so much need out there. If you're looking for an opportunity, chances are there's somewhere that you could be a good fit."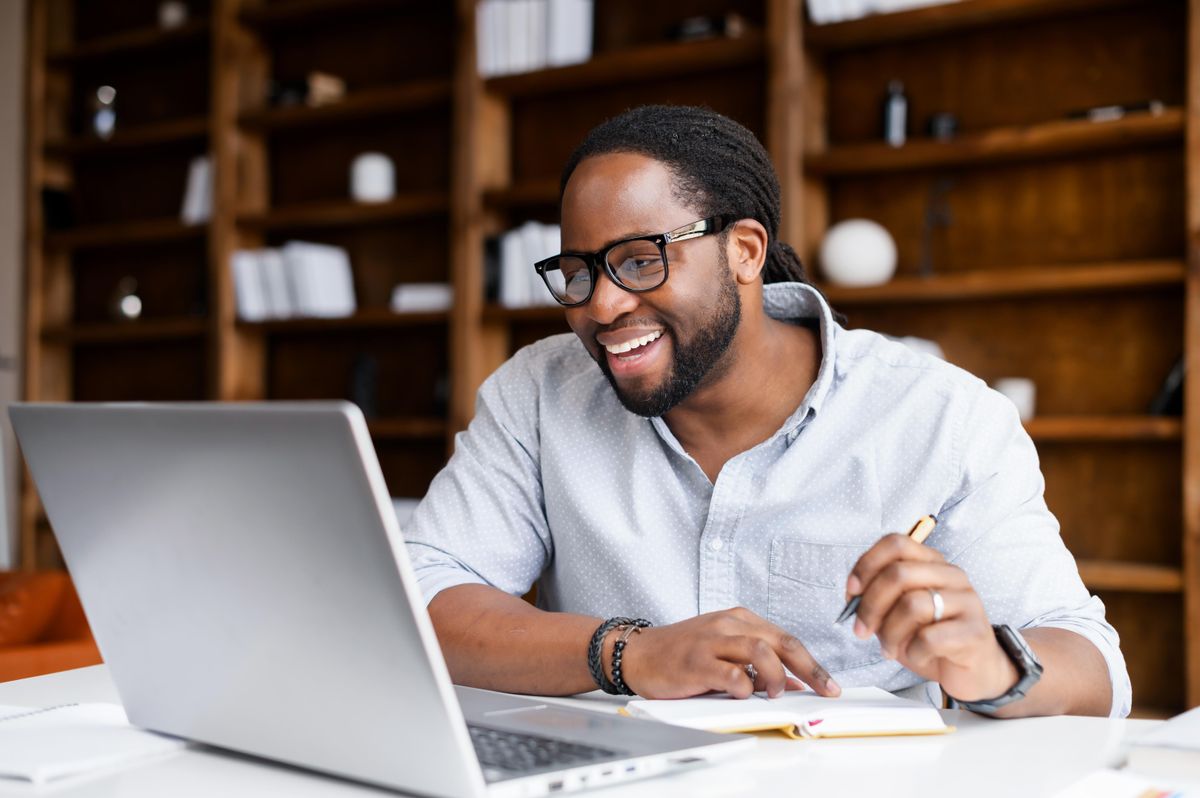 In the "Great Resignation," an estimated 47 million employees (and counting) voluntarily quit their jobs. The job market still hasn't recovered from the unprecedented "quit rate" of 3.3% at the Great Resignation's peak. Now, about 50% of the workforce are "quiet quitters" according to a Gallup poll — meaning, half of workers are disengaged at work and do only the minimum required of their job.
Having engaged talent is a competitive advantage for companies in today's work environment. Replacing an employee who's handed in their two-weeks notice can, after all, cost your company 21% of the employee's annual salary. Employee retention strategies — ones that go beyond a box of donuts in the breakroom — are key to keeping workers engaged in the workplace. But given that overly played-out retention tactics can be ineffective at best and make your company look insincere at worst, it's important to prioritize the right strategies. To that end, let's go over some new and improved employee retention strategies that you may not have tried yet.
In this article, you'll find:
Why employee retention strategies fail
The best employee retention strategies
Your employee retention strategy is your DEI initiative
Why employee retention strategies fail
There are plenty of employee retention strategy examples out there, but efforts can fall short. For your employee retention strategies project to be successful, you need to avoid these four common pitfalls.
1. Not delivering on promises. If you say you're going to do something, follow up on it. Consistency is key to building employee retention strategies. Don't ask employees to be honest about how they're feeling at work and then ignore their input. Or worse, promise big reform and fall short with token changes.
2. No trust. Studies indicate that "quiet quitting" is largely due to the relationship between employee and boss. Managers need the time, skills, and training to build solid relationships with staff. There are resource forums for people leaders to share ideas. Using tried-and-true best practices is the best strategy to build trust.
3. Siloed initiatives. Employee retention strategies can't just live in HR. The moment they become siloed within one department or position, they fail. Employee retention strategies need to be a priority in every department and at every level.
4. No resources. Employee retention strategies need resources. To put it plainly, unfunded initiatives don't work. Employees should be compensated for extra work such as sitting on an employee retention committee or putting together a workplace social. Likewise, pay raises and compensation should be a central part of the conversation. Remember, one of the main issues for quiet quitters is doing extra work for no extra pay.
The best employee retention strategies for 2022
With the don'ts out of the way, let's move on to the best employee retention strategies you can start implementing today.
Listen to your employees
Well-run companies spend time and effort collecting feedback and customer satisfaction information. But what about employees? Managers need to ask, "how's my driving?" Having data is critical to understanding how your employees are affected and making the necessary changes in order for employee retention strategies to take off. Send out an anonymous workplace survey asking about stress levels, feelings of creativity, people's sense of inclusion, and how connected they are with their managers. If you're not sure what to measure, start with a couple in-depth interviews. See what people want to talk about. The responses in the interviews will give you the basis for your wider survey.
Be transparent
If you ask your employees to be honest in giving feedback, management needs to be honest and transparent too. Acknowledge publicly the challenges the company faces based on what your employees have told you. This is the first step in accountability. Be transparent about compensation, pay raises, and benefits. Did you realize it is perfectly legal for employees to openly discuss compensation? This traditional taboo is becoming a common water cooler conversation. Social media is informing workers how to advocate for themselves. Meet them where they are. Actions speak louder than words.
Recognize and reward people, not just numbers
Over 1 in 5 employees does not feel valued at work. Feeling valued means knowing that your work is worthwhile and desirable. Watching the same sales people get rewarded for hitting their numbers again and again can be demoralizing for those who go comparatively unrecognized. Know your team and what they're working on. Openly celebrate different kinds of triumphs, big and small, and be specific when you do. Helping people feel seen takes more than a generic "good job."
Be flexible about work
Rethink how, where, and how long we do work. Research shows that 52% of workers prefer a hybrid remote-office work model. Employees even prefer it over a 10% pay raise. Employers must respond to this need as part of honing effective employee retention strategies.
And, as far as flexibility goes, time ownership is a massive benefit to offer employees — including by enabling them to work fewer days. Iceland is a leader in experimenting with the 4-day work week. Icelandic companies found it reduced burnout while improving work-life balance. Consider flexible arrangements that have proven results like these. Imagine how teams can be ambassadors for the company when they enjoy a new normal.
Facillitate growth
Employees that can't see a clear career path within their company will look elsewhere to grow. The longer an employee stagnates in a position, the more their likelihood of leaving increases. Managers need to regularly work with each employee to envision their growth. Movement can be within their same position or laterally, as well. Give employees a discretionary budget for ongoing education and skills enhancement. Encourage projects and rotations with different departments to learn new skills.
Dust off that DEIB initiative
The best employee retention strategies are ones that are formed through a DEIB lens. DEIB strategies can be innovative for employee retention, as they (should) focus on all the things that make everyone supported, safe, and valued in the workplace. DEIB is, after all, not about making special accommodations for marginalized people; it's about making the workplace better for everyone.
Your best employee retention strategy is a strategic DEIB initiative
DEIB initiatives make apt springboards for a number of successful employee retention strategies by listening to talent, creating custom work environments, and making employees across identities feel valued. Focus your efforts on DEIB, and employee retention will be one of many positive outcomes. PowerToFly has expert
DEIB consultants
that can help you jump start your DEIB-informed employee retention plan.
READ MORE AND DISCUSS
Show less
Loading...