GET EMAIL UPDATES FROM POWERTOFLY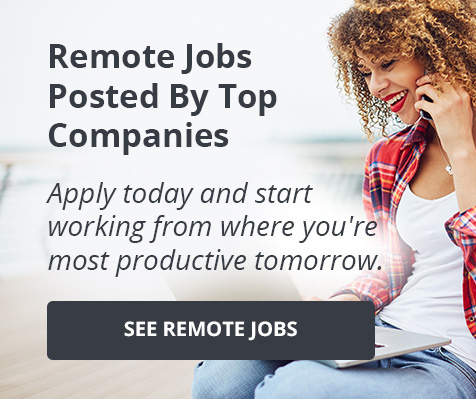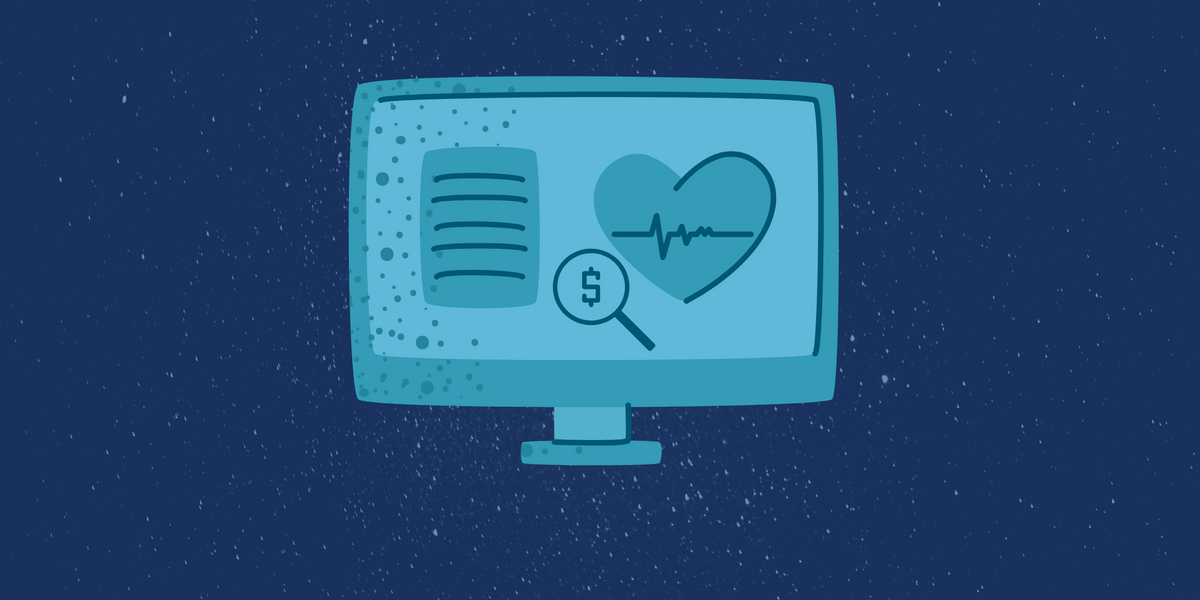 April 08, 2020
Work-Life Balance
Money Basics in the Time of COVID-19
3 tips from a former financial advisor.
During these wildly unsettled times, I (like so many others) have been trying to determine how to stay sane, be productive, and help.
---
At PowerToFly, I am part of your team of "Talent Advocates." This means that I spend most of my day advocating for our community members by directing them to resources on the PowerToFly platform and of course - connecting them with relevant opportunities matching their skill sets and interests. I love what I do because I get to interact directly with our community to help facilitate their personal and professional development. So here we are in the throes of a global pandemic and I want to step up my advocate game further and be a part of your support team.
Before I came to PowerToFly and before life did its crazy "throw-a-curveball" thing (hello, international move!), I was a financial advisor. In fact, I've done Chat & Learns with the PowerToFly community on various financial wellness topics. If you're tired of Netflix by now, feel free to rewatch them here. In the spirit of being the very best advocate for you, I think it may be helpful to dust off my old advisor cap and share some ideas for managing your finances during this period of uncertainty.

Hang in there, stay well, socially distance(!), and I hope this helps.
1. Reevaluate Your Fixed Expenses
When budgeting, I break down expenses into "fixed" and "variable." Your fixed expenses are the ones that stay the same every month. Examples could be your rent or mortgage payment, student loans, cable bill, cell phone, car insurance, gym memberships, subscriptions - you get the idea. When reworking a budget, we sometimes forget about these expenses because we think there's not much we can do to change them. Don't let your fixed costs slide by unchecked! Certain things like your mortgage can seem impossible to change (though I'll get back to that shortly), but other ones like your car insurance or cable bill are worth reviewing.
Shop around for car insurance - is there another insurer that can give you similar coverage at a lower rate? Get a copy of your current plan and go online to check for lower rates with other insurance companies for the same coverage.
How about your cell phone? Check out other carriers to see if they can offer the same service for a lower rate and make the switch. You can also call your current company to see if they have newer plans that offer similar service at a lower rate.
Don't forget cable - when was the last time you checked your bill? Is the amount you're paying higher than you remembered? Get on the phone and ask your cable provider if there are promotions available or other ways to lower your bill - don't be afraid to get tough!
Consider if you can afford to keep your memberships and subscriptions running at this time. This can be difficult - for things like a local gym membership, we all want to help support small businesses we like to patronize and we know those business owners are in a tight spot too. Do your best to navigate here how you see fit, but don't feel guilty if you need to cancel a service or membership for the time being. Remember: if your own glass is empty, there's nothing to pour into anyone else's.
And a little good news you don't even have to take action on? If you have federal student loans through the U.S. government, your payments are automatically delayed without penalty through the end of September 2020.
2. Reduce Your Variables
Your variable expenses are those that can change considerably each month. This is also where there's a lot of "stock" financial tips like - "stop drinking a $4 coffee every day if you're short on money." I find a lot of advice like this to be worthy of a heavy eye roll. Most people who are financially strapped are not buying that pricey jolt on their way to work each day. Not to mention - while we're #SafeAtHome, we're not making those morning coffee runs anyway. That said, there are a couple of ways we could see our variable expenses creeping up right now.
Ordering take-out and delivery food - another tough one. We want to support our local restaurants! That said, if you're worried or struggling, try to take some time to meal plan. We want to limit our trips to the grocery store, so plan ahead on what you can make during the week. Be sure to plan some meals that are exciting enough to keep you from falling into the temptation of ordering delivery too often.
We all do it: online retail therapy. These days, we're facing an extreme strain on our mental health. "Retail therapy" exists for a reason - it offers distraction from whatever it is we don't want to think about and a healthy dose of positive reinforcement when that desired product arrives at our door. Mental health awareness and not shaming the different ways we cope with managing our stress is incredibly important, so I offer this thought with care: the stress that comes with financial uncertainty can be tremendous, be kind to yourself by trying to engage in less expensive distractions. There are so many companies offering free classes, content, activities - take advantage!
3. Get on the Phone
We all hate to do it, but you've got to call the companies that you're paying each month to see how you can reduce your bills. Even Dumbledore said that help will always come to those who ask for it - but you have to ask. I already mentioned calling your cable and cell phone companies above, but here are a few others for whom you could pick up the phone.
Dial up your credit card companies. If you're working to pay down credit card debt, call the company and ask if you're eligible for a lower interest rate and if not, when you will become eligible. After you ask about that, ask if they have any programs available to help people who are paying down their debt or if they have resources available for people affected by the pandemic.
Reach out to your utility companies and see if they have options to reduce your costs. Depending on where you live, you may be able to select alternative utility suppliers that could lower your monthly rates. Some utility companies are also working with people to come up with payment plans or other ways to work through the hardships of the coming weeks.
Get in touch with your landlord or call up your mortgage company. A lot of landlords are working with their tenants if they can afford to do so, but they won't know you need help unless you talk to them. Additionally, many mortgage companies have options for deferred payments to those dealing with a change of circumstance due to the virus. If you're taking a deferred payment plan from your mortgage provider (or any other lender that offers this), make sure to ask if deferred payments accrue late fees or interest. Also be sure to check if the payments are due in a lump sum at the end of the deferment period or if your payment plan is extended at the end so that you can plan ahead.
---
Take Heart
While a lot of things feel really bad right now, there is still a strong sense of community all around us. Whether it's people singing together from their balconies, local restaurants sending food to hospital staff, or neighbors helping get essentials for the elderly or immunocompromised, we are working through these crazy times hand-in-gloved-hand. In some way, all of us will feel the financial impact of these global circumstances, but there are resources available to help you through. Aside from the tips above, you can always investigate what help may be available to you on a local, state, or federal level. And of course, should you find yourself needing to look for a new professional opportunity at this time, don't forget to reach out to your PowerToFly community. There's a whole team of Talent Advocates ready to help!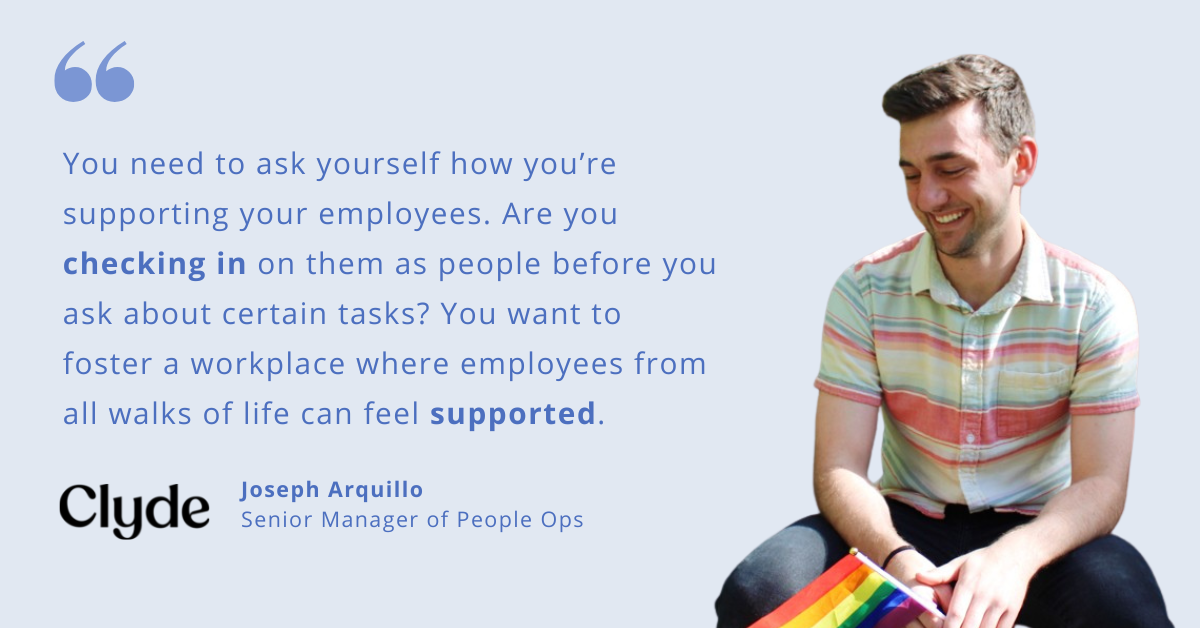 Clyde
Joseph Arquillo doesn't work in Human Resources — he works in People Operations. And the distinction matters.
"It was named 'human resources' because it saw humans as resources, utilized for certain tasks or behaviors. But that's not really what it's about," says Joseph, who is a Senior Manager of People Ops at Clyde.
"Calling it 'people ops' adds back what you lose with 'HR.' My philosophy is that I am there to support you. I am there to work with you, empower you, and enable you so you can be your best self."
For Joseph, a key element of helping employees become their best selves is making sure that the workplace, whether in-person or virtual, is an inclusive space for all. That doesn't happen by accident — it requires a dedicated DEIB strategy and leaders who are committed to asking hard questions of themselves and others.
We sat down with Joseph to hear more about his professional journey, and the practices of leaders who create environments where everyone feels included.
More Than Just a Number
As a college freshman, Joseph planned on sticking with liberal arts when it came to choosing a major. But then he took a class in Boston College's School of Education, and loved its holistic approach to applied psychology.
This inspired him to switch his major to psychology and human development, and select minors in political science, and management and leadership, where he enjoyed learning about organizational psychology.
After graduation, he explored the consulting space to put theory into practice, but found out during an internship at a multinational consulting firm that finance or accounting weren't the places he wanted to build his career.
"Since Big Four companies have 250,000 employees, you become just a number," he says of the experience. "It wasn't my cup of tea. Too corporatized."
That kicked off Joseph's interest in startups.
"It's always fun to get in the weeds! One thing that's very interesting to me is a challenge," he says. "When you're helping a company like Clyde grow and scale, joining when they're at a Series B and helping them get to the next level, you really get to focus on the interaction between people, process, and product," explains Joseph. "You need to hire the right people to work towards increasing efficiencies in all areas, but also make sure that we're enabling them to create a strong product."
6 Keys To Building Inclusive Spaces as a Leader
Across the different industries and companies that Joseph has worked in, he's identified the behaviors that create truly inclusive environments — as well as those that discourage them.
Here's what he's seen:
First, recognize your own privilege. "If you're a man, you have privilege, even if you're a gay male. If you are a white woman, you have racial privilege. It's really important that you're cognizant while you interact with somebody how they might interpret the interaction based on your identity."
Leaders should always speak last. This is important always, but especially in in-person spaces, where it might seem even more nerve-wracking to speak up in a crowd, says Joseph. "You want to make sure you're creating that space for employees who aren't as senior to feel comfortable voicing their thoughts."
And, leaders should use check-ins liberally. "You need to ask yourself how you're supporting your employees. Are you checking in on them as people before you ask about certain tasks? You want to foster a workplace where employees from all walks of life can feel supported," he says.
DEIB isn't just about adding new initiatives — sometimes it's about removing barriers. "You need to remove unnecessary bias," explains Joseph. "That can mean making sure you have appropriate policies and practices that don't hinder people depending on who they are or where they live."
Maximizing participation requires planning with a diversity lens. Joseph has helped the Clyde team gather together and bond as a group. Along the way, he's been careful to consider physical and psychological safety for everyone involved. "For instance, if you're doing an event, do you have someone who's not drinking? Have you set up the environment for people who might have a physical disability, or carefully planned the flow of activities for people who might be neurodivergent?"
Saying you want to be better isn't enough — articulate actions you will take. "Pride is a great example," explains Joseph. "Yes, June is a time to celebrate. But it's also a time to march. And beyond that, how do you show up and celebrate with the LGBTQIA+ community throughout the year?"
Embracing the Unknown
If you visit Joseph's LinkedIn profile, you'll see his personal motto: "Without challenge, change, and a bunch of unknowns, it's no fun."
That belief has led him to study what he's passionate about, to take on new and exciting roles at growing startups, and now, at Clyde, to help formalize what world-class people operations looks like at a fast-growing company.
"I view myself as a connector that really empowers people, challenges teams, and helps drive us towards what I consider to be an improved future," he says. "I feel like it's my responsibility to be the chief advocate for each of our employees, and remove any barriers in the way of their growth."
Want to learn more about what opportunities Clyde offers? Check out their open roles!
READ MORE AND DISCUSS
Show less
Loading...