Moody's Corporation
Below is an article originally written by Citybizlist, and published on May 14, 2020. This article is about PowerToFly Partner Moody's. Go to Moody's page on PowerToFly to see their open positions and learn more.
NEW YORK--(BUSINESS WIRE)--Moody's Corporation (NYSE:MCO) today announced that it has been named for the first time to DiversityInc's Top 50 Companies for Diversity, premiering at number 45 on the list. Moody's was also recognized as a Top 29 Company for LGBT employees on DiversityInc's specialty list.
"We are proud that our culture of inclusivity has been recognized by DiversityInc's Top 50 Companies for Diversity list," said Raymond McDaniel, President and CEO of Moody's Corporation. "Moody's prioritizes diversity and inclusion to enrich our offerings to our many stakeholders and ensure that we can recruit and retain the best talent."
The DiversityInc Top 50 Companies for Diversity Process is a leading assessment of diversity management for US corporations. With more than 1,000 participants, DiversityInc's rankings are empirically driven, based on company-submitted data in six key areas: leadership accountability, human capital diversity metrics, talent programs, workforce practices, supplier diversity, and philanthropy.
"Embracing diversity and inclusion is central to Moody's and we are firmly committed to providing a supportive workplace where all employees can thrive as their authentic selves," added DK Bartley, Global Head of Diversity and Inclusion.
Moody's promotes a diverse and inclusive workforce globally, including through its Employee Resource Groups (ERGs), which support the recruitment, development and retention of women, minorities, LGBT people, and veterans. Through its Supplier Diversity Program, the company also makes a concerted effort to increase its partnerships with minority suppliers.
The company is also committed to supporting underserved communities in locations where it operates. Moody's continues to hone its Corporate Social Responsibility (CSR) program to strategically focus on societal issues that it is uniquely positioned to help address. Through Moody's Reshape Tomorrow™ initiative, the company has developed partnerships with nonprofits to support women-and minority-owned small business owners.
To view the entire Top 50 list and specialty lists, visit http://www.diversityinc.com/top50 or follow the conversation at #DITop50.
To learn more about Moody's global efforts to promote diversity and help local communities, read the company's 2019 CSR Report.
ABOUT MOODY'S CORPORATION
Moody's (NYSE:MCO) is a global integrated risk assessment firm that empowers organizations to make better decisions. Our data, analytical solutions and insights help decision-makers identify opportunities and manage the risks of doing business with others. We believe that greater transparency, more informed decisions, and fair access to information open the door to shared progress. With over 11,300 employees in more than 40 countries, Moody's combines international presence with local expertise and over a century of experience in financial markets. Learn more at moodys.com/about.
ABOUT DIVERSITYINC
The mission of DiversityInc is to bring education and clarity to the business benefits of diversity. The DiversityInc Top 50 Companies for Diversity list began in 2001, when many corporations were beginning to understand the business value of diversity management initiatives. The 2020 Top 50 Companies for Diversity results will be featured on DiversityInc.com. DiversityInc is a VA certified veteran-owned business and a Disability:IN certified business owned by a person with a disability. For more information, visit www.diversityinc.com and follow us on Facebook, Twitter and LinkedIn @DiversityInc.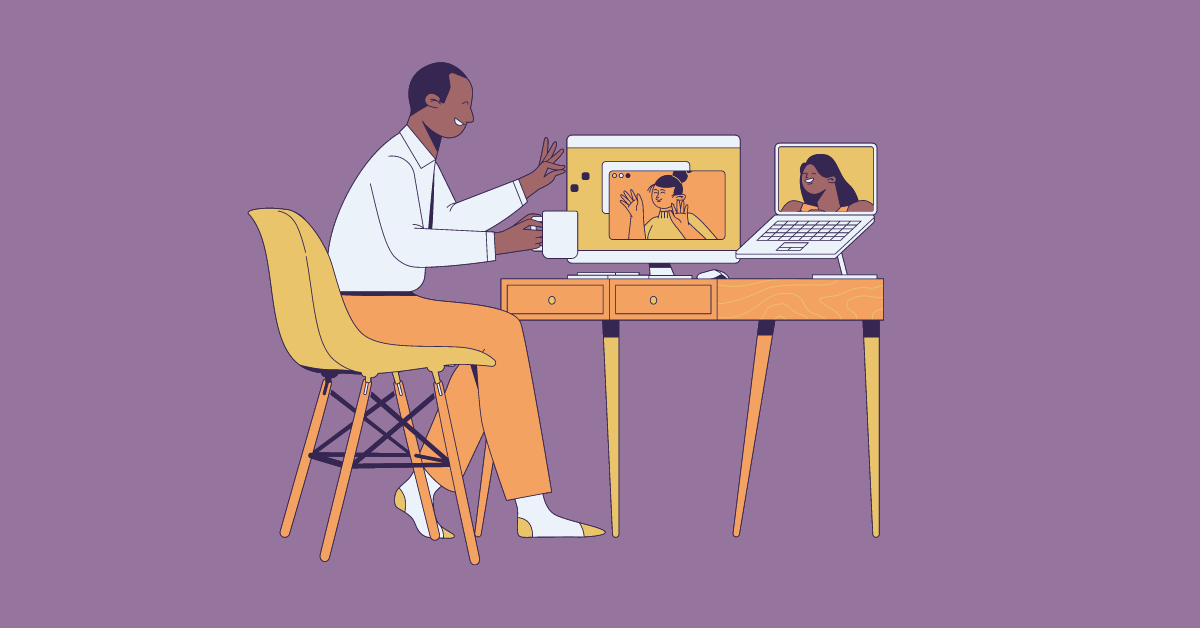 Upskilling and Development
As a result of the COVID-19 pandemic, millions of workers have turned to remote work. Before the pandemic in 2019, 22% of employers offered at least some remote work. Now in 2022, that percentage nearly doubled to 40%. The shift to remote work has become beneficial for me and many of my friends who are recent college grads starting their careers. It's allowed us to dictate our own time and save money from commuting, spend more time with loved ones at home, and have the flexibility to travel and build connections from anywhere. Remote working has also changed how people network for jobs. We have more options now.

Since remote networking is so new, it can be challenging to understand how to do it effectively. Read on to learn my top tips for networking for a remote job.
1. Connect with your high school or college.
The schools you went to want to see you succeed! Connect with old professors, classmates, or alumni on social platforms like PowerToFly or LinkedIn. You can find connections through sports teams, clubs, or topics of interest that will help you build stronger relationships. Don't be afraid to ask them for advice, mentorship, or even introductions.
2. Join a class!
Have you ever had a hobby that you never had the chance to pursue? Coding? Running? Painting? It's never too late to learn something new. Plus, spending time doing what you love will introduce you to other people who love the same thing. Not only will this help expand your social circle, it can also help your career! Once you feel comfortable, talk to your classmates about your work, and ask them about theirs. The perk of classes like these is that you will build relationships with people from all different career backgrounds which will help you determine your career path, especially if you are looking for a mid-career pivot.
3. Register for the Early Career Summit.
My friends and I are very excited to join PowerToFly's Early Career Summit this fall to meet the inspiring founders and CEOs of incredibly impactful companies. This is a great opportunity to get useful tips and learn about different perspectives, professions, and topics that you may be interested in.
4. Attend a virtual job fair and connect with leaders who inspire you.
Job fairs are great for meeting people who can be helpful because everyone attending is there to network! Job fairs at PowerToFly are a great place to meet hiring managers and recruiters from our sponsoring companies. If you come prepared with a resume it is an opportunity to make a great first impression with a company. After the virtual job fair, remember to connect with the people who stuck out to you and introduce yourself on PowerToFly or LinkedIn. Make sure to tell the recruiter who you are, and highlight what stood out to you about their talk.
5. Offer to help.
People really value your help (when it's needed). If you know someone in your network looking to hire a web designer and you know a great place to find one, don't be afraid to make the connection! If you see a job opening that would be great for someone in your network, let them know! Helping people in this way will help build your trust and credibility.
Remote networking has its differences from in-person networking, but it has never been easier to have access to social platforms that can help create connections. It will take some creativity and hard work, but once you have the appropriate mindset the options are endless.
READ MORE AND DISCUSS
Show less
Loading...