GET EMAIL UPDATES FROM POWERTOFLY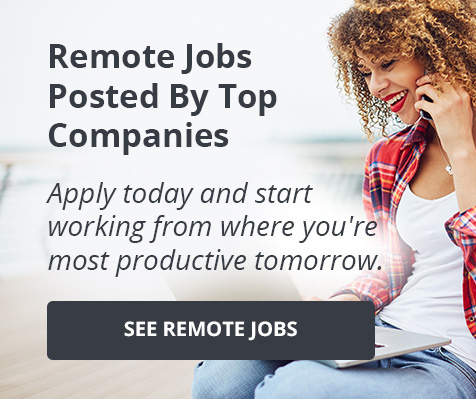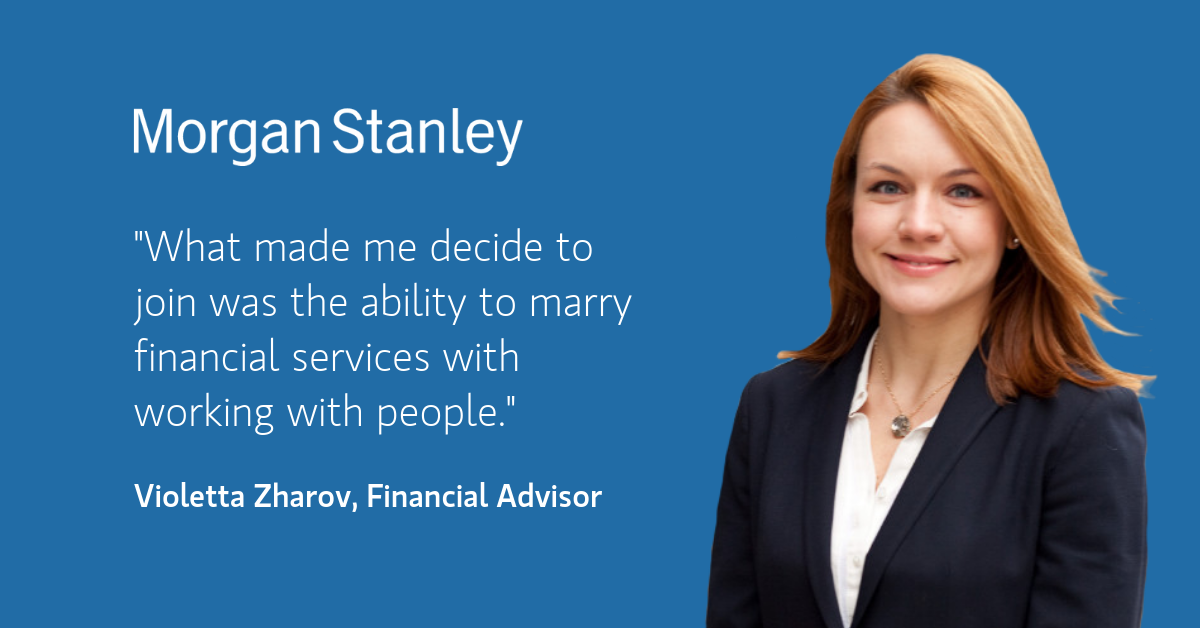 April 01, 2019
Morgan Stanley Technology
The Rewards of Being a Financial Advisor: A Look at Morgan Stanley's Financial Advisor Associate Programs
Advice from Program Graduate, Violetta Zharov
What's the first thing that pops in your head when someone says they work in financial services? Maybe markets? Numbers… spreadsheets? Certainly not helping people, right? In reality, though, a drive and desire to put clients first is what makes for a great financial advisor.

---
For Violetta Zharov, it's also what made her decide to complete Morgan Stanley's rigorous two-year Wealth Advisor Associate and three-year Financial Advisor Associate programs. "What made me decide to join...was really the ability to be able to do those two things together... [To marry financial services] with working with people." She says this genuine desire to help people has also helped her win her clients' trust, "I think your clients know when you're in it for the right reasons."
Now a financial advisor, Violetta advises individuals on all aspects of their wealth, "from investments to tax and retirement planning, trust and estate strategies, insurance, etcetera."
Succeeding as a financial advisor requires a lot more than just knowing your way around a financial plan or a spreadsheet. You have to be a salesperson, analyst, customer service rep, and strategist all at once.
This level of responsibility might scare some people away, but that's just another reason Violetta joined the program and loves the work she does. Although building a book of clients as a new financial advisor is incredibly difficult, it's a challenge she finds rewarding.
You get to work independently and own your successes, while also having the support and resources of a huge corporation like Morgan Stanley behind you - so in a way, you get to experience the best of both worlds. In Violetta's words, "The program hasn't helped me grow my career. The program has allowed me to have a career."
Although being a financial advisor is inherently challenging, Violetta has found that helping others achieve their goals, all while managing her own schedule, performance, and objectives, has certainly made it worth it. And, if you bring your best each day, "You can count on the resources and support [of your] management team to be successful."
Sound like your kind of challenge? Check out the Wealth Advisor Associate and Financial Advisor Associate programs and apply today!
---
Morgan Stanley is an equal opportunity employer committed to diversifying its workforce (M/F/Disability/Vet).
Morgan Stanley Smith Barney LLC. Member SIPC.
CRC 2379060 (02/19)
From Your Site Articles
Related Articles Around the Web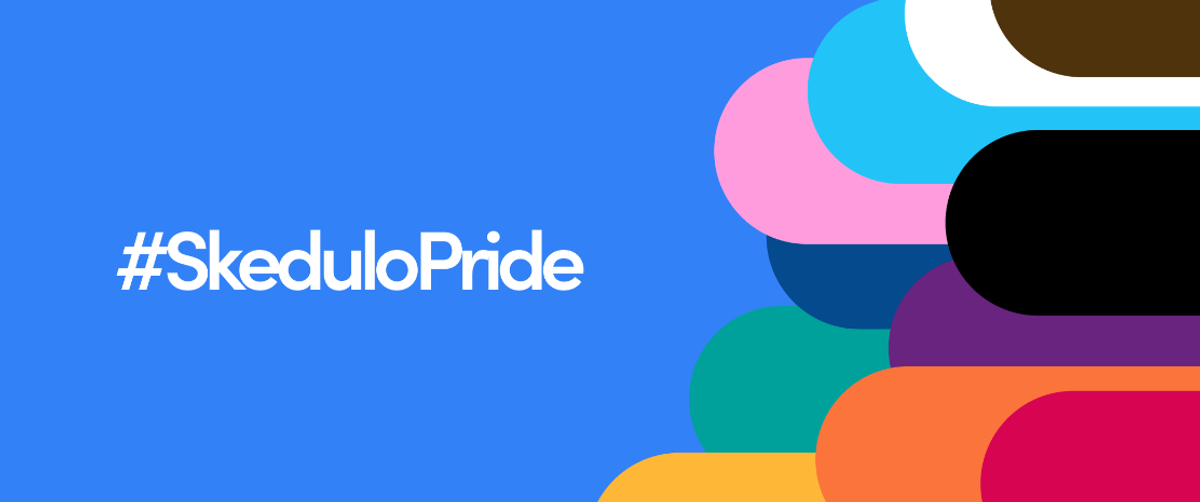 The origins of Pride Month date back further than many people realise. The inaugural Pride march was held more than 50 years ago in June 1970 to commemorate the Stonewall Uprising on June 28, 1969. Over time, the march has evolved to become a celebration of LGBTQIA+ culture with a variety of events that culminate in a parade in the final weekend of June. Such events have played an important role in shifting social and political attitudes over the years. As someone who identifies as gay, I've also seen a big shift in workplace attitudes – particularly in the past 5 years. I spent the better part of my career being acutely aware that I had to hide my sexuality; particularly within the hyper-masculine environments that were common in the tech world. This changed when I joined Skedulo a few years back and saw a genuine desire to embrace and celebrate diversity. It was the polar opposite of what I'd experienced 20 years ago.
Recently I've had the pleasure of working with Skedulo's Diversity, Equity and Inclusion (DEI) Program Manager, Silvia Zhang, and realised how much I also have to learn. Even being in the community there is a lot that I don't know, which is why I'm so excited about the initiatives Skedulo will be running this month.
Stories from Skedulo's LGBTQIA+ community
There is more to supporting the LGBTQIA+ community than changing your company logo for a month or posting a rainbow flag on social media.
We believe the best way to break down barriers and drive awareness is by empowering people to share their personal stories. This is why we have invited members of our team who identify as LGBTQIA+ to tell their stories, and I can honestly say the insights have been tremendous.
<div id="fbu-player" data-plyr-provider="https://youtu.be/tY2gzmmiMyI" data-plyr-embed-id="RZK9CSXbskQ"> </div>
Partnerships and volunteering
The Bobby Goldsmith Foundation is Australia's longest-running HIV charity and exists to support people living with HIV, a disease that has until now, largely targeted the LGBTQIA+ community. In addition to volunteering and social awareness, Skedulo will be sponsoring a number of the Foundation's health and wellbeing programs which aim to help people with HIV achieve a better quality of life.
Our volunteering efforts will also extend to the Frameline Film Festival: San Francisco's longest-running and largest queer film exhibition in the world.
Education creates change
Education is one of the best ways to combat prejudice. We will be running a social campaign in June to encourage greater involvement from the wider business community.
Internally, we're also raising awareness among our staff through an All-Hands panel discussion where people can talk openly, ask questions, and share their stories.
At the end of June, we'll hold a Pride Parade viewing party in our San Francisco office which will be a colourful celebration of diversity and includes an education session about Pride history.
Diversity leads to success
There will no doubt be opportunities for many people to get involved in Pride month celebrations in their local areas – be it community events, public speaking, education sessions or a festival.
I invite every workplace to develop their own initiatives to facilitate greater discussion and awareness. I've now been involved with several progressive companies who not only accept but celebrate diversity, and I can confidently say their culture is well beyond what I've seen in others.
There are many studies to prove the widespread benefits that diversity has on culture, engagement, retention and even revenue. For example, a study by Boston Consulting Group looked at 1700 companies across 8 countries and found that greater diversity had a direct effect on the bottom line. Companies with more diverse management teams also achieve 19% higher revenue due to innovation.
For anyone in the LGBTQIA+ community who has struggled to find an accepting workplace, I want to tell you that they do exist. Keep searching for a place that makes you happy and aligns with your values, because it will empower you to become the best version of yourself and you will be supported by the people around you.
READ MORE AND DISCUSS
Show less
Loading...