GET EMAIL UPDATES FROM POWERTOFLY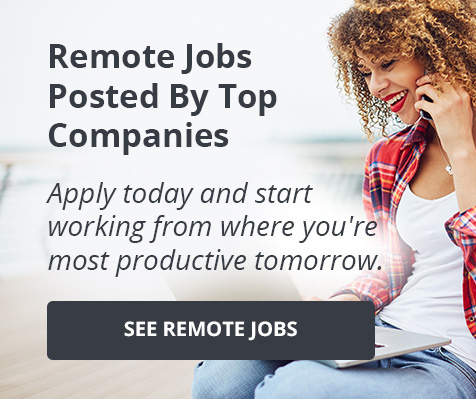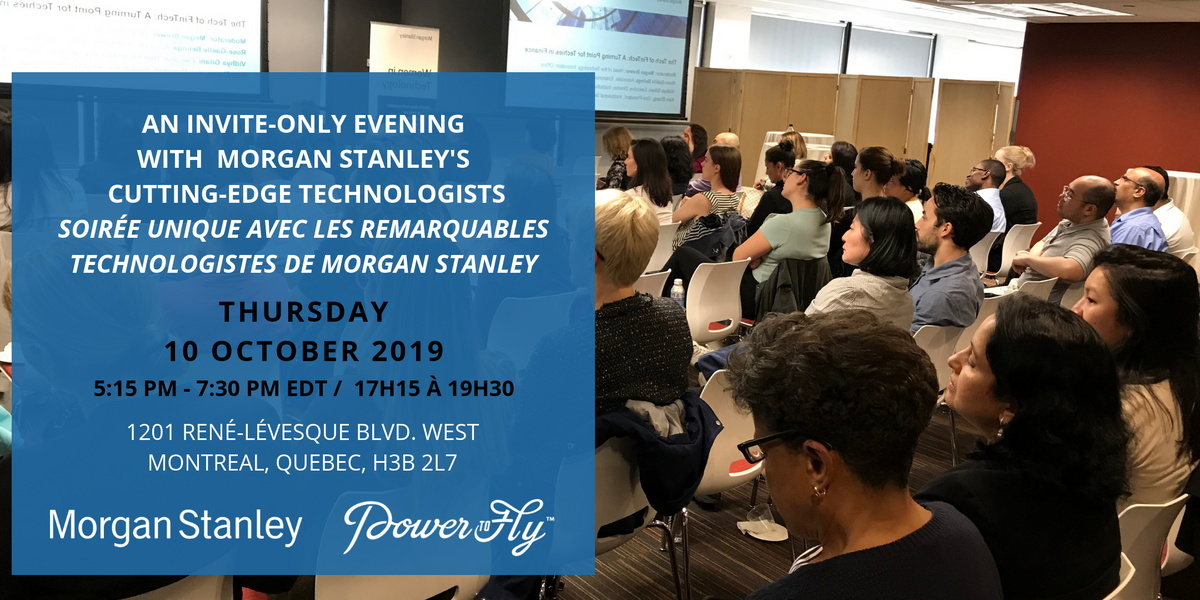 September 11, 2019
Morgan Stanley Technology
Unique Evening with Morgan Stanley's Cutting-Edge Technologists / Soirée Unique avec les Remarquables Technologistes de Morgan Stanley
If you are a skilled tech professional and you are interested in attending this event, please email events@powertofly.com to be considered for an invite. Si vous êtes un professionnel qualifié des technologies et que vous souhaitez assister à cet événement, veuillez envoyer un courrier électronique à events@powertofly.com pour être pris en compte pour une invitation.
Join Morgan Stanley and PowerToFly for a night of networking, tech talks, and panel discussions on Thursday, October 10th, featuring Morgan Stanley's cutting-edge technologists. The evening's speakers will share insights into their latest projects, their career journeys, and take questions from the audience.
Find out why it's an exciting time for technologists to work in financial services.
This event is a great fit for women working as Backend or Fullstack Developers (Java, C++, C#, Python), Data Scientists, DevOps Specialists, Cyber Security Specialists, Database Administrators, QA Automation Specialists, Linux/Unix, and Cloud Computing Specialists.
---
Agenda (subject to change):
17:15 - Check-in and networking
17:50 - PowerToFly kickoff by Katharine Zaleski, Co-Founder & President, PowerToFly
17:55 - Keynote address by Alan Vesprini, Managing Director, Head of Morgan Stanley's Technology Centre in Montreal
18:05 - Tech Talk, Why We Like Open Source, Elspeth Minty, Executive Director, Morgan Stanley
18:15 - Panel, The Tech of FinTech: A Turning Point for Techies in Finance

Speakers: Aditi Noata, Executive Director, Morgan Stanley; Maggie W. Shao, Vice President, Morgan Stanley; Mark Lechner, Vice President, Morgan Stanley
Moderator: Katherine Zaleski, Co-Founder & President, PowerToFly

18:30 - Audience Q&A
18:45 - Networking continues over food & refreshments
19:30 - Event concludes
Join us on Thursday, October 10th from 17:15 - 19:30 (5:15pm to 7:30pm) at 1201 René-Lévesque Blvd. West, Montreal, Quebec, H3B 2L7. Please check in at the Morgan Stanley registration desk. Please note, you will need a photo ID to enter the event.
About technology at Morgan Stanley: Morgan Stanley has a rich history and culture of technology innovation, allowing the firm to stay on the cutting-edge and solve highly complex business and technology problems in finance, capital markets and wealth and asset management. Our teams of world-class technologists continuously explore opportunities emerging from new technologies, build innovative solutions and establish partnerships with emerging technology players to deliver new and innovative solutions. Our technology team's priority areas include cloud computing, productivity and social platforms, big data and analytics, machine learning, automation, artificial intelligence and cybersecurity. We also focus on emerging technologies, such as augmented and virtual reality, gamification and quantum computing.
About PowerToFly's events: All RSVP'd attendees are welcome, regardless of race, color, religion, national origin, gender identity, pregnancy, physical or mental disability, or age. If you require assistance to fully participate in this event, please email hi@powertofly.com, and we will contact you to discuss your specific needs.
Unfortunately, PowerToFly cannot admit outside recruiters to this particular event. Please email hi@powertofly.com if you have any questions about this policy.
*************
Joignez dès aujourd'hui Morgan Stanley et PowerToFly pour une soirée de réseautage, conférences technologiques et débats de spécialistes le jeudi 10 octobre, avec les remarquables technologues de Morgan Stanley. Les spécialistes donneront un aperçu de leurs derniers projets, leurs chemins professionnels et répondront aux questions du public.
Découvrez pourquoi le moment est excellent pour l'intégration des technologues aux services financiers.
Cet évènement est idéal pour les femmes travaillant en tant que Back-end ou Full-stack Developers (JAVA, C++, C#, Phython), Data Scientists, Spécialistes DevOps, Spécialistes en Sécurité Informatique, Administrateurs de bases de données, Spécialistes en QA Automation, Linux/Unix et Spécialistes en Cloud Computing.
Ordre du jour (susceptible d'être modifié) :
17:15 – Enregistrement et réseautage
17:50 – Lancement de PowerToFly par Katharine Zaleski, Cofondatrice et Présidente, PowerToFly.
17:55 – Allocution de Alan Vesprini, Directeur général, responsable du centre de technologie Morgan Stanley à Montréal
18:05 – Tech talk, Pourquoi nous aimons l'Open Source, Elspeth Minty, Directeur exécutif, Morgan Stanley
18 :15 – Débat

Intervenants: Aditi Noata, directrice générale, Morgan Stanley; Maggie W. Shao, vice-présidente de Morgan Stanley; Mark Lechner, vice-président, Morgan Stanley
Modératrice: Katharine Zaleski, cofondatrice et présidente de PowerToFly

18:30 - Questions-réponses avec le public.
18:45 – Continuité du réseautage avec canapés et rafraîchissements.
19:30 – Clôture de l'évènement.
Joignez-vous à nous le jeudi 10 octobre de 17h15 à 19h30 (5:15pm à 7:30pm) au 1201 Boulevard West René-Lévesque, Québec, H3B 2L7. Veuillez-vous enregistrer au comptoir Morgan Stanley. Pièce d'identité nécessaire pour avoir accès à l'événement.
À propos de la division Technologie de Morgan Stanley : Morgan Stanley possède une histoire et une culture d'innovation technologique très riches, ce qui lui permet de rester à la pointe et de résoudre des problèmes commerciaux et technologiques extrêmement complexes, dans le domaine des finances, de marchés de capitaux et de gestion de patrimoine et de biens. Nos équipes de technologues mondialement reconnus, explorent en permanence les opportunités issues des nouvelles technologies, élaborent des solutions innovantes et établissent des partenariats avec des acteurs technologiques émergents afin de fournir des solutions innovantes. Les domaines prioritaires pour notre équipe de technologues comprennent le cloud computing, les réseaux sociaux et les plateformes de productivité, big data et analytics, machine learning, automation, intelligence artificielle et sécurité informatique. Nous nous concentrons également sur les technologies émergentes comme la réalité virtuelle et augmentée, la gamification et l'informatique quantique.
À propos des événements PowerToFly : Toutes les personnes invitées sont les bienvenues, sans distinction de race, de couleur, de religion, de nationalité, d'identité de genre, de grossesse, de handicap physique ou mental ou d'âge. Si vous avez besoin d'assistance pour participer à cet événement, veuillez envoyer un courriel à hi@powertofly.com et nous vous contacterons pour discuter de vos besoins particuliers.
Malheureusement, PowerToFly ne peut pas admettre de recruteurs extérieurs à cet événement particulier. Veuillez envoyer un courriel à hi@powertofly.com pour plus de renseignements sur cette politique.
From Your Site Articles
Related Articles Around the Web
Unstoppable Domains
💎 Partnerships in remote environments is one of the most important aspects to construct in a company. Watch the video to the end to get good tips on how to do it successfully.
📼Wondering how to create partnerships in remote environments? Play this video to get three top tips that will help you to achieve it. You'll hear from Olga Shvets, HR Business Partner, and Viktoriia Litvinchuk, People Team Operations at Unstoppable Domains, who will explain the essentials of this process.
📼How to build partnerships in remote environments? Tip #1: Communicate Effectively. Communication is the key to enabling your remote team to be successful. Choose the channel that works best. For this, chat with your employees and see what they use to communicate, that's how you find the best solution. Also, make sure your team is on board with your internal tools and they know what, how, and where they need to use them.
📼A requisite for building partnerships in remote environments is Tip #2: Show appreciation. Appreciation is shown through your actions. Let your employees know that you value everything they do for the company. Create a special gratitude channel where everyone can share their appreciation for their colleagues for some contribution. Celebrate some wins, promotions, and everything that is important for the company. If you appreciate the employees, employees do the same for the company.
Create Partnerships In Remote Environments Using Trust - Tip #3: Give Honest Feedback
Use engagement surveys! They are a quick and effective way to receive honest feedback from your team and you can see what's working well and what needs to be improved. Your main priority is to create spaces where managers and employees can share honest, relevant feedback.
📨 Are you interested in joining Unstoppable Domains? They have open positions! To learn more, click here.
Get to Know Olga Shvets
If you are interested in a career at Unstoppable Domains, you can connect with Olga on LinkedIn. Don't forget to mention this video!
More About Unstoppable Domains
Unstoppable Domains is bringing user-controlled identity to 3 billion+ internet users by issuing domain names on the blockchain. These domains allow users to replace cryptocurrency addresses with human-readable names, host decentralized websites, and much more.
By selling these domains direct to consumers for a one-time fee, the company is making a product that will change cryptocurrency and shape the future of the decentralized web by providing users control over their identity and data.
READ MORE AND DISCUSS
Show less
Loading...