GET EMAIL UPDATES FROM POWERTOFLY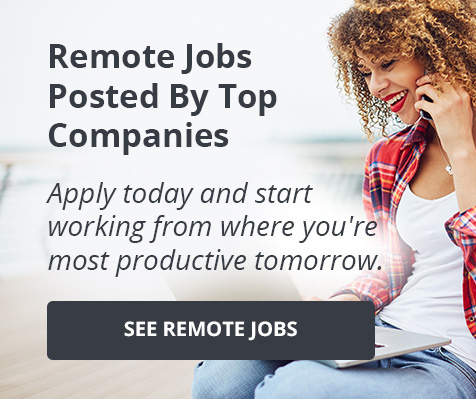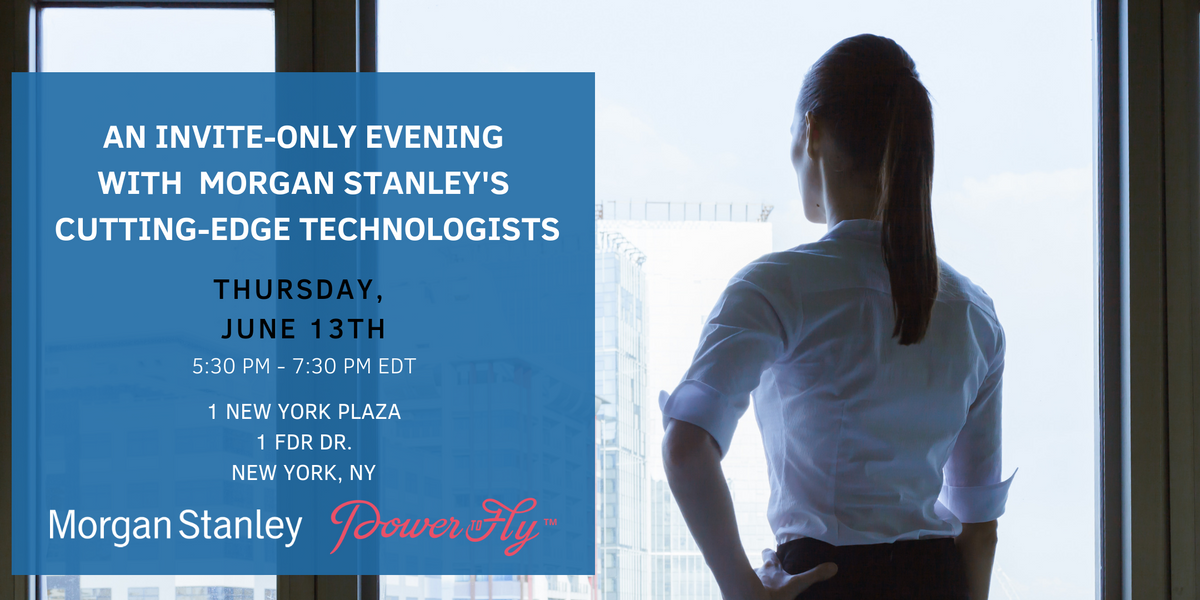 June 03, 2019
Morgan Stanley Technology
An Invite-Only Evening with Morgan Stanley's Cutting Edge Technologists
If you are a skilled tech professional working as a Backend or Fullstack Engineer, Data Scientist, Agile Coach, or Scrum Master and you'd like to attend this event, please email events@powertofly.com to be considered for an invitation.

Join PowerToFly and Morgan Stanley for an evening of networking and tech talks on Thursday, June 13th featuring Morgan Stanley's cutting-edge technologists. They will discuss their latest projects, their career journeys, and take questions from the audience.
Find out why it's an exciting time for technologists to work in financial services.
This event is a great fit for women working as Backend or Fullstack Engineers, Data Scientists, Agile Coaches, or Scrum Masters.
---
Agenda (subject to change):
5:30 PM - Check-in and networking over food & refreshments
5:45 PM - PowerToFly kickoff by Katharine Zaleski, Co-Founder & President, PowerToFly
5:50 PM - Keynote address by Sal Cucchiara, Head of Wealth Management Technology, Morgan Stanley
5:55 PM - Tech Talk by Nora Barry, Associate, Morgan Stanley

Next Best Action: A behind the scenes look at an innovation success

Get a glimpse into one of Morgan Stanley's biggest innovations—Next Best Action (NBA), an artificial intelligence based system that helps Financial Advisors (FAs) be more efficient and effective. NBA is viewed as a "first of its class" product for the industry, has been featured in prominent financial news outlets, and was the innovative product that won Morgan Stanley the Best Use of Artificial Intelligence award in the Banking Technology Awards 2018.

6:15 PM - Panel & Audience Q&A featuring Megan Brewer, Head of Technology Innovation Office, Morgan Stanley; Rose-Gaëlle Belinga, Associate, Morgan Stanley; Vidhya Gilani, Executive Director, Morgan Stanley; and Ken Zhang, Vice President, Morgan Stanley


The Tech of FinTech: A turning point for techies in finance

Technology has disrupted every industry and financial services is riding the wave. The applications of new technologies in the sector have created unprecedented opportunities for technologists and uncovered exciting challenges to tackle. A panel of technologists—from data scientists to engineers— discuss why it's an exciting time for technologists to work in financial services. What is a typical day like? What problems are they solving?

7:00 PM - Networking continues over food & refreshments
Join us on Thursday, June 13th from 5:30pm to 7:30pm at 1 New York Plaza, 1 FDR Dr., New York, NY. Please arrive at the Morgan Stanley registration desk. Please note, you will need a photo ID to enter the event
About technology at Morgan Stanley: Morgan Stanley has a rich history and culture of technology innovation, allowing the firm to stay on the cutting-edge and solve highly complex business and technology problems in finance, capital markets and wealth and asset management. Our teams of world-class technologists continuously explore opportunities emerging from new technologies, build innovative solutions and establish partnerships with emerging technology players to deliver new and innovative solutions. Our technology team's priority areas include cloud computing, productivity and social platforms, big data and analytics, machine learning, automation, artificial intelligence and cybersecurity. We also focus on emerging technologies, such as augmented and virtual reality, gamification and quantum computing.
About PowerToFly's events: All RSVP'd attendees are welcome, regardless of race, color, religion, national origin, gender identity, pregnancy, physical or mental disability, or age. If you require assistance to fully participate in this event, please email hi@powertofly.com, and we will contact you to discuss your specific needs.
Unfortunately, PowerToFly cannot admit outside recruiters to this particular event. Please email hi@powertofly.com if you have any questions about this policy.
From Your Site Articles
Related Articles Around the Web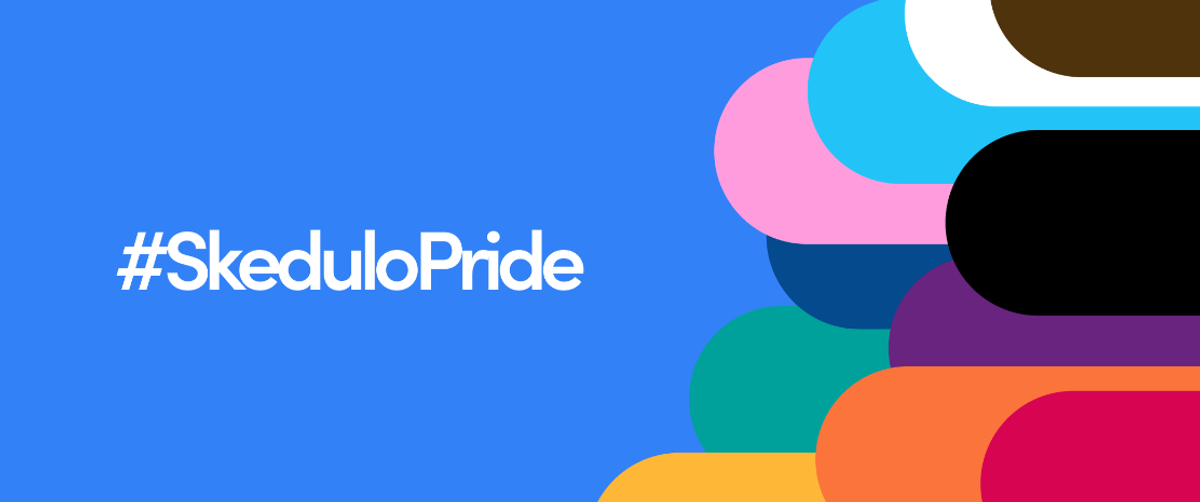 The origins of Pride Month date back further than many people realise. The inaugural Pride march was held more than 50 years ago in June 1970 to commemorate the Stonewall Uprising on June 28, 1969. Over time, the march has evolved to become a celebration of LGBTQIA+ culture with a variety of events that culminate in a parade in the final weekend of June. Such events have played an important role in shifting social and political attitudes over the years. As someone who identifies as gay, I've also seen a big shift in workplace attitudes – particularly in the past 5 years. I spent the better part of my career being acutely aware that I had to hide my sexuality; particularly within the hyper-masculine environments that were common in the tech world. This changed when I joined Skedulo a few years back and saw a genuine desire to embrace and celebrate diversity. It was the polar opposite of what I'd experienced 20 years ago.
Recently I've had the pleasure of working with Skedulo's Diversity, Equity and Inclusion (DEI) Program Manager, Silvia Zhang, and realised how much I also have to learn. Even being in the community there is a lot that I don't know, which is why I'm so excited about the initiatives Skedulo will be running this month.
Stories from Skedulo's LGBTQIA+ community
There is more to supporting the LGBTQIA+ community than changing your company logo for a month or posting a rainbow flag on social media.
We believe the best way to break down barriers and drive awareness is by empowering people to share their personal stories. This is why we have invited members of our team who identify as LGBTQIA+ to tell their stories, and I can honestly say the insights have been tremendous.
<div id="fbu-player" data-plyr-provider="https://youtu.be/tY2gzmmiMyI" data-plyr-embed-id="RZK9CSXbskQ"> </div>
Partnerships and volunteering
The Bobby Goldsmith Foundation is Australia's longest-running HIV charity and exists to support people living with HIV, a disease that has until now, largely targeted the LGBTQIA+ community. In addition to volunteering and social awareness, Skedulo will be sponsoring a number of the Foundation's health and wellbeing programs which aim to help people with HIV achieve a better quality of life.
Our volunteering efforts will also extend to the Frameline Film Festival: San Francisco's longest-running and largest queer film exhibition in the world.
Education creates change
Education is one of the best ways to combat prejudice. We will be running a social campaign in June to encourage greater involvement from the wider business community.
Internally, we're also raising awareness among our staff through an All-Hands panel discussion where people can talk openly, ask questions, and share their stories.
At the end of June, we'll hold a Pride Parade viewing party in our San Francisco office which will be a colourful celebration of diversity and includes an education session about Pride history.
Diversity leads to success
There will no doubt be opportunities for many people to get involved in Pride month celebrations in their local areas – be it community events, public speaking, education sessions or a festival.
I invite every workplace to develop their own initiatives to facilitate greater discussion and awareness. I've now been involved with several progressive companies who not only accept but celebrate diversity, and I can confidently say their culture is well beyond what I've seen in others.
There are many studies to prove the widespread benefits that diversity has on culture, engagement, retention and even revenue. For example, a study by Boston Consulting Group looked at 1700 companies across 8 countries and found that greater diversity had a direct effect on the bottom line. Companies with more diverse management teams also achieve 19% higher revenue due to innovation.
For anyone in the LGBTQIA+ community who has struggled to find an accepting workplace, I want to tell you that they do exist. Keep searching for a place that makes you happy and aligns with your values, because it will empower you to become the best version of yourself and you will be supported by the people around you.
READ MORE AND DISCUSS
Show less
Loading...