GET EMAIL UPDATES FROM POWERTOFLY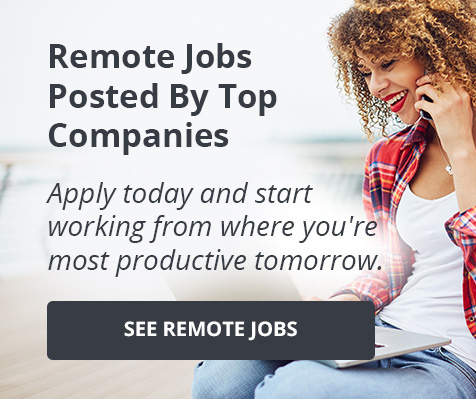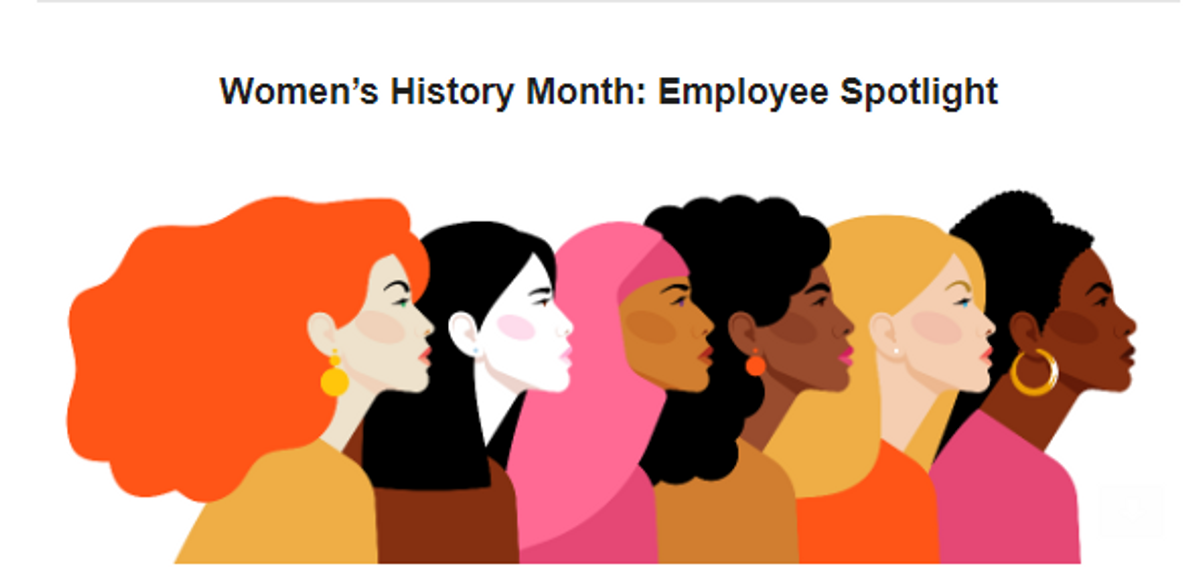 March 02, 2022
Nacelle
Women's History Month: Employee Spotlight
Below is an article originally published on Nacelle's March's People Ops newsletter. Go to Nacelle's company page on PowerToFly to see their open positions and learn more.
March is Women's History Month, and to celebrate all that women contribute to our industry, we are featuring some of the amazing women at Nacelle!

What does Women's History Month mean to you?
Women have come a long way here in the United States, but we still have a long way to go. The momentum we've seen makes me hopeful for continued progress in the future.

Growing up, was there someone in your life that inspired you to become who you are today? Who was it, and why?
There are many women who I draw inspiration from for different reasons (Ginni Rometty, Hillary Clinton, Mary Kay Ash, Ayn Rand, J.Lo), but honestly, my mom has always been my most important mentor. Her patience, compassion, understanding, and willingness of personal sacrifice inspire me to be better.
Can you tell us about your career journey in your field?
After graduating from college, I started as a BDR in the cybersecurity space - I always had a passion for optimization and building scalable processes, which our leadership team valued and invested in by creating a Team Lead role for me. After our startup's acquisition by IBM, I moved into a position managing the relationship between sales and marketing to ensure we were optimizing our pipeline. From there, I've built and managed 3 BDR orgs at three startups in different spaces - email marketing (Litmus), sales enablement (Chorus.ai), and now headless commerce here at Nacelle.
What advice would you give to the next generation of women?
I read something recently that outlined a (very generalized) primary difference between men and women. The article stated that most men read a job posting and focus on how they COULD do any of those things, even if they haven't before, and assume they are qualified. On the other hand, most women will focus on all of the experience they lack, all the things they have never done before, and assume they are unqualified. Speaking from personal experience, it's not easy, but I'd want women to be more like men - be confident in your potential for growth and your ability to conquer new things.
Favorite Quote or Mantra?
It's a song: Daya - Sit Still, Look Pretty
What does Women's History Month mean to you?
For me, Women's History Month is an opportunity to recognize and appreciate the women who fought for their rights and helped pave the way for today's women. It is also a time to reflect on the fact that even today, there is a tremendous amount of work that still needs to be done.
Growing up, was there someone in your life that inspired you to become who you are today? Who was it, and why?
My parents are the ones who inspired me to be who I am today. I am one of three daughters. Growing up in India, where gender bias is very prevalent, my parents, especially my mother, a homemaker, could have easily given in to social pressure. But instead, I was raised never to see myself as lesser than men and to stick up for myself when others tried to put me down. They ensured that my sisters and I had access to the best education and other avenues, truly empowering us to achieve whatever we wanted. I was surrounded by successful women - including homemakers, entrepreneurs, doctors, engineers, scientists - making me believe that I could be whatever I chose to be!
Can you tell us about your career journey in your field?
I received my undergrad in India and came to the US for grad school. After graduating, I have had the opportunity to work in different industries - a multinational chemical company, a cancer research center, a biological research institution, and now Nacelle - an e-commerce platform. As an engineer, I always had an interest in the end-to-end process of how a product is built and working through the challenges that come with it. This interest eventually led me to transition to a Product Manager position.
Being a female in the tech world comes with its own challenges, and I believe females bring a unique point of view that can't be beaten. With my journey so far and going forward, I hope that I can make a difference and pave the path for the future.
What challenges remain for women today? Why is it essential that more women are represented in tech leadership roles?
Even though we have come a long way, the work is not done. Even today women still need to fight and prove their value in a way that men don't. The gender wage gap is a problem that still persists. So does an unconscious gender bias, especially based on navigating career and family duties. The truth is that most times women have to work harder to earn the recognition they already deserve. This is exactly why it is important for women to be represented in tech leadership roles.

In general, women and men think differently, and having a gender-diverse team, especially leadership, encourages the team to anticipate and explore a different point of view. Many studies show that having female leadership, especially in tech, leads to better innovation and improved financial performance, among other things.
What advice would you give to the next generation of women?
As a mother of a 3-year-old daughter, I want to lead by example and show her that you can achieve whatever you set your mind to. My advice to her and the next generation of women is this quote - "A girl should be two things: who and what she wants."
Favorite Quote or Mantra?
"The most effective way to do it, is to do it." - Amelia Earhart
What does Women's History Month mean to you?
Women's History Month provides a devoted time for me to reflect on the advances and contributions of women in history and how it has allowed me to be where I am today. I take it as a time to learn about women in different disciplines and countries who have impacted our society and who may not have been recognized for it. It is also essential to use this reflection on history as a catalyst to continue to advance and advocate for change.
Growing up, was there someone in your life that inspired you to become who you are today? Who was it, and why?
While many people have had a part in shaping who I am today, my grandmother's strength, sense of self, and perseverance have been something I have always admired and have tried to emulate. My grandmother suffered many tragedies and challenges while she was a young woman and, through all of it, provided for her family at home and work.
Can you tell us about your career journey in your field?
I started as a Technology Analyst at a large consulting company, delivering custom solutions for the Federal Government. I was able to work on a variety of solutions and teams and worked with fantastic female managers who supported my career and helped build my professional skillset. After a few years in consulting, I moved to a smaller startup focused on returns management software for retailers aimed at diverting waste from landfills to a secondary marketplace. There, I led software implementations for some of the largest retailers working with different teams, products, and challenges. A few months ago, I made the change to come manage engagements at Nacelle to bring our performant data orchestration layer as a part of the modern commerce stack. I was promoted to lead the Professional Services Delivery team in the past few weeks, focused on building PWAs for our merchants leveraging Nacelle.
What challenges remain for women today? Why is it essential that more women are represented in tech leadership roles?
There are still many challenges that remain for women today in and out of the workforce. In the workforce specifically, women are typically paid less than for the same experience levels and are promoted to manager at lower rates than their male counterparts. Women of color are paid less and promoted at even lower rates than their white female colleagues. These challenges are even more prevalent in the technology space, where representation of women is lower than the rest of the job market. Simply put, it is imperative to have all representation in senior management and technology leadership roles. With representation, women have a seat at the table to make lasting, impactful changes to improve hiring and promotion processes and ensure everyone has an inclusive, fair working environment.
What advice would you give to the next generation of women?
Continue to push, challenge, and ask for what you deserve. Just because it has been done one way doesn't mean that it can't be done another.
Favorite Quote or Mantra?
"You must do the things you think you cannot do." - Eleanor Roosevelt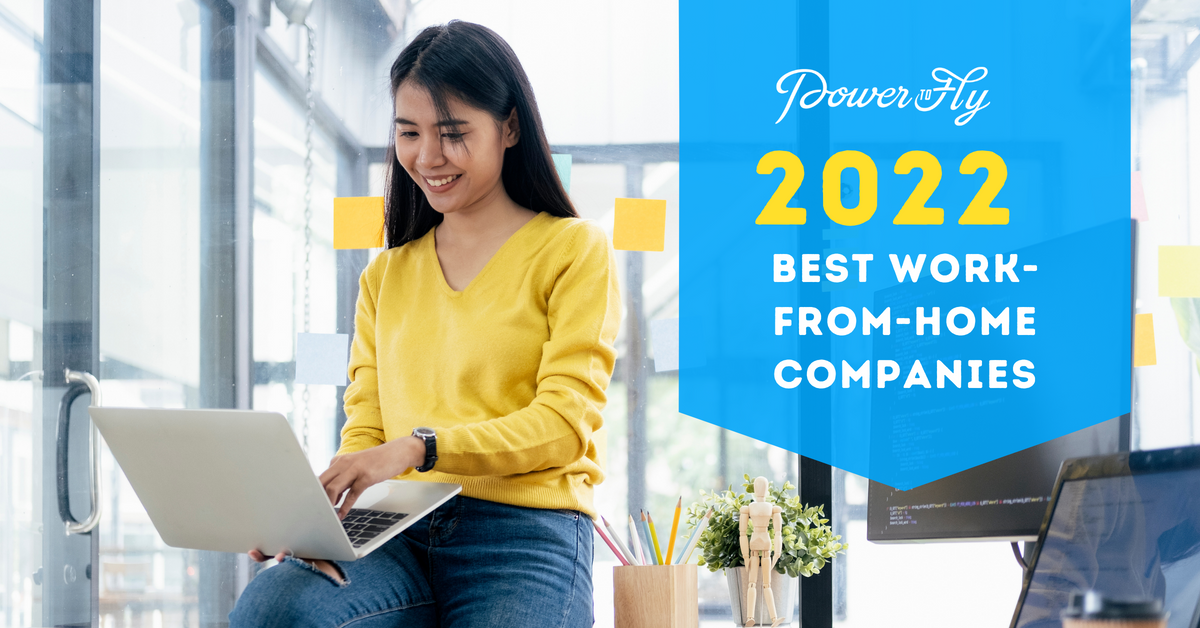 Featured Post
Every year, PowerToFly creates a list of the best work-from-home companies. Now that over half of the U.S. workforce is remote, compiling that list was a bit more challenging.
This year, we prioritized selecting companies that are remote-friendly—meaning they have both remote and in-person roles—but they have made long-term commitments to hiring and supporting employees who choose to work from home; and we think they have the perks, values, and organizational framework to allow all employees to flourish in their careers, regardless of location.
Keep reading to see our top 15 work-from-home companies for 2022, along with a description of what they do, why we like them, and who they're looking for.
PowerToFly's Best Work-From-Home Companies 2022:
Don't see what you're looking for? Check out a fill list of 5,000+ open remote roles here!
READ MORE AND DISCUSS
Show less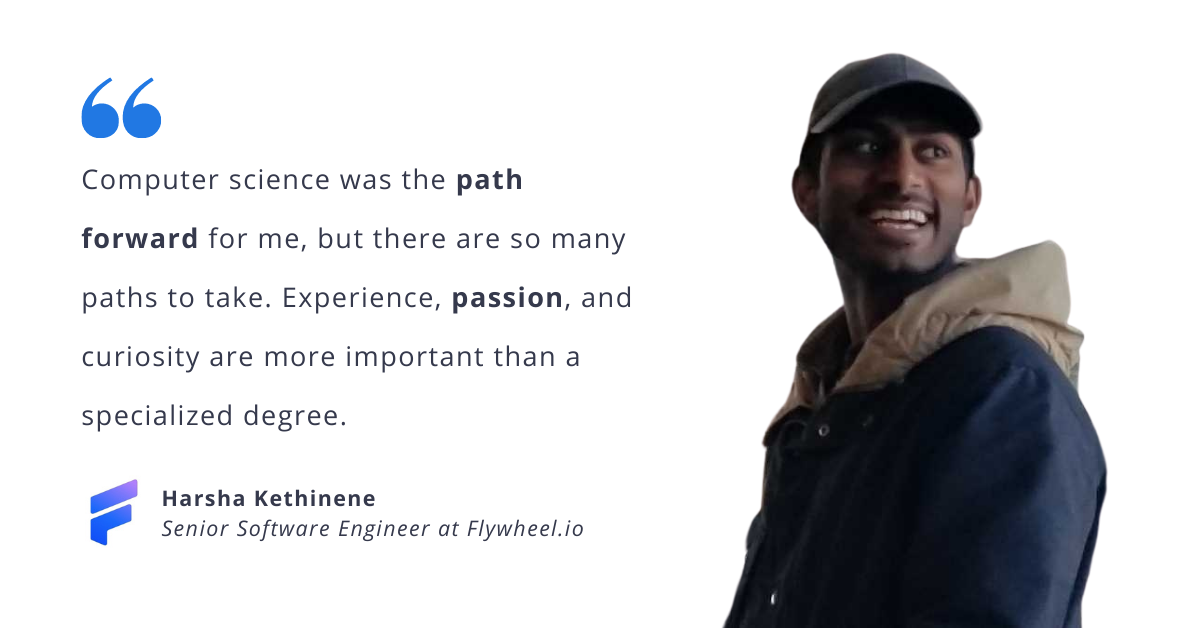 Flywheelml
Software development is in Harsha Kethinene's blood. "Both of my parents are in the computer science field," he says. "So when I was younger, they introduced me to programming." By the time he was in middle school, he was creating his own text-based video games. "I liked learning different languages and different ways of how to program, and by the time I was in high school, I knew I wanted to go into a STEM field."
And that's exactly what he did. Today, Harsha is a senior software engineer at Flywheel, a biomedical research data platform. We sat down with him to learn about his journey from college student, to intern, to engineer. Keep reading to hear his advice to smooth the transition from school to industry.
Figuring Out Next Steps
Harsha knew that he wanted to focus on science and technology in his career, so he originally opted for a double major in physics and computer science. "I had always been interested in astrophysics and space, and I wanted to learn more about that," he reminisces. "But then I took my first physics class and thought, 'alright, nevermind, we're going to stick to computer science.'"
With a new found focus, Harsha began tackling his classes and learning about different aspects of computer science, but he wasn't sure which area he wanted to focus on. "It got to a point where I thought, 'Is computer science really what I want to be doing?,' he explains. "Because what I was learning was interesting, but it didn't seem to fit with what I wanted to do."
That's when he decided to get some experience outside of the classroom to help him secure his career path. "It was my sophomore year, and I thought, 'I want to get an internship because it seemed like what smart people did,'" he laughs. After hearing about Flywheel from one of his colleagues at an on-campus student group, Harsha decided to apply for an internship.
After a series of interviews, they welcomed him on the team. He got the opportunity to dive into the industry and get insight on the different fields he could potentially work in. "Everything kind of clicked together and I thought, 'okay, this is what I want to be doing, software development.'"
Diving Into the Real World
This internship revealed some major differences between his development classes and the projects he was working on at Flywheel. "At Flywheel, what I was working on could change very fast," he elaborates. "At school you have a syllabus, you know what you are going to be working on."
While at university there were structured problems that had a neat solution, he realized that in the real world, he had to identify the problem first, and then try to solve the problem. "Sometimes you almost feel like a detective trying to figure out what's going on and why it's not working," he says. "So that's always fun. It keeps you on your toes."
"I'd say the hardest thing to learn, and what probably took me the longest to learn, is in school, when you write code, you just need to write it once, to get it to work, and then you can kind of ignore it for the rest of your life," he laughs. "You can't really do that in an industry. You need to write it and then make sure that six months from now you can still understand what you wrote."
Flywheel's dynamic, collaborative environment ultimately led Harsha to accept a full time offer as a software developer. Four years later, he's continued to climb the career ladder and is thriving in his current role as a senior software developer.
Tips for Transitioning Into the Industry
Harsha knows, first hand, that going from student to professional can be challenging. Keep reading for his advice to help smooth the transition.
Tip 1: Actively search for experiences and internships. Gaining real world experience is key to making the transition from student to professional smooth. One way to do that is through internships. "It feels very daunting when it comes to searching for an internship," Harsha confesses. "You see all of these postings online and you think, 'am I qualified for it?' Other times you get automated rejections."
When Harsha was looking for an opportunity to gain hand-on experience in the field, he relied on a network of support. "The reason I got my internship was by meeting somebody who mentioned this company that I'd never heard of." In addition to networking, Harsha recommends using other tools. "Try multiple avenues of looking for jobs and internships." Some of the avenues he suggests are industry meetups, school networking events, and conferences. "You need to break out of your shell a little bit to meet your people, to find these opportunities," Harsha advises.
Tip 2: Let your passions shine in the interview. After applying to a job or an internship, the second step is to prepare for the interview. Harsha's interview experience taught him that employers look for passionate people. "One of the people that interviewed me mentioned that they looked to see if candidates were doing any programming outside of school," he says. "That shows that you have a passion for it."
These days Harsha finds himself on the opposite side of the table as an interviewer. "When I'm sitting in on an interview, I tend to look for that [passion] as well, if they would enjoy working here in the software development industry."
Tip 3: Don't let your degree limit you. While Harsha pursued a degree in computer science, he's seen that there's no one correct path to a successful career in tech. "A computer science degree isn't really necessary at all," he elaborates. One of Harsha's former colleagues was a self-taught programmer. "He picked up small contract work online writing code and developing websites. Now, he's a software engineer at another startup."
Everyone's journey looks different, so there's no one-size-fits-all way to a successful career in tech. "Computer science was the path forward for me, but there are so many paths to take. Experience, passion, and curiosity are more important than a specialized degree."
Are you ready to put Harsha's tips into practice? Check out Flywheels' open roles here!
READ MORE AND DISCUSS
Show less
Loading...