GET EMAIL UPDATES FROM POWERTOFLY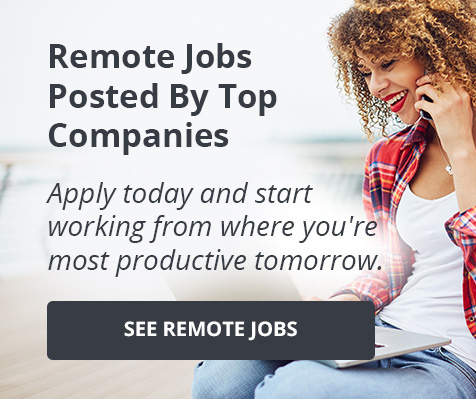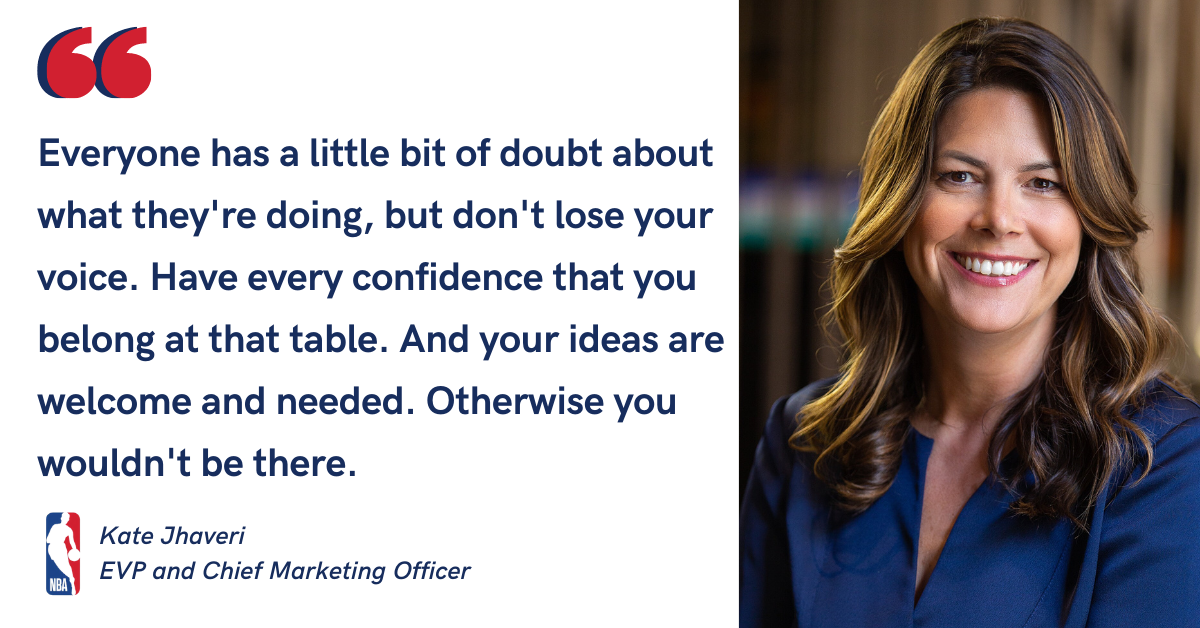 April 01, 2021
Nba
The NBA's CMO Kate Jhaveri on Her Marketing Superpower: Building Community
Kate Jhaveri does one thing every day that she suggests you try: belly laughs.
The EVP and Chief Marketing Officer at the NBA credits her two kids with much of that levity—"They're very silly and they, at least once a day, make me laugh out loud," she says—though she seeks to make those lighter connections with her team at work, too.
---
"Especially at this time, it's so incredibly important to have that perspective with everything that's going on," she says.
We sat down with Kate to hear about her career journey, why she left tech to work in sports, how she led her team through the pandemic, and what advice she has (beyond laughing often) for other women seeking to build fulfilling careers—and communities.
Solving creative problems for different consumers
Growing up, Kate always had a book in her hands. "The ability to tell stories and move people with words and images is something that started with me very young," she says. She thought about parlaying that love of stories into becoming a college professor, but her father encouraged her to try something new before committing to that path.
So she took a job in consulting and immediately loved it. "I really, really loved the problem solving and the ability to see opportunities for different businesses and consumers," she says. Those skills translated well to a job at Dell, where she got to go deep on one set of problems and enjoyed the energy of her fast-paced team of coworkers. "I fell in love with the velocity that was happening in the tech industry and...really getting to know who you are interacting with."
But having focused on English and Spanish literature in college, Kate wanted a chance to shore up her business skill set, so she got her MBA at Tuck, Dartmouth's business school. "It was a good way to refine all of the different ways I could think about business problems and solve them," she says. It also helped her define the kind of job she wanted post-graduation: one as a marketing leader.
"Marketing is where the two halves of me come together: this ability to really think about and problem solve combined with this love of art and creativity and storytelling," says Kate. "I wanted to run a marketing team for a brand that I cared about," she says.
Finding her community with the NBA
When an opportunity to be the NBA's CMO popped up, Kate knew it was the kind of job and the kind of company that aligned with her values. "It's a brand that really seeks to unite people," says Kate of the NBA. "Whether that's through the sport of basketball, or the values we hold around diversity, equity, and inclusion, it's about how can we bring people together and do so with something that makes people feel really joyful."
Her role as CMO includes every aspect of marketing, and Kate likes that challenge. "Marketing is really changing; it's super exciting now, this amazing blend of art and science that gets me excited and gets me out of bed in the morning, thinking through how to talk to consumers in ways that matter to them."
And even though she switched industries from tech to sports, and picked up new lingo to go along with it, Kate has found the transition to be a smooth one. "The organization has been super open to a lot of the ideas that I bring from a different industry and is already super innovative, [so] it wasn't that big of a change," she says.
Kate's approach to marketing, whether for a tech product or for professional basketball, is focused on communities. She's long been fascinated by how communities are created and how they develop, and in her current CMO role, she draws on her own experience feeling part of sports communities, from rooting for the Celtics as a kid in Baltimore to living in Chicago during Michael Jordan's heyday with the Bulls.
"There is no better community than the community of NBA fans," says Kate. "The NBA has done such a great job of building that community and bringing fans in to feel close, not just to the players or the game, but to what the NBA stands for."
Pandemic pivot: standing up with the NBA community
Kate joined the NBA in August of 2019. Seven months later, the world was put on pause—and so was basketball.
The whole NBA found themselves reimagining how a season of professional basketball could look. Kate felt like they had a unique opportunity to bring people together, and that figuring out how to do that in new ways would serve their audience now and in the future, especially since she says that less than 1% of basketball fans ever make it to an arena to see a live game. "One of the most interesting things about [this last year] is that we're all craving community in some way, and whether that's in person or online, we all want human connection," she says.
That community was especially important last summer, when the Black Lives Matter movement took off after a string of extrajudicial police killings of Black Americans. "The absolute tragedy and horrific loss of George Floyd, Ahmaud Arbery, and Breonna Taylor was a moment where we really could stand with players …[and] our fans," says Kate. As NBA players chose to wear jerseys with social justice messages and the league painted Black Lives Matter on the court, Kate saw it as " incredibly powerful and values-driven."
The NBA's transition to a bubble with games played without live fans meant new opportunities for the marketing team to share content and interact with their communities. "[I'm proud of our] ability in that time to tell a really compelling story about how we had changed the game and how fans could interact with the game specifically to bring them closer," says Kate.
Those new ways of telling stories included professional games of H-O-R-S-E, The Last Dance documentary in partnership with ESPN, trivia games, reruns and new commentary of classic match-ups, and the first-ever 2K Players tournament, not to mention tons of social engagement with the NBA's community of super-engaged fans.
"We really tried to meet what fans needed and wanted, and we learned a lot about what content is super interesting and what platforms are particularly great for individual pieces of content," she says.
So far, her favorite innovation—and one that she plans to bring into the post-pandemic world—has been the digital fans. The NBA created a virtual fan experience where more than 300 fans each game were invited to appear live on the "Michelob ULTRA Courtside" 17-foot-tall video boards surrounding the court, allowing for an atmosphere of cheering (and occasional jeering) even with otherwise empty seats. "It's such a great way to bring people closer," says Kate.
Paying it forward: tips for building your career
Kate has four key tips for other women looking to build careers—and communities—that work for them:
Remember that your dream role might "hire on hustle." Kate is a builder: "I like to roll up my sleeves and get my hands dirty," she says. Leaning on her ability to get things done, even with a scrappy team or a limited budget, has been how she's gotten several roles, she says. Focus less on what degree you have or who you know and more on a track record of making things happen.
Before accepting an offer, ask "Do I want to have a beer with these people?" That's the question Kate makes sure she'd say "yes" to before starting a new role. "You're spending a good portion of your life, whether on Zoom or sitting in the office, with these people. If you aren't really enjoying [them], it makes the job less fun. It's about the passion and the people," she says.
Once you're in a new role, make sure to speak up and share the ideas that got you there. "For women especially, it is deeply important to not lose your voice. There are times when you may be the only woman in the room, and there are times when that room could be fairly large. It's still really important that you know that you belong there," she says. "Everyone has a little bit of doubt about what they're doing, but don't lose your voice. Have every confidence that you belong at that table. And your ideas are welcome and needed. Otherwise you wouldn't be there."
As you take on new roles and responsibilities at different companies, be kind to everyone you come across. "Marketing is a small world," says Kate. "You will have the opportunity to cross paths with people again." She says that now, her community of peers is her biggest source of inspiration and continuous learning. "I see where they've gone, they see where I've gone, and we have a connection," she says. "Focus on relationships and individuals, because they will stay with you far longer than you think."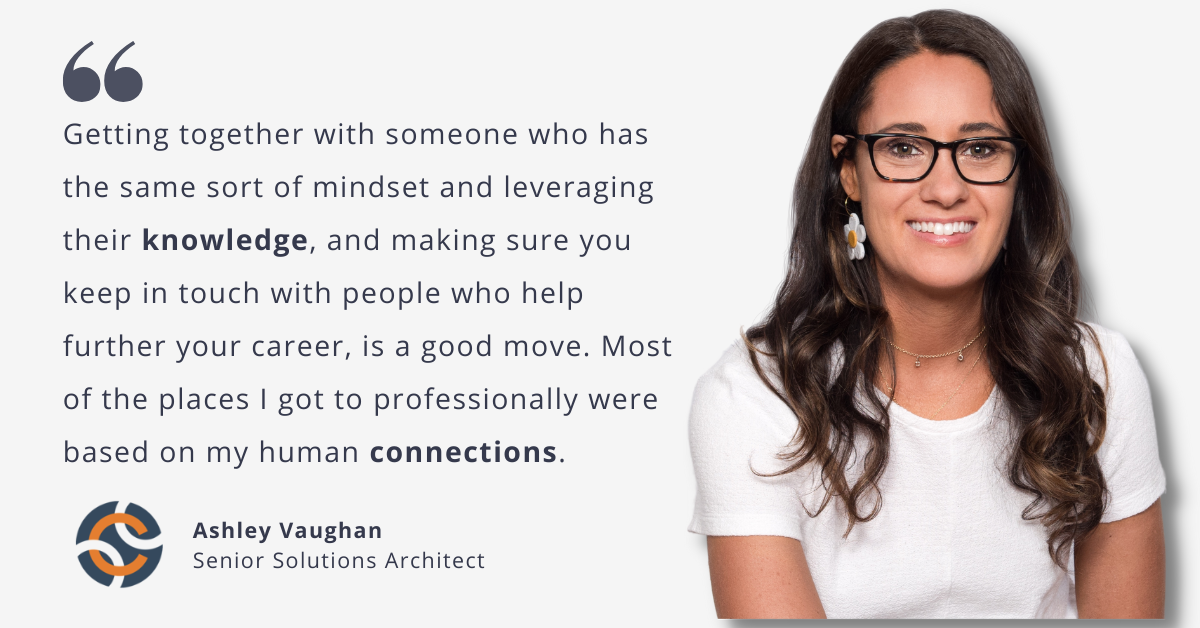 Chainalysis Inc.
How much money do criminals control today, and where is it?
These are some of the many questions that Ashley Vaughan, Senior Solutions Architect at blockchain data platform Chainalysis, spends her days working to answer.
"You learn more about a situation or problem by following the money than from any other resource or piece of information," she explains. "Money doesn't lie. People can lie in text messages or other means, but the path of the money leads you to what you're trying to accomplish."
Though Ashley always knew she wanted to work with computers, she found her way into roles in cybersecurity, and then specifically blockchain security, through networking and exposure — not by setting out to do so.
We sat down to talk about her career journey, as well as what advice she has for other women looking to make their mark in these burgeoning fields.
Resilience and Curiosity
Ashley doesn't often give up, and credits some of that attitude to an obsession with soccer as a kid.
"Playing sports makes you a more resilient person, I think. You learn failure and risk, which are very applicable to my job and my career path," she says.
That resiliency was a good thing, notes Ashley, because as a young girl, she wasn't always encouraged to pursue what she was most interested in: math and science. A teacher early on had told her that she wasn't good at math, and Ashley believed that narrative until high school.
"We really shouldn't put those ideas in children's minds, because it affects them for much longer than you might think," she says of the experience. "But I'm the kind of person that when someone tells me I can't do something, it makes me want to do it even more, and do it better."
Finding out in advanced high school math classes that she actually was good at math turned into choosing a computer engineering major when she got to college.
Graduating during a recession in 2010 meant Ashley didn't have the job market of her dreams, but after working in IT, she networked her way into a role in the cybersecurity department of a prominent DC law firm.
"They were getting hit left and right from social engineering and phishing attempts," says Ashley. "Due to the sensitive nature of the work they dealt with, I was exposed to the darker realities of the digital era, and I began to see a new side to the world—one of real significance to national security."
Specializing in Cybersecurity — and Finding a Home in the Private Sector
Inspired by what she was working on at the law firm, Ashley pursued a master's in cybersecurity with a focus on counterterrorism.
"I wanted to help protect our country," she explains. "I have a lot of family members who are former military, so that was a natural step for me."
That led to her taking a contract role specializing in offensive security at a government agency that frequently worked with Chainalysis. After working with Chainalysis folks onsite, she was sold and started pursuing a position with the company.
"I wanted to help make sense of blockchain data for a bigger purpose, like assisting in the continued threat of ransomware activity against American interests," she explains.
Although she credits her public sector work with providing a solid foundation in blockchain security, the private sector turned out to be a better fit for her.
"What I love about Chainalysis is that my colleagues are really happy people, and I've always felt welcome and not scared to ask questions," says Ashley. "In past jobs, where I was one of five women in a group of 150, I felt a lot of pressure. I didn't ever want to make a mistake. I felt as if I had to be a chameleon to match the social environment of my male counterparts."
Blockchains are all about democratizing data, and Ashley likes working with a team of people of all backgrounds to help support that mission. At Chainalysis, Ashley works with internal product and engineering to show customers how Chainalysis data can help them use complex blockchain solutions to solve data problems — and catch bad guys.
"Sometimes we're following a bad actor who's tied to child sex trafficking. Being part of a coordinated operation to put a stop to things like that is really fulfilling," she says.
3 Tips for Women Who Want to Find Their Place in Cybersecurity
For a long time, reflects Ashley, she just wanted to come into work, do her job, and feel supported, without feeling like she didn't fit in or was representing her entire gender. Fortunately, she found what she wanted — and she hopes other women will find that, too. They can start their search by:
Knowing they're not alone in having tough experiences. "Everyone has different definitions for how you're supposed to act or supposed to handle your emotions as a woman at work, and it's exhausting. It's like, 'This is just me.' I can't repeat enough how tiring that is," she says.
Prioritizing self-directed learning. Although Ashley completed a master's in cybersecurity, she emphasizes that there are many other routes into the industry, including self-study. Whether you get involved in programs like Girls Who Code or do self-paced learning through platforms like Udemy or Coursera, the important thing is that you pursue independent learning about topics that interest you, she says.
Creating and maintaining relationships. "Really talking to people is almost a lost art," says Ashley. "Getting together with someone who has the same sort of mindset and leveraging their knowledge, and making sure you keep in touch with people who help further your career, is a good move. Most of the places I got to professionally were based on my human connections."
Nowadays at Chainalysis, Ashley is no longer one of five women in the office, and is excited to start paying it forward so that more people with backgrounds like hers can pursue their own professional success.
"We tend to feel more comfortable talking to people who might have our same gender or educational background, and being open and vulnerable with them," she says. "Being a visible role model is really important to me."
Check out Chainalysis' open roles
here
!
READ MORE AND DISCUSS
Show less
Loading...