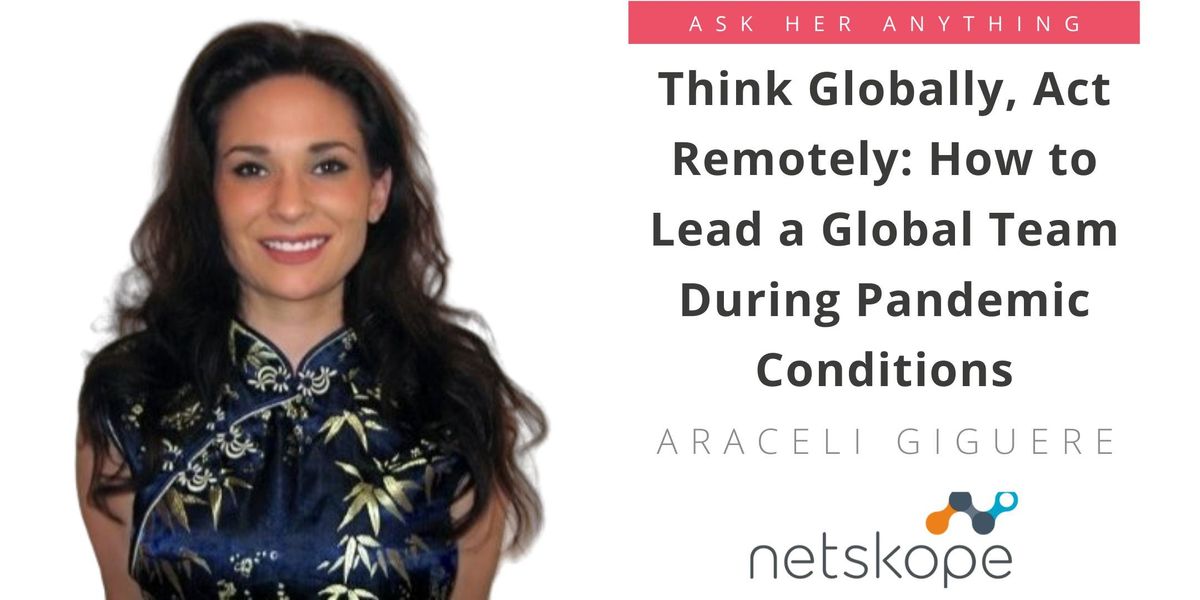 Netskope
On Thursday, May 28th, 2020, join us for a live chat with a member of the Netskope team! We are excited to hear from Araceli Giguere, Sr. Director, Security, and Intelligence Operations at Netskope, during the chat entitled, "Think Globally, Act Remotely: How to Lead a Global Team During Pandemic Conditions". Click here to register and also hear the post-event recording, and we hope to see you there virtually!
Here is more information about this live chat with Araceli:
After 14 years of gaining managerial experience, I thought I knew how to cultivate that 3D relationship with my colleagues and reports through a 2D interface and remain present while working remotely. That was until life crashed into my workspace, and all things that existed in my life were now occurring right inside of my office. The COVID-19 pandemic has opened a world of opportunity to better my managerial skills and learn more, as others take a (socially distanced) walk in my remote working shoes.
As a result of this chat, I want you to walk away with:

How you can distinguish what makes you and your resources unique vs. different
An understanding of how you can create and catalyze equalizers as a cornerstone of team building and engagement
How to drive engagement for those who stay to get, and those who stay to give
How being given a chance to speak and influence women can change and morph how tall you stand in a group where you are a minority
MEET THE SPEAKER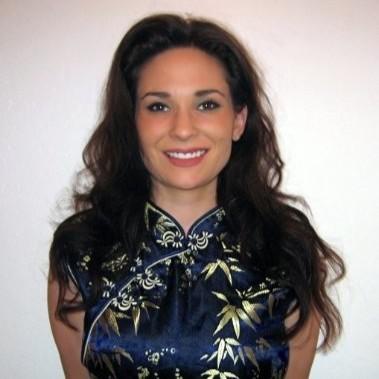 Araceli Giguere is an accomplished security leader and government agency liaison with 20 years of experience directing and executing security strategies across a range of technologies and industry verticals. Araceli is a seasoned leader in advancing security programs across the organizational continuum and also counseling global organizations in the prevention of advanced attacks and data theft. She is currently the Sr. Director, Security, and Intelligence Operations at Netskope, and has been with Netskope's Security Operations team since 2018.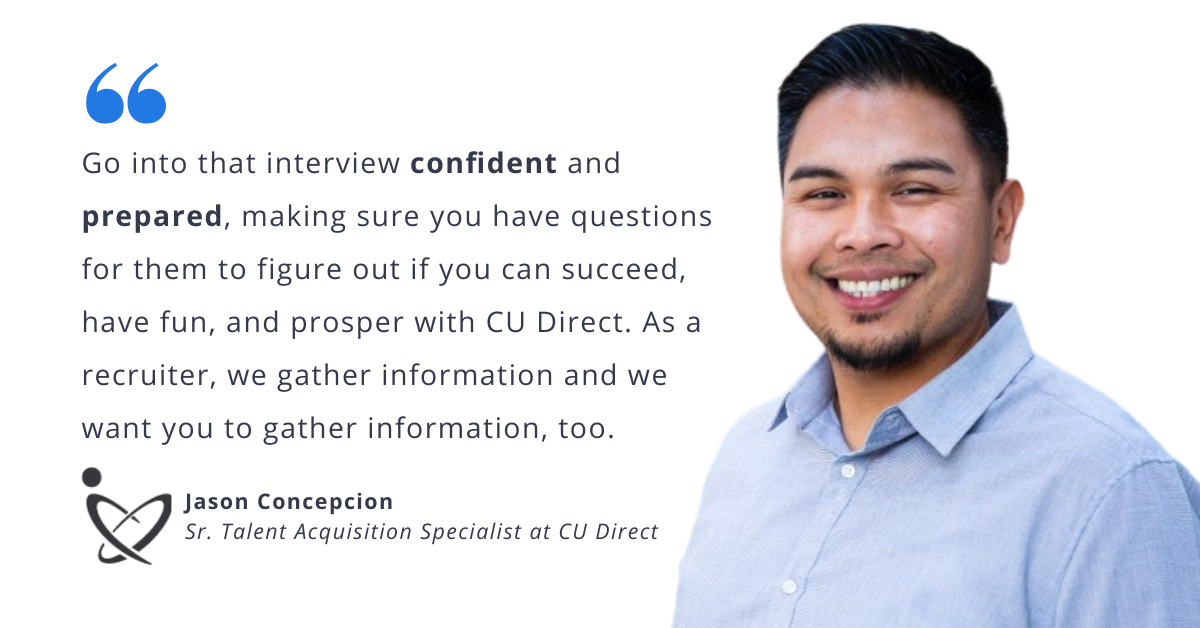 CU Direct
Jason Concepcion is a Sr. Talent Acquisition Specialist at CU Direct, a technology leader that delivers lending solutions to financial institutions, auto dealers, retailers, and medical providers nationwide. As a progressive company that looks for the best diverse talent, CU Direct prides themselves on seeking and taking care of their employees.
We sat down with Jason to learn about CU Direct's hiring process. Keep reading for his top 6 tips to put into practice when interviewing with CU Direct.
Tip # 1 Do Your Research
While it may seem obvious, learning about the company you're interviewing for is crucial. "Before the interview, do some research on CU Direct, our products and services, and even our subsidiary companies," says Jason. Doing the research will show the interviewer that you are highly interested and that "you did your due diligence in getting to know the company." Check out their About page to get to know CU Direct and its various projects.
Tip #2 Ask Questions
It's important to be transparent from the first point of contact with the company, which means asking questions to clarify and gain more information. Jason suggests, "when talking to the recruiter, ask questions. Go into that interview confident and prepared, making sure you have questions for them to figure out if you can succeed, have fun, and prosper with CU Direct. As a recruiter, we gather information and we want you to gather information, too."
Tip #3 Take Your Time
Pace yourself in the interview. Jason explains that "it's okay to pause, regroup, and answer questions. When asked about your experiences, taking your time will allow you to think of the situation, how you solved it, and what was the outcome."
Tip #4 Ask Yourself, 'What Do I Want to Do?'
Take inventory of what you have accomplished or learned in your professional trajectory so far. "We're not just looking for what you've done, but we are also looking for what you can do and what you want to do," says Jason. He believes that "those things are just as important as what you've done in the past. Your drive and determination will show us where you want to go and ideally, that will organically align with the positions we have here at our company."
Tip #5 Understand the Job Description
With your resume in hand, consider what experiences best align with the job description. "Valuable work experience can be found almost anywhere. It can come from your first job or it can come from your most recent job," Jason explains. Whatever small or short experience you have that matches the job description is worth mentioning and explaining, depending on the job you are applying for. Jason explains, "a good understanding of the job description you're going for, and related positions within the company will give you a greater insight as to what we're looking for and what you want to highlight or present in regards to this role."
Tip #6 Don't Be Afraid to Get Personal
One way to stand out in the interview process is to show that you'll be a good values fit, so intentionality throughout, and after, the interview can go a long way. Jason suggests sending a thank you email after the interview. "This will make sure that you stand out in front of thousands of applicants," he says. "Don't make it generic, tailor the message including details mentioned in the interview, this will show the person that you were completely engaged throughout the interview."
CU Direct's personal and careful recruitment process is a reflection of their fun and innovative atmosphere, their value of team members, and commitment to growth. They offer several benefits to their employees, such as a flexible working environment, paid time off, 401k match, college tuition reimbursement, and an exciting company culture. Because of this, they want to make sure people are treated with the same kindness and positivity from the start. As Jason reiterates: "We want to make sure you are prepared and ready for each step of this process, from interviewing, to asking questions, and to possibly onboard in the future," says Jason.
Are you interested to find out more about working at CU Direct? Check out their
openings
here!
READ MORE AND DISCUSS
Show less
Loading...