GET EMAIL UPDATES FROM POWERTOFLY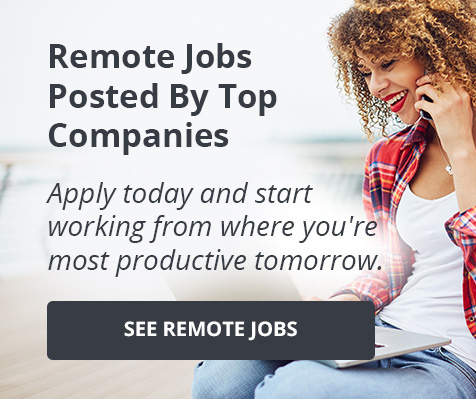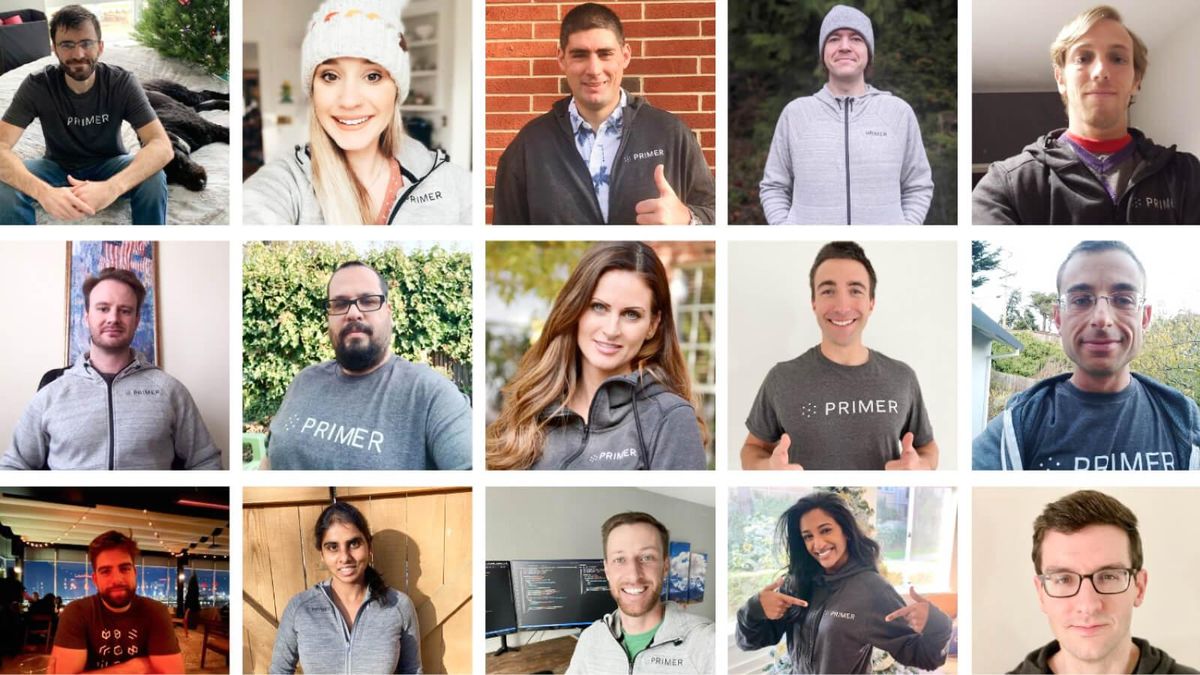 March 04, 2021
Primer
How to build a great culture during a global meltdown
Below is an article originally written by Suzannah Radack and published on February 5, 2021. Go to PRIMER's company page on PowerToFly to see their open positions and learn more.
Recently, Primer was named one of the Best Midsize Companies to Work For in the Bay Area. This was our first time making it on this list, and I'm especially proud because it happened in 2020 - a year when we needed to push outside our comfort zone and think innovatively about our culture.
As I reflect on how we got here, a few things stand out as being particularly impactful. Sudden changes in context forced us to reimagine every aspect of our culture, and redesign it with intention. Here are five things we got right in 2020:
We embraced change and looked for opportunities.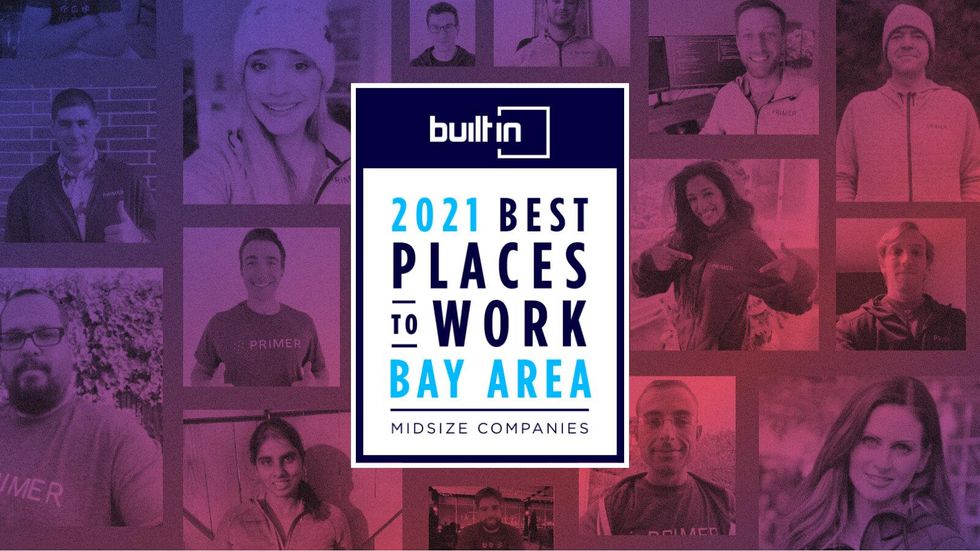 We saw COVID early, so we were prepared and the transition to remote work was relatively seamless. We made sure our employees were set up to be productive and successful by offering them an allowance for home office set-up, and a $75 monthly stipend throughout 2020.
We asked ourselves "How can Primer become an engine of job growth in 2020?" Looking for the opportunity in a dark moment changed the conversation. We didn't want to simply survive; we wanted to thrive. We decided we'd fight to win and oriented the team toward this goal. Following early successes, we fulfilled our goal of becoming an engine of job growth and onboarded more than 50 people in the latter half of 2020.
We got creative about designing cultural moments that worked even better in a virtual world. We trained the whole company simultaneously on Unconscious Bias and Coaching by video conference. We also held a virtual Customer Day with inspiring panelists like Tony Thomas, Sue Gordon, Dash Jamieson, and Kim Kagan. It would have been expensive and logistically impossible for a small company like Primer to host events like these in person.
We doubled down on our mission.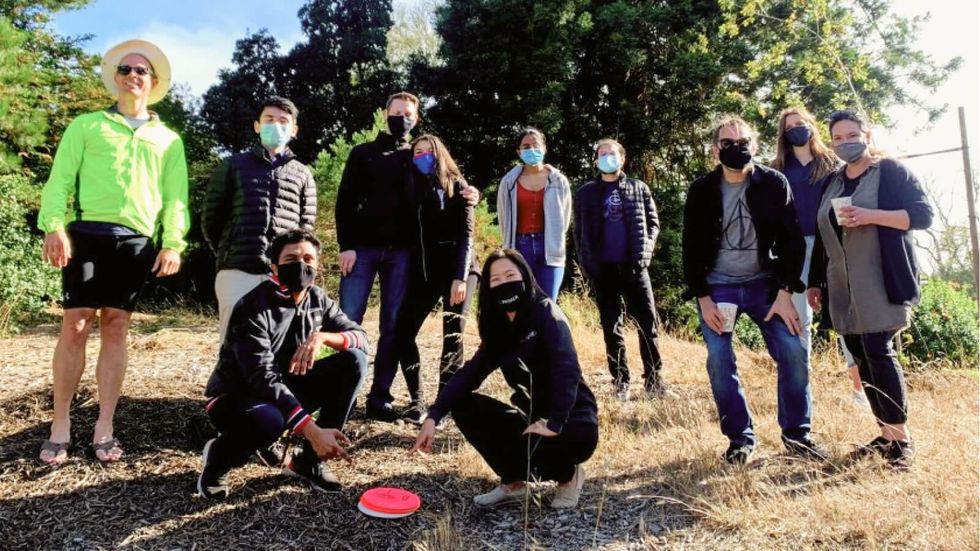 Primer creates the tools behind the decisions that change the world. Every day, our users are busy defending democracy, looking for cures to COVID-19, and guiding companies with our technology. When we're hiring, we screen for people who are passionate about this mission, and the result is a culture of grit, purpose, and excitement about the future.
We used our technology to help the world in a crisis. When COVID-19 struck, our team asked, "How can we help?" Over one weekend, a small group of engineers built covid19.primer.ai to help doctors, scientists and researchers keep on top of the rapidly proliferating research on COVID. It was intensely gratifying when we received thank you notes from the people on the front lines, saving lives.
We cared for our people.
While the country was in lockdown, Primates made the best of it by working around the clock to build and sell our products. There was a lot of energy and progress, but no one was taking time to disconnect or renew. In addition, we were carrying a heavy emotional burden worrying about economic and health security, vulnerable relatives, systemic racism, loneliness, homeschooling, and wildfires. Work was a welcome distraction from the world around us, but the pace and intensity was unsustainable. The 'new normal' had created the perfect conditions for burnout. We decided we needed to disrupt the pattern. In May, we announced a company-wide Mental Health day to encourage self-care. Everyone turned off at the same time on the same day, and we encouraged them to share photos of how they found joy. It was so successful that we scheduled monthly Mental Health Days for the rest of 2020. We shared the benefits of our approach with other companies, and saw others follow our lead and adopt the same practice.
We adapted our routines to accommodate employees facing the biggest challenges. For example, parents were struggling to manage homeschooling while working 9am-5pm. We used a company's all hands to highlight the problem, and our CEO Sean Gourley set the expectation that it was on all of us to help each other by adjusting our usual schedules to accommodate homeschooling duties, giving colleagues space and comfort when their kids walked in on calls, and covering for parents when they were double-booked. This 'permission' changed the cultural dynamic and added a new lightness.
We found virtual ways to celebrate diversity. We hosted impactful employee-led events to build education and awareness around Pride, the history of racial injustice in America, and Native American Heritage Month. We highlighted important muti-cultural holidays at all hands and celebrated our differences.
We articulated how to be successful
After adapting our strategy to COVID, we quickly reprioritized and communicated new company OKRs. By articulating what success was going to look like in 2020, we freed our team to take charge of their own destiny.
With so much uncertainty, we wanted our team to know we saw a future for them at Primer. We invested in building out career ladders and training every manager to set growth goals for their people to give them a path for advancement. This provided structure during uncertain times.
We connected and listened to each other in new ways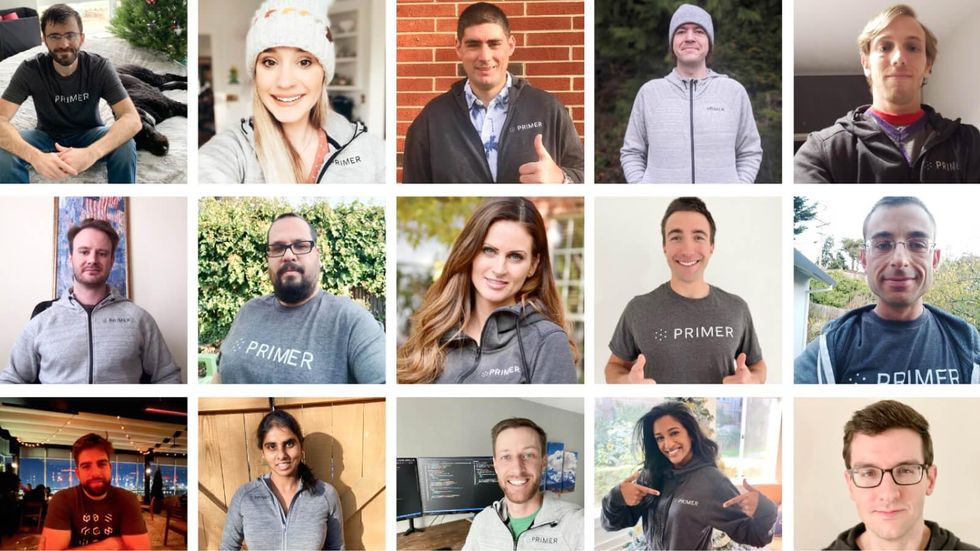 Without in-person touchpoints, we needed technology to connect our people and business goals. We have a real-time pulse on how people are feeling and working.
We implemented Lattice to track OKRs, run employee pulse surveys, and manage performance.
We connected socially through fun Slack pop-up channels like #thejoyofcooking, #lets-socialize, and #petsofprimer to share glimpses into our personal lives from afar, and Donut to pair up randomly for getting to know you chats.
We used Clockwise to boost productivity and optimize our calendars.
Zenefits helped us do virtual onboarding seamlessly, and structure the first 90 days to ensure every manager and new hire are having the right check-in conversations at the right time.
We ended the year by giving our colleagues a holiday gift that was symbolic of everything we'd been through together - a Lego International Spacestation kit to build with their loved ones. Puzzles are a quirky and fun part of our culture, and we wanted to give them a puzzle that forced them to get off their screens, build something with their hands, and find joy with the people who supported their careers at Primer all year. We're proud we built a great place to work during the strangest of times, and we're sharing what we got right in hopes other companies can benefit.
If you want to join us and continue to evolve our culture, we're hiring!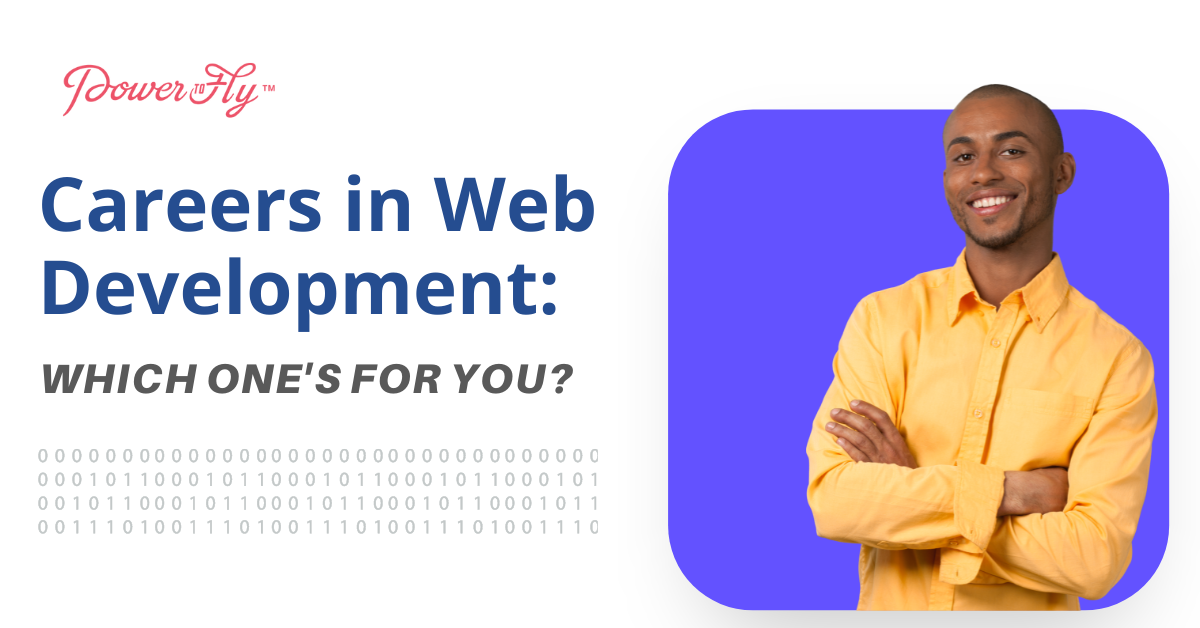 Upskilling and Development
We all have our favorite websites– the ones we frequent, bookmark, and recommend to others. You might even enjoy some website features so much that you've found yourself wondering why they aren't more popular. Or maybe you've experienced times where you were frustrated with a website and wished you could add features or even design your own!
If you've ever found yourself intrigued at the prospect of designing and developing your own websites, then a career as a web developer might be just for you!
As a web developer you would be responsible for coding, designing, optimizing, and maintaining websites. Today, there are over 1.7 billion websites in the world and, in turn, the demand for web developers is on the rise. In order to figure out what kind of web development work best suits you let's start with an introduction to the three main roles in web development that you can choose from.
The Three Types of Web Development Jobs
Front-End Web Development: The Creative Side
Think of front-end development as the décor of a house. The color scheme, furniture, manicured lawns, and overall aesthetic. In terms of a website, front-end development is laser-focused on the appearance of a website and its presentation on different devices. If you're considering a role in front-end development, it's important to learn programming languages such as HTML, CSS, and JavaScript. These three languages go hand-in-hand. HTML allows you to create user interface elements, CSS helps you with stylistic elements, and JavaScript allows you to incorporate online tools and connect your website to back-end functions.
In addition to programming skills, front-end developers need to be detail oriented, creative, willing to keep up with the latest trends in web development, cyber security conscious, and geared toward user-friendly designs. The median salary for a front-end developer can reach well into the $90,000 to $100,000 range.
Back-End Web Development: The Logical Counterpart
While a house can be beautifully decorated, it's incomplete without a solid foundation and efficient infrastructure. Similarly, a well-designed website depends on logical and functional code to power the features of that website. Back-end web development is code-heavy and focused on the specifics of how a website works. If you enjoy the analytical challenge of creating the behind-the-scenes code that powers a website, then back-end development is for you.
Since this role is more code-heavy, it's important that you learn numerous programming languages and understand algorithms and data structures. Some languages that are essential to back-end development are Ruby, Python, SQL, and JavaScript. Back-end developers also ensure that users can successfully retrieve and access data. This requires creating and using APIs (Application Programming Interfaces) which act as messengers that relay data related requests. Additionally, developing the code for the inner workings of a website also requires back-end developers to be conscious of the user interface features designed by front-end developers and to internally mitigate potential security risks. Due to the increased technical aspect of this position, back-end developers normally earn higher salaries than front-end developers. The average median salary for this role is around $118,000 per year.
Full-Stack Web Development: A Little Bit of Everything
A full-stack developer is essentially the Jack (or Jill)-of-all-trades in web development. Full-stack developers need to be knowledgeable about both front-end and back-end roles. This does not necessarily imply that you would need to be an expert in both roles, but you should fully understand the different applications and synergies they each imply. In order to work in this position, you will need to know the programming languages used by front-end and back-end developers. In addition to these languages, full-stack developers also specialize in databases, storage, HTTP, REST, and web architecture.
Full-stack developers are often required to act as liaisons between front-end and back-end developers. Full-stack developers need to be both problem solvers and great communicators. The end goal for a full-stack developer is to ensure that the user's experience is seamless, both on the front-end and on the back-end. In return, you can expect to earn a median salary of $100,000 – $115,000 a year for this role.
Taking the Next Step
Web development is both in-demand and lucrative! All three roles described above contribute to specific aspects of web development and the scope of each one can be customized to the industries and positions you feel best suit you. Regardless of which role you choose, all of them need a foundation in programming.
To gain the programming skills needed in each role, you can enroll in courses or learn independently. Coding bootcamps are a great way to boost your skillset quickly and efficiently.
Click here for some of our highly rated programming bootcamp options! Make sure to check out the discounts available to PowerToFly members.
READ MORE AND DISCUSS
Show less
Loading...