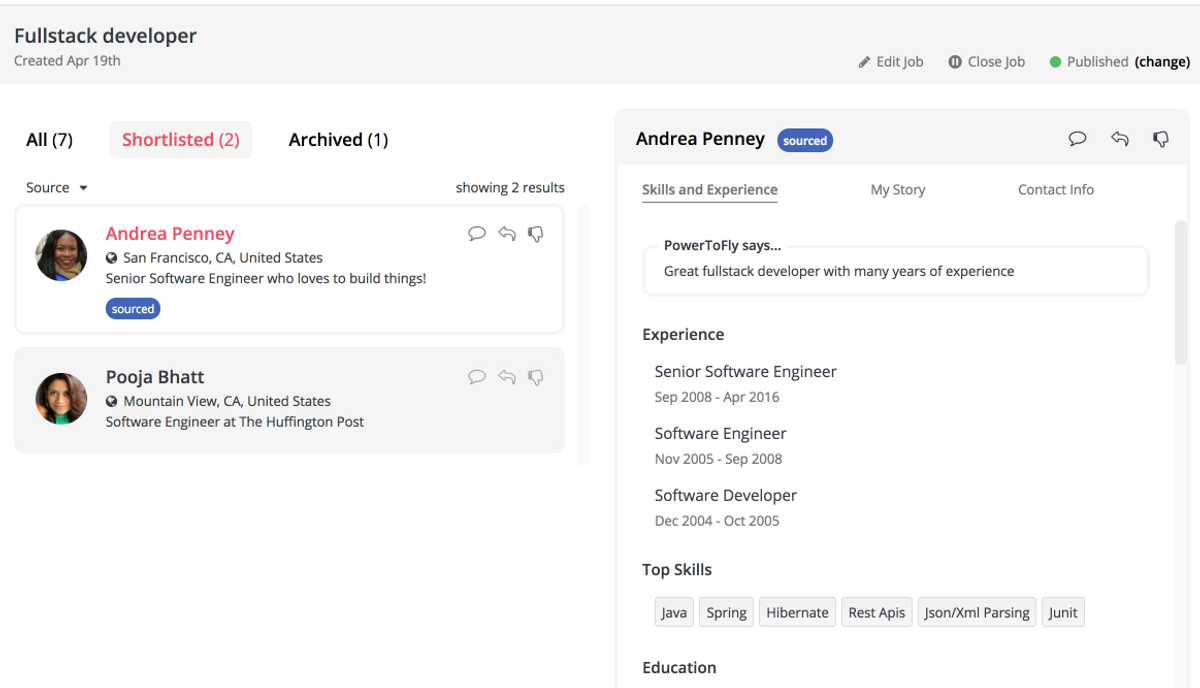 Product Updates
At PowerToFly our mission is simple: modernize work for women by connecting them to each other and companies that care about gender diversity and inclusion. Matching women with companies requires a seamless product experience - and listening carefully to user feedback - so hiring managers can find their candidates and change their gender ratios once and for all.
---
With that on top of our minds, we're introducing two major updates today: a redesigned job manager and an integration with Greenhouse, an applicant tracking system popular with a number of our partner companies. For companies not using Greenhouse we're working to integrate their preferred systems. Stay tuned.
Redesigned Job Manager
You can access the new interface from the Manage Jobs menu link, by clicking on the title of the job you want to review. We made a simple video that breaks down how to use the interface.
[youtube https://www.youtube.com/watch?v=eAHQos6r41Q&feature=youtu.be expand=1]
At the core of this release is an improved user interface for managing your latest candidates for each job you have on PowerToFly.  You will be able to review multiple candidates' information within the same interface and quickly shortlist those you are considering for next steps. We've made it easier to quickly view and filter candidates depending on how they became associated with your job, either because they applied, you invited them or our internal team sourced them for you.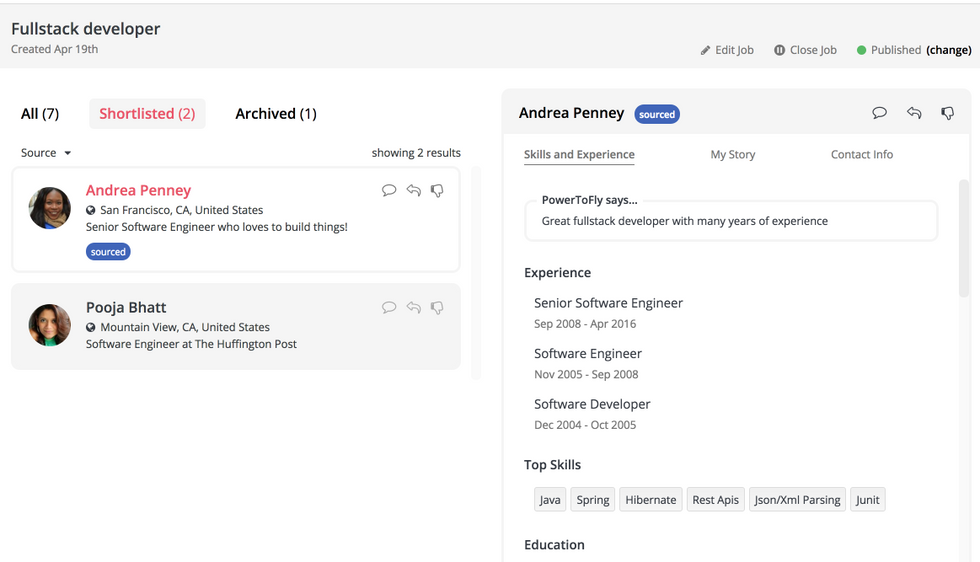 We also made it simpler to connect with candidates from this interface. Simply click on the talk bubble icon of a candidate and directly message them from the same interface.

You can also quickly edit your job posting, publish/unpublish your job and close the job with just one click.

We'll continue expanding on this interface in the weeks and months to come, we'll add the capability for private talent notes for those candidates you are reviewing, talent notes you will be able to  share with your team, lists to help you categorize "starred" talents and direct integrations to more ATS's.
Greenhouse ATS Integration
We partnered with Greenhouse to make it easier to connect your internal ATS with your PowerToFly account. If you are currently using Greenhouse you can now export jobs automatically from Greenhouse into PowerToFly and export candidates from PowerToFly to Greenhouse.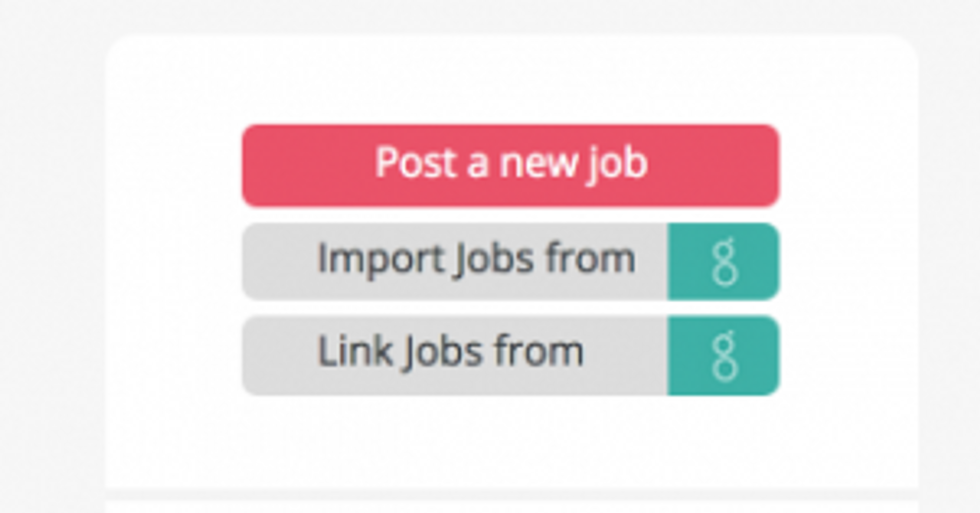 Contact your customer success manager directly or through customersuccess@powertofly.com to get a walkthrough of this feature and get it setup for you.
Not using Greenhouse? Stay tuned, we will be integrating with many more applicant tracking systems in the weeks and months to come!
Have questions or feedback?
We love hearing from you, you can reply to this message or reach out to us at anytime at  customersuccess@powertofly.com.
Until the next release!
The PowerToFly Team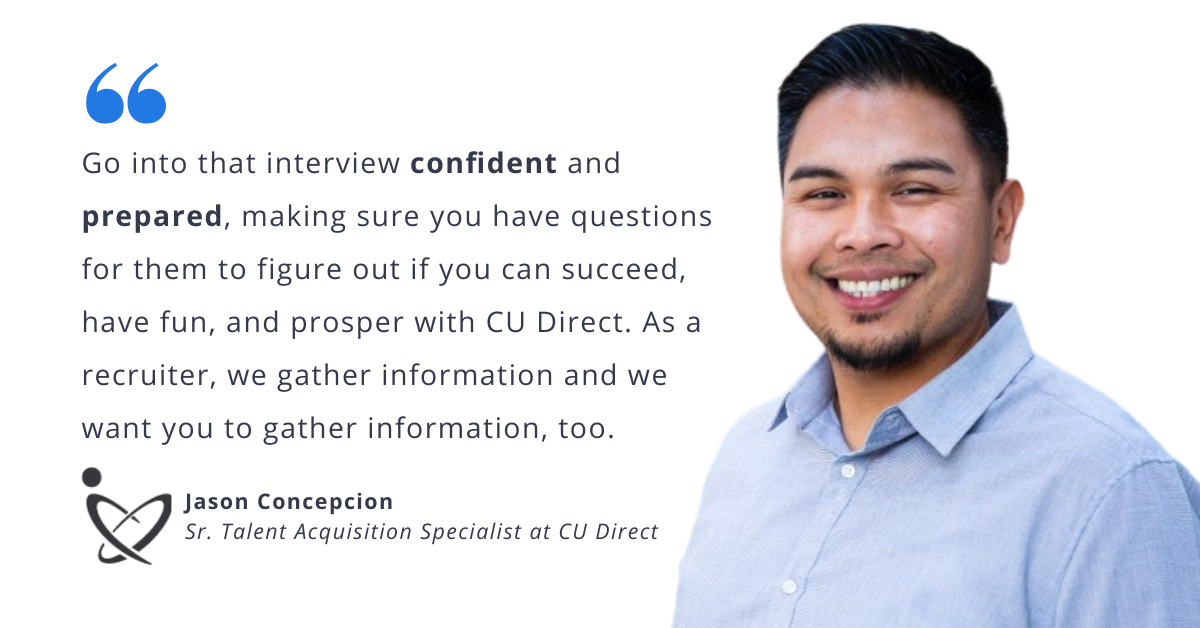 CU Direct
Jason Concepcion is a Sr. Talent Acquisition Specialist at CU Direct, a technology leader that delivers lending solutions to financial institutions, auto dealers, retailers, and medical providers nationwide. As a progressive company that looks for the best diverse talent, CU Direct prides themselves on seeking and taking care of their employees.
We sat down with Jason to learn about CU Direct's hiring process. Keep reading for his top 6 tips to put into practice when interviewing with CU Direct.
Tip # 1 Do Your Research
While it may seem obvious, learning about the company you're interviewing for is crucial. "Before the interview, do some research on CU Direct, our products and services, and even our subsidiary companies," says Jason. Doing the research will show the interviewer that you are highly interested and that "you did your due diligence in getting to know the company." Check out their About page to get to know CU Direct and its various projects.
Tip #2 Ask Questions
It's important to be transparent from the first point of contact with the company, which means asking questions to clarify and gain more information. Jason suggests, "when talking to the recruiter, ask questions. Go into that interview confident and prepared, making sure you have questions for them to figure out if you can succeed, have fun, and prosper with CU Direct. As a recruiter, we gather information and we want you to gather information, too."
Tip #3 Take Your Time
Pace yourself in the interview. Jason explains that "it's okay to pause, regroup, and answer questions. When asked about your experiences, taking your time will allow you to think of the situation, how you solved it, and what was the outcome."
Tip #4 Ask Yourself, 'What Do I Want to Do?'
Take inventory of what you have accomplished or learned in your professional trajectory so far. "We're not just looking for what you've done, but we are also looking for what you can do and what you want to do," says Jason. He believes that "those things are just as important as what you've done in the past. Your drive and determination will show us where you want to go and ideally, that will organically align with the positions we have here at our company."
Tip #5 Understand the Job Description
With your resume in hand, consider what experiences best align with the job description. "Valuable work experience can be found almost anywhere. It can come from your first job or it can come from your most recent job," Jason explains. Whatever small or short experience you have that matches the job description is worth mentioning and explaining, depending on the job you are applying for. Jason explains, "a good understanding of the job description you're going for, and related positions within the company will give you a greater insight as to what we're looking for and what you want to highlight or present in regards to this role."
Tip #6 Don't Be Afraid to Get Personal
One way to stand out in the interview process is to show that you'll be a good values fit, so intentionality throughout, and after, the interview can go a long way. Jason suggests sending a thank you email after the interview. "This will make sure that you stand out in front of thousands of applicants," he says. "Don't make it generic, tailor the message including details mentioned in the interview, this will show the person that you were completely engaged throughout the interview."
CU Direct's personal and careful recruitment process is a reflection of their fun and innovative atmosphere, their value of team members, and commitment to growth. They offer several benefits to their employees, such as a flexible working environment, paid time off, 401k match, college tuition reimbursement, and an exciting company culture. Because of this, they want to make sure people are treated with the same kindness and positivity from the start. As Jason reiterates: "We want to make sure you are prepared and ready for each step of this process, from interviewing, to asking questions, and to possibly onboard in the future," says Jason.
Are you interested to find out more about working at CU Direct? Check out their
openings
here!
READ MORE AND DISCUSS
Show less
Loading...