GET EMAIL UPDATES FROM POWERTOFLY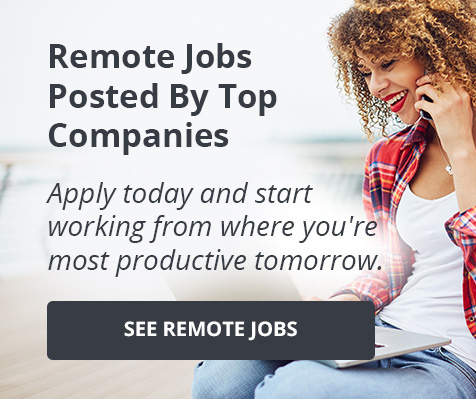 August 09, 2019
Inspiration
Productivity Tips for Remote Workers
8 Ways to Crush Your Work When You're Working From Home
Did you know that 90% of workers say they get more done when they work remotely?

So what is it that leads them to be more productive, rather than just watching Netflix and taking naps all day, as so many (micro)managers fear?
---
We took a look at some of the techniques that help remote workers crush their work goals and stay disciplined, even when (or perhaps because) no one's watching.
Give some of these productivity tips for remote workers a try and see if you can't join that 90% that's blowing away productivity expectations while working from home!
Productivity Tips for Remote Workers
Make a Work Schedule and Follow It Without Any Questions
When you're at the office, you encounter plenty of distractions that take you away from your work… but you do at least have roughly set hours to hold you accountable.
When you work from home, chances are you'll have a lot more flexibility. This makes it more tempting to sleep in, take long lunches, or simply procrastinate until midnight.
You'll be a lot happier and enjoy remote work more if you build a routine and schedule that you can follow each day.
Block off time on your calendar so you're reminded of what you need to do when and protect your time.
Make these meetings with yourself and stick to them, just like you would if you were meeting another person. 9AM - emails, 12PM - lunch break, 3PM - stretch break, 6PM - shut down your computer.
You can build whatever schedule works best for you, but as humans, we are creatures of routine.
And if you don't have one, your routine may well become "doing nothing" or "doing whatever I'm asked, when I'm asked." Neither of these is good for productivity.
So protect your time and respect your time. You'll soon see you're getting a lot more done and having a lot more fun.
Set Your Goals
Set short-term, medium-term and long-term goals and break down how each of them factors into the work you need to do in the week ahead.
You can do this exercise weekly or bi-weekly, but make sure you're tracking your goals and your progress..
Create To-do Lists
Once you've set your goals, you can use your breakdown of work for the week to create daily to-do lists!
You can use any kind of list — electronic application or good old method of a pencil and paper.
At the end of each day, make a to-do list for tomorrow, and follow it. This will also help you stick to the schedule you've set for yourself.
Take Breaks
Set a time for lunch and short breaks. It is considered optimal to make a 15-20-minute break after 90 minutes of work. You shouldn't take breaks longer than ~20 minutes because you don't want to lose your flow entirely. . Use this time to step away from your computer and give your eyes and mind a rest. If you want to hold yourself accountable to this flow, try using the Pomodoro Timer.
Equip Your Workplace
It's one thing to work on a stiff kitchen chair for a couple hours on the weekend. But if you're butt's going to be in the same chair for 8 hours a day, it better be comfortable!
Invest in the supplies you need to make your workplace more comfortable and conducive to productivity.
Get an extra monitor, buy a mouse, sit on a medicine ball… whatever it is that leaves your eyes, back, and head feeling good during and at the end of the day.
Create a Tight Time Frame
Nothing like the illusion of a deadline to get your butt in gear!
With no boss hovering over your shoulder, you need to be your own disciplinarian and coach, so push yourself not only to work harder – but faster! If something normally takes you an hour, set a timer and see if you can do it in 50.
These games will keep you motivated, and at the end of the day, you may well have saved yourself a full hour that you can use to get out of the house and have some fun!
Do Not Disturb Mode
Turn off your notifications!! And put your phone away while you're at it.
When you need to hunker down and get some work done, you don't need to be taking a 5 minute Facebook or Insta break that quickly turns into 15 or 20.
Same goes for company messages. If your company uses Slack or similar, set an away message and say what you're doing, and then go on DND.
You can't make a presentation or write a report when you've got 50 people pinging you constantly for small requests and questions.
Motivate Yourself — Pavlovian Style
If you're not forced to clock in at a certain time, it can be really hard to get going in the morning. Try creating a morning routine that will motivate you to start working.
Basically, do something you do like and feel inherently motivated to do, and tie it with the thing you don't want to do.
If you love drinking a cup of coffee first thing in the morning, give yourself that luxury, but make it mandatory that once it's finished, you'll review your to-do list for the day and tackle the first item. No more coffee until item one is done.
Or if you love to jog, you can do that and then begin work... Give yourself permission to do one thing you like, and then make it mandatory to follow it with the thing you don't. Eventually, your body will be conditioned to expect that after you finish that first cup of coffee, it's work time, and it won't feel like such a grind getting started.
----
Have other work-from-home productivity tips you'd like to share with our community? Email us at hi@powertofly.com or tweet us @PowerToFly!
And if you're ready to join the 90% of workers that say they're more productive when they work from home, check out our remote jobs here!
RISE UP THROUGH OUR FREE COMMUNITY
Network with top executives even if you aren't looking for a new role
First look at flexible, work-from-home, in-office roles
Join live chats led by expert women in your field and beyond
Sign Up
Talent
10 Full-Time Roles You Can Do Remotely! [Updated Sept 2021]
[This article was updated September 20, 2021]
Work-from-home jobs sometimes get a bad reputation: low pay, repetitive work, micromanagement... the list goes on. But if one good thing has come out of 2020, it's that it's redefined working from home. Remote work has come a long way, and the opportunities to work from home in 2021 are more promising than ever before.
If you're like me, and freelance, task-oriented remote jobs like article writing, data entry, transcription, or professional survey taking (yep, that exists), aren't your thing - don't worry. There are more full-time remote opportunities than ever before that offer you the freedom to manage your own time, the security of consistent monthly income, the support of a team, and the promise of growth. In fact, we've got close to 5,000 on PowerToFly.
So, if you're looking for a remote opportunity in 2021 that will push you to develop professionally, look no further than our list of the 10 best work-from-home jobs. And by best, we mean fun, challenging roles that will help you grow, while making a respectable income.
All the jobs listed have average salaries between 45 and 119k, and have average or higher-than-average growth potential (based off of the U.S. Bureau of Labor Statistics' predictions for growth from 2018 to 2028 and/or LinkedIn's 2020 Emerging Jobs Report).
10 Best Work-From-Home (Remote) Jobs for 2021
Jobs sorted from highest to lowest average salary. (Salary data taken from ZipRecruiter, Glassdoor, LinkedIn, and/or the U.S. BLS depending on availability and specificity to remote roles.)
-----

Interested in one of the roles above? Check out these resources for landing your dream remote job and get ready to reap the full benefits of remote work in 2021 - doing what you like, where you like. Good luck!
[A version of this article was originally published on Dec. 19, 2018]

READ MORE AND DISCUSS
Show less
Loading...