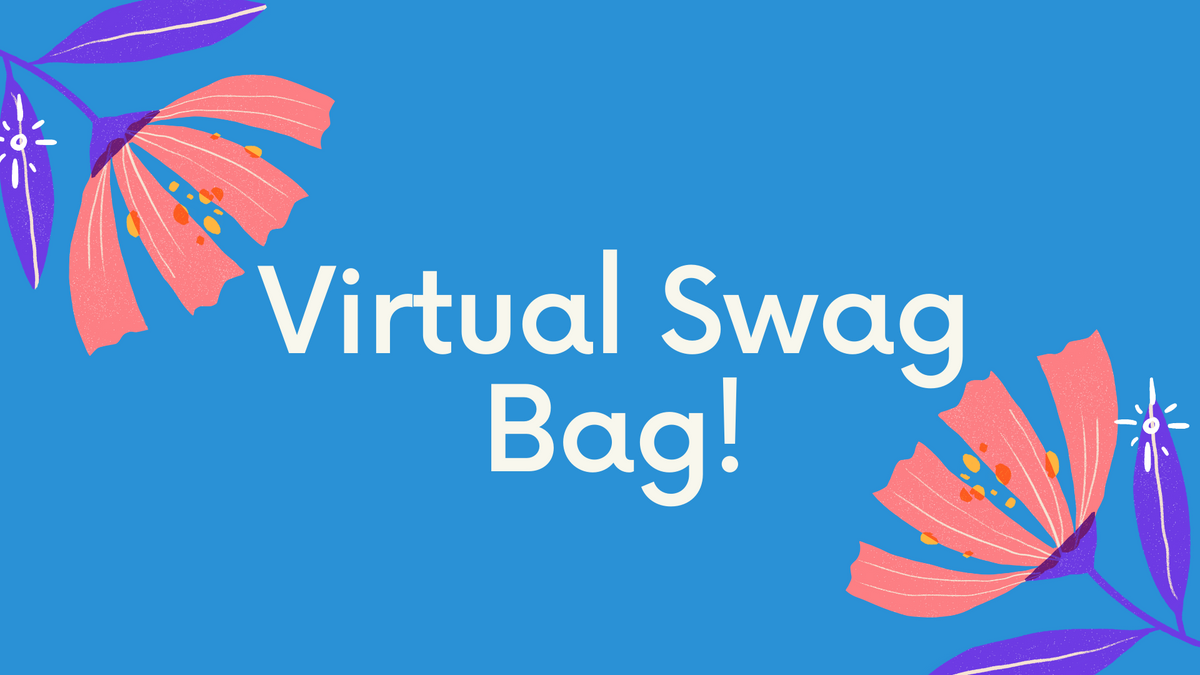 popular
Make Change, Get Swag!
The entire PowerToFly team thanks you for taking part in such a groundbreaking event. We hope that you were able to walk away feeling empowered with new information, new connections, and new opportunities.To thank you for joining our first Diversity Reboot Summit, we would love to extend our gratitude with promotional discounts on products from our Summit sponsors and speakers.*Click on the arrows in each photo below to swipe through to see all of the product offerings.*Note: there is no limit to the number of items that you can redeem.
ThePLUG Pro - Get $10.00 Off Your Annual Membership

ThePLUG humanizes Black people's engagement in technology related to markets and industries one investigative narrative at a time.

ThePLUG Pro Gets You: premium access to ThePLUG's in-depth news coverage, access to their data library and indexes, exclusive member calls, annual reports, and the yearly access to the invite-only summit.
How to Access: sign up for your annual membership to ThePLUG Pro at tpinsights.com/join. Use code POWER2FLY at checkout to receive $10.00 off your annual membership. *Note, this does not apply to the quarterly membership.
Course Discount Alert - How to Find a Job Without Looking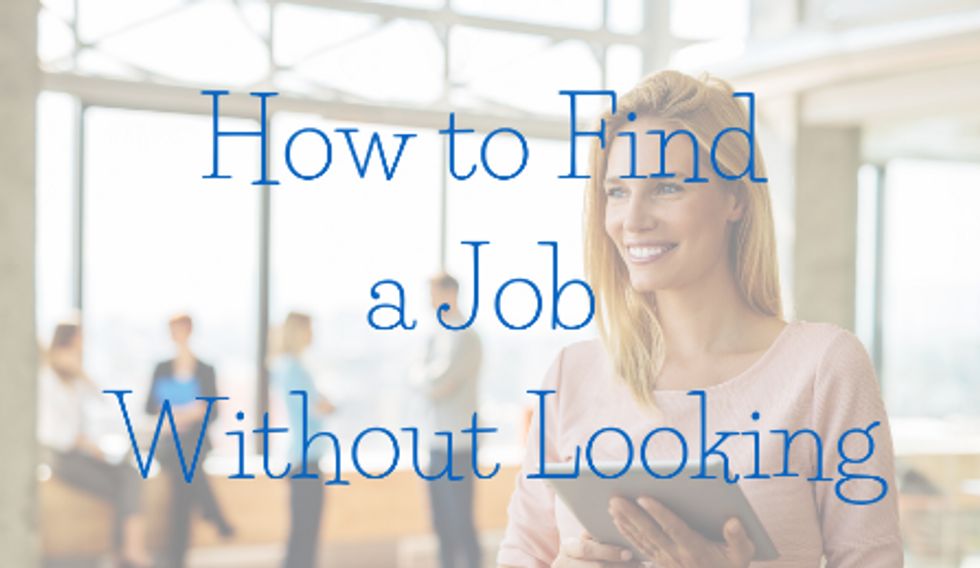 Sign-up to learn from Limor Bergman Gross, Director of Mentorship at PowertoFly, to learn how to land your dream role without actually looking.

What You'll Learn: how to master your LinkedIn presence and get job opportunities sent straight to your inbox. Limor's step-by-step method is proven to help you find your next opportunity without entering the nerve-racking job market.
How to Access: Visit Limor's course page and enter coupon code REBOOT2020 for 50% off of your course purchase. The offer is valid until 11:59pm PT on June 25, 2020.
BONUS -- the first 10 people to sign up for the course will receive a free hour long one-on-one session with Limor.
Free Webinar via Ellevest!

Ellevest is on a mission to close the gender investing gap. Join the movement and take financial control today!

What You Get: Access to a FREE Ellevest webinar titles "How Investing Works".
What It Is: You don't need to become an expert on stocks before you can start investing — when you start an investing account with Ellevest, they've got you covered. But if you're curious to learn more, this 45-minute online workshop is for you. You'll walk away knowing more about the main types of investments, some common investing terms, and how to pick investments at Ellevest. Boom!

How to Access: Click the link below to view the webinar via Zoom. This is valid for PowerToFly Diversity Reboot Summit attendees only.

https://us02web.zoom.us/webinar/register/3215923417707/WN_3BXrsOkBQ1KmKI3xGtuAFg
Textio - Access FREE Employer Brand Competitive Analysis

Are you showing up as the company that you want to be in the market? You can measure it. Textio's predictive engine is fueled by the data of half a billion documents from around the globe, connecting corporate language to real-world outcomes.

Employer Brand Competitive Analysis: Does your employer brand shine through to current and prospective employees? Textio's platform will identify language across your organization that could be undermining your brand. Then they will compare your language with your competition.

How to Access: Fill out the form on the page linked below and Textio will generate an Employer Brand Report for your organization and walk you through their findings from your data.
Get 20% Off Ellevate Network Membership!

The largest community for women and femme identifying individuals at work, Ellevate is built on the premises of showing up for each other, helping everyone build a career they love, and mobilizing the collective power of women to change the culture of business.

What You Get: Ellevate Network equips women with local or virtual intentional networking opportunities, skill-building content and resources, opportunity to build your platform as a thought leader, professional and personal development programs and a community of supportive, driven women. Hurry - Ellevate's proven 12-week peer-led virtual personal development program Squads will start accepting registrations for its fall cycle on June 22nd! Memberships start from $8.33/month, ranging based on your networking needs.
How to Access: Use code powertofly in the link below to get 20% off your Ellevate Network membership. Offer is valid until June 30, 2020.

https://www.ellevatenetwork.com/applications/new
Get 20% off The Break Into Tech Course Package!

What It Is: Skillcrush Fast Tracks will get you job ready ASAP. With a tightly curated group of courses and our expert-designed Job Readiness Checklist, you'll have everything you need to land a new, higher-paying at lightning speed.

What's Included:
JOB READINESS FAST TRACKS

Skillcrush Fast Tracks will get you job ready ASAP. With a tightly curated group of courses and our expert-designed Job Readiness Checklist, you'll have everything you need to land a new, higher-paying at lightning speed.
BOTH tracks are included in your course package:
Front End Developer Fast Track
Become a Front End Developer—one of the hottest and highest-paying jobs in tech!
Designer Fast Track
Become a Web or Visual Designer—a job that is creatively fulfilling and perfect for tech beginners.
EXPERT CAREER MENTORSHIP & INSTRUCTOR FEEDBACK
PLUS 13 TECH SKILLS TRAINING COURSES
✓ HTML & CSS
✓ Git & Github
✓ Responsive Coding
✓ JavaScript & jQuery
✓ Web Design Fundamentals
✓ Visual Design Fundamentals
✓ Identity & Branding Design
✓ Professional Design Practices
✓ Introduction to WordPress
✓ WordPress Best Practices
✓ Intro to Ruby
How To Access: Use code POWERTOFLY2020 at the link below for 20% off your course.

https://skillcrush.com/break-into-tech
What We're Reading Right Now
By Minda Harts

By Latham Thomas

By Brigid Schulte

By Reshma Saujani

Learn More About Our Sponsors!

Indeed is the #1 job site in the world. With over 250 million unique visitors every month from over 60 different countries, we are the catalyst for putting the world to work. Intensely passionate about delivering the right fit for every hire, we can help companies of all sizes build their employer brand and hire the best talent.

pymetrics is a talent matching platform using behavioral data and ethical AI to help companies better understand their workforce, as well as make better and fairer people decisions. pymetrics' AI driven sorting engine provides solutions beyond just recruiting, powering various stages of the talent life-cycle, including internal mobility and workforce reskilling.

Since 2012, Trail of Bits has helped secure some of the world's most targeted organizations and products. We combine high-end security research with a real-world attacker mentality to reduce risk and fortify code.Visit their website to learn more about Trail of Bits and their product offerings.

Spark new connections and have fun together with Icebreaker! Icebreaker is an online engagement platform that helps facilitate a variety of virtual events that can be personalized for any occasion.

Founded by Senator Kirsten Gillibrand in 2011, Off the Sidelines supports female candidates, powers their campaigns and educates individuals on the power of their engagement in the political process in order to elect more women—particularly women of color—to Congress. Senator Gillibrand firmly believes that when Congress reflects the diversity of our country, the outcomes will be better for all Americans.

Since its inception, Off the Sidelines has raised more than $9 million for women candidates, including more than $1 million for women of color. This cycle, Kirsten is committed to raising $1 million through Off the Sidelines and is focused on flipping the Senate. Off the Sidelines has endorsed 86 female candidates and an additional 20 candidates who advocate for marginalized communities.

Want to get more audience for your web, media, and events? Did you know that there are 1.3 billion of people with disabilities? They make up the world's largest and the most ignored minority in the world. If you make your products and services accessible, you will not only improve experience for the untapped market, but also increase your audience and ROI for your business. If you are interested to learn more from an accessibility strategy consultant who is deaf, contact Svetlana Kouznetsova. She has both professional experience in accessibility and personal experience with deafness.

Translator is on a mission to spread empathy and equality at scale. Translator was founded on the belief that the future of Diversity & Inclusion is data-driven and that technology can help us drive the change we need in the world.

Across the globe, HireVue is transforming the way companies discover, hire and develop the best talent with Hiring Intelligence and its HireVue Video Interviewing platform. Using a combination of industrial/organizational science and rigorously tested, predictive artificial intelligence, customers are hiring higher quality talent, faster. HireVue is available worldwide in over 30 languages and has hosted more than eight million on-demand interviews and one million assessments. Its more than 700 customers worldwide include over one-third of the Fortune 100 and leading brands such as Unilever, Hilton, JP Morgan Chase, Delta Air Lines, Vodafone, Carnival Cruise Line, and Goldman Sachs.

Clients partner with Cooley LLP on transformative deals, complex IP and regulatory matters, and high-stakes litigation where innovation meets the law. Cooley has 1,100+ lawyers across 16 offices in the United State, Asia and Europe

Littler Mendelson P.C. is a U.S.-based law firm that has a singular focus on labor and employment law. Littler provides legal strategies and solutions for employers of all sizes, everywhere.
Thank You to All of Our Sponsors!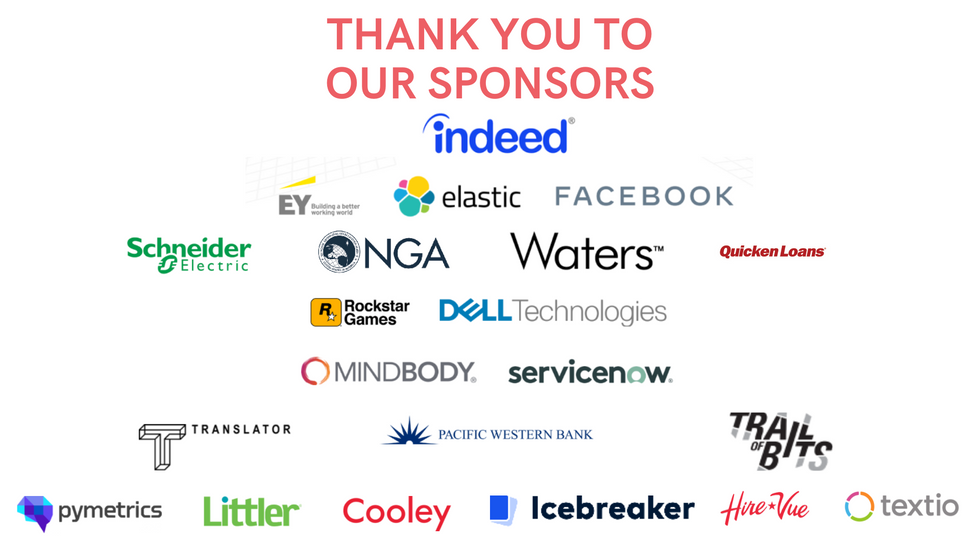 The Diversity Reboot Summit could not have been possible without our amazing sponsors. We appreciate your help making our dream a reality!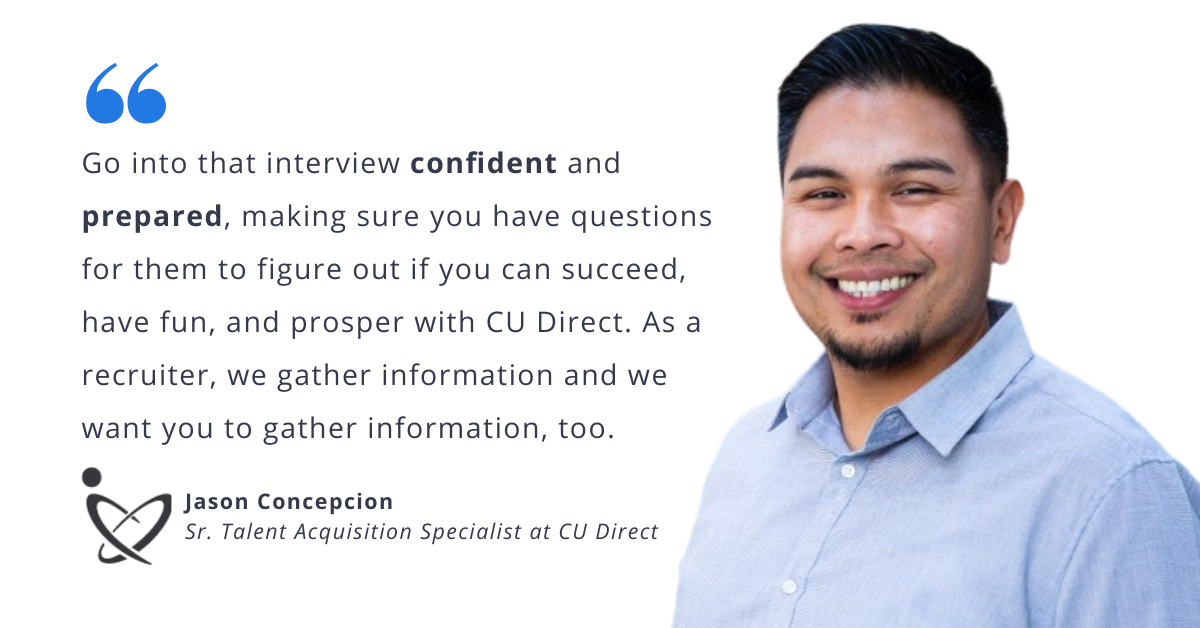 Hispanic/Latino/Latina/Latinx/Latine/Latin
Jason Concepcion is a Sr. Talent Acquisition Specialist at CU Direct, a technology leader that delivers lending solutions to financial institutions, auto dealers, retailers, and medical providers nationwide. As a progressive company that looks for the best diverse talent, CU Direct prides themselves on seeking and taking care of their employees.
We sat down with Jason to learn about CU Direct's hiring process. Keep reading for his top 6 tips to put into practice when interviewing with CU Direct.
Tip # 1 Do Your Research
While it may seem obvious, learning about the company you're interviewing for is crucial. "Before the interview, do some research on CU Direct, our products and services, and even our subsidiary companies," says Jason. Doing the research will show the interviewer that you are highly interested and that "you did your due diligence in getting to know the company." Check out their About page to get to know CU Direct and its various projects.
Tip #2 Ask Questions
It's important to be transparent from the first point of contact with the company, which means asking questions to clarify and gain more information. Jason suggests, "when talking to the recruiter, ask questions. Go into that interview confident and prepared, making sure you have questions for them to figure out if you can succeed, have fun, and prosper with CU Direct. As a recruiter, we gather information and we want you to gather information, too."
Tip #3 Take Your Time
Pace yourself in the interview. Jason explains that "it's okay to pause, regroup, and answer questions. When asked about your experiences, taking your time will allow you to think of the situation, how you solved it, and what was the outcome."
Tip #4 Ask Yourself, 'What Do I Want to Do?'
Take inventory of what you have accomplished or learned in your professional trajectory so far. "We're not just looking for what you've done, but we are also looking for what you can do and what you want to do," says Jason. He believes that "those things are just as important as what you've done in the past. Your drive and determination will show us where you want to go and ideally, that will organically align with the positions we have here at our company."
Tip #5 Understand the Job Description
With your resume in hand, consider what experiences best align with the job description. "Valuable work experience can be found almost anywhere. It can come from your first job or it can come from your most recent job," Jason explains. Whatever small or short experience you have that matches the job description is worth mentioning and explaining, depending on the job you are applying for. Jason explains, "a good understanding of the job description you're going for, and related positions within the company will give you a greater insight as to what we're looking for and what you want to highlight or present in regards to this role."
Tip #6 Don't Be Afraid to Get Personal
One way to stand out in the interview process is to show that you'll be a good values fit, so intentionality throughout, and after, the interview can go a long way. Jason suggests sending a thank you email after the interview. "This will make sure that you stand out in front of thousands of applicants," he says. "Don't make it generic, tailor the message including details mentioned in the interview, this will show the person that you were completely engaged throughout the interview."
CU Direct's personal and careful recruitment process is a reflection of their fun and innovative atmosphere, their value of team members, and commitment to growth. They offer several benefits to their employees, such as a flexible working environment, paid time off, 401k match, college tuition reimbursement, and an exciting company culture. Because of this, they want to make sure people are treated with the same kindness and positivity from the start. As Jason reiterates: "We want to make sure you are prepared and ready for each step of this process, from interviewing, to asking questions, and to possibly onboard in the future," says Jason.
Are you interested to find out more about working at CU Direct? Check out their
openings
here!
READ MORE AND DISCUSS
Show less
Loading...