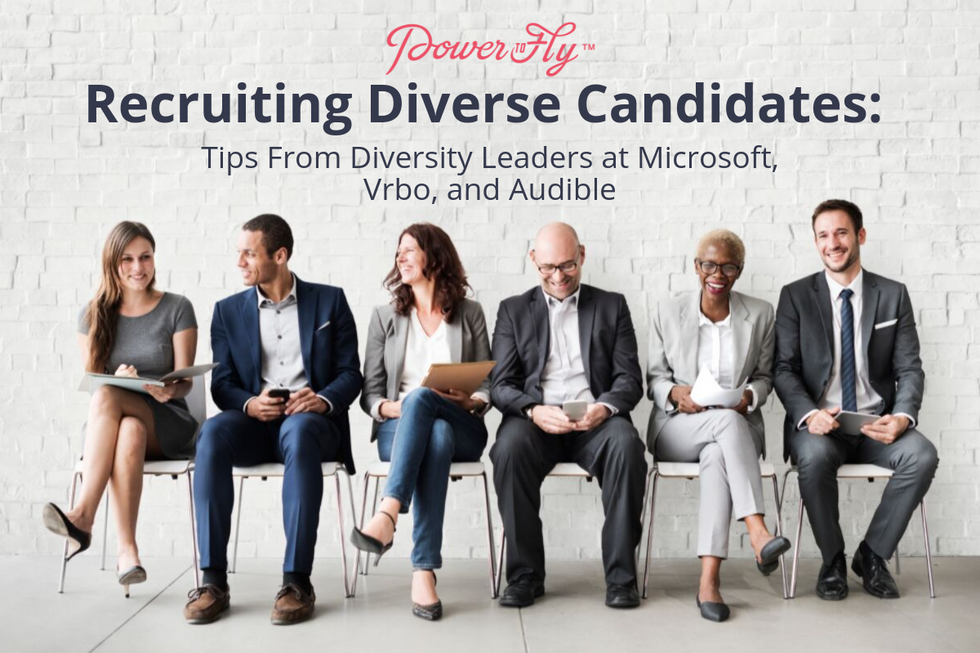 Vrbo
Tips From Diversity Leaders at Microsoft, Vrbo, and Audible
I first learned about PowerToFly when my friend started at the company as a recruiter. She explained that PowerToFly networks underrepresented talent, especially women, into companies that are building diverse and inclusive environments. Needless to say, I was intrigued.
The idea of "diversity recruiting" had always been somewhat vague and nebulous to me - how did companies go about it in a way that was genuine, thoughtful, and effective? Was that even possible?
Now working at PowerToFly myself, I've gotten an inside look at what strategies are successful for us (and our partners) in recruiting diverse candidates.
---
Last week, in order to share this knowledge with a broader audience, we co-hosted a webinar with Glassdoor featuring a panel of three leaders in diverse hiring:
We know that not everyone has a free hour to catch up on all that was shared, so we've included 10 of the top takeaways here. (If you do have an hour, or are just looking for an excuse to procrastinate productively, be sure to check out the whole video here!)
1) Change starts from within.
When you think of recruiting, it's easy to get so focused on candidates outside your organization that you forget about the people within it. But to successfully recruit diverse candidates, you need to look inside your organization first. You need to build a culture that underrepresented talent wants to be a part of, and where they'll feel welcome.
Change starts from within, and as Jamy Barton, Sr. Director of Tech Diversity at Audible said, "As we create that [authentic and inclusive] culture, reaching out to [diverse talent] interested in coming to Audible will be so much easier."
2) Accountability is key.

Whenever you set goals, you need to have a plan for holding folks accountable to reaching those goals.
Microsoft's Global Director of Talent Acquisition, Luci Gomes, explained that, "We hold each hiring manager accountable for continuing to push their team. . . how they were the year before versus how they're doing this year and where they want to go for the following year."
And transparency never hurts either: "We've actually published our diversity numbers as a baseline from how to keep improving year over year and to hold everybody accountable to that improvement."
Lyndsi McNaughton, Global Talent Acquisition Manager at Vrbo, also highlighted one of her organization's key strategies for accountability: a diversity scorecard. They use this scorecard to track goals over time, including employee experience & inclusivity (tracked via survey results), and recruiting efforts (a breakdown of applicants, interviews, hires, etc., all broken down by department).
3) Don't reinvent the wheel.
Having just spent the past year starting up a diversity hiring program at Audible, Jamy knows better than anyone the temptation to reinvent the wheel and the daunting task that is scaling up a new program. But she encourages people not to make the task more difficult than necessary: there are a myriad of existing reports, like this one from McKinsey, that you can use as references. Look at what's been done, and use that to help understand your organization's baseline, and to set and measure your goals.
4) It starts from the top down.
Whether you want to push hiring managers to reach out to more diverse candidates, or you want to make your organization more inclusive, you need to get the buy in of senior leaders.
As Jamy at Audible says, "We're looking to our leadership to be role models for inclusion. . . How inclusive you are really matters. And so measuring the actions and the intentions of leadership in that area is very important."
5) Get your whole team involved.
Diversity recruiting efforts my start by getting senior leaders to buy in, but they take off when the whole company plays a role, and all employees are encouraged and incentivized to leverage their networks to help bring more diversity of thought, race, socioeconomic background, gender, etc. to the company.
An employee referral program is a great way to do this. And it means that the impact of recruiting diverse candidates can be exponential, because people tend to associate with people who are similar to them. As your team becomes diverse, so will their collective network of connections (and the likelihood that your employees will refer diverse candidates increases).
Audible, Microsoft, and Vrbo all have employee referral programs that pay referral bonuses, but Microsoft and Vrbo offer higher incentives for diverse candidates.
In Jamy's words, "Our recruiting teams work so hard, but they need the partnership of everyone in the organization. [The people in the roles we're recruiting for] can really speak to them and add a voice to them."
6) Leverage Employee Resource Groups.
Again, you don't need to rely exclusively on your recruiting team. You can utilize Employee Resource Groups not just for inclusivity at your organization, but to help actively network with specific communities. A partnership between recruiting and specific ERGs is ideal because individuals at your organization who identify as part of a specific group can speak directly to their experience.
At Vrbo, Lyndsi explained, "A lot of [recruiting] initiatives for us are driven by the employee resource groups themselves in partnership with recruiting... For example, quarterly [our Veterans Family and Friends ERG] is connecting with other veterans in the community, bringing them to our offices, letting them see our space, and introducing them to hiring managers."
7) Think long term.
Don't forget the importance of continuing to engage with passive candidates who may not be looking for a job now, but might be down the line.
Just because someone might not apply the next day to a job doesn't mean you shouldn't invite them to a networking event if you believe they'd be a good fit for your company.
At Microsoft, Luci explained, they use events "to sell candidates on the idea of Microsoft as a career destination place, whether that's tomorrow or a month from now, two months from now, whenever they're ready."
And as our co-founder Katharine Zaleski pointed out, "We don't do events where people are expecting to be hired the next day. In many cases, it's building a relationship over time."
8) Give candidates a behind the scenes look.
Don't just talk in broad terms about culture and the kind of work your organization does. Show them. Think less about sales pitches and more about product demos. Opening up and offering real examples of the work you're doing will engage talent in a way a 10 minute speech about why you're great never will. People want to know you value their time, and sharing something with them that they couldn't have learned anywhere else is a great way to do that.
In Katharine's words, "One thing we've found that converts passive candidates over time is to bring them into the space and give them a behind the scenes look at these organizations. Whether it's an informal tech talk or hosting an evening with a few product demos for likeminded professionals... the candidates leave with just enough knowledge and understanding of the company, and they feel like they've been given something a little bit special."
9) Make job descriptions as inclusive as possible.
People often wonder whether they should include explicitly in job postings that diverse talent are encouraged to apply. Job descriptions are always tricky because of legal concerns, and you don't want to inadvertently be discriminatory. Rather than specify that you're looking for diverse talent, make sure you check the language you're using for any bias (explicit or implicit), so that any qualified candidate who reads the ad will feel comfortable applying.
A lot of bias in language is implicit, and you may not notice that the wording of your posting is unappealing to a particular gender or group. Microsoft and Vrbo both use Textio to check for and remove implicit bias in job posts, and Microsoft is going through every single one of their job descriptions (well over 10,000!).
In Luci's words, "We're not threading in diversity per se, but we're removing any language that we didn't even realize was a part of a problem before."
Jamy also recommends combing through the qualifications lists you include in job posts and really questioning whether each of those bullet points is necessary -- you don't want to inadvertently deter a candidate from applying just because they don't have what you actually consider to be a "nice-to-have," but not essential qualification.
10) Research talent pools & meet candidates where they are.
You need to do your research to understand the talent market, and where you can find the kind of candidates you're looking for. You can use resources like TalentNeuron or even just the Bureau of Labor Statistics to get started.
As Luci said, "Everything for us starts with research. . . We're using a lot of different tools to figure out what the available talent market looks like. And then I'm gearing our searches towards where there's the highest availability of the technical talent."
She says that this comes down to encouraging hiring managers to look outside of the typical areas or cities where they might normally look and expand their search, even opening roles to be fully or partially remote, "So we can be where this talent is instead of trying to make them come to us every time."
---
If you want more tips like these, be sure to watch the full webinar here!
From Your Site Articles
Related Articles Around the Web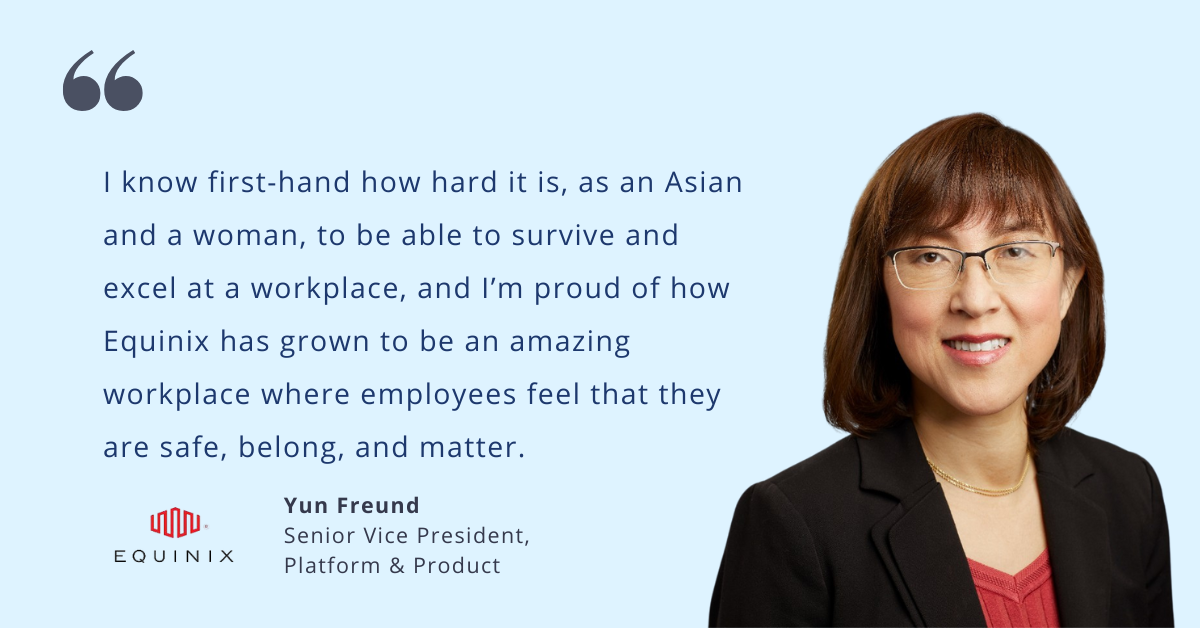 Equinix
Yun Freund considers her background to form the "typical immigrant story" — but sitting down with the SVP of Platform and Product at Equinix, it's clear she's made it her own.
"I came to the United States about 30 years ago with $80 in my pocket. I earned a CS degree from a Beijing university when computer science was new. I was good at math, so that's what I studied," explains Yun.
Fast forward a few decades, and Yun is now running one of the largest organizations at Equinix, a Fortune 500 digital infrastructure company focused on providing an interconnected platform to its global 10k customers. While focusing on external growth — the business has grown nearly 40% since her arrival — Yun has also invested in internal progress, especially when it comes to Equinix's Diversity, Inclusion, and Belonging (DIB) goals.
"I know first-hand how hard it is, as an Asian and a woman, to be able to survive and excel at a workplace, and I'm proud of how Equinix has grown to be an amazing workplace where employees feel that they are safe, belong, and matter," says Yun.
That's not just her opinion. Glassdoor confirms this, having given the company a "best place to work" distinction in 2021, and a special award for best places to work for LGBTQ+ equality list by the Human Rights Campaign Foundation.
We were excited to learn more about Yun's strategies for empowering her team — including her belief that making room for failure is just as important as celebrating success.
The Intersection of Technological Innovation and People Management
Yun first heard about Equinix through a recruiter. Decades into her career in tech leadership, she was looking for a role where she could drive innovation in both technology and people management.
"After many rounds of discussion with our executives, I realized Equinix is a company that's full of potential. It was doing a lot of innovation on interconnected SaaS products and networking products, and I thought I could really help drive, from a culture and process perspective, the company's digital transformation journey," reflects Yun.
Her first order of business? Building a strategy for scaling product development. Yun had long worked at the intersection of engineering and people management, and she embraced the challenge to scale a talent strategy as well as changing the culture.
That resulted in clear growth — not just for Yun's career, as in promotions and new responsibilities, but also in what the company was able to do.
"Helping to cultivate a DevOps culture, move products to the Cloud for high reliability and availability, and build operational excellence for our customers is contributing to us fulfilling our purpose, which is to be the platform where the world comes together, enabling the innovations that enrich our work, life and planet," says Yun.
Diverse Ways of Measuring Impact
Yun doesn't manage her team by the balance sheet alone.
"Improving the bottom line, or operating more efficiently, is just as important as improving the top line, or driving more revenue and more customer adoption," she says. "Sometimes it's not about how we get new products and services out the door, but how we run things more efficiently."
For Equinix, says Yun, that includes committing to becoming carbon-neutral by 2030.
"We're a company that really touches life every day, from online shopping, to sending emails and streaming movies, to smart cars," says Yun. "We want to be doing that sustainably. For example, by using AI and machine learning to lower our power consumption and using green sources of energy."
Yun knows that to drive the most impact, Equinix needs a diverse team. She has partnered with other senior leaders and employee connection groups and started driving a more coherent DIB strategy across the company. She is excited to see the progress and wants to continue the effort in building a diverse and safe workplace for everyone — including by leading through her own example.
3 Key Ways to Empower Your Team
When Yun says that it's important to empower your team, she doesn't mean that you simply transfer the responsibility to your team and call it done. Here's what she does mean:
Embrace failure. "It's easy to say, 'Ah, empowerment. Here's the purpose, go drive impact.' But sometimes it's not all rosy," she says. "The road to empowerment can sometimes be a failure. How do you support your employees along the way? When they fail, you should not blame them. You should be there, on their side, to help them do a retrospective and learn from it."
Show trust via delegation. "Giving your team the opportunity to make their own decisions helps give them a purpose. It shows them they can make a difference. Accountability and ownership will help drive your team to have deeper engagement and commitments, and ultimately deliver results."
Tie individual responsibilities to company OKRs (Objectives, Key Results). "I always communicate to my team that every engineer and individual contributor's work will have an impact on the business, no matter how small that is," says Yun. For example, if an engineer is working on a new digital experience component for the customers, their work will contribute to some kind of business outcome such as, hours saved from many customer support calls or customer satisfaction score improvement, and that in turn drives operational efficiency and customer experience improvement for the whole business. "When employees realize their impact on the business, it elevates their motivation as well as their state of mind."
Looking to join an empowerment-first culture? Check out Equinix's open roles!
READ MORE AND DISCUSS
Show less
Loading...