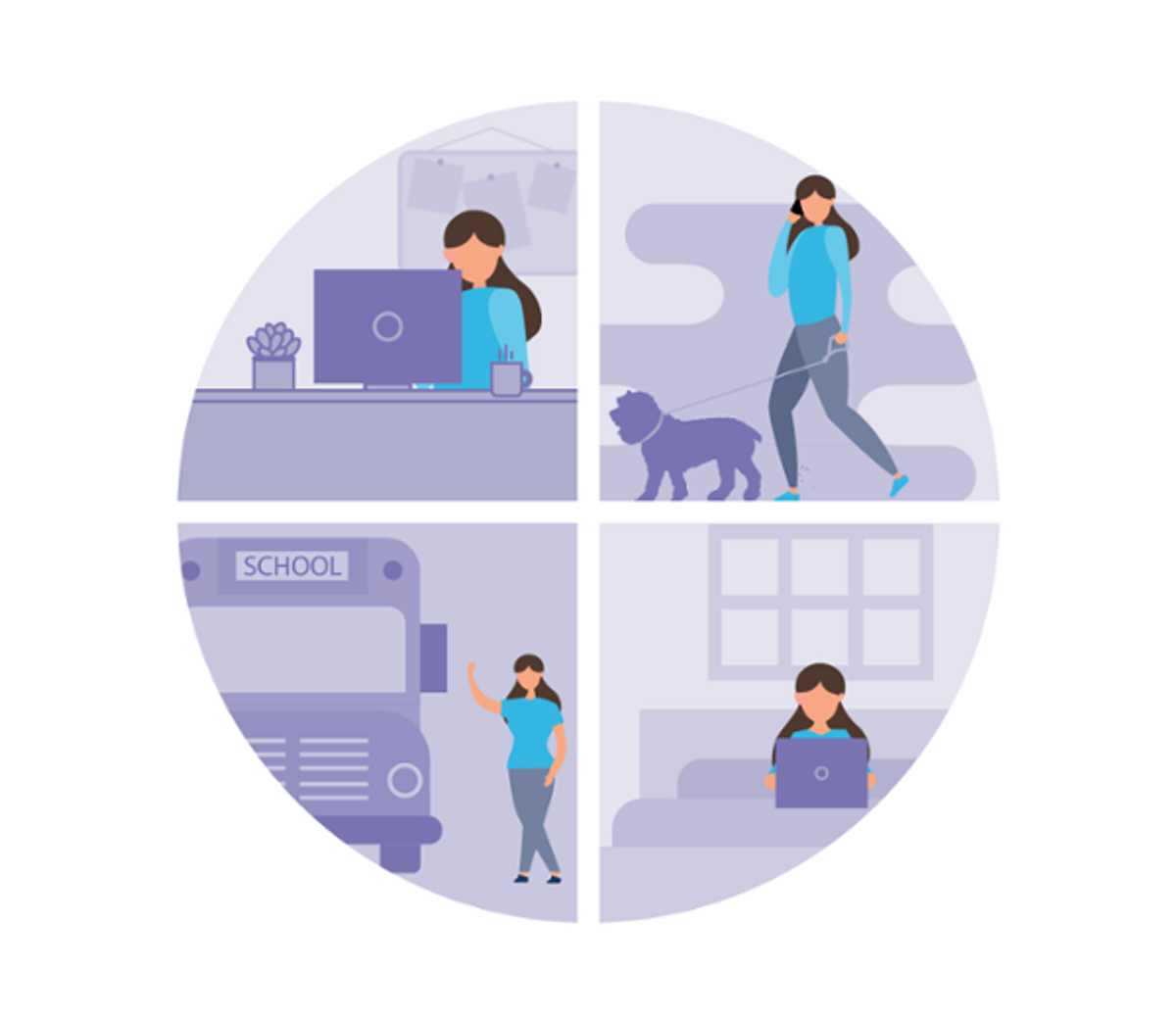 Relativity
Below is an article originally written by Mary Rechtoris, and published on March 3, 2022. Go to Relativity's company page on PowerToFly to see their open positions and learn more.
In the last two years, we have been forced to push the "pause button" on what a typical workday looked like. Before, we'd rush to make morning coffee before heading out the door for hour-long commutes. We didn't have time to think about what best served our professional and personal lives – what we needed to fill our cup.
Now, most days, we have our commute time back, which has afforded us the ability to rethink where and how we work. Many companies in the tech space are offering flexible working arrangements during and beyond the pandemic. No one can predict the future. But odds are that flexible work environments are here for the long haul. And flexibility is a good thing, for both individuals and employers.
"It's forced some positive outcomes for the business. We've hired from more geographies," says Kieran McPate, Relativity's London-based manager of corporate sales. "This coupled with improved work/life balance, it's the future."
Before the pandemic, I commuted to the office every day. I loved venturing with colleagues to grabs snacks for a midday break. It was a great chance to unwind and judge each other's food choices. Eating Oreos alone with my dog peering up at me just isn't quite the same.
As a way to spark that kind of connection, Sara Wachulec, an advanced product security engineer based in Kraków, has daily coffee calls with her colleagues.
"While it's different from going to the office kitchen, it keeps the team integrity," she says. "We still feel close despite being apart."
For Jordan Domash, general manager of Relativity Trace, he prefers to work from home most days, but finds value in also venturing to the office to meet with his team to maximize in-person dialogue.
"Working at the office is designed for collaboration; planned in-person strategic sessions allow you to work through really complex issues and decisions much quickly," he said. "Being at the office, you also have the opportunity to have ad-hoc unplanned conversations with different people across the company, which can be harder to do in a Zoom world."
While I miss that in-person connection, working remotely allows me to do what restores me. Each day, my lab/hound mix, Corky, and I go to the dog park to get some steps, sunlight, and fresh air.
"It is so fun to work alongside your colleagues," says Stacy Hayn, a Chicago-based senior partnership and alliances associate. "But I love working at home because I love sweatpants."
Don't we all, Stacy? Lucky for us, Relativity is offering a truly flexible hybrid work model. I emphasized truly because there aren't parameters around what flexibility means. We have the freedom to work in ways that, well, work for us.
I chatted with my global colleagues to find out what flexibility means to them. There was quite a bit of overlap, but I also found that each of us had unique definitions as well.
Finding a Place That Suits
As I write this post, it is yet another lovely day in Chicago. The sun is nowhere to be seen, the wind is fierce, and a snowstorm is brewing. Despite it feeling like Antarctica, I love this city. I thrive in the cold, even if I sometimes count down the days until the sun sets after 6:00 p.m.
Others, perhaps with more sanity, are considering other locations. Claire Oxley-Barnes, manager of business development and strategic partnerships, is moving from Chicago to Seattle. The hybrid work model has allowed her to have more control over her life and work.
While some are making permanent moves, others are exploring temporary destinations. Over the summer, Alyssa Kondonis, a London-based account executive, worked from Germany for a couple weeks. While there, Alyssa enjoyed long runs in the forest before logging on for work.
Colleen Costello, Relativity's head of social impact who is based in Chicago, also likes to switch it up. She often heads to her family's house in Michigan.
"It has been great to be able to get out of the city and have a change of scenery," she said. "And I can spend time with family without missing a beat."
Bringing the Real to Our Professional Lives
No matter your role or your company, you're likely going to find yourselves in a few meetings each week. At the ripe old age of 24, I found myself seeing a chiropractor to combat my back pain from poor posture. Getting up and moving around between calls would likely have saved me a few co-pays over the years.
Kyle Disterheft, director of product management, gets his steps in throughout his working day, and I'm sure his back thanks him for it. During afternoon meeting blocks, the Chicago suburbanite often throws on his AirPods and walks along the Illinois Prairie Path.
"The remote work flexibility is awesome," Kyle said. "I'm grateful to be able to help out at home more during the day with things like picking up my daughter from school."
The pandemic has also changed how we, as working professionals, show up to work. With home and work being so intertwined, we see all facets of our coworkers' lives. Colleagues have taken calls at the vet's office or appeared on Zoom with a cute toddler on their hip. This was not common two years ago.
"We've normalized that we have 'real' lives that can and will interfere with our workdays," said Sam Bock, The Relativity Blog's editor-in-chief, who is based in Wisconsin. "Everyone cheers each other on and offers to help when things get overwhelming."
Finding Times That Work for You
In our prior working lives, many of us worked the standard three to four hours in the morning. This was followed by a lunch break with colleagues, and then another four-to-five-hour workday. While that structure did and still works for some, others prefer an alternative schedule.
Amelia Chen, a Chicago-based senior manager of corporate marketing, prefers to take 10- to 15-minute breaks throughout the day. She can tidy up, play with her dog, and prioritize her mental health.
For Bill Bailey, a solutions architect in the Chicago suburbs, he works earlier and finishes later, with more breaks in between.
"I use brief, open time slots during daylight hours for non-work activities" he says. "I exercise, read, or hang out with my wife."
The flexible working schedule more closely mirrors how life works. Things don't always go according to plan. As a type 1 diabetic, I've had times where my blood sugar levels have gone awry. For me, it's easier to take a break to accommodate that variance in my home versus an office.
"For me, every day can be different," says Tiffany Baggett, a Chicago-based senior specialist of social impact operations. "It all depends on how the morning starts. I've had to do a lot of pivoting during this time."
Seizing New Opportunities
These days, people are more in tune with who they are and what they need from their working arrangements. Some are also taking on new opportunities that they couldn't before.
Paul Park, a senior product manager based in Los Angeles, recently started a master's program in AI. This would have been difficult for Paul before the pandemic.
"I used to commute into an office 15 miles away, but it took about an hour each way," he says. "Now, I use that time mostly for homework. It's had less of a negative impact on my day than if I had to fit the hours in on top of a commute."
These last two years have been a wild ride. We've had to put a lot of things into perspective. Finding what works best for you is imperative. When it comes to a hybrid work model, this doesn't mean logging on as soon as the sun rises and closing your laptop right before bed. It means working within a framework that best suits your needs, and your life.
My colleague across the ocean, Stuart Hall, senior manager of service delivery in APAC, encapsulated this well. He said, "flexibility matters because we work to live—not live to work."
Check out Relativity's open roles here: https://powertofly.com/companies/relativity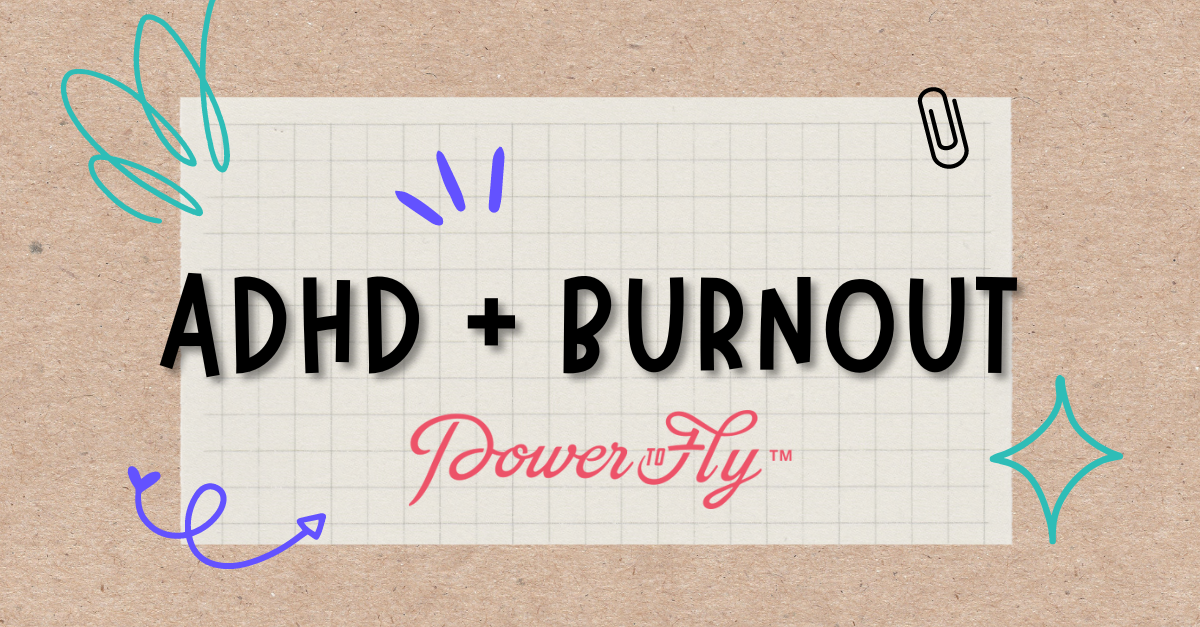 Diversity, Equity, and Inclusion
Have you ever been so exhausted that you quit your job?
You may have been experiencing burnout.
Burnout is characterized by overwhelming exhaustion, detachment from your work, and a sense of ineffectiveness.
And while anyone can experience burnout, if you have ADHD, you may be more susceptible to it.
Before you get to the point where quitting feels like your only option, there are steps you can take to set healthy boundaries and start feeling more like yourself again. Read on to learn how you can recognize burnout in yourself, and what to do if you're experiencing it!
How Does ADHD Burnout Feel?
There are some clear signs that you're burning out, but ADHD can make the descent to burnout harder to detect. These warning signs include:
Lack of motivation - not wanting to do the things you need to do or the things you love.
Exhaustion - feeling overly tired both mentally and physically.
Irritability and mental fatigue - feeling short-tempered, mean, or like you snap easily.
Physical discomfort - body aches, low energy levels, and general pain.
Negative outlook - the tendency to find something wrong with nearly everything.
Emotional dysregulation - feeling weepy, sad, or unable to smile or connect with others.
Generally, burnout starts with taking on too much. Exhaustion creeps in, and you feel like every day is working against you because you are constantly overwhelmed. You may start to feel like the entire world is spinning out of control, or like no matter what you do you can't keep up (or catch up).

If this resonates with you, you might be on the road to ADHD burnout.
Why People with ADHD Can Be More Susceptible to Burnout
So why does ADHD make some folks more susceptible to burnout? There are a few common ADHD traits that often result in behaviors correlated with burnout (taking on too much, working too long, etc.):
Hyperfocus - ADHD is not exclusively about attention deficits. In fact, hyperfocus is the opposite – a deep, intense concentration to the point of being oblivious to your surroundings. Per WebMD, hyperfocus is a state of highly-focused attention that lasts for an extended period of time. You concentrate on something so hard that you lose track of everything else going on around you. When hyperfocus sets in at work, it can be hard to unplug or be aware of the people and environment around you.
Time Tracking - Losing track of time is one thing, but if you find yourself losing track of hours without realizing it, that could be related to burnout. People with ADHD perceive time not as a sequence of events the way others usually do, but as a diffuse collection of events viscerally connected to the people, activities, and emotions that fill them.
Difficulty Prioritizing - Do you take on too much and then struggle to prioritize it? When someone asks for help, does everything often go to the wayside so you can jump in? Or maybe the daunting anticipation of the tasks ahead prevents you from starting. Per ADDitude, ADHD impacts your temporal processing abilities, which can affect executive functioning.
Combating ADHD Burnout
If you think you may be suffering from ADHD burnout, there are a few ways to take back control. Here are three tips for combating ADHD burnout:
Reserve Your Yeses - Pump the brakes when you recognize the early signs of ADHD burnout. Start reserving your yeses right away. Say no, and practice not apologizing. It is okay to say, "I have a lot on my plate right now and cannot take that on. Thanks for thinking of me." Saying no is nothing to apologize for, and it should be celebrated! You are working to protect your energy above all else.
Practice Over-Estimating - If you think you could knock something out in a day, give yourself a week. Overestimate on time and allow yourself the grace to have a little more time than usual to complete projects. Slowing down when starting a new job or role will help you produce high-quality work and prevent ADHD burnout.
Drop the Mask - Be honest with your employer and friends. Let them know that although you seem to keep up internally, you struggle. Identifying ADHD burnout from the outside can be extremely difficult. Your honesty and transparency will position you to determine if your environment is supportive and inclusive.
How to Support Colleagues Dealing with ADHD Burnout
The experiences above may not resonate with you personally, but perhaps you've noticed other people you work with describe or experience them.
If you're a manager, there are several ways you can support colleagues with ADHD (as well as neurodivergent employees more generally) to help prevent burnout. Ask for clarity on when they have felt the most supported at work. Discovery questions like, "how did you feel at that time?" or "how was the pace of that project?" can help you to understand their actual capacity.
Download this free guide
if you're looking for more ways to support your neurodivergent coworkers. Work with your DEIB and HR team to develop new neurodivergent inclusivity standards to help you stay ahead of the ADHD burnout cycle.
READ MORE AND DISCUSS
Show less
Loading...