GET EMAIL UPDATES FROM POWERTOFLY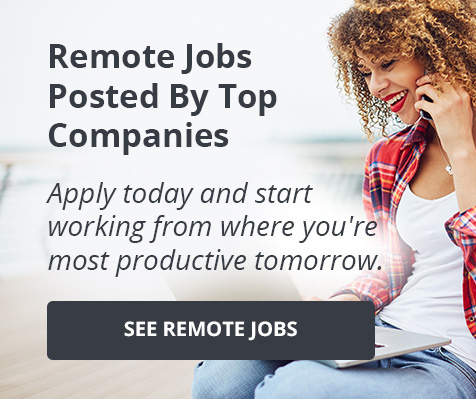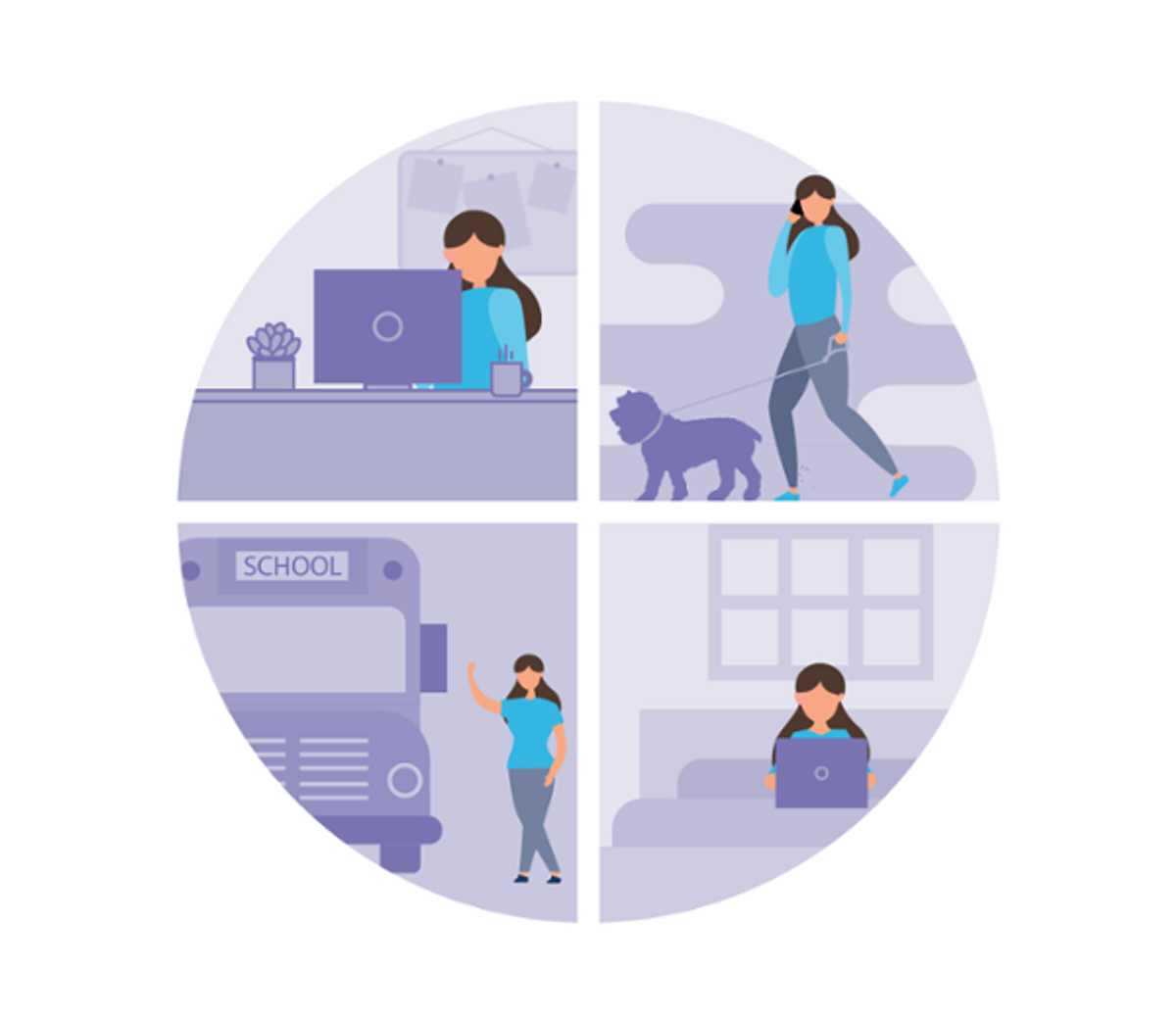 March 09, 2022
Relativity
A Flexible Work Model: Making Your Workday Uniquely Yours
Below is an article originally written by Mary Rechtoris, and published on March 3, 2022. Go to Relativity's company page on PowerToFly to see their open positions and learn more.
In the last two years, we have been forced to push the "pause button" on what a typical workday looked like. Before, we'd rush to make morning coffee before heading out the door for hour-long commutes. We didn't have time to think about what best served our professional and personal lives – what we needed to fill our cup.
Now, most days, we have our commute time back, which has afforded us the ability to rethink where and how we work. Many companies in the tech space are offering flexible working arrangements during and beyond the pandemic. No one can predict the future. But odds are that flexible work environments are here for the long haul. And flexibility is a good thing, for both individuals and employers.
"It's forced some positive outcomes for the business. We've hired from more geographies," says Kieran McPate, Relativity's London-based manager of corporate sales. "This coupled with improved work/life balance, it's the future."
Before the pandemic, I commuted to the office every day. I loved venturing with colleagues to grabs snacks for a midday break. It was a great chance to unwind and judge each other's food choices. Eating Oreos alone with my dog peering up at me just isn't quite the same.
As a way to spark that kind of connection, Sara Wachulec, an advanced product security engineer based in Kraków, has daily coffee calls with her colleagues.
"While it's different from going to the office kitchen, it keeps the team integrity," she says. "We still feel close despite being apart."
For Jordan Domash, general manager of Relativity Trace, he prefers to work from home most days, but finds value in also venturing to the office to meet with his team to maximize in-person dialogue.
"Working at the office is designed for collaboration; planned in-person strategic sessions allow you to work through really complex issues and decisions much quickly," he said. "Being at the office, you also have the opportunity to have ad-hoc unplanned conversations with different people across the company, which can be harder to do in a Zoom world."
While I miss that in-person connection, working remotely allows me to do what restores me. Each day, my lab/hound mix, Corky, and I go to the dog park to get some steps, sunlight, and fresh air.
"It is so fun to work alongside your colleagues," says Stacy Hayn, a Chicago-based senior partnership and alliances associate. "But I love working at home because I love sweatpants."
Don't we all, Stacy? Lucky for us, Relativity is offering a truly flexible hybrid work model. I emphasized truly because there aren't parameters around what flexibility means. We have the freedom to work in ways that, well, work for us.
I chatted with my global colleagues to find out what flexibility means to them. There was quite a bit of overlap, but I also found that each of us had unique definitions as well.
Finding a Place That Suits
As I write this post, it is yet another lovely day in Chicago. The sun is nowhere to be seen, the wind is fierce, and a snowstorm is brewing. Despite it feeling like Antarctica, I love this city. I thrive in the cold, even if I sometimes count down the days until the sun sets after 6:00 p.m.
Others, perhaps with more sanity, are considering other locations. Claire Oxley-Barnes, manager of business development and strategic partnerships, is moving from Chicago to Seattle. The hybrid work model has allowed her to have more control over her life and work.
While some are making permanent moves, others are exploring temporary destinations. Over the summer, Alyssa Kondonis, a London-based account executive, worked from Germany for a couple weeks. While there, Alyssa enjoyed long runs in the forest before logging on for work.
Colleen Costello, Relativity's head of social impact who is based in Chicago, also likes to switch it up. She often heads to her family's house in Michigan.
"It has been great to be able to get out of the city and have a change of scenery," she said. "And I can spend time with family without missing a beat."
Bringing the Real to Our Professional Lives
No matter your role or your company, you're likely going to find yourselves in a few meetings each week. At the ripe old age of 24, I found myself seeing a chiropractor to combat my back pain from poor posture. Getting up and moving around between calls would likely have saved me a few co-pays over the years.
Kyle Disterheft, director of product management, gets his steps in throughout his working day, and I'm sure his back thanks him for it. During afternoon meeting blocks, the Chicago suburbanite often throws on his AirPods and walks along the Illinois Prairie Path.
"The remote work flexibility is awesome," Kyle said. "I'm grateful to be able to help out at home more during the day with things like picking up my daughter from school."
The pandemic has also changed how we, as working professionals, show up to work. With home and work being so intertwined, we see all facets of our coworkers' lives. Colleagues have taken calls at the vet's office or appeared on Zoom with a cute toddler on their hip. This was not common two years ago.
"We've normalized that we have 'real' lives that can and will interfere with our workdays," said Sam Bock, The Relativity Blog's editor-in-chief, who is based in Wisconsin. "Everyone cheers each other on and offers to help when things get overwhelming."
Finding Times That Work for You
In our prior working lives, many of us worked the standard three to four hours in the morning. This was followed by a lunch break with colleagues, and then another four-to-five-hour workday. While that structure did and still works for some, others prefer an alternative schedule.
Amelia Chen, a Chicago-based senior manager of corporate marketing, prefers to take 10- to 15-minute breaks throughout the day. She can tidy up, play with her dog, and prioritize her mental health.
For Bill Bailey, a solutions architect in the Chicago suburbs, he works earlier and finishes later, with more breaks in between.
"I use brief, open time slots during daylight hours for non-work activities" he says. "I exercise, read, or hang out with my wife."
The flexible working schedule more closely mirrors how life works. Things don't always go according to plan. As a type 1 diabetic, I've had times where my blood sugar levels have gone awry. For me, it's easier to take a break to accommodate that variance in my home versus an office.
"For me, every day can be different," says Tiffany Baggett, a Chicago-based senior specialist of social impact operations. "It all depends on how the morning starts. I've had to do a lot of pivoting during this time."
Seizing New Opportunities
These days, people are more in tune with who they are and what they need from their working arrangements. Some are also taking on new opportunities that they couldn't before.
Paul Park, a senior product manager based in Los Angeles, recently started a master's program in AI. This would have been difficult for Paul before the pandemic.
"I used to commute into an office 15 miles away, but it took about an hour each way," he says. "Now, I use that time mostly for homework. It's had less of a negative impact on my day than if I had to fit the hours in on top of a commute."
These last two years have been a wild ride. We've had to put a lot of things into perspective. Finding what works best for you is imperative. When it comes to a hybrid work model, this doesn't mean logging on as soon as the sun rises and closing your laptop right before bed. It means working within a framework that best suits your needs, and your life.
My colleague across the ocean, Stuart Hall, senior manager of service delivery in APAC, encapsulated this well. He said, "flexibility matters because we work to live—not live to work."
Check out Relativity's open roles here: https://powertofly.com/companies/relativity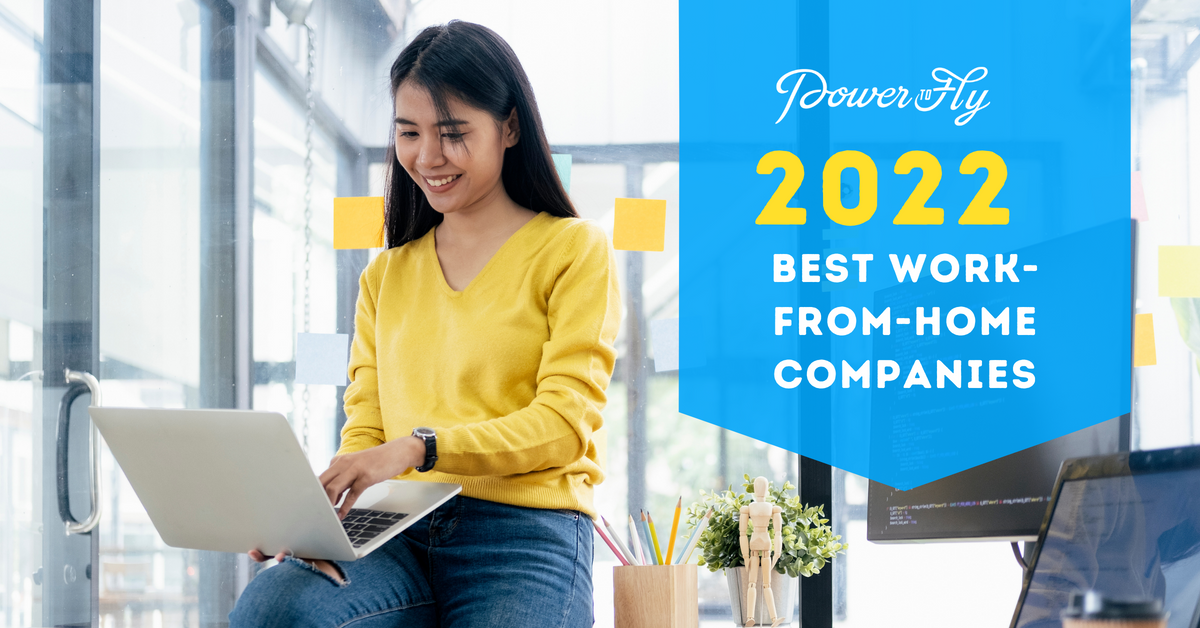 Featured Post
Every year, PowerToFly creates a list of the best work-from-home companies. Now that over half of the U.S. workforce is remote, compiling that list was a bit more challenging.
This year, we prioritized selecting companies that are remote-friendly—meaning they have both remote and in-person roles—but they have made long-term commitments to hiring and supporting employees who choose to work from home; and we think they have the perks, values, and organizational framework to allow all employees to flourish in their careers, regardless of location.
Keep reading to see our top 15 work-from-home companies for 2022, along with a description of what they do, why we like them, and who they're looking for.
PowerToFly's Best Work-From-Home Companies 2022:
Don't see what you're looking for? Check out a fill list of 5,000+ open remote roles here!
READ MORE AND DISCUSS
Show less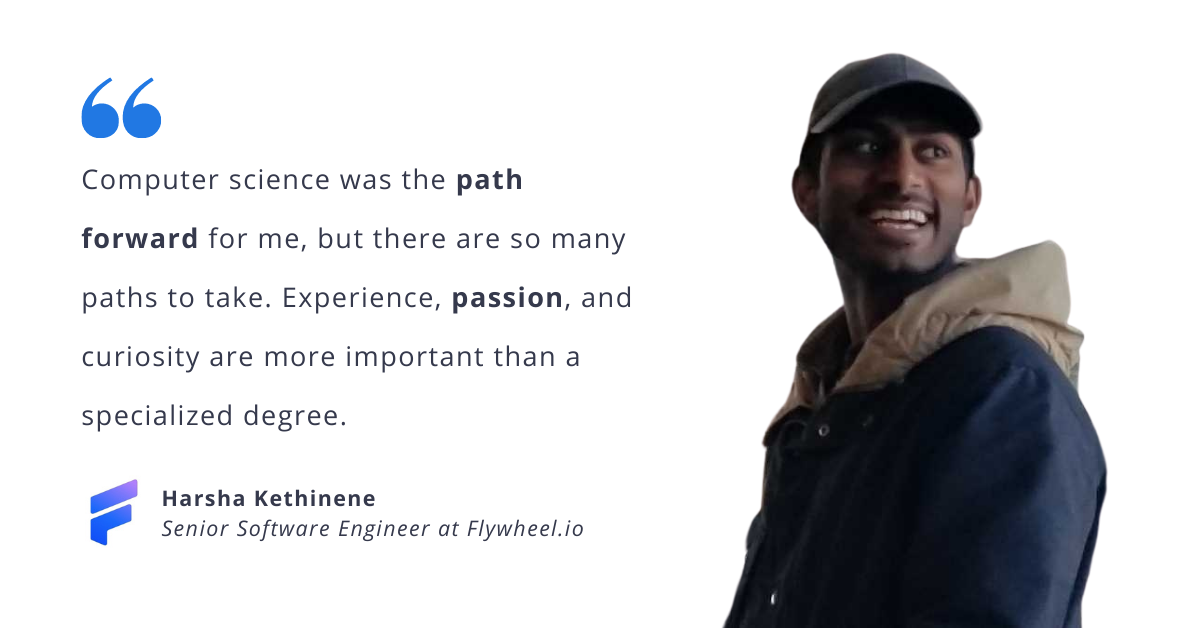 Flywheelml
Software development is in Harsha Kethinene's blood. "Both of my parents are in the computer science field," he says. "So when I was younger, they introduced me to programming." By the time he was in middle school, he was creating his own text-based video games. "I liked learning different languages and different ways of how to program, and by the time I was in high school, I knew I wanted to go into a STEM field."
And that's exactly what he did. Today, Harsha is a senior software engineer at Flywheel, a biomedical research data platform. We sat down with him to learn about his journey from college student, to intern, to engineer. Keep reading to hear his advice to smooth the transition from school to industry.
Figuring Out Next Steps
Harsha knew that he wanted to focus on science and technology in his career, so he originally opted for a double major in physics and computer science. "I had always been interested in astrophysics and space, and I wanted to learn more about that," he reminisces. "But then I took my first physics class and thought, 'alright, nevermind, we're going to stick to computer science.'"
With a new found focus, Harsha began tackling his classes and learning about different aspects of computer science, but he wasn't sure which area he wanted to focus on. "It got to a point where I thought, 'Is computer science really what I want to be doing?,' he explains. "Because what I was learning was interesting, but it didn't seem to fit with what I wanted to do."
That's when he decided to get some experience outside of the classroom to help him secure his career path. "It was my sophomore year, and I thought, 'I want to get an internship because it seemed like what smart people did,'" he laughs. After hearing about Flywheel from one of his colleagues at an on-campus student group, Harsha decided to apply for an internship.
After a series of interviews, they welcomed him on the team. He got the opportunity to dive into the industry and get insight on the different fields he could potentially work in. "Everything kind of clicked together and I thought, 'okay, this is what I want to be doing, software development.'"
Diving Into the Real World
This internship revealed some major differences between his development classes and the projects he was working on at Flywheel. "At Flywheel, what I was working on could change very fast," he elaborates. "At school you have a syllabus, you know what you are going to be working on."
While at university there were structured problems that had a neat solution, he realized that in the real world, he had to identify the problem first, and then try to solve the problem. "Sometimes you almost feel like a detective trying to figure out what's going on and why it's not working," he says. "So that's always fun. It keeps you on your toes."
"I'd say the hardest thing to learn, and what probably took me the longest to learn, is in school, when you write code, you just need to write it once, to get it to work, and then you can kind of ignore it for the rest of your life," he laughs. "You can't really do that in an industry. You need to write it and then make sure that six months from now you can still understand what you wrote."
Flywheel's dynamic, collaborative environment ultimately led Harsha to accept a full time offer as a software developer. Four years later, he's continued to climb the career ladder and is thriving in his current role as a senior software developer.
Tips for Transitioning Into the Industry
Harsha knows, first hand, that going from student to professional can be challenging. Keep reading for his advice to help smooth the transition.
Tip 1: Actively search for experiences and internships. Gaining real world experience is key to making the transition from student to professional smooth. One way to do that is through internships. "It feels very daunting when it comes to searching for an internship," Harsha confesses. "You see all of these postings online and you think, 'am I qualified for it?' Other times you get automated rejections."
When Harsha was looking for an opportunity to gain hand-on experience in the field, he relied on a network of support. "The reason I got my internship was by meeting somebody who mentioned this company that I'd never heard of." In addition to networking, Harsha recommends using other tools. "Try multiple avenues of looking for jobs and internships." Some of the avenues he suggests are industry meetups, school networking events, and conferences. "You need to break out of your shell a little bit to meet your people, to find these opportunities," Harsha advises.
Tip 2: Let your passions shine in the interview. After applying to a job or an internship, the second step is to prepare for the interview. Harsha's interview experience taught him that employers look for passionate people. "One of the people that interviewed me mentioned that they looked to see if candidates were doing any programming outside of school," he says. "That shows that you have a passion for it."
These days Harsha finds himself on the opposite side of the table as an interviewer. "When I'm sitting in on an interview, I tend to look for that [passion] as well, if they would enjoy working here in the software development industry."
Tip 3: Don't let your degree limit you. While Harsha pursued a degree in computer science, he's seen that there's no one correct path to a successful career in tech. "A computer science degree isn't really necessary at all," he elaborates. One of Harsha's former colleagues was a self-taught programmer. "He picked up small contract work online writing code and developing websites. Now, he's a software engineer at another startup."
Everyone's journey looks different, so there's no one-size-fits-all way to a successful career in tech. "Computer science was the path forward for me, but there are so many paths to take. Experience, passion, and curiosity are more important than a specialized degree."
Are you ready to put Harsha's tips into practice? Check out Flywheels' open roles here!
READ MORE AND DISCUSS
Show less
Loading...