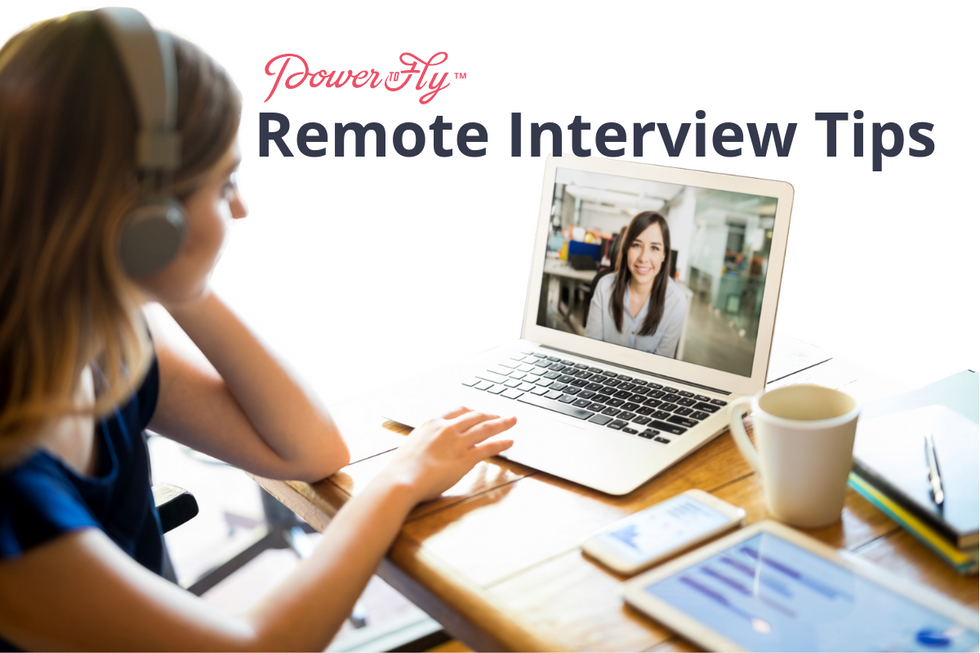 popular
Advice for Applicants and Interviewers
By the time I landed my first interview for a remote job, I already felt like an expert in Skype interviews. I'd done several throughout and after college, and I had my process down pat: go to my bedroom, find a white wall, prop my computer up so my interviewer wouldn't get any weird views of my nostrils, plug in my headphones, check my makeup and lighting in a test video call, and wait patiently for my interviewer.
---
All of this went out the window for my first legit remote job interview - the interviewer asked me if I was available to talk now, and always eager to please, I said yes. I wiped tuna fish off my face, logged onto Skype, and hoped for the best. It went great, and I got the job... but all things being equal, I'd still have rather had time to prepare.
So, what needs to be taken into account before a virtual interview for a remote position? As with any job interview, you need to know your stuff. But for remote interviews, you need to prepare your space and be ready to answer specific questions about your interest and qualifications for working remotely.
Interviews for remote jobs can be challenging no matter which side of the screen you're on - as an employer or an applicant. So we laid out four key remote interview tips to keep in mind, whether you're assessing if a candidate has the creativity and independence to work remotely, or if you're trying to convince a recruiter that you've got what it takes to work from home.
Our Top 4 Remote Interview Tips
1) Prepare yourself and your space.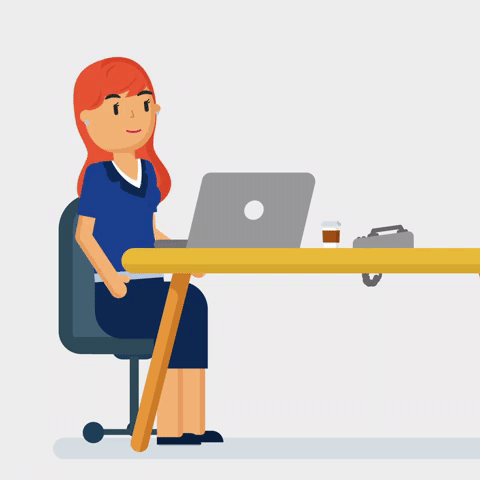 Giphy
Dress the part. While there's no need to wear a full suit, or even just the top half of one (your interviewer, as a remote worker, will likely be dressed casually), you should aim to look your best - whatever that means for you. Wear something that makes you feel comfortable and confident, and maybe opt to go one step above a t-shirt.
Make sure your computer is set up well in advance. If an employer invites you to interview via Zoom, make sure you have it downloaded and know how it works in advance (I may or may not have done this, and I may or may not have had a panic attack as I frantically emailed my interviewer to say I was having issues). You want to test run whatever program the interview will be in at least an hour beforehand - even if you think you're an old pro with the program. You don't know how many times I've had Skype interviews only to find a pesky update waiting for me that requires me to restart my computer.
Find a quiet place with a reliable internet connection. If you're in Buenos Aires, I can tell you firsthand that a Starbucks probably isn't it. Whether you choose to have the interview from home or a co-working space, make sure you know the internet there is reliable and not too slow. Use headphones to remove distractions and cut down on echo!
Play it cool. If you've done your "technical" prep work, it's unlikely that you'll hit too many technical snags. But you never know. A Buenos Aires heat wave could mean you have a power cut just before your interview. Or your neighbor could decide 3PM on a Thursday is the perfect time to blast heavy metal. If anything like this happens, communicate proactively with your interviewer and propose solutions - show them you know how to problem solve, and they'll likely forgive you for the rest.
Interviewers: You can tell a lot from the little things - was the call quality good? Was the person on time? If there were any issues, were they communicative while troubleshooting? Stuff happens and a poor connection shouldn't necessarily be a deal-breaker, but keep in mind that if an issue happened during the interview, odds are, it will happen again if you hire that person. If they have an old, finicky laptop, or don't really understand their way around a Zoom meeting, it definitely doesn't mean you shouldn't hire them, but you should have a plan to ensure these same things won't be issues in the future. Know you'll need to onboard them so they become more familiar with the tools your organization uses, and consider whether a stipend so they can get a better computer and/or higher internet quality is a worthwhile investment. (Spoiler alert: It probably is.)

2) Be able to articulate why you want to work remotely.
In some way, shape, or form, the question as to why you want to work remotely (especially if this is your first time doing so) will come up. You need to be prepared to give a thoughtful answer that goes beyond, "I hate wearing pants."
There isn't necessarily a right or wrong answer to this question, but showing your interviewer that you have a strong rationale will help them see that you've thought carefully about remote work and what it entails. It will also help you be sure that remote work is a good fit (it isn't for everyone!). Some questions you can ask yourself to help build a thoughtful response to this overarching question are:
What is it about offices you dislike?
What components of the office environment do you think you'll miss?
What most excites you about working remotely? What most concerns you?
Why do you think you can be productive from home? (Or anywhere?)
Interviewers: When you ask, "Why do you want to work remotely?" what you're really asking is, "Why do you think you can be successful working remotely for my company, and do you picture yourself there in the medium to long-term?" You want to make sure a remote job isn't just a matter of temporary convenience for them.
Have an idea in mind of ideally how long the applicant would stay in the role, and try and get a sense for whether they're committed to working remotely at least that long. If they're an expat or digital nomad, their desire for a remote job might be rather transparent -- they want to keep making money in a stable currency while traveling or living abroad (I certainly wasn't hiding my desire to make dollars in Argentina). There's nothing wrong with this in and of itself, but make sure you have an understanding of how long they plan to stay where they are, as both changes in timezone and cost of living could affect their future at your company.
3) Highlight your communication skills. 
Anyone who's tried a long-distance relationship knows that communication gets infinitely harder when you're relying solely on text messages. You read into every period, exclamation point, and emoji (is that a smile-smile, or a sarcastic smile?).
The same applies to remote work. What your boss might've said to you during a quick conversation at your desk becomes what you might perceive to be a passive-aggressive Slack message.
During your interview, you need to convince your interviewer that you're:
Capable of receiving and responding appropriately to others' messages and emails
Ready to communicate clearly and proactively so others won't be left wondering what you mean.
So, good written communication is key. You need to be comfortable banging out short, quick messages in Slack, and writing long, thoughtful emails. BUT equally important, is knowing when written communication is insufficient - being ready to jump on a quick call or plan a video conference meeting is crucial, and highlighting that you understand the importance of this in your interview will help you stand out as a proactive communicator. (Your boss really doesn't want to be following up with you all the time.)
Lastly, mention tools you've used for other jobs (Slack, Google Docs/Hangouts, Zoom, JIRA, Asana, etc.) to show your competence. While any of these tools can be learned, it will certainly provide your interviewer peace of mind to know you've used them before. Bonus points if you weave them into a conversation about a cool personal project you've worked on (see the next point).
Interviewers: For all the reasons above, it's crucial that you understand how the applicant communicates, and if they'll be able to do so effectively with a remote team. Rather than asking a broad question like, "How do you communicate?" break it down into specifics:
Can you tell me how you managed communication with your last boss? How often did you check in? Who arranged follow-ups?
How do you like to receive feedback? (Someone who proactively seeks feedback, but isn't entirely dependent upon it is ideal for remote work.)
Can you tell me about a time at work where you suffered as a result of poor communication?
If your boss assigned you a task during a team meeting and you didn't fully understand it, how would you proceed?
4) Talk about your hobbies + personal projects.
When I started working remotely, I think my mom pictured me lounging about all day in my underwear. She couldn't believe that I was working 12 hour days, occasionally too stressed to even stop and eat. The reality is, when you work remotely, you often end up doing both of those things - strewn pantsless on your couch, and working your ass off.
This kind of approach to work won't be healthy for you or your employer. You don't want to be that stressed, and they don't want you to burn out.
The best way to convince your interviewer that this won't happen is to help them understand that you know how to manage your time and that you're disciplined enough to meet goals. It also doesn't hurt to mention you have compelling reasons to step away from your computer and get out of the house (a child that has to go to school, a dog that needs walked, a fitness class you love, etc.) When you're only communicating virtually, these human factors are great ways to bond and build trust!
So, how do you convince your interviewer that you've got bomb time management skills? Talk about a personal project (or a work project that you took the lead on) where you had self-imposed deadlines and met them. Showing that you're self-disciplined and self-motivated is key, because no one will be breathing over your shoulder, reminding you to get your work done. Talk about how you structured your work, the barriers you faced, and what you did to overcome them. (And again, mention the tools you use to keep yourself on track - killer spreadsheets? Weekly check-ins with team members? etc.)
Interviewers: Don't just ask vaguely about time management - anyone can cook up a BS answer about how they're great at balancing multiple tasks. Ask specific questions that will help you understand this person's approach to work. We all procrastinate to some extent (I'm talking about me here), but you need to know whether that will inhibit the candidate's ability to consistently hit goals.
Try asking:
How was your day structured at your current/previous job? Did you set your tasks or did your manager?
What percent of deadlines that you set for yourself do you meet? What about deadlines set by others?
What are your thoughts on procrastination? (Follow-up: What strategies do you use to overcome it)
Can you tell me about a time you missed a deadline?
What would your ideal work schedule look like (Daily and weekly)? Do you like to set your tasks or do you prefer to have them assigned to you?
And of course, you can always assign the interviewee a small project to turn in the following week and then ask how they went about tackling it, how long it took them, when they started, etc. (If you do this, be considerate of the time commitment entailed and consider paying them for their time.)
--
If you follow these remote interview tips, you'll be able to convince your interviewer that you've got what it takes to work remotely. Just make sure you're convinced you do as well ;) If you're having second thoughts about remote jobs, you can search for great, flexible onsite roles on PowerToFly.
And if you're more confident than ever before that you're ready to work from home, check out our remote job board!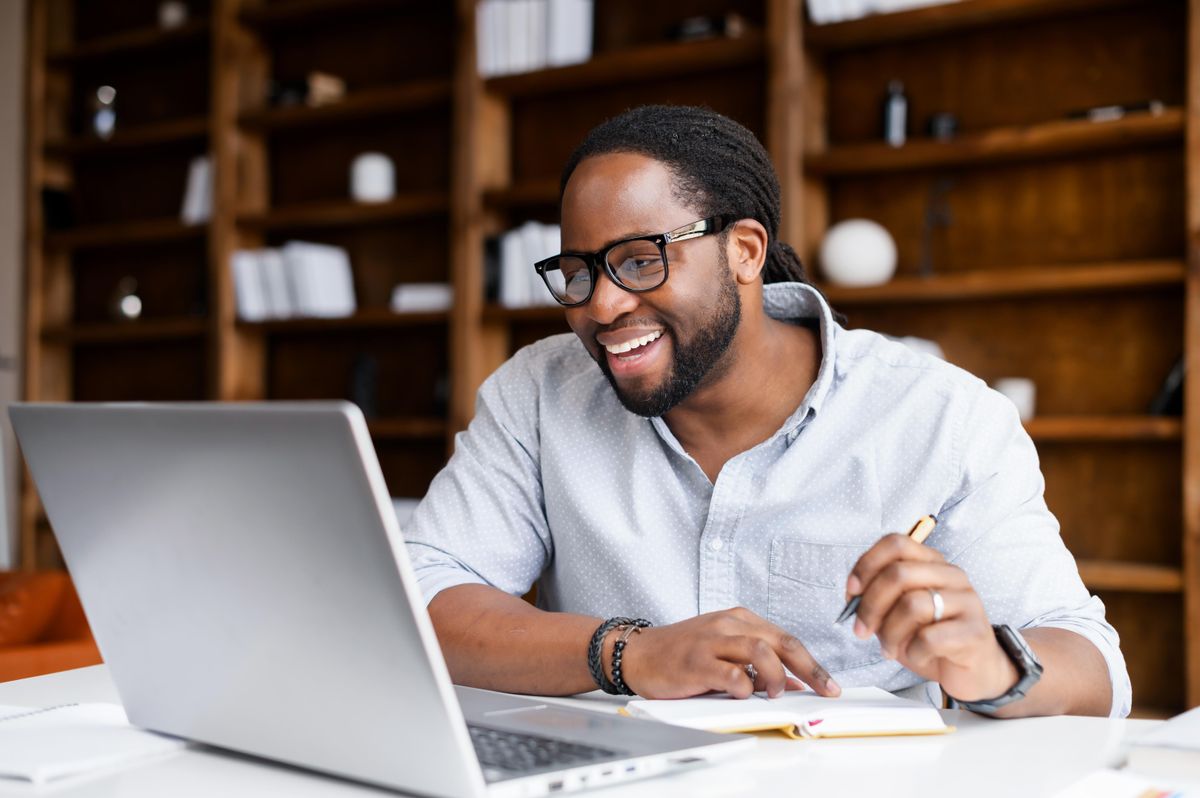 In the "Great Resignation," an estimated 47 million employees (and counting) voluntarily quit their jobs. The job market still hasn't recovered from the unprecedented "quit rate" of 3.3% at the Great Resignation's peak. Now, about 50% of the workforce are "quiet quitters" according to a Gallup poll — meaning, half of workers are disengaged at work and do only the minimum required of their job.
Having engaged talent is a competitive advantage for companies in today's work environment. Replacing an employee who's handed in their two-weeks notice can, after all, cost your company 21% of the employee's annual salary. Employee retention strategies — ones that go beyond a box of donuts in the breakroom — are key to keeping workers engaged in the workplace. But given that overly played-out retention tactics can be ineffective at best and make your company look insincere at worst, it's important to prioritize the right strategies. To that end, let's go over some new and improved employee retention strategies that you may not have tried yet.
In this article, you'll find:
Why employee retention strategies fail
The best employee retention strategies
Your employee retention strategy is your DEI initiative
Why employee retention strategies fail
There are plenty of employee retention strategy examples out there, but efforts can fall short. For your employee retention strategies project to be successful, you need to avoid these four common pitfalls.
1. Not delivering on promises. If you say you're going to do something, follow up on it. Consistency is key to building employee retention strategies. Don't ask employees to be honest about how they're feeling at work and then ignore their input. Or worse, promise big reform and fall short with token changes.
2. No trust. Studies indicate that "quiet quitting" is largely due to the relationship between employee and boss. Managers need the time, skills, and training to build solid relationships with staff. There are resource forums for people leaders to share ideas. Using tried-and-true best practices is the best strategy to build trust.
3. Siloed initiatives. Employee retention strategies can't just live in HR. The moment they become siloed within one department or position, they fail. Employee retention strategies need to be a priority in every department and at every level.
4. No resources. Employee retention strategies need resources. To put it plainly, unfunded initiatives don't work. Employees should be compensated for extra work such as sitting on an employee retention committee or putting together a workplace social. Likewise, pay raises and compensation should be a central part of the conversation. Remember, one of the main issues for quiet quitters is doing extra work for no extra pay.
The best employee retention strategies for 2022
With the don'ts out of the way, let's move on to the best employee retention strategies you can start implementing today.
Listen to your employees
Well-run companies spend time and effort collecting feedback and customer satisfaction information. But what about employees? Managers need to ask, "how's my driving?" Having data is critical to understanding how your employees are affected and making the necessary changes in order for employee retention strategies to take off. Send out an anonymous workplace survey asking about stress levels, feelings of creativity, people's sense of inclusion, and how connected they are with their managers. If you're not sure what to measure, start with a couple in-depth interviews. See what people want to talk about. The responses in the interviews will give you the basis for your wider survey.
Be transparent
If you ask your employees to be honest in giving feedback, management needs to be honest and transparent too. Acknowledge publicly the challenges the company faces based on what your employees have told you. This is the first step in accountability. Be transparent about compensation, pay raises, and benefits. Did you realize it is perfectly legal for employees to openly discuss compensation? This traditional taboo is becoming a common water cooler conversation. Social media is informing workers how to advocate for themselves. Meet them where they are. Actions speak louder than words.
Recognize and reward people, not just numbers
Over 1 in 5 employees does not feel valued at work. Feeling valued means knowing that your work is worthwhile and desirable. Watching the same sales people get rewarded for hitting their numbers again and again can be demoralizing for those who go comparatively unrecognized. Know your team and what they're working on. Openly celebrate different kinds of triumphs, big and small, and be specific when you do. Helping people feel seen takes more than a generic "good job."
Be flexible about work
Rethink how, where, and how long we do work. Research shows that 52% of workers prefer a hybrid remote-office work model. Employees even prefer it over a 10% pay raise. Employers must respond to this need as part of honing effective employee retention strategies.
And, as far as flexibility goes, time ownership is a massive benefit to offer employees — including by enabling them to work fewer days. Iceland is a leader in experimenting with the 4-day work week. Icelandic companies found it reduced burnout while improving work-life balance. Consider flexible arrangements that have proven results like these. Imagine how teams can be ambassadors for the company when they enjoy a new normal.
Facillitate growth
Employees that can't see a clear career path within their company will look elsewhere to grow. The longer an employee stagnates in a position, the more their likelihood of leaving increases. Managers need to regularly work with each employee to envision their growth. Movement can be within their same position or laterally, as well. Give employees a discretionary budget for ongoing education and skills enhancement. Encourage projects and rotations with different departments to learn new skills.
Dust off that DEIB initiative
The best employee retention strategies are ones that are formed through a DEIB lens. DEIB strategies can be innovative for employee retention, as they (should) focus on all the things that make everyone supported, safe, and valued in the workplace. DEIB is, after all, not about making special accommodations for marginalized people; it's about making the workplace better for everyone.
Your best employee retention strategy is a strategic DEIB initiative
DEIB initiatives make apt springboards for a number of successful employee retention strategies by listening to talent, creating custom work environments, and making employees across identities feel valued. Focus your efforts on DEIB, and employee retention will be one of many positive outcomes. PowerToFly has expert
DEIB consultants
that can help you jump start your DEIB-informed employee retention plan.
READ MORE AND DISCUSS
Show less
Loading...