GET EMAIL UPDATES FROM POWERTOFLY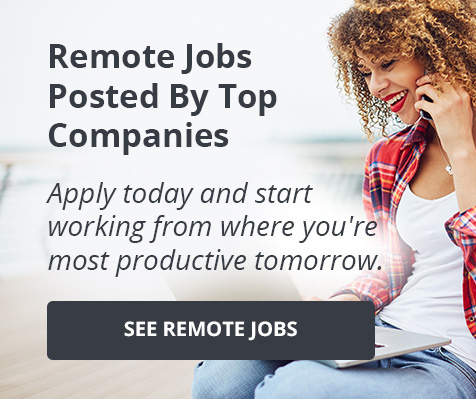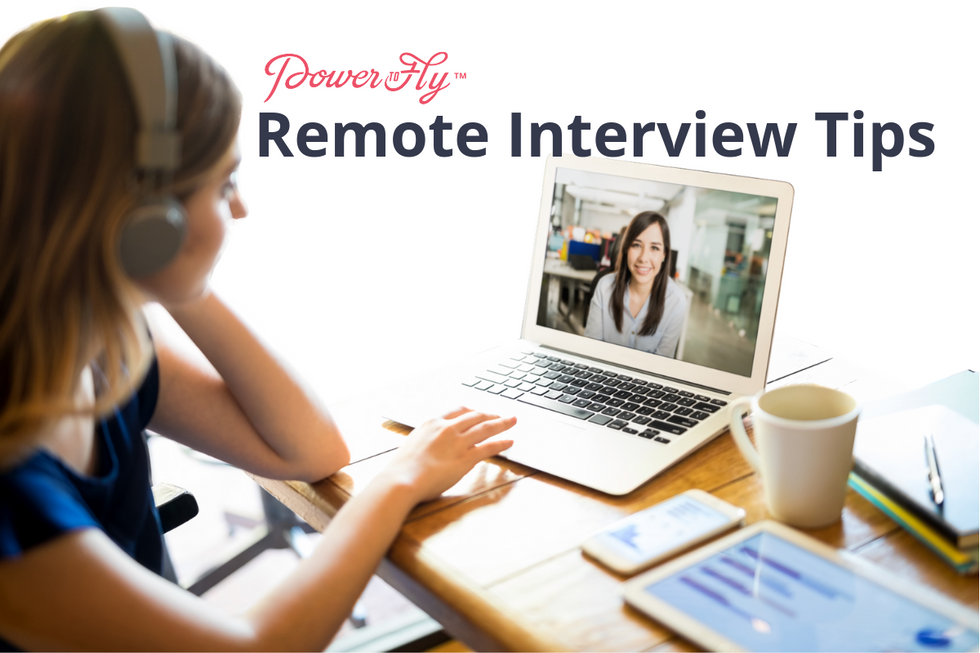 February 19, 2019
popular
Remote Interview Tips
Advice for Applicants and Interviewers
By the time I landed my first interview for a remote job, I already felt like an expert in Skype interviews. I'd done several throughout and after college, and I had my process down pat: go to my bedroom, find a white wall, prop my computer up so my interviewer wouldn't get any weird views of my nostrils, plug in my headphones, check my makeup and lighting in a test video call, and wait patiently for my interviewer.
---
All of this went out the window for my first legit remote job interview - the interviewer asked me if I was available to talk now, and always eager to please, I said yes. I wiped tuna fish off my face, logged onto Skype, and hoped for the best. It went great, and I got the job... but all things being equal, I'd still have rather had time to prepare.
So, what needs to be taken into account before a virtual interview for a remote position? As with any job interview, you need to know your stuff. But for remote interviews, you need to prepare your space and be ready to answer specific questions about your interest and qualifications for working remotely.
Interviews for remote jobs can be challenging no matter which side of the screen you're on - as an employer or an applicant. So we laid out four key remote interview tips to keep in mind, whether you're assessing if a candidate has the creativity and independence to work remotely, or if you're trying to convince a recruiter that you've got what it takes to work from home.
Our Top 4 Remote Interview Tips
1) Prepare yourself and your space.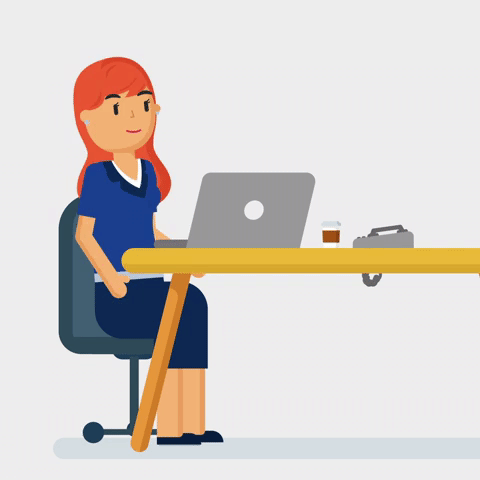 Giphy
Dress the part. While there's no need to wear a full suit, or even just the top half of one (your interviewer, as a remote worker, will likely be dressed casually), you should aim to look your best - whatever that means for you. Wear something that makes you feel comfortable and confident, and maybe opt to go one step above a t-shirt.
Make sure your computer is set up well in advance. If an employer invites you to interview via Zoom, make sure you have it downloaded and know how it works in advance (I may or may not have done this, and I may or may not have had a panic attack as I frantically emailed my interviewer to say I was having issues). You want to test run whatever program the interview will be in at least an hour beforehand - even if you think you're an old pro with the program. You don't know how many times I've had Skype interviews only to find a pesky update waiting for me that requires me to restart my computer.
Find a quiet place with a reliable internet connection. If you're in Buenos Aires, I can tell you firsthand that a Starbucks probably isn't it. Whether you choose to have the interview from home or a co-working space, make sure you know the internet there is reliable and not too slow. Use headphones to remove distractions and cut down on echo!
Play it cool. If you've done your "technical" prep work, it's unlikely that you'll hit too many technical snags. But you never know. A Buenos Aires heat wave could mean you have a power cut just before your interview. Or your neighbor could decide 3PM on a Thursday is the perfect time to blast heavy metal. If anything like this happens, communicate proactively with your interviewer and propose solutions - show them you know how to problem solve, and they'll likely forgive you for the rest.
Interviewers: You can tell a lot from the little things - was the call quality good? Was the person on time? If there were any issues, were they communicative while troubleshooting? Stuff happens and a poor connection shouldn't necessarily be a deal-breaker, but keep in mind that if an issue happened during the interview, odds are, it will happen again if you hire that person. If they have an old, finicky laptop, or don't really understand their way around a Zoom meeting, it definitely doesn't mean you shouldn't hire them, but you should have a plan to ensure these same things won't be issues in the future. Know you'll need to onboard them so they become more familiar with the tools your organization uses, and consider whether a stipend so they can get a better computer and/or higher internet quality is a worthwhile investment. (Spoiler alert: It probably is.)

2) Be able to articulate why you want to work remotely.
In some way, shape, or form, the question as to why you want to work remotely (especially if this is your first time doing so) will come up. You need to be prepared to give a thoughtful answer that goes beyond, "I hate wearing pants."
There isn't necessarily a right or wrong answer to this question, but showing your interviewer that you have a strong rationale will help them see that you've thought carefully about remote work and what it entails. It will also help you be sure that remote work is a good fit (it isn't for everyone!). Some questions you can ask yourself to help build a thoughtful response to this overarching question are:
What is it about offices you dislike?
What components of the office environment do you think you'll miss?
What most excites you about working remotely? What most concerns you?
Why do you think you can be productive from home? (Or anywhere?)
Interviewers: When you ask, "Why do you want to work remotely?" what you're really asking is, "Why do you think you can be successful working remotely for my company, and do you picture yourself there in the medium to long-term?" You want to make sure a remote job isn't just a matter of temporary convenience for them.
Have an idea in mind of ideally how long the applicant would stay in the role, and try and get a sense for whether they're committed to working remotely at least that long. If they're an expat or digital nomad, their desire for a remote job might be rather transparent -- they want to keep making money in a stable currency while traveling or living abroad (I certainly wasn't hiding my desire to make dollars in Argentina). There's nothing wrong with this in and of itself, but make sure you have an understanding of how long they plan to stay where they are, as both changes in timezone and cost of living could affect their future at your company.
3) Highlight your communication skills. 
Anyone who's tried a long-distance relationship knows that communication gets infinitely harder when you're relying solely on text messages. You read into every period, exclamation point, and emoji (is that a smile-smile, or a sarcastic smile?).
The same applies to remote work. What your boss might've said to you during a quick conversation at your desk becomes what you might perceive to be a passive-aggressive Slack message.
During your interview, you need to convince your interviewer that you're:
Capable of receiving and responding appropriately to others' messages and emails
Ready to communicate clearly and proactively so others won't be left wondering what you mean.
So, good written communication is key. You need to be comfortable banging out short, quick messages in Slack, and writing long, thoughtful emails. BUT equally important, is knowing when written communication is insufficient - being ready to jump on a quick call or plan a video conference meeting is crucial, and highlighting that you understand the importance of this in your interview will help you stand out as a proactive communicator. (Your boss really doesn't want to be following up with you all the time.)
Lastly, mention tools you've used for other jobs (Slack, Google Docs/Hangouts, Zoom, JIRA, Asana, etc.) to show your competence. While any of these tools can be learned, it will certainly provide your interviewer peace of mind to know you've used them before. Bonus points if you weave them into a conversation about a cool personal project you've worked on (see the next point).
Interviewers: For all the reasons above, it's crucial that you understand how the applicant communicates, and if they'll be able to do so effectively with a remote team. Rather than asking a broad question like, "How do you communicate?" break it down into specifics:
Can you tell me how you managed communication with your last boss? How often did you check in? Who arranged follow-ups?
How do you like to receive feedback? (Someone who proactively seeks feedback, but isn't entirely dependent upon it is ideal for remote work.)
Can you tell me about a time at work where you suffered as a result of poor communication?
If your boss assigned you a task during a team meeting and you didn't fully understand it, how would you proceed?
4) Talk about your hobbies + personal projects.
When I started working remotely, I think my mom pictured me lounging about all day in my underwear. She couldn't believe that I was working 12 hour days, occasionally too stressed to even stop and eat. The reality is, when you work remotely, you often end up doing both of those things - strewn pantsless on your couch, and working your ass off.
This kind of approach to work won't be healthy for you or your employer. You don't want to be that stressed, and they don't want you to burn out.
The best way to convince your interviewer that this won't happen is to help them understand that you know how to manage your time and that you're disciplined enough to meet goals. It also doesn't hurt to mention you have compelling reasons to step away from your computer and get out of the house (a child that has to go to school, a dog that needs walked, a fitness class you love, etc.) When you're only communicating virtually, these human factors are great ways to bond and build trust!
So, how do you convince your interviewer that you've got bomb time management skills? Talk about a personal project (or a work project that you took the lead on) where you had self-imposed deadlines and met them. Showing that you're self-disciplined and self-motivated is key, because no one will be breathing over your shoulder, reminding you to get your work done. Talk about how you structured your work, the barriers you faced, and what you did to overcome them. (And again, mention the tools you use to keep yourself on track - killer spreadsheets? Weekly check-ins with team members? etc.)
Interviewers: Don't just ask vaguely about time management - anyone can cook up a BS answer about how they're great at balancing multiple tasks. Ask specific questions that will help you understand this person's approach to work. We all procrastinate to some extent (I'm talking about me here), but you need to know whether that will inhibit the candidate's ability to consistently hit goals.
Try asking:
How was your day structured at your current/previous job? Did you set your tasks or did your manager?
What percent of deadlines that you set for yourself do you meet? What about deadlines set by others?
What are your thoughts on procrastination? (Follow-up: What strategies do you use to overcome it)
Can you tell me about a time you missed a deadline?
What would your ideal work schedule look like (Daily and weekly)? Do you like to set your tasks or do you prefer to have them assigned to you?
And of course, you can always assign the interviewee a small project to turn in the following week and then ask how they went about tackling it, how long it took them, when they started, etc. (If you do this, be considerate of the time commitment entailed and consider paying them for their time.)
--
If you follow these remote interview tips, you'll be able to convince your interviewer that you've got what it takes to work remotely. Just make sure you're convinced you do as well ;) If you're having second thoughts about remote jobs, you can search for great, flexible onsite roles on PowerToFly.
And if you're more confident than ever before that you're ready to work from home, check out our remote job board!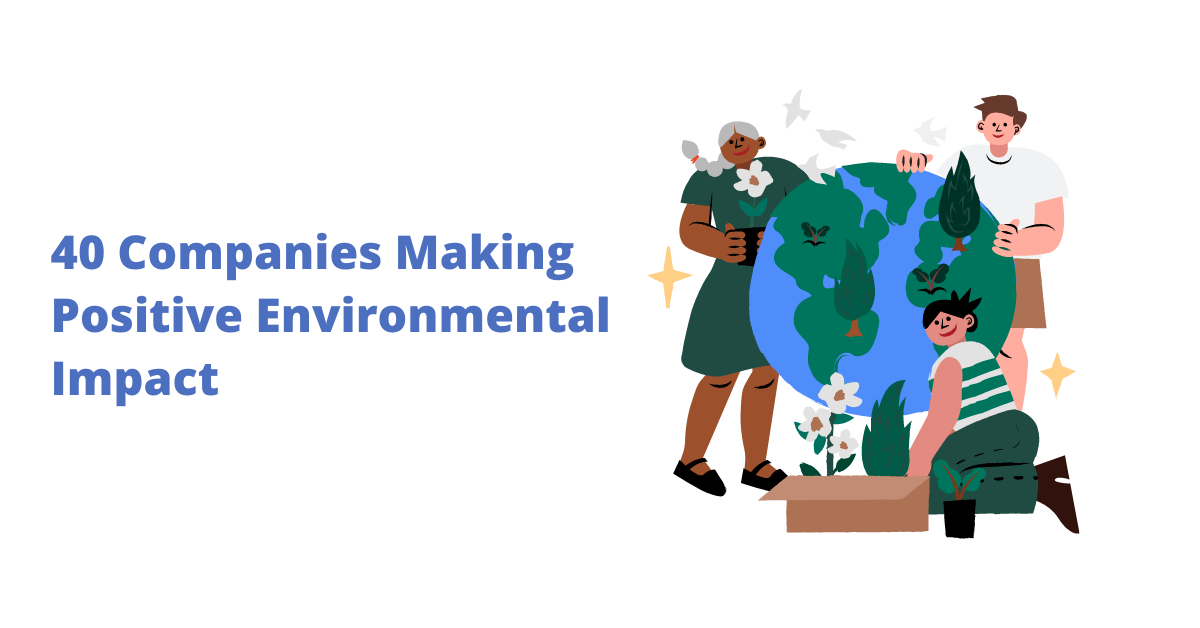 Diversity, Equity, and Inclusion
Environmentally Friendly and Sustainable Companies
Sustainability is more important now than ever.
Companies use huge amounts of our planet's resources, and they in turn have huge impacts — positive and negative ones. While a few generations ago, it seemed as if the Earth's resources were infinite, we now know how false that is.
That's why it's critical that sustainability be at the integral to a company's makeup, prioritizing protecting the resources we do have left and having positive impacts on the environment.
We asked some of our partner companies to share what they do to promote positive environmental impact and sustainability. For some of them, solving environmental issues is part of their core DNA and others have taken on initiatives outside of their own business objectives to leave the world a better place than how they found it. Keep reading to hear what they said!
Collins Aerospace —
As a leader in technologically advanced and intelligent solutions for the global aerospace and defense industry, Collins Aerospace is in a unique position to make a positive impact on sustainable aviation. We innovate for – and with – our customers to drive more sustainable solutions.
Collins Aerospace has joined in the Fly Net Zero commitment announced in October 2021 by the Air Transport Action Group (ATAG) and the International Air Transport Association (IATA). As an active supporter of the industry's goal to achieve net-zero civil aviation carbon emissions by 2050, our commitment is stronger than ever. At Collins our sustainability roadmap focuses on three pillars:
1. Engagement with our stakeholders - our customers, suppliers, shareholders, communities and employees – to collaboratively set the standards for a sustainable future of the aviation industry in terms of Environmental, Social & Governance (ESG) performance.
2. Our Technology Roadmap focusing on innovative and disruptive solutions to improve aircraft energy and operational efficiency and to enable alternative power sources, in particular Sustainable Aviation Fuels (SAF), hydrogen and hybrid-/electric propulsion.
3. Our Industrial Road Map focusing on sustainable production and products – including GHG reductions through energy efficiency and use of green energies, substitution or reduction of chemical substances, reduction of water consumption as well as recycling and waste management.
For more information please refer to our website at https://www.collinsaerospace.com/Sustainability
Learn more about Collins Aerospace here.
Okta —
Okta's climate strategy is focused on reducing emissions in 4 ways: reducing consumption, electrification, purchasing renewable electricity to match 100% of our global office and workforce electricity consumption, and engaging our vendors, as over 90% of our emissions are from our value chain. We strive to incorporate equity into our work. For example, we purchase renewable energy certificates (RECs) with a social benefit, such as CA Bright Schools Solar and energy justice RECs - community solar that reduces electricity costs for low-income residents via Solar Stewards.
To learn more, check out our January 2022 blog, and our webpage.
Learn more about Okta here.

Vanguard —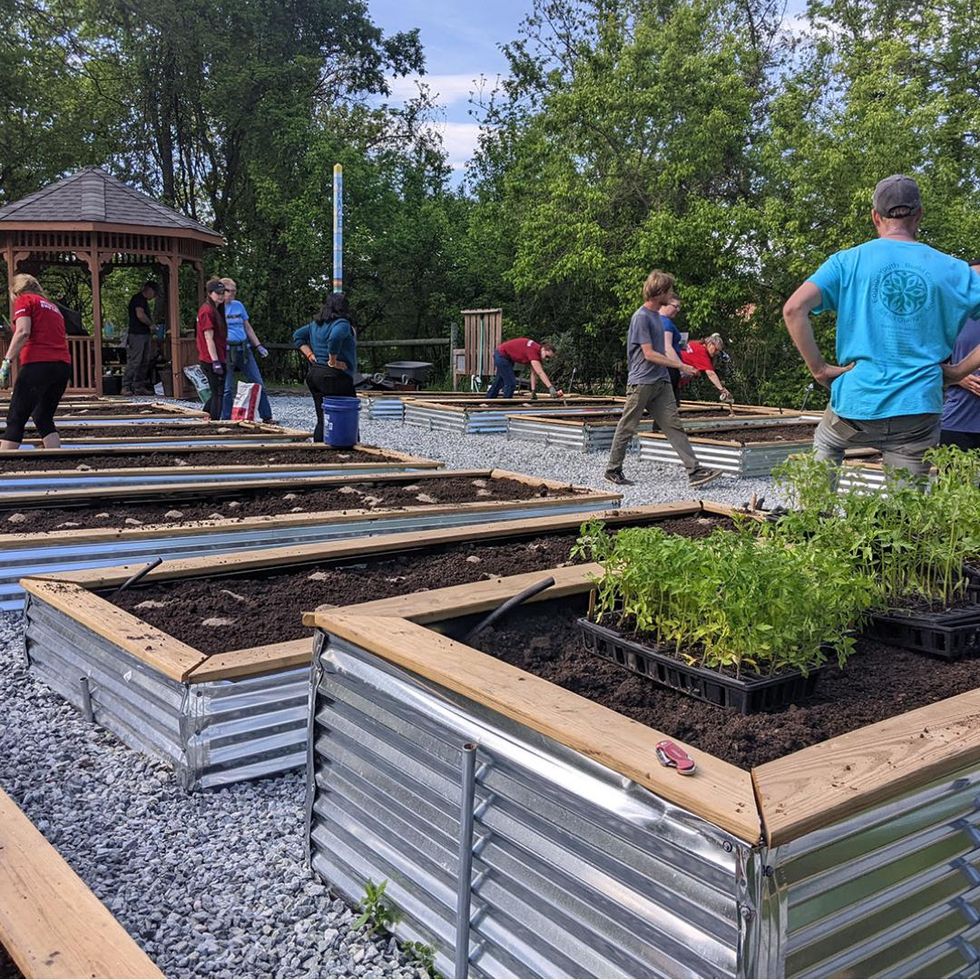 Established in 2012, Vanguard's community gardens are planted, maintained, and harvested by crew volunteers who donate the produce raised to local food banks, pantries, and centers.
Gardens in Pennsylvania and Arizona raise a variety of produce, including tomatoes, peppers, spinach, lettuce, zucchini, carrots, and eggplant.
In addition, the community garden teams host periodic garden parties, workshops, and cooking demonstrations, where crew can learn more about what is being planted, ask questions about their own personal gardens, and network with other volunteers. All produce is grown organically, so there are opportunities to learn the latest in organic agriculture.
Learn more about Vanguard here.
Nokia —
Sustainability is a key component of Nokia's strategy and purpose of creating technology that helps the world act together. We believe digitalization and connectivity solutions are critical to resolving many of the global problems facing society.
We take a two-pronged approach. We maximize our handprint while minimizing our footprint across environmental and social issues, supported by robust governance and responsible and ethical business practices.
We realize we cannot do this alone, and we call for accelerated digitalization and enhanced connectivity, greater multi-party, multi-discipline collaboration and the establishment of sustainable platforms that encourage innovation.
Learn more about Nokia here.

Enersys —
EnerSys is the global leader in stored energy solutions for industrial applications and has been for over 100 years. At our core, EnerSys delivers solutions that meet our customers' most critical energy services and storage challenges. We also enable our customers to reduce their greenhouse gas emissions and provide affordable and reliable access to energy – often referred to as "climate technology." Our products support a wide range of industries and applications, from ensuring the reliability of broadband in rural communities to powering submarines and satellites to the manufacture and distribution of food supplies and critical health infrastructure.
Learn more about Enersys here.
Google —
At Google, we are celebrating the opening of our Bay View office — an all-electric, net water positive campus with the largest geothermal installation in North America. To deliver on our commitment to operate every hour of every day on carbon-free energy by 2030, we prioritized renewable energy and maximized the solar potential of our buildings. Bay View's first-of-its-kind dragonscale solar skin and nearby wind farms will power it on carbon-free energy 90% of the time. The campus is also on track to be the largest project certified by the International Living Future Institute (ILFI).
Learn more about how we applied human-centered and sustainable design to the workplace.
Learn more about Google here.
Waters Corporation —
Waters has committed to reducing its Scope 1&2 greenhouse gas emissions (GHG) 35% from a 2016 baseline by 2025. As part of this commitment, we are increasing our use of renewable energy, phasing hybrid and electric vehicles into our service fleet, and incorporating green building principles into our facilities management practices. We are also taking steps to measure and reduce the environmental impact of our products, our packaging, and our supply chain. In addition, we encourage our employees around the world to be sustainability leaders in their communities. For more information, please see our most recent Sustainability Report.
Learn more about Waters Corporation
here
.
Pluralsight —
As a global company, Pluralsight is committed to positive corporate citizenship and to continuously improving efficiency as we scale. We've implemented several initiatives that will help reduce our carbon footprint, including new remote/hybrid work policies and we've recently signed a climate pledge that sets us on the path to becoming carbon neutral. Through this pledge we plan to set clear greenhouse gas (GHG) annual reduction targets and also invest in ways to proactively offset the balance of our GHG emissions to achieve net zero. This plan will also support our team members in their involvement in local sustainability initiatives.
Learn more about Pluralsight here.
Expedia Group —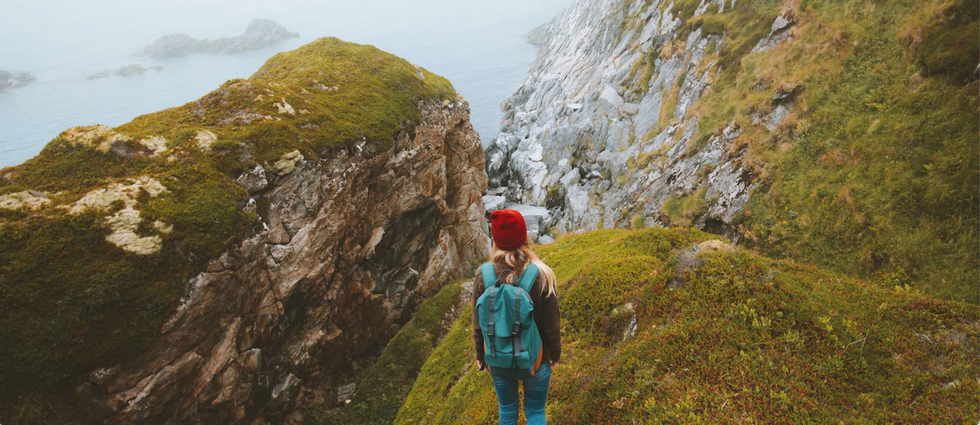 In 2019, Expedia Group partnered with UNESCO to create the UNESCO Sustainable Travel Pledge which aims to promote sustainable travel, community resilience and heritage conservation globally. Signatories can learn about sustainable practices for their business, and together we can drive positive change in the travel industry for future travelers. The UNESCO Pledge now has 4,200 hotels committed to concrete, transparent and achievable action.
Learn more about Expedia Group here.
UKG —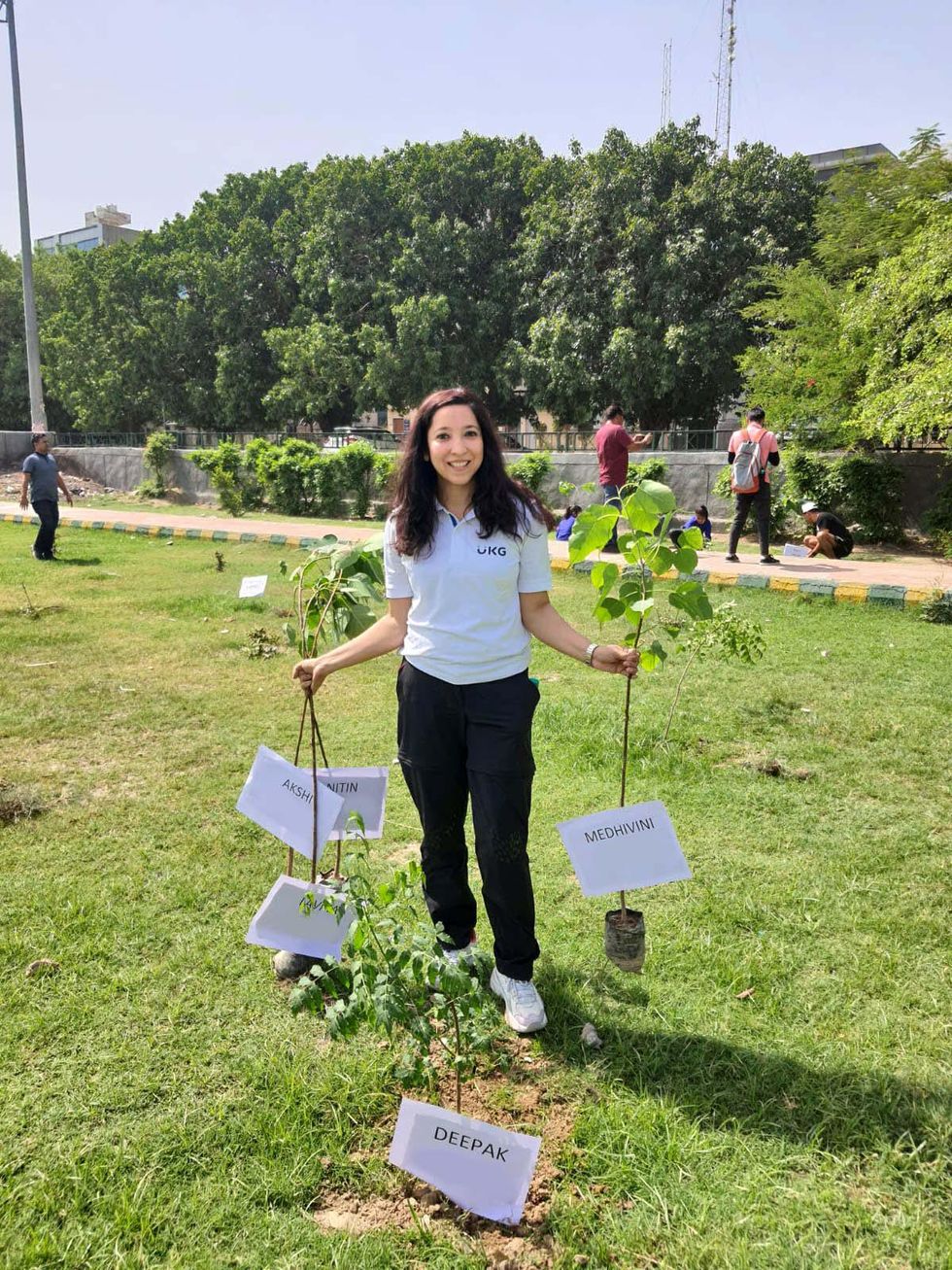 At UKG, we care deeply about our environmental impact and our responsibility to take care of the world in which we live and work. Our primary environmental impacts relate to our own energy consumption, as well as the energy consumption of UKG hardware products, our business travel, and the consumption of natural resources through our activities and procurement processes. Our recent and ongoing efforts to reduce our environmental footprint, including both our own corporate output and the sustainability and environmental practices of our trusted suppliers and vendors, are a critical component of our ESG Initiative.
Learn more about UKG here.
CDW —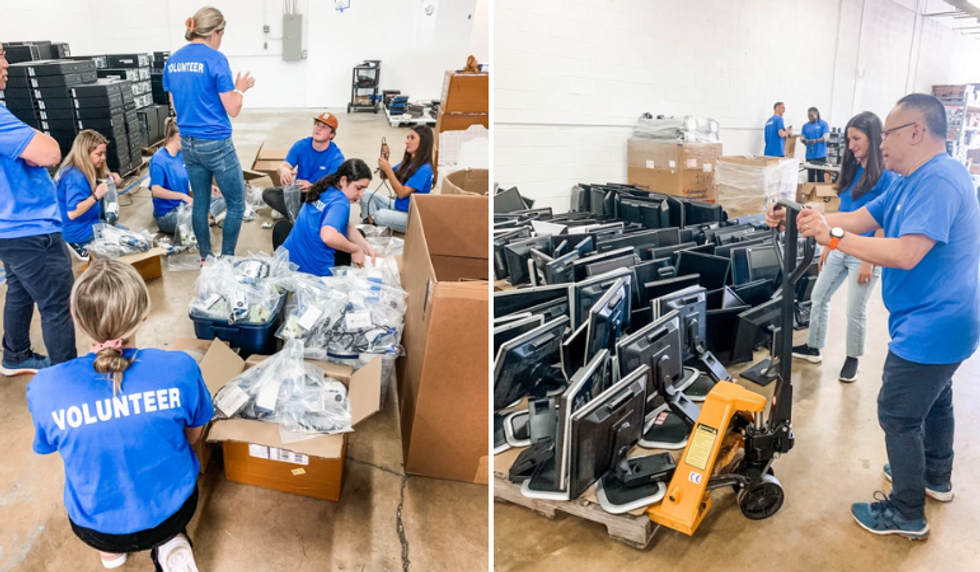 CDW is committed to protecting the environment by continuing to find ways to manage our business with increasing efficiency and understanding the full extent of our environmental impact.
Our efforts include participating in multiple electronics recycling programs, consistently meeting and exceeding our waste diversion goal of 90% at our US distribution centers, and implementing smart packaging solutions that maximize both product protection and material efficiencies.
We also recognize that our greatest opportunities to impact the environment lie in our supply chain and our ability to work with our partners to address issues such as climate change and waste reduction. For example, more than 75% of our US shipments are handled by carriers with Net Zero emissions targets.
https://www.cdw.com/content/cdw/en/about/overview/esg2021/environmental.html
Learn more about CDW here.
Moody's —
At Moody's, we are doing our part to protect the environment and tackle climate change. We are committed to achieving net-zero emissions in our operations and value chain by 2040 – 10 years earlier than the Paris Agreement goals – and to aligning our relevant products and services to net-zero. We also offer market participants climate solutions to help them better understand the risks and opportunities presented by climate change and the transition to a low-carbon economy. Learn more about Moody's efforts and progress in our 2021 Stakeholder Sustainability Report and 2021 TCFD Report.
Learn more about Moody's here.
Wolters Kluwer —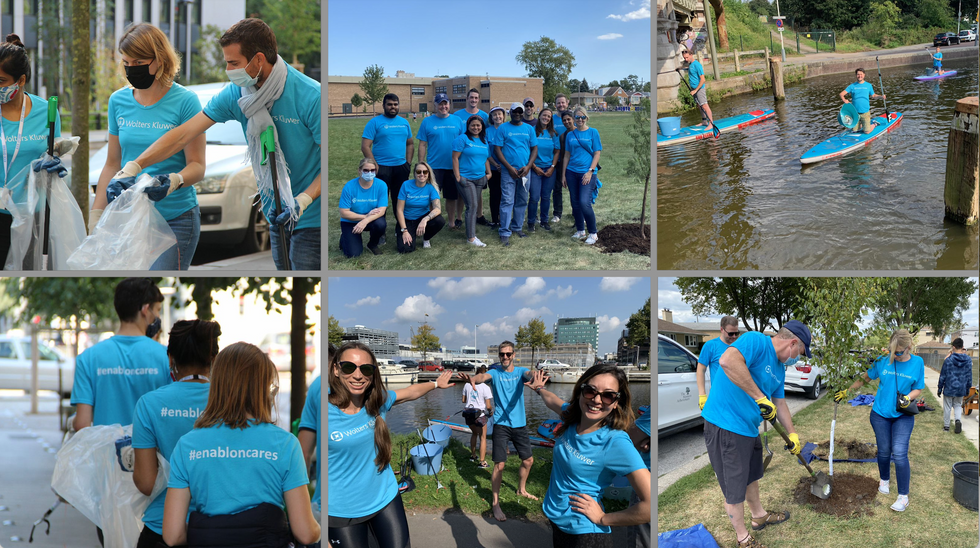 At Wolters Kluwer we're not only helping our customers create a safer, cleaner world - we're doing it ourselves!
In 2021, Wolters Kluwer launched a sustainability program called ENGAGE and to celebrate the contributions employees made, this year we held the Global Sustainability Awards.
Colleagues in our Enablon business won an award for partnering with volunteer organisations around the globe including Chicago Region Tree Initiative in the US, SUPclean-up in the Netherlands, and the Calthorpe Community Garden in the UK.
80 Enablon volunteers spent more than 300 hours planting trees and clearing litter from waterways and beaches, helping raise awareness across Wolters Kluwer of the importance of sustainable practices while giving back to local communities.
Learn more about Wolters Kluwer here.

Novelis —
As the world's largest recycler of aluminum, sustainability is implicit in everything we do at Novelis. Our ambition is to be the world's leading provider of low-carbon, sustainable aluminum solutions that advance our business, industry and society toward the benefits of a circular economy. We're guided by our sustainability goals, which will ultimately lead to a reduction in energy intensity, a reduction in water use, and a reduction of waste sent to landfills by 2026. Cultivating a diverse and engaged employee base will be our greatest enabler in achieving these goals.
Learn more about Novelis here.
Sun Life —
Sun Life views climate change as a defining issue of our time. We're working to address climate change and supporting the transition to a low-carbon economy. We have set a goal to achieve net-zero greenhouse gas emissions by 2050 for both our investments and operations. We're also committed to integrating climate strategies across our businesses and working collaboratively with our Clients, stakeholders, and the industry at large, towards this common goal.
To help us expand on our commitments and strategies, Sun Life recently appointed Paula Haschig as our new Vice-President, Climate Change. Learn more in our latest Sustainability Report.
Learn more about Sun Life
here
.
Splunk —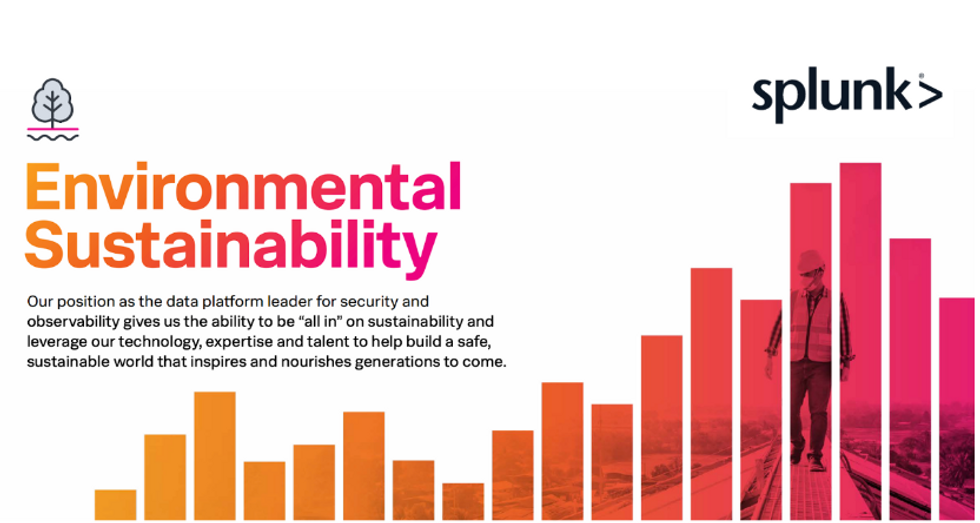 Key to solving the world's most pressing issues: climate, health equity, poverty, racial justice, and education, is data.
With customers around the globe, Splunk is uniquely positioned to help solve some of the world's toughest challenges.
Splunk has committed to achieve net zero greenhouse gas emissions by 2050 and we are proud to advance our climate journey with a data-driven approach, building on our support for the Paris agreement.
Splunk is a proud signatory to the Business Ambition for 1.5° Campaign, and part of the UN Climate Champions' Race to Zero Campaign and the We Mean Business Coalition.
#SplunkLife
Learn more about Splunk here.
GoTo —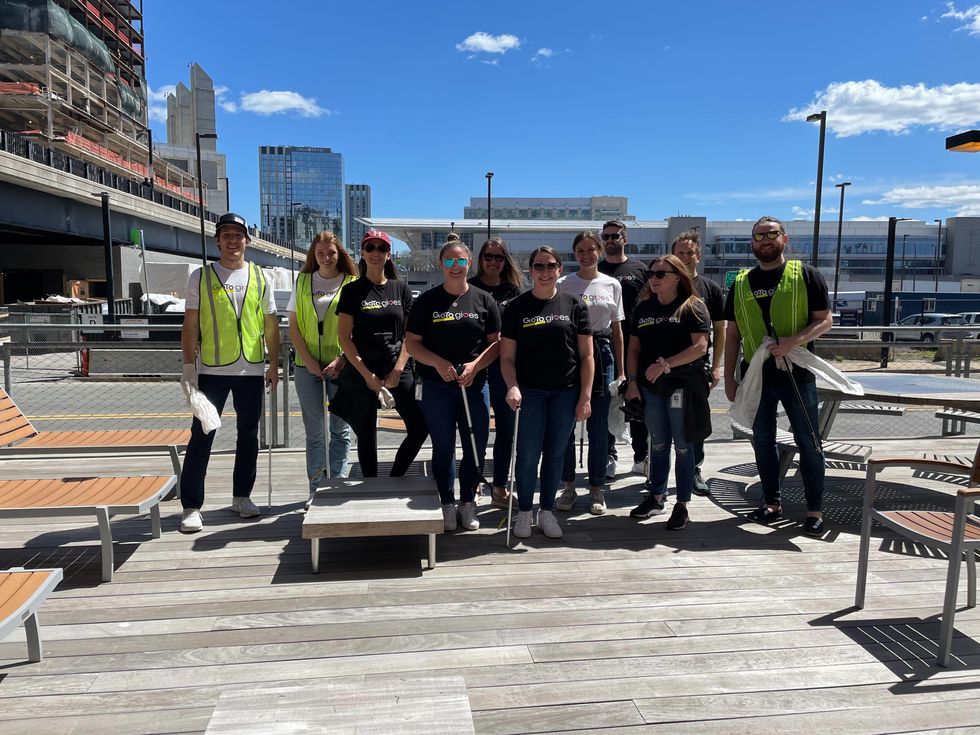 GoTo is committed to maintaining carbon neutrality. Our permanent move to a remote-centric workforce has reduced Greenhouse Gas (GHG) emissions across all scopes. To account for the shift in our employees' work locations, we purchase certified offsets for the emissions they generate during work hours, both in the office or at home, as well as for necessary corporate travel. We also procure 100% renewable electricity for our global operations by purchasing Green-e certified RECs to match our global electricity usage. Our data centers have high ratings from Greenpeace and we engage our global employees through our Global Green Team.
Learn more about GoTo here.
Raytheon Technologies —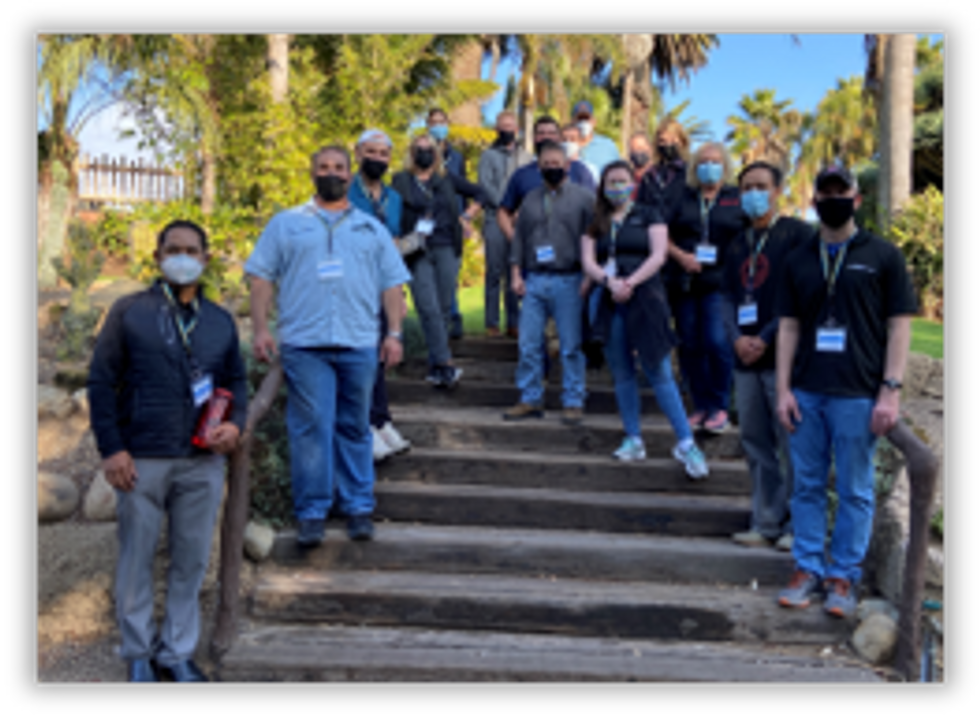 As part of Raytheon Technologies' Environmental, Social and Governance (ESG) vision, Raytheon Intelligence & Space (RI&S) is working toward ambitious goals to reduce greenhouse gas emissions, conserve energy and water, minimize waste, and increase renewable electricity by 2025. Our ESG strategy guides all that we do, and particularly emphasizes purposeful connections with community. For example, over the past year RI&S has participated in various events like community clean-ups in McKinney, Texas; a food bank packing line in Plano, Texas; an Earth Day plant seed swap in Goleta, California; and a leadership team clean-up at the Santa Barbara Zoo.
Learn more about Raytheon Technologies here.
Autodesk —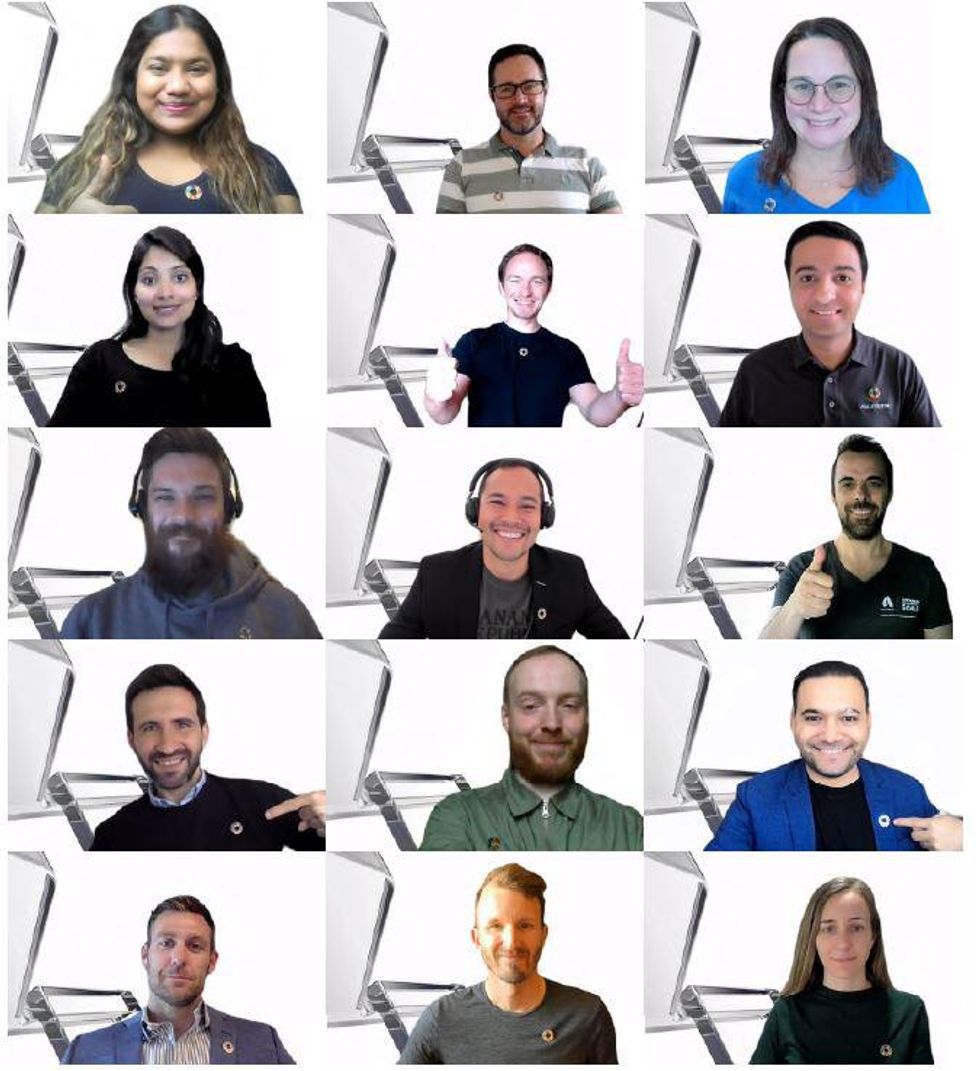 From greener buildings to cleaner cars, smarter factories to bigger blockbusters, Autodesk technology is used by millions of people to design and make millions of things that impact billions of lives.
At Autodesk, sustainability is about making that impact positive across three impact opportunity areas: Energy & Materials, Health & Resilience, Work & Prosperity.
All this begins by being a better business ourselves. When we improve the impact of our own operations, we gain the knowledge and credibility to help our customers improve theirs. And by building a culture of belonging, together we thrive.
Learn more about Autodesk here.
PagerDuty —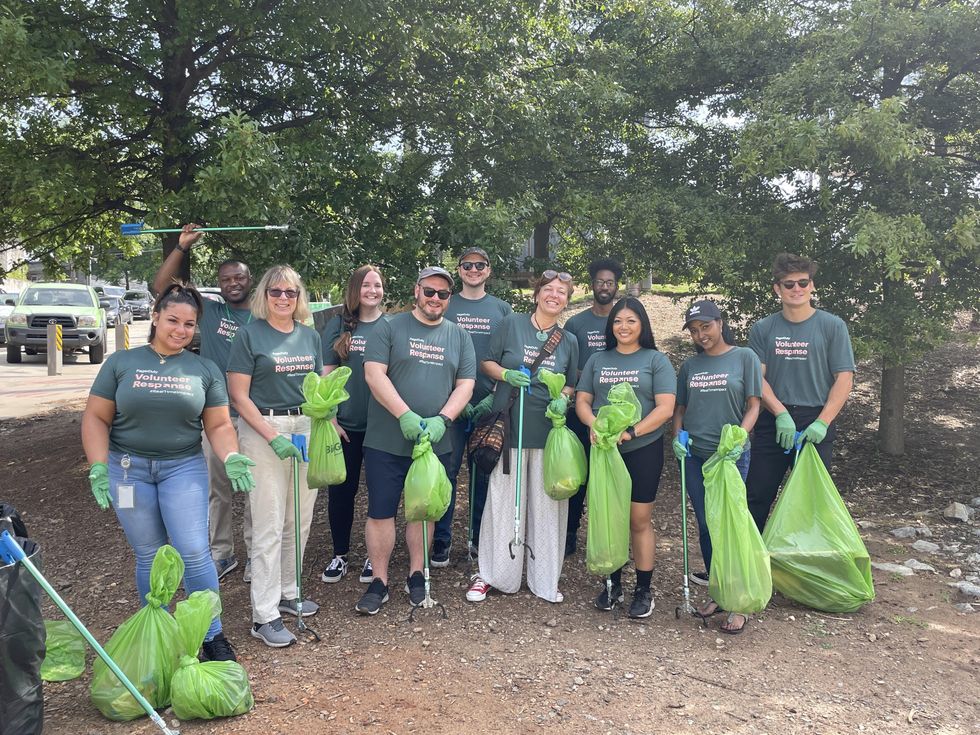 We take a very broad view of sustainability and social impact, with our environmental focus rooted in both our climate responsibility and systemic, environmental justice concerns. Last year we launched our climate justice grantmaking program; with input from our EnviroDuty affinity group, we selected four incredible climate justice organizations to support: Earth Guardians, Earth Hacks, The Solutions Project, and OpenAQ. We are also taking our own responsibility seriously, reporting our first greenhouse gas inventories and preparing to set targets in line with the global need to limit warming to 1.5°C to meet the goals of the Paris Agreement.
Learn more about PagerDuty here.
American Express —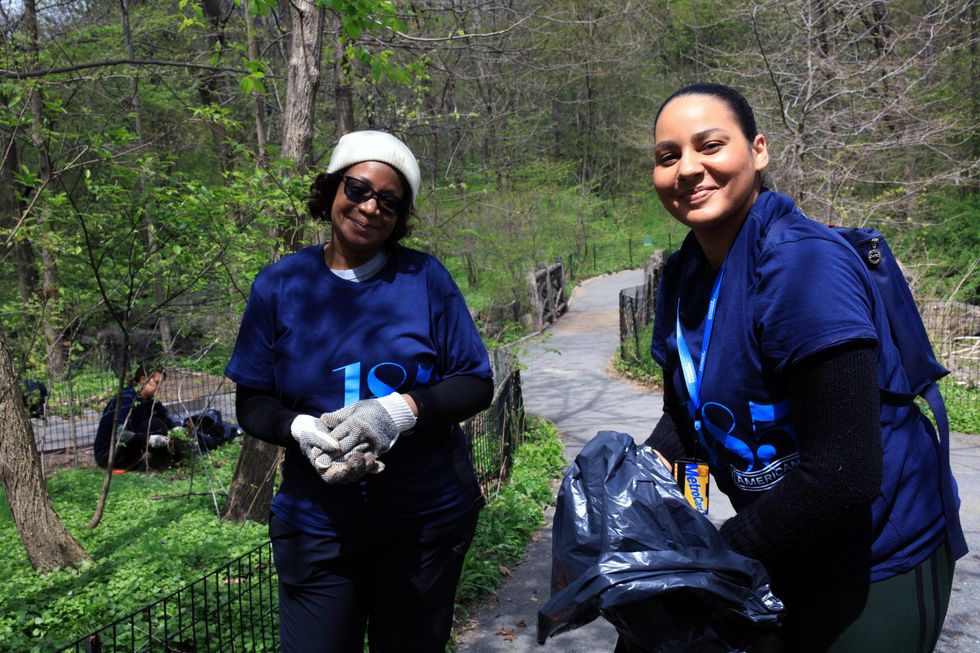 American Express is committed to advancing climate solutions and enhancing its operations and capabilities to meet customer and community needs in the transition to a low carbon future. In 2021, the company committed to net-zero emissions by 2035 and has been CarbonNeutral® powered by 100% renewable electricity across its global operations since 2018. The company set a goal to pilot low-carbon product innovations and is making new digital products and services available to help customers understand their carbon footprint. To support climate action through community giving, the company will provide at least $10 million by 2025 to backing low-carbon communities.
Learn more about American Express here.
Esri —
At Esri, we believe that it is everyone's duty as global citizens to protect our world's resources. As a business, Esri practices sustainability by operating on solar power in many of its buildings, using electric cars for corporate vehicles, providing EV charging stations for employees, donating and planting trees in the community, and more. Some of Esri's key initiatives are conservation and sustainability. Influencing and partnering with customers to build a sustainable future through geographic information system (GIS) technology is what drives us. You can read more about these initiatives at https://www.esri.com/en-us/about/about-esri/why-we-do-it.
Learn more about Esri here.
Pitney Bowes —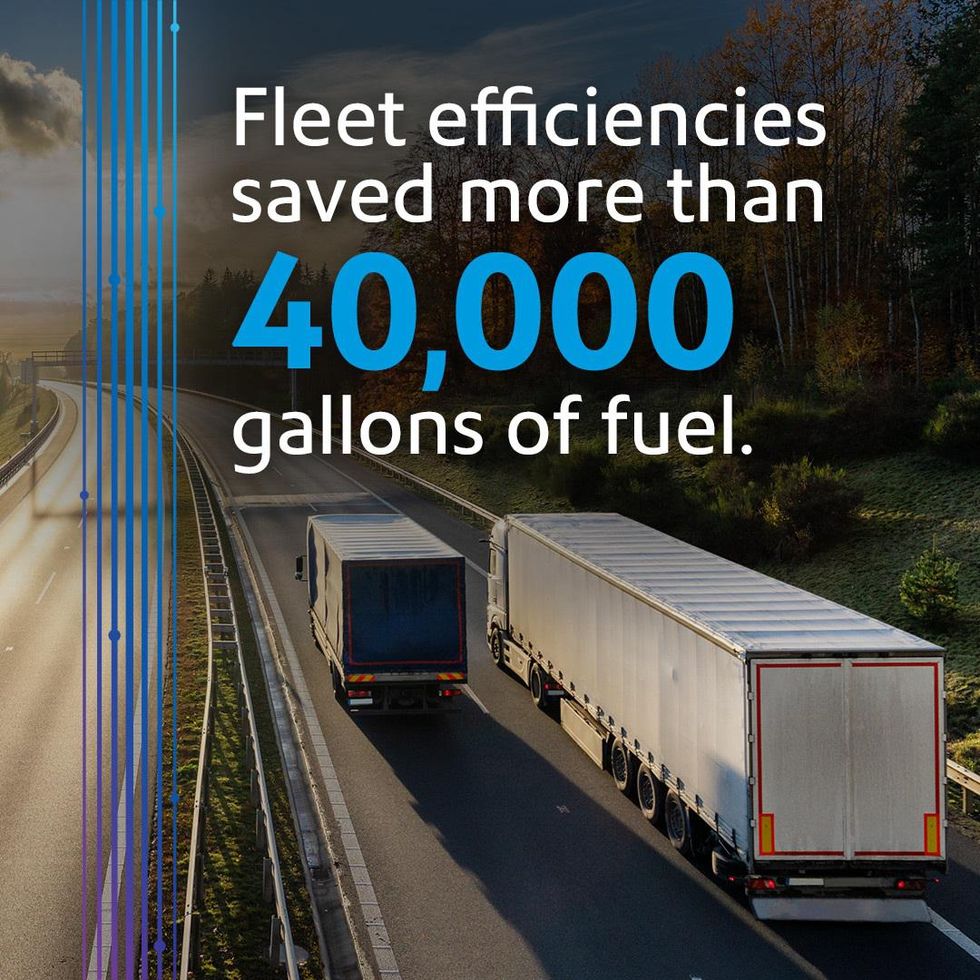 In 2021, Pitney Bowes was named a Climate Leadership Award winner. We have committed to be carbon-neutral in our operations by 2040. We are also proud to announce that we have increased our share of electricity from renewable sources such as wind and solar power.
Learn more about Pitney Bowes here
BlackRock —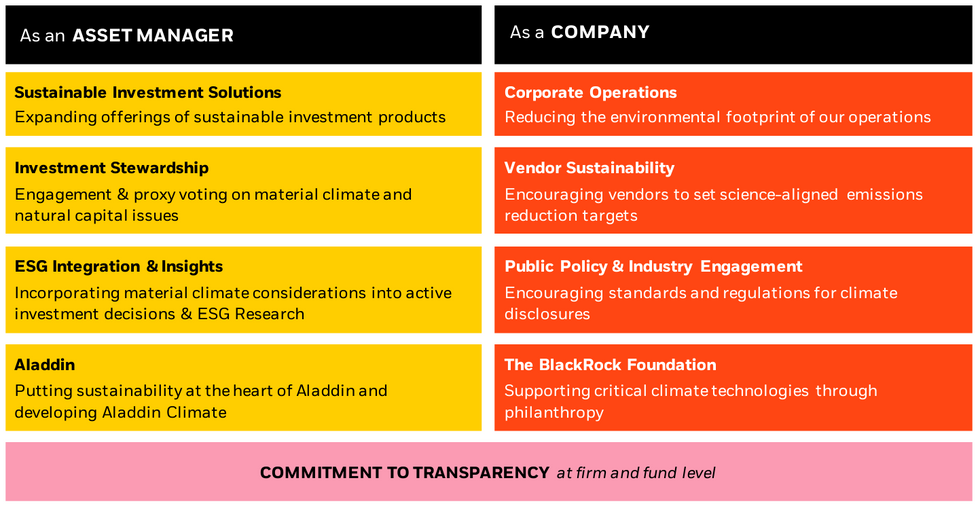 BlackRock has a multi-pronged strategy to address climate-related risks and promote positive environmental impact. One commitment that we're proud of is The BlackRock Foundation's recent commitment of $100 million to Breakthrough Energy's Catalyst Program, which will help accelerate the development of climate solutions necessary to achieve net zero emissions by 2050.
In addition to our strategies as an asset manager and as a company, our people play an important role in creating and leading sustainability within our offices. Our Green Team Network is responsible for stewarding conservation efforts throughout our offices and within the communities in which we operate. The 49 teams organize activities including elimination of single use plastics, rebuilding our local ecosystems, taking personal responsibility for our own net zero journeys, matching donation opportunities, educating all employees on climate and environmental issues, and so much more!
Join us as we provide financial security and overall well-being of people and communities around the world.
Learn more about BlackRock here.
Kiva —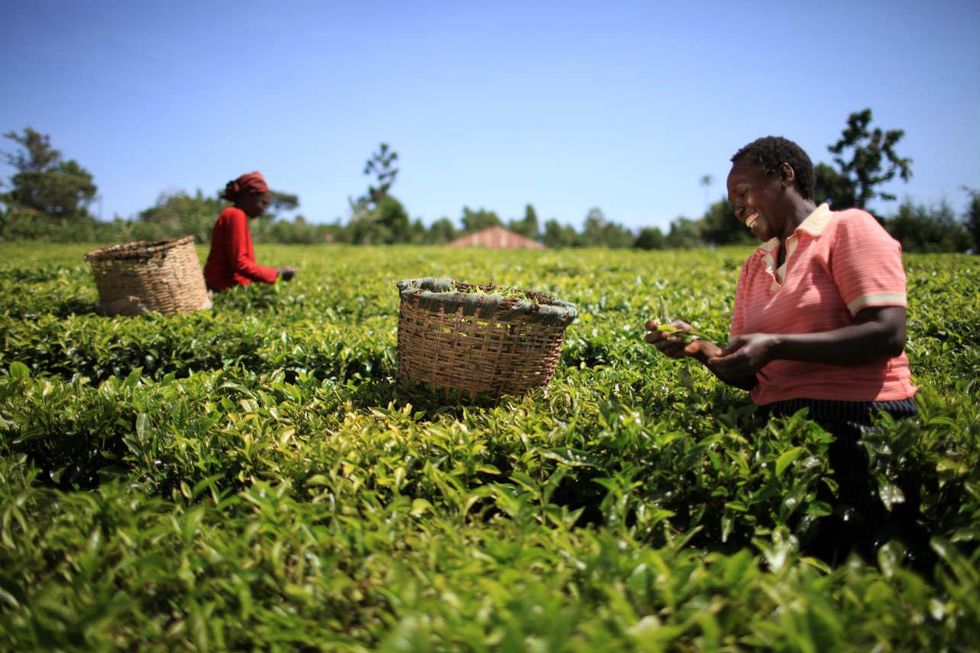 We loan because… we want the world to be a better place
At Kiva, our mission is to connect people through lending to alleviate poverty, and this mission extends beyond just financial poverty. We aim to help increase access to basic services as well, from clean water and sanitation, to getting sustainable energy in homes. Green loans on Kiva help borrowers switch to environmentally friendly products that reduce pollution, promote sustainable practices and help families succeed. Read more about this HERE
Made of individual kiva lenders who are concerned about the environmental impacts of their loans, this is a forum to notify each other of environmentally sustainable loans that are needing funding. Sustainable development projects include recycling, solar, re-use, organic agriculture, health, etc.
Learn more about Kiva here.
Cummins —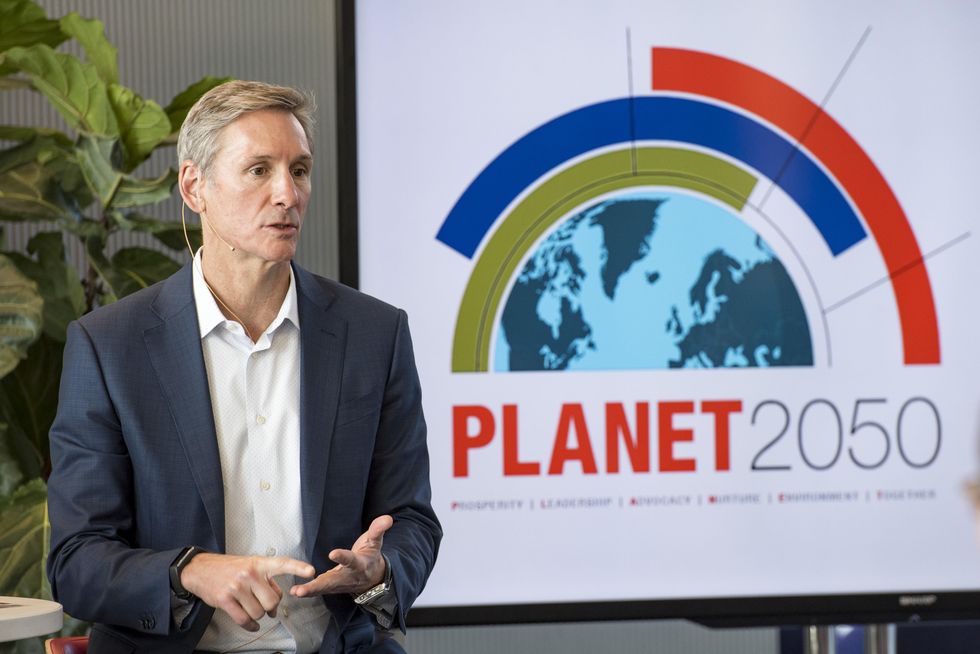 Cummins is committed to powering a healthier environment, stronger communities, and robust and inclusive economies. Our PLANET 2050 environmental sustainability strategy, and our Destination Zero™ product strategy are driven by decarbonization and circular economic principles that promote economic growth while using fewer of the world's resources.
Learn more about Cummins here.
1Password —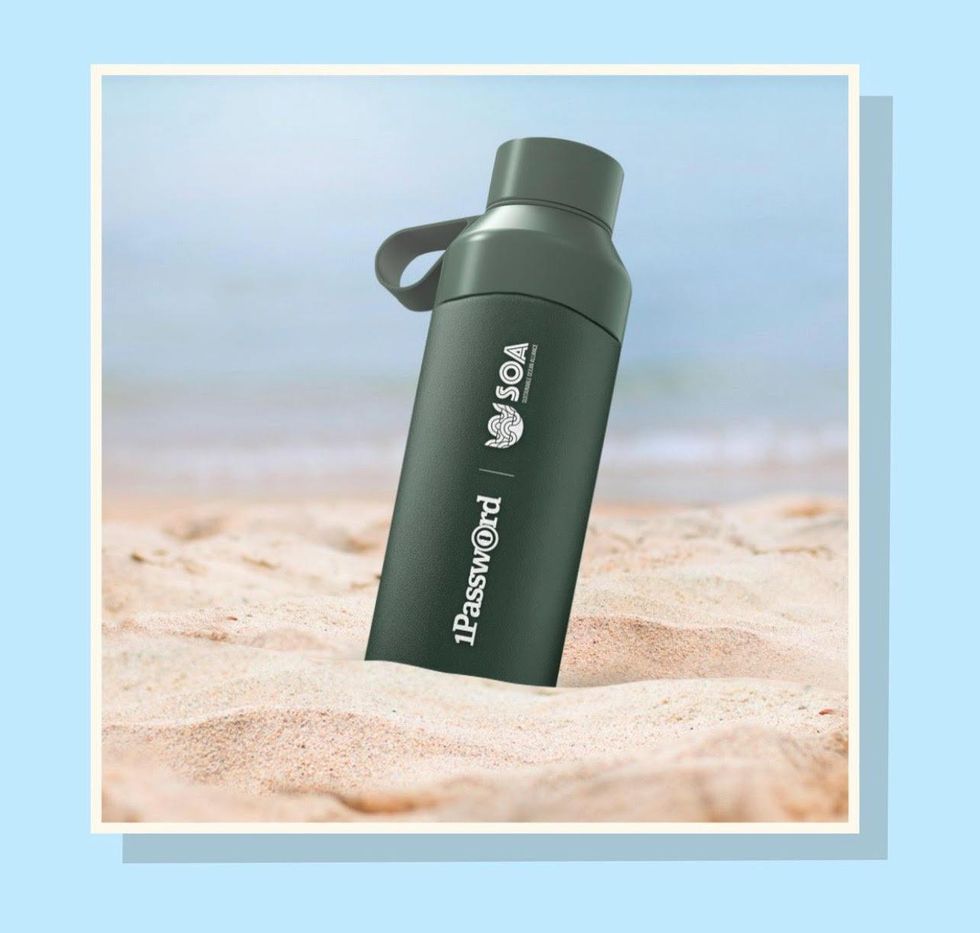 Finding new ways to help the planet and the people around us is some of the most important work we do at 1Password. This year, in celebration of Earth Day and giving back, we partnered with Evertreen and sponsored the planting of 10,000 trees. Additionally, in support of the Sustainable Ocean Alliance sending hundreds of youth to the UN Ocean Conference Youth and Innovation Forum, we created custom reusable tote bags for each attendee. We also participated in a water bottle giveaway in partnership with Ocean Bottle, with one reusable bottle preventing 1000 plastic bottles from entering the ocean. We know there is always more to do to support our planet, and we're excited to continue doing the work alongside these partners.
Learn more about 1Password here.
Samsara —
Samsara is in a unique position where we help our customers to be more efficient, safe, and sustainable by delivering actionable insights that improve their operations.
"Our customers keep the world running. Our solutions help them digitize their operations so that they can cut greenhouse gas emissions, reduce safety and security incidents, and make the world a better place." - Sarah Patterson, CMO at Samsara
For example, a transportation solutions customer saw a 50% reduction in vehicle idling and a 2% increase in fuel efficiency—resulting in 150,000 gallons of fuel saved and over $500,000 in savings per year.
Learn more about Samsara here.
uShip — 
The biggest thing we've done is go 100% remote for those that want to, and we are currently downsizing our office space. Prior to going remote, we issued monthly green credits to those that used public transportation or biked/walked to work. When we had chefs, they used local farms and purveyors. We were also the first commercial customer of Lettuce Grow and had several hydroponic towers on site from we which we harvested our greens for lunch. Participation in community service and clean ups of our local water ways is also an important part of our charity work.
Learn more about uShip here.
Relativity —
"Our sustainability approach at Relativity is to provide our employees with the tools, resources and working groups they need to be more sustainable in both their work and personal lives. We focus on growing responsibly as a company in regards to sustainability metrics, our carbon footprint, and so on – but we also focus on educating and empowering our employees to make thoughtful decisions in their work and home life and become stewards of a sustainable future. We strongly believe that the impact of our sustainability program should be far reaching beyond our offices."
— Amanda Fennell, Chief Security Officer and Chief Information Officer
Learn more about Relativity here.
SumOfUs —
SumOfUs is 20,425,844 people stopping big corporations from behaving badly.
On environmental justice & sustainability — we believe in safeguarding our communities and the planet from the impacts of climate change. We advocate for Indigenous land rights, the safety and wellbeing of climate refugees, reducing plastic waste and water pollution, and preventing habitat destruction
HERE are some of our current campaigns we're very proud to share with you.
Learn more about SumOfUs here.
ServiceNow —
As a purpose-driven company committed to long-term value creation, ServiceNow has made Environmental, Social, Governance (ESG) a strategic imperative across our organization. With digital experiences that make work flow across the complex ESG landscape, ServiceNow is making progress and driving sustained impact for the planet. We've achieved 100% renewable electricity and carbon neutrality in business operations, travel and work from home. Additionally, we're engaging in responsible procurement—33% of our suppliers by spend have set or committed to science-based targets.
Join a sustainability-focused company that makes the world work better. Explore ServiceNow careers and learn about our ESG strategy here.
Learn more about ServiceNow here.
Collective Insights — Community Connection at Collective Insights
At Collective Insights, our community is more than just something we are part of. You'll find us lending a hand or sharing a donation, but more than that, we're invested in making an impact! From the beginning, giving back to our city has been an integral part of Collective Insights' mission.
Chattahoochee River Keepers (CRK), one of our main community partners, has a mission of ensuring there is enough clean water in the Chattahoochee River now and for future generations. Collective Insights partners with CRK annually to serve alongside hundreds of volunteers to keep our community clean.
Watch to learn more about how we support our Atlanta community through short-term initiatives and long-term sustainable efforts.
Learn more about Collective Insights here.
Pax8 —
Pax8 provides positive environmental impact by recycling, utilizing power management in all of our suites, auto shutdown of lighting and appliances. We use environmentally friendly kitchen utensils and supplies. Our environmental group organizes e-waste events for all of our hardware that has reached end of life, as well as several other events to help clean up the environment.
Learn more about Pax8 here.
Workiva —
As a leader in Environmental, Social, and Governance (ESG) reporting, sustainability is part of who we are at Workiva. To reduce our environmental impact and provide a way for our employees to safely dispose of electronics, we're hosting a company-wide E-Waste drive in August. We're also piloting a new initiative to power down our offices on select Fridays to measure the potential impact we can have in reducing our carbon footprint. By eliminating single-use plastics in all our offices, along with recycling in many of them, we're doing our part to take care of the planet.
Learn more about Workiva here.
Light & Wonder — Every day is Earth Day at Light & Wonder!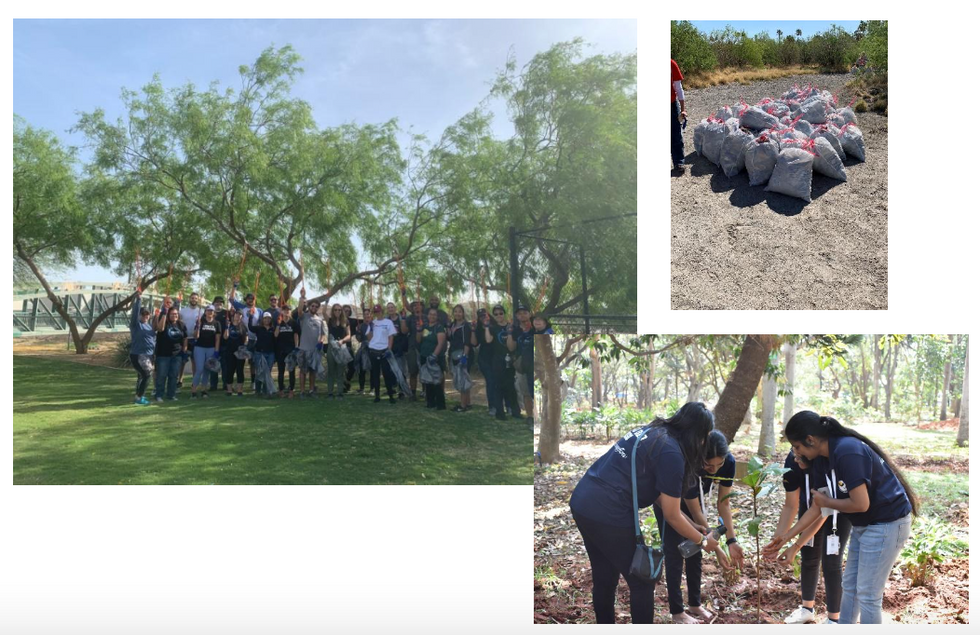 As part of Light & Wonders commitment to invest in our planet and serve as environmental stewards, hundreds of employees come together annually to support a local community cleanup as a partner in The Great Global Cleanup. Employees globally participate in the flagship volunteer program and worldwide campaign to remove millions of pieces of trash from neighborhoods, beaches, rivers, lakes, trails, and parks — reducing waste and plastic pollution, improving habitats, and preventing harm to wildlife and humans. Light & Wonder employees take action on Earth Day each year to participate and mobilize with millions of volunteers to keep our communities and clean and healthy.
Light & Wonder also supports The Canopy Project, funding reforestation efforts worldwide that plant trees across vast ecosystems, with many species completely reliant on them for their survival. Reforestation is an effective method to fight against climate change while also maintaining the many benefits forests provide. Light & Wonder donated more 7,500 trees in the last year alone and remains committed to support reforestation projects is an effective method to fight against climate change.
#LNWCSR
Learn more about Light & Wonder here.
Back Market —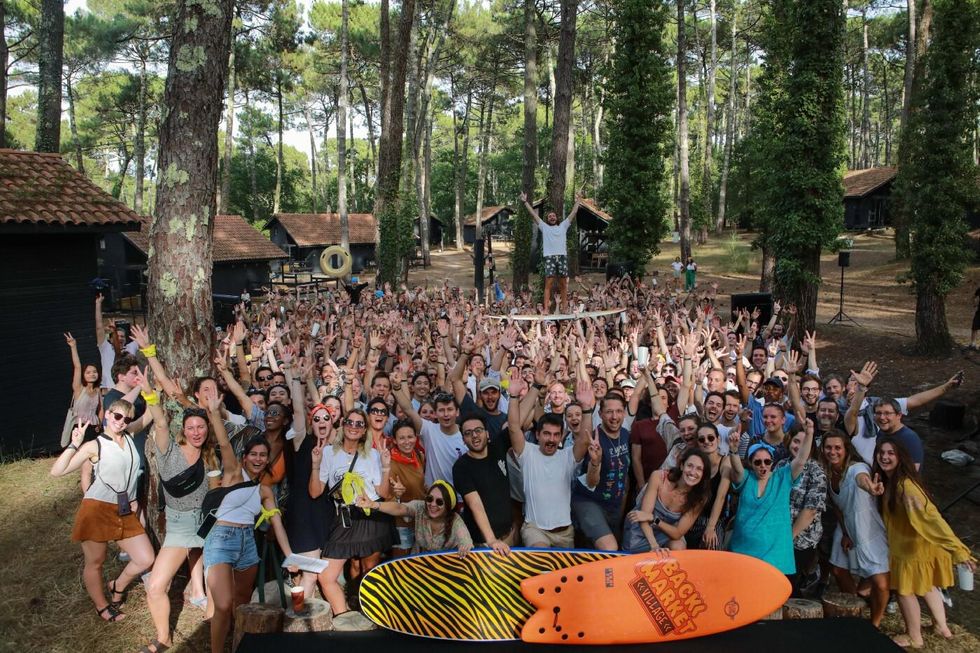 We're rebels with a cause.
Spurred into action by the megatons of e-waste (electronic waste) we produce each year thanks to our collective obsession with new tech, Back Market is challenging people to rethink their tech consumption.
Since 2014, through the sale of refurbished smartphones, Back Market has prevented:
The emission of 580,144,582.08 kg of CO2
The use of 1,878,480,190 kg of raw materials
The consumption of 498,015,680,400 L of water
The production of 1,274,162.93 kg of electronic waste
Learn more about Back Market here.
McMaster-Carr —
At McMaster-Carr, an e-commerce company with five US facilities, we are increasingly aware of the limits of natural resources. Although our operations are not particularly burdensome on the environment, we do our part to create a sustainable economy by focusing on reducing energy and emissions, leveraging recyclable materials, reducing waste and water use and offering our customers products that support sustainability. Specifically, at McMaster-Carr we have achieved reducing energy consumption and emissions by 15% and 25% respectively over a five-year period and continues to divert more than 90% of waste from landfills.
Learn more about McMaster-Carr here.
Northrop Grumman —
Northrop Grumman incorporates environmental sustainability into our business process and operations and prioritizes strong environmental management.
We are committed to achieving net zero greenhouse gas (GHG) emissions in our operations by 2035. To do this, we will continue to emphasize efficiency, invest in low and zero carbon energy solutions and incentivize operations-related emissions reductions through the company's non-financial metrics.
Our company completed installation of our newest solar power-generating system at our Rolling Meadows, Illinois, site in 2021.
Also in 2021, we adopted additional processes to help our employees remain safe amidst the pandemic, while continuing efforts to reduce our environmental footprint, and using our past performance to help shape future goals with sustainability at the forefront.
Learn more about our commitment to environmental sustainability.
Learn more about Northrop Grumman here.
READ MORE AND DISCUSS
Show less
Loading...