GET EMAIL UPDATES FROM POWERTOFLY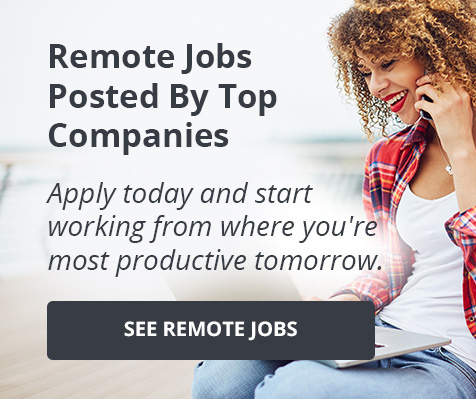 March 14, 2019
popular
Remote Product and Remote Project Manager Jobs
Why They Can Both Be Done Remotely [Scroll Down for Open Roles!]
Back in December, I wrote a post about the 10 best work-from-home jobs.
I was looking for the kinds of remote roles that offer the freedom to manage your own time, the security of consistent monthly income, the support of a team, and the promise of growth. Because we capped the list at 10, some pretty exciting remote opportunities didn't make the list.
---
Namely, product and project management.
Both make for great remote jobs, but if you're sitting there scratching your head about what the heck a product or project manager does anyway and wondering if they're the same thing, check out the key differences here first!
So, why can both of these roles be done remotely?
Product managers and project managers are typically expected to work with and oversee contributors from a variety of teams, from engineering to marketing and sales.
Even in instances where a company has a physical office (or offices), PMs often rely on virtual communication because of the sheer practicality of communicating across all of these teams, which are very often in different physical locations. And because software engineers/developers arguably perform better when they're given the flexibility to work remotely, it's become extremely common for majority in-person teams to have at least a couple remote developers on a project.
The implication? Product and project managers need to be communication pros, comfortable managing distributed teams!
The idea of product and project managers overseeing at least partially remote teams is nothing new, and with tools like Zoom, GitHub, Jyra, Slack, and Asana (the list goes on...), PMs have multiple means of communication at their disposal.
Thanks to these technologies, tracking project milestones, assigning tasks, hosting ideation meetings, and articulating product vision can all be done virtually... and arguably, it's easier that way!
Another point in the favor of remote product managers is that no matter where they're located, they need to be comfortable using technologies to communicate virtually so they can talk with the users of their products -- wherever they are!
If you're a virtual communication wiz who's ready to work from the comfort of your home, check out the open remote product manager and remote project manager jobs available on our site! (You can see a full list of our available remote jobs here.)
Remote Product Manager Jobs
Remote Project Manager Jobs
Talent
10 Full-Time Roles You Can Do Remotely!
Work-from-home jobs sometimes get a bad reputation: low pay, repetitive work, micromanagement... the list goes on. But if one good thing has come out of the pandemic, it's that it's redefined working from home. Remote work has come a long way, and the opportunities to work from home in 2022 are more promising than ever before.

If you're like me, and freelance, task-oriented remote jobs like article writing, data entry, transcription, or professional survey taking (yep, that exists), aren't your thing - don't worry. There are more full-time remote opportunities than ever before that offer you the freedom to manage your own time, the security of consistent monthly income, the support of a team, and the promise of growth. In fact, we've got over 5,000 on PowerToFly.
So, if you're looking for a remote opportunity in 2022 that will push you to develop professionally, look no further than our list of the 10 best work-from-home jobs. And by best, we mean fun, challenging roles that will help you grow, while making a respectable income.
All the jobs listed have average salaries between 45 and 119k, and have average or higher-than-average growth potential (based off of the U.S. Bureau of Labor Statistics' predictions for growth from 2018 to 2028 and/or LinkedIn's 2020 Emerging Jobs Report).
10 Best Work-From-Home (Remote) Jobs for 2022
Jobs sorted from highest to lowest average salary. (Salary data taken from ZipRecruiter, Glassdoor, LinkedIn, and/or the U.S. BLS depending on availability and specificity to remote roles.)
-----

Interested in one of the roles above? Check out these resources for landing your dream remote job and get ready to reap the full benefits of remote work in 2022— doing what you like, where you like. Good luck!
[A version of this article was originally published on Dec. 19, 2018]

READ MORE AND DISCUSS
Show less
Loading...