GET EMAIL UPDATES FROM POWERTOFLY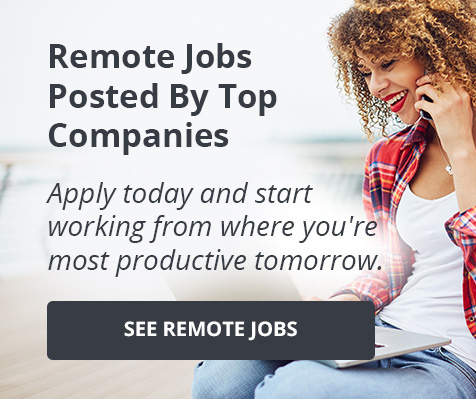 July 13, 2017
Companies That Care
Remote Work Round-Up – July 13, 2017
Believe it or not (we vote for believe), remote work improves workflow. Forbes contributor Deep Patel lays out three reasons why remote work not only has the potential to promote a happier lifestyle, but also to foster a more productive employee. But you already knew that, right? Regardless, read on:
Remote work accommodates the growing focus on work-life balance, giving employees the freedom to plan around their schedules so they can have a life outside of the office and save time for cool adventures.
The results of a Global Workplace Analytics survey on working remotely showed that 95% of employers believed that remote employees led to increased retention. Content workers = company loyalty. Go figure.
According to Stanford's Department of Economics study, employees that enrolled in a telecommuting program contributed to a 20-30% productivity increase. Simply stated, remote workers get sh** done.
As Patel points out, "by giving someone freedom to do what they want, they'll feel a greater sense of self-determination to accomplish goals." This means employees working from home are both happy and motivated to do their work. What more can a company ask for?
If your current company is unwilling to bend after being presented with the data above, or you can't wait to make your life more like gopro's instagram, check out the amazing list of remote jobs below, and apply today!
Apple Inc. – K-12 Systems Engineer
DuckDuckGo – Senior Frontend Engineer
GitLab – Federal Solutions Architect
JOOR, Inc. – Senior Software Engineer, Integrations
PowerToFly – Front End Developer
Zapier, Inc. – Customer Champion
Zapier, Inc. – Data Engineer/Analyst
Zapier, Inc. – Product Designer
Automattic
January is National Mentorship Month— the perfect time to focus on growing and building important relationships with mentors that will positively affect your professional career.
Research shows that mentorship greatly improves career outcomes by providing professional guidance, skill development, and support through major work and life transitions.
We asked some of our partner companies to tell us about the mentorship opportunities they offer. If you're ready to unleash your full potential by joining an impactful mentoring program, keep reading to hear what they said. (Plus, they're all hiring—check out their open jobs under each entry!)
READ MORE AND DISCUSS
Show less
Loading...