GET EMAIL UPDATES FROM POWERTOFLY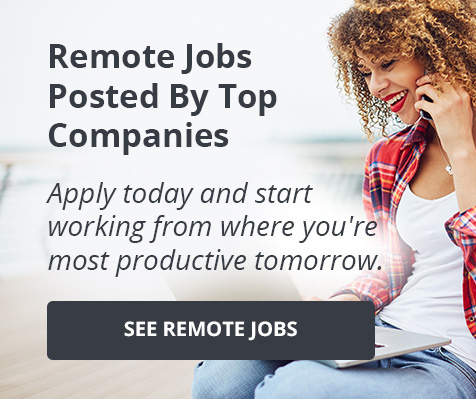 November 12, 2018
Career and Interview Tips
Remote Work vs. Telecommuting Jobs: Surefire Ways To Tell The Difference
Quick tips on what to look out for.
As an expat in Buenos Aires, who until very recently was being paid in Argentine pesos, my salary nearly halved when Argentina's currency plummeted this August. Facing my financial reality like the fiscally responsible millennial I am, I was worried I might have to move back to the U.S. and leave the city I've come to love. But then a friend suggested a seemingly perfect solution to my dilemma: working remotely. I could continue living in Argentina while working for an American company… and start getting paid in sweet, stable U.S. dollars.

---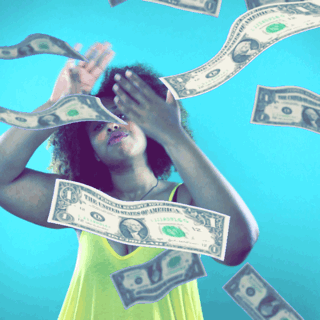 media3.giphy.com
As I began searching for my ideal remote gig, I quickly discovered that not all jobs advertised as remote actually are (luckily my new role as a content marketing associate at PowerToFly is). To my frustration, I realized I didn't qualify for many "remote" jobs because I wasn't located in a particular part of the U.S. Why would companies offer the flexibility to work outside the office and then impose these restrictions?
So I did some digging, and discovered that those companies were actually looking for telecommuters. While many people consider telecommuting and remote work to be synonymous (and oftentimes they are used interchangeably, to the confusion of many, myself included), there is actually an important difference in meaning.
Remote Work vs. Telecommuting Jobs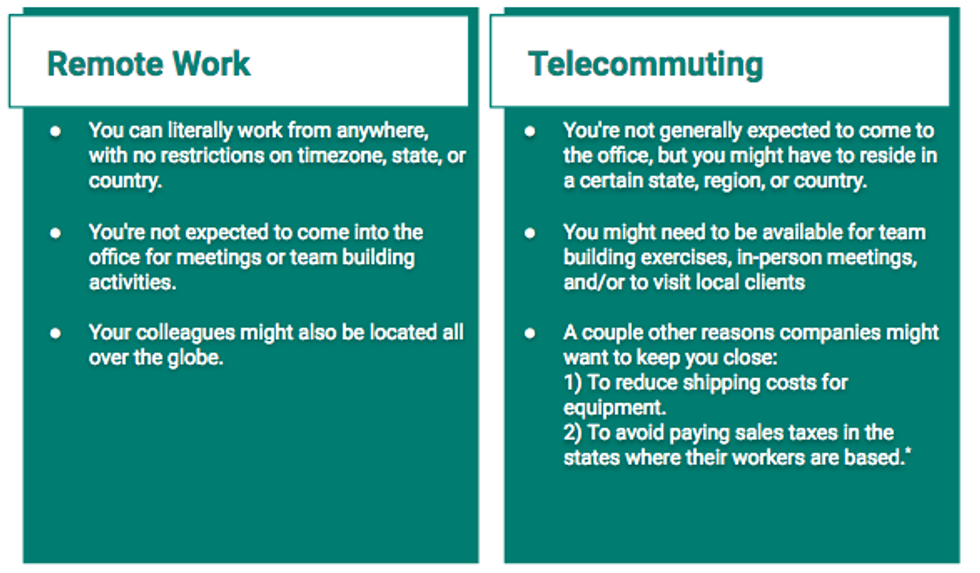 *check out this explanation of the Nexus law if you'd like to learn more
Still confused? Let's look at two examples:

Telecommuting Example
Although Dell labels this job as remote, they clarify that you must reside in the DC area. Why? The position is, "Home Office Based with travel in the Washington DC Metro Area."
Dell mentions the location restriction in the headline for the job, but it would be clearer if they labeled the job as telecommuting instead of remote.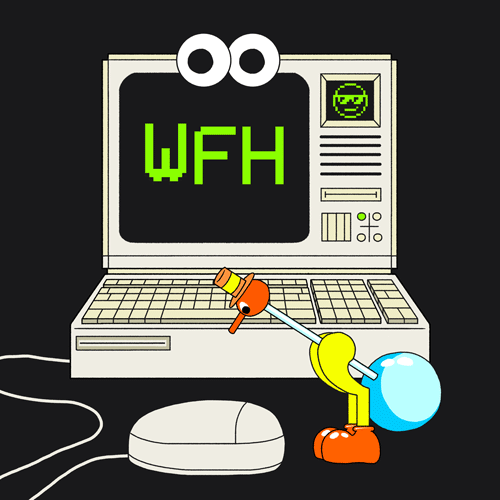 media3.giphy.com
Remote Example
A truly remote gig! No location restrictions are mentioned - actually, the post even mentions that the whole team is remote (a great sign that you'll be well-integrated as a remote team member, and not missing out on any impromptu in-person meetings).
Whether you're an employer or a job seeker, the key is to know what you're looking for and strategize accordingly.
Employers:
Do you want to cast a truly global net in your search? If so, label your job opportunity as remote and make it clear that it doesn't matter where the applicant is based.
Alternatively, if you're only looking for workers in certain regions, label your job as telecommuting and specify the exact restrictions in your post!
Job seekers:
Do you want a truly remote job that gives you the flexibility to work from the beaches of Thailand or the comfort of your bedroom? If so, be sure you're looking at remote jobs that don't have any listed restrictions.
Or would you rather find a job that offers you the flexibility to work from home, with the option to come into the office occasionally and physically interact with your team? If so, you may want to gear your search towards telecommuting jobs.
Regardless of whether you're looking for a remote or telecommuting gig, consider using both terms in your search in order to maximize your chances of finding what you're looking for. In spite of the growth of telecommuting itself (FlexJobs' 2017 State of Telecommuting report stated that nine million people work from "home" at least half of the time, a substantial increase from 1.8 million in 2005), a quick Google search reveals that telecommuting jobs returns 19,600,000 results compared to 546,000,000 for remote jobs.This may be due to the fact that the term telecommuting often evokes images of car phones and oversized blazers… which makes sense, given that the term was first popularized in 1980. Many younger workers who technically would be considered telecommuters prefer to use the term remote worker because it sounds more modern, and employers will often categorize jobs as remote to appeal to a wider base of candidates.
So, is telecommuting just an old-fashioned way to say remote work?
Telecommuting might sound like an antiquated term, but its meaning is distinct from that of remote work, and employers as well as job seekers should be aware of the difference.
That said, whatever type of flexible job you're looking for, always do your due-diligence. If you're a job seeker and you're not sure whether the "remote" job you just found will give you the flexibility to work from your current home-base in Vietnam, ask for clarification. After all, the key to success in any out-of-office job is good communication.
P.S. You can find a complete list of fully remote jobs (and telecommuting jobs!) on PowerToFly right here!
RISE UP THROUGH OUR FREE COMMUNITY
Network with top executives even if you aren't looking for a new role
First look at flexible, work-from-home, in-office roles
Join live chats led by expert women in your field and beyond
Sign Up
From Your Site Articles
Related Articles Around the Web
Talent
10 Full-Time Roles You Can Do Remotely! [Updated Sept 2021]
[This article was updated September 20, 2021]
Work-from-home jobs sometimes get a bad reputation: low pay, repetitive work, micromanagement... the list goes on. But if one good thing has come out of 2020, it's that it's redefined working from home. Remote work has come a long way, and the opportunities to work from home in 2021 are more promising than ever before.
If you're like me, and freelance, task-oriented remote jobs like article writing, data entry, transcription, or professional survey taking (yep, that exists), aren't your thing - don't worry. There are more full-time remote opportunities than ever before that offer you the freedom to manage your own time, the security of consistent monthly income, the support of a team, and the promise of growth. In fact, we've got close to 5,000 on PowerToFly.
So, if you're looking for a remote opportunity in 2021 that will push you to develop professionally, look no further than our list of the 10 best work-from-home jobs. And by best, we mean fun, challenging roles that will help you grow, while making a respectable income.
All the jobs listed have average salaries between 45 and 119k, and have average or higher-than-average growth potential (based off of the U.S. Bureau of Labor Statistics' predictions for growth from 2018 to 2028 and/or LinkedIn's 2020 Emerging Jobs Report).
10 Best Work-From-Home (Remote) Jobs for 2021
Jobs sorted from highest to lowest average salary. (Salary data taken from ZipRecruiter, Glassdoor, LinkedIn, and/or the U.S. BLS depending on availability and specificity to remote roles.)
-----

Interested in one of the roles above? Check out these resources for landing your dream remote job and get ready to reap the full benefits of remote work in 2021 - doing what you like, where you like. Good luck!
[A version of this article was originally published on Dec. 19, 2018]

READ MORE AND DISCUSS
Show less
Loading...