GoTo
💎 Believe it or not, resume gaps can add value to your overall experience. Watch this video to learn how breaks can positively impact your career, and prepare for the interview process at GoTo!
📼 Resume gaps: "The advice I would give to someone with gaps in their CV or resume would be, first of all, try not to focus or worry too much about them." Watch this video, where you'll meet Meghan Fischback, Senior Talent Acquisition Partner at GoTo, who will review GoTo's application and interview process and share some insights on how to prepare.

---
📼 It is a not-so-well-known fact that resume gaps can add value to your overall experience. Whatever the scenario, Meghan advises including a brief explanation of how you spent that time in your CV. Perhaps you were upskilling or took the time to really research and evaluate your next best fit. Try to include the value you obtained from that experience in your brief explanation.
📼 Apart from advice on handling resume gaps, Meghan reveals how you can improve your chances of getting hired at GoTo. First, in general, when you're applying for a new role, you want to take the time to tailor your CV to that opportunity. You need to understand the job description and the requirements and tweak your CV honestly to address them. Second, when you get your interview scheduled, be sure to prepare. Do your research on the role, the organization, company updates, and the hiring managers you're going to meet. Practice some well-rounded examples. You can use the job description as a guide for what questions you might be asked!
Don't Worry About Resume Gaps - Prepare for This Recruiter Question Instead
One of Meghan's go-to questions for candidates is, "What motivated you to apply to GoTo?" What she's looking to understand is: Did the candidate do any research on the organization? And what did they find that got them excited about the opportunity? Apart from that, open questions help recruiters get better insight into a candidate's thought process and how they apply their skills and knowledge for success.
🧑💼 Are you interested in joining GoTo? They have open positions! To learn more, click here.
Get to Know Meghan
Meghan is an experienced, candidate-focused recruiter specializing in volume, multilingual recruitment across Sales, Marketing, Trust & Safety, Customer Care, and IT. Skilled in Talent Acquisition, People Management, Candidate Experience, Employer Branding, Advertising, and Sourcing Strategy, she's passionate about all things recruitment! When she's not growing teams and dreams, you can find her making music or swimming in the nearest ocean! If you are interested in a career at GoTo, you can connect with her on LinkedIn!
More About GoTo
GoTo's flexible-work software – including GoTo Connect, GoTo Resolve, Rescue, Central, and more – is built for small and medium-sized business IT departments, but powerful enough for the enterprise. By building its secure, easy-to-use software, GoTo is committed to ensuring the time at work is well-spent so that time outside of work is better spent. With over 3,000 global employees and over $1 billion in annual revenue, the remote-centric company's physical headquarters is in Boston, Massachusetts, with additional offices and thousands of home offices in North America, South America, Europe, Asia, Australia, and beyond.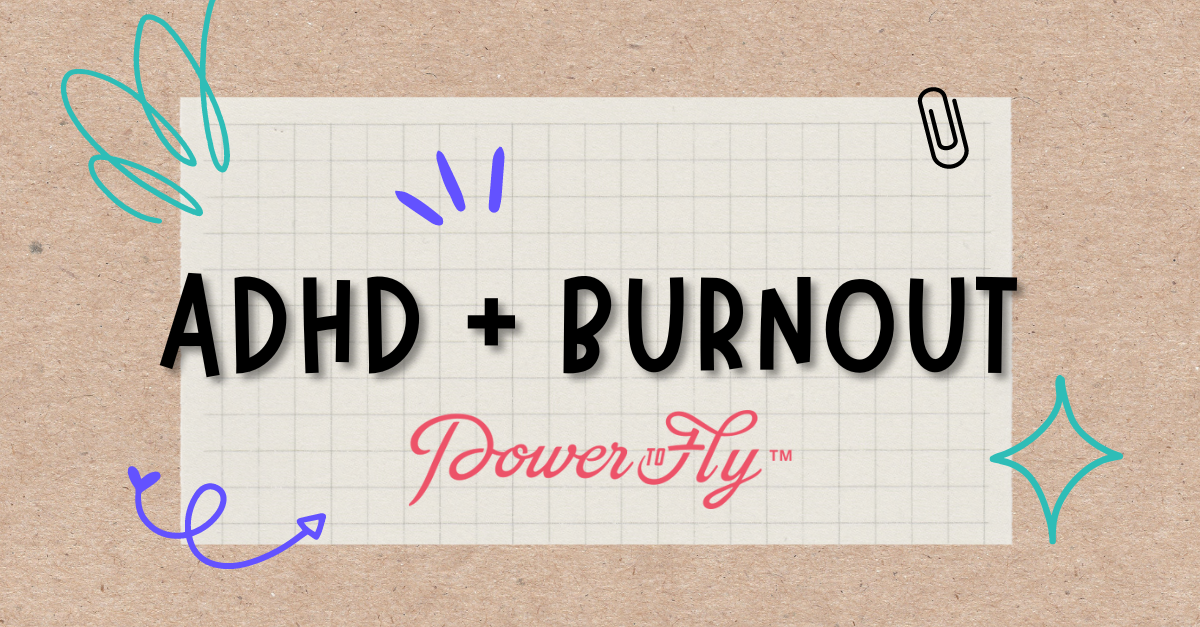 Diversity, Equity, and Inclusion
Have you ever been so exhausted that you quit your job?
You may have been experiencing burnout.
Burnout is characterized by overwhelming exhaustion, detachment from your work, and a sense of ineffectiveness.
And while anyone can experience burnout, if you have ADHD, you may be more susceptible to it.
Before you get to the point where quitting feels like your only option, there are steps you can take to set healthy boundaries and start feeling more like yourself again. Read on to learn how you can recognize burnout in yourself, and what to do if you're experiencing it!
How Does ADHD Burnout Feel?
There are some clear signs that you're burning out, but ADHD can make the descent to burnout harder to detect. These warning signs include:
Lack of motivation - not wanting to do the things you need to do or the things you love.
Exhaustion - feeling overly tired both mentally and physically.
Irritability and mental fatigue - feeling short-tempered, mean, or like you snap easily.
Physical discomfort - body aches, low energy levels, and general pain.
Negative outlook - the tendency to find something wrong with nearly everything.
Emotional dysregulation - feeling weepy, sad, or unable to smile or connect with others.
Generally, burnout starts with taking on too much. Exhaustion creeps in, and you feel like every day is working against you because you are constantly overwhelmed. You may start to feel like the entire world is spinning out of control, or like no matter what you do you can't keep up (or catch up).

If this resonates with you, you might be on the road to ADHD burnout.
Why People with ADHD Can Be More Susceptible to Burnout
So why does ADHD make some folks more susceptible to burnout? There are a few common ADHD traits that often result in behaviors correlated with burnout (taking on too much, working too long, etc.):
Hyperfocus - ADHD is not exclusively about attention deficits. In fact, hyperfocus is the opposite – a deep, intense concentration to the point of being oblivious to your surroundings. Per WebMD, hyperfocus is a state of highly-focused attention that lasts for an extended period of time. You concentrate on something so hard that you lose track of everything else going on around you. When hyperfocus sets in at work, it can be hard to unplug or be aware of the people and environment around you.
Time Tracking - Losing track of time is one thing, but if you find yourself losing track of hours without realizing it, that could be related to burnout. People with ADHD perceive time not as a sequence of events the way others usually do, but as a diffuse collection of events viscerally connected to the people, activities, and emotions that fill them.
Difficulty Prioritizing - Do you take on too much and then struggle to prioritize it? When someone asks for help, does everything often go to the wayside so you can jump in? Or maybe the daunting anticipation of the tasks ahead prevents you from starting. Per ADDitude, ADHD impacts your temporal processing abilities, which can affect executive functioning.
Combating ADHD Burnout
If you think you may be suffering from ADHD burnout, there are a few ways to take back control. Here are three tips for combating ADHD burnout:
Reserve Your Yeses - Pump the brakes when you recognize the early signs of ADHD burnout. Start reserving your yeses right away. Say no, and practice not apologizing. It is okay to say, "I have a lot on my plate right now and cannot take that on. Thanks for thinking of me." Saying no is nothing to apologize for, and it should be celebrated! You are working to protect your energy above all else.
Practice Over-Estimating - If you think you could knock something out in a day, give yourself a week. Overestimate on time and allow yourself the grace to have a little more time than usual to complete projects. Slowing down when starting a new job or role will help you produce high-quality work and prevent ADHD burnout.
Drop the Mask - Be honest with your employer and friends. Let them know that although you seem to keep up internally, you struggle. Identifying ADHD burnout from the outside can be extremely difficult. Your honesty and transparency will position you to determine if your environment is supportive and inclusive.
How to Support Colleagues Dealing with ADHD Burnout
The experiences above may not resonate with you personally, but perhaps you've noticed other people you work with describe or experience them.
If you're a manager, there are several ways you can support colleagues with ADHD (as well as neurodivergent employees more generally) to help prevent burnout. Ask for clarity on when they have felt the most supported at work. Discovery questions like, "how did you feel at that time?" or "how was the pace of that project?" can help you to understand their actual capacity.
Download this free guide
if you're looking for more ways to support your neurodivergent coworkers. Work with your DEIB and HR team to develop new neurodivergent inclusivity standards to help you stay ahead of the ADHD burnout cycle.
READ MORE AND DISCUSS
Show less
Loading...