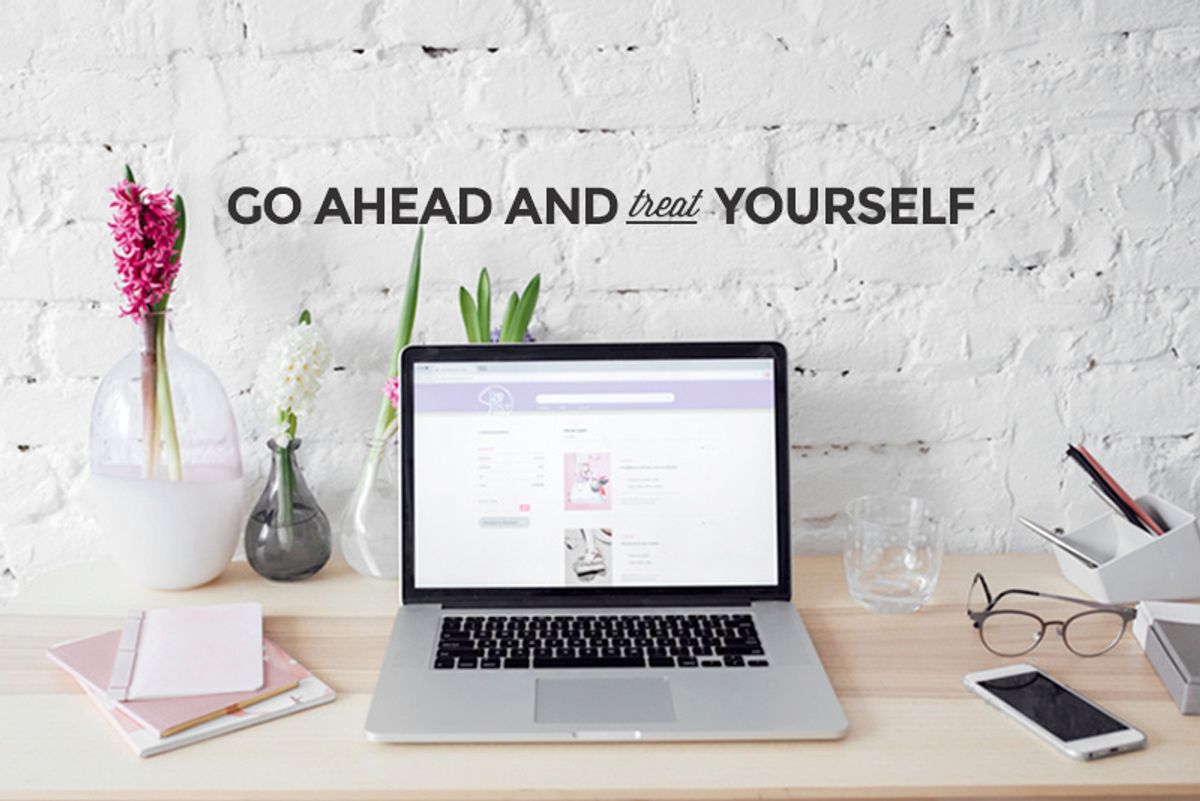 Work-Life Integration
A version of this article previously appeared on Skillcrush, an online education program for creatives, thinkers, and makers that gives total tech newbies the tools to make major career changes.
Haele Wolfe, Skillcrush
What makes a great designer or developer? Is it the right credentials, education, or tools? Or is it something less tangible, like determination or a great sense of organization? Or maybe it's even simpler than that: Success in any field has a lot more to do with your daily work routine than you might think. And as the workweek shifts from the standard 40 (or 50, or 60) hours to something more closely resembling the natural fluctuations of our individual lives, our concept of how we work needs to shift, too.
Taking care of yourself is critical to a successful career: You can't expect to deliver top-quality work if you're constantly exhausted or sick. In that vein, I put together a list of habits and tools for busy tech pros (or really—any employee) to implement into their daily routines so that they can work not just harder, but healthier. There are cheap buys, splurges, and free hacks, but in any case: It's your health. Treat yourself.
---
1. A Better Desk
We know—everyone loves standing desks, but trust us, your brother-in-law who can't stop raving about his new desk has a point. It's indisputable that sitting for long periods isn't good for our bodies, but for employees tied to a computer, it can seem like there are few feasible solutions. Enter the Standing Desk, a concept designed to give desk-bound workers a healthier option for their workday. Keep in mind that if you're eager to try a standing desk, don't go from sitting all day to standing right away. Ease into it until your body gets used to the change. Check out the Ready Desk for an inexpensive, easy to implement upgrade to your work space.
2. Shoes That Do the Work
Even if you don't decide to invest in a standing desk right away, you need good footwear. Whether it's for just around the house, or at the office, good shoes go a long way towards healthy posture and helping combat joint pain. For a sturdier slipper, try this model from LL Bean. Want something a little trendier? This Clark's loafer is subtle, durable, and fit for the office. Not sold? Maybe it's the Unicorn slippers then. And yes, they light up.
3. Great Lighting
It's scientifically proven that light has an effect on your mood and decision making. Get ahead of the curve by looking into some smart lighting for your workspace so that you stay motivated and productive. Fixtures like the TaoTronics Desk Lamp offer you timer options, an LED lifespan, and different brightness levels, among other features. Protip: Check out apps like Eyeleo and F.lux to help combat eye-fatigue from staring at a computer screen. Your eyes will thank you later.
4. Something Green
Studies show that plants make a positive difference in our ability to concentrate. Worried about a lack of a green thumb? Try something from this list of sturdy plants to find the right companion for you.
5. A Boss Chart
What really motivates you? A trip to the beach at the end of the month? Your family? Your pet? Whatever the source, it's important to remind ourselves of what keeps us going, and to make sure that source is a positive thing. Even a small reminder, like a photo or list of goals, can help you find focus in moments of stress or anxiety. So tack up that list, remember you got this, and go get it.
6. A Daily Plan
Organization is the key to fighting stress. Get the ball rolling with this list of productivity apps, or, if you're more of an analog person when it comes to organization, a nice journal and a good pen are often the perfect ingredients for time management. (Bonus: Writing has been linked to improved memory and making a to-do list every day will give you a sense of what your workday really looks like.) I love this planner from Etsy. It's a download so you can print on an as-needed basis.
7. Teatime
Speaking of planning your day—make sure you work in some time for food and water. The benefits of staying hydrated are inarguable, and once you integrate this easy self-care tip into your workday, you'll be asking yourself why you didn't do it sooner. If you're looking for a project, buy loose-leaf (or grow your own) and get a cute teacup friend to keep you company and remind you to keep sipping.
8. Smart Snacks
We covered hydration, but what about food? There are easy, fresh snacks you can fold into your daily eating habits that will make it less of an effort to be productive during those crucial work hours. Nuts in particular have been found to have significant health benefits when consumed in regular, small portions. Salmon, steel-cut oats, and blueberries, make almost every list of healthy snack options. But really, the most important thing is to find what healthy options you like (Ed. Note: Go for the dark chocolate covered acai berries from Costco) and create an eating routine that works best for you, instead of accidentally working through lunch and grabbing the first thing you see, health be-damned.
9. A Solid Backup System
Not to be the bearer of bad news, but if something can go wrong, it usually does, right? Nip chaos in the bud with a solid backup plan for your digital information. CrashPlan and Backblaze are monthly services you can subscribe to for cloud protection that will automatically back up and store the data on your computer. Another option is a separate hard drive, like a Lacie or a SeaGate. Either way, have a plan. That way, no matter what goes down, your work will be safe and you can rest easy.
10. Laptop Protection
While you're at it, increase the chances of a long, healthy laptop life by popping a protector on your mobile workspace—and do it ASAP. Toting around expensive digital equipment is something a lot of us take for granted these days, but the stress that would come with the giant bill following even a small coffee spill just isn't worth the ulcers. For something sturdy, try Speck, who offers a range of protective screens and carrying cases.
11. Some Damn Company
If you work from home, you might find that you get lonely: Chatting with the UPS delivery person for way longer than is appropriate, disputing credit charges just to hear another voice, or keeping the TV running at all times. Give loneliness a run for its money with weekly dinner plans with a friend, some penciled in time to email non-work contacts, or even listen to podcasts while you work. Try Design Matters with Debbie Milligan for something design industry-heavy and interview based, or Code Newbie podcast with Saron Yitbarek, which follows people on their coding journeys.
12. The Right Workout
You probably saw this coming from some of my earlier points, but seriously—what are you doing to maintain your physical and mental health at work? Apps like Move and Big Stretch Reminder are free and let you customize your type and level of exercise reminders, and are catered to personal goals and workplaces. Awareness is an app that helps users become more informed about their computer use (and helps them to take breaks) by gently tracking patterns of screen time.
13. A Regular Refresh
Here's where I'm adding in my own personal recommendation: if you're still having a hard time figuring out how to implement these healthy routines into your workflow, I'm going to suggest totally mixing it up. Sheet masks or face wipes are an easy (and often times hilarious) way to build in a quick, refreshing break to your daily schedule. These Animalz masks are quick, easy, and an uplifting activity to add to your workday routine to get you through that afternoon slump. It'll force you to take a break, reset, and probably take a bunch of selfies.
Remember, an ideal workday starts with conscious, healthy choices. Whether you're just beginning to strike out on your own as a freelancer, or trying to find the motivation to make a career adjustment, these routines are meant to help you find focus, and bring you closer to reaching your goals.
Do face masks and unicorn slippers sound amazing but you haven't made the jump to working from home? Download the free Ultimate Guide to Getting a Remote Job You Love to learn more about steps you can take right now to get ready for the remote job market. The guide also includes a step-by-step plan for learning the digital skills you need in order to land remote work.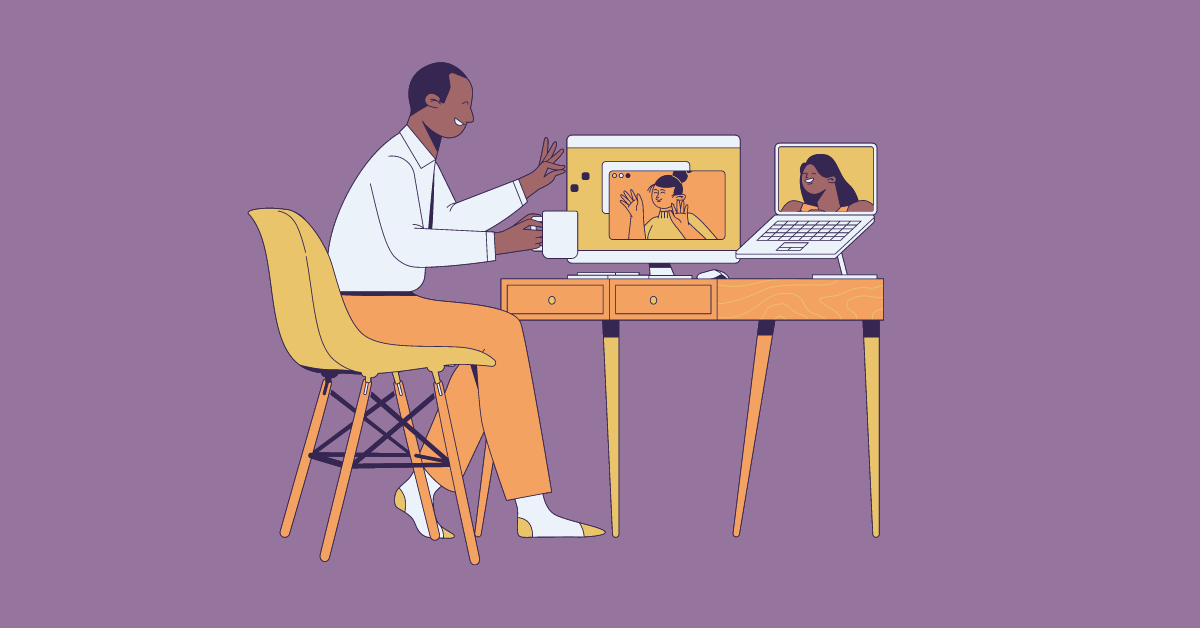 Upskilling and Development
As a result of the COVID-19 pandemic, millions of workers have turned to remote work. Before the pandemic in 2019, 22% of employers offered at least some remote work. Now in 2022, that percentage nearly doubled to 40%. The shift to remote work has become beneficial for me and many of my friends who are recent college grads starting their careers. It's allowed us to dictate our own time and save money from commuting, spend more time with loved ones at home, and have the flexibility to travel and build connections from anywhere. Remote working has also changed how people network for jobs. We have more options now.

Since remote networking is so new, it can be challenging to understand how to do it effectively. Read on to learn my top tips for networking for a remote job.
1. Connect with your high school or college.
The schools you went to want to see you succeed! Connect with old professors, classmates, or alumni on social platforms like PowerToFly or LinkedIn. You can find connections through sports teams, clubs, or topics of interest that will help you build stronger relationships. Don't be afraid to ask them for advice, mentorship, or even introductions.
2. Join a class!
Have you ever had a hobby that you never had the chance to pursue? Coding? Running? Painting? It's never too late to learn something new. Plus, spending time doing what you love will introduce you to other people who love the same thing. Not only will this help expand your social circle, it can also help your career! Once you feel comfortable, talk to your classmates about your work, and ask them about theirs. The perk of classes like these is that you will build relationships with people from all different career backgrounds which will help you determine your career path, especially if you are looking for a mid-career pivot.
3. Register for the Early Career Summit.
My friends and I are very excited to join PowerToFly's Early Career Summit this fall to meet the inspiring founders and CEOs of incredibly impactful companies. This is a great opportunity to get useful tips and learn about different perspectives, professions, and topics that you may be interested in.
4. Attend a virtual job fair and connect with leaders who inspire you.
Job fairs are great for meeting people who can be helpful because everyone attending is there to network! Job fairs at PowerToFly are a great place to meet hiring managers and recruiters from our sponsoring companies. If you come prepared with a resume it is an opportunity to make a great first impression with a company. After the virtual job fair, remember to connect with the people who stuck out to you and introduce yourself on PowerToFly or LinkedIn. Make sure to tell the recruiter who you are, and highlight what stood out to you about their talk.
5. Offer to help.
People really value your help (when it's needed). If you know someone in your network looking to hire a web designer and you know a great place to find one, don't be afraid to make the connection! If you see a job opening that would be great for someone in your network, let them know! Helping people in this way will help build your trust and credibility.
Remote networking has its differences from in-person networking, but it has never been easier to have access to social platforms that can help create connections. It will take some creativity and hard work, but once you have the appropriate mindset the options are endless.
READ MORE AND DISCUSS
Show less
Loading...