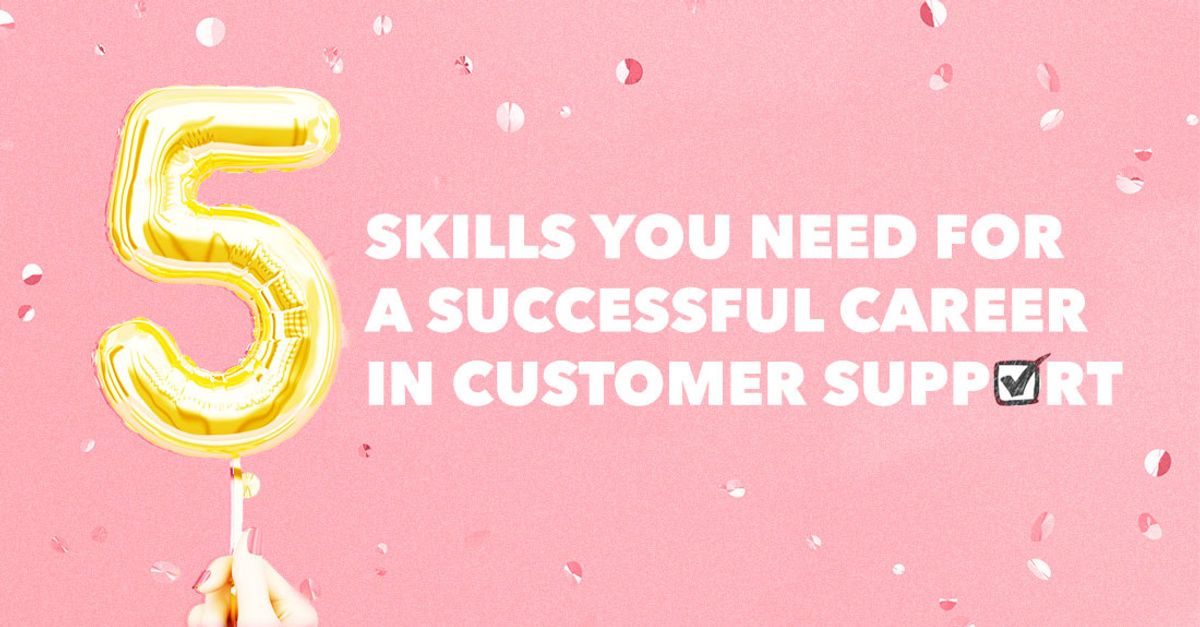 Career Growth and Advice
As competition rises, software companies that want to succeed are investing in good, efficient customer support teams. Companies today know the importance of skilled customer support representatives on board, and the industry is growing rapidly.

---
As demand rises for customer support representatives, so do the opportunities for growth. So let's take a look at the skills you need to cultivate if you want to succeed in this ever-developing field and build a successful customer support career:

1. Patience is a Virtue
If you're looking for a career focused on helping others, patience should be among your top qualities. You will be dealing with people; real people who are not always familiar with all the ways systems, software, or technology in general work. And if you really want to help them, you have to do it patiently.
But patience is not only valuable for when you're managing customers. It's also an important trait that managers look for when looking to bring new people on board. A customer support department works collectively, and you have to remember that your co-workers, peers, and managers may not work at the same pace as you.
You need to couple your patience with problem-solving ability. You're not just a therapist; after you've listened to the problem at hand, you need to come up with a solution for it! And you have to do it fast. Because as much as customers need someone to understand their situation, they need someone who can act on it even more.
2. Brush Up on Your Communication Skills
Your job as a customer service representative is to help people solve their problems in the best possible way. And by "the best possible way," we mean in the most effective and direct way.
Avoid jargon, specialized terminology, and words that only people involved in your industry would understand. Practice your explanation skills and come up with alternative definitions if one that you've already tried doesn't work that well.
Good communicators know what to say, when to say it, and how. It doesn't matter if you're talking to customers via mail, phone, or Skype. The rules you need to follow are exactly the same: Use simple language, speak clearly, and always keep away from mumbling if you're on the phone, and typos if you're chatting online.
3. Bring Empathy to the Table
Empathy in the workplace is key to success.
In this Internet era, seeing your customers face-to-face is not always an option, and, most of the time, you will be talking online. This is where you need empathy to help you figure out how you're going to address their problems and understand their issues.
As fast as possible.
No-one likes too much back and forth, so you need to be able to know right off the bat what their emotional state is and what solution they're looking for.
This isn't just vital for when you need to make things easier for them and provide top-notch support. It's also essential for when you want to create a personalized experience. This way, users won't feel like they're getting an automatic reply that sounds too cold and distant. (Or worse yet, receive a smiley-faced emoji from you asking "How can I help?" when they're fuming. Seriously - some CSRs really fail on the empathy front when it comes to an almost mocking usage of emojis.)
To develop your empathy skills, you need to read or listen carefully and assess tone and the customer's implicit need. Know their problem, their current mood, their personality, how much support is needed for their case, etc.
This will leave you with a happy customer and a successful career in customer support as well.
4. In-Depth Product knowledge
Of course, customer support reps must know how exactly the product they represent operates. Training on product updates, tests, and frequently engaging with the product are all essential.
In addition to staying up-to-date on bugs and fixes, you should also know how your product can help each one of your customers achieve what they want, and tailor that explanation based on their needs, business, and use case. This means you need to have seriously in-depth product knowledge.
In fact, a 2015 study by the Consumer Reports National Research Center, suggested that 70% of people "are highly annoyed when they are transferred to a representative who can't help or is wrong." (We've all been there, right?)
But imagine how good customers feel when they're transferred to a rep that gets it right!
5. Willingness to Learn
You don't know everything. Face that. But you can learn more, and you have to want to learn all the time.
Read this, highlight it, say it out loud, make it your mantra: Investing in your skills will make you a more valuable asset not only for your company but also for any team you might want to join in the future.
Companies today offer more and more training opportunities to their employees because of all the benefits employee training comes with. Get to know more about the product, but also about how to become a more effective professional in your niche. It's not that your employer doesn't believe in your skills. They just want you to become even better.
Take SurveyMonkey, for example. In a recent interview for TalentLMS's e-book on how software companies can achieve outstanding customer support, Dan Henig, Vice President, Customer Operations at SurveyMonkey, says that training and onboarding are everlasting.
SurveyMonkey never stops training their customer support team, and they don't limit their trainings to cut and dry Customer Support related topics: for example, they do emotional intelligence trainings and review how to leverage it during tough customer interactions.
Sounds fascinating, right? That's the spirit!
The Takeaway
Maybe you were already work in Customer Support, or perhaps you're considering a transition. Either way, if you focus on these five skills, you'll be sure to succeed in your career as a customer support representative.
Honestly, all you have to keep in mind is this: Remember what the people you'll be helping need. Not just robotic support. Definitely not just tutorials. They want a real person who understands and provides solutions. They need you!
Related Articles Around the Web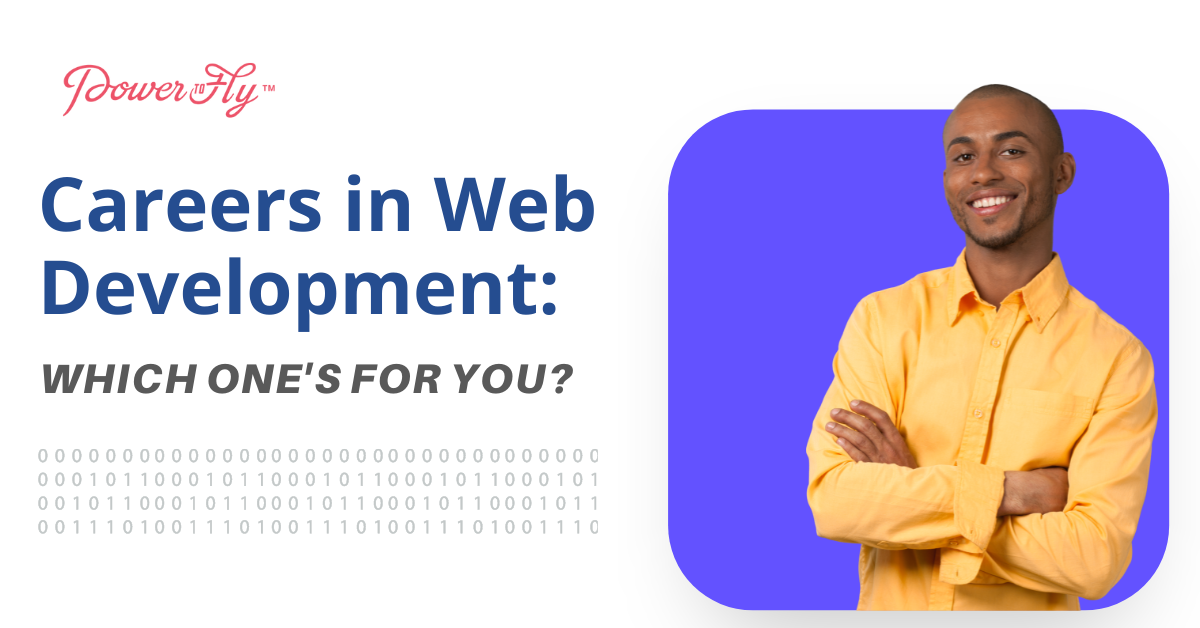 Upskilling and Development
We all have our favorite websites– the ones we frequent, bookmark, and recommend to others. You might even enjoy some website features so much that you've found yourself wondering why they aren't more popular. Or maybe you've experienced times where you were frustrated with a website and wished you could add features or even design your own!
If you've ever found yourself intrigued at the prospect of designing and developing your own websites, then a career as a web developer might be just for you!
As a web developer you would be responsible for coding, designing, optimizing, and maintaining websites. Today, there are over 1.7 billion websites in the world and, in turn, the demand for web developers is on the rise. In order to figure out what kind of web development work best suits you let's start with an introduction to the three main roles in web development that you can choose from.
The Three Types of Web Development Jobs
Front-End Web Development: The Creative Side
Think of front-end development as the décor of a house. The color scheme, furniture, manicured lawns, and overall aesthetic. In terms of a website, front-end development is laser-focused on the appearance of a website and its presentation on different devices. If you're considering a role in front-end development, it's important to learn programming languages such as HTML, CSS, and JavaScript. These three languages go hand-in-hand. HTML allows you to create user interface elements, CSS helps you with stylistic elements, and JavaScript allows you to incorporate online tools and connect your website to back-end functions.
In addition to programming skills, front-end developers need to be detail oriented, creative, willing to keep up with the latest trends in web development, cyber security conscious, and geared toward user-friendly designs. The median salary for a front-end developer can reach well into the $90,000 to $100,000 range.
Back-End Web Development: The Logical Counterpart
While a house can be beautifully decorated, it's incomplete without a solid foundation and efficient infrastructure. Similarly, a well-designed website depends on logical and functional code to power the features of that website. Back-end web development is code-heavy and focused on the specifics of how a website works. If you enjoy the analytical challenge of creating the behind-the-scenes code that powers a website, then back-end development is for you.
Since this role is more code-heavy, it's important that you learn numerous programming languages and understand algorithms and data structures. Some languages that are essential to back-end development are Ruby, Python, SQL, and JavaScript. Back-end developers also ensure that users can successfully retrieve and access data. This requires creating and using APIs (Application Programming Interfaces) which act as messengers that relay data related requests. Additionally, developing the code for the inner workings of a website also requires back-end developers to be conscious of the user interface features designed by front-end developers and to internally mitigate potential security risks. Due to the increased technical aspect of this position, back-end developers normally earn higher salaries than front-end developers. The average median salary for this role is around $118,000 per year.
Full-Stack Web Development: A Little Bit of Everything
A full-stack developer is essentially the Jack (or Jill)-of-all-trades in web development. Full-stack developers need to be knowledgeable about both front-end and back-end roles. This does not necessarily imply that you would need to be an expert in both roles, but you should fully understand the different applications and synergies they each imply. In order to work in this position, you will need to know the programming languages used by front-end and back-end developers. In addition to these languages, full-stack developers also specialize in databases, storage, HTTP, REST, and web architecture.
Full-stack developers are often required to act as liaisons between front-end and back-end developers. Full-stack developers need to be both problem solvers and great communicators. The end goal for a full-stack developer is to ensure that the user's experience is seamless, both on the front-end and on the back-end. In return, you can expect to earn a median salary of $100,000 – $115,000 a year for this role.
Taking the Next Step
Web development is both in-demand and lucrative! All three roles described above contribute to specific aspects of web development and the scope of each one can be customized to the industries and positions you feel best suit you. Regardless of which role you choose, all of them need a foundation in programming.
To gain the programming skills needed in each role, you can enroll in courses or learn independently. Coding bootcamps are a great way to boost your skillset quickly and efficiently.
Click here for some of our highly rated programming bootcamp options! Make sure to check out the discounts available to PowerToFly members.
READ MORE AND DISCUSS
Show less
Loading...