GET EMAIL UPDATES FROM POWERTOFLY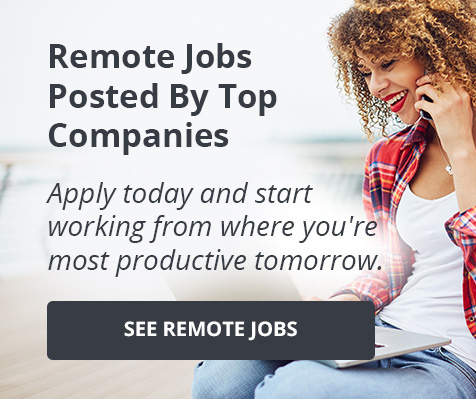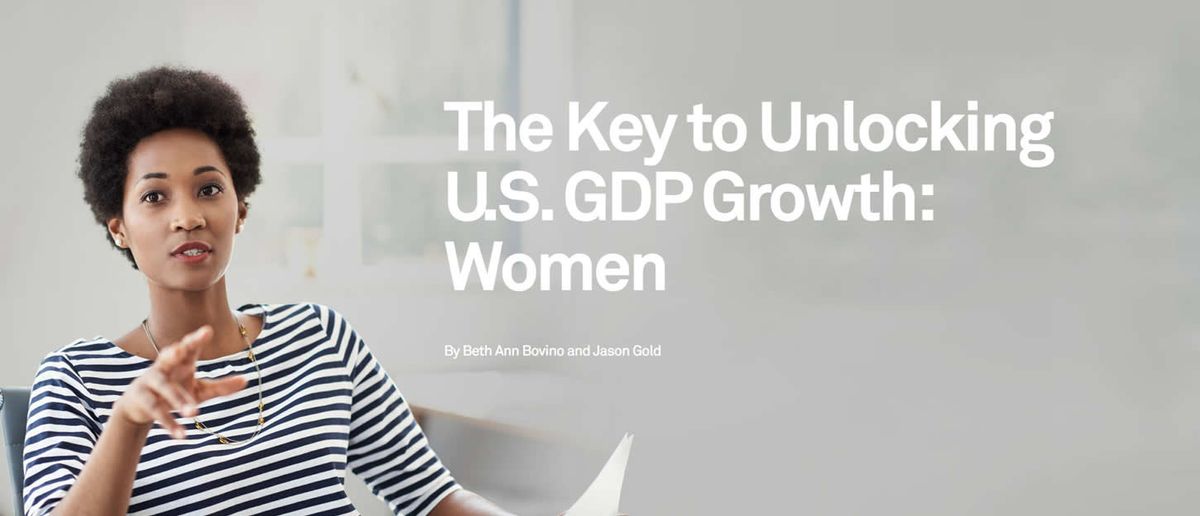 September 23, 2018
S&P Global Inc
The Key to Unlocking U.S. GDP Growth: Women
Below is an article originally written by Beth Ann Bovino and Jason Gold at PowerToFly Partner S&P Global. Go to S&P Global's page on PowerToFly to see their open positions and learn more.
A dual-pronged effort of increasing entry and retention of more women to the American workforce, particularly those professions traditionally filled by men, represents a substantial opportunity for growth of the world's principal economy, with the potential to add 5%-10% to nominal GDP in just a few decades.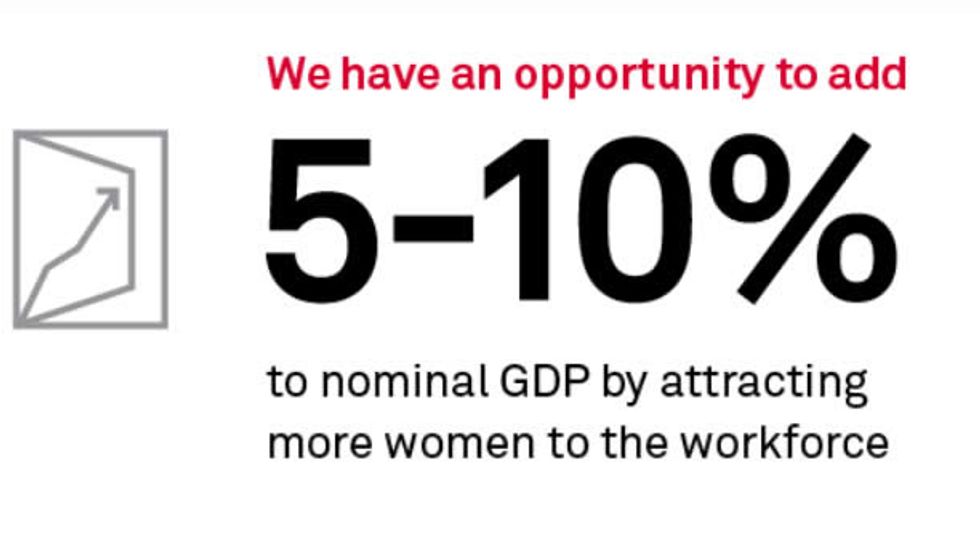 One option to consider is a Congressional Budget Office (CBO)- like "score" on the impact legislation would have on the economic feasibility and accessibility to the workforce for women. A simple, objective, nonpartisan measure that would equip lawmakers with the requisite tools to assess appropriate proposed legislation and its impact on women in the workforce. A score that evaluates the impact of a bill on how many female workers would choose to remain in the workforce, one that helps measure how the cost of working compares with the income from that job.

While gender plays a significant role in workers' vulnerability, the biggest determinant is education—an area that S&P Global believes is the springboard for women's progress. Specifically, promoting higher education in STEM (science, technology, engineering, and math) fields and other areas conducive to careers traditionally pursued by men is the key that could unlock the earning power of American women.
How many Alberta Einsteins or Carla Sagans in STEM (science, technology, engineering, and math) research have we missed because we didn't offer opportunities for them to develop their skills? A concerted effort to create such openings for girls to explore fields normally considered to be the boys' domain would help not only further narrow the gender wage gap, but would move the needle on productivity growth, which today is seen as painfully slow.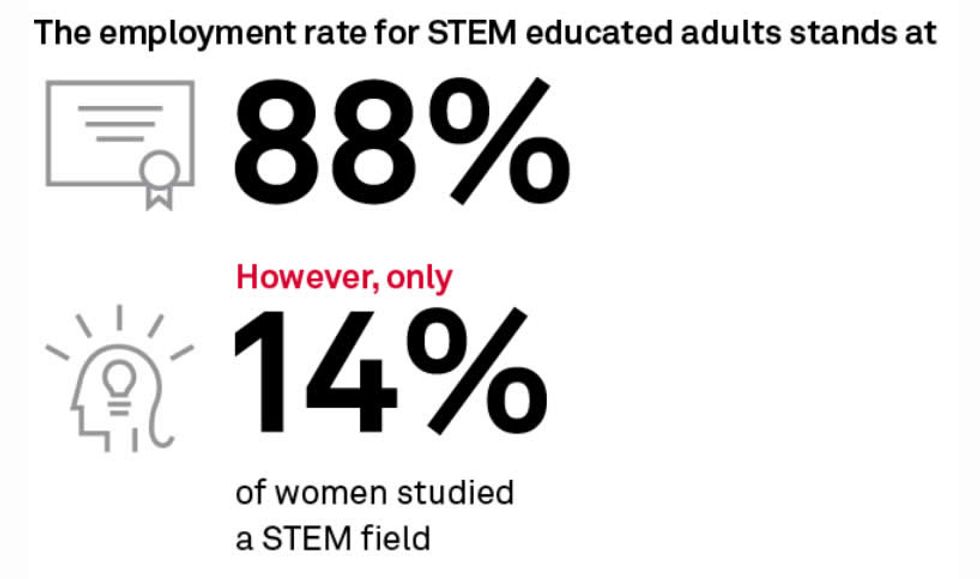 Many women are all too familiar with the "glass ceiling" that keeps them looking up at similarly (or less-) qualified men in positions above them. Add to this a wage gap that, while narrowing, stubbornly persists.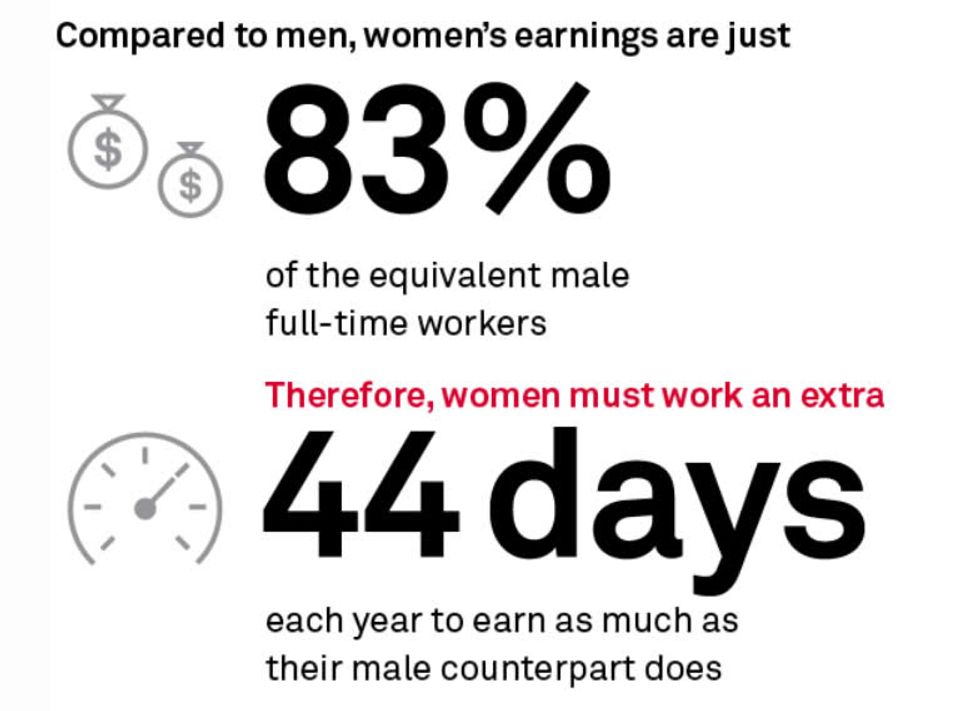 But maybe the most important benefit is the economic freedom enjoyed by women in the workforce. To be sure, many women (and a growing number of men) make the admirable decision to stay at home, raising children and running households. Still, others may feel they have no choice, given the often high hurdles they must clear to do so—not the least of which is societal pressure.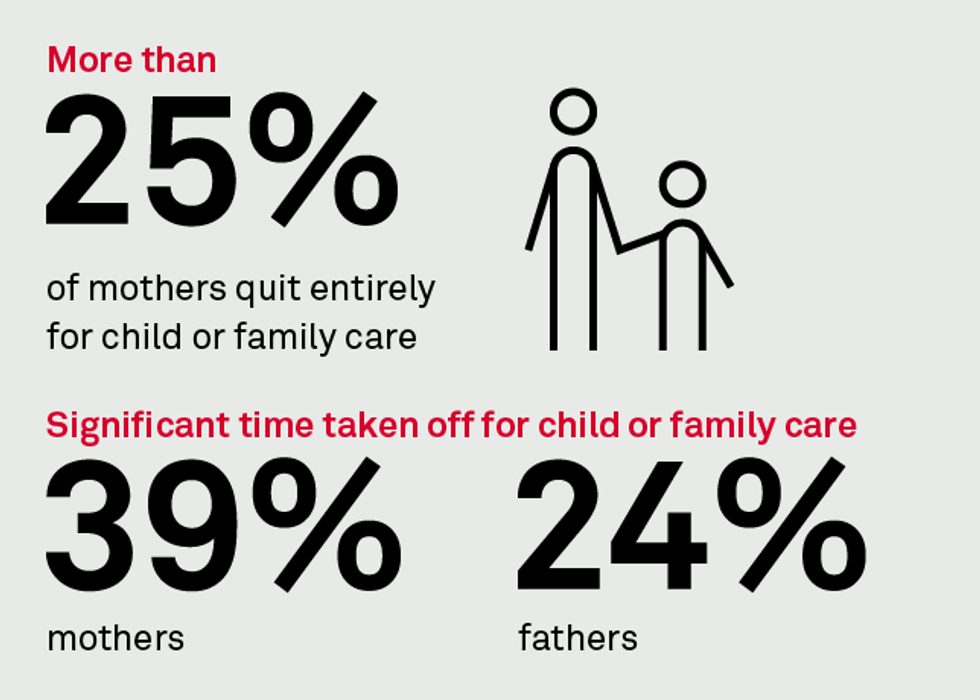 On top of giving the U.S. economy a sorely needed shot in the arm, increased labor participation among women would have knock-on effects that, while perhaps not quantifiable, are no less significant. For example, women are more likely than men to invest a large proportion of their household income in their children's education—and so, as those children grow up, their improved status benefits society and the economy.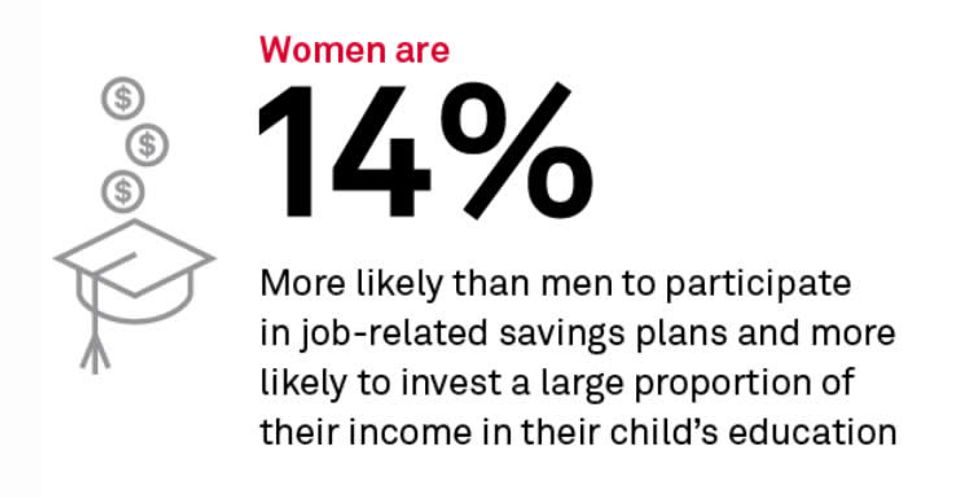 Looking beyond the part-time, and the short-term.
But we should not simply charge ahead without due consideration. As Yellen pointed out in her May 5 speech at Brown University, policies often entail tradeoffs. In other advanced economies, she noted, women are more likely than American women to be employed part-time—and while this may reflect their ability to arrange more flexible schedules and spend more time with their families, it comes at the cost of unbridgeable wage disparity and limited opportunities for advancement. This raises the question of whether policies designed to help women work can have unintended consequences.
Nonetheless, there must be change, and all indications certainly suggest that society recognizes this time in history as ripe for a serious overhaul in relation to gender accessibility to the workforce. This journey begins with a fundamental rethinking of policy (and policy tools) that must break through the structural short-termism of politics and look beyond simply supporting women with family obligations—a cultural privilege in a wealthy country such as the U.S. Pursuing short-term, temporary measures—especially those that leave ideas, innovation, productivity, and perspective on the sidelines—is simply a shortcut to stimulus, not a roadmap for change. If we want to spur the pace of growth in the world's biggest economy to its potential, underutilization of our greatest economic resource is no longer a viable option.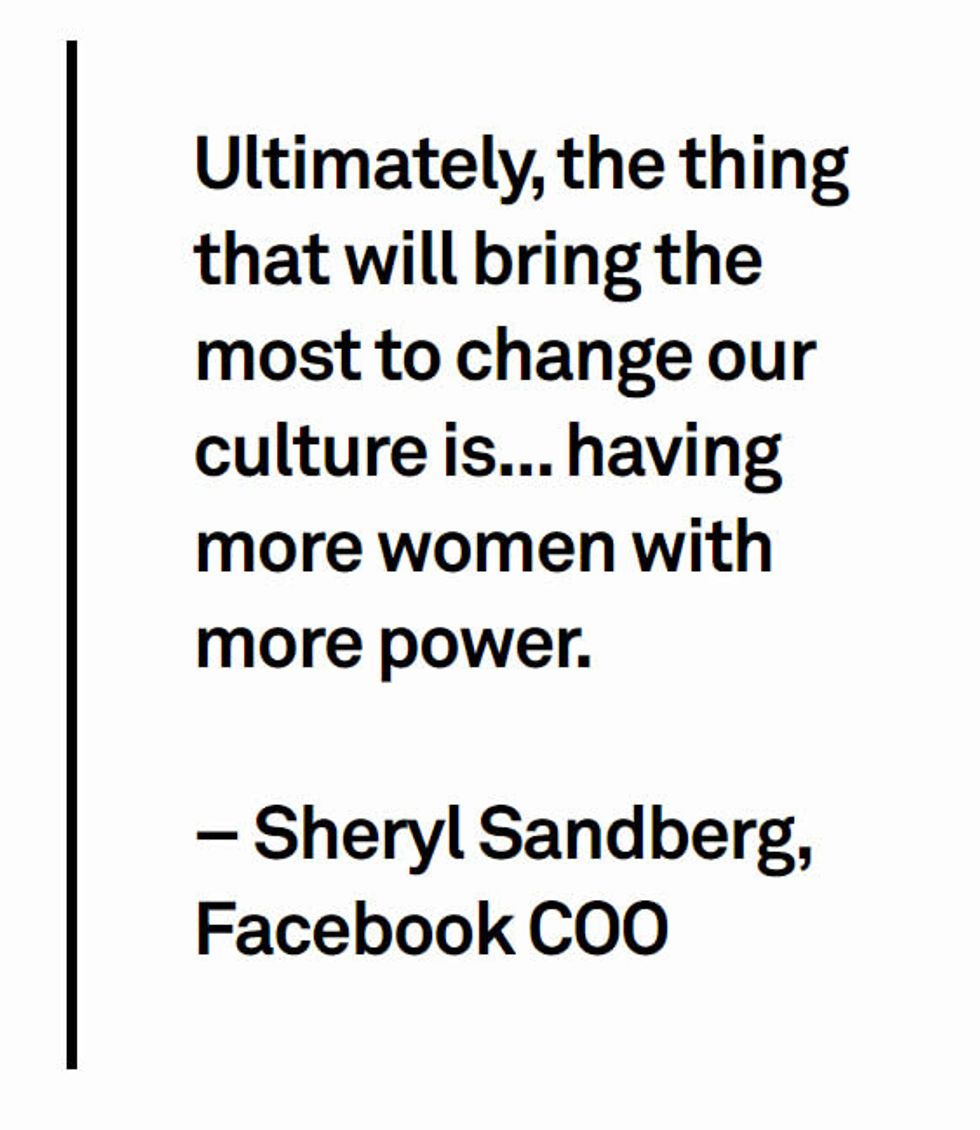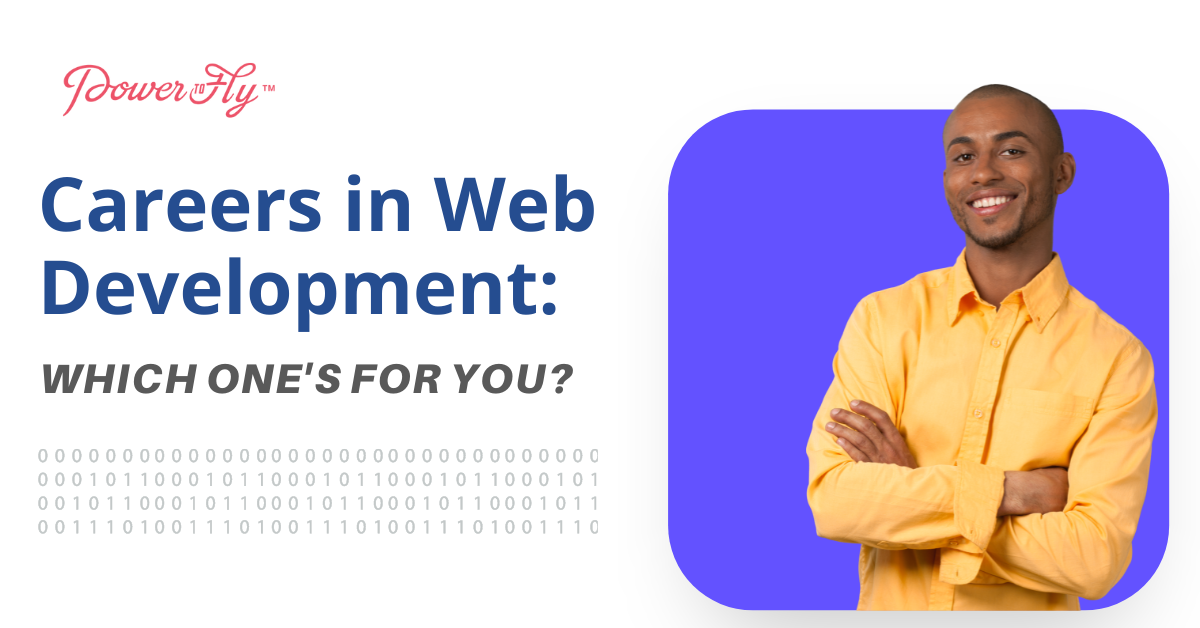 Upskilling and Development
We all have our favorite websites– the ones we frequent, bookmark, and recommend to others. You might even enjoy some website features so much that you've found yourself wondering why they aren't more popular. Or maybe you've experienced times where you were frustrated with a website and wished you could add features or even design your own!
If you've ever found yourself intrigued at the prospect of designing and developing your own websites, then a career as a web developer might be just for you!
As a web developer you would be responsible for coding, designing, optimizing, and maintaining websites. Today, there are over 1.7 billion websites in the world and, in turn, the demand for web developers is on the rise. In order to figure out what kind of web development work best suits you let's start with an introduction to the three main roles in web development that you can choose from.
The Three Types of Web Development Jobs
Front-End Web Development: The Creative Side
Think of front-end development as the décor of a house. The color scheme, furniture, manicured lawns, and overall aesthetic. In terms of a website, front-end development is laser-focused on the appearance of a website and its presentation on different devices. If you're considering a role in front-end development, it's important to learn programming languages such as HTML, CSS, and JavaScript. These three languages go hand-in-hand. HTML allows you to create user interface elements, CSS helps you with stylistic elements, and JavaScript allows you to incorporate online tools and connect your website to back-end functions.
In addition to programming skills, front-end developers need to be detail oriented, creative, willing to keep up with the latest trends in web development, cyber security conscious, and geared toward user-friendly designs. The median salary for a front-end developer can reach well into the $90,000 to $100,000 range.
Back-End Web Development: The Logical Counterpart
While a house can be beautifully decorated, it's incomplete without a solid foundation and efficient infrastructure. Similarly, a well-designed website depends on logical and functional code to power the features of that website. Back-end web development is code-heavy and focused on the specifics of how a website works. If you enjoy the analytical challenge of creating the behind-the-scenes code that powers a website, then back-end development is for you.
Since this role is more code-heavy, it's important that you learn numerous programming languages and understand algorithms and data structures. Some languages that are essential to back-end development are Ruby, Python, SQL, and JavaScript. Back-end developers also ensure that users can successfully retrieve and access data. This requires creating and using APIs (Application Programming Interfaces) which act as messengers that relay data related requests. Additionally, developing the code for the inner workings of a website also requires back-end developers to be conscious of the user interface features designed by front-end developers and to internally mitigate potential security risks. Due to the increased technical aspect of this position, back-end developers normally earn higher salaries than front-end developers. The average median salary for this role is around $118,000 per year.
Full-Stack Web Development: A Little Bit of Everything
A full-stack developer is essentially the Jack (or Jill)-of-all-trades in web development. Full-stack developers need to be knowledgeable about both front-end and back-end roles. This does not necessarily imply that you would need to be an expert in both roles, but you should fully understand the different applications and synergies they each imply. In order to work in this position, you will need to know the programming languages used by front-end and back-end developers. In addition to these languages, full-stack developers also specialize in databases, storage, HTTP, REST, and web architecture.
Full-stack developers are often required to act as liaisons between front-end and back-end developers. Full-stack developers need to be both problem solvers and great communicators. The end goal for a full-stack developer is to ensure that the user's experience is seamless, both on the front-end and on the back-end. In return, you can expect to earn a median salary of $100,000 – $115,000 a year for this role.
Taking the Next Step
Web development is both in-demand and lucrative! All three roles described above contribute to specific aspects of web development and the scope of each one can be customized to the industries and positions you feel best suit you. Regardless of which role you choose, all of them need a foundation in programming.
To gain the programming skills needed in each role, you can enroll in courses or learn independently. Coding bootcamps are a great way to boost your skillset quickly and efficiently.
Click here for some of our highly rated programming bootcamp options! Make sure to check out the discounts available to PowerToFly members.
READ MORE AND DISCUSS
Show less
Loading...