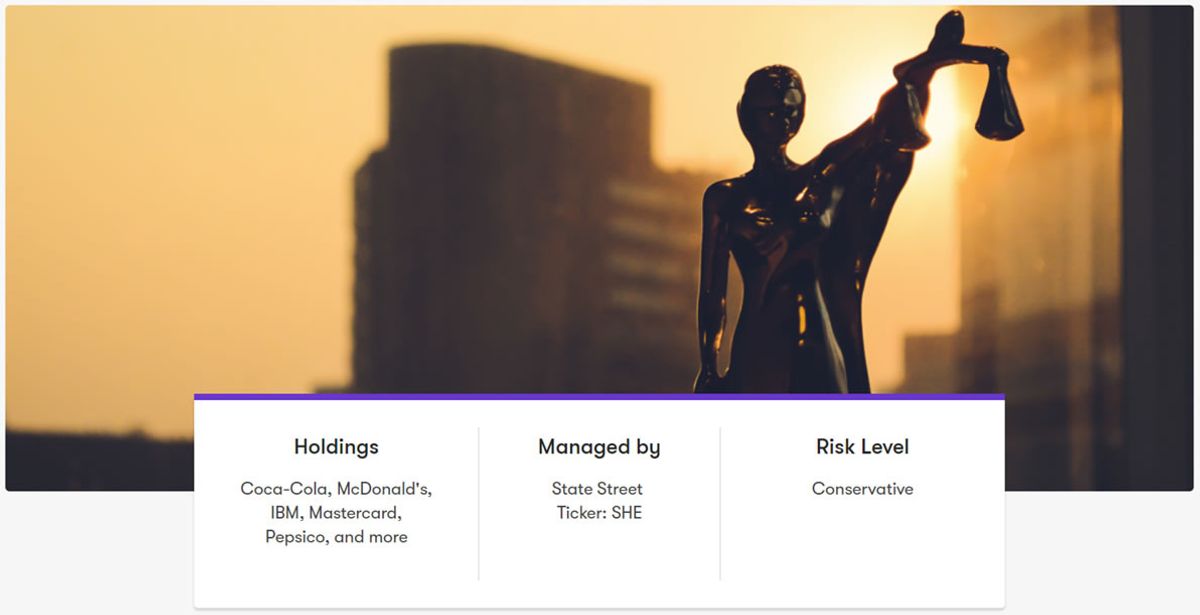 Stash
Below is an article originally written by the Stash Team, who is a PowerToFly Partner. Go to Stash's page on PowerToFly to see their open positions and learn more.
As Beyonce says, it's women (and girls) who run the world. So If you want to invest in companies with women in leadership roles, then the Women Who Lead ETF might be right up your alley.
Let's break it down: Women make up half the population of the planet, as well as half the workforce in the U.S. But when it comes to management positions at jobs, there's a big gender gap.
Women make up less than 15% of chief executives at all companies, and just 4.6% of CEOs at Fortune 500 companies, according to the Center for American Progress. Tech companies aren't disrupting the status quo either. In Silicon Valley, just 11% of executives were women, as of 2014.

Image from: https://learn.stashinvest.com/can-consider-compani...
"Women are still underrepresented at every corporate level and hold less than 30% of roles in senior management, "Facebook Chief Operating Officer Sheryl Sandberg wrote recently in the Wall Street Journal. "And women hit the glass ceiling early: They are far less likely than men to be promoted from entry level to manager, and they continue to lose ground incrementally the more senior they become."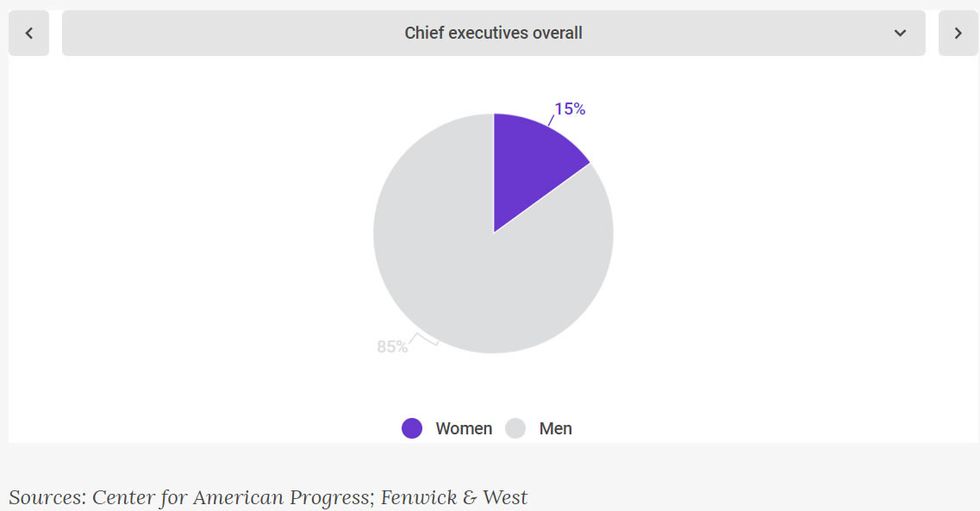 Image from: https://learn.stashinvest.com/can-consider-compani...
Women Who Lead, which has the ticker SHE, based on the SPDR SSGA Gender Diversity Index ETF, wants to change that. It invests in the largest U.S. companies where women have important leadership roles.
What's inside the fund?
SHE first analyzes the 1000 largest U.S. companies, seeking ones with a high proportion of women in executive positions, which it defines as people in vice president roles or higher.
Each firm selected for the fund must have at least one woman on its board, or as a chief executive.
Women Who Lead invests in the stocks of 169 companies, as of December 8, 2017*, including many that you probably interact with on a daily basis. These include Coca-Cola, McDonald's, IBM, Mastercard, and PepsiCo. The fund also includes shares in the pharmaceutical giant Pfizer, calculator and semiconductor producer Texas Instruments, as well as defense company Lockheed Martin.
Want to know more about the companies in this ETF? Click here.
Who is this investment for?
Increasing numbers of investors care about the social goals of the companies in which they invest, and they want to make sure those goals align with their own.
If gender equality and diversity are important to you, this fund may be for you.
Risks and performance
The fund launched in 2016, so it's relatively new, which means it doesn't have a long track record compared to some other funds. At the same time, the fund represents companies with a social goal of promoting gender diversity in executive leadership.
Generally speaking, companies with social goals can potentially build stronger brand recognition with consumers, may have an advantage attracting top talent, and can potentially be in the vanguard of companies conforming to new government regulations, which could all affect performance, according an analyst for Morningstar in 2015.
SHE doesn't over-allocate its stocks in any one industry and is similar to a broad market fund, according to analysts, which is important for anyone who wants to diversify. SHE had a year to date return of 18.43% as of December 8, 2017. By comparison, Workplace Equality ETF (EQLT), a fund that holds the stocks of companies that support workplace equality of LGBT employees, had a return of 19.23% over the same time period.**
Other considerations
SHE has an expense ratio of 0.2%. That's roughly half the expense ratio of the average ETF, which is 0.44%, according to the Wall Street Journal.
What are some other investments like this?
Stash offers other ETFs that have social goals. Some examples are Equality Works (EQLT), which invests in companies that promote workplace equality for LGBT employees;
Clean and Green (ICLN) highlights companies working to combat global warming by developing renewable energy; and Do the Right Thing (SUSA), focuses on companies with high environmental, social, and corporate governance scores.
Top Takeaways:
SHE invests in large companies with at least one woman in an executive position.
The fund might be good for investors who care about social goals and the impact of the companies in which they invest.
SHE doesn't invest in one sector or industry and might be good for investors seeking diversification.
*Source: State Street Global Advisors
**Source: Yahoo Finance
By Stash Team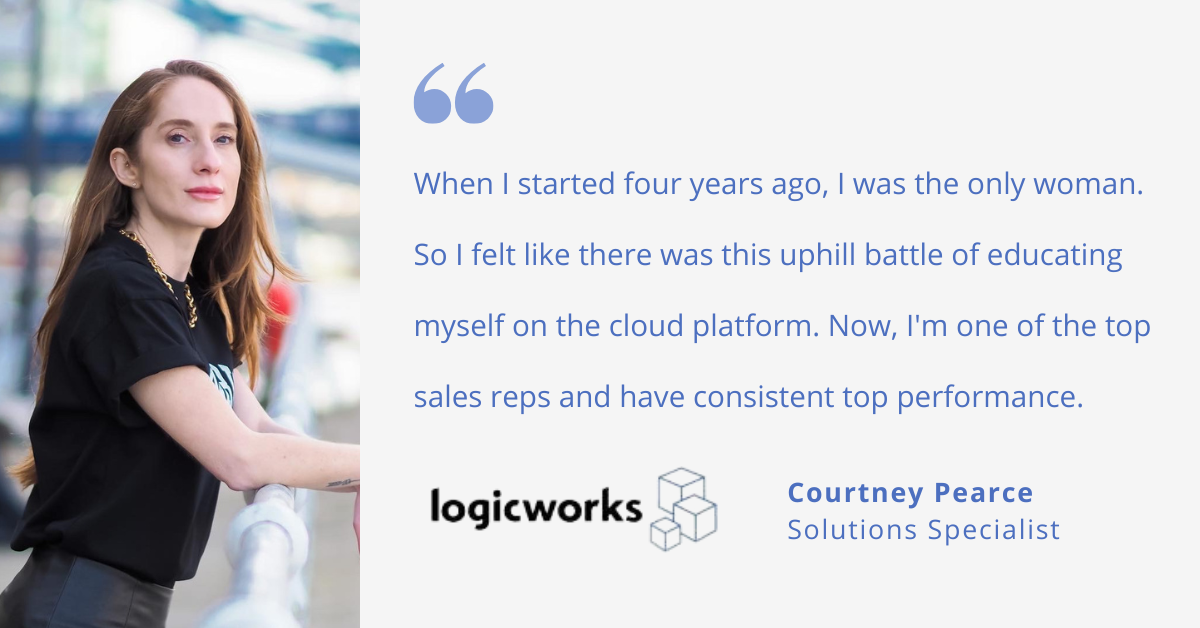 Logicworks
Courtney Pearce's background isn't one you'd expect to find in a tech sales position. But as a motivated self-starter, it makes all the sense in the world that she's been so successful in her role as Solutions Specialist at Logicworks.
If you ask her what she's most proud of about her time so far at Logicworks, she'll say her growth over the last four years.
"Even though I came from a technology company that was selling software, selling infrastructure and infrastructure managed services is very different. There was a learning curve. And when I started four years ago, I was the only woman. So I felt like there was this uphill battle of educating myself on the cloud platform. Now, I'm one of the top sales reps and have consistent top performance. So I'm most proud of my growth over the last four years."
Courtney has a lot of wisdom to impart to those interested in taking on the sales side of tech. We sat down with her to learn more about how she broke into the tech world by utilizing her retail experience.
An Unexpected Path Into Sales
Courtney started college as an Orthodontics major but eventually realized that science wasn't her calling.
"Although I'm a great student, science and math were difficult subjects for me," she admits. "I ended up taking a random textile and clothing elective and it was my favorite class."
She enjoyed the breadth of the program and decided to become a Textiles and Clothing major.
"You got the opportunity to learn the sociology behind why people wear clothes, the chemistry behind dying, how to make fabric, then creating a line from start to finish and marketing that to the class," she shares.
Although fascinated by the program, her career journey didn't lead her to the fashion industry but rather to an adjacent career in retail.
"I ended up accepting a leadership position for a big box department store," she says. "At 23 years old, I ran a 35 million dollar store. It was a great experience and I learned a lot."
After two years of working in retail for various name brands, she found her way into a tech company through a recruitment role.
Breaking Into the Tech World
While Courtney was working at a recruiting firm, she was approached by a security tech company with a position as a technical recruiter. She was interested in the role and applied, but didn't get an immediate response.
"I didn't hear back, but continued to follow up," she recounts. "One night, I got a phone call that said, 'You're not a good fit for the technical recruiter role, but we have this new group that we're building out called business development and they're working directly with sales. Based on your experience and the fact that you're willing to follow up, we think you'd be a great fit'."
At the time Courtney knew nothing about the tech space but that didn't stop her from interviewing for the position.
"I spent an entire week browsing the website, watching all their product marketing videos, and tried to wrap my head around what this security company did," she explains.
During the interview, she blew them away with her knowledge of the company.
"I gave my five-minute spiel and I think that impressed them," Courtney shares. "I had taken the time to research the company, and not having had a tech background, I tried to comprehend what they do."
Hired as a business development rep, she had the opportunity to build the team from the ground up.
Reaching New Heights at Logicworks
Courtney continued to rise in the ranks, but she eventually felt that she had hit a plateau. With a desire to try out something new, she looked to Logicworks who offered her the career advancement she was looking for.
"I had reached my potential with my previous employer. There wasn't anything new for me to learn. I wanted to figure out what was next in my career. There was an opening at Logicworks for a Solution Specialist to be based in Boston. That was enticing for me."
When Courtney moved to Logicworks she was able to explore job autonomy.
"It gave me the opportunity to move into a territory that I'd been working in for many years, but also run that territory like my own business," she explains. "There was nobody else working within that space, and I could create the process that I wanted to."
Now at Logicworks, she experiences the constant changes of a cloud system.
"I'm constantly learning," she shares. "We're constantly evolving our services, what products we're providing, and how our services are integrated as the cloud is maturing. It keeps me interested every single day."
Now as a sales lead, Courtney focuses on building relationships with current and potential clients.
Coincidentally, the relationship-building skills that Courtney uses on a daily basis come from her experience in retail.
"I think coming from retail, you have to be able to talk to anyone," she says. "You're getting a lot of different customer personalities, so it allows me to be comfortable talking to strangers, which I think is key in sales."
Along with sales experience, Courtney's internal drive has been key in propelling her forward.
"Being a self-starter and watching YouTube videos on what the cloud is, what AWS is, and taking that time on my own to learn and absorb as much as I can are, at the end of the day, the kinds of things that you can prepare you to enter the tech space," she explains.
Ultimately, it was the skills she learned in retail and her self-taught understanding of tech that have led to her success.
Advice for Entering the Tech World Through Sales
If you're looking to enter the tech world from a sales angle, Courtney offers this advice:
Find companies that resonate with your values. "Whether you like their product and think that product is solving a pain point in the marketplace, or you align with the company's values, work for a company whose mission you support," Courtney advises.
Be pleasantly persistent. "The biggest thing that helped me was when I reached out and nobody responded, and then I followed up and nobody responded, and then I followed up again and they called me. Being pleasantly persistent shows that you're interested and invested in the organization," she explains.
Do your research. "Take the time to figure out what the company does and what they are all about. Educate yourself above and beyond the basic training material to ensure that you have the right knowledge base to be successful in the role."
If you are looking to grow within the tech space, check out
these open positions at Logicworks
.
READ MORE AND DISCUSS
Show less
Loading...