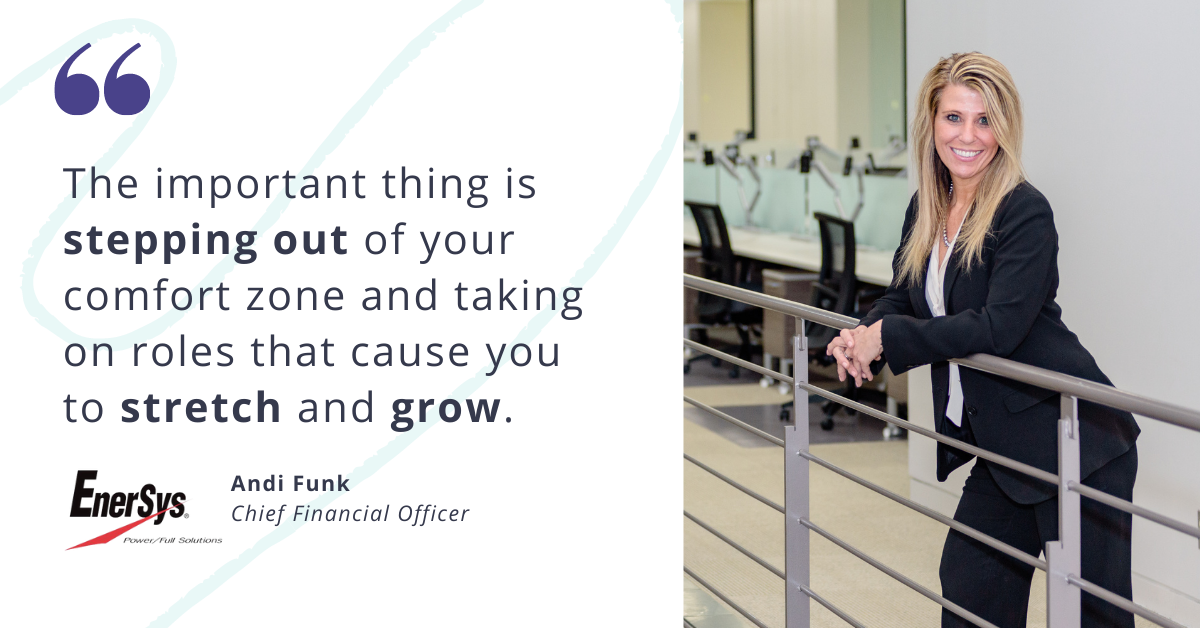 EnerSys
Andi Funk knows firsthand the power of lifting up others.
"That can mean helping someone else yourself or, equally as impactful, hearing about a problem or issue someone is facing and proactively connecting them to a friend," she says.
She's seen that play out in her own life. "Many good things that have happened in my life have stemmed from times I've given back," she reflects. Part of what led her to become the Chief Financial Officer of energy storage technology company, EnerSys is because of her belief in doing good.
She was volunteering as Audit Committee Chairperson for the Berks County United Way when she first met Mike Schmidtlein, EnerSys's former CFO, who later asked her to come on as his backfill successor.
"I'm a big believer that what you put out there comes back to you. Giving to others and to the community is not only personally fulfilling, it can also be very synergistic," says Andi.
Now, in a leadership role not often held by women, Andi prioritizes giving back not just to her general community but specifically to other women and girls looking for guidance on finding their own paths to success.
That includes working with EnerSys's Women in Leadership (WiL) business resource group and creating opportunities for younger talent to experience what it feels like to be a woman in business.
Read on to hear more about Andi's story and the lessons she wants to pay forward to others.
Putting Herself in Positions to Succeed
Andi believes that your greatest strength is often your greatest weakness. She reflects that a key to her career progression has been identifying her strengths, and also being self-aware to recognize and compensate when these strengths play out as weaknesses.
"Math was a strong suit; being analytical always came pretty naturally to me," says Andi, who started out as an accounting major with a sociology minor. She focused on accounting specifically because, "It's the language of business, and no matter what you do in business, it's important to understand how financial statements work and how a company makes money."
After several years in industry, she wanted to go back and learn something new, and was deciding between pursuing a law degree and an MBA. Her then-employer was willing to sponsor the MBA, which steered Andi in that direction, and she began her program shortly after going on maternity leave with her first child.
"More than anything, I learned how to take on a ton. I learned how to grow. How to prioritize, how to identify the big rocks and know what I needed to focus on," she says.
While she felt some trepidation about joining the program at the start—" What am I doing here?" she remembers thinking—she ended up recognizing the power in embracing something new.
"The important thing is stepping out of your comfort zone and taking on roles that cause you to stretch and grow," says Andi.
Inspired by that lesson, she went on to take on new roles in new parts of the business cycle: leading business development, where she negotiated and structured deals and oversaw due diligence; manufacturing, where she implemented a cost analysis program; corporate finance, where she took a company out of chapter 11 bankruptcy, restructured their loans, and put a new forecasting and budgeting process into place; and even C-suite leadership, where she built a meaningful work culture.
"[These experiences] allowed me to see across a business, and really be empathetic for the different functions and how they need to collaborate and work well together," she says.
That is exactly what she's now doing as EnerSys's CFO. When she first joined the company as VP of Finance in the Americas, she instituted a new strategic planning process, along with other transformational efforts. Now, as CFO, Andi is working on integrated business planning process improvements to align internal resources and capital allocation decisions, and strengthening external stakeholders' awareness of how EnerSys's solutions are connected to a changing world.
"Our Lines of Business are tied to global transformational megatrends such as 5G, renewables, grid stabilization, electrification, automation, and changes in materials handling, because our products enable these things to happen more efficiently. This is an incredibly exciting time to be at EnerSys," she says.
And an enjoyable one, to boot.
"What I really like about EnerSys is that we're a large company, so you've got the complexities and interesting dynamics of being a midcap, global, publicly traded company. But it also feels like a family. It's easy to get access to people. People have open-door policies. People care about each other," she says. "From day one coming into the organization, you don't feel like an outsider."
Lifting Up Others
No matter how busy her schedule gets, Andi continues to prioritize making time for others, especially other women looking to build careers in finance.
Her efforts to that end include participating in coffee chats for the company's WiL group; speaking to middle and high school students about her career; serving as a mentor and an executive in residence for college students; arranging job shadow sessions for young girls; leading PeaceTrust, an affinity group for a local women's shelter, Safe Berks, and participating in EnerSys's own mentoring program, among other projects.
Andi is cognizant that she's made choices along the way that have allowed her to have both the career and the family that she currently enjoys, and one of the main things she stresses with her mentees is the importance of examining their priorities.
"It's easy to feel conflicting pressures like, 'Oh, I really should be a stay-at-home mom' and 'I really want a successful career,'" she says. "You have to find out what's the right place and balance for you. As my mother taught me and I now repeat to my own children, 'With every privilege comes an accompanying responsibility.' You can't have one without the other; you have to want both."
4 Key Lessons for Success in Leadership
Looking back at the path she's taken, Andi can identify a few key learnings for others considering a role in leadership:
"Have confidence in trying something new. Every time I got out of my comfort zone was where I've had the most rewarding work experiences and personal life experiences."
Have a sense of urgency, but temper your emotions. "Most things aren't life and death. Identify those big rocks, work on them with vigor, and keep the rest in balance. All right, we have this issue—how are we going to solve it?"
Prioritize helping others and being responsive. Andi re-emphasizes the importance of paying it forward. "Not only do you feel good, but you set yourself apart," she says. "Good things come out of it. Be someone who helps others and can be relied upon."
"Have fun. Life is short. I believe in working hard, but this is our one shot at life. Leave your mark and do it smiling. Better yet, do it while laughing."
Interested in learning more about EnerSys? Check out their open roles!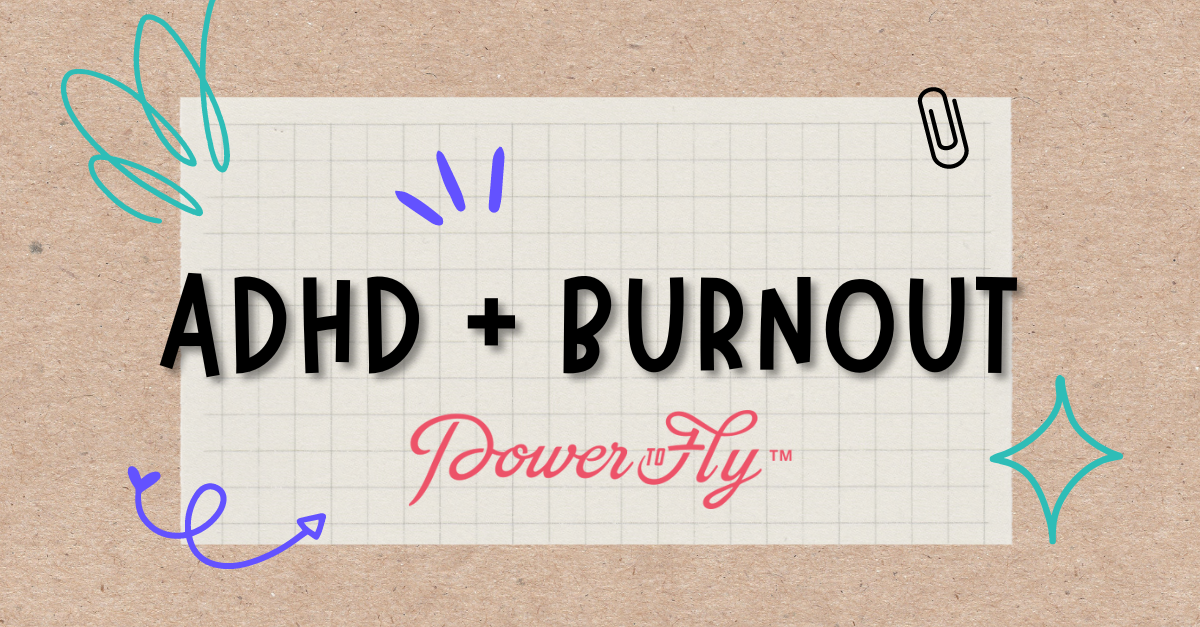 Diversity, Equity, and Inclusion
Have you ever been so exhausted that you quit your job?
You may have been experiencing burnout.
Burnout is characterized by overwhelming exhaustion, detachment from your work, and a sense of ineffectiveness.
And while anyone can experience burnout, if you have ADHD, you may be more susceptible to it.
Before you get to the point where quitting feels like your only option, there are steps you can take to set healthy boundaries and start feeling more like yourself again. Read on to learn how you can recognize burnout in yourself, and what to do if you're experiencing it!
How Does ADHD Burnout Feel?
There are some clear signs that you're burning out, but ADHD can make the descent to burnout harder to detect. These warning signs include:
Lack of motivation - not wanting to do the things you need to do or the things you love.
Exhaustion - feeling overly tired both mentally and physically.
Irritability and mental fatigue - feeling short-tempered, mean, or like you snap easily.
Physical discomfort - body aches, low energy levels, and general pain.
Negative outlook - the tendency to find something wrong with nearly everything.
Emotional dysregulation - feeling weepy, sad, or unable to smile or connect with others.
Generally, burnout starts with taking on too much. Exhaustion creeps in, and you feel like every day is working against you because you are constantly overwhelmed. You may start to feel like the entire world is spinning out of control, or like no matter what you do you can't keep up (or catch up).

If this resonates with you, you might be on the road to ADHD burnout.
Why People with ADHD Can Be More Susceptible to Burnout
So why does ADHD make some folks more susceptible to burnout? There are a few common ADHD traits that often result in behaviors correlated with burnout (taking on too much, working too long, etc.):
Hyperfocus - ADHD is not exclusively about attention deficits. In fact, hyperfocus is the opposite – a deep, intense concentration to the point of being oblivious to your surroundings. Per WebMD, hyperfocus is a state of highly-focused attention that lasts for an extended period of time. You concentrate on something so hard that you lose track of everything else going on around you. When hyperfocus sets in at work, it can be hard to unplug or be aware of the people and environment around you.
Time Tracking - Losing track of time is one thing, but if you find yourself losing track of hours without realizing it, that could be related to burnout. People with ADHD perceive time not as a sequence of events the way others usually do, but as a diffuse collection of events viscerally connected to the people, activities, and emotions that fill them.
Difficulty Prioritizing - Do you take on too much and then struggle to prioritize it? When someone asks for help, does everything often go to the wayside so you can jump in? Or maybe the daunting anticipation of the tasks ahead prevents you from starting. Per ADDitude, ADHD impacts your temporal processing abilities, which can affect executive functioning.
Combating ADHD Burnout
If you think you may be suffering from ADHD burnout, there are a few ways to take back control. Here are three tips for combating ADHD burnout:
Reserve Your Yeses - Pump the brakes when you recognize the early signs of ADHD burnout. Start reserving your yeses right away. Say no, and practice not apologizing. It is okay to say, "I have a lot on my plate right now and cannot take that on. Thanks for thinking of me." Saying no is nothing to apologize for, and it should be celebrated! You are working to protect your energy above all else.
Practice Over-Estimating - If you think you could knock something out in a day, give yourself a week. Overestimate on time and allow yourself the grace to have a little more time than usual to complete projects. Slowing down when starting a new job or role will help you produce high-quality work and prevent ADHD burnout.
Drop the Mask - Be honest with your employer and friends. Let them know that although you seem to keep up internally, you struggle. Identifying ADHD burnout from the outside can be extremely difficult. Your honesty and transparency will position you to determine if your environment is supportive and inclusive.
How to Support Colleagues Dealing with ADHD Burnout
The experiences above may not resonate with you personally, but perhaps you've noticed other people you work with describe or experience them.
If you're a manager, there are several ways you can support colleagues with ADHD (as well as neurodivergent employees more generally) to help prevent burnout. Ask for clarity on when they have felt the most supported at work. Discovery questions like, "how did you feel at that time?" or "how was the pace of that project?" can help you to understand their actual capacity.
Download this free guide
if you're looking for more ways to support your neurodivergent coworkers. Work with your DEIB and HR team to develop new neurodivergent inclusivity standards to help you stay ahead of the ADHD burnout cycle.
READ MORE AND DISCUSS
Show less
Loading...