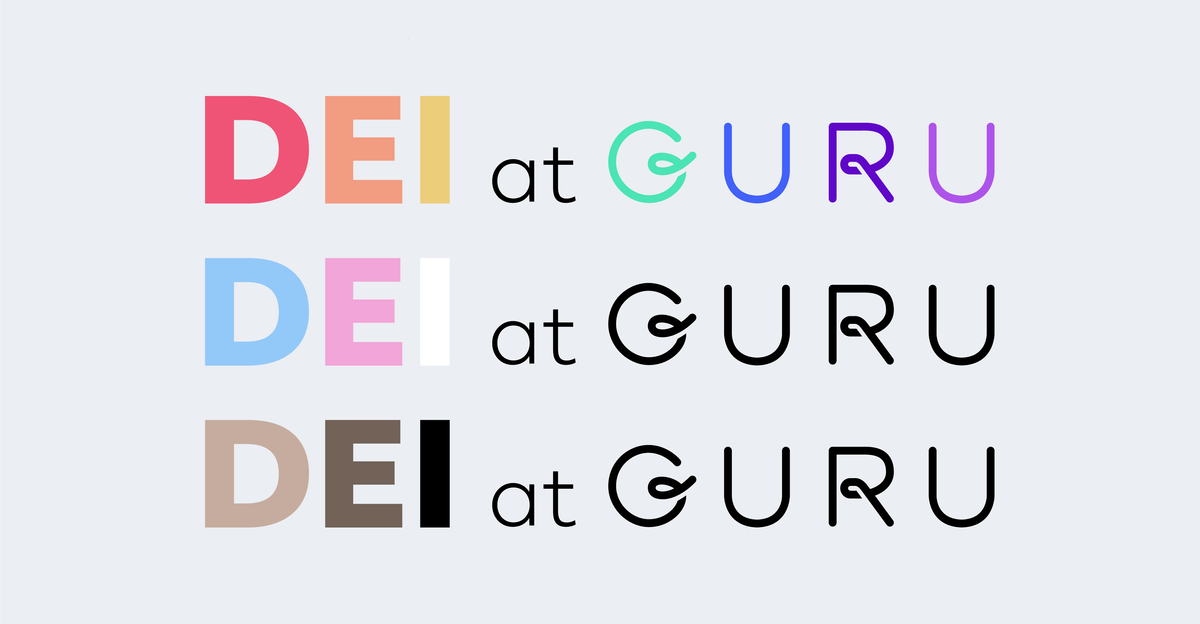 Guru
Below is an article originally written by Jennifer De Shields, and published on June 9, 2022. Go to Guru's company page on PowerToFly to see their open positions and learn more.
There has been a lot said about the current state of corporate activism. Hopefully, by now, we should all know that just swapping logos colors, sending out a few tweets, and crafting a press release is a far cry from taking action. Some individuals and companies genuinely do want to do more to show their support for the causes and groups nearest and dearest to them. The problem is that they don't know where to start.
Finding ways to show your support that don't cut into work time and resources can be tricky. Sending money to charities and volunteering at organizations are great ways to give back. Unfortunately, you can't guarantee that everyone on your team has the money or the time to help out.
We know how important it is to find ways to show support, but we also understand how difficult finding the right avenues for that can be. That's why we want to share one of the solutions we found through our DEI and ERG work.
Support through solidarity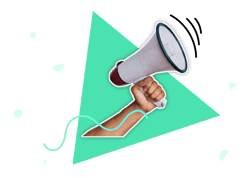 Creating diversity, inclusion, and equity-focused programs and forming ERG groups was only the beginning of our DEI work at Guru. We wanted to find a way for our ERG groups to have their voices heard and give them the opportunity to educate others on important issues. Along with that, we also believed that it was important to give people a way to support causes that meant a lot to them. After some brainstorming, we walked away with a very solid idea: solidary action and solidarity learning sessions.
What are solidarity action and learning sessions?
Solidarity action sessions are 30-60 minute periods of time that are designed to mobilize teammates to take a specific set of direct actions in support of a single cause or multiple causes. Our actions typically include (but aren't limited to):
Contacting elected officials
Signing petitions
Joining upcoming events
Signing up for volunteer opportunities
Making donations
Posting on social media
During these sessions, participants are given some background information on the session's theme and directions on what steps to take. These sessions are typically "free-flowing" and people can come and go as they wish.
Being a part of these sessions is simple. All you need to do is join our virtual meeting space (camera on or off, it's up to you), open a document with the day's information, and take whatever action you see fit.
Solidarity learning sessions are more focused on individual reflection and education. Some sessions involve listening to speakers with expertise on a certain topic, having discussions in small groups, or watching or reading material. Oftentimes, we link our learning and action sessions together so people can get educated on important issues and then take action.
The benefits of solidarity sessions
There are a lot of reasons why we decided to implement these sessions that go beyond supporting our DEI efforts.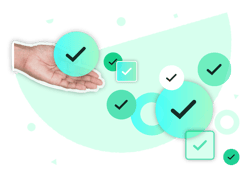 It's easy for employers to put their employees in a catch-22 bind when it comes to charity and volunteer work. They expect their employees to lend their support to groups and charities the company backs while also making it incredibly difficult to find the time to do so. Putting just 30 to 60 (or however many you want) minutes on the calendar makes it much easier for people to fit time to give back into their schedule.
Action and learning sessions can be good opportunities to educate people on important issues. Life moves fast, and keeping up with everything that's going on can be tough. Our learning and action sessions can help keep people informed on news and current events
Our sessions have also had the benefit of helping people bond. These sessions can be a great way to help teammates build empathy for one another and learn about different backgrounds. This helps us to be better equipped to build a diverse and inclusive environment for everyone we hire.
Solidarity + Guru
We do our best to live our core values through our actions. Solidarity sessions allow us to seek and share knowledge, create advocates, and give and receive graciously to those around us. All of our employees are encouraged to participate in sessions, and we've been lucky enough to enjoy some particularly impactful ones recently.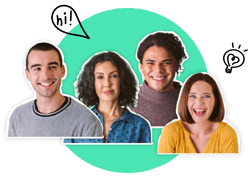 The leader of our LBGTQ+ ERG recently led a workshop on gender-inclusive language. Before that, leaders from our Women's ERG and Black at Guru held action sessions for Women's History Month and Black History Month.
The fact that these sessions came from thinking of ways to support our DEI work is phenomenal. It just goes to show you how much you can accomplish when you have the power of community and company support behind you.
Planning your own solidarity action or learning session
Are you sold on the idea of holding action and learning sessions on your own? Let us help you get started!
We do want to point out that even though we're talking about this in a corporate setting, you can plan these sessions for any group of individuals you want. Plan an action or learning session with your alumni group, family friends, gaming clan, or whoever you want to organize with.
Don't take on too much at once
It's tempting to want to tackle a lot at once. After all, you're excited, other people are amped too, and it seems like there's so much going on you want to call attention to. You should definitely keep that level of enthusiasm going, but you're going to want to try to keep your session's focus down to a few things.
A session that covers too much may overload people with information. You want to give people enough time to focus on the topic at hand. Remember, some people could be coming to these sessions with very little background info on the topic at hand. Giving people enough time to really focus and absorb what they're doing is always a good move. Occasionally, we like to send out a short pre-read ahead of sessions to give people proper context.
It's also important to keep the schedules of your session organizers in mind. Being realistic about the scope of programming you're committing to can ensure you don't bite off more than you can chew.

Are you covering a meaty topic that you don't think you could cover in one session? Consider breaking your idea down into multiple sessions. Think about the different areas you want to focus on and how you could group them together.
Consider syncing up
We mentioned before that we occasionally link our action and learning sessions together. Although this is by no means a requirement, consider letting them help each other out. Creating similar themes for an action and learning session can help build a little momentum and encourage people to attend both. We typically put our learning sessions first to give people important background information before they go into an action session.
It's also a good idea to pay attention to the calendar when you plan these sessions. You could easily sync up your sessions with other events, holidays, and movements to add an extra layer of relevancy to your work. This could also help draw extra attention to causes you're promoting because they're already on people's minds.
Don't work in a vacuum
Solidarity sessions can and should be all about the power of people in numbers. Make sure you bring that spirit to the forefront of your work by involving the right people while you're in the planning stages.
We talk a lot about the importance of involving DEI members and ERGs in these sessions, but there could be plenty of other people outside of those groups that are interested in helping. Think about other teams and groups that could have some helpful feedback; for instance, People Ops/HR may have some valuable insight to add to your next session.
Are you having trouble coming up with ideas for your first (or next) session? Asking your fellow teammates (or friends, neighbors, etc.) which topics and causes mean the most to them is a solid place to start. This can help you gauge people's interest in certain areas and prioritize what should come next.
Working with employee ERGs is a great way to involve people and ensure your message resonates. Remember, these sessions are designed to educate and help, not alienate. It's important to ensure that you aren't making assumptions or speaking on the behalf of groups you're not a part of.
That last sentence was important, but it certainly doesn't mean that only members of a certain group can plan these sessions. If you want to raise awareness for a topic you aren't familiar with or may not have proper representation for at your company or group, consider reaching out to people that do.
Consider including links to educational resources produced by the people who belong to the group(s) you're focused on. This can give people some helpful information and also amplify unheard voices. There are so many local charities and organizations that would love to raise awareness and educate others. Give them the chance by collaborating with them!

Make it easy for everyone to participate
We do have time set aside for sessions, but people get busy. You never know when a last-minute meeting will show up on the schedule. Do whatever you can to make it easy for everyone to participate when it works best for their calendars.
Our action and learning sessions always come with a helpful Guru Card or Google Doc that outlines the focus of the session along with relevant information around any actions we want people to take. Those small bits of information make it easy for anyone to join in, and can also come in handy in the future in case you want to take deeper dives into topics you've explored or introduce someone to a new cause or group.
Have a great playlist
Let's face it: there are few things more awkward than the silence that happens when you have people just sort of… staring at a camera during a Zoom call. Some people may not have much to add to the conversation, others may not feel comfortable talking. There could even be a few who are just so absorbed in the work they're doing they have no time to talk.
Playlists aren't just an excellent way to break up silence, and they're also incredibly effective at setting the mood. We've created playlists for sessions that feature artists related to the topic at hand, and we've even found some great existing playlists to use.
If it's a bit too hard to think of artists related to the topic you're covering, don't stress! Consider picking songs that can help set the tone of the day. Pick hopeful songs, somber music, or create your own playlist of lofi beats to listen to while you fight for equity and justice.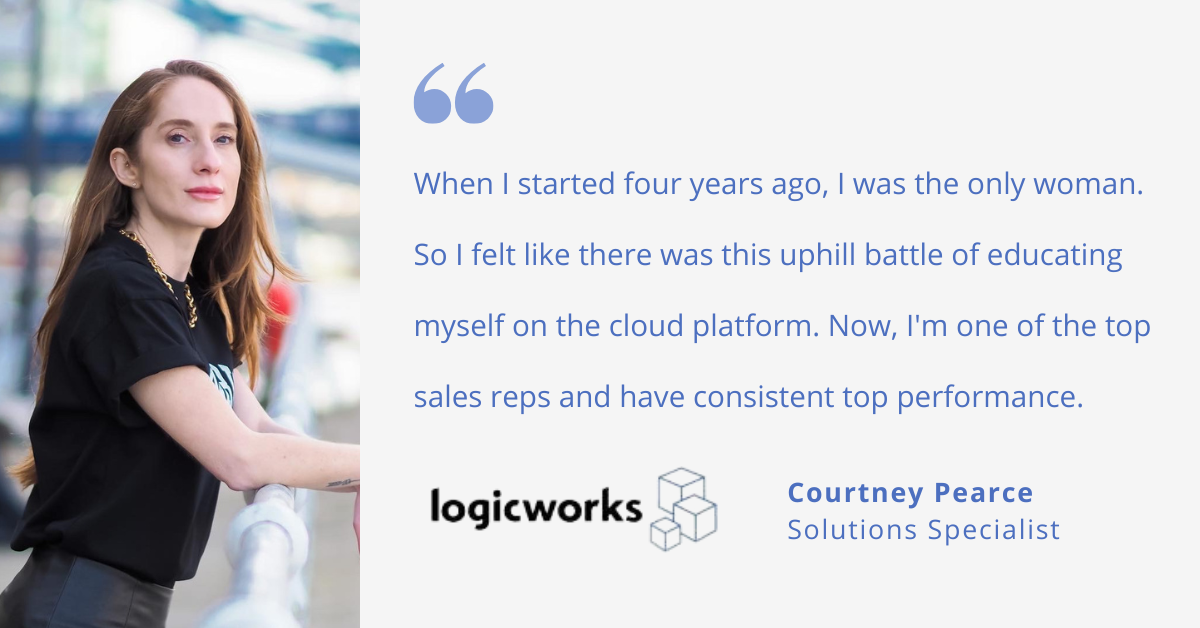 Logicworks
Courtney Pearce's background isn't one you'd expect to find in a tech sales position. But as a motivated self-starter, it makes all the sense in the world that she's been so successful in her role as Solutions Specialist at Logicworks.
If you ask her what she's most proud of about her time so far at Logicworks, she'll say her growth over the last four years.
"Even though I came from a technology company that was selling software, selling infrastructure and infrastructure managed services is very different. There was a learning curve. And when I started four years ago, I was the only woman. So I felt like there was this uphill battle of educating myself on the cloud platform. Now, I'm one of the top sales reps and have consistent top performance. So I'm most proud of my growth over the last four years."
Courtney has a lot of wisdom to impart to those interested in taking on the sales side of tech. We sat down with her to learn more about how she broke into the tech world by utilizing her retail experience.
An Unexpected Path Into Sales
Courtney started college as an Orthodontics major but eventually realized that science wasn't her calling.
"Although I'm a great student, science and math were difficult subjects for me," she admits. "I ended up taking a random textile and clothing elective and it was my favorite class."
She enjoyed the breadth of the program and decided to become a Textiles and Clothing major.
"You got the opportunity to learn the sociology behind why people wear clothes, the chemistry behind dying, how to make fabric, then creating a line from start to finish and marketing that to the class," she shares.
Although fascinated by the program, her career journey didn't lead her to the fashion industry but rather to an adjacent career in retail.
"I ended up accepting a leadership position for a big box department store," she says. "At 23 years old, I ran a 35 million dollar store. It was a great experience and I learned a lot."
After two years of working in retail for various name brands, she found her way into a tech company through a recruitment role.
Breaking Into the Tech World
While Courtney was working at a recruiting firm, she was approached by a security tech company with a position as a technical recruiter. She was interested in the role and applied, but didn't get an immediate response.
"I didn't hear back, but continued to follow up," she recounts. "One night, I got a phone call that said, 'You're not a good fit for the technical recruiter role, but we have this new group that we're building out called business development and they're working directly with sales. Based on your experience and the fact that you're willing to follow up, we think you'd be a great fit'."
At the time Courtney knew nothing about the tech space but that didn't stop her from interviewing for the position.
"I spent an entire week browsing the website, watching all their product marketing videos, and tried to wrap my head around what this security company did," she explains.
During the interview, she blew them away with her knowledge of the company.
"I gave my five-minute spiel and I think that impressed them," Courtney shares. "I had taken the time to research the company, and not having had a tech background, I tried to comprehend what they do."
Hired as a business development rep, she had the opportunity to build the team from the ground up.
Reaching New Heights at Logicworks
Courtney continued to rise in the ranks, but she eventually felt that she had hit a plateau. With a desire to try out something new, she looked to Logicworks who offered her the career advancement she was looking for.
"I had reached my potential with my previous employer. There wasn't anything new for me to learn. I wanted to figure out what was next in my career. There was an opening at Logicworks for a Solution Specialist to be based in Boston. That was enticing for me."
When Courtney moved to Logicworks she was able to explore job autonomy.
"It gave me the opportunity to move into a territory that I'd been working in for many years, but also run that territory like my own business," she explains. "There was nobody else working within that space, and I could create the process that I wanted to."
Now at Logicworks, she experiences the constant changes of a cloud system.
"I'm constantly learning," she shares. "We're constantly evolving our services, what products we're providing, and how our services are integrated as the cloud is maturing. It keeps me interested every single day."
Now as a sales lead, Courtney focuses on building relationships with current and potential clients.
Coincidentally, the relationship-building skills that Courtney uses on a daily basis come from her experience in retail.
"I think coming from retail, you have to be able to talk to anyone," she says. "You're getting a lot of different customer personalities, so it allows me to be comfortable talking to strangers, which I think is key in sales."
Along with sales experience, Courtney's internal drive has been key in propelling her forward.
"Being a self-starter and watching YouTube videos on what the cloud is, what AWS is, and taking that time on my own to learn and absorb as much as I can are, at the end of the day, the kinds of things that you can prepare you to enter the tech space," she explains.
Ultimately, it was the skills she learned in retail and her self-taught understanding of tech that have led to her success.
Advice for Entering the Tech World Through Sales
If you're looking to enter the tech world from a sales angle, Courtney offers this advice:
Find companies that resonate with your values. "Whether you like their product and think that product is solving a pain point in the marketplace, or you align with the company's values, work for a company whose mission you support," Courtney advises.
Be pleasantly persistent. "The biggest thing that helped me was when I reached out and nobody responded, and then I followed up and nobody responded, and then I followed up again and they called me. Being pleasantly persistent shows that you're interested and invested in the organization," she explains.
Do your research. "Take the time to figure out what the company does and what they are all about. Educate yourself above and beyond the basic training material to ensure that you have the right knowledge base to be successful in the role."
If you are looking to grow within the tech space, check out
these open positions at Logicworks
.
READ MORE AND DISCUSS
Show less
Loading...