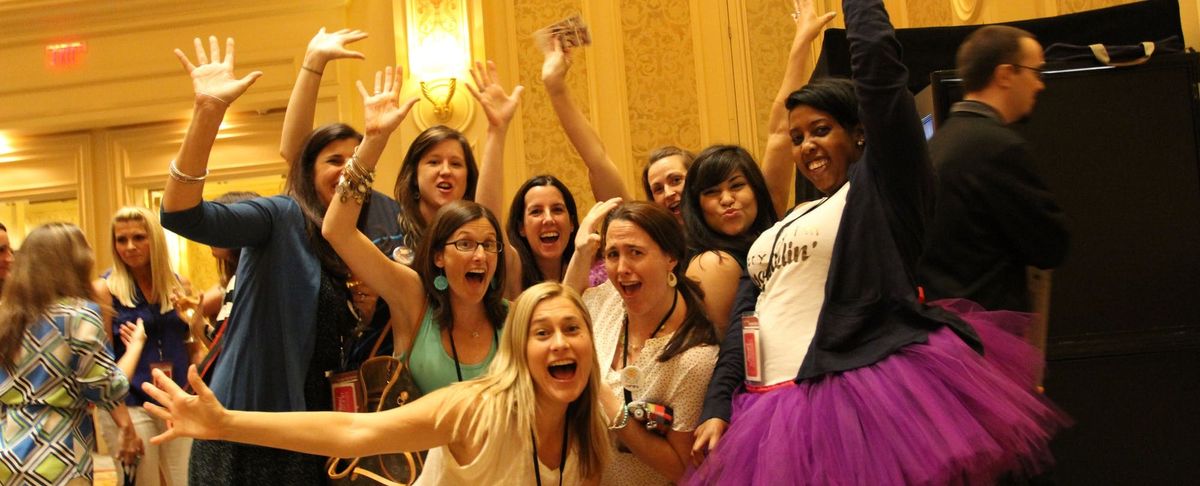 Teachers Pay Teachers
Below is an article originally written by Charley Locke, previously a Reporter for EdSurge, and published by EdSurge on July 23, 2014. This article is about PowerToFly Partner Teachers Pay Teachers. Go to Teachers Pay Teachers' page on PowerToFly to see their open positions and learn more.
"It was one of the best days of my life. Right up there with my wedding day, and the days my kids were born. The whole thing was magic," effused Rachel Lynette, one of Teachers Pay Teachers' first sellers, and its soon-to-be second teacher millionaire.

When Amy Borrell Berner, community manager at TpT, started planning the one-day conference for sellers, she didn't anticipate that many of her conversations with teachers would leave her "teary-eyed." But the day was memorable beyond expectations.
The online marketplace allows teachers to sell their own curricula and buy materials created by other educators. TpT surpassed $100 million in sales this weekend, $82.5 million of which went directly to teacher-sellers.
Frustrated by the lack of access to teacher-created material, former teacher Paul Edelman started TpT back in 2005 when he was still in the classroom. "There was no incentive for teachers to create and share high-quality resources," Edelman explained. For sellers, the TpT marketplace "provides a financial incentive for teachers to spend that extra time making their resources as best they can." And less experienced teachers can access teacher tested material without reinventing the wheel--while paying a fellow educator, rather than a publishing company.
At last week's first-ever TpT's conference, teachers learned tricks of the trade from top sellers, attending sessions on copyright, search optimization, and how to use Clipart, to name a few.
Of the 746 teachers in attendance, Berner explained, "almost every person was talking about how TpT has opened up what they never thought was possible, both financially and in terms of helping other teachers and students." And previous kindergarten teacher Deanna Jump, who offers her selling tips here as TpT's first teacher millionaire, agreed. TpT has certainly helped Jump financially; as she shared in her keynote address (which seemed to move the entire audience to tears), before TpT, Jump and her family struggled to make ends meet between paychecks, "juggling bills to figure out how to keep the electricity from being turned off." But the site has given Jump both money and the support of thousands of other teachers across the world.
Beyond practical tips, attendees seemed to walk away with a sense of community and support. "Sometimes, we teachers feel like we're alone," Jump explained. "We go into that classroom and feel like maybe we're the only ones who feel this way. So sometimes, you just need to hear a 'me too'--just knowing you're not alone gives you the strength to keep on teaching." For Jump, and many other attendees, the conference gave the previously online support a physical presence, as it "felt like meeting old friends."
This burgeoning teacher support community came as a surprise to TpT organizers. "Our community is very organic, and wasn't part of the initial plan of the open marketplace," explained Berner. "But we were responsive to it, and started the Seller's Forum." The forum provides a way for teachers selling on the site to reach out to each other about creating effective content, marketing material and much more. In fact, teachers have built out the TpT network from the Seller's Forum, creating Facebook groups and forming individual friendships.
"It's almost like one big family," explained Jump. "Everyone helps each other out."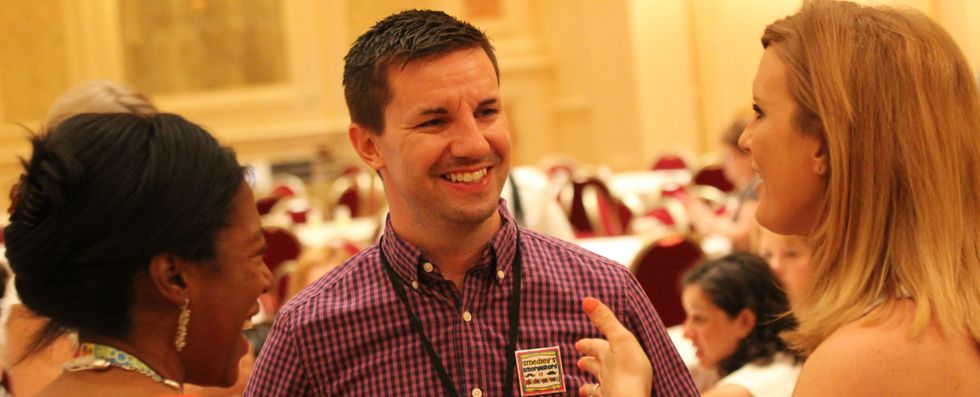 With a unique blend of money-making and community support, TpT may seem an odd model for a marketplace. After all, sellers are each other's competition. But Jump and Lynette both insist that the marketplace abides by "the TpT Way," which advocates collaboration over competition. As Lynette, who led a session on marketing at the conference, explains, "It seems counterintuitive that I'm sharing all my marketing secrets with my competition, but when they bring more people to TpT, some of those people will come to my site."
"There's something really special happening between teachers from the ground up," said Edelman, who sees the resources and incentives of TpT as transforming how educators teach. Jump agrees: "It's made me a stronger teacher, because now I need to know the theory behind why I do what I do." To Lynette, the methods and community enabled by TpT is "changing the landscape of education." By expanding teach-to-teacher mentoring and continuing to reach teachers through the marketplace, Edelman hopes to "catalyze that even more."
If the overwhelmingly positive response to last week's conference is any indication, TpT certainly provides not only a marketplace, but a space for teachers to build supportive communities and be recognized for their contributions. Berner, and many involved with TpT, believe "teachers are the experts." As she sees it, "One of the reasons why TpT has been so successful is because we really value and respect teachers," particularly educators who have affected thousands of students and logged years of classroom time, but often don't get acknowledgement of their lifelong work. After all, for these experienced, knowledgeable teachers, "Who says you can't be a millionaire?"
Read more about the conference from TpT, and from teacher-bloggers themselves.
READ MORE AND DISCUSS
Show less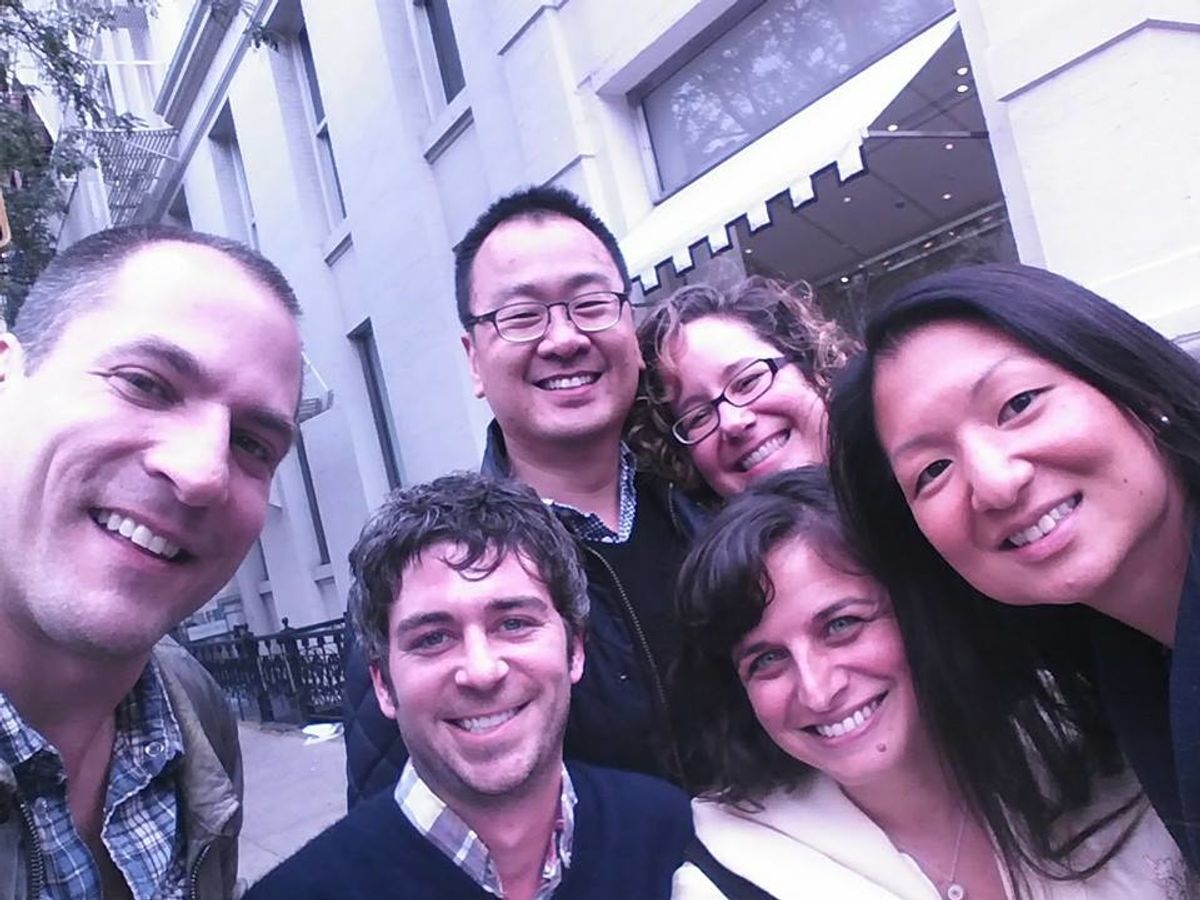 (Some of Team TpT, clockwise from left: Paul, John, Amy, Karen, Shama, Ryan)
Teachers Pay Teachers
Below is an article originally written by Paul Edelman, Founder at PowerToFly Partner Teachers Pay Teachers. Go to Teachers Pay Teachers' page on PowerToFly to see their open positions and learn more.
I often wish that the founding of TpT were one of those easily digestible and super satisfying creation stories that cuts right to the core. If I could rewrite it myself, it would go like this: Exhausted after another long day as a third-year teacher, I was planning for the next day's classes when I jokingly offered my veteran colleague $5 for her lesson plans. To my surprise, she said yes. We made the exchange and were both absolutely thrilled with the transaction. And I thought, holy smokes, this could be a billion dollar business!
Many founding stories are aha moments like this, though reality is often a bit less neat and clean. Pierre Omidyar started eBay to help his wife find more collectible Pez dispensers, right? Not exactly. It turns out that the Pez story was created by someone in the PR department.
Even though the $5 deal didn't happen, the essential elements of the longer story are very similar.
Here's how TpT got started: Like all new teachers, I struggled. It was grueling to try to reinvent the wheel night after night after already long days of driving my misshapen wheels off the side of the road. Luckily, we had the Internet by time I became a teacher in 2001. But boy was it hard to find quality resources back then. The late 90's-style education resource sites were somewhat helpful, but rudimentary at best, and the teaching resources that made their way to them were limited in scope and quality.
Out of necessity I started getting better at creating my own resources. I noticed that my students respected me more because these resources were more creative and innovative than something mass produced, and it turned out that my colleagues appreciated them, too. They were tailored specifically for our students' levels and interests and social contexts, so it's no wonder that they worked well in our school. I really loved seeing my ideas appear on the bulletin boards of other classrooms, too. But still no aha moment.
Starting my own business was always my long term goal, so I left teaching after four years to make it happen. I wasn't yet sure what kind of business it would be, but the idea I couldn't quite shake was to create my own educational publishing company, Eduman Publishing. But how in the world would I get schools to buy my resources? It just seemed like too steep a mountain to climb, and then the aha! moment finally arrived — instead of creating and selling my own resources, why not create a way for every teacher to buy or sell original resources in a grand open marketplace?
My brain lit up and my heart raced. This was IT!
Within minutes I purchased the URL TeachersPayTeachers.com and was jumping around and calling my teacher friends to get their gut reactions. Most everyone said some version of "oh, hell yeah" so I knew I was on to something big. That was November 1, 2005. And though overnight success has taken eight years, teachers have now bought and sold well over $60,000,000 worth of amazingly well-crafted, engaging, affordable educational resources that have transformed lives and classrooms. And we are still just getting started.
Best $5 I never even spent.
READ MORE AND DISCUSS
Show less
Loading...