GET EMAIL UPDATES FROM POWERTOFLY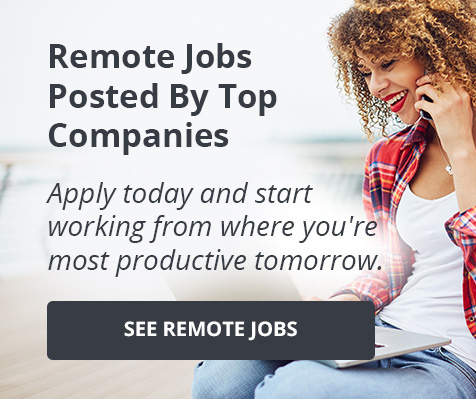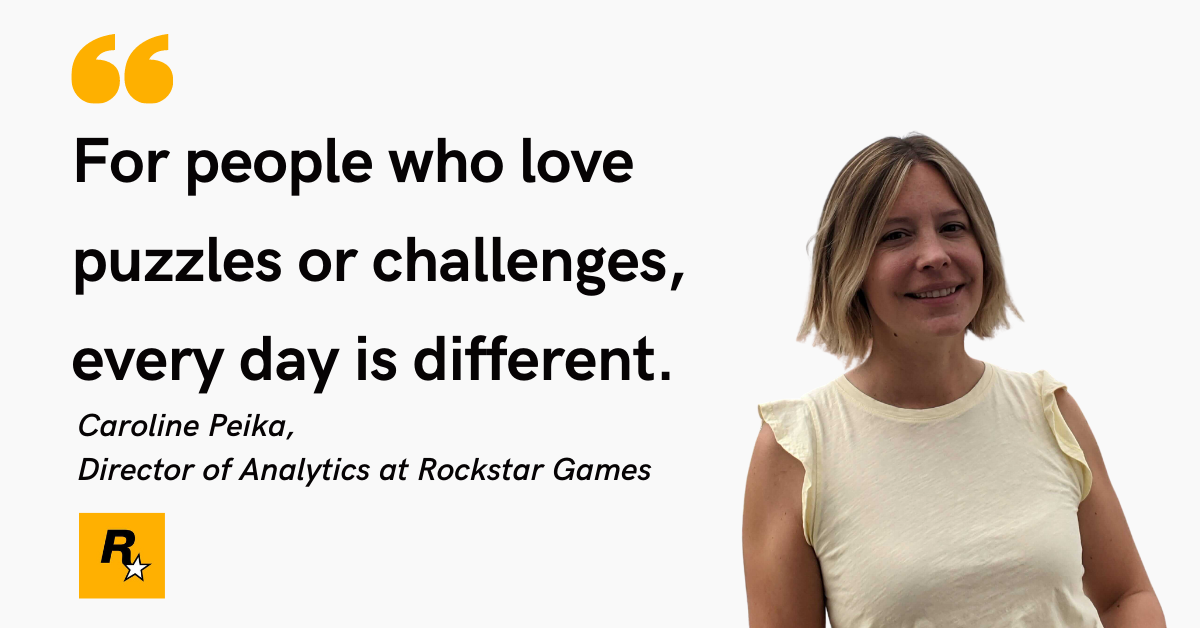 Rockstar Games
Caroline Peika has loved puzzles—and mystery novels—for just about as long as she can remember. Both are extensions of the same core interest: problem solving.
It's this interest that led to her studying math and computer science in college, and ultimately, to her current role as Director of Analytics at Rockstar Games, solving data mysteries on the front line of AAA game development.
"It's the same kind of mindset. I'm trying to figure out something with whatever clues or information that I have," she says.
We sat down with Caroline to learn more about her path into analytics, and to hear her advice for those considering analytics as a point of entry to the gaming industry. Read on to hear how she got her start in gaming, the ways analytics in gaming is unique compared to analytics in other industries, and the difference between data analysts, data scientists, and data engineers.
A Career in Data: Caroline's Path into the Gaming Industry
After studying math and computer science in college, Caroline was approached by a business school to join their all-new business intelligence program, which combined math, programming, and business. Caroline was smitten: "I fell in love, I had to do it. And from then on, it's been my career."
Living in Montreal at the time, a hot-bed for the gaming industry, Caroline knew lots of people working in games—and she's a pretty big fan of video games herself, enjoying everything from Grand Theft Auto (GTA) to the Lego video games that her toddler son enjoys.
"I had a lot of insight on how fun the industry could be and how every day was a new experience. So I knew I wanted to be there—it was just a matter of how to do it."
A role in data forensics at Deloitte gave her her first taste of the video game industry. As a manager, she approached game companies to propose projects, such as health monitoring and anomaly monitoring, which they could use to detect, correct, and prevent errors in their games. That experience helped her land a full-time role at Ubisoft before she moved to San Diego for her current position at Rockstar Games, where she's worked for the past six years. (For those of us who are also into games, Rockstar needs no introduction. For everyone else, Rockstar are the creators of a string of hit video games including the Grand Theft Auto and Red Dead Redemption series, both pop-culture hallmarks, with iterations spanning decades.)
So far, the experience has surpassed her expectations. Working at Rockstar, Caroline says, is all about collaboration. "Everybody wants to help. Everybody wants to hear what you're working on—and why—and how they can help. It's so easy to connect with coworkers and have conversations that fuel your own work."
Emphasizing Innovation: Realizing Her Vision at Rockstar
Caroline not only got to realize her own dream of working in gaming by joining the Rockstar team, but her vision for a robust, optimized analytics department as well.
When she started at Rockstar, Caroline was eager to invest in improved tools and infrastructure for the data analytics team so that they would be able to answer business questions more quickly.
"When I joined the company, there was a lot of opportunity for us to build and develop analytics as a team, and Rockstar empowered me to help make that happen—there were no roadblocks or micromanagement."
Caroline sees this emphasis on continual improvement as the backbone of Rockstar's culture: "It's all about innovation. How can we be better? How can we leverage new technologies?"
Understanding the Impact of Data Analytics in Gaming
Part of the reason this investment in architecture and infrastructure was so important to Caroline was because she knew that without it, her team wouldn't be able to answer stakeholders' many questions quickly enough… and when you work in a department that touches every aspect of the business like analytics does, efficiency is essential. But whether the team is helping optimize internal operations or providing insights on how players are interacting with a particular game, the goal is always the same: leveraging data to solve problems (or puzzles, as Caroline sees them).
"For people who love puzzles or challenges, every day is different. That's something that other industries may have, but it's the name of the game in the gaming industry. You get to experience this great balance of fighting fires in real-time with live ops, while also planning ahead and looking forward to new games and releases."
Roles in Data Analytics: Analysts, Scientists, and Engineers
As you might expect, the far-reaching applications and impact of data analytics on gaming means that analytics teams also tend to have a variety of members on staff, each with unique focuses and expertise.
Caroline was kind enough to break down the three main roles on Rockstar's data analytics team and the skill set required of each one:
Data Analyst
Data analysts are the closest to the data. They're responsible for designing the data and making sure it's usable. They work closely with stakeholders to make sure they understand how the data is going to be used and the requirements for the end product before creating the final output, be it a report or a deep dive analysis on a specific topic.
What does it take?
A basic understanding of statistics
Good visualization skills and problem-solving skills
A quantitative background, in fields like business, marketing, or economics
Data Scientist
Data scientists push those analyses a bit further. With a toolkit a bit bigger than the analysts', they are able to answer questions and, most importantly, build solutions. They use advanced analytics and machine learning to create clusterings, predictions, models, and optimizations.
As Caroline says, "It's not just answering a question that can be used in decision-making, it's actually creating a product for a team and making sure it can be used and it keeps updating correctly."
What does it take?
A strong technical background, in a field like computer science or statistics
A good grasp on business
Data Engineering
Data engineers are the ones who bring the product built by data scientists into the production line. They are the owners of the final production pipeline--and the ones that will get called to fix it if it breaks.
What does it take?
A background in software engineering or data engineering
Fluency in programming languages
The ability to adapt and switch to different technologies as needed
Across these profiles, every member of Caroline's team is focused on something specific, related to the stakeholder they are working with. Some tasks may be aligned with the skills of a data analyst, while others require the attention of a data scientist.
Breaking Into Data Analysis: How to Be More Than a Number
Whether you're starting out as a junior analyst, or looking to pivot into game analytics, Caroline shared her recommendations for people starting out in the field and, most importantly, what she expects from someone who wants to join her team:
Understand Game Analytics: "Do your personal research of what this is all about. You really need to understand what you're getting into, which is a very varied and fast-paced environment."
Know how to apply your knowledge: "If you're just starting out and you have the tech skills, what you're missing is an understanding of how to use them in actual business environments. Do your research and read books on the different ways businesses leverage analytics. Make sure that you're not only good at analyzing data, but telling a story with it that will be meaningful in a business setting."
Show your hand: In the interview, don't be afraid to mention what you've done in the field and what you enjoy the most. "We want to hear your selling points. We love to hear about what you like to do and what you're comfortable doing, because we can always think of a place on the team where we can leverage that."
Ace the test: Portfolios aren't expected. Instead, Caroline sends out a task—an open-book test: "That's your way to shine," she says. "This is where you can show what you bring to the table. We're not expecting perfect answers. We just want to see how you work, how you think, how you're creative."
Interested in solving puzzles with Caroline and the rest of Rockstar's data analytics teams? Check out their open roles here.
READ MORE AND DISCUSS
Show less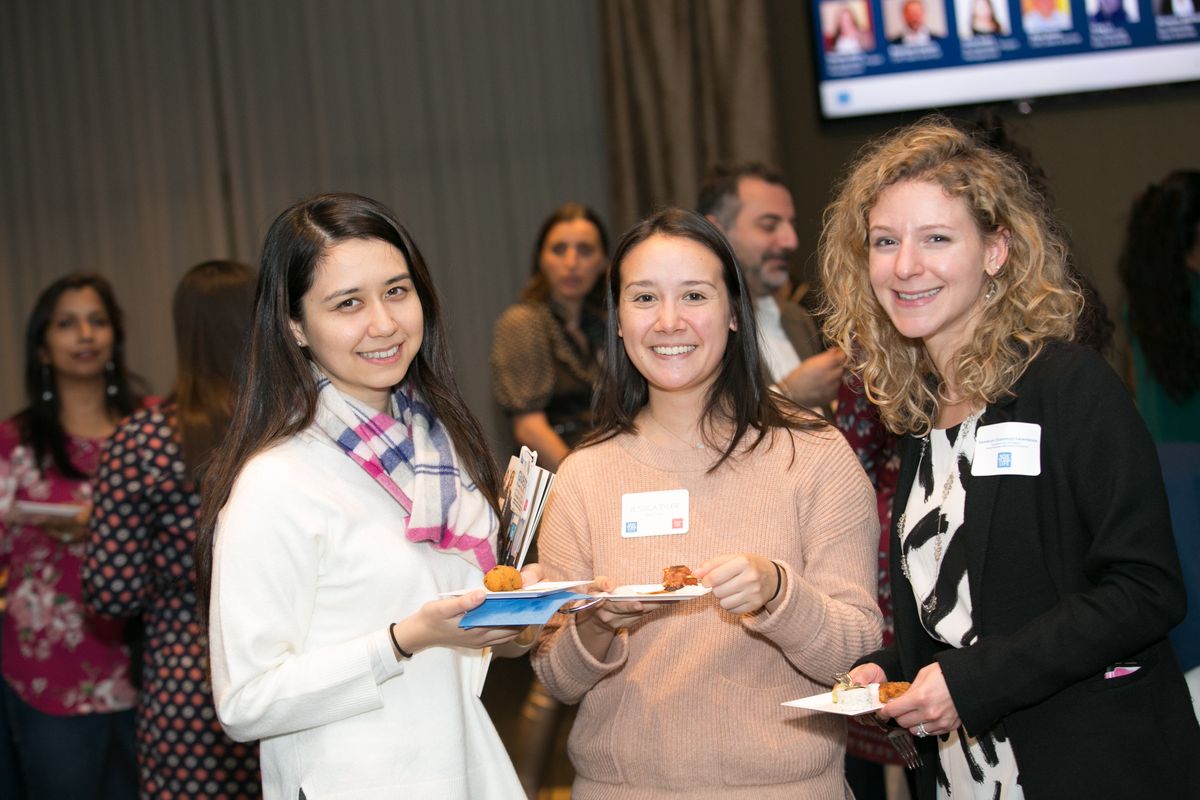 New York Life Insurance Company
New York Life's headquarters is a gorgeous, gothic National Historic Landmark, located adjacent to the Flatiron District's scenic Madison Square Park. After over a decade of living in NYC, I was thrilled that my first time inside this legendary building would be for a PowerToFly event highlighting New York Life's data science and analytics leaders.
PowerToFly's event with New York Life was held on Thursday, October 25th, inside New York Life's Ben Feldman Auditorium. After guests navigated the ornate lobby, they were welcomed with delicious food and drinks and had the chance to network with both members of the New York Life data and hiring teams as well as their peers.
PowerToFly's CoFounder and President Katharine Zaleski started the night off by introducing New York Life's SVP/Head of Retail Life Alex Cook. "We are always finding ways to be collaborative because we know a diverse culture leads to innovative and new ways of thinking, which are critical to the future success of the company. I'm impressed that a company like ours that's been around since 1845 and is as large as we are, how quickly we're moving on multiple fronts. For example, in just the last two to three years we've built a 50-person Data Science Team We're also making a lot of investments in our infrastructure and our technology capabilities. We're now at a point where everywhere you look in the company, we're transforming something," explained Cook.
Alex went on to speak about how New York Life uses data in assessing mortality risk and the inherent challenges involved. "You don't know whether your calculations are accurate for 10, 30, even 70 years. It's a very difficult problem to solve and very intriguing from a data science perspective."
As Alex concluded, he introduced CVP, Advanced Analytics Rita Fuller who discussed New York Life's Data Science Academy which, as Rita describes it, "is a program with two educational tracks designed to increase knowledge of Data Science and Analytics for our employees.." The Data Science Academy is part of a cultural shift to generate greater understanding of data science and to create an environment in which New York Life data scientists can thrive. The program features two educational tracks. The technical track is for those who want to gain or improve your skillset in statistical modeling and machine learning. The business track introduces you to case studies involving analytic solutions to foster an analytical mindset. Rita then introduced an insightful short video that provided a better glimpse into a "day in the life" of the data team.
Next up, Katharine introduced our amazing panel of New York Life leaders which included Michelle Bottomley, SVP & Chief Marketing Officer; Glenn Hofmann, VP & Chief Analytics Officer; Mary Louie, CVP & Lead Data Scientist and Beth Schumacher, CVP Human Resources/Training. Our experienced panel discussed their latest projects, how they keep current on the latest tech trends and dove a bit deeper into their individual career journeys. The formal programming for the evening ended by opening up the floor to questions from the audience.
But the night wasn't over yet! Our attendees had plenty of opportunities to network with the panel, members of the New York Life team and each other before the evening eventually drew to a close. As they exited, our guests were greeted with a complimentary copy of a book to remember the evening by. All in all, this was a fabulous New York evening with an iconic New York company.
Follow New York Life on PowerToFly to learn more about their open roles.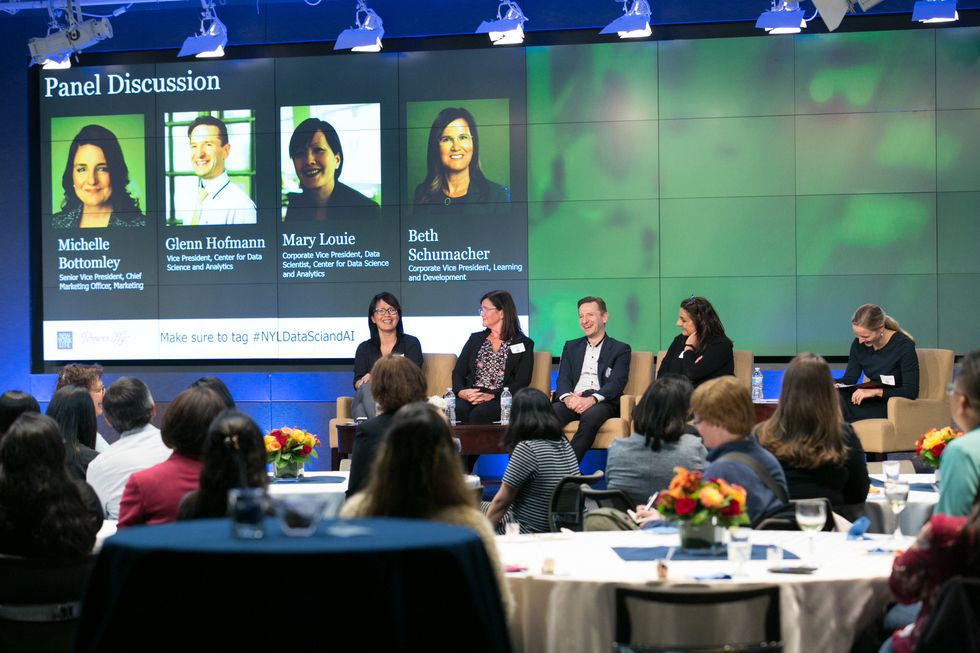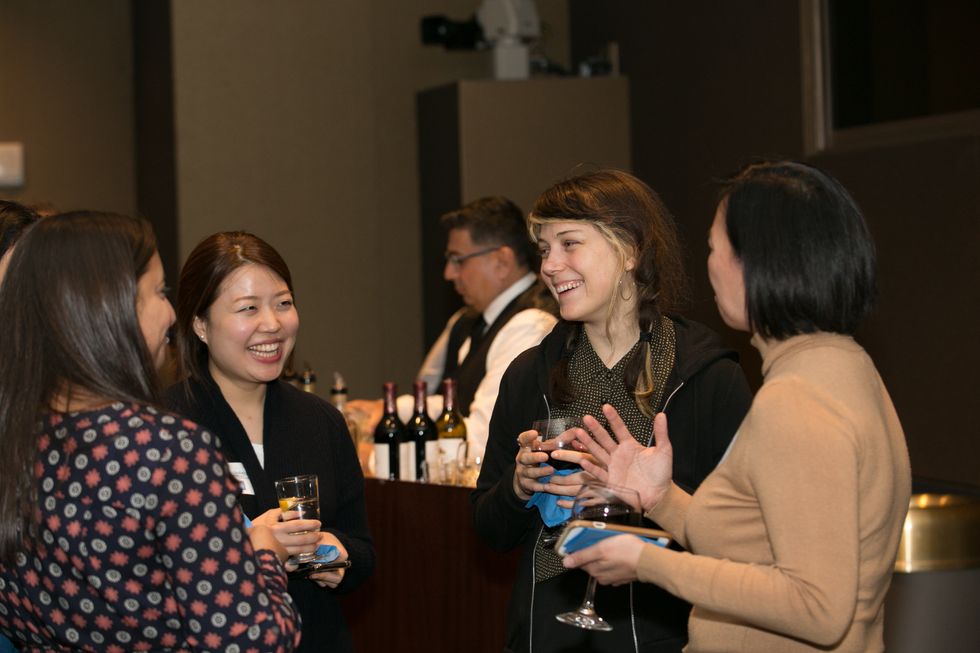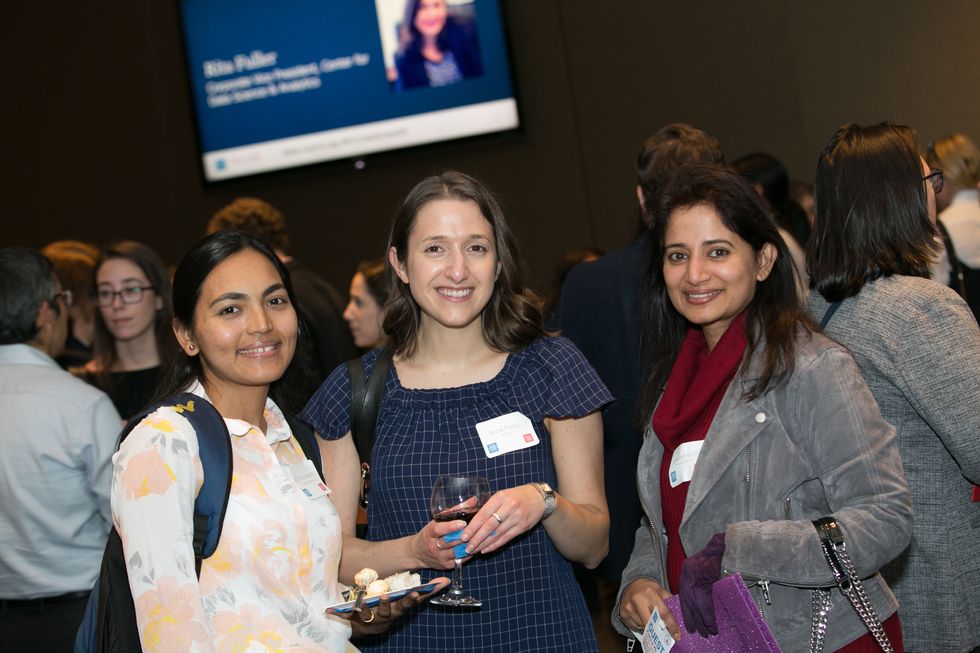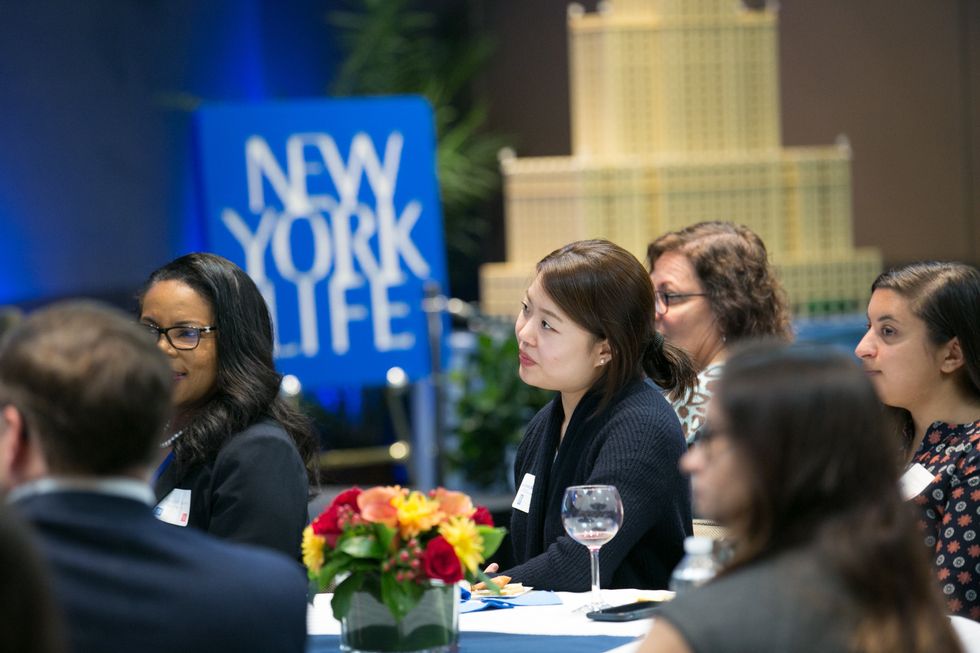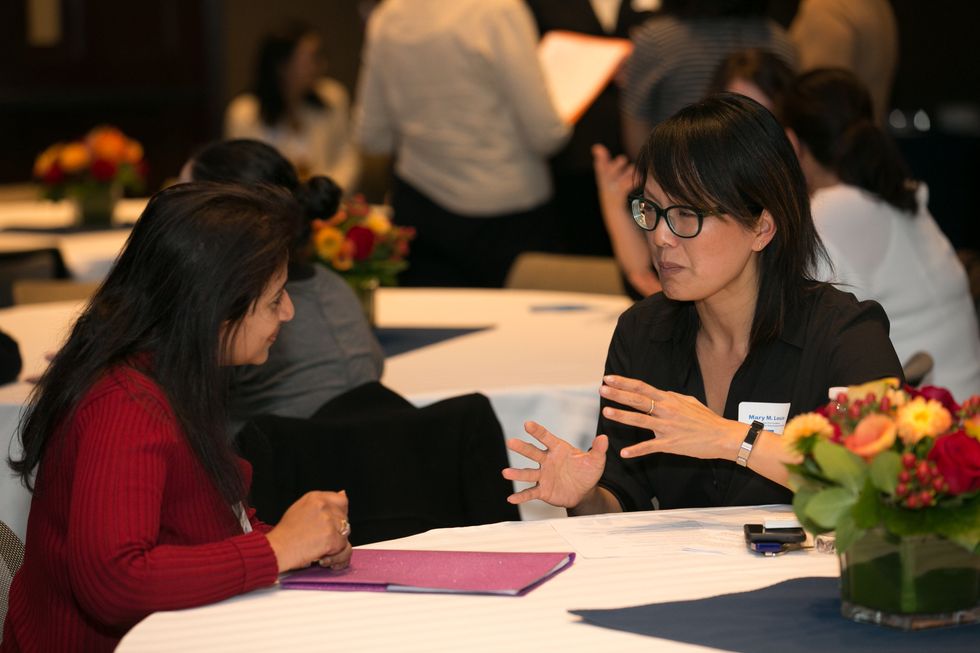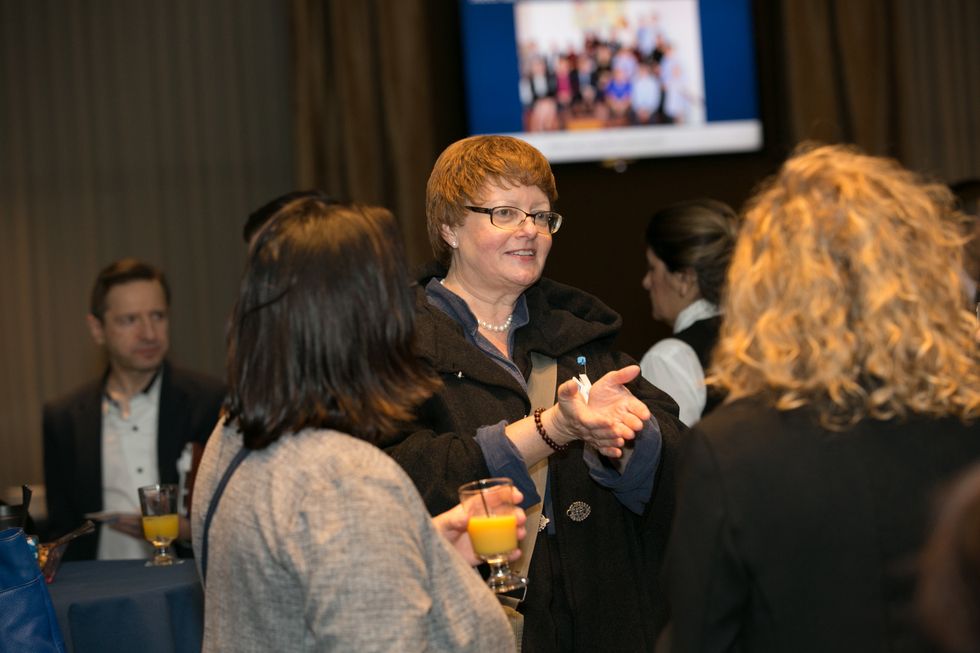 READ MORE AND DISCUSS
Show less
Loading...