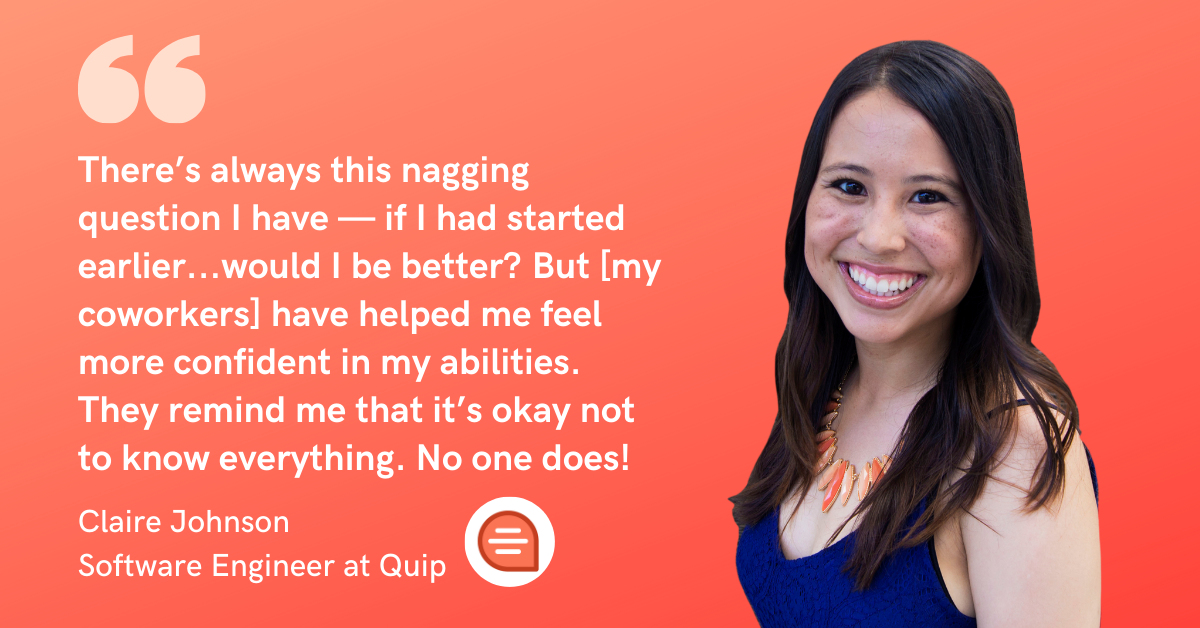 Quip
How She Overcame Self-Doubt & Became a Full-Time Software Engineer at Quip
Have you ever dreamed of pivoting into the world of software engineering? Claire Johnson, a self-proclaimed chemistry nerd who landed a chemical engineering job straight out of college, certainly hadn't… that is, until she took her first programming class online at Stanford. Now she's a full-time software engineer at Quip, Salesforce's productivity platform. "I never would've thought that I would do this when I graduated college," she explains, laughing.

Even when she took her first programming class (ironically, one sponsored by her employer at the time), she didn't expect it would lead to a career change: "It was just something fun. I enjoyed doing it and was pleasantly surprised when I realized I wasn't horrible at it."
That realization blossomed into something more when her job as a chemical engineer was no longer offering her the kinds of technical challenges she craved. "I thought software engineering might be more technical and problem-solving focused," she says.
But even though she was already an engineer by trade, the idea of transitioning into software engineering scared her. Her family and friends helped her overcome the insecurities she felt ("will this work?" "am I good enough?") and with their support, she decided to go all in: she quit her job to attend coding bootcamp full-time. Not long afterwards, in 2018, she landed her job at Quip. According to Claire, looking back on the transition now, "It was the best decision I've ever made."
To learn more about why she's so glad she made the switch to software engineering, I chatted with Claire about the challenges she faced as a bootcamp grad and the ways the Quip team supported her during her transition. Read on for her answers!
----
What was the interview experience like as a bootcamp grad — were you ever nervous about not having much experience?
Oh yeah. I really felt like I had to prove myself. None of my interviewers were ever rude or dismissive, but I always had this voice in my head saying, "I don't think I'm actually qualified for this. I don't think I actually can do this. I don't know if I deserve this job."
The more I interviewed and the more I heard interviewers say they were impressed by what I'd done, the more I realized it was all in my own head.
How did you end up finding (and accepting) your role at Quip?
Online! I didn't know much about Quip, but I saw the application and figured it wouldn't hurt to apply. I had no idea it would be such a great fit — it was a very pleasant surprise.
What made you decide to accept your role at Quip?
The people. Every single person that I met here was incredibly impressive in terms of what they'd accomplished as a software engineer. At the same time, they were also incredibly humble.
It felt like a really great place to start my career because I'd be surrounded by people who were willing to help and mentor me, and that's held true.
How has it felt to be a new software engineer, but not quite so new to the workforce?
When I started, I came in as a "new grad" alongside people who were straight out of college, even though I had a couple of years of work experience, so I did notice that I had certain communication and professional skills that they hadn't developed yet. Those skills have really helped me at Quip.
Another thing that helped with the transition is that Quip doesn't have super formal levels or titles, so as a software engineer, you have a lot of input in deciding what you work on and what you try. It's been really good for me because I've been able to say, "I'm not sure if I'm qualified for this, but it sounds really interesting," and team members have encouraged me to try new things and supported me along the way.
What's been your biggest challenge since starting at Quip?
I think it's something that a lot of people, especially women engineers, deal with: insecurity. I've questioned my own technical ability because I see so many extremely proficient and talented people at Quip, from those who are early in their careers to those who've been in the industry for quite some time.
There's always this nagging question I have — if I had started earlier, if I'd studied CS, would I be better?
But it's actually those same talented coworkers who've helped me feel more confident in my abilities. They remind me that it's okay not to know everything (because no one does) and that programming is always evolving: you only know what you've encountered and learned on the job.
Speaking of challenges that are sometimes more common for women engineers, how does Quip approach talking about these kinds of issues and making sure every team member — regardless of their background — feels welcome and like they deserve to be there?
We're very open about it, and the leadership team in particular encourages transparent conversations: we'll never pretend that problems related to diversity in tech just don't exist, which means that we can spend more time actually solving them. We have D&I task force that works on things company-wide and another one that's focused on engineering recruiting.
I've been really happy with how open the conversation is and especially people how willing people are — especially some of the white men in engineering — to defer to other people's opinions. I've had coworkers say things like, "I think your input here would be more valuable than mine." No one's getting defensive or trying to say things like, "I'm not part of the problem." We're making space for more diverse viewpoints.
And last but not least, what's one of the most fun things you did at Quip last year?
My friend here and I are super into baked goods, so we organized a best of San Francisco croissant competition for the company and had people bring in croissants from their favorite bakeries. We had a whole systematic voting process… it got really intense. Our CEO was there and had some very strong opinions. It was really fun to do something that brought the whole company together.
----
So take it from Claire: don't let self-doubt get in the way of what could be the best decision of your life.
If you want to know more about why Quip is a great place for bootcamp grads (or where to get the best croissant in San Francisco!), be sure to let Claire know in the comments below!
READ MORE AND DISCUSS
Show less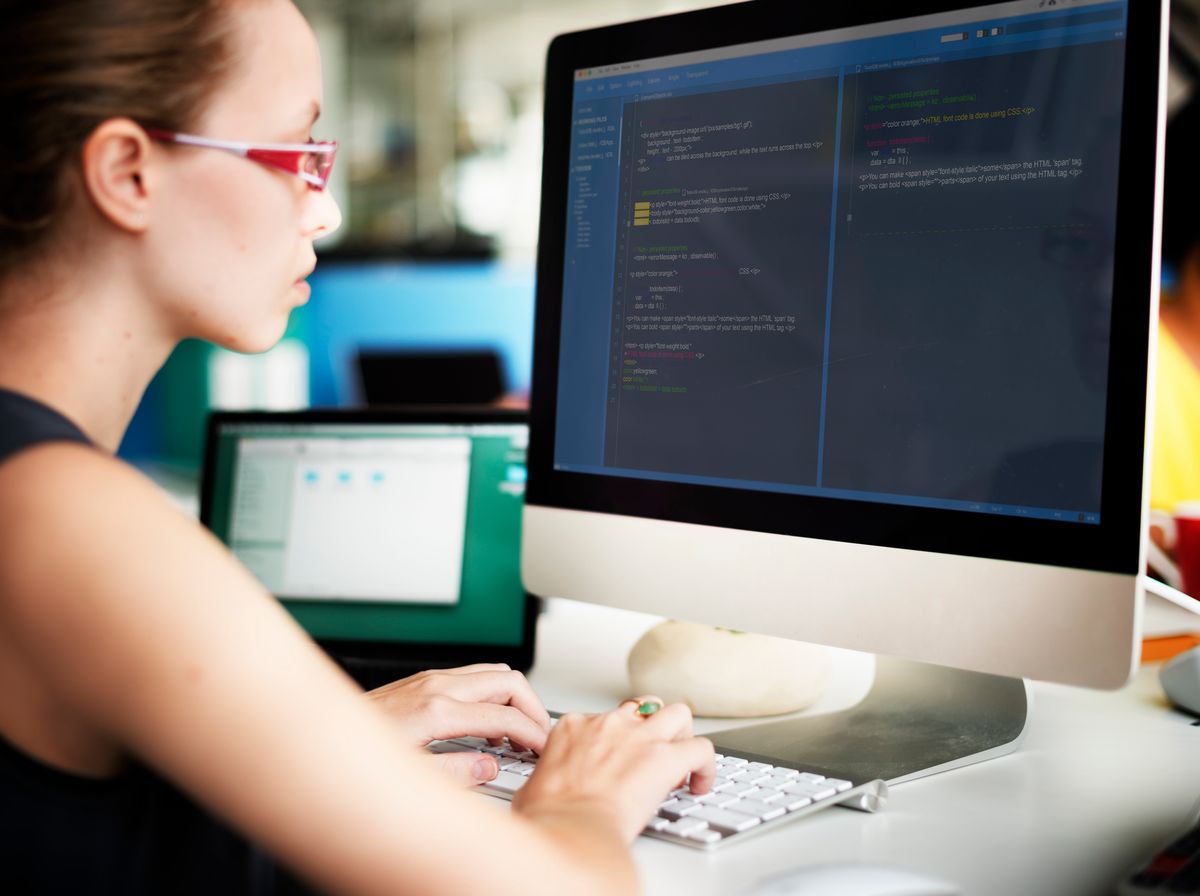 Career and Interview Tips
This piece was written by Erica Freedman, Client and Content Specialist at SwitchUp.org
For many, a coding bootcamp can be the perfect opportunity to switch to a tech career. These programs can be offline or online, part-time or full-time, and generally require far less time and investment that a four-year degree.
If you think a coding bootcamp could be a great fit for your career goals, you're probably wondering how to get started.. What do you look for when trying to choose a bootcamp? How do you know if it's the right fit? No matter the focus, the core components that make the best programs stand-out from the rest are consistent. To make things easier, we've compiled a list of the most important things to consider when comparing coding bootcamp programs.

What Are Your Goals?
Much like college or university, we ask potential students to consider their personal, financial and career-focused goals. Are you trying to:
Acquire new skills?
Increase your salary?
Land your first job?
Find more fulfillment at work?
These are all vastly different reasons to invest in bootcamp programs. Some bootcamps are focused on job placement while others are targeted at university graduates looking to transition into more specific career tracks.
Read school summaries or about sections as a first step towards understanding the program and school. You'll also want to weight whether the format of the school is the best fit for your goals, as bootcamps range from part-time, online programs to rigorous in-person courses.
Capitalize on Free Events
Don't be afraid to go to the school for a free coding session or info session. Often, code bootcamps have these events listed on Facebook and Eventbrite. Some schools host events on a monthly or even bi-weekly basis, and offer intro courses, basic code skills, or a deeper dive into their program.
Attending one of these sessions may enable you to:
Connect with teachers or administrative staff
Give you a taste of their learning process
Clear up anything unclear on the school website
Such sessions are both cost and risk-free. Plus, many schools offer them in an online format, so you can easily attend from anywhere! You only have skills and experience to gain from attending.
Career Services
Many schools boast one-on-one mentorship, a career services team or even a job guarantee after you graduate from their program. With a strong career services department, a bootcamp can help students land high-paying, quality careers that are aligned with their personal and professional goals. When you research a bootcamp, see if they:
Offer mentorship
Help you practice interviewing
Aim their curriculum towards portfolio development
Guarantee jobs after graduation
Note: We used the word quality when referring to job placement above. Transparency is key when looking at job placement statistics. Make sure you ask not only if students are being placed in jobs after graduation, but also typical job titles and graduate salaries.
When comparing job outcomes statistics, be sure to ask your school for a third-party verified outcomes report. These reports will give you a detailed breakdown about how a school reports and publishes outcomes.
Pricing and Financial Support
Compared with university programs, bootcamps are known for offering significantly lower upfront tuition. Many programs offer additional discounts or scholarships, or in-house financing that offers interest-free loan options. If you are intimidated by the thought of funding your dream, know that there are options.
The cost of the bootcamp itself can also play a huge role in determining your perfect program. Bootcamps can have very low costs depending on their location, level of one-on-one support and a slew of other factors.
Scholarships are also a great option for students in a financial bind. Many bootcamp programs offer diversity scholarships. This comprehensive Women in Tech Scholarship list offers bootcamps focused on bringing more women into the tech space.
Are you a veteran? There are bootcamps that accept the GI Bill as well.
See What Students Have to Say
Because regulations for tech programs vary, prospective students can depend on the experiences and feedback of alumni to find quality programs. "There are currently 120 in-person bootcamps and hundreds of part-time and online programs available worldwide," based on SwitchUp's research. While choice can be good, it can also make it difficult to find what is just right for you.
Many bootcamp alumni leave reviews on site like Quora, Google, Facebook and Medium, or on a review site like SwitchUp.
Personal accounts are important because they take students beyond marketing statsor publicity, and provide valuable first-hand experience. Their on-the-ground perspective is unlike anyone else's. It can help you understand the big picture, from the beginning of your research through to your career in tech.
The reviews on Switchup include how programs helped students before, during and after their attendance. If you're curious about pre-work, info sessions, career services or even the application process, all of these details can be found on the alumni reviews page for each individual school.
There is a lot to consider when choosing a
coding bootcamp
, but the research is worth it. This is a huge investment of time and money. A little effort will go a long way as you change careers and follow your dreams.
READ MORE AND DISCUSS
Show less
Loading...