GET EMAIL UPDATES FROM POWERTOFLY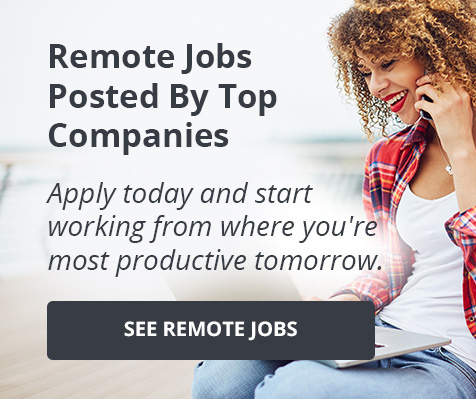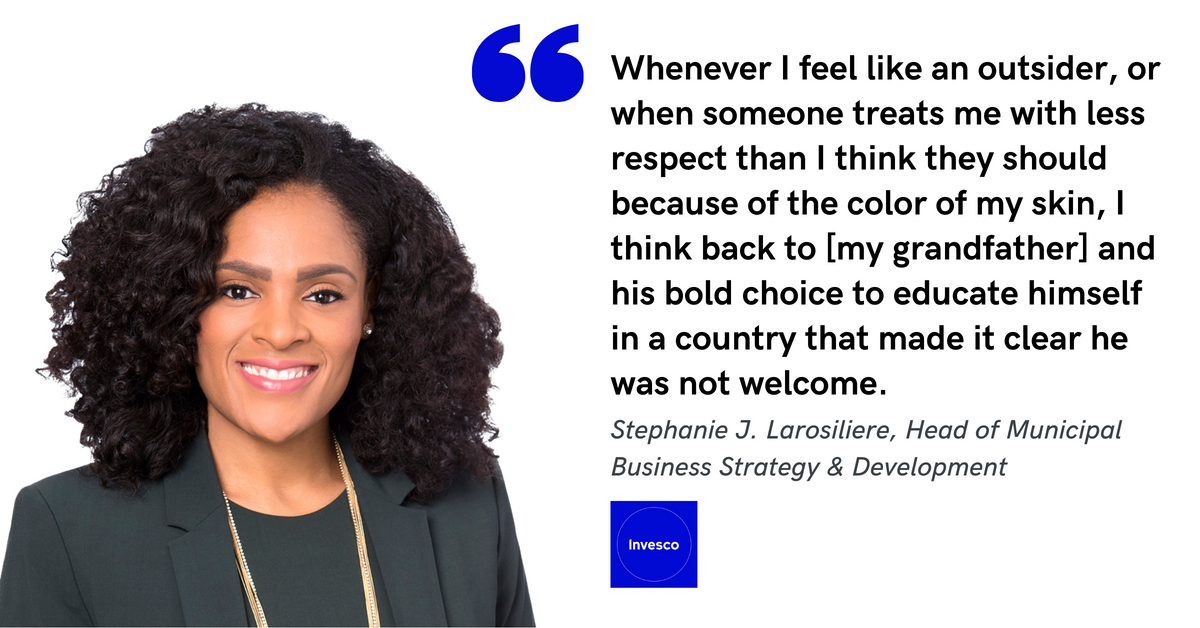 Invesco
Stephanie J. Larosiliere has a career she enjoys in an industry she didn't even know existed when she was a kid—and the resilience to stay in that industry, even when she looks around and doesn't see many people like her in her field.
She has her grandfather to thank for that.
"My family has greatly affected who I am today, and my journey," says Stephanie, whose grandfather emigrated from Haiti to Michigan in the early 1950s to pursue a degree in agronomy, where he was the only Black man in his program. "Nothing I could go through today could come close… this helps to drive me to fight to be represented in spaces where I may not be welcome."
We sat down with Stephanie, whose long career in financial services has led to a role as the Head of Municipal Business Strategies & Development at investment firm Invesco, to talk about her personal and professional journey. Read on to hear why she decided to pursue a career in financial services, and her top piece of advice for other people who aspire to find success in a field they have to navigate on their own.
Paving the Way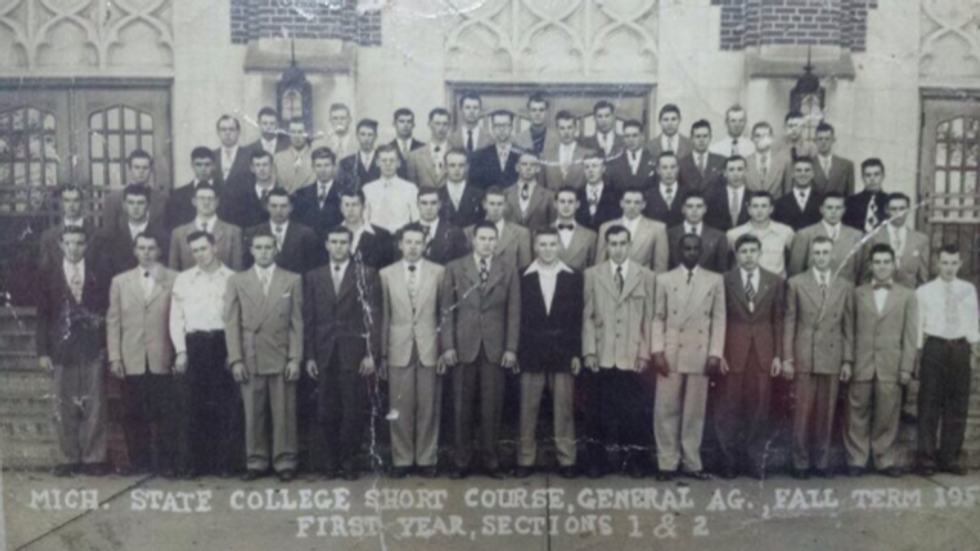 Faine Jean-Baptiste, Stephanie's maternal grandfather, and his class at Michigan State University, then Michigan State College, where he ultimately received his degree in Agronomy from what was widely regarded as the best such program in the U.S. Photo circa 1953.
Stephanie's parents were born in Haiti. She is a first-generation American, but thanks to her grandfather, her family already had a history of attending American institutions of higher education. When it came time to decide what she was going to do with her life, Stephanie says she felt she had "no choice but to continue the legacy."

"Being Haitian I've always known that I come from a brave and bold people that established the world's first independent Black republic. Haiti has a very rich history; that history gives us a sense of ownership over our being, over who we are, and that has resonated in the way that Haitian people engage in the world."
Stephanie sees that ownership in her grandfather's story. He came to the U.S. when he was 45, a married father of seven daughters, and was the only Black man in his class. "There was somewhat of an audacity on his part to think that he could leave Haiti and go to Michigan. And why not?" says Stephanie.
Why not, indeed?
Stephanie asked that same question of herself when it came time to plan her own career.
New Possibilities
No one in Stephanie's family knew anything about financial services. She only found out about the industry through the cooperative learning program offered by her New York City high school.
Through the program, she was matched with a company during the summer between her junior and senior years of high school. Stephanie was matched with JP Morgan, and stayed working with them through her senior year, switching off weeks at work and at school.
"As a 16-year-old, I knew you went to the bank to deposit money, and that's it. I'd heard of trading, but I didn't quite connect how that even worked," says Stephanie. She soaked in everything she learned on the job—especially when it came to the incoming class of post-college analysts.
"These were people who were five years older than me. They were not so old that it felt like a far reach. I remember looking at them and saying, 'I want to do what they do,'" says Stephanie.
So she kept working for it. When her manager at JP Morgan asked her to stay on during college, Stephanie withdrew from the out-of-state school she was planning to go to and enrolled in a NYC program so that she could stay employed during undergrad.
"Now that I think about it, I have no idea how I did it, but I worked 40 hours a week and I had a full-time schedule at school," says Stephanie, laughing. "I just ran around the city. I would take early morning classes, go to work, take evening classes, get home at 10, do my homework, and get up and do it again. It's the benefit of being 20 years old. And I would do this all in heels, which is insane to me."
Stephanie's hard work paid off. After finishing school, she was offered a full-time role at the bank. She was proud of what she'd accomplished, but it didn't come easily, and entering the world of full-time work in financial services was a whole new challenge.
"Not only was I a woman, a Black woman, but I was also the child of immigrants," says Stephanie. "I always feel like I don't belong here. I happened to have broken my way through to get here, but I'm not the person that is supposed to be here, based on how this normally goes."
Two things have helped Stephanie deal with those feelings. The first is remembering her grandfather's story.
"Whenever I feel like an outsider, or when someone treats me with less respect than I think they should because of the color of my skin, I think back to him and his bold choice to educate himself in a country that made it clear he was not welcome," she says. "He was so brave to do this and it makes me wonder how much he dealt with as the only Black man in his class. Nothing I could go through today could come close… this helps to drive me to fight to be represented in spaces where I may not be welcome."
The second thing is leaving environments she felt she couldn't change.
Finding a Place to Grow
Stephanie stayed at JP Morgan, and later JPMorgan Chase, for six years. She struggled with figuring out how to take up space, especially when an early manager told her that she was too outspoken. But Stephanie realized that was more of a comment on the manager's leadership skills than it was something for her to deal with. "I have always made it clear that I had a voice. I have value to add. I've made it my business not to let people quiet me and silence me in rooms where I feel like I should be speaking," she says.
When Stephanie realized risk management wasn't for her, she decided to switch to a smaller firm. That was "less of a rat race," she says, but also felt like a fast-path to "a cushy life and a mediocre existence." So she went back into big banks for a job at Goldman.
"My time there molded me and shaped me a lot into the person I am today," she says. But her time there wasn't without its challenges: "There was a hierarchy in place. You know, 'you don't speak before your boss' kind of thing. Although I loved the company, my career path felt unclear, and I knew it was time for a change."
When an opportunity at Invesco came up, Stephanie took it. She hadn't heard of the standalone asset manager, but was interested in the opportunity, particularly in the chance to do something completely new to her: be client-facing. When her boss's role, which required plenty of client interaction, opened up, Stephanie decided to go for it. "I kept thinking that if I have to report to someone new, I'm always going to know that I could've been that person, but because I let fear stand in the way, I'm not," she says. So she overcame that fear and now is both a senior client portfolio manager and head of a team of product managers and client portfolio managers covering the Municipal Bond business.
And she gets to do it in an environment that really works for her.
"Invesco has been extremely supportive of me, and of women in general, having a voice. That's not something that I necessarily had in my previous roles," says Stephanie. "At Invesco, I feel like I have much more ownership of my narrative than I ever had, and that has allowed me to progress in the way that I have in the last decade."
For Others
Looking back on her career, Stephanie has one piece of advice for others who are trying to build a career that fulfills them, especially in places they don't feel welcome: you don't have to have all the answers.
"People assume that I have a very specific vision," she says. "A lot of the time, I just know what I don't want. And by knowing what I don't want, it allows me to see the things that I want. So those things kind of shine a little bit brighter, and help to attract me to the things that make sense for me."
Does Invesco's culture sound intriguing? Check out their open roles!
READ MORE AND DISCUSS
Show less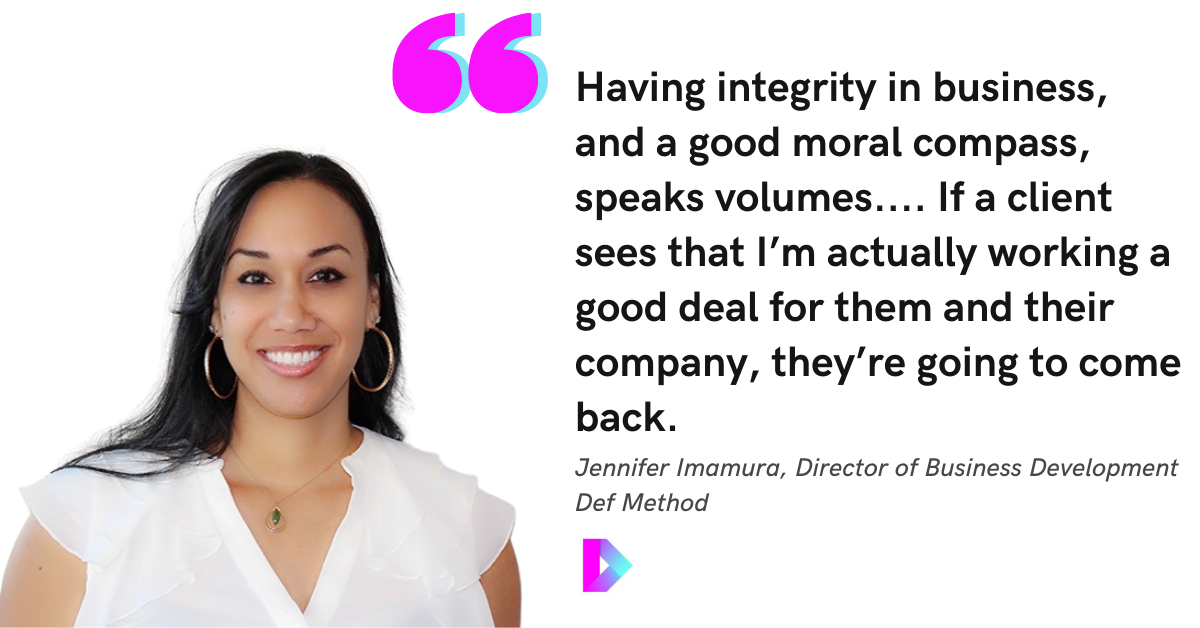 Def Method
When Jennifer Imamura joined software consultancy Def Method as Director of Business Development last year, the first thing on her agenda wasn't building a sales pipeline.
It was meeting people.
Meeting everyone, in fact.
"I met with every single person at Def Method," says Jennifer, who adds that the agenda for those conversations with her new coworkers included their passions, what kinds of projects they wanted to work on, and what their goals were. "Getting to know people like that lets them—and me—show some vulnerability. And it builds trust. It allows people to understand that I'm in this for you."
Being able to connect well with people is one of Jennifer's superpowers, and knowing how to connect those people to projects and strategic initiatives is another. Together, they allow her to develop cross-functional solutions—that is, to solve client problems with a combination of engineering, product management, and design resources.
We sat down with Jennifer to hear more about her career path into sales (including why she initially swore sales wasn't for her), as well as the advice she has for engineering and sales teams looking to collaborate in order to serve clients, build pipelines, and find solutions.
"Do the right thing"
Jennifer grew up in doctors' offices.
Not because she was sick, but because her mom worked as a manager of several private practice physician's offices in Beverly Hills. Jennifer's first job was filing charts, and she worked as a receptionist and in the back office of doctors' offices throughout high school, undergrad, and her MBA program.
Then her boss, the head physician at the private practice she was managing, told her she needed to leave.
"He gave me the best advice. He said, 'You have to keep moving. You've worked your butt off to get this MBA, go get a corporate job and move up in this world,'" she recalls.
Jennifer took his advice and took a role in the back office of a multinational corporation, even though it required taking a pay cut at first. She made up for it with regular promotions and transfers, moving to operations and then strategy and eventually sales.
"Ironically, I never wanted to go into sales or business development," says Jennifer. "I didn't want to have to get in front of people. But my boss at that organization said that I had the charisma, the energy, what it takes...and even though he was right, it was important for me to take those steps of learning how a business operates, because that's what set me up for greater success as a sales leader."
And now, after years of sales success—at that corporation, then at a Chicago-based software development shop, and now at Def Method—Jennifer still manages her career with the values she learned in those doctors' offices.
"Physicians are supposed to do the right thing for their patients. I learned very early on that you've got to do the right thing for your client, and that stuck with me," she says.
Redefining What Success Looks Like by Developing a New Approach
Doing the right thing for her client is sometimes at odds with closing the biggest deal possible. Jennifer still sticks with the former.
"Having integrity in business, and a good moral compass, speaks volumes. Salespeople looking for the big win and the big payout are usually miserable," she says. "If a client sees that I'm actually working a good deal for them and their company, they're going to come back."
Her commitment to actually solving client problems in a way that looks out for their bottom line is what helped Jennifer see the value in cross-functional solutions.
Here's how she explains them: "They're complex offerings that include different departments or teams from my side, making sure we work together to create the optimal service for our client. While including the different teams on their side, too."
In action, that might look like working with a client who wants a custom app built. They know they need engineering, because they have a great product vision. But if they don't have a plan and roadmap for how to actually build it, they may need product management resources, too. And if they want it to look good? Well, Jennifer would bring in her design team to make it visually appealing.
"Cross-functional selling is much more efficient and effective than just selling the shiny box or saying, 'Hmm, Mr. Client, you need all of this and you need all of that because it's the deluxe package,'" says Jennifer. "It's more thorough, it's more thoughtful, and from my perspective, it's the right thing to do."
Three Common Challenges—And Three Ways to Address Them
Selling cross-functionally requires getting a lot of people in the same boat rowing in the same direction, and that's not always easy. Jennifer shared some of the common pitfalls to this kind of collaboration, as well as advice for overcoming them:
Finding alignment with other teams or departments. It can be hard to get on the same page with people whose goals or metrics for success are different than yours. What has worked for Jennifer is creating opportunities for teams to interact more regularly and share their goals, including a biweekly internal meeting with her engineers to check on their job satisfaction and morale.
Trusting your team. "I have to trust my team to be able to help me build the solution. If I don't trust them, if I don't believe that they are experts also, it can't happen," says Jennifer. Her initial meeting circuit helped build that foundation, and regular check-ins help push it farther. "Every day I have to see these people. I want them to go and start their day with, 'Yes, this is a good project, I'm happy to do this,' not 'Ugh, I'm ready to rip it off,'" she says.
Knowing the product and service. You can't sell what you don't understand, and custom software solutions can be especially difficult to understand. "It's not a box, or a bundle, or 'choose option A, B, or C,'" says Jennifer. "You start from scratch in every single conversation. You have to really listen, pay attention, and do the research." Jennifer got caught up by reading books on project management, taking classes on coding and project methodologies, and using Def Method's generous learning and development budget and time allowance to attend webinars and conferences to keep pushing her understanding.
Working through those challenges is more than worth it, says Jennifer. "Being able to work with people from different teams, people who think differently, it helps me sell better. It helps me see from their perspective the value in what we're doing."
Want to build cross-functional solutions with Jennifer and her team? Click here to learn more about Def Method's open roles.
READ MORE AND DISCUSS
Show less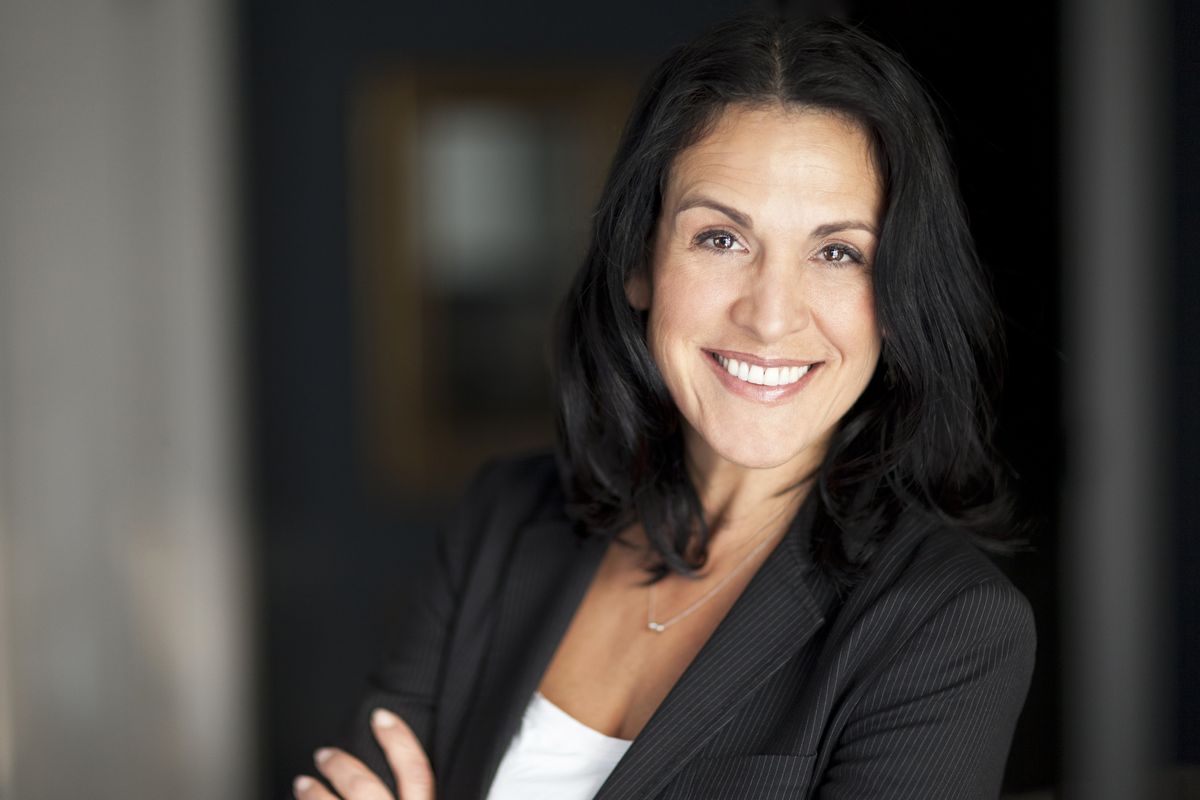 Jobs
FTI Consulting, Inc. is a global business advisory firm dedicated to helping organizations manage change, mitigate risk and resolve disputes: financial, legal, operational, political & regulatory, reputational and transactional. With more than 4,600 employees located in 28 countries, FTI Consulting professionals work closely with clients to anticipate, illuminate and overcome complex business challenges and make the most of opportunities.
It's FTI's goal to not only attract, hire, and develop their employees, but to retain the best and most talented people in the world. This starts with diversity and inclusion. Through FTI Consulting's Women's Initiative ("FTI WIN"), they offer career training, professional development, mentorship, networking and community outreach opportunities across the globe to empower female professionals to reach their highest potential in their careers and develop best-in-class leadership capabilities.
Apply to one of their seven openings below and follow FTI Consulting on PowerToFly today. You'll be the first to receive exclusive job opportunities, event invitations, and more!
Business Development Director, E-Discovery (Chicago, IL)
Business Development Director - E-Discovery (San Francisco, CA)
Director, Construction Solutions (Atlanta, GA)
Senior Automation Engineer (Bowie, MD)
Senior Director, Construction Solutions (Houston, TX)
Senior Director, Transaction Advisory Services - Corporate Finance (Atlanta, GA)
Technology Segment - Computer Forensics - Senior Director (San Francisco, CA)

READ MORE AND DISCUSS
Show less
Loading...