GET EMAIL UPDATES FROM POWERTOFLY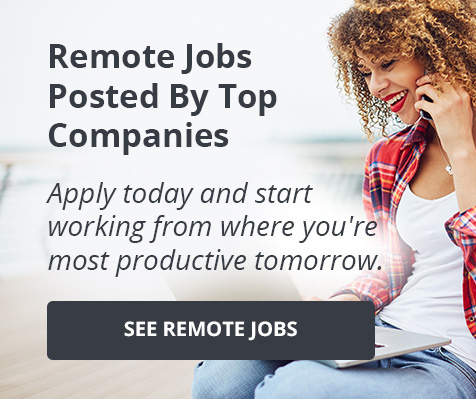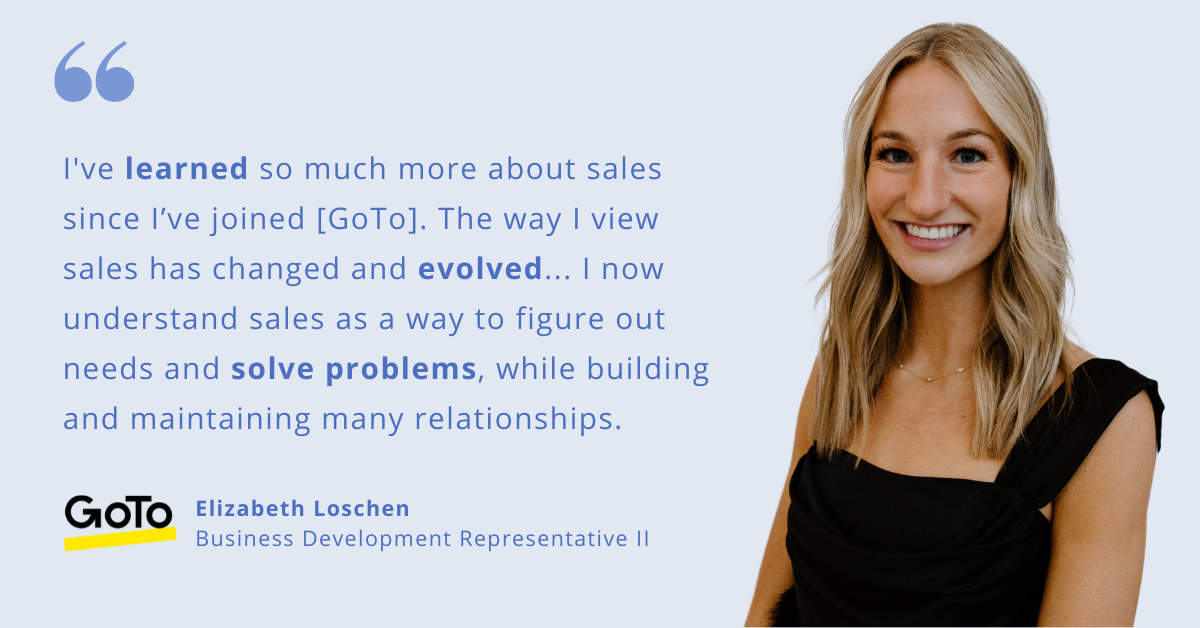 GoTo
Elizabeth Loschen is a former collegiate volleyball player with nimble abilities both on and off the court. "I love to work out and be active," she says. "In fact, I'm going to start teaching some workout classes in my free time after work." And when she's in the office she's always on the ball, successfully bringing in new leads for her team.
Elizabeth is quickly growing her sales career as a Business Development Representative II at GoTo, a flexible-work software company. We sat down with her to learn about how she's built her career in sales since graduating in 2020. Keep reading to learn her story and advice for early professionals wanting to kick-start their sales career.
Finding the First Opportunity
Volleyball has always been important to Elizabeth. "I played in highschool, and then following graduation, I went up to play at University of South Dakota," she elaborates. "I played volleyball there for all four years." She opted for a degree in business, with a focus on finance. "I was interested in understanding finances and pursuing a field that would lead to long-term success," she says.
Soon after she graduated, she was offered a Graduate Assistant Coach position at Jacksonville University, where she got her MBA. Her program solidified many of the skills she had acquired in her undergrad, like organization, time management, and presenting. "I know presenting is nobody's favorite thing, but it's definitely prepared me as I'm talking to VPs of companies on the phone," she explains. "I have to be confident and speak to my knowledge, which is important in sales."
Once her MBA program came to a close, Elizabeth decided to move back to her hometown of Omaha, where she accepted a position as Assistant Manager for Orange Theory, a boutique fitness studio. Although she didn't know it at the time, this was her first step into the world of sales. "You are getting paid on how many people join, so you're trying to always bring in [new] memberships," says Elizabeth. "So that got my foot in the door to sales."
This opportunity also helped her transition from her college classes to real-world business situations. "I feel like in school, they say 'these are the steps,' but at Orange Theory, there were things you had to know, but there weren't obvious steps to follow," she elaborates. "You had to really understand what the customers wanted and what their goals were before pushing the sale."
Transitioning to the Remote Work World
After seven months in the fitness industry, Elizabeth decided she wanted to look for another sales-based opportunity that would give her the opportunity to work from wherever she wanted. "I wanted to stay in sales because I like the ability to determine my own outcomes," she says. "Whether it's determining the relationships you build or determining how much money you make, I love that idea."
After a few months of job searching, a staffing company reached out to Elizabeth where she got connected with GoTo. "I got the interview with GoTo and I literally got an offer a couple of days later." After researching the company, understanding their values, and considering future career growth, she took the offer. "I knew I could see myself succeeding with GoTo."
GoTo is a flexible-work software that offers small to medium sized companies tools to enhance the way they work. They're committed to ensuring that employees have excellent growth opportunities and work-life balance. Apart from monthly check-ins and quarterly opportunities to scale up, GoTo offers employees monthly self-care days, flexibility in organizing their own work hours, and ensuring that the time at work is well spent so that time outside of work is better spent.
Since joining the GoTo team, Elizabeth has been able to enjoy that flexibility to the max, as she's traveled with her boyfriend who is a professional basketball player. "I lived in Atlanta for a little bit then Memphis and now I'm back in Omaha," she explains. "It's really nice that I can work and be completely focused wherever I'm at."
She's also been able to take advantage of the upskilling opportunities that GoTo has to offer. "I've learned so much more about sales since I've joined. The way I view sales has changed and evolved in a really good way," Elizabeth says. "I now understand sales as a way to figure out needs and solve problems, while building and maintaining many relationships." She's also gotten the chance to take on leadership opportunities like mentoring new hires on her team.
A Typical Day in Sales
One of Elizabeth's favorite perks of working at GoTo is the flexibility that comes with her typical day at work. She makes sure she has a full morning routine before logging on and organizes her day according to her goals on her daily and weekly planner. Some of her daily tasks include: attending team meetings, prospecting and follow-ups with clients, mentoring team members, or sitting in on demos to learn about the company's latest offerings.
She makes sure to take breaks throughout her day too. "As long as you're hitting all your metrics, it's pretty flexible," she says. When she logs off from work, she feels like she can fully disconnect and have quality, personal time.
Advice on How to Kick-Start Your Career in Sales
Elizabeth recalls the first time she started making phone calls to potential clients. "The first fifty phone calls I made I froze on the phone and didn't know what to say and I messed up," she says. "But then you screw up a phone call, you learn from it, and you get better." This type of perseverance is critical in any role in sales, in addition to other key soft skills such as self-awareness, time management, collaboration, competitiveness, and goal-setting. Elizabeth shares with us a few practical pieces of advice for anyone interested in stepping into sales.
Network and build relationships. Building connections is key for a successful sales career. Although it may sound cliché, "networking and building relationships is huge." Not only is this helpful to make contacts, but more importantly, to create valuable and enjoyable places of work.

Don't be afraid to fail. Elizabeth has found that a lot of her growth has been due to failure. "When I started, I failed so many times," she says, referencing freezing up during cold calls. "But you don't grow unless you fail. So don't be afraid to mess up!"
Have goals (and celebrate when you hit them!). In sales, setting goals is key to success. "It's hard to be good at your job if you don't have measurable goals, whether they're weekly, daily, monthly, yearly, they're so important," says Elizabeth. One thing she loves about the sales team at GoTo is that every time a goal is met, the team celebrates. "We put everything in our Slack, whether it's a small win, like, 'hey, I got a follow up call' or 'hey, just got an opportunity,'" she says. "We're all celebrating with each other."
If you're interested in learning more about roles similar to Elizabeth's, check out Go To, they're hiring!
READ MORE AND DISCUSS
Show less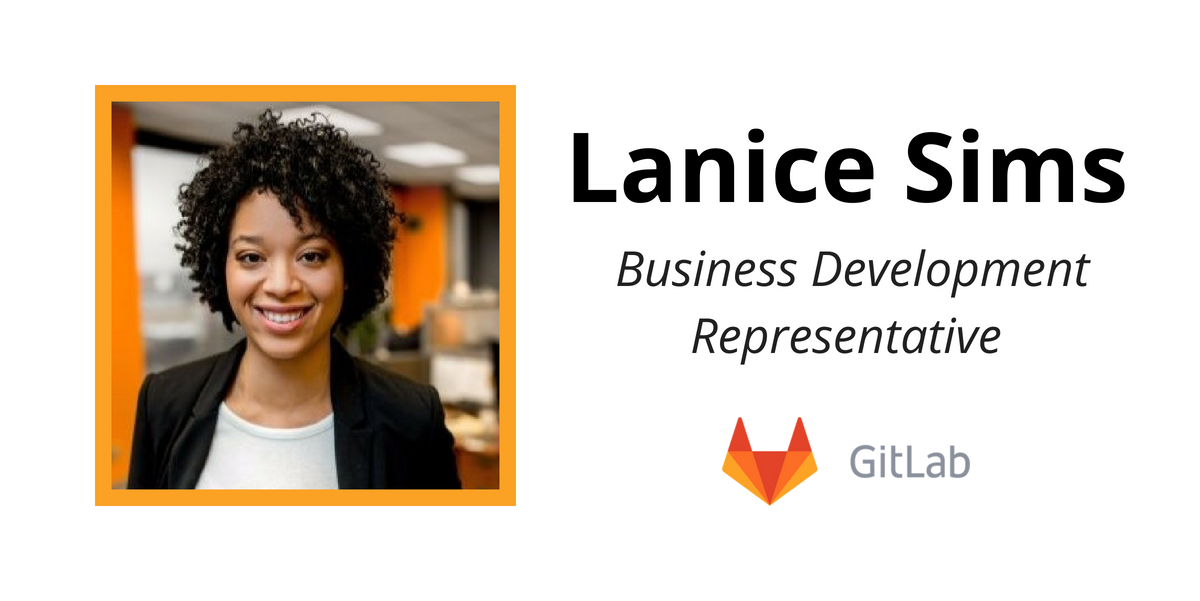 GitLab
Meet Lanice Sims of GitLab
Lanice Sims, a Business Development Representative at GitLab, was not looking for a career in tech but once she got an inside look at how technology is making our lives easier, she was hooked.
I reached out to Lanice to discuss her sales philosophy, the benefits (and challenges) of working in an entirely remote company, maintaining a strong work-life balance in a 24/7 world, and how companies who want to be inclusive and diverse must begin their journey with honesty.
Q: What is your role at GitLab and what are some of your responsibilities there?
A: As a Business Development Representative, I identify where a customer is in the sales and marketing funnel and take the appropriate action. Essentially, I make sure people who display interest in GitLab get the right information and assistance they need.
Q: You've mentioned that you didn't think too much about technology until a few years ago when you began working for a sports tech company. What prompted your decision to enter the tech world?
A: One of my friends started working at SportsEngine. She spoke highly of the manager and people, so I decided to interview and got the job. I wasn't looking for a role in tech, but once I started engaging with the platform at SportsEngine and saw how technology is used to essentially make our lives easier, I kinda fell in love.
Q: After now working in tech for several years, how has your perception of it changed?
A: My perception of it is still the same. I think with the right attitude and tools, you can build things that will help make our lives better and efficient.
Q: Can you elaborate a bit further about your sales philosophy?
A: I believe the point of sales is to help people navigate different solutions and help them land on the right one. People open up to me about issues they are having with their workflow and it is my job to help them decide if our solution makes sense for them.
Q: Sales can often seem like a 24/7 job. How do you maintain a strong work-life balance?
A: It's important for me to take care of myself. Before GitLab, I learned how to be efficient at work and even practiced not taking my computer home. We live in a world where everything seems urgent, but that is not the case. Even with my personal life I practice turning off my notifications.
Q: Much like PowerToFly, GitLab is a fully remote company. How do you maintain clear communication?
A: We practice asynchronous communication, which helps people understand the difference between urgent and important. With remote work, it can be easy to blend your work life with your personal, so we set boundaries.
Q: You came into your career somewhat unexpectedly. What advice would you give to other women who are recent college graduates and are trying to decide their career direction?
A: I would say you are smart, capable, competitive, and you need to go for it. I was told "no" for about a year. And it was hard dealing with that rejection but it also probably helped prepare me for sales. I had a good support system, so getting through the hard days was easier. I think building a community of people that will root for you is key. It makes a difference.
Q: What steps do you think companies, and GitLab in particular, can make to build a team that is racially and gender diverse?
A: If companies want to be "diverse and inclusive" they need to be honest about where they are currently. I think that acknowledging a problem exists is where we start, and recognizing that it may be different for different companies. We need to start challenging our biases. At GitLab, we recognize that we are far from perfect, which is a start. It's awesome we are a fully remote company as it allows people from all over the world to join and contribute to GitLab, while accommodating those who cannot and/or prefer not to work 9-5. We are also family friendly, which can be a huge plus for those with children.
READ MORE AND DISCUSS
Show less
Loading...