GET EMAIL UPDATES FROM POWERTOFLY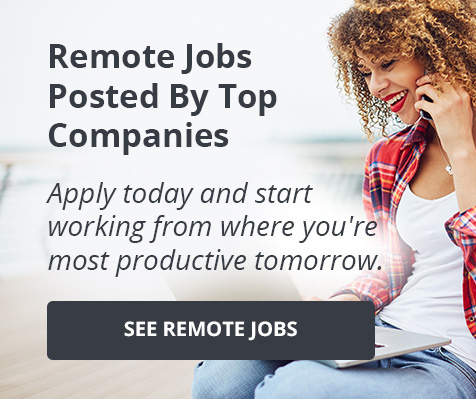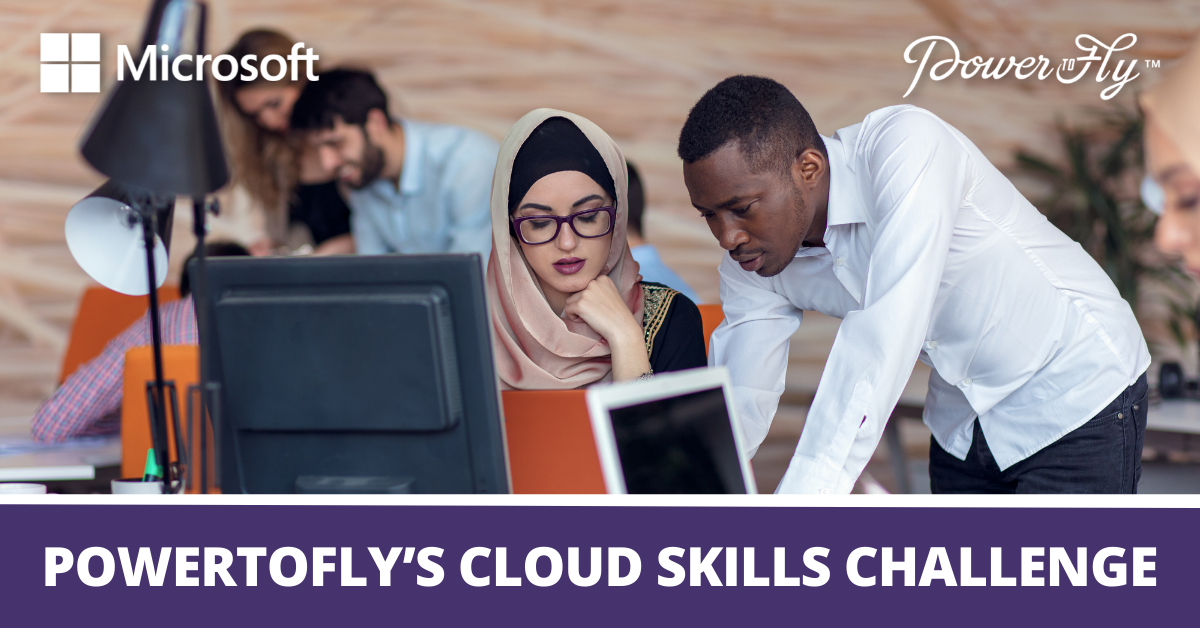 Upskilling and Development
Cloud computing has seen huge advancements in the last couple of years as the pandemic has forced companies to keep up with productivity, reduce costs, and stay connected. Instead of using in-house servers and computing power, "the cloud" offers the flexibility, scalability, and cost-effectiveness that companies need.
So it's no surprise that cloud computing has been rated as one of the most sought-after tech skills by LinkedIn and Indeed this year. With ever-changing technology, the demand for certified cloud computing professionals has soared. The shortage of qualified professionals in this domain presents a golden opportunity for those who are willing to learn the necessary cloud computing skills.
And that's why we're excited to announce that PowerToFly is collaborating with the Microsoft U.S. Developer team to bring you FREE Cloud Skills Challenges all year long. Participants can develop new, highly-sought after skills by enrolling in three new challenges every quarter and get the chance to earn a Microsoft Cloud Computing Certification once the challenge has been completed. Those who take the challenge through PowerToFly have the opportunity to take the exam for free!
Cloud Skills Challenge
The challenges consist of completing a series of modules on Microsoft's learning platform and benchmarking progress against other participants. After completing the challenge, participants can take an exam to earn an official Microsoft certification (paid for by PowerToFly!).
PowerToFly hosted our first Cloud Skills challenge in December 2021, where over 1,200 participants completed a Microsoft certified online course focused on Microsoft Azure and DevOps-related cloud computing skills.
We were blown away by the quality of students who participated in the challenge and walked away with new, marketable skills and an official certificate. It went so well that we are pleased to announce that we will be offering more Microsoft challenges exclusively for the PowerToFly community.
We are currently offering the following challenges:
DevOps Engineer
Learn to design and implement strategies for collaboration, code, infrastructure, source control, security, compliance, continuous integration, testing, delivery, monitoring, and feedback.
Azure AI Engineer Associate
Learn to analyze solution requirements; design solutions; integrate AI models into solutions; and deploy and manage solutions.
Azure Data Scientist Associate
Learn to manage Azure resources for machine learning; run experiments and train models; deploy and operationalize machine learning solutions; and implement responsible machine learning.
These courses have been hand-picked by PowerToFly's Customer Success team because they cover some of the most in-demand, high-paying skills companies are looking for this year.
PowerToFly will reimburse the first 50 people who successfully complete the challenge coursework and the certification exam!
Don't miss your opportunity to level up your tech career! Click here to earn a FREE Microsoft Certification exam.
READ MORE AND DISCUSS
Show less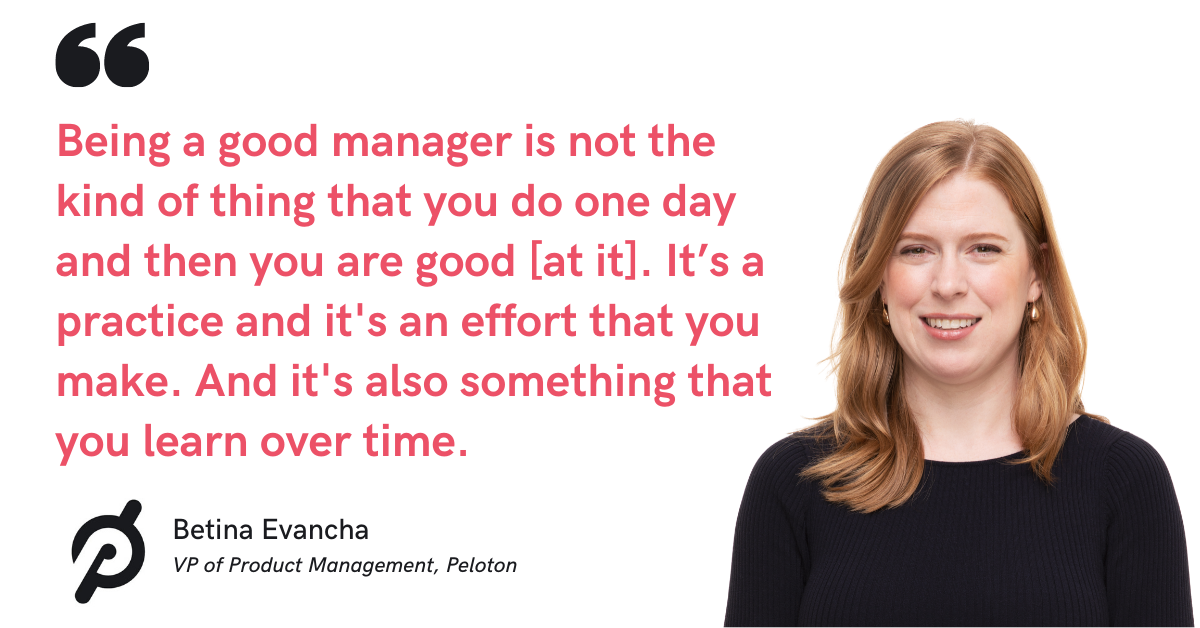 Peloton
Betina Evancha loves putting together IKEA furniture. If you have some languishing in a box in a closet, waiting for you to muster up the patience to sort through a hundred tiny screws, she'd be happy to help.
"It's very zen, right?" asks Betina, who is the VP of Product Management for fitness tech company Peloton. "My work life is lots of lateral thinking, where there are no correct answers to problems a lot of the time. So it's very soothing to do something where you just start, follow the directions, and at the end, you have a chair."

We sat down with Betina to talk about her career as a product manager, how she's seen Peloton's Product Management team grow from four to 25, and what she's learned about tackling not-so-straightforward problems along the way.
Finding her niche: mixing people and problems in product management
Betina studied mechanical engineering in college and took a job after graduation as a consultant, excited by the opportunity to solve problems for different kinds of businesses. But she wanted to be more hands-on with her solutions than consulting allowed for, so in her free time, she learned how to code and later took a job as a mobile developer.
That was better, but still not quite right; she felt like she had more to offer. Her then-boss gave her an opportunity to be a product manager, and that was her Goldilocks moment.
"Product management is super fun—there are lots of different problems to solve," says Betina. "There's data problems and user testing problems and strategy. It's an opportunity to work with many different skills and tools, and I enjoy the challenge."
Betina joined Peloton in 2016 as the fourth member of their product management team. They covered many of Peloton's products, from the website, to the system used in showrooms, to the Peloton Bike itself. Her focus was on the Tread, Peloton's full-body workout offering. The team grew quickly, and two years in, her boss offered the opportunity to manage people.
Management was interesting to her, she explains, because it would give her an opportunity to learn how to make an impact through others. "You're no longer just solving problems yourself. You're thinking about how to help someone else solve problems and help them improve, while giving them ownership," she says.
She went from a Senior PM to a Director of Product Management and found she thrived in the role. A year later, when the VP of Product Management role opened up, Betina decided to throw her hat in the ring.
"I knew I had a lot of experience at Peloton and with the subject matter and team, and at the same time, I knew I hadn't been a VP before. I knew I was a good candidate and I knew I'd have to grow into it," says Betina. But she raised her hand and her manager gave her a shot, first with a smaller team-wide project to create a standardized system for planning, and then, when that went well, with the job itself.
Developing as a manager—and learning to "bottle the magic"
"Being a good manager is not the kind of thing that you do one day and then you are good [at it]. It's a practice and it's an effort that you make. And it's also something that you learn over time," reflects Betina. "It's not like many skills, where you could spend a few weekends studying and then you've learned something. Managing doesn't work that way. You can't practice giving performance reviews over the weekend."
(We wondered briefly if maybe you could, if there were a manager-marketed VR app that let you practice sitting at a conference table and walking an employee through their performance metrics. We call dibs on bringing it to market.)
As she's developing as a manager, Betina has been careful to frame her style of leadership and management in ways that felt authentic. "I would say, 'Hey, my job isn't to come in here and tell you what to do. Or even really to change the way we're doing things. It's to provide you with resources and help you grow,'" she says.
She also needed to determine what kind of values she wanted to encourage, and for her, it kept coming down to something simple: obsession with making the product good.
When the team was small, that obsession was easy to foster. With fewer product managers, each person's responsibility area was huge, and naturally created a sense of ownership that helped team members thrive. But as Peloton's offerings have expanded beyond a bike and into other areas, Betina notes that it can be harder to maintain that energy.
"You need to believe that 'the buck stops with you,' right? The nightmare scenario is a PM saying, 'Oh, I would change the product, but I can't because of the bureaucracy,'" she says. To address that, Betina actively ensures that her product team has all of the tools they need to fully own their work and focus on solving member needs.
She calls that "bottling the magic"—creating an environment where everyone is enabled to obsess over the pursuit of creating a good product. It's a hard task as the team keeps growing in size, but she's committed to keeping that magic and that energy there.
"One of Peloton's core values is 'operate with a bias for action,' which I very much agree with," says Betina. "If I see anyone on my team start to lose that feeling of being able to create change, I know I need to change the structure to make that person feel like they can do what's important to create a great product."
Failing — and learning from it
"I like being successful and doing things correctly," says Betina on behalf of…pretty much all of us. But then she gets vulnerable, on behalf of all of us, too: "But I've been in a lot of situations where I didn't have the answer to the question. I've sometimes failed publicly. It's not that fun to do. Figuring out a way to fail at something, learn from it, and do it better next time has been challenging."
For Betina, the path forward requires finding ways to maintain her confidence despite setbacks. She says she's learning from her manager, Tom, who she jokes might "genuinely not have an ego" and who has shown her that admitting when you don't have the answer can empower and strengthen the team.
But despite the pain that comes with growth, Betina's thrilled for the chance to be doing the growing. "Honestly, it's been a total privilege to work on the stuff that I get to work on with the people I get to work on it with. I genuinely love the product and I think it's really fun to work on something that our members are really excited about," she says.
She's looking forward to the future, too, which may see her team growing even further and taking on new products yet to be dreamt up. "The complexity will just continue to increase," she says. "So how do you continue to create that sense of possibility and excitement about what we can build?"
If you're interested in learning more about Peloton or checking out their open roles, click here.
READ MORE AND DISCUSS
Show less
Katharine Zaleski's Blog
Two (light) pieces that got me this week.
It's Saturday, I have to get to Baltimore from NYC to start family time for Christmas (my husband is from the DC area). So I'll leave you all with two good links to content and blogs I read this week by women authors. One made me laugh and one made me think. It's pretty obvious which one did what.
READ MORE AND DISCUSS
Show less
Loading...