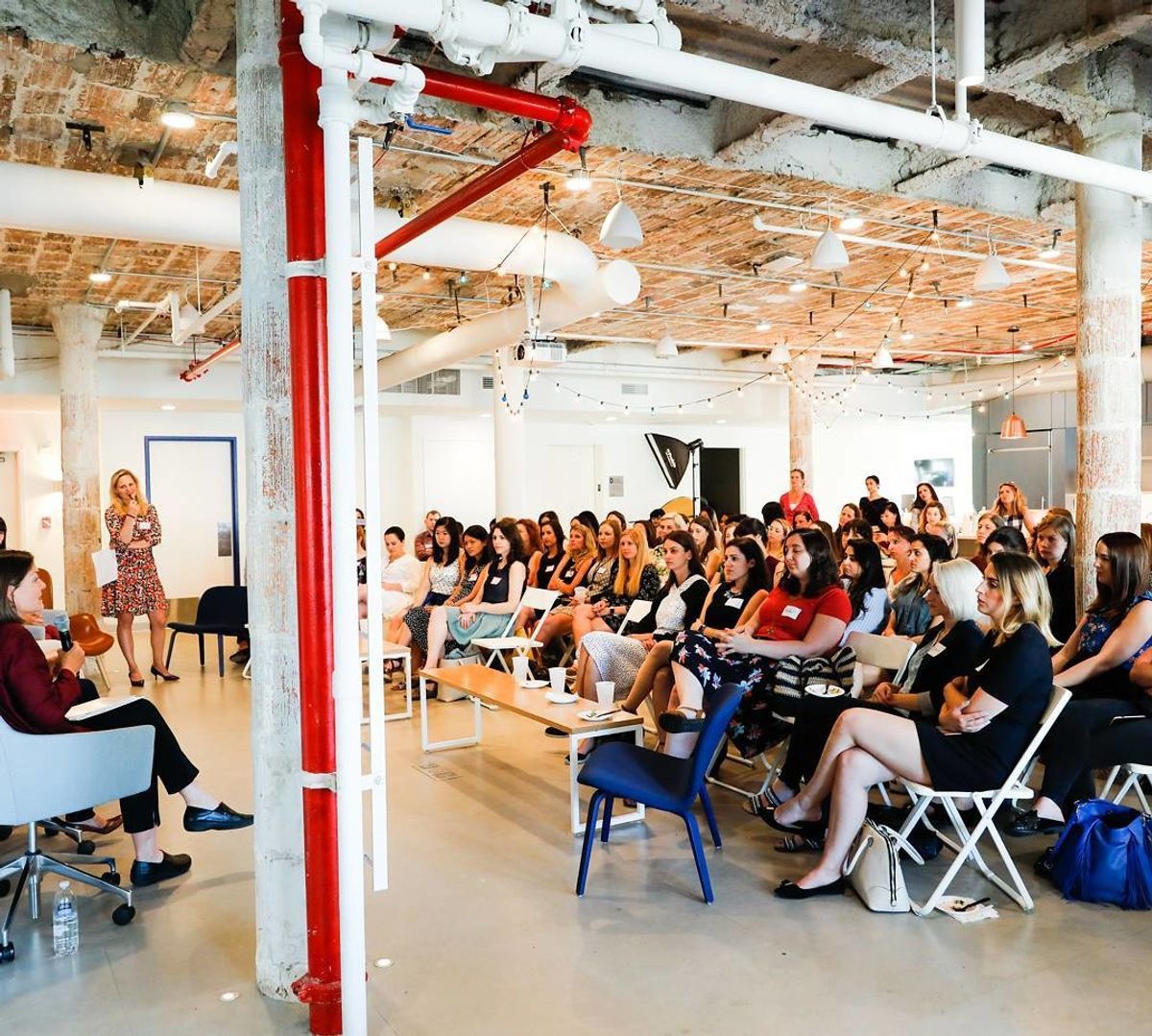 In Person Events
What's coming in 2018 and how to do it right.
Last May PowerToFly started throwing in-person events for women in tech and across digital. We were already doing virtual events and webinars, but it only seemed natural to ramp up live meetups for our community that reaches over 12 million women.
We've now held over thirty events, and needless to say, learned a ton about what works for a women in tech event and what doesn't. I'll summarize a few key points here so that employers can know how to throw events, and women in tech can know what they should expect from an event.
If you're looking for a list of free women in tech events then bookmark PowerToFly's Women in Tech Events list that's constantly updated (most of these events are password protected, so please email talentgrowth@powertofly.com if you want to be included). We do have events in there that aren't tech focused - sales meetups, webinars for employers and a lot more.
Another great resource for women in tech events is MeetUp. You can search for events in your area or globally. Not all the events are free like PowerToFly's are. So dig through and see what you can get. The same goes for Eventbrite's list of women in tech events. Some are free, many are not. So if you're looking for free women in tech events then I can't stress how much you'll want to save our PowerToFly list.
Dos for Throwing a Women in Tech Event
Do - Be transparent about how your company is creating a more inclusive environment.
Companies have a long way to go on this front. Don't pretend you're perfect. No one is - yet. I love this example of an interview I conducted around an event for Dow Jones with one of their Senior Engineers who they hired at nine months pregnant.


Do cut the sales-y talk. Use real examples.

Women want to see what you're building - they want to look at code or hear the stories around a product. They don't want to be pitched on why your company is so great. A good example of this is from an event we recently did with Amazon where we got an inside look into the challenges of building Amazon food. The presenter was a woman, with two children, who fielded questions Amazon food's code-base along with whether she takes her kid to his doctor's appointments every time. You'll have to come to an event to learn about Amazon's code base because that conversation was off the record, but when it comes to taking kids to the doctor in the middle of a workday, yes, the developer told the room that she does it frequently. (Obviously she picks up her unfinished work later in the day, post appointment).
PowerToFly is running a series of women in tech events with Amazon in the Seattle area this winter. If any Seattle women in tech want to join us then follow Amazon for updates here.
Do Feature women and their stories
Not every company needs to feature a panel that has stories like Mona's (scroll up to the video if you want a refresher on who I'm referring to). Panels with women - and men - on them that can articulate what it means to thrive at a company without having to sacrifice one's personal life are key. We did an Austin women in tech event for Homeaway with a line up that included men, women and even the CEO of Expedia. The panel was all women, but as you can see from our write up about this Austin women in tech event there was a strong mix of stories. Another one of my favorite panels was with Dow Jones. We had a mix of women on there who could speak to feeling they belonged despite disabilities, sexual orientation, parenting duties and more. I've pasted a photo in of that women in tech event from this past summer.
Do Include hiring managers (no matter their gender)
Don't throw a women in tech event that only has women. Men make most of the hiring decisions - we need them included at these events. Our Phoenix women in tech event with American Express was a perfect example of how important it is to have hiring managers mix with women in tech. If you don't get hiring managers at these events, then they're not meeting women in tech, and women in tech are not meeting them. The event will feel like another - check the box - recruiting gig.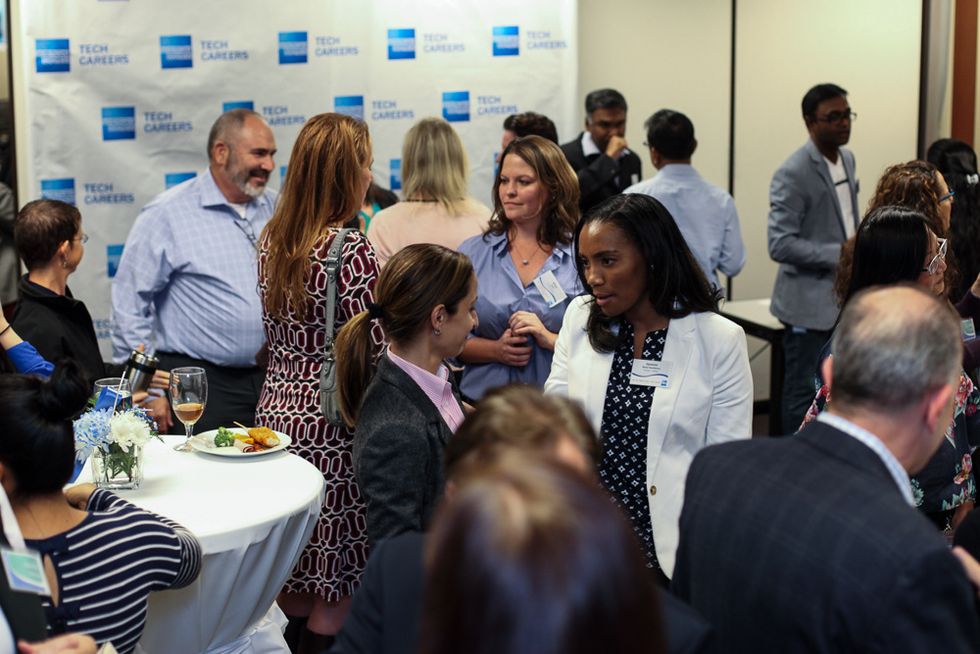 American Express Tech VP's mingling with Phoenix women in tech
Do Follow up

If you're looking to make hires then don't wait to contact women in tech you've brought to your event. Women in tech are in demand. Just look at all the companies trying to hire more women in tech in 2018. And if you want more stats on how diversity is a priority for top companies, then check out LinkedIn's 2018 hiring trends report.
Need more inspiration of what a good women in tech event looks like? I've pasted in some photos from our PowerToFly Instagram account. Keep scrolling.
Are you looking for women in Tech Events in 2018?
Here's PowerToFly's entire line up through March 2018.
I'll be building out a list for specific women in tech events for -
Women in Tech Events Bay Area
Women in Tech Events NYC
Women in Tech Events Seattle
Women in Tech Austin Events
READ MORE AND DISCUSS
Show less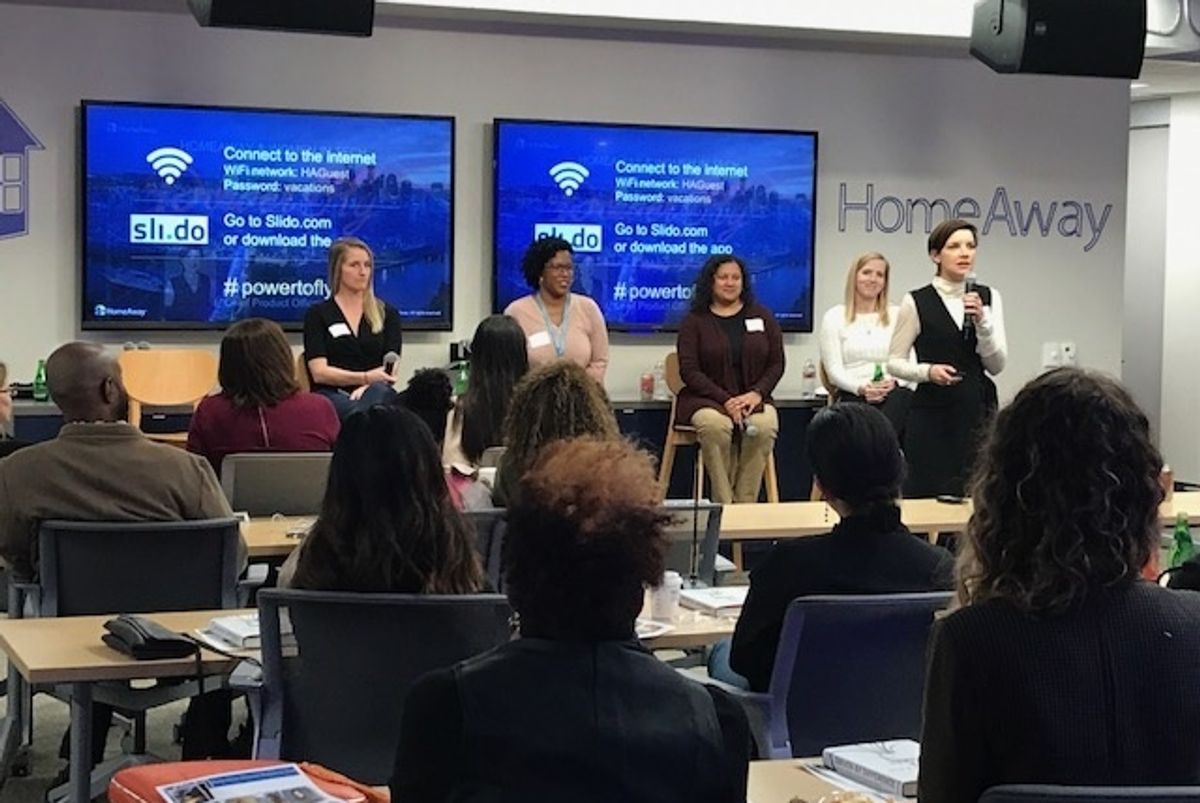 Vrbo
Featuring the CEO of Expedia and the President of Vrbo (formerly HomeAway)
When you convince more than 100 women in tech to come to an event on one of the coldest nights of the year, you want to have a stellar line up of executives from one of Austin's top companies discussing their diversity and tech initiatives. That's exactly what happened on January 17th when Vrbo and PowerToFly hosted an evening that included Vrbo's president, members of its executive team, and the CEO of Expedia, Vrbo's parent company.
For people who couldn't attend, we wanted to share a few quotes and anecdotes that moved the conversation forward in the room.
Vrbo President, John Kim: "In the last two years, there has been an awakening in diversity and inclusion. We are not going back."
Expedia CEO, Mark Okerstrom discussed how Expedia has made diversity a major initiative at the company by increasing the number of women on the Expedia board and expanding the number of women vice presidents.
Tina Weyand, Chief Product Officer at Vrbo discussed how "ideas can come from anywhere." She detailed how feedback has been key to her career. In fact, feedback is so valued at HomeAway that managers and teams recently received six hours of training on how to give constructive feedback that is actionable and unbiased.
Siobhan Burch, a Software Engineer at Vrbo, shared advice about returning to the workplace, something she herself has done after taking a five year break to raise her family. Burch leveraged her network of female supporters and kept herself sharp via internet courses to ensure that the transition back to the workforce was a successful one.
Vrbo Senior Strategic Data Analyst Nikole Phillips also stressed the importance of ongoing education citing advice her single mother gave her growing up in a low-income neighborhood in Philadelphia. "People can take anything away from you but they can't take the brain out of your head."
As one attendee, Violeta Albrecht, noted, it's important for women to not feel the need to hold back but to rather have a strong and equal voice at meetings, especially when you are one of the only women in the room. "I've taken myself off mute."
For more information on Vrbo's gender diversity initiatives and jobs follow their company page.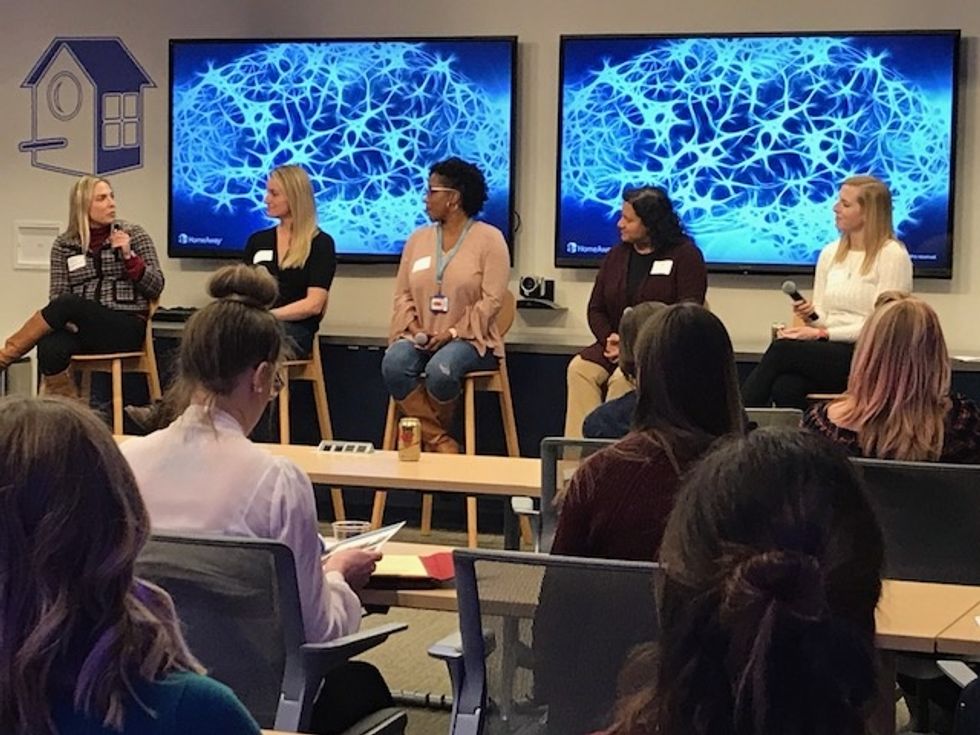 PowerToFly's Cristina Duke moderated a panel featuring Vrbo's female tech leaders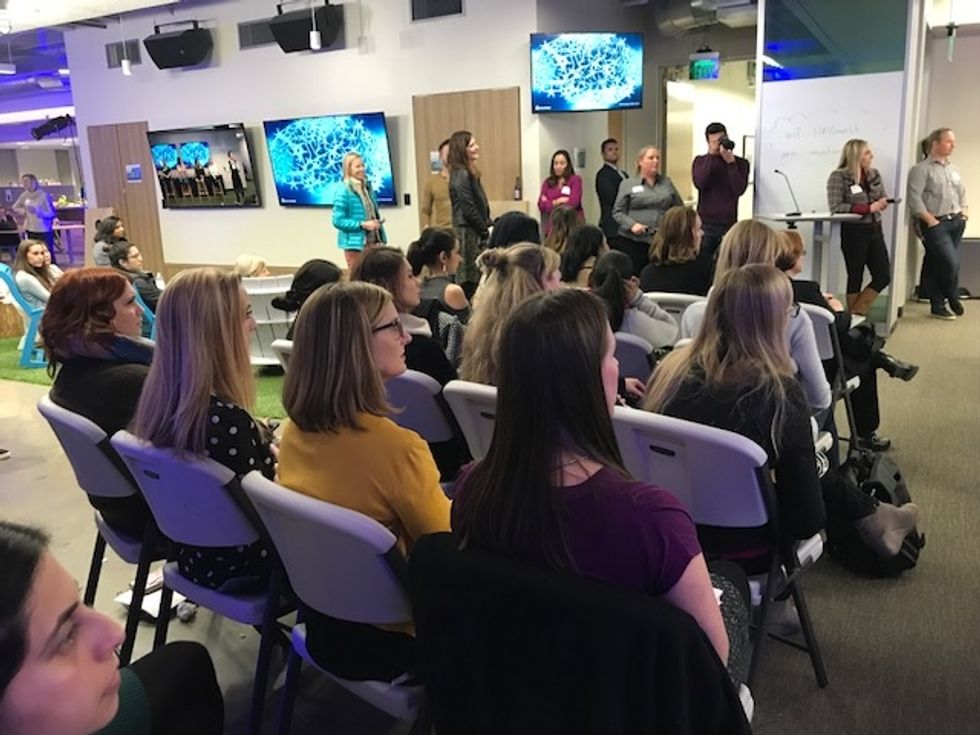 A packed house!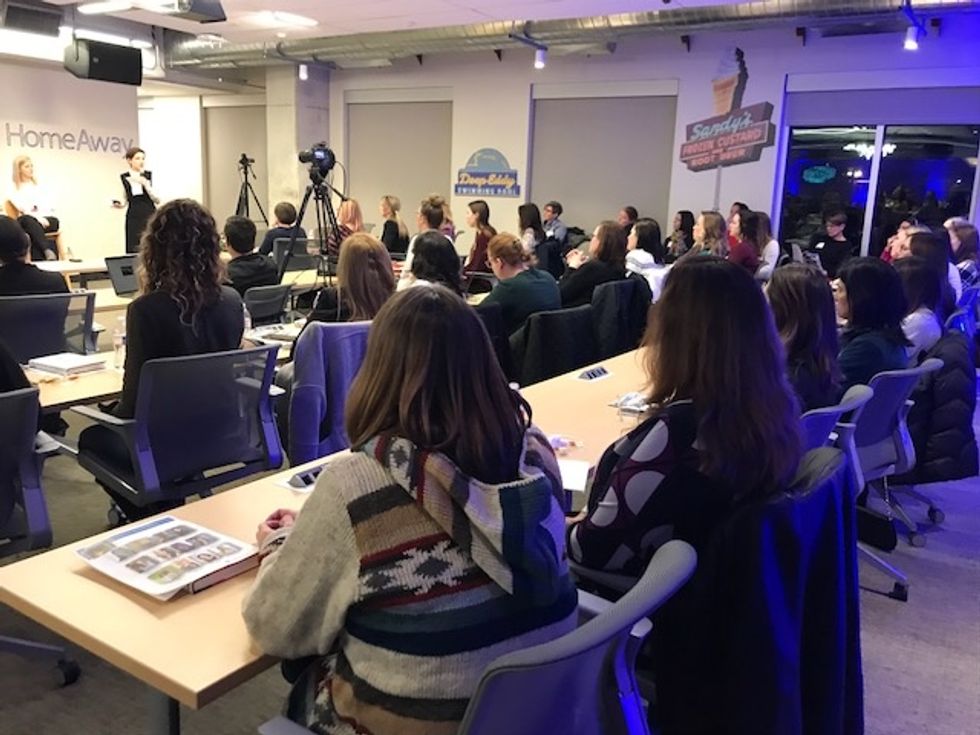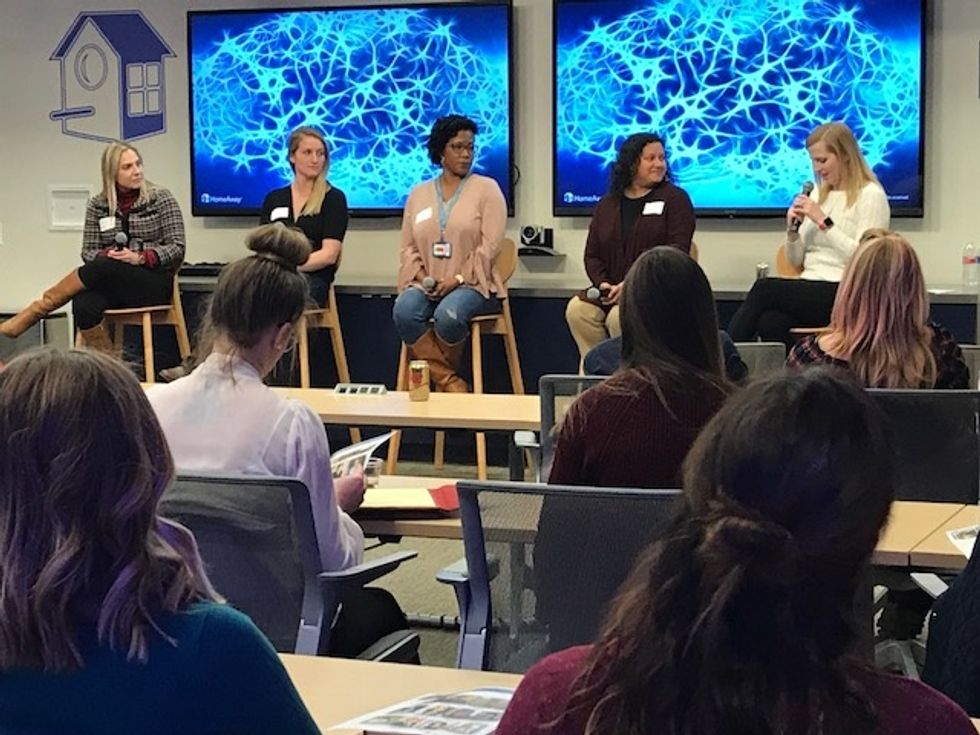 Our panel discussion was followed by agreat audience Q&A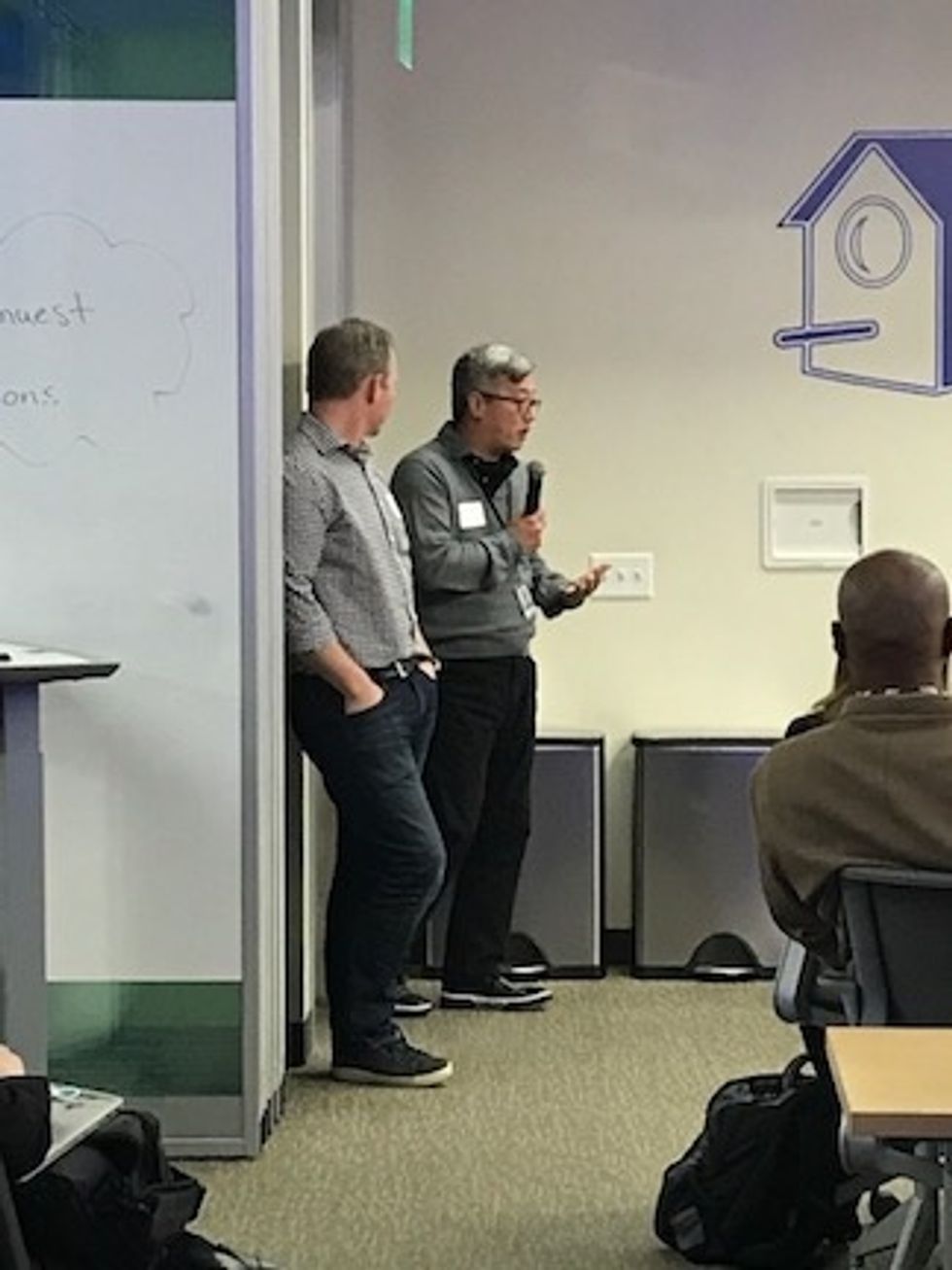 Vrbo's President John Kim kicked off the evening
READ MORE AND DISCUSS
Show less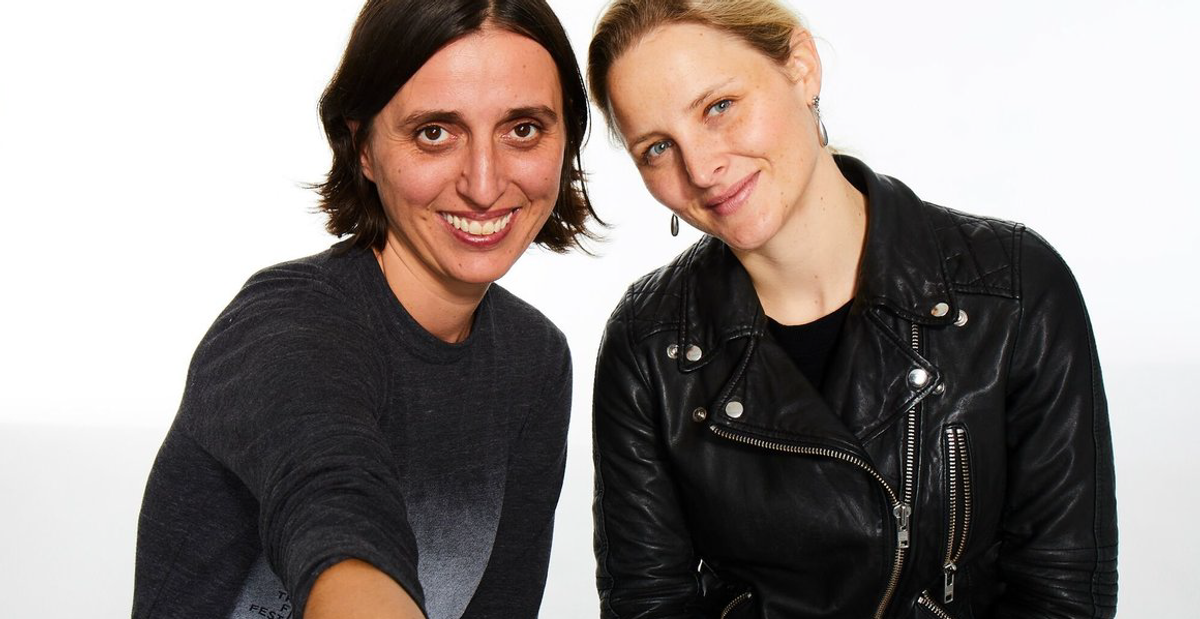 Career and Interview Tips
That's right. You can now message me directly (I'm on the right in the leather jacket) and the rest of our PowerToFly executive team, including my CoFounder and CEO Milena, by using PowerToFly Networks, a new feature we introduced this month. You need a PowerToFly talent profile to enable this feature - it takes two seconds to make one via the PowerToFly homepage.
More specifically, our new Networking tool allows you to:

Connect with women working at companies you are interested in, and get inside information on that company's interview process, benefits, culture, and more
Find coaches and mentors who want to elevate women like you
Simply meet women who share your interests
And now, thanks to a feature update from our CTO, Ana Martinez, who you can also message directly, we have enabled every person on the platform to be able to privately chat with us. All you need to do is to click on the "Connections" drop down in your navigation window and then go to the "Manage" tab - see the screen grab below. Message any of us and we'll get back to you ASAP.
Pro Tip: Research quickly who you are messaging by reading our bios. For information about open positions, Rachel Valdez our Chief Talent Officer, is your best bet!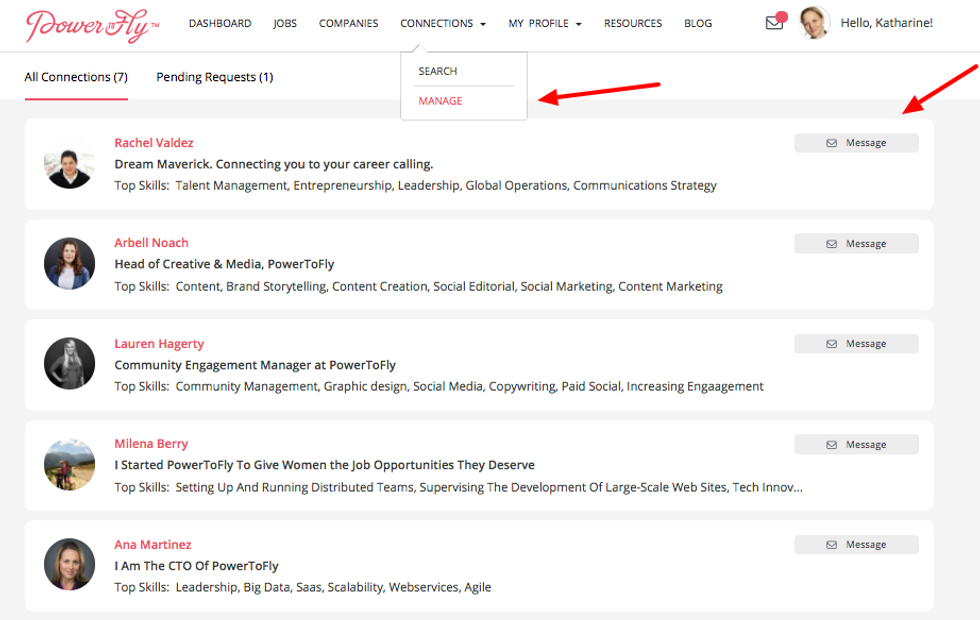 READ MORE AND DISCUSS
Show less
Loading...