GET EMAIL UPDATES FROM POWERTOFLY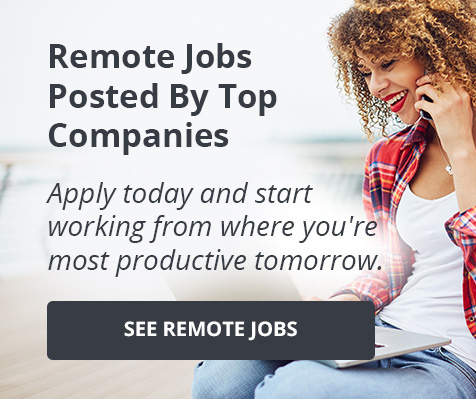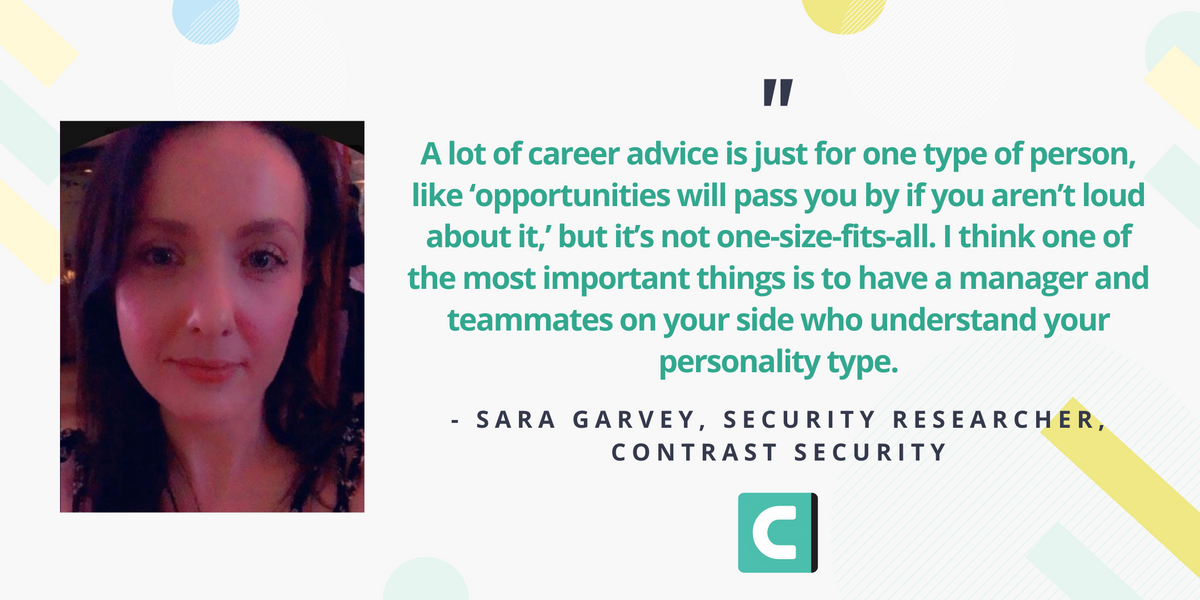 Contrast Security
Sara Garvey has always been inquisitive and reserved—so much so that her father once left an application form for MI5, the UK's domestic counterintelligence and security agency, on her desk as a joke.

"I called his bluff and got through three rounds of interviews before calling it off, as I couldn't see myself living in London!" shares Sara, who hails from Armagh in Northern Ireland and currently works in Belfast as a Security Researcher at Contrast Security, a leading provider of enterprise application security offerings.
Sara studied computing at university and did her thesis on intrusion detection systems. She loved the work and realized she'd found her passion. "Beyond the technical side, I love that security allows a creative, analytical side—having a hunch about something, and tugging at the thread to see where it leads," she says.
We sat down with Sara to talk about how she broke into the security industry, what her day-to-day looks like working with a distributed team at Contrast, and the career advice she has for other introverts for whom "just ask for what you want" isn't particularly useful.
Progressing despite gatekeeping
"One of the reasons tech, and more specifically, cybersecurity, is so difficult to get into is the initial hurdle you have to get your foot through the door with obtaining all the necessary certifications," explains Sara, who notes that such certifications are both timely and expensive. "Straight away, that eliminates a subset of people."
Sara went a different route. She got her first job in tech as a software engineer, where she learned development practices, how to code in different automation frameworks, and how to collaborate well. She continued to build her security-specific knowledge with online courses and Capture the Flag events (CTFs), which are cybersecurity competitions where teams collaborate together to solve complex security and coding problems.
She was feeling frustrated in her role and was browsing job postings when she saw a listing for a Security Researcher at Contrast. "It had everything I was looking for," she says. "The job spec was really, really appealing to me. I thought I was more than capable of doing it, there was no bias in the language, and it seemed like a really good opportunity."
Sara applied, and despite not having a long list of certifications, got the job. "Thankfully, Contrast took a chance on me and took me at face value with my practical experience," she says. A year and a half at Contrast has "solidified my reasoning that this is the career path I should be on," says Sara, and her team agrees; Contrast's Vice President of Engineering, who nominated her for this profile, called her "an exceptional security researcher" and highlighted that her involvement in Contrast's CTF team has been "instrumental in making us better."
She's seeing more companies follow Contrast's lead and reduce their emphasis on formal certifications, favoring practical experience instead, and she thinks that will be key for leveling the playing field for talent of all backgrounds. "Cybersecurity is notoriously understaffed, yet so hard to get into," she says. "A lot of people don't have the means or time to obtain those [certificates]. Not everyone wants to study for four years, or can."
For other women struggling with tech's (and cybersecurity's) gatekeeping, Sara offers some practical advice: "Have side projects on GitHub, continue online learning, write blogs, and be active in CTFs and Bug Bounties to make your CV stand out and to obtain practical experience to talk about in an interview."
Finding success on a distributed team
Sara was one of Contrast's first hires in their Belfast office, and she worked there with several coworkers until the coronavirus pandemic sent everyone home. "I don't mind working from home, actually," she says, smiling. "I always want to control the aircon."
Even when she was heading into an office, Sara was collaborating with teammates across time zones, as Contrast's team is distributed around the world. They make it work, says Sara, because the culture is built on flexibility and trust.
"The culture is more casual. I can't think of anyone, right up to the top level, that I couldn't approach here," she says. "One thing that I really love is that there's a lot of trust. My current manager is in Iowa, so I've met him twice weekly, but there's a lot of trust and independence in my work. There's no micromanaging at all." (There is some occasional teasing when Sara can't remember the names of American football teams—"especially around Superbowl time, which I don't get," she jokes—but that's not so bad.)
Introversion at work
One of the main reasons Sara likes Contrast's culture so much is that it allows her to be herself.
"A lot of career advice is just for one type of person, like 'opportunities will pass you by if you aren't loud about it,' but it's not one-size-fits-all," says Sara. "I think one of the most important things is to have a manager and teammates on your side who understand your personality type."
She's found that at Contrast. "I got pretty lucky with my manager, and the entire team, actually," she says. "My manager likes to sometimes force me out of my comfort zone for demos and speaking opportunities, which is good; he doesn't take it too far."
Having a supportive team is half the battle—but here's the other advice Sara would share with fellow introverts:
Think of the long term. "Promotion or salary discussions have never been easy for me. But I have learned that if you don't state your intentions and fight for yourself, who else will? I approach it as a few minutes of uncomfortableness for long-term gain."
Go into negotiating conversations with data. "Research your market value, present goals you've achieved. It can make an uncomfortable conversation much shorter and takes the emotional element out of it," says Sara. "There's no reason an introvert should be left out or not compensated enough just because that's their personality type."
Set up a goal-based performance review system. Sara likes how Contrast does performance reviews, where she and her manager both rate her work against a set of previously-determined goals in regular one-on-ones. "There's really no awkward conversations or debate that way; compensation is earned from that track record."
Take advantage of virtual meetings. "You can jump in a bit quicker, and it's easier to make your point," says Sara, who also recommends communicating with the meeting host prior to big meetings to make sure you'll have a chance to speak. Better yet, see if your company will consider assigning moderators for large virtual meetings, as Contrast does, to make sure people don't talk over each other and that everyone has a chance to be heard.
If you're interested in working with Sara or learning more about how Contrast Security's culture encourages employees to be themselves, check out their PowerToFly profile here.
READ MORE AND DISCUSS
Show less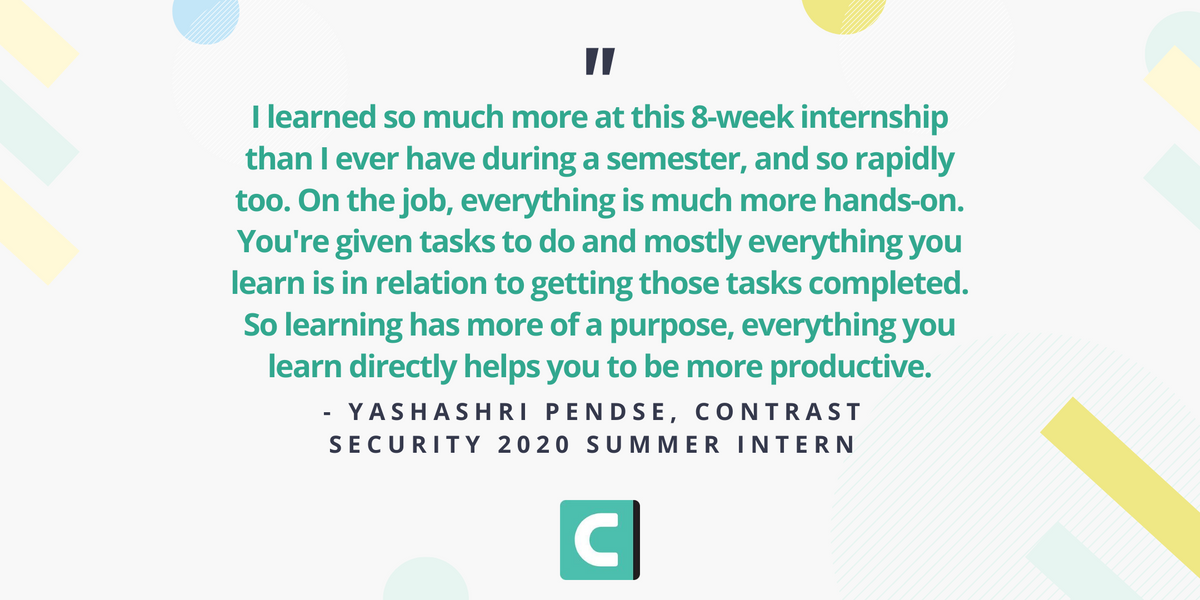 Contrast Security
Contrast Security's summer engineering interns usually work from their kitted-out Baltimore, Maryland office, doing their projects side-by-side with full-time employees and enjoying onsite perks like free lunch.
As you may have guessed, that wasn't quite the case for 2020's summer interns.
With a pandemic closing offices and halting travel, Contrast Security, the world's leading provider of security technology for self-protecting software, had two options: to either cancel their internship program or to adapt it.
They knew that they wanted to keep their commitment to their incoming interns and provide a meaningful experience despite the challenges of doing so at a distance, so they dug in and figured out how to mentor, teach, evaluate, and build community remotely, while also conveying the Contrast Security values and culture over a shortened eight-week timeframe.
We talked to three members of the Contrast Security 2020 summer internship class about what it was like to do an engineering internship completely remotely and what advice they have for future interns. Read on for their wisdom.
On adjusting from coursework to real work
Even with a non-remote internship, working on projects with practical applications would've been something new for Melissa Shohet, a computer science and applied mathematics and statistics student at Johns Hopkins University and one of Contrast Security's summer interns. "When you write code for a homework assignment, it's rarely held to a standard higher than 'does it work?'" explains Melissa. "Efficiency and organization are rarely a factor, not to mention most coding assignments are not applicable to the real world."
Contrast Security's interns worked on real-life projects assigned and managed by a combination of the VP of Engineering, an agile project manager, and tech leads. Elizabeth Mathew, a recent computer science grad from John Hopkins University and summer intern, explains the difference between her coursework and her project work: "In school, I mostly just learned CS concepts in a variety of areas and never had experience with installing and using different types of software. Very rarely, if ever, would I source a .bash_profile, git branch off a main repo, or write some bash scripts in school. The hands-on experience I got as an intern makes me feel like a real software engineer. Also, I thought it was really cool that the interns could work so easily with AWS resources. We do not usually use technology like that while studying computer science."
Melissa agrees with Elizabeth on the benefits of getting on-the-ground experience in a real workplace. "[In our internship,] we were able to get used to using Docker, something I've been told is widely used in software engineering, yet untaught in school. We also rarely work in teams [in school], yet the world of software engineering is primarily team-based," she says.
Yashashri Pendse, a computer science student at the University of Maryland, says that those real-life skills are invaluable. "I'm a lot better at reading—reading documentation when learning to use a new sort of technology, reading logs when I'm trying to understand why I'm getting an error, and reading through and understanding other people's code. I learned how to work more independently and solve problems," she shares. "I learned so much more at this 8-week internship than I ever have during a semester, and so rapidly too. On the job, everything is much more hands-on. You're given tasks to do and mostly everything you learn is in relation to getting those tasks completed. So learning has more of a purpose, everything you learn directly helps you to be more productive."
On connecting with a supportive team, even remotely
After interviewing at Contrast Security's office months before her internship was set to begin, Elizabeth was excited about the culture of the place where she'd be spending her summer. "The interviewers were so encouraging," she says. "I could already tell that Contrast Security doesn't just focus on specific prior experiences of their engineers, but also on the engineer's potential and interests. I really liked the supportive and engaging work environment I felt while visiting the office."
Yashashri also chose to intern at Contrast Security because of the culture she experienced during her interviews—"everyone was so kind and welcoming," she remembers—and was happy to see that culture kept alive even through different means. "I think that Contrast made the best of a less-than-ideal situation," she says. "The people and the work the company does are awesome. I never thought it was possible for literally everyone at a company to be so wholesome. The vibes are immaculate."
Elizabeth was worried that a collaborative environment would be harder to tap into while working from home, but that wasn't quite the case. While there were times she was confused on how to start a new project, Elizabeth says she was always able to get the help she needed: "I loved how all the engineers at Contrast made an effort to always be available to help us interns. No matter who I reached out to across the company, everyone would respond so quickly and would hop on a Zoom call at a moment's notice to answer any questions."
Melissa had a similar experience. "I was really worried I wouldn't learn as much or get a good sense of Contrast Security as a company [by interning remotely]. It turns out both of those fears were unfounded," she says. "From the very beginning, the people were super friendly, and it really seemed like the kind of environment I wanted to work in. Every employee we met said that all we had to do was message them, and they'd be happy to help with anything. Not to mention we had not, one, not two, but three mentors, plus many other employees who really wanted to meet with us and try to teach us as much as they could. I couldn't have worked for a more supportive company."
On their best advice for other interns
Yashashri, Melissa, and Elizabeth were full of wisdom to share with future Contrast Security interns looking to make the most out of their summer experience. Here are their takeaways:
"Be a sponge," says Yashashri. "Everyone at Contrast is so knowledgeable and there's so much to learn. Take advantage of that.
"Don't be afraid to ask questions," says Melissa. "You're here to learn. Don't be scared if you don't know how to do something, because learning is the goal!
"And try to ask those questions to different people each time," says Elizabeth. "This way you can always move forward with your work while meeting new people."
"It's ok to be completely lost and feel as if you don't know anything. In fact, it's natural!" says Yashashri. "I learned that inexperience could provide valuable insight by giving a fresh perspective. I learned that everyone is always learning. I learned that being confused and lost shows that you are going down the right path because you realize you have more to learn and you now know where to look."
Despite the hard work, putting your all into the internship will be well worth it, says our panel. "Working at Contrast has been the most rewarding experience I have had so far in computer science," says Elizabeth. "The people at Contrast Security truly care about you and your interests, not just how well you may perform."
We'll let Melissa have the last word on what students interested in Contrast Security's internship program should do next: "Apply! You will learn so much, in a supportive and encouraging environment. The work you'll do is really interesting, you'll solve real world problems, and the people are fantastic!"
READ MORE AND DISCUSS
Show less
Loading...