CoverMyMeds
Below is an article originally written by Jessica Behrendsen at PowerToFly Partner CoverMyMeds, and published on October 2, 2017. Go to CoverMyMeds' page on PowerToFly to see their open positions and learn more.
We're looking for folks who have a passion for helping others and want the opportunity to work alongside some truly brilliant and hard-working individuals.
This is how we bill the job for our customer support team and the content is a direct result of the individuals we've already gathered. A valued position in the company, our support team is on the front line, helping doctors, nurses, pharmacists and their staff get the most out of their experience with CoverMyMeds, and ensuring patients get the medication they need to live healthy lives.
We sat down to chat with a few current and former members of the team, Ashley, Caleb, Melissa and Lauren, to get the story on what the job entails and why it's such a popular position. (Spoiler alert: They unanimously agree, it's the people that make this an incredible place to work.)
CoverMyMeds: Thanks for chatting with us, guys! Can you give an overview of your role at CoverMyMeds?
Ashley Trede: I am an account coordinator, which means I help users that call our support line or chat in via our website. When users reach out to us it could be anything from helping choose the correct form, to answering questions regarding features on their CoverMyMeds account. I also work on a few other support projects and assist in the training.
Melissa Richardson: As an account coordinator/specialist-hybrid, my position is a unique blend of normal coordinator duties of inbound support for our users and being a resource of internal support for the account specialist team.
Caleb Ray: I'm an account coordinator, which comes with a variety of intriguing duties — inbound support can mean helping a user successfully submit their first prior authorization (PA), answering questions about CoverMyMeds' features and benefits, why they should create an account and even on occasion, lending an open ear to a user having a rough day. It never gets boring!
Lauren Schneider: I'm an events coordinator on the marketing team, I transitioned from the support team about six months ago. My focus is planning strategies and appearances at trade shows and conferences. With my role, I can work with all four verticals of the business.
CMM: What's the best part of being on our customer support team?
AT: One of the best parts of being on the Support team is being on the front line and helping our users. I have the chance to assist from the beginning of the PA process to the end. Helping users also leads to collaborating with different verticals outside of the Support Team, which is a great opportunity to learn more about what each department does and how the company runs!
MR: Knowing at the end of the day, the work you have done will help other people live healthier lives. There are a lot of jobs out there in the world, but not all of them can give you the satisfaction of helping people daily.
LS: It's such a fun group of people to work with. It's always a great time because there is always great people around you.
CMM: Do you feel like you have the tools & support for growth within CoverMyMeds?
LS: Yes! It was my goal from the day I started at CoverMyMeds to learn about the industry and use that knowledge to further my career. With the direction of my support supervisor, I met with co-workers from each vertical to learn how the support team affects their vertical and how they work with marketing to accomplish objectives. That's how I found my way to marketing.
It was great working on support and learning the nitty-gritty of PA. I gained first-hand experience on how CoverMyMeds makes prescribers' lives easier and patients' lives better. I had not worked in health care before, so seeing it first hand was really the best way to learn what the company does. Now, going to trade shows, when providers ask about the benefit of CoverMyMeds and how it works, I'm very equipped to talk to them about our solution.
CR: I started at CoverMyMeds as an account specialist and transitioned within the department to an account coordinator. I could not have done this without the support and guidance of my supervisor and the rest of our support leadership team. One-on-one meetings are a standard practice, but CoverMyMeds makes sure these meetings are valuable.
The usual leadership barriers you see in other companies don't exist here so it's not surprising the support team does an amazing job at supporting our team. Core Values aren't uncommon, but at CoverMyMeds we truly embrace them daily.
CMM: What's your favorite part about working at CoverMyMeds?
LS: The people! It's an awesome feeling to come to work every day and be surrounded by passionate people that support you and want you to be successful.
MR: My coworkers! I love working for a company that employs such intelligent and interesting people. Everyone is helpful and kind. I know I cannot have a bad day in a company with such wonderful individuals.
AT: Being surrounded by brilliant, hard-working people who are passionate about their work.
CR: The location, the mind-blowing lunches our culinary team create, our dedicated and supportive executive leadership; however, at the end of the day, it comes back to our Core Values.
Interested in applying for a position on the support team? We're Hiring!
READ MORE AND DISCUSS
Show less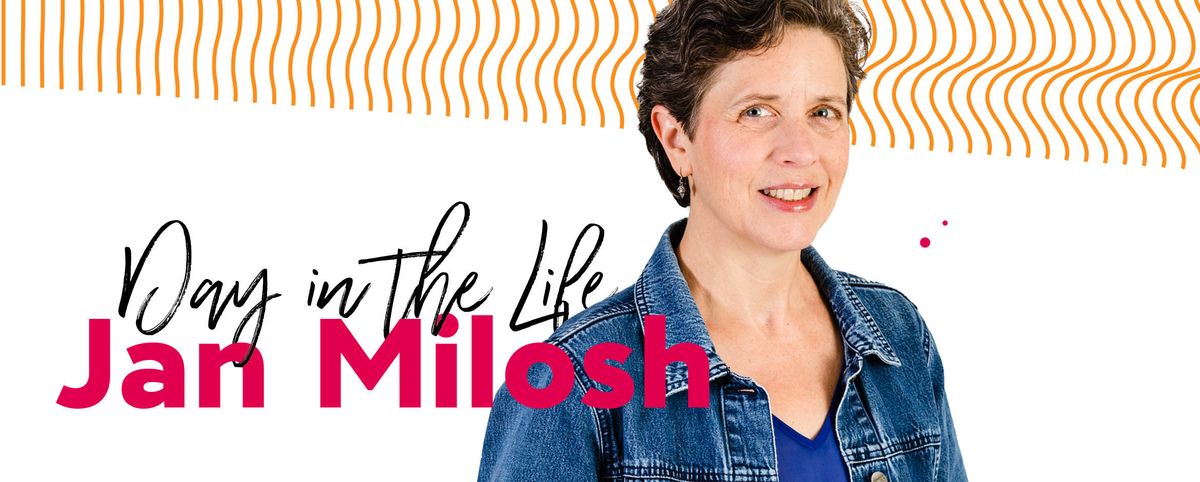 CoverMyMeds
Below is an article originally written by Jenny Rogers at PowerToFly Partner CoverMyMeds, and published on November 7, 2019. Go to CoverMyMeds' page on PowerToFly to see their open positions and learn more.
As CoverMyMeds grows, we're constantly looking for people with a passion for solving big problems and helping others.
Engineering Manager Jan Milosh is one of these people. Read on to learn how she made a late-career leap into development, her thoughts on CoverMyMeds' growth and more.
CoverMyMeds: You've been with CoverMyMeds for almost five years. As we've grown, what's changed?
Jan Milosh: It feels like we've grown up as we've grown. In the development space, we've built better tooling and processes. I've seen many improvements in onboarding, and I'm part of a team that's working to make it even better. Because we have agile practices in place, and because the people on the ground help make the decisions, we end up with a better product. It's more bottom-up than top-down here, and I think that's a big part of our success.
CMM: How did you first hear about CoverMyMeds?
JM: I first heard about CoverMyMeds at Ruby Brigade. Every month someone would announce that CoverMyMeds was hiring. (Editor's note: We still are!) I got to meet many CoverMyMeds developers there — it's a very friendly and social group. I was impressed by many of the talks given by CoverMyMeds devs, and I enjoyed hanging out with them at the Rusty Bucket afterwards.
CMM: You started working in development later in your career. Can you tell us more about that journey?
JM: I have a degree in mechanical engineering from The Ohio State University. Out of college, I worked as a research scientist at Battelle. After working for eight years, my first daughter was born, I decided to stay home with her, and then I had another daughter three years later. During that time, we started an engineering consulting business (plus we had rental properties), so I was then self-employed and able to work at home while raising my daughters. While home with the kids, I did a lot of reading about health and nutrition and eventually decided to go back to school to be a physical therapist assistant. After graduation I worked at Morrow County Hospital.
CMM: And where did development work come in?
JM: I hadn't been at the hospital for very long before I heard rumors that they would be closing the department I was working in and, after about a year, that did happen. No one was laid-off, but several of us became floaters. I figured it was time to think about going back to engineering and gave up my full-time job as a physical therapist assistant and went back to work in the family engineering business. The development work started when I built a website for the business, then found I was more interested in that than engineering. I learned enough to start building custom websites for a few clients, then eventually found a front-end developer job at a small company. After a year, it was time to do something different, and it was a happy coincidence that a couple of CoverMyMeds test engineers announced, at a Girl Develop It meetup, that they were looking for a test engineer.
CMM: You joined CoverMyMeds as a test engineer, and now you're an engineering manager — walk us through that transition.
JM: I started as a test engineer, then after about two years transitioned to developer. I had been wanting to change roles, but wasn't sure how to make the switch. My manager encouraged me to just start picking up dev tickets. Eventually, he changed my title to match. In CoverMyMeds' pharmacy business unit, we're all responsible for testing now. This June, I transitioned to engineering manager for my team, and have seven direct reports.
CMM: What's that been like?
JM: I feel like the skills I've accumulated throughout my many careers and in my various roles — as a parent, as the owner of a small business, working with patients in a health care setting — they've all helped prepare me for this type of leadership. I'm very focused on mentoring and my goal is to help each of my team be their best and have what they need to get there. Four of my team members are either remote or in the Cleveland office, so we occasionally have remote-friendly social activities for team bonding. This makes our work more efficient and enjoyable because we know each other better.
CMM: You began your career in a traditionally male-dominated field, and now you're working in an area that has a similar reputation. Has that been your experience?
JM: I was the first woman engineer in my department at Battelle, but was fortunate to have several good mentors. Back then, it was intimidating, being a young woman fresh out of school. It's still challenging being a woman in a male-dominated field, but CoverMyMeds did hire me and help me grow. I'm grateful for the opportunities I've had here and now work to provide opportunities for others. Overall, I felt that this was a welcoming environment. People here are amazing; they're so smart. I feel we've been willing to take chances on people, and it's paid off every time.
CMM: As we continue to grow, what are your hopes for the company?
JM: I think it's important for us to find even more ways to support our pipeline for all kinds of diversity. And we have a huge opportunity to be a force for good in this community, to build the STEM skills of the kids in Columbus. I'm excited to see how we'll continue that work.
CMM: Why are you proud to call CoverMyMeds "home"?
JM: I have to emphasize how much I've learned from my coworkers here. I love the people that I work with, and I am amazed by how self-motivating everyone is. No one needs to be told to do a good job. No one needs to be told to show up and do the work — they want to do it. It's hard to imagine working in another setting now. I lucked out, really, when I took the chance on a job here.
READ MORE AND DISCUSS
Show less
Loading...