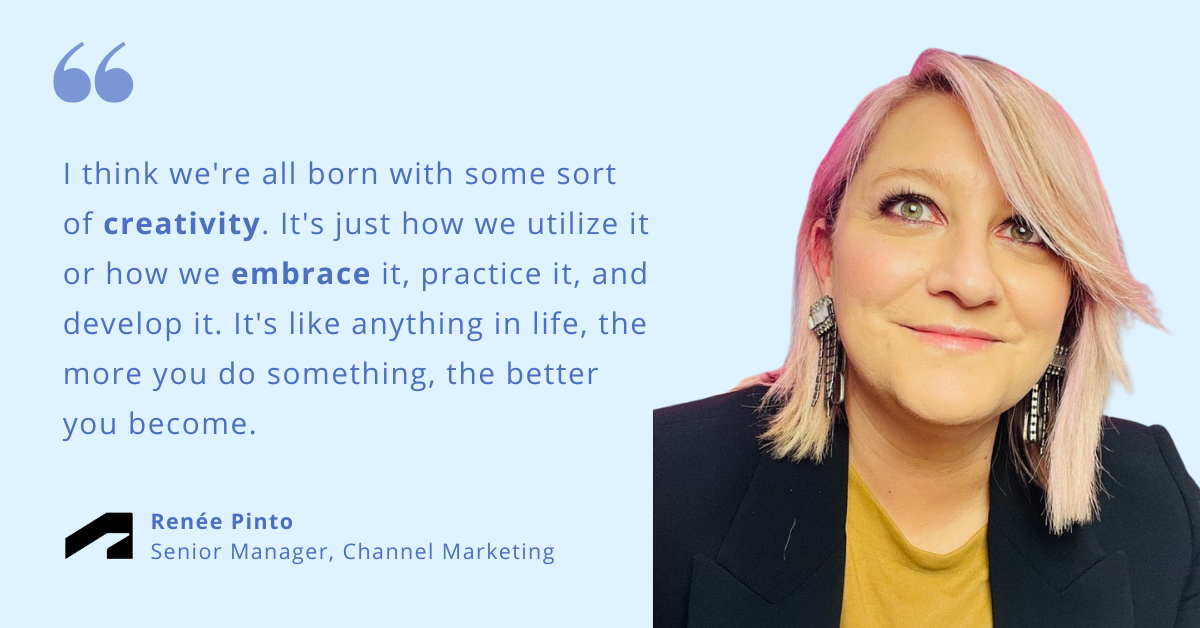 Autodesk
Renée Pinto is a creative soul.
The Australian native's passions include all things creative. "I love to paint. I also love to take photos. I was even represented by a gallery in Paddington, Sydney for many years showcasing my oil paintings , as well as my photography," Renée shares.
When she doesn't have a paintbrush or camera in hand, she harnesses her creativity at work as a Senior Marketing Manager at global software solutions company Autodesk.
We sat down with Renée to learn how she has used her creativity to grow her marketing career and her tips to harness your creativity so you can do the same.
From Hospitality to Marketing
Renée's career started with her love for people. "I started working within the hospitality industry, and that's where my love of marketing first took off," she explains. "I'm a people person. So marketing and events were something that really suited me."
With a new-found interest in marketing, she moved from working in events to working with small advertising agencies where she enjoyed working in an intimate environment and getting to know people on a personal level. "I started off as a graphic designer," Renée shares. "I worked in the studio with only two others, which taught me so much about the ins and outs of the business"
This experience lent her valuable insight into the different roles it took to run a small business. "You are learning all aspects of the business which I believe is vital to understand how it operates and how your role fits into the bigger picture.
While building her understanding of the different moving parts of the company, she started building relationships with her colleagues, regardless of their rank. "Being able to connect with people and not having the hierarchy in smaller organizations, has been something that I think has got me to where I am, because I don't see titles. If you are the the junior graphic designer, I'm going to ask you if you want a cup of coffee, just like I'm going to ask the CEO," Renée says with pride.
This people-first approach supported her when she took a break from the corporate world and turned her passion for photography into a full-time career — an unconventional career move that eventually led her to a bigger marketing role.
Passion Project to Full-Time Career and Back
Renée's photography business started as an act of kindness over 15 years ago, first starting as a second job. "It actually started as a charitable thing. I started taking photos for friends and people who couldn't afford it on the weekends whilst still working full-time at an agency," she shares.
And it was through photography that Renée further developed her marketing skills. "It started by using social networks, friends, and family to nominate a family in need of a photo shoot," Renée explains. "I didn't realize at the time that I was actually marketing, using multiple digital platforms and social channels. Back in those days, print advertising was the way to go, so we even made flyers that we put in letterboxes."
Eventually, her photography and marketing skills flourished so much that she was able to financially sustain herself through her business full-time. However, over time Renée realized that her passions didn't need to be her full-time job. "I love photography, but I needed more than that. I needed a full-time job as well as an outlet," she says. "I soon realized [photography] is something that brings me joy, it's almost like my yoga, my escape, my therapy."
After five years of full-time photography, Renée chose to opt for a corporate career that would fulfill her professional desires and allow her to keep her hobbies as passion projects.
Landing the Ideal Role at Autodesk
Renée eventually found her way to Autodesk, a tech company that is changing how the world is designed and made. Their technology and software span various industries and help customers solve problems and design a better world.
She first joined as an events and marketing specialist, which went well with her previous experience. But when a former Autodesk co-worker went on maternity leave, Renée got the opportunity to step into the vacant marketing role on the demand generation team. "I loved it. A portion of that role was executing to our end customers, and then the second portion of that role was my introduction to partners and the channel ecosystem and the importance of building relationships," Renée shares. "I was working directly with our partners. And that's when I [realized], 'this is where I need to be. This is my calling.'"
Renée has spent the past three years in the Channel Marketing organization at Autodesk as a Channel Marketing Manager, and has recently been promoted to Senior Manager for Channel Marketing APJ. Her day involves "working with Channel Marketing Managers across APJ, meeting with our partners, understanding the gaps and challenges they are facing, and also identifying the enablement our partners require to be successful. Also working alongside our key stakeholders internally, our channel sales teams, demand generation team, channel programs team, and making sure we're aligned with them and have the same priorities and same goals for our partners."
And it was her previous creative endeavors that helped build the framework for her success as a manager and working with partners. "Photography is the perfect starting point in understanding people, because you're sometimes photographing individuals that don't want their photo taken, you're having to get the best out of them," she explains. "You need to gauge and learn more about their personality and how you will draw the best out of them. Photography's exactly the same as how you would manage and interact with people in the workplace."

Some of Renée's artwork and photography she created during the COVID-19 lockdown and an internal Autodesk painting class she led an internal conference.
How to Harness Your Creativity
Creativity can often be seen as something you do or don't have, not a skill that can be learned. But Renée disagrees. "I think we're all born with some sort of creativity. It's just how we utilize it or how we embrace it, practice, and develop it. It's like anything in life, the more you do something, the better you become," Renée encourages.
For those looking to harness their creativity and advance in the world of marketing Renée offers this advice.
Think outside of the box. "It's great to have an analytical mind. And at the end of the day, data is key — but I think you have to have a balance." Renée explains. "It's important to have that creative mind and look at things through a new lens so you can work out how you can market that product or solution differently. Sometimes you may fail and sometimes you may succeed, but never be afraid to speak up and share an idea no matter how silly you think it may sound. Usually when in a team environment, what originally sounds like a silly idea, becomes a group discussion with multiple stakeholder inputs and then develops into something that ultimately could be a huge success."
Try different things outside of work. "You are not going to know what you enjoy or what you are good at, in a creative sense, unless you try different things," says Renée. In order to do this she recommends stepping outside of your comfort zone. "Do a drawing class. Take up the saxophone, whatever your passion is," Renée urges. And once you try something new, take that same energy into the business world. "We think that we have parameters and we have to stay within those parameters at work. That's not always the case. I also believe having a creative outlet or hobby outside of work is something that is critical to our mental health and in turn will make you successful and happier at work"
Try new things within your career and don't be afraid to fail. At Autodesk, Renée has worked with people who have come to marketing from all different careers and walks of life. "There are definitely people within Autodesk, like myself, who have a very non-conventional background in the tech space," Renée shares. "We are told when we leave high school that we must know what we want to do and move straight into studies. The pressure on young people can be immense to make a decision straight away, however you can also be successful by trying different roles, working within different industries, and actually getting first-hand experience, which will be valuable in finding where you truly are meant to be. I tried multiple different careers to learn what I loved and then went on to study. There is no one path you should follow and it is never too late to try something new." To Renée's previous point, trying new things can be key to success, but more importantly, you shouldn't be afraid of failure. "If it doesn't work the first time, maybe there's a different way you could do it."
If you're ready to use your creativity in a new way, check out the open positions at Autodesk.
READ MORE AND DISCUSS
Show less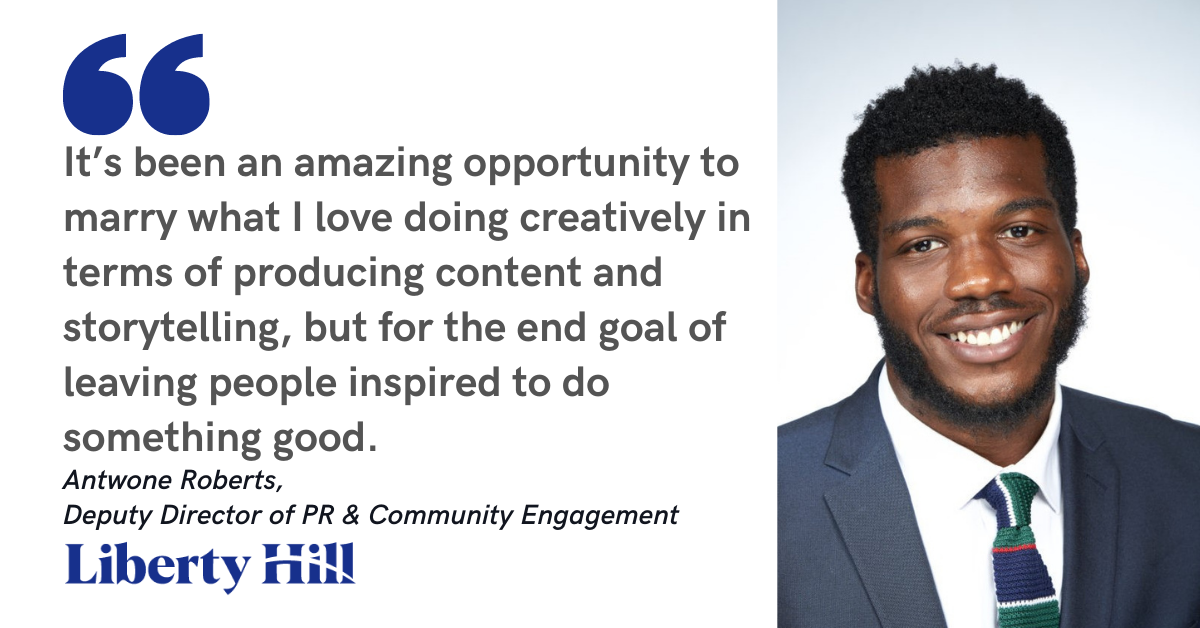 Liberty Hill Foundation
Antwone Roberts is a photographer and a music producer.
…And that's just in his free time. He's also the full time Deputy Director of PR and Community Engagement at Liberty Hill, a public foundation fighting for social justice across LA County. Whether through Liberty Hill's new Podcast; Conversations From the Frontlines Real Talk, Real Change with Shane Murphy Goldsmith, or at the largest social justice event in Los Angeles, the Upton Sinclair Homecoming Celebration, Antwone enjoys leveraging his creativity to inspire others to join the fight for social justice.
You might think that balancing all of those hats would be difficult, but for Antwone, pursuing his passions both in his personal life and in his career is crucial to living a fulfilling life. "I love my job, and I love photography, and I love music," he explains. "I've been spending the past few years finding ways to further my career, without neglecting my creative interests."
Building community is at the heart of all of Antwone's pursuits and for more than 40 years, Liberty Hill Foundation has cultivated a progressive community in Los Angeles. They leverage the power of community organizers and donor activists to advance social justice across Los Angeles County, funding grassroots organizing that focuses on systemic change.
We sat down with him to learn more about his work at the intersection of communications, community engagement, philanthropy, and social justice. Keep reading for his story— and for tips on how you can make a bigger impact, no matter what your career looks like!
Connection and Community
"Growing up, I had a front row seat to injustice and inequality, and all the things that didn't work in society," explains Antwone, so he chose to focus his energy on ways to make a difference in his community. As a student, he volunteered at a local community garden where he engaged with residents, learned how to grow produce, and connected with local farmers markets. He also benefited from the support of grassroots organizations that provided mentorship and a safe haven. "I didn't realize it at the time, but looking back, I can see the role that all these different non-profits played on me when I was growing up."
When it came time to choose a career, Antwone wasn't sure which direction to go. With so many interests and skills, he took some time to determine which path would allow him to make the most impact. After shuffling through a few different majors, he ultimately chose business marketing and public service, in the hopes of becoming a lawyer.
The coursework helped expose Antwone to different best practices applied to marketing and non-profit work— it's also what exposed him to the possibility of pursuing a career outside of law.
"During business school, in my small business practicum, where I consulted with different small businesses around the city, I learned that a lot of community organizations were struggling with their marketing," he explains. So he worked to create social media campaigns to boost engagement and entice people to get involved in not-for-profit initiatives.
After graduating, Antwone decided to take a gap year with AmeriCorps. At the end of his program, he attended a networking event that connected him to his first job at the New York City mayor's office as an assistant to the former New York City Chief Service Officer, Paula Gavin. Antwone embraced the new challenge and was quickly promoted to Communications and Marketing Manager. "That's where I found my niche in terms of working with the intersection of communications and community engagement," he explains. "It's been an amazing opportunity to marry what I love doing creatively in terms of producing content and storytelling, but for the end goal of getting people civically engaged and inspired to join the fight for social justice."
The Journey to Liberty Hill
After five years in New York City, Antwone was itching for a change of scenery, so he boxed his record collection, packed his bags and moved across the country to Los Angeles, where he supported himself as a freelance photographer. "I found myself busy with opportunities, but I didn't feel as impactful as I wanted to be," says Antwone. That's why he started volunteering with various local organizations and expanding his network. One organization was Community Coalition, a Liberty Hill grantee founded by Congressmember Karen Bass, which led him to his first full-time job in LA as Deputy Communications Director for LA Councilmember Marqueece Harris-Dawson.
Antwone's run in social justice didn't stop there. "The social justice landscape in Los Angeles is very small," he explains. "A Power to Fly recruiter reached out. I I asked around my network and heard nothing but great things about Liberty Hill, so I took the opportunity to join the team."
Now, three months in as the Deputy Director of Communications and PR, Antwone's able to leverage his personal and professional interests for the greater good of his community. Although he's new to the organization, he's already started working with the team to make a bigger impact in LA County.
"This is the first time in my career that I am working with a full communications team, with systems, camaraderie and partnerships where we can support each other and not feel like we're each working on an island," he says. Currently, he and the communications team are focusing on highlighting stories from Liberty Hill's grantee organizations and partners for the Upton Sinclair Homecoming Celebration. "Our work is really about making sure that every win really feels like a win, and that the people who are on the frontlines doing this work feel celebrated, because they so rarely are."
One of the initiatives at Liberty Hill that Antwone enjoys working on includes transformative justice, focusing on prison reform and ending youth incarceration. Antwone strongly believes in the power of mentorship and highlighting Liberty Hill's partnerships with Los Angeles-based sports teams and grassroots organizations to support boys and men of color. He's also working closely with a coalition called Stand LA who, "after years of putting pressure on LA City Council, was able to get oil and gas drilling banned in residential areas– which mainly happen where Black and Latino residents live," he explains. "So, we organized a press conference to commemorate it and let people know that there are people fighting for your health and well-being"
Making a bigger impact
Antwone loves working in social justice, but he's also a big believer that you don't have to have a non-profit career to make a positive impact in your community. "There are lots of ways to fight for social justice, if that's important to you. Every organization needs volunteers and donations." He also shared two tips to make the most of your career, no matter what role or industry you're in:
Be intentional about your yes. "If you're becoming the type of person you want to be, people will always see the value that you bring, whether it's a job opportunity, a friendship, a relationship, or a professional networking situation," explains Antwone. "But if you're intentional about the impact that you want to make, you have to be very selective about those relationships and opportunities. If it doesn't align with you and the person that you're trying to be, you really have to say no."
Two out of three isn't bad. It can be hard to weigh the pros and cons of each new opportunity, so Antwone suggests considering three things: "[When you consider an opportunity and you think about] learning new things, making more money, or gaining new experiences, if you can get two out of three, that's probably a good opportunity."
Are you ready to make an impact in your community alongside Antwone? Check out Liberty Hill's jobs here!
READ MORE AND DISCUSS
Show less
Loading...