GET EMAIL UPDATES FROM POWERTOFLY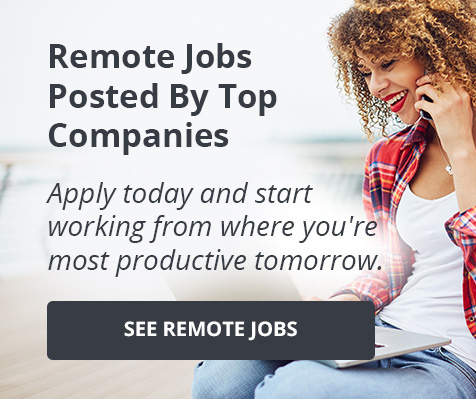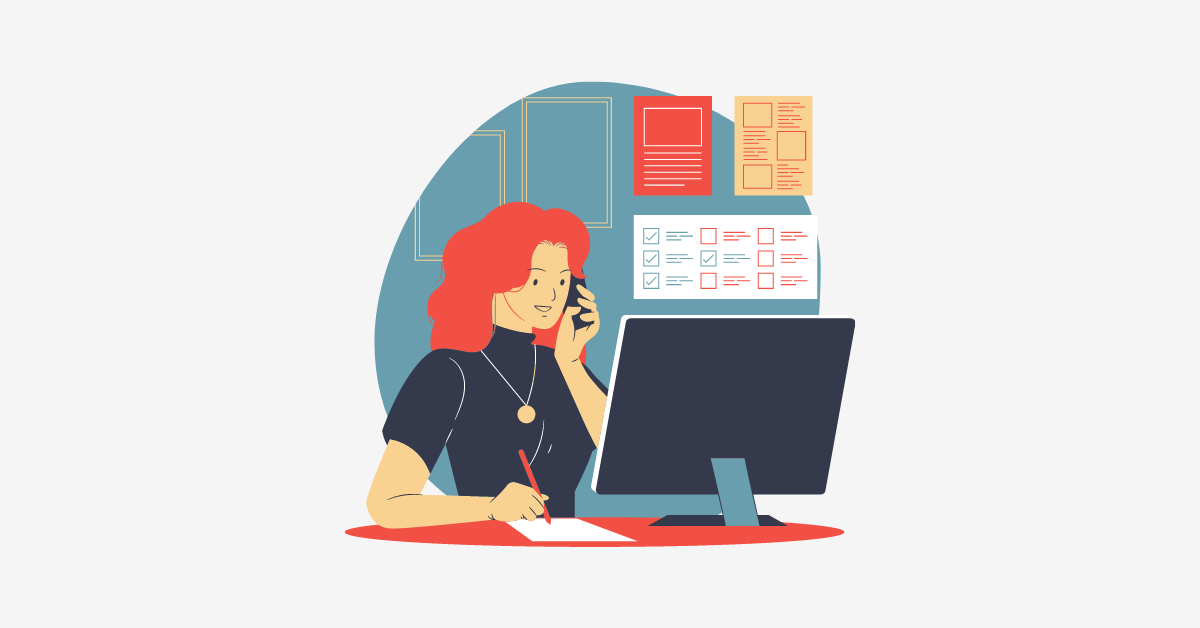 Upskilling and Development
Have you ever heard the saying "customer is king?"
Well, the old mantra is true — and it's the key to a successful business.
We live in a fiercely competitive world where success is driven by customer satisfaction. That's why the role of the customer success manager (CSM) is so important: it's their job to deliver the ultimate customer service and to ensure the client feels heard, valued, and assisted. And it's a position that is continually growing.
With so many opportunities, and a salary that compensates well, Customer Success is an excellent role if you're looking to take your career to a new level. But how do you become a CSM?
In this article, we'll break down what a CSM is, what their duties are, the skills necessary for the position, and how to break into the role. If you're interested in beginning a career as a customer success manager, keep reading for some tips to help get you started!
What is a Customer Success Manager?
A CSM is the mediator between their company and the client, as well as the client's trusted advisor. It's the job of the CSM to ensure that the client has the best possible experience using the products or services that the company offers, and to be the point of contact should any concerns or issues arise.
While a CSM works towards the same goal as the rest of the customer success team, it's their job to focus on the bigger picture. The individual needs of each customer must be carried out to reach their long-term goals. That's why relationship-building is so important — they must understand the expectations, desires, and issues that each client has and predict potential snags before they happen. Anticipating a customer's needs is the key to avoiding bigger issues, and it is the job of the CSM to craft a unique relationship and means of interaction with each customer to ensure they achieve success.
But in order to do this a CSM needs to be an expert in the technology or services they are offering. Since they will be the main point of contact for the customer, they must be able to offer detailed guidance and be capable of crafting expert solutions for any problems or concerns that may arise. Having a comprehensive understanding of what they offer is crucial because it is this knowledge that allows them to navigate the customer to success.
What Skills are Necessary for Becoming a Customer Success Manager?
A CSM plays a crucial role in a company. Because of this, they require numerous skills to perform their job well.
Being in such an esteemed customer-facing role means that listening, communication, leadership, analytical, and technical savviness are some of the most important skills. A CSM must also pay close attention to detail, be customer-driven, personable, adaptable, experienced, and organized. They should possess client management skills, strategic thinking, and experience in their specific field.
While having a degree in something directly related to customer success is not necessary, having at least a four-year degree can help you stand out when pursuing this role. Focusing on a degree in sales, marketing, or communications will also help you gain important expertise that you can apply to a CSM role.
How to Become a Customer Success Manager
Everyone's professional journey is going to look different, especially pivoting into a relatively new field like customer success management. But if your goal is to be a CSM and you're unsure of where to begin, there are some preliminary steps you can take to help you get there.
1. Find a mentor. A good mentor will be able to guide you through the steps and qualifications you will need in order to reach your career goals. They will provide you with advice and a plan catered specifically to you and your unique needs, while also helping you grow. Mentors are assets for every stage of your professional journey, but they can be especially crucial for career pivots and advances.
2. Get prepared. Ensure you have extensive experience in a customer service role or in a client-facing technical role. A CSM's main priority is the customer, so you must not only be comfortable working with people, you must be a master at communication, listening, and problem-solving.
3. Learn about the product. Gain as much experience and comprehensive understanding as you can about the services/technology you will be offering. Perhaps one of the most important factors in a CSM's career is their expertise and technical abilities. They must be capable of building solutions to complex problems and offering detailed guidance. And to do this, they need to have a firm understanding of how their services/technology work in order to best help their clients.
4. Determine your path. If you're pivoting from a very different career path or are new to the field of customer success, you can begin in an entry-level customer success position where you can learn valuable skills like sales, management, and communication for interacting with clients.
If you're experienced in customer service and are looking for other avenues that lead to a CSM role, here are some similar positions to consider:
Duties: Builds and maintains the long-term relationship between a business and its clients by determining those clients' needs and how they can be met.
Salary: Average base salary of $59,591 per year.
Duties: Oversees relationships between a business and its top clients by determining those clients' needs and how they can be met, developing account management strategies, looking for potential account growth opportunities, and working with other teams to build solutions.
Salary: Average base salary of $80,402 per year.
Duties: Often known as account handlers or sales representatives, they are an important bridge between their company and the client by handling the sales relationship between them via marketing, advertising, and IT.
Salary: Average base salary of $67,832 per year.
Duties: Acting as an important connection between management and their team, they are responsible for managing a project from beginning to end and ensuring its success.
Salary: Average base salary of $78,026 per year.
Check out all of our customer success roles here.
READ MORE AND DISCUSS
Show less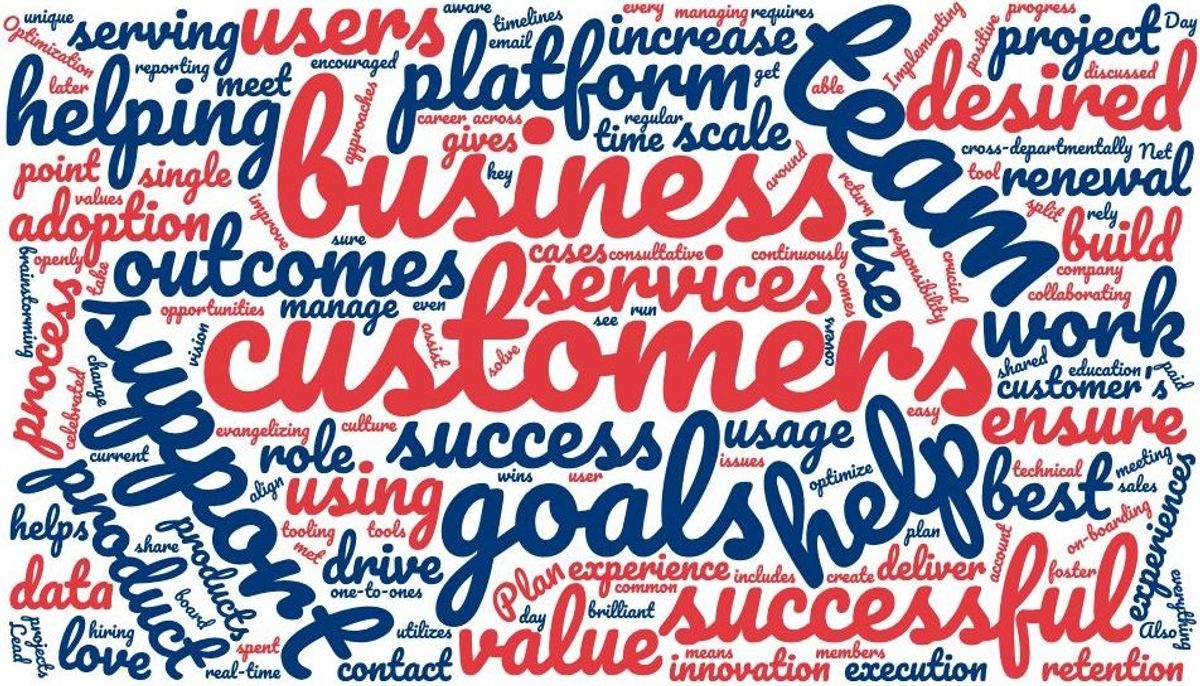 Relativity
A Look At CSMs' Responsibilities at 6 Different Companies
And with a median salary of $82,300, it's no wonder that lots of folks are eager to break into this growing field.
But before you get hired, you need to be able to answer, "What does a customer success manager do?"... And know that the answer will vary depending on who you ask.
A company's size, resources, and growth strategy can all impact how the role is defined. As Customer Success grows, so does the ambiguity around what a Customer Success Manager does.
As Allison Yount, former Director of Customer Success at Scout RFP explains, "One of the most confusing parts about Customer Success is that it's still finding its identity. You hear a lot of different names like account manager, customer success manager, client success manager, relationship manager, and it's really important when you're looking for a new role or listing a role in customer success to understand what the job scope is. ...There is a lot of overlap, so you need to understand the role you're applying for."
To identify commonalities as well as differences across companies, we decided to chat with 6 of our partner companies to learn what customer success managers at their organizations do (and what they love about their roles).
In general, CSMs at each of the companies mentioned the following core responsibilities:
Provide onboarding and training to customers
Understand customers' needs & meet them proactively
Act as a customer advocate & maintain the relationship
Understand & explain product features (advocate for best practices)
Grow accounts & prevent churn (supporting Sales with contract renewals & upsells)
But that's not all CSMs do! Read on to learn more about the specifics of being a Customer Success Manager at these SaaS companies, or click ahead to the company you're most interested in:
Gainsight
As the leading Customer Success platform provider, Gainsight empowers hundreds of customer-focused businesses to deliver outcomes and exceptional experiences everyday. They (literally) wrote the book on Customer Success, so who better to help us understand this growing field than Gainsight's own Senior Manager of Customer Success, Carissa Berube?

What are your main responsibilities as a Senior Manager of Customer Success at Gainsight?
Optimizing and evolving our CS strategy around processes, people, and technology
Ensuring we are delivering a combination of desired outcomes and positive experiences to our customers and determine how to define, drive, and demonstrate the value (ROI) delivered
Leading cross-functionally to drive customer success
Owning key metrics for my team (Gross Renewal Rate, Net Promoter Score, Adoption, Stakeholder Engagement, Expansion, Advocacy)
What do you love most about your role?
As a manager of CS at Gainsight, I get the unique opportunity to manage a team of highly skilled customer success professionals that share my passion for evangelizing customer success and driving meaningful outcomes for customers. I love how much I learn every day from my interactions with peers, team members, and customers.
Interested in joining their Customer Success Team? They're looking for a Customer Success Operations Intern!

----
Scout RFP
Scout provides a new breed of cloud-based strategic e-sourcing solutions that help organizations achieve better outcomes and make a bigger business impact. "Our simple, effective interface enables companies to streamline supplier selection, manage vendors, centralize data, and make more informed purchasing decisions, faster."
We chatted with a four CSMs at this fast-growing startup to better understand what they do.
What are your main responsibilities as a Customer Success Manager at Scout?

"Customer onboarding, relationship management, and customer advocacy. From the moment a customer comes on board all the way up to the renewal, it's crucial to build and maintain a trusting relationship with the customer. CSMs have to be able to support the customer, communicate their requests, and be a professional partner, while always promoting Scout in the best light."
- Simone Janssen
"Owning customer relationships from on-boarding through the renewal process, understanding customer use cases of our platform and playing a consultative role to help them elevate their experience with the platform, serving as a product expert on all things Scout."
- Stephen Macko
"Understand what is important to my customers and help them get the most out of the product so they can achieve their goals. That way it is very easy for them to see the ROI/value that Scout provides."
- Isabel Quintero
"Implementing and onboarding new customers, which covers everything from scoping out their current process to configuring their new process in Scout, conducting trainings, advising on best practices and recommendations for use of software based on the vision of the customer, relaying feedback from the product team, renewing and expanding customers as their goals and our platform change."
- Kyla Miller
What do you love most about your role?
"My favorite part about being a CSM is the relationships you get to build. In addition, every day you interact with different people and you encounter different obstacles. This makes every day different and challenging."
- Simon Janssen
"The team I get to work with. My favorite part about being on the CS team is the team that I have around me, not just on my direct team but also on our Sales, Product and essentially every team in the company. Being a successful CSM is impossible without having a support system around you and I'm lucky to be able to lean on some of the smartest and hardest working people as coworkers."
- Stephen Macko
"I love building strong relationships with my clients, to really get to know them and understand their business needs. I enjoy helping them solve their problems as well as making them more successful and efficient in their day to day life. I come to work with a smile on my face and I really enjoy the friendly and passionate group of people I work with. There is no day I don't feel super helpful in the office, both internally and externally, helping our customers. Just the feeling of being needed, and that I can really make an impact makes me feel important."
- Isabel Quintero
"Helping. I love that in every aspect of my job I get to help others succeed. Whether it's helping the company bring on/maintain big new logos, helping customers make their ideal process come to life with scout, helping an AE be successful by closing a complex deal, upselling accounts to contribute to our teams success, etc. All of it gives me the opportunity to work with such intelligent successful people that challenge me in new ways everyday."
- Kyla Miller
Interested in joining their Customer Success Team? They're looking for a Strategic Customer Success Manager!
----
Autodesk
Autodesk makes software for people who make things. "If you've ever driven a high-performance car, admired a towering skyscraper, used a smartphone, or watched a great film, chances are you've experienced what millions of Autodesk customers are doing with our software."

With 100 offices in over 38 countries around the world and more than 9000 employees, you can imagine how many customers their Customer Success team manages. As you'll see in the responses below, CSMs at Autodesk focus heavily on helping customers meet their goals & providing value at every interaction (think more proactivity and less putting out fires).

What are your main responsibilities as a Customer Success Manager at Autodesk?
"My main goal as a CSM is to ensure I deliver business values for the initiatives identified in the success plan and ensure our customers meet their business outcomes."
- Deepika Khowal
"As a Customer Success Manager, my main role and responsibilities consist in helping our customers achieving their desired business goals using Autodesk Technology, transforming their business through innovation and serving them as the day-to-day single point of contact for services and support. I'm responsible for the definition and execution of the Customer Success Plan, which is a strategic roadmap that helps our customers achieving short, mid and long-terms business outcomes. I also help our customers analyzing usage data to increase and accelerate adoption of Autodesk products in the most efficient and beneficial way, ensuring the best ROI in our solutions."
- Cecilia Fantini
"1) Maintaining relationship with customer with the ultimate goal to make them successful/ focus on delivering value. 2) Grow the account and build a strategic partnership. 3) Optimization of software usage (using the right tool for the desired outcome). 4) Make sure the customer utilizes the entitlements that they have paid for."
- Maria Lehmann
"Understanding our customers business, goals and desired outcomes so we can provide services and support that help achieve those outcomes. I ensure we are capturing the progress and value of our software and services and evangelizing this to key stakeholders across the customer's organization so they are aware of the return on their investment and benefits of their partnership with Autodesk."
- Coreda Ehrhart
What do you love most about your role?
"I really enjoy working with our customers , helping them be successful in their business and making them look like a Rockstar."
- Deepika Khowal
"I like working as a CSM because this role gives me the opportunity to work very closely with our customers and effectively helping them becoming more successful and standing out against their competitors. I like the very strong relationship that I establish with them, which allows me becoming a trusted advisor and part of their extended teams.And I love the feeling that I'm actively contributing to the success of Autodesk, by earning our customer's loyalty and trust."
- Cecilia Fantini
"The variety of tasks that I am involved in & ensuring that these teams add value to my customers (support, consulting, account management, PDG, live events), relationship building across various teams, freedom to explore & find new ways of creating customer value, and working internationally."
- Maria Lehmann
"More than anything, I love helping customers solve problems. I love to hear them talk about what they do and what they are working on and finding way to accomplish it. When they continue to ask for more and more from us, then I know we are really helping, and they see us as a trusted advisor."
- Coreda Ehrhart
Interested in joining their team? See their open roles here.

----
PagerDuty
PagerDuty's platform "acts as the central nervous system for the digital enterprise, analyzing billions of signals across virtually any data source, streamlining workflows, and empowering your team to respond and resolve quickly."
We chatted with three members of their Customer Success team to learn more about their roles at this 500+ person (and growing) cloud computing company.
What are your main responsibilities as a Customer Success Manager at PagerDuty?

"As the Manager of North American Success I am responsible for hiring, retention and overall customer retention and satisfaction. I run regular one-to-ones and career development meetings with all of my direct reports. I meet regularly with our sales and services leadership team to align on strategic customers and company goals. Also, I manage and implement tools to help our team succeed and scale, scale, scale! I'm a "Looker Lady" managing our data tooling and reporting."
- Alisa Melville, Manager, North American Customer Success
"The main responsibility of a Customer Success Manager at PagerDuty is to help make customers wildly successful in the work they do by leveraging the PagerDuty platform. We build relationships with our customers, meeting them wherever they are on their journeys towards operational maturity. We support customers as they adopt use of PagerDuty, then later assist to optimize and advocate, helping each customer deliver perfect, real-time experiences for their own customers, every time."
- Margie Verdon, Senior Customer Success Manager
"I get to identify the customer's business and operational goals and translate those into collaborative customer-vendor projects. I project manage and ensure that shared goals and project timelines are met, celebrating wins and identifying new opportunities along the way."
- Anonymous
What do you love about your role?
"I love the incredible collaboration across our teams and the fact that I am always learning."
- Alisa Melville, Manager, North American Customer Success
"I love my team! Each member of PagerDuty's Customer Success team is brilliant in their own way. Our team is highly collaborative - challenges are discussed openly, and members are encouraged to share unique perspectives when brainstorming how to solve problems. Successes are recognized and celebrated!"
- Margie Verdon, Senior Customer Success Manager
"It's a dynamic, challenging, and energizing role. We have the autonomy to becomes better customer success managers and a better team. Being given the space to self-improve acts as a compelling mechanism to challenge ourselves and think of innovative ways to solve complex problems. Another highlight for me is the collaboration. When collaboration works well, unique B2B partnerships are developed and we achieve shared goals across companies. Being part of that collaborative process is extremely rewarding."
- Anonymous
Interested in joining their team? Check out Manager, Customer Success
----
YouCanBook.me
YouCanBook.me is one of the fastest-growing scheduling tools in the world. Customer Success is key at this 100% remote company, given that their tool is used by hundreds of thousands of users and customers... so we chatted with Anna Jacobsen, Head of Customer Success and Onboarding to learn more!
What are your main responsibilities as a Customer Success Manager at YouCanBook.me?
"YouCanBook.me users rely on us for support (we support our users through email), but the heart of our job as customer success managers at YouCanBook.me is solving our users' issues before they even happen. This includes analyzing cohorts of successful users, identifying what common actions they take, and using those success templates to create more successful users through education and coaching."
What do you love most about your role?
"I love helping users do their job better than before they came to us. It's exciting to think of this role as a consultant might serve a client: as the experts in online scheduling, we can help our users uncover the hidden work of hiring the best candidate before someone else does, closing a big deal, or building their own customer success meeting strategy. The best part of this job is thinking about customers as clients that deserve our attention not just in solving their issues in support, but making them exceptional at their job do be done."
Interested in joining their team? Follow YouCanBook.me here to learn about new openings!
----
Relativity
Relativity makes software to "help users organize data, discover the truth, and act on it." With over 180,000 users in 40+ countries, including more than 70 Fortune 100 companies, you can bet their Customer Success Team has a lot on their plate. We chatted with two of their CSMs to get an inside look.
What are your main responsibilities as a customer success leader at Relativity?
"I work with a team of Customer Success Managers (CSMs) to drive customer value from our product and increase the subscription renewal as well as growth. Relativity is a highly customizable expert platform, so driving value for customers requires a proactive approach to understanding their specific use cases, training stakeholders, and helping them navigate technical or business roadblocks. Day to day, this means my time is spent split between working with my team on approaches for specific customers and collaborating with internal teams like project managers to address customer feedback and continuously improve user experience."
- Brianna Bogan, Senior Manager, Customer Success Management
"I am responsible for customer adoption and utilization of Relativity. Ultimately my job is to work cross-departmentally to advocate for our customers, address their challenges, and foster a company-wide culture of customer success."
- Kyra Saley, Customer Success Manager
What do you love most about your role?

"I love that Customer Success straddles the technical and commercial aspects of our software. It requires both a knowledge of the customers' business and expertise in the product to be able to identify and drive the value proposition. I get to work with a smart team who is passionate about helping their customers and also nerdy about the complex data problems Relativity is solving."
- Brianna Bogan, Senior Manager, Customer Success Management
"I love the team that I work with and the customers I work on behalf of. Not only is the work interesting and challenging, but it enables me to interact with a diverse set of organizations and learn about new and interesting trends in the industry."
- Kyra Saley, Customer Success Manager
Interested in joining their team? Check out Senior Customer Success Manager & Customer Success Manager

----
READ MORE AND DISCUSS
Show less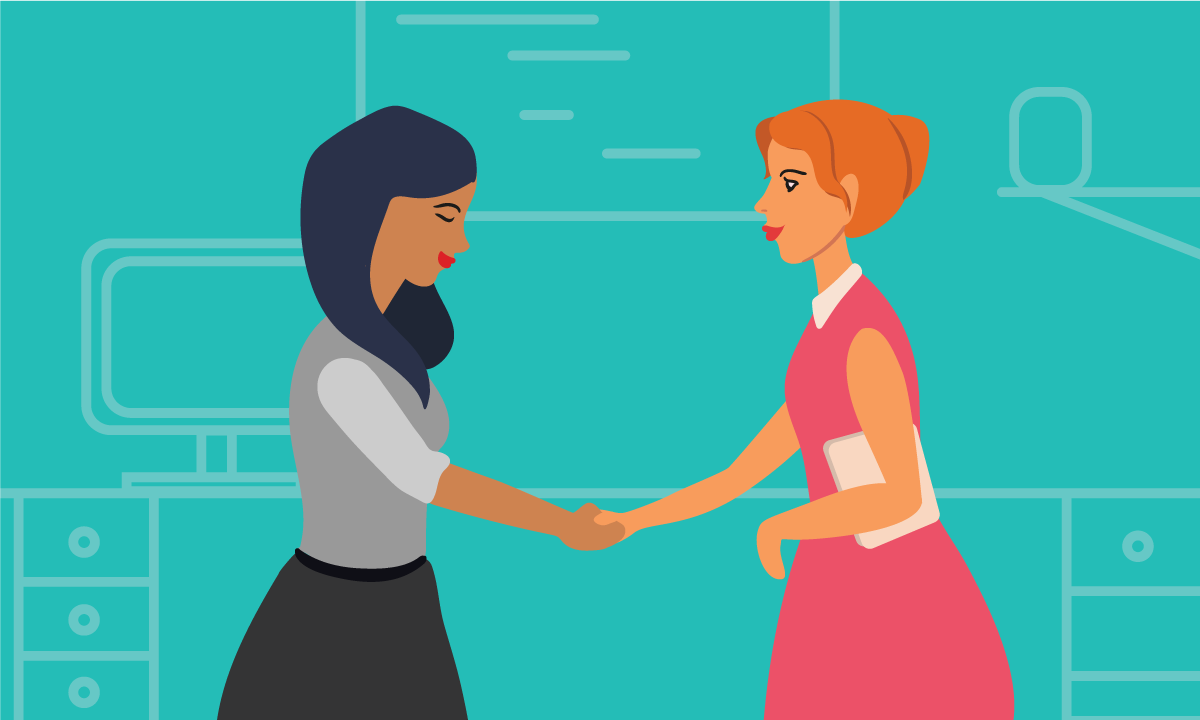 Career Growth and Advice
Tips & Insights From Customer Success Veterans at Scout RFP
Not long ago I was chatting with my dad about a dear friend of mine. "What's she do?" he asked. "Customer success," I replied.
"Is that just a fancy name for customer service?"
I laughed because I realized in this moment how I'd seen "customer success managers" crop up all over the place, but I didn't really know what they did. Ironically, my dad's job - based on his descriptions of constant maintenance of client relationships and putting out several customer fires per day - sounded an awful lot like what I knew customer success to be.
And yet his title was, "Account Manager."
The two roles are quite similar, and in fairness to my dad, the concept of a customer success manager is relatively new.
To solve the conundrum, we wanted to get some expert opinions. So we hosted a live chat with Allison Yount, Director of Customer Success at Scout RFP, and Michelle Barberini, Sales Recruiter at Scout RFP, to learn more about how they built their customer success team and what they look for in potential customer success managers.
Want to better understand what the heck it means to be a customer success manager...and how to be a good one? Watch the full video or skim the highlights below!
---
What's a customer success manager do, anyway? Does it differ from account management, client relationship management, etc.?
Customer Success Managers (or CSMs) work to:
Set and meet customers' expectations
Support Sales with contract renewals & upsells
Onboard/train new customers, share educational resources, and explain product features
Respond to customer inquiries (put out fires) and aggregate feedback in order to identify meaningful insights for future improvements
And lots of other things, depending on how the CSM role is defined at a particular organization.
"I think one of the most confusing parts about customer success is that it's still finding its identity. You hear a lot of different names like account manager, customer success manager, client success manager, relationship manager, and it's really important when you're looking for a new role or listing a role in customer success to understand what the job scope is. The term 'client manager' tends to be used a lot more in marketing, PR, and consulting. On the other hand, customer success has a lot to do with tech software, and more B2B type things. A 'relationship manager' tends to be a role that's solely focused on the ongoing success of your customers, while an account manager tends to be really focused on renewals and upsells. But there is a lot of overlap, so you need to understand the role you're applying for."
Pro Tip - Because there's so much variability in customer success manager responsibilities from company to company, Allison and Michelle recommend searching for current customer success managers at the company you're applying for on LinkedIn. See what responsibilities they've included on their profiles, and then tailor your resume to show you're capable of doing that work. (Paying close attention to the job description helps as well!)

What are two traits you need to be successful as a customer success manager?
1) Problem Solving
"We're constantly developing our problem solving. Do I understand what the problem is? Do I know what their desired outcome is? What they're expect expectation for how long it's gonna take for this to get solved or how quickly they need this to be solved as, and have I asked all the right questions to be able to escalate it if I need to or to be able to break it down and deliver back the solution to them."
2) Time & Priority Management
"Everything that comes from customers is 'urgent.' It always requires an immediate response. It's in all caps sometimes, 'THIS MUST BE RESOLVED NOW!' And understanding how to dig through that to figure out what's really urgent, where your time is needed most urgently, and being able to manage all of that is really key."
What's one thing you'd recommend all customer success managers do that they might not be doing already?
"Every customer success manager should be connecting with their customers on LinkedIn. I have found that it's one of the most powerful ways to build - and maintain - relationships."
Learn about the customers you're connecting with and look for common ground:
"Do we have any connections in common? ...Do we both speak French? I'm not sure. But being able to leverage those key commonalities to get someone to let their the guard down can only be done by understanding their background."
What are the customer service values at the core of your customer success team?
"As a company, our number one company value is actually obsess over the customer. And the big three: Engage, educate, and elevate."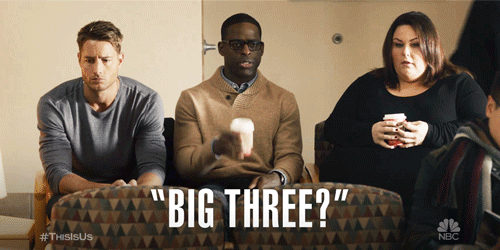 "I think that that actually transfers to a lot of different interactions... we constantly want to make sure we're engaging. Building those relationships. As I mentioned, networking, making them feel special, making them feel like we care, keeping them excited on phone calls, making sure that we're having a two-way conversation, educating them, not only about Scout, what we can offer, how we can help them, answering their questions clearly, and then elevating. It's not just about tactical work and interactional or transactional interactions. It's how do we take them to the next level? How do we make them feel like they couldn't do what they're doing with any other company?"
----
Now that you know what it takes, get ready to tailor your resume and start applying to these open customer success manager roles on PowerToFly!
READ MORE AND DISCUSS
Show less
Loading...