GET EMAIL UPDATES FROM POWERTOFLY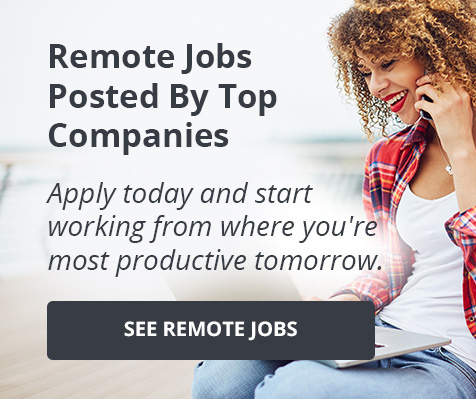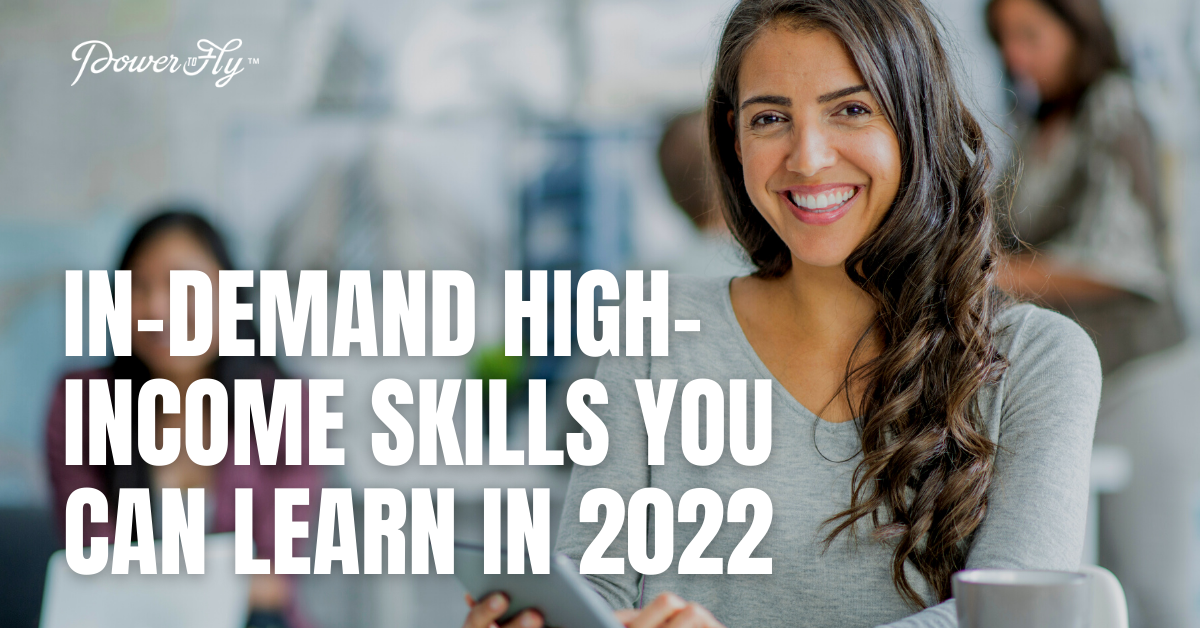 Upskilling and Development
If you have been searching for ways to increase your income this year, then learning a new skill might be the solution for you.
As the job market evolves, so do the skills that employers desire. Whether you are creative, people-driven, technical, or analytical, you can always learn something new in your area of expertise to help you progress in your professional career. Because as we all know, the more you can add to your resume, the more desirable you become to prospective employers. And thanks to today's unique job market, some of the most in-demand skills of 2022 have the potential to turn your income into 6-figures.
We have curated a list of the top skills of the year, their salary ranges, and some resources to help you begin your education. Whether you want to propel your career forward or are looking to negotiate for a higher salary, learning a high income skill is a valuable investment in your future – one you can start today!
Top 10 In-Demand High Income Skills
1. UX Design
The UX designer's role is invaluable in delivering quality products to customers while also meeting the needs of the business. Being able to understand both the consumer and the developer is a key skill towards excellence in production. With UX designers in increasingly high demand, $89,822-$161,000 can be expected annually.
Whether you're new to UX design or want to level up your skills, there are plenty of online and in-person resources like our partner, Springboard's UX Design Bootcamp, and Google's free Certificate.
2. Data Analysis
Data is everywhere, and we all know how important it is when it comes to decision-making and the future of business. So, it only makes sense that data analytics interpretation and usage would be the next skill on our list. Because data and numbers drive every industry, data analysts can expect to make $73,746-$153,000 annually.
To help introduce you to data analysis, Coursera offers both free and paid courses.
3. Cloud Computing
In a time where work and education are becoming increasingly remote, helping businesses securely store and manage their data is a valuable ability. Perhaps this is why cloud computing is the one of the most in-demand, high income skills of 2022. And as a cloud computing professional, it's possible to make $86,997-$330,000 per year!.
PowerToFly partners with Microsoft to offer a quarterly Cloud Computing Challenge to help you develop your skills and add them to your resume. You can also learn more about cloud computing here.
4. SEO
It's no secret that Search Engine Optimization plays a big role in theonline success of businesses and brands, and companies are willing to pay big to have their websites rank higher on Google search results'. This is why understanding best SEO practices is the next skill on our list, and why it can rake in $69,629-$137,000 a year.
If you're unsure of where to begin your education, Backlinko can help you get started on learning best SEO practices.
5. Coding
While coding is a skill that requires time and patience to learn, it's indispensable knowledge in this increasingly digital age. Regardless of the field, there is always a need for someone who can competently and skillfully code, and the annual $68,105-$135,000 that comes with this ability reflects just how valuable it is.
Check out our list of Best Coding Bootcamps of 2022, Codeacademy which has both free and paid courses available, and App Academy Open which offers its entire coding curriculum for free.
6. Video Editing
YouTube and TikTok have proven just how impactful video content can be for marketing, and just as the written word requires editing, so does film! Experienced video editors are hugely in-demand, and with the possibility of earning $69,817-$143,000 annually, it is certainly not an unwise skill to add to your resume.
Here is a detailed article for those who want to get started in video editing but aren't sure where to begin.
7. Sales
Since sales directly impact how much a company or business earns, the desire for adept salespeople is endless. And because this role has commission-based pay, the earnings for a skilled salesperson can range from a base salary of $71,267-$167,000 with the possibility of even higher.
If you're unsure of where to begin, HubSpot Academy offers free courses in sales to jumpstart your education.
8. Translation
With international business growing, so is the need for translators. Knowing a second language is a skill that many companies need to improve their cross-cultural communication, and with translation it is possible to earn $62,529-$171,000 annually or to use your skill to negotiate for a higher salary.
To start learning, practicing, or perfecting a language, both Duolingo and Babbel are free and excellent resources.
9. Technical Writing
Technical writers play an essential role in helping companies better communicate with their audience. In a society where tech rules, this important skill is vital in a variety of fields, and as a technical writer it is possible to earn a salary between $76,523-$153,000.
If you are confused about where to begin your education, here are some Technical Writing Courses to help get you started.

10. Digital Marketing
With so much business being conducted online, the need for digital marketing is higher than ever. It has quickly become the most effective means of marketing today, making digital marketers an indispensable asset to any business. The high demand and the $74,373-$260,000+ paycheck makes digital marketing a wise skill to invest in.
Check out our article on Digital Marketing Career Growth to learn a little bit more about what a digital marketer is, does, and how to make the most out of your career with this skill.


How to Develop and Learn High Income Skills

Utilize free resources. There are plenty of free educational resources available online to help with developing and learning new skills. Here at PowerToFly we offer a number of free resources on our website, but other sites like YouTube, Coursera, and Grow with Google also offer a number of free programs that you can take advantage of today.
Invest in a paid course. If going back to school doesn't sound appealing but you would like to take your education a step further, investing in a paid online course is a great option. Sites like LinkedIn, Skillshare, and Springboard offer low monthly subscriptions to gain access to hundreds of different courses, while Udemy provides courses at set costs in a variety of fields.
Take formal classes. If you are serious about your new skill and want to pursue it professionally, there is always the option of university courses or committing to gaining a degree. While a degree is not necessarily required for these skills, it is always an excellent addition to any resume and can help you obtain a more well-rounded and in-depth education that free resources may not be able to offer.
Find a mentor. By finding a mentor who has faced similar challenges and held the same goals, you can have access to an important support system to help you move forward in your professional journey. While there are different mentorship opportunities available online, we offer a variety of mentorship options here at PowerToFly. We want to help you achieve your career goals and reach your full potential by receiving the catered support that you need.
Find an internship or job. The best way to learn a high income skill is to immerse yourself in it. By gaining hands-on experience through a job or internship, you will be able to practice what you have learned in a professional environment while expanding your knowledge along the way. Keep an eye out, because we are always updating our website with available jobs and internships!
READ MORE AND DISCUSS
Show less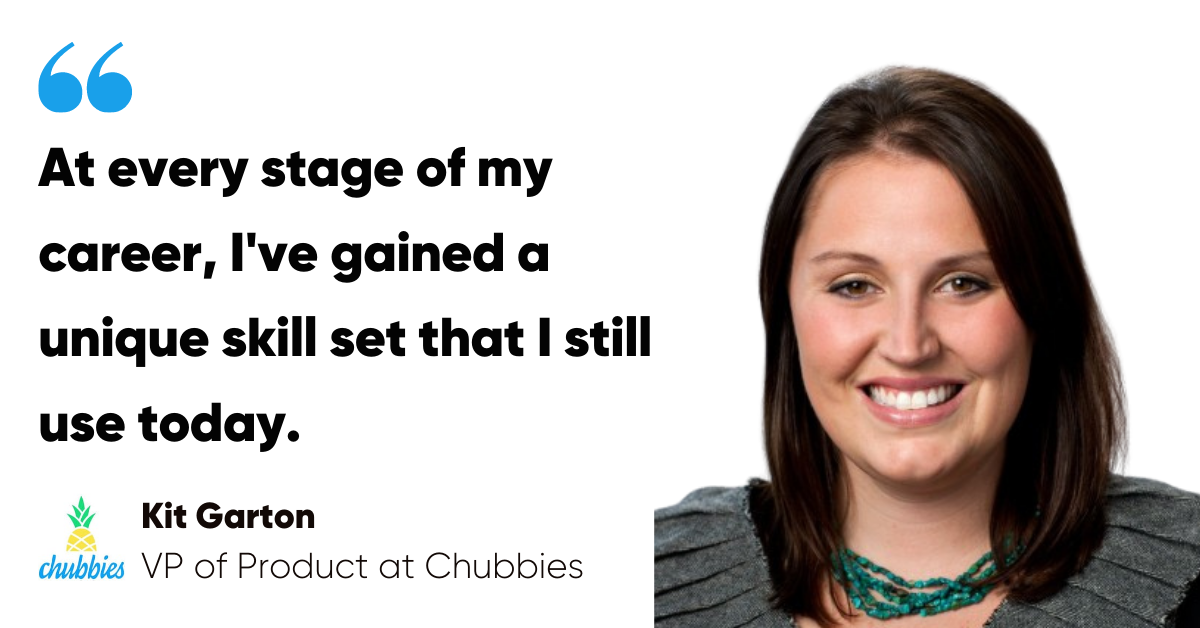 Chubbies
Bringing people together around the table is one of Kit Garton's favorite ways to spend time.

"Meals are a really special time for connections," she explains. "Cooking, eating, trying new restaurants or new cuisines—sharing a meal is my favorite way to get to know someone."
The VP of Product at apparel company Chubbies says she especially likes the way that breaking bread together gives people from different backgrounds a common space to connect and share stories.
She has a penchant for making the most of an interdisciplinary approach. When studying at Stanford, she started off on a pre-med track before Intro to Human Anatomy derailed her. "It completely ended my aspiration! I could not hang," says Kit, laughing. She switched to human biology, which she explains "sits at the intersection of biology, psychology, and sociology," and studied decision-making and development.
Years later, her interdisciplinary background would find her perfectly suited to lead the product team at a weekend-obsessed brand known for perfecting shorts.
Read on for Kit's insight about switching functional areas, making the most of a diverse team with different identities, and building the exact career you want.
Service-Driven Marketing
Kit's path to product leadership wasn't a typical one.
Technically, Kit's first full-time job after college did deal with products, but specifically the kind you might see in the grocery store: she worked for a PR agency on consumer packaged goods accounts.
Planning events, creating marketing moments, and running campaigns taught Kit a lot, she says, including that she loved thinking about her work with the end consumer in mind. "I'm a people person, and I love making people happy," she says. "I started to see marketing as a way to connect consumers to something that might bring them joy or help them."
She also loved how quantifiable the work was. "I am someone whose performance is pretty driven from data and analytics," she says of her affinity for chasing metrics and using data to inform her next campaign.
But being spread across four or five accounts made Kit feel like she couldn't channel her creativity in the most effective way, so she started looking for a singular brand vision she could get behind.
Enter Chubbies.
She'd gone to college with the founders and had followed the brand since its launch. "No one at that time was creating clothes for young men, no one was marketing towards that," she says. "I thought that was unique and cool, but it never occurred to me that they would be hiring."
She checked, and they were: a role in PR and events. She applied, got an offer, and took a major leap to join them.
Kit was sure about the brand itself. "They were all about the weekend, and it felt like a fun and unique story I could tell really easily," she says.
But she wasn't so sure about the career change. "I was leaving a pretty established corporate job that had 401ks and management trainings," remembers Kit. "And when I started at Chubbies, I was reading over the job offer and said, 'I didn't notice a section about healthcare.' And they were like, 'We don't have healthcare, but we do provide lunch and Clif bars.'"
She had a bit of runway left on her parents' insurance, though, and decided to make the most of a big marketing role at a new startup. Her first few months were spent working at her desk for seven hours a day, then heading down to the warehouse to pack boxes for an hour or two.
"We were growing so fast, and we were so new, that we had hard times guessing when the demand for our shipments would arrive," explains Kit. She'd go home with hands stained blue from the boxes, and show up the next day to start again.
A Three-Point Approach to Switching Functional Areas
Kit started in a pure PR role, but she didn't stay there. She wanted to stretch her skill set by applying it to product marketing campaigns, so she asked to take on the project management of Chubbies' Black Friday and Cyber Monday promotions.
That's her first lesson for anyone else looking to do the same: 1) Ask to take on what you're interested in.
Her boss said yes, and those campaigns went well. The cross-departmental coordination required to align departments and vendors on a common goal excited Kit, and when Chubbies' email manager said he was planning to leave the company, Kit stepped in to cover the role and help in searching for a full-time replacement.
After interviewing several candidates, Kit thought she could be that full-time replacement, and asked to take on emails full-time. Once again, she got a yes, leading to her second lesson: 2) Don't be afraid to grow your scope.
Kit became the senior marketing manager of earned media, which had her managing Chubbies' influencer program, retention, and email marketing. She had no formal education in those fields, but was able to take on those new tasks by soaking up everything from those around her and embracing self-study.
Then came lesson three: 3) Be excellent and opportunities will follow.
Chubbies' founders saw what Kit was doing with email marketing and asked if she'd apply her then-trademark customer-focused, data-driven approach to the product team as the director of merchandise planning. She said yes.
"I didn't hesitate. Fashion has always been a secret passion of mine," she says.
Her current role as VP of product came after a successful stint in merchandising, and it has her overseeing design and digital merchandising, from setting the strategy to managing a team of about 15 people across three departments.
Thinking About Identity in Product
When she was a marketer, it was natural to use diverse models to showcase products and inclusivity.. But now that she's in charge of figuring out the future of Chubbies' signature shorts (and other apparel and products), Kit has started to think about how she can stay focused on all of Chubbies' different customers.
She used to wonder if she was missing out on something by being a woman working on a clothing brand worn primarily by men. Then she learned to see it as a strength. "A mentor told me it was actually a huge positive, because the decisions that I make are not because of how I feel about something—it's all because of data," she says.
What she's learned lately is that there are multiple places that valuable data comes from. It turns out that a lot of women and nonbinary people wear Chubbies' shorts, says Kit. Kit regularly solicits feedback from a diverse range of buyers so that she can better understand the why behind their purchasing decisions and make sure that Chubbies' products keep evolving to meet their needs.
"Even though we're so much bigger, I still get to have personal interactions all the time," she says. "Our customer base is just as passionate today as they were nine years ago [when I joined]. They're almost more surprised now when they hear from me, like, 'Wait, you're a real person?' And I'll be like, 'Yeah, we could set up a Zoom and you could give me this feedback while seeing my face!'"
Something from Everything
Reflecting on her career, Kit sees her path from PR to marketing to product as a feature, not a bug. "At every stage of my career, I've gained a unique skill set that I still use today," she explains.
From event production, she learned how to deliver during crunch times and manage people. When running email campaigns, she figured out how to collaborate cross-functionally and always assume positive intent. From the shift to product, she learned about the importance of data analysis and understanding the customer perspective.
She can go all the way back to her first jobs and do the same thing. "I'm a confident public speaker because I worked as a campus tour guide in college," she says. Reflecting on her time as a waitress, working to create the dining experiences she so enjoys today, she adds: "I developed people and time management skills there."
"Every job is worthy and has a transferable and valuable skill set," says Kit. "Opportunity is out there, but you can't just sit back and wait for it—many times you have to create it for yourself."
Want to create your next opportunity at Chubbies? Check out their open roles!
READ MORE AND DISCUSS
Show less
Loading...