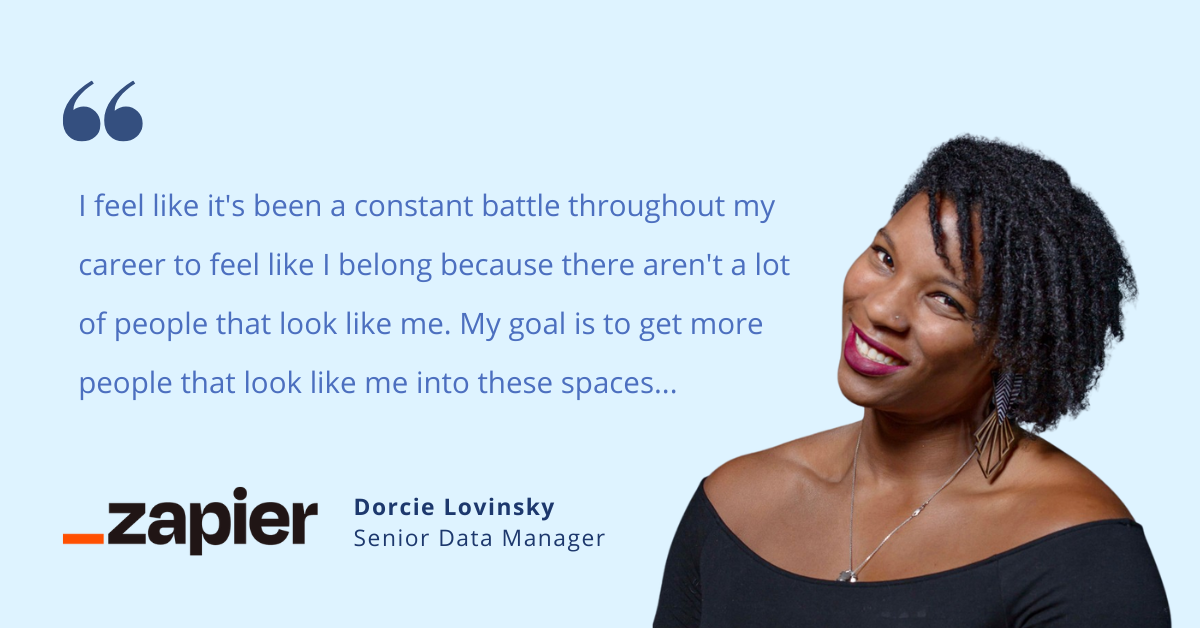 Zapier Inc
Dorcie Lovinsky seeks activities that help bring balance into her life.
"My newest hobby is golf," she shares. "It's a very technical, chill sport. I would say the yin to my yang."
Her yang is the ambition and drive that not only fuels her work as Senior Data Manager at Zapier but is also what pushed her to become so successful today.
The daughter of working-class Haitian immigrants, Dorcie had to make her own way into the tech world.
"I feel like it's just been a constant battle throughout my career to feel like I belong because there aren't a lot of people that look like me. So my goal is to get more people that look like me into these spaces so that we don't have to do the extra work to feel like we belong."
We sat down with Dorcie to learn more about how she carved her career path and the advice she gives to those seeking a career in data.
The Ambition to Make Her Way
The results of a high-school Keirsey Temperament Test are all it took for Dorcie to start making career decisions. She carefully analyzed the three it suggested: teaching, philanthropy, and computer science.
"In high school," she recalls, "I realized that my family are immigrants who never really had a lot of money so I would need to make my own way. I looked at the salaries of all these types of jobs and realized computer science had the highest one. I thought, 'If this test says I can do it, then I can do it.'"
However, she knew that trying to break into a male-dominated field would mean having to prove herself. So the summer before starting her college computer science program, she saved up all the money she earned as a cheerleading instructor and built her own computer.
"I thought that they weren't going to take me seriously unless I built a computer," she explains. "So I built my first computer and that gave me the confidence to feel like I can be in this room now."
Taking Unexpected Advice
During an internship, she became a PeopleSoft developer, which helped her land her first job out of college.
With work she enjoyed and a nice salary to match, Dorcie was content. However, four years in, something happened that altered the trajectory of her career.
"One day the security guard at my work comes up to me and says that I needed to leave this place because people tend to get comfortable here and that I'd never do better unless I leave."
Heeding his warning, Dorcie started applying to open positions and found a PeopleSoft development job in Manhattan. "It was really fun because I had always dreamt of working in Manhattan," she shares gleefully.
Although she was living the dream, she knew that being a PeopleSoft developer offered limited opportunities. "I knew I was going to hit a ceiling quickly," she explains, "So I started teaching myself iOS and iOS development."
These new skills soon came in handy when her company began laying off employees.
"I was working for a public company that went private and laid off 80% of its workforce," she reveals. "I remember walking in and thinking that they would never lay me off, but they laid me off."
As devastating as losing one's job can be, Dorice cried tears of relief instead of sadness. "I cried because I was overjoyed that I could finally make that pivot," she admits. "I can finally do something else."
Hustling and Teaching
Although she was walking away from job security, Dorcie was excited to explore new opportunities.
"I wanted to do something different," she explains. "So I taught yoga, Zumba, and cycling because I loved all of those things. I also got a job as an adjunct professor teaching computer science and it was so much fun to get people excited about a topic that they aren't inherently interested in."
Dorcie spent two years enriching the lives of others through teaching sports and computer science.
As if that wasn't ambitious enough, she also taught herself crucial computer skills. "I taught myself HTML, CSS, JavaScript, and PHP, and started making websites to help small businesses create their web presence."
Eventually, the hustling lifestyle became tiresome and Dorcie decided she needed a little more stability.
Pushing into Data
That stability came with a position at a small software company.
"I feel like all throughout my trajectory, I was always doing some kind of work with data," she reflects. "PeopleSoft was very data-driven. It was almost like an analyst role because you were creating reports."
However, before transitioning into data engineering, she was met with some barriers.
"At this previous job, they had posted a data engineering role, so I reached out to my manager's manager and said that I wanted it," she recalls. "But to my face, he told me that I was not qualified."
Then, when the company claimed to support and give opportunities to women, she couldn't let this unfair denial go without comment.
"I said something to the director of the company and they gave me an interview for the position. I ended up being perfect for the job."
Dorcie further progressed in her career by coming to Zapier, the leader in no-code automation. She started off as a manager of data engineers and has grown to manage multiple teams of data engineers and data scientists.
"I really like helping each of my teams work as one," she shares proudly. "The most satisfying part of my job is helping people be efficient, helping them understand how to connect what they need to do with how much it's going to help other people, and telling stories with data."
Within a little over a year and a half, her responsibilities have expanded to managing four different data teams.
"I have such a supportive manager who pushed me to do more than I thought I could," she says. "I think it goes back to that fear of the unknown. Questioning yourself, can I do this? And someone saying, yes, you can do this."
Advice for Pursuing a Career in Data Engineering
Dorcie's path to Data Engineering wasn't a typical one. Yet her story shows that if you put in the hard work, speak up for yourself, and are truly passionate about what you do, you can carve the path of your choice.
For those wanting to excel in the world of tech and data, here is Dorcie's advice:
Find your tribe: Dorcie describes a tribe as a "group of people that are extremely supportive." She expresses that her tribe spans from her friends and family to her managers at work. "Having a tribe is super important because those are the people that are going to help you see the things that you don't see and give a different perspective, or just cheer you on when you're down on yourself."
Trusting your intuition: When you are put in unfamiliar situations and are met with certain challenges, Dorcie suggests asking yourself "Does this feel inherently good to me?" When making a career change do what is best for you, not what's best for others.
Continue to educate yourself: "There are all these Bootcamp classes that are showing up. So, don't be afraid to take an eight-week boot camp class or something like that to learn something new."
Continue to move forward in the face of adversity: Although Dorcie has an amazing story, her journey is a road paved with successes, failures, rejections, and tenacity. "There's a bit of struggle that happens all the time, but there are so many big wins at the end of the day that makes it so worth it."
Don't let anyone hold you down: An employer once told Dorcie, 'You're not worth anything more' when she had tried negotiating a raise. "I felt like I deserved it because I had put in a lot of extra hours to get our product MVP out the door. Plus, I was making way less money than I should have been. After hearing that, I didn't let it get me down and made better career decisions going forward. I realized at that moment that sometimes there is a mismatch in how I value myself and how others value me and that shouldn't define my future."

If you're looking to work in a supportive environment, check out Zapier's job openings.
READ MORE AND DISCUSS
Show less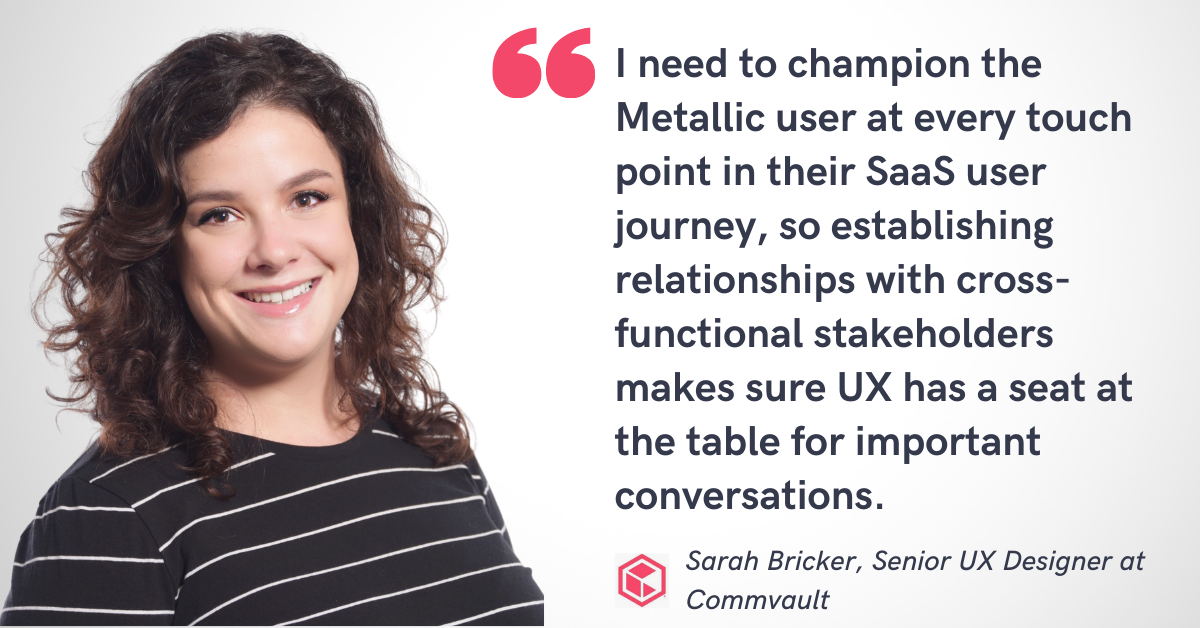 Commvault
Insight from Commvault's Sarah Bricker
What do pastry chefs and UX designers have in common? A lot, if you ask Commvault's Sarah Bricker.
The Senior UX Designer has been working on research-based design projects for the smart data management platform for the past two years, but before she transitioned into the field, she was turning out beautiful desserts as a pastry chef.
"There was a science to it, and I liked blending that with creativity and working with my hands. I'm very right brain/left brain, and it's set me up for success as a UX designer," explains Sarah.
It's not just the processes that overlap. (Though kitchens and companies certainly do share a focus on efficiency and speed.) It's the overarching goal, notes Sarah, adding that good dessert can delight someone the same way that good UX can. "Dessert brings a smile to people's faces; it's used to celebrate things. I do get joy from making people happy. And when I heard that UX was this practical application of that science, I knew it was for me," says Sarah.
We sat down with Sarah to hear more about her career path, what she's working on now as part of the cross-functional team behind Commvault's first SaaS product, Metallic, and how she shares the goals behind UX to people less familiar with the field.
Building a Foundation
Sarah transitioned from pastry to UX after talking to a family friend who was in the field.
"She was explaining to me that UX is all about empathy, about understanding who the user is, about design that's based in research," remembers Sarah. "It's not this open-ended, 'How do you create something?' I'm someone who likes to have a box around that creativity, I like to have those constraints; that's where I work best. And I can't stand inefficient systems," says Sarah.
It sounded like something that was custom-made for her, so Sarah made her way into UX via General Assembly's 10-week course, then joined GA as an instructional associate for that same program. "I learned more teaching than I did as a student, which I think is common," says Sarah, who still considers the instructors she worked with there as her mentors in the field.
She learned not just how to apply UX skills and methodologies, but also about what kinds of teams she would thrive in. "I learned how I'd want to be treated as a coworker, as a colleague, and how I'd want to treat anyone on my team as a manager: like an equal, and that their opinion is valued, and giving them ownership of what they're doing," she explains.
When she joined Commvault, it wasn't because enterprise software and data backup and recovery was inherently appealing to her.
But when she learned more about the team she'd be working on—the team that would launch the company's first SaaS offering, made up of 25 people across engineering, marketing, business operations, and sales—she was sold.
"I would learn so much in the role; I'd have exposure to so much—how exciting of a learning opportunity would that be?" asks Sarah.
UX's Role in a Cross-Functional Team: Four Common Misconceptions
When Sarah joined Commvault, she was Metallic's first dedicated UX designer.
"That's the blessing and curse of an organization being new to UX: we can learn together," says Sarah, who quickly realized that she needed to clarify what she was there to do.
There are a few misconceptions about UX designers, says Sarah, all of which she came across in her early days building out the function for Commvault:
"UX is here to make things pretty." Not quite, says Sarah. "It's so much more than that! It's research-based design, so yes, there's that tactical application of improving the usability of the experience, but UX is also a strategy and a process," she says.
"The 'user' in UX is always the end user." Nope. "Just as important as your external users and your end users are your internal users—your stakeholders whose buy-in you need to make positive changes internally," explains Sarah. Because of that aspect, she sometimes calls UX a "public relations role," where she has to be easy to collaborate with and work with so that she can have the access she needs to help make better products that work for more people.
"UX slows things down." This isn't quite true, says Sarah. "I ask the questions that yes, might end up in more work, but we're making sure all stakeholders feel heard and that we're solving the right problems," she says. That means that the final result is more likely to be one that everyone is in sync on, actually saving time in the long run.
"Engineers and UX don't mix." There's a conception that engineers and UX designers don't speak the same language, explains Sarah. But she's built a great relationship with the manager of frontend development, for instance, and the two of them have learned to speak each other's languages so that each can understand each other's processes and work together.
5 Tips for Keeping UX Top of Mind at Your Organization
Over the years, Sarah has developed her own toolkit for making the relationships she needs to do her work. Here's what's worked for her:
Get buy-in early. Commvault's product team has quadrupled since Sarah has been there, and whenever she gets an email about a new hire, Sarah reaches out and sets up time with them. "I need to champion the Metallic user at every touch point in their SaaS user journey, so establishing relationships with cross-functional stakeholders makes sure UX has a seat at the table for important conversations," she says.
Know your product roadmap. There are countless places in the business where user experience could improve, says Sarah. To prioritize her work, she maps it to business objectives for each quarter. "I have open conversations with my managers and other PMs about where UX needs to make an impact," she says.
Say yes often. To make sure UX is top of mind for all the different teams Sarah works with, she tries to be as accommodating as possible to all the different places they may need her help. That can mean helping the marketing team with email design, looking over sales' messaging, or working with the head of support to come up with a creative title for an internal newsletter. (All of those really happened, and all in the last month!)
Standardize what you can. To make sure she's maintaining as well as improving UX, Sarah has been working to create standard processes and templates for things like wire framing. "By streamlining the UX team's workflows, we can ensure consistency in our designs and save time to accomplish more," she says.
Learn to compromise. "Sometimes I have to say, 'Ok, we have this targeted launch date. Am I 100% happy with the experience? No. Does it work? Yes,'" says Sarah. "And then it's advocating for that promised phase two, to making it better later on."
Creating Delightful Experiences
When she was a UX instructor, one of the things Sarah would always tell her students is that they didn't have to be subject matter experts in the space for which they are designing. They just had to trust the UX process, build connections, and ask good questions.
Two years into her career at Commvault, Sarah is doing just that, bringing a curious, relationships-focused approach to Metallic, the product she works on, as well as to the whole team.
Sometimes, that friendly extroversion ends up becoming a part of team lore, like when Sarah created Talli the unicorn, a character played by Sarah's Senior Manager of Business Systems for a conference as a way to promote their product Metallic, and later kept her alive via digital assets and videos shared during the pandemic. Sarah even produced a 30-second spot explaining what Talli was up to during lockdown, from walking on the beach to painting and reading.
"At the end of the day," says Sarah, "it's all about bringing people joy."
If you'd like to spread joy alongside Sarah at Commvault, check out their open roles!
READ MORE AND DISCUSS
Show less
Loading...