GET EMAIL UPDATES FROM POWERTOFLY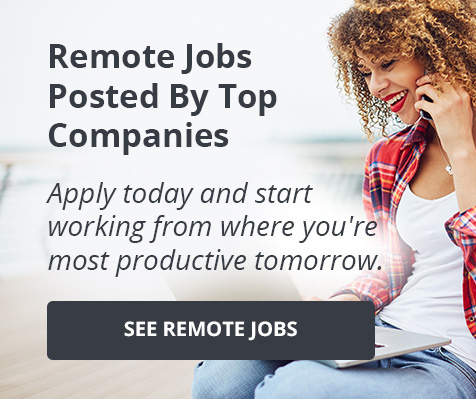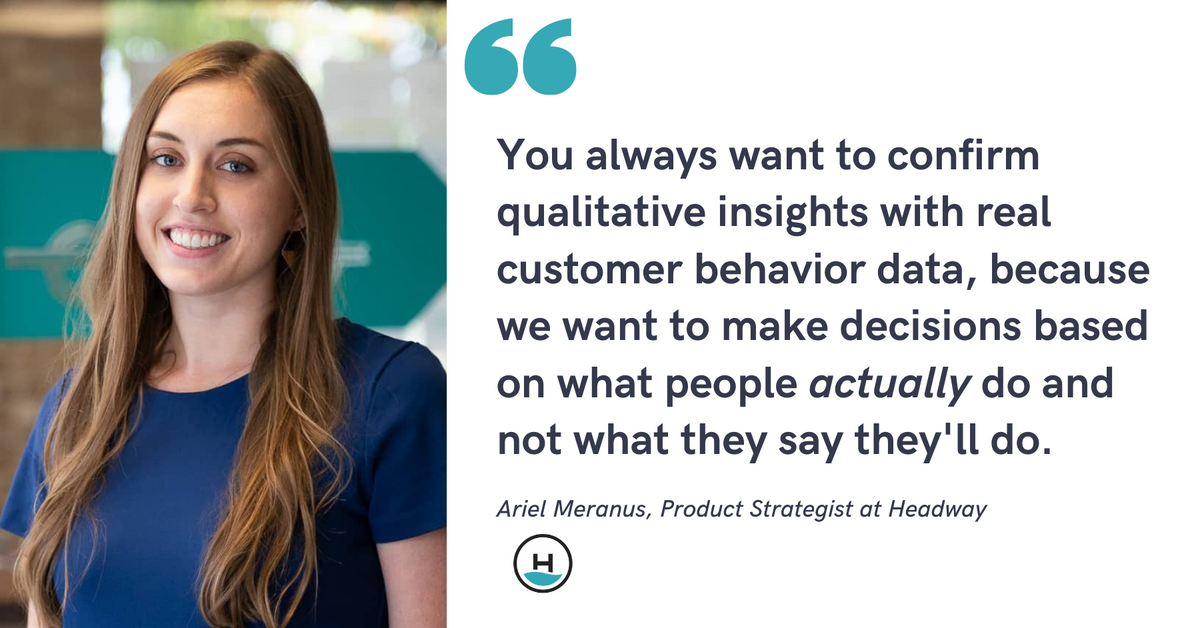 Headway
Insights from Ariel Meranus, Product Strategist at Headway
Ariel Meranus is always up for a challenge: she spent four years living and working in countries across South America, Europe, Asia, and Africa. "I love the challenge of figuring out something or somewhere completely new," she says. "You just have to be willing to dive all the way in."
Ariel moved back to the U.S. a couple of years ago and now works as a product strategist at Headway, where she helps startups and corporations launch new tech ventures.
Although her digital nomad days are behind her, Ariel's thirst for new challenges is a big part of what brought her to Headway. "With every new venture comes a whole new world of challenges," she says."As a product strategist, my job is to navigate that world."
We chatted with Ariel to learn more about how her willingness to try new things—and ask good questions—helps her create products that customers love. Read on to learn more about her path to product strategy and how you can follow in her footsteps!
Ariel's Path to Product Strategy—and Headway
Ariel started her career in brand strategy. "I really liked leading the strategic direction for brands, but I found myself more and more interested in the strategy behind the digital experiences that they were providing." So she decided to take on a new role as a consultant at a digital think tank where she analyzed digital experiences and authored thought leadership on best practices in the digital world.
Enter product strategy.
"That job really inspired me to learn the ins and outs of tech and ultimately to become a product strategist, because I wanted to actually create those digital experiences."
Product strategy is such a new and versatile field that you'll likely get different job descriptions from every product strategist, but this is how Ariel describes what she does: "Product strategy has an incredibly large surface area. It involves everything from upfront market research to generating value propositions and business models, all the way through building an MVP and growing a product at scale," she explains. "All the while, you are talking to real customers, to ensure you're building a product they will love."
After some time working as a product strategy consultant for startups, she stumbled upon Headway. "I got excited when I found out about the role, because I truly believe in the philosophies Headway lives by. The team here believes in building businesses, not just products. And that means doing a lot of tough strategy work, testing with customers constantly, and championing Lean Startup practices."
Creating a product customers love
So how does Ariel help Headway's clients build products that consumers will love? "There's no perfect formula for building a new venture. It's really about having the right belief system -- namely: learning quickly and iterating," says Ariel.
"In terms of a typical project, clients often come to us with an idea. Then, we go out and do a bunch of research into the market to understand: Are there customers for this? What's the market size? What's the competition look like? What do customers actually need? What are they struggling with?"
After validating that they have a problem worth solving, the team starts to design the solution, asking "What do we want to offer?" How will it work?" "How will it make money?".
If customers respond well to the solution, Ariel and her team begin to prototype the idea. "This is where product management comes more into play," she explains. "Now you're prioritizing features and working in sprints with designers and developers to build the product incrementally." From there, the team continues to iterate and optimize based on analytics. This is the stage when growth becomes the main focus.
"I get the most excited about launching brand new products from the ground up and really having the opportunity to be influential as we go from zero to one."
To excel in this process and create a product that you—and your customers—are happy with, Ariel recommends the following.
1. Start small. "People have a tendency to want to spend months or even years creating a robust product with all the bells and whistles before they introduce it to the market because they think it needs to be perfect," Ariel explains."But this is actually a huge bet with a huge investment that's very risky." Instead, Ariel suggests starting small and releasing early, and then building on the product incrementally.
She uses a wedding cake analogy to explain what she means. "Instead of spending six months perfecting a wedding cake before you let people taste it, we release a cupcake after one week. And we're going to serve that cupcake to real people instead of waiting six months to get real people tasting it."
"Then, we use their feedback to create a bigger and better cake over time. At the end, you still have a wedding cake, but you know people will love it because you've had all this opportunity to iterate. You're in a continuous discovery cycle with customers, building things incrementally towards their demand," she explains.
2. Learn from real customer behavior. "It's not about what people say they want to do, it's about what they actually do. I love conducting deep, qualitative interviews. But you want to confirm qualitative insights with real customer behavior data, because we want to make decisions based on what people actually do and not just what they say they'll do."
3. "Don't measure how fast you can build something. Instead, measure how quickly you can learn. Focus on finding answers to key questions: "Will customers be interested in this?" Will they buy it?" Will they use it? Will they come back? etc." she says. "That information will let you know whether you are on the right track or if you should pivot."

Want to work alongside Ariel building products that customers love? Check out Headway's open roles here.

READ MORE AND DISCUSS
Show less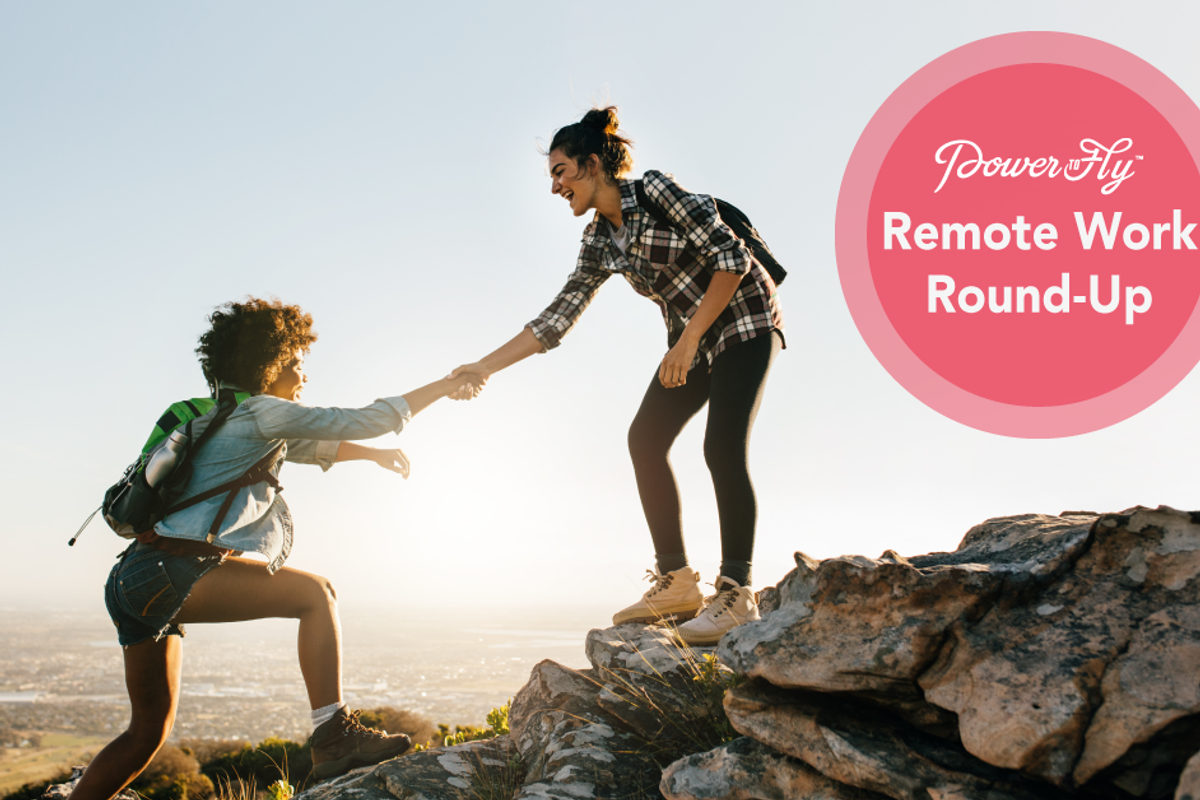 Jobs
It's no surprise that remote, or flexible work, is quickly becoming the most sought after benefit for job seekers in 2018. Sure, the term "digital nomad" sounds really cool, but true location flexibility is allowing for some of the biggest changes in company structure in decades, and offering some really interesting opportunities for those looking to explore the world while earning a steady paycheck.
Remote.co recently published an article outlining its predictions for remote work in 2018, and they couldn't be more spot-on.

Freelancing is set to outpace full-time roles for many groups and industries such as recent grads and software engineers. It's becoming a legitimate career path for not only those who have the ability to travel to and from companies worldwide, but for mothers and caregivers with unique schedules that can't swing a regular 9-to-5 job.
"The 9-to-5 job won't cease to exist, but many will likely be revamped, with increased work-from-home days and varying office hours in response to a broader culture shift toward greater flexibility."
Freelancing aside, another prediction of Remote.co is the growth of companies without borders and embracing a new culture unique to international, remote companies.
"In 2018 we'll see a rise in virtual companies founded both within and across borders by expats with distributed teams; because of their international status, these startups will likely serve broader global audiences and employ more multicultural workforces."

Whether you're ready to embrace "digital nomad" status, or just looking for a company who's willing (and wanting!) you to work from your couch, we've got ten amazing remote opportunities for you to apply to below. For even more available roles, head over to our remote jobs page.
Arsenal Studios - Junior/ Mid Level Frontend Web and Application Developer (Remote)
Bevy Labs Inc. - Software Engineer (Remote)
db coaching - Virtual Assistant, Marketing/ Lead Gen (Remote)
Dow Jones - Service Desk Analyst (Remote)
GitLab - Field Marketing Manager, East Coast (Remote)
Help Scout - Java Engineer (Remote)
Keyro.com - Technical Support Superstar (Remote)
PowerToFly - Customer Success Associate (Remote)
Worldwide 101 - Virtual Executive Assistant (Remote)
Zapier - VP of Marketing (Remote)
READ MORE AND DISCUSS
Show less
Loading...