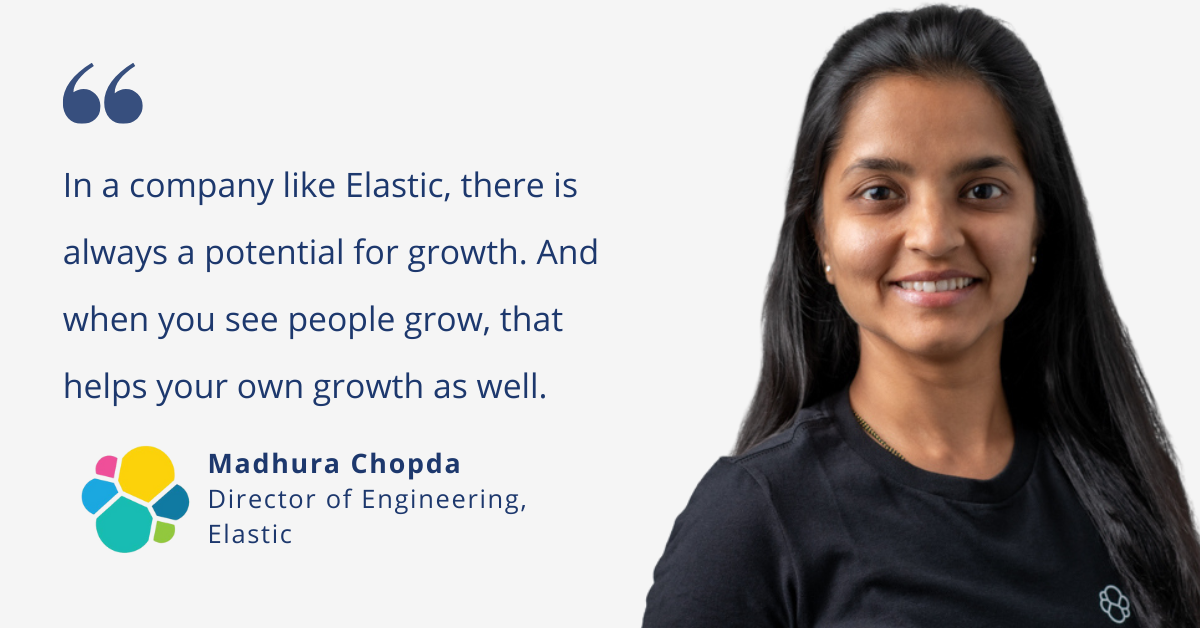 Elastic
If asked to visualize a software engineer, you might think of a solitary hooded figure in a basement frantically banging on a keyboard until early morning hours, no human interaction whatsoever.
Madhura Chopda, like many other engineers, completely breaks down this stereotype. In fact, she is a deeply social person who loves connecting and building relationships, especially through her participation in dance classes and local community theater.
"I thrive on people's presence. People make me grow just by looking at them, learning from them, and talking to them. That makes my day exciting and satisfactory," she says.
As Director of Engineering at Elastic, a globally distributed, remote-flexible company, Madhura has plenty of practical advice to give about both managing and connecting global teams that cross time zones and cultures. We sat down to hear about her professional journey and top tips to successfully lead remote teams.
The Attraction of Authenticity and Growth
Originally from Pune, Maharashtra, India, Madhura currently lives in Santa Clara, California with her husband and two sons. Despite her love for dance and theater, she is of the opinion that not all passions have to be turned into professions. Instead of studying the performing arts, she pursued a bachelor's and master's degree in Computer Science, which she saw as a practical way to access opportunities.
What initially attracted Madhura to Elastic was the possibility of shaping the product as well as working with people. From the very first interview, she was impressed by their authenticity in communication.
"I interviewed at Elastic and the people I met were so real. Most people try to be good. But at Elastic, they were real from the start. They weren't afraid to give me feedback in the interview itself. And they weren't afraid to tell me their limitations and expectations," she recalls.
Since joining the company, Madhura has also experienced the room for growth that Elastic provides its people. She says, "In a company like Elastic, there is always a potential for growth. And when you see people grow, that helps your own growth as well."
She has seen this growth take place both materially and personally. For instance, her original team of 12 engineers has now expanded to nearly 40. She also highlights her improved confidence, which she attributes to a culture of accepting failure.
"I have failed at Elastic, I have failed my team many times, but they allow me to fail and help me back up. I wasn't as okay with failure before as I am now. It's okay to fail, just fail fast and recover. That's the key thing Elastic has taught me and where I've grown," she explains.
Leading Remotely
Another key area in which Madhura has felt the most growth is in her ability to lead her teams in a remote, global setting. Working at Elastic has given her the opportunity to trial and error several tactics and, through this, she has learned the importance of promoting diversity, equity, and inclusion on her team as well as her worth as a woman leader.

"I do realize that as a woman leader, I bring a lot of value to the table. It's important not to feel ashamed of the fact that you are the only woman at the table, rather use that seat to bring in more on your side," she explains.
Committing to a culture of diversity and inclusion means encouraging empathy to bring forth value from others. Thanks to this, Madhura has embraced personal connections, despite the many challenges physical distance can bring. "My priority is to build relationships," she says. "It's essential to keep creating spaces for us to build trust in person."
Providing the example of meeting a colleague an at off-site karaoke event, she highlights how the meet-up generated a more personal understanding and, therefore, better communication between the two.
With many team members in different time zones, it's not always possible to gather in person. To that challenge, Madhura has implemented strategies for code integration. In other words, not only assigning specific software engineering tasks but making sure that there is open communication about each step both technically and relationally.
Madhura enjoys doing this through one-on-one calls, weekly emails that begin with personal anecdotes, rotating the choice of time zones to schedule weekly trainings, summarizing recordings and information, and taking extra steps to help support her team.
5 Tips for Leading a Remote Team
It's clear that Madhura's ability to make personal connections with others is what motivates her approach to leading her remote team and allows her to do so successfully. She provides these five tips for those managing remotely".
1. Take the time to connect one-on-one with each employee. Madhura's personal anecdotes break the ice with her team members, making them comfortable to reply back and have further conversations about any topic.
2. Communicate transparently about work. It's important to provide constant information on what's going on in the company and what's on the horizon, so that team members feel connected and integrated.
3. Be explicit about expectations. Be detailed about milestones within a project and then give your team the autonomy to hit those milestones. This ties in with open communication.
4. Conduct team-building activities. It's important to take into account what individual team members actually like to do and organize events accordingly. Events can range from pet meet-and-greets over Zoom to playing online games like Codeword.
5. Create in-person activities whenever possible. Having an in-person event every two to four months helps people create bonds that they can continue to strengthen virtually, as well as build the trust that will help the team succeed in the long run.
If you're interested in Elastic's remote work policy, check out
their open roles here
!
READ MORE AND DISCUSS
Show less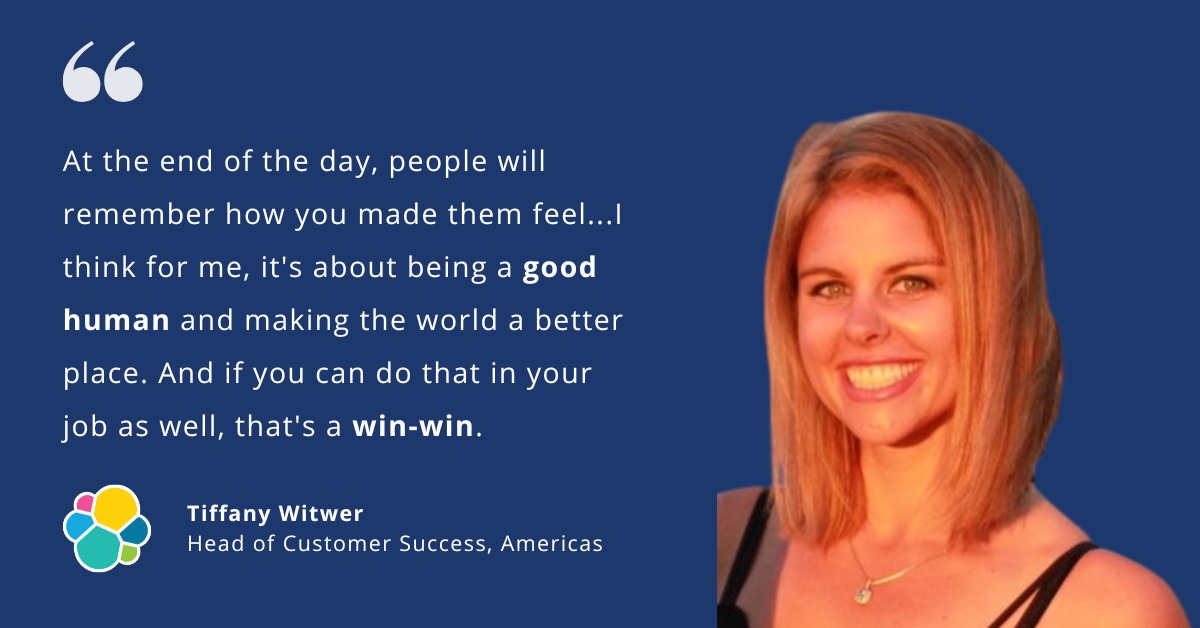 Elastic
Tiffany Witwer from Elastic is a proud mom of three.
"I enjoy being a parent because it teaches me patience and it gives me a different perspective," she shares. "It allows me to be more present, laugh more, and appreciate the small things."
In between her duties as a mom, she keeps herself mentally and physically healthy by running, biking, swimming, or doing yoga — all activities that help her start the day with gratitude. "It gives me the right perspective and attitude to go into the day," she says.
With an overall positive outlook on life, Tiffany brings that same energy to her customers at work as the Head of Customer Success for Elastic.
We sat down with Tiffany, who shared with us her career journey from civil engineering to customer success. Keep reading to learn top tips for creating happy customers.
Starting a Career in Engineering
Tiffany pursued an undergraduate degree in biological engineering.
"I was always really good at math and science, especially chemistry. And I love being outside in nature and learning about it," she shares.
It was a college professor's research on stormwater runoff that motivated her to pursue her master's degree in biological and civil engineering. "I liked his energy and attitude toward learning. It was contagious," she describes.
While working alongside this professor at North Carolina State University, she presented her work at a conference that helped lay the groundwork for her career. "I met a man who liked my presentation," she says, "and was hiring a civil engineer for a consulting company."
Taking on this new opportunity, she moved to New York City where she discovered her love of being surrounded by diverse people and cultures, in addition to her new job.
"I enjoyed doing the design work and meeting the customers," she explains. "I was always the one on the proposals, winning the design work, and building relationships with customers."
While emerging in the complex realm of storm waste engineering, Tiffany saw how the world was progressing and thought that knowing software and technology would be beneficial.
"So I learned to code, networked, and got a job at a business analytics and software company as a pre-sales systems engineer," Tiffany says.
Pivoting into a Customer Success Role
As she dedicated more time to customers, her interest in working with them soon began to increase. "What I loved most was that I was using my mind to solve problems, but I also got to interface with customers. I got to meet customers and hear what they were doing and hear how we could help them."
Tiffany spent 10 years in pre-sales engineering and sales. She then took a job in a different company where she helped build out their advisory services business.
It was there that she built a successful team with coworkers who would lead her to her position at Elastic.
Elastic is the leading platform for search-powered solutions. They help enhance customer and employee search experiences, keep mission-critical applications running smoothly, and protect against cyber threats.
As the Head of Customer Success, Tiffany is responsible for making sure customers are getting the most value out of their software. "It's not only about how customers are using the technology," she explains. "It's, 'how is a customer's experience with Elastic? Are we meeting their need for technology?' And, 'are we meeting their needs from a support and empathy standpoint?'"
In order to meet her customers' complex needs, she emphasizes how crucial communication is.
The Importance of Communication in Customer Success
Quality communication is a skill that can often be undervalued. "I think people underestimate how much time is needed for clear communication," she points out. "Just because you put a message out there, it doesn't mean it's clearly understood. You need to think through how people are going to respond to the information."
With the complexities of communication, Tiffany relies on setting clear intentions when communicating in meetings. "I always ask at the beginning, 'what is your goal for this meeting and what does success look like for you?'" she explains.
Communicating clearly what success looks like for both parties allows for a better outcome. "I think for communications, it's making a lot of time and clearly defining what you want to get out of the interaction."
Advice for Clear Communication with Customers
Tiffany's career journey has been a mixture of understanding technology and building relationships with people — learning how to explain the technology to customers and problem solve in an empathic way. This has led to overall customer success. To create clear communication, Tiffany offers this advice.
Be empathetic and listen to your customers: "If you think about it, you've been trained in your technology, you know it inside and out," she explains. "But when you meet with a customer, the technology may only be a small part of their job." Taking this perspective can help you to communicate with more empathy. "It's understanding people's vantage point and then using that to communicate to them."
Defining success and clearly communicating it: "I'm a strong believer in getting on calls and confirming the goals and what people want to get out of the call," Tiffany shares. "This way, you know, you are aligned on what success is no matter what type of call."
Be genuine: "At the end of the day, people will remember how you made them feel," she shares. "I think for me, it's about being a good human and making the world a better place. And if you can do that in your job as well, that's a win-win."
Get to know people: "Getting to know people, their perspectives, and growing with them is what has led me to customer success and to where I am in my career," Tiffany advises.
If you're looking to build valuable work relationships alongside your career, check out the openings at
Elastic
!
READ MORE AND DISCUSS
Show less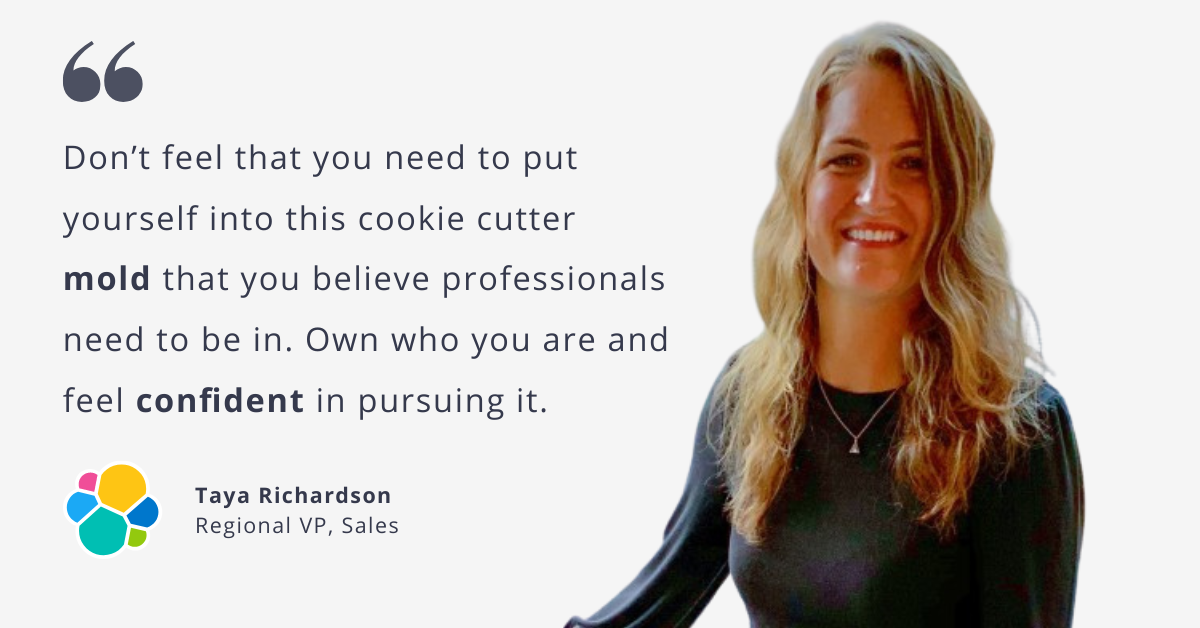 Elastic
Even if you hadn't seen the longboard that Taya Richardson has in her house, you wouldn't be surprised, upon meeting her, that she loves to surf.
She has a surfer's energy about her: equal parts poised and laid back.
The San Diego transplant recognizes it in herself, too, and not just when she's waiting for a wave. Taya says that her personality plays a big part in her approach to sales leadership for search-powered solutions company Elastic, where she is currently a Regional VP.
"I'm not somebody who's going to come in with heavy energy right off the cuff. But ultimately I have this desire and innate drive to solve problems," she says. You can imagine her applying that focus to a lineup or waves — or to a sales rep who's struggling to close a big deal. "Part of my leadership style is about being able to stay composed, logically look at the problem, assess it, and drive towards a solution."
Taya has been able to figure out her leadership style, hone it, and apply it to her team thanks to two things: first, transparently sharing her goal to become a sales leader with her mentors and managers; and second, the focus of those mentors and managers on helping Taya reach that goal.
We sat down with Taya to hear more about how she's purposefully built a leadership path that fits her unique strengths and interests — as well as how Elastic's people-first culture made that possible.
A Love for Solving Problems
Taya didn't know she wanted to be in sales until an HR internship at a cybersecurity company in college failed to capture her attention. She'd studied international business and marketing in college, enjoying exposure to other cultures and perspectives.
"Learning about people and understanding how they make decisions was something I loved," reflects Taya of study abroad experiences in Martinique and Costa Rica.
But during her HR internship, Taya had met sales executives at the company and realized that she loved the energy around sales. "I enjoyed the concept of solving problems for customers and could relate it back to that international business interest," says Taya, who says she was also interested in the growing cybersecurity field.
She took a job in that company's sales department, where she confirmed her hypothesis that solving customer problems with innovative, effective technology was something she was passionate about.
"I get a lot of intrinsic value from relationship selling and working with my customers. Ultimately, if you have a fantastic technology, and you're solving a customer challenge and can build a relationship with those individuals along the way, it's a great experience," she says.
Experiencing a People-First Culture
Taya was working for software company Endgame when it was acquired by Elastic. She'd joined the company because she loved its culture and mission, and was worried she wouldn't feel the same way after the acquisition — but quickly saw that her worry was unfounded when 90% of her original team was kept on post-acquisition.
"I felt the exact same energy at Elastic," says Taya. "I had the ability not only to sell products that were solving risk-based problems for businesses, but also had this new challenge of solving revenue-generating problems on the search and observability side."
She liked Elastic's Source Code, a set of ideas that guides the business, and felt like they were taken seriously. Taya found out just how seriously Elastic took these ideas when she told her superiors that she wanted to grow from an individual contributor into a sales leader.
"They heard that, acknowledged it, mentored me, and helped develop me to the point where they felt I would be a successful leader," says Taya, who is now responsible for several sales reps' books of business across her region.
With the help of her mentors, Taya started by taking on projects that would allow her to stretch her management muscles. She created a program for five sales reps on the east coast to help them build their book of business, learned how to do strategic deal reviews, and how to work with different personalities.
"It takes a very special leadership organization to look at developing and retaining internal talent," she says. "There are always two options: you can pull externally, or you can hire and develop internally. We've really taken on the latter as a company and it's been a great experience."
Taya's seen that people-first focus play out not just in development conversations, but also in how work-life balance is managed.
"When COVID got to the point where it was a long-term challenge, leadership gave us 'shut it down days,' which are a couple of days off each month to handle any personal stressors that we had," she says. "To have the acknowledgement from leadership that it's been a challenging time has been incredible."
4 Key Factors to Making it to Leadership
Taya credits much of her success to the culture and the leaders at Elastic. "We're a mission-driven organization building very innovative technology with a group of high energy, fast-paced, driven, hardworking individuals," she says.
That's especially true of the women in sales who have become Taya's mentors, she notes, shouting out Katie FitzGerald, Elastic's Vice President, Americas.
But no matter where you work, Taya has a four-part framework to help you drive towards your own goals:
Transparency. Taya was clear that she wanted to go from IC to leadership, and counts that as a key part of her being able to do it. "Open and honest conversations lead you in two directions: either they hear you and want to develop you, or they don't, and you go find a company that does," she says.
Resiliency. "Be relentless in pursuit of your goal, and resilient throughout the process," says Taya, noting that there will be roadblocks along the way.
Mentorship. "Both internal and external mentors are so important," she says. Learn from the styles, strengths, and advice of each.
Embrace your own style. Last but not least, Taya gives one key piece of advice about figuring out what kind of leader you'll be: come as you are. "If you have a different style, you'll have a different perspective, and that's healthy and necessary in order to achieve your company's goals," she says. "Don't feel that you need to put yourself into this cookie cutter mold that you believe professionals need to be in. Own who you are and feel confident in pursuing it."
If you want to pursue a career path at Elastic, check out their open roles!
READ MORE AND DISCUSS
Show less
Loading...