GET EMAIL UPDATES FROM POWERTOFLY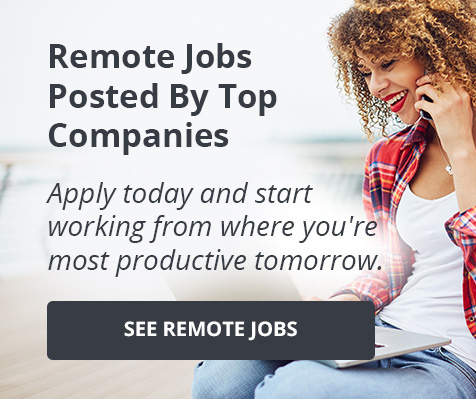 Jobs
Team lunch, working lunch, lunch on-the-go, free lunch, lunch break - regardless of how you put it, lunch is a crucial part of everyone's 40-hour week. While some days we're enjoying new cuisine from the restaurant down the street, other days we're scavenging for a granola bar. This Friday, we're changing the way you eat, and inviting you to BYOL(lunch) to our first VIP Lunch & Learn (or breakfast if you're on the West Coast), hosted by our very own Cofounder and President, Katharine Zaleski! Want to join us? This is a VIP only event - click here to become a PowerToFly VIP and we'll see you Friday!
FEATURED COMPANY OF THE WEEK: L3 TECHNOLOGIES
L3 Technologies is one of the top ten defense contractors in the world - and is committed to diversity. They offer these amazing benefits:
Participation in Grace Hopper Celebration - the world's largest gathering of women technologists
Comprehensive healthcare - including dental and vision
Flexible work arrangements - great to have401(k) - awesome
Educational assistance - grow your career!
Check out these new openings with companies that care, or visit our
jobs page
for even more opportunities!
33 Across - Data Scientist - Sunnyvale, CA
AMC Networks Inc. - Associate Manager, Marketing - New York, United States
CenturyLink - Lead Sales Engineer - Miami, FL
Deloitte - Manager - Multiple Locations
Forward - Product Manager - San Francisco, CA
FTI Consulting - Technical Support Analyst - Washington, DC
General Assembly - Part Time Data Analytics Instructor - Hampden Sydney, VA
HomeAway - Lead Software Engineer - Bellevue, WA
Homecare Homebase - Human Resources Business Partner - Louisville, KY
Intent Media - Design Intern - New York, NY
Optoro - Product Marketing Manager - Washington, DC
Paylocity Corporation - Delivery Platforms Team Leader - Schaumburg, IL
Plex - Product Manager, Content - Remote
Sapient Consulting - Senior Associate, Business Consulting - Boston, MA
Stash - PR Coordinator - New York, NY

Synchrony - AVP, Middleware/Cloud Engineer - Timonium, MD
Better Companies
If you're an engineer, I'm sure at some point in your career you've held a job where taking time off just isn't an option. There are too many projects to complete, and you can't justify a lengthy vacation because it means missing this deadline or that conference. Forget taking time off to start a family or take care of an elder family member, life outside work just doesn't exist.
Luckily, it's not like that at Dow Jones.
Not only does Dow Jones have a Returnship program that gives professionals who have taken an extended break in their career an opportunity for a fresh start, but they offer flexible work with generous time off and parental leave for all. Dow Jones even hired a woman at 9 months pregnant to lead their tech team- talk about agile!
If you're an Engineer who thrives in a fast paced environment and is willing to go the extra mile for a company who is ready to invest in you and your success, keep reading for two opportunities you can't pass up.
<p>For more opportunities with <a href="https://powertofly.com/companies/dow-jones-company" target="_blank">Dow Jones</a>, make sure to follow them on PowerToFly and be the first to hear of any and all new events and job openings!</p><h2>Software Engineer at Dow Jones</h2><p>Dow Jones is looking for someone to join their cross-functional agile software team, to design, implement, and maintain their web applications in a highly collaborative environment.</p><p><strong>Location:</strong> Minneapolis (MN) , New York (NY)</p><p><strong>Employment Type: </strong>Full Time<br></p><p><strong>Experience: </strong>Mid-Level<br></p><p><strong>Required Skills:</strong> JavaScript, CSS3, HTML5</p><p><strong>Responsibilities include: </strong><br></p><ul class="ee-ul"><li>Participation in discussions about technology, design, UX, infrastructure and considering the pros/cons of a technology choice based on business value, scalability, maintainability and project delivery performance</li><li>Support Dow Jones technical cultural values and are capable of driving toward solutions independently, seeking feedback when appropriate</li><li>Maintain and share knowledge in emerging technologies and tools in the industryBeing able to prioritize and manage work, adhering to critical project timelines in a fast-paced environmentShare a passion for design and technology</li></ul><div><strong>Knowledge and Experience Needed:</strong></div><ul class="ee-ul"><li>BS/MS in Computer Science, Design or equivalent</li><li>2+ years experience developing web applications</li><li>Proficient knowledge of HTML5, CSS3, JavaScript</li><li>Proven understanding of Computer Science fundamentals including web development, service-oriented architecture, cloud computing, test driven development and domain driven design</li><li>Working knowledge of web based technologies with a combination of the following: Node.js, React, JSON, NoSQL, SQL</li></ul><div>Apply to the MN job <a href="https://powertofly.com/jobs/detail/4756" target="_blank">here</a>, and the NY job <a href="https://powertofly.com/jobs/detail/4761" target="_blank">here.</a> </div><p class="shortcode-media shortcode-media-rebelmouse-image"> <a href="https://powertofly.com/companies/dow-jones-company" target="_blank"><img class="rm-lazyloadable-image rm-shortcode" type="lazy-image" data-runner-src="https://assets.rebelmouse.io/eyJhbGciOiJIUzI1NiIsInR5cCI6IkpXVCJ9.eyJpbWFnZSI6Imh0dHBzOi8vYXNzZXRzLnJibC5tcy8xNzE3ODExMS9vcmlnaW4ucG5nIiwiZXhwaXJlc19hdCI6MTY1MTY0ODgzMH0.cNmRzLXopHc27iYhb21SxQXcI93s-VCEkySu0nlX1a8/img.png?width=980" id="1c459" width="2480" height="520" data-rm-shortcode-id="449661ca5d2908685ede72d172d34de6" data-rm-shortcode-name="rebelmouse-image"></a> </p><h2>Senior Software Engineer at Dow Jones</h2><p>Dow Jones is looking for someone to help play a key role in project development, implementation, and deployment on their engineering team.</p><p><strong>Location:</strong> Minneapolis (MN), Princeton (NJ)</p><p><strong>Employment Type: </strong>Full Time<br></p><p><strong>Experience:</strong> Senior<br></p><p><strong>Required Skills</strong>: NoSQL, SQL, Node.js, Javascript, Java, C#</p><p><strong>Responsibilities include: </strong></p><ul class="ee-ul"><li>Working within the technology teams to build applications and architectures to support our Editorial, Data Acquisition, Database, and Data Distribution systems.</li><li>Creating application and system architectures, working closely with other technical teams and can effectively communicate these architectures to senior management</li><li>Defining and implementing application architecture models and programming standards with little direction needed.</li><li>Defining and building the application development and maintenance environment (includes component and assembly test environments). This includes the design and implementation of the developers', testing, application monitoring/control, change management and implementation workbenches.</li><li>Designing and implementing the process and repository for cataloguing and managing application code/constructs (software configuration management) and reusable application components.</li><li>Responsibility for adherence to the implementation of software engineering methods/practices.Effectively communicating system enhancement needs and may play lead role in the solutions implementation.</li></ul><strong>Knowledge and Experience Needed:</strong><ul class="ee-ul"><li>A minimum 5 years of experience with a Bachelor degree in Computer Science is required. </li><li>Fluid in Information and System Architecture. </li><li>Proficient in architectures (from Website to backend systems) with experience in application performance and API development.</li><li>Knowledge of security and security standards with hands-on experience with AWS security groups and IAM RolesIn-depth knowledge of programming languages including C#, Java, Javascript, Node.js.</li><li>Understanding of Database technologies including Relational, SQL, and NoSQL.</li><li>Experience designing and creating SQL relational database tables, views, indexes.Hands-on experience writing database SQL code including stored procedures, functions.</li><li>Experience with both Linux and Windows operating systems.</li><li>Experience with architecting systems in a cloud-based computing environment, preferably Amazon AWS with tools such as Cloud Formation, Terraform, Jenkins, Chef, Artifactory.</li><li>Experience in delivering Systems to an enterprise environment that requires standards for error handling, logging, storage, and networking.</li><li>In-depth knowledge of communication protocols and understanding of XML, XHTML, DHTML, DOM, JSON and Web Services.Experience with designing load balanced/high performance (low latency) systems.</li><li>Proven experience in developing with a Software Development Life Cycle, preferably agile.Excellent written and oral Communication Skills.</li><li>Ability to translate business needs into technical requirements including architecture and design specifications.</li><li>Ability to work in cross-functional teams requiring coordination across multiple internal groups.</li></ul><div>Apply to the MN job <a href="https://powertofly.com/jobs/detail/4755" target="_blank">here</a>, and the NJ job <a href="https://powertofly.com/jobs/detail/4786" target="_blank">here</a>. </div><div><strong></strong></div>
READ MORE AND DISCUSS
Show less
Loading...